Why you should use monday.com
Project managers clearly have a lot on their plate, which is why choosing the right team collaboration software is all the more important.
monday.com is a flexible and intuitive Work OS that facilitates collaboration. The colorful views allow you to visualize your projects from start to finish and track your team's work in one collaborative workspace.
Robust automations reduce time spent on repetitive tasks and allow your team to work more productively. To illustrate just how powerful automations are, let's look at Falkbuilt, an interior construction company based in Alberta, Canada.
Here's an example of a board that Falkbuilt uses to automate pricing requests: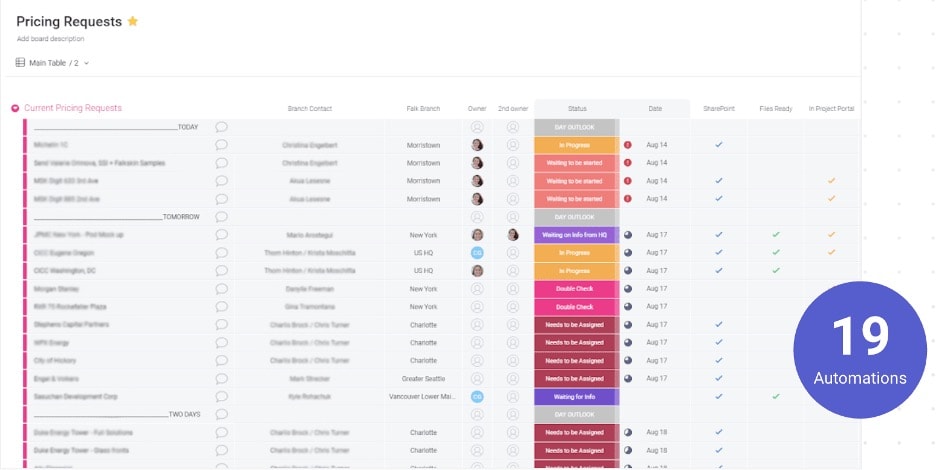 With monday.com automations, Falkbult saves over 40,000 human actions — something that has helped them significantly increase their project capacity and streamline operations.
Moreover, teams work more effectively when they communicate. If team members don't know what their tasks are or what's expected of them, projects are likely to fail.
A collaboration tool is a must for organizations that wish to increase workplace efficiency and boost overall productivity. Project managers can use these tools to keep their team accountable and reach project outcomes.
If you're looking for team management software that includes all the essential features covered here as well as hundreds more, then give monday.com a try for free.
Get started with our team task management template!
Must-have features for an ideal team management software
The plethora of project management software solutions on the market makes choosing the right one rather daunting. It's also an important decision as you'll be using the software to manage all aspects of your projects.
Here are our top must-have features for team management software:
Ease of use
Customizable templates, boards, and workflows
Project scheduling
Real-time collaboration features (chat, notifications, etc)
Project budget management
Multiple project views to see your team's work from different angles
Time tracking
Built-in reporting
Third-party integrations with the apps and tools you already use
Native mobile app for remote and on-the-go work
Work, assignment, and notification automations
Top-notch security
Let's take a closer look at these features in more detail.
1. Ease of use
In a perfect world, your team would quickly adopt the team management software you choose.
But things aren't always that straightforward, change is hard—we get it.
Software should make it easier, not harder, for your team to work together. Choose a solution with an intuitive interface that your team can get started with right away.
The monday.com platform requires no training at all, so your team can get straight to work.
2. Customization
Good team collaboration software provides the flexibility that your team needs to manage projects. It lets you customize your workspace with minimal effort.
On monday.com, all your work is organized into boards—shared workspaces that allow you to manage everything in one space. Think of it as a virtual whiteboard that you can use to plan and track your next project.
Here's an example of a project board on monday.com: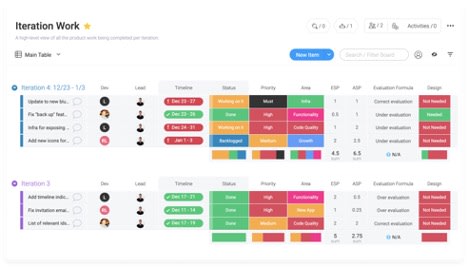 Each aspect of the board is fully customizable. You can even extend the functionality of your project board even further by adding new columns.
Here are just a few of the column choices you can add to your board:
People: assign tasks to team members.
Text: add any type of text, such as meeting notes and comments.
Date: set due dates and even add reminders
Timeline: view start and end dates for individual tasks.
Numbers: keep track of budgets, ongoing expenses, and more.
File: attach files to individual items in your board.
Columns offer a fast and easy way to customize your workspace. You can also set permissions to maintain transparency and make sure that only the right people can edit data.
If you want to jump straight into your projects, we also have a wide selection of templates available for different use cases.
3. Project scheduling
Project scheduling is all about defining exactly what needs to be done to successfully deliver a project. It includes assigning tasks to your team and giving each activity clear start and end dates.
An important feature of team management software is being able to easily add and assign tasks. It should also make it easy to set due dates and priorities for individual activities.
Here's an example of how companies use monday.com to manage their task lists and set priorities: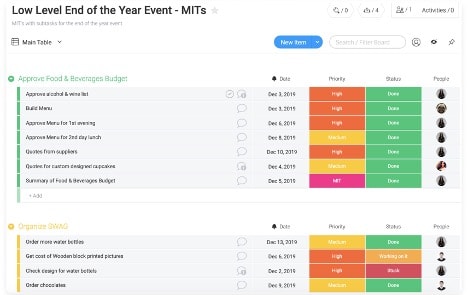 The color-coded labels let you quickly identify high priority tasks, so you and your team know exactly what to focus on next.
monday.com also has Gantt charts for scheduling tasks. These are bar charts that illustrate a project plan over time.
Here's an example of a Gantt chart in monday.com: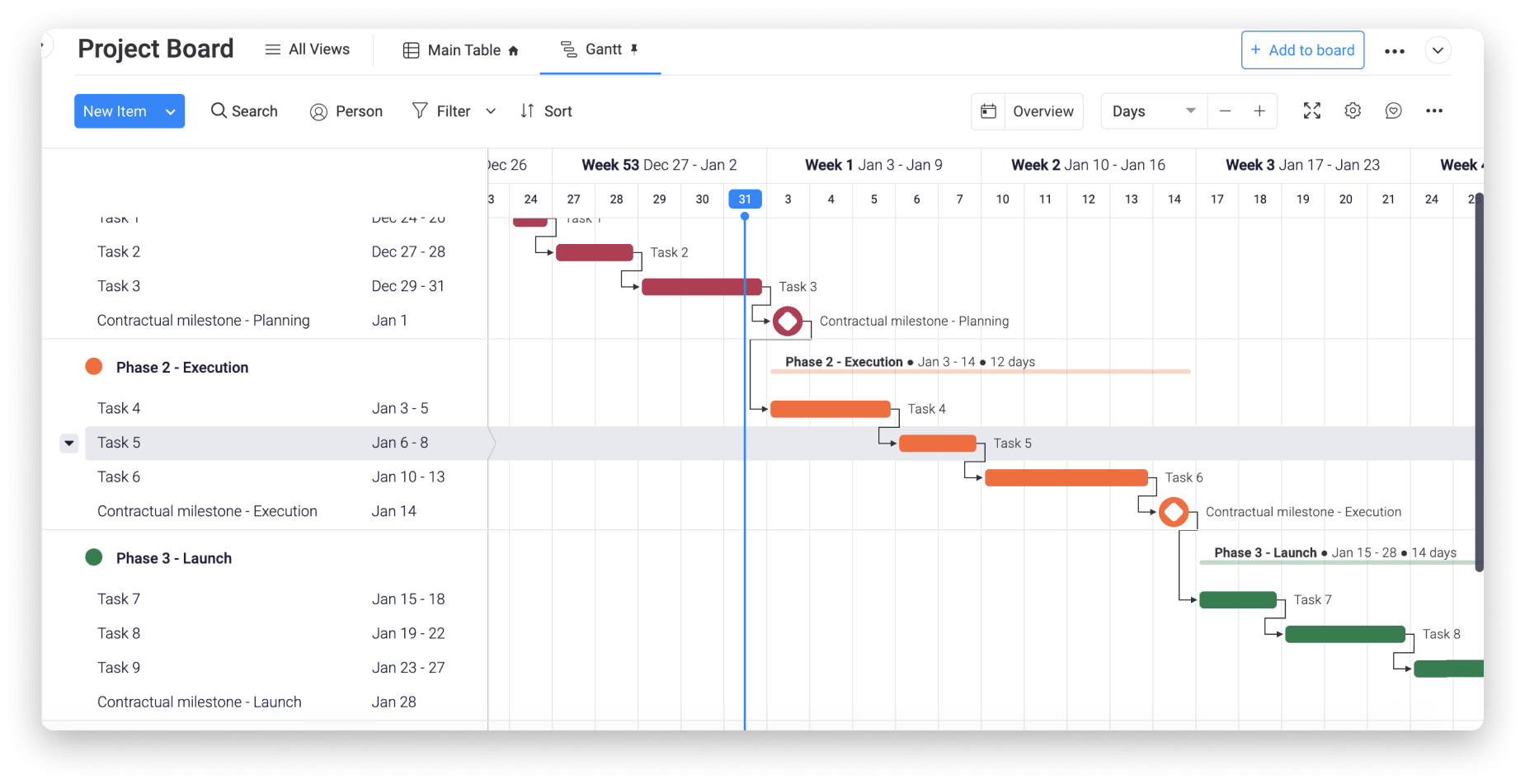 From here, you can view task dependencies, track project progress, and more.
4. Real-time collaboration
Remote work is on the rise. A report from Upwork predicts that 73% of departments will have remote workers by 2028.
Team management software with real-time collaboration features is a must. It enables teams to quickly communicate important information and clarify key details.
With monday.com, remote teams can communicate in the board itself to keep everyone involved and cut back on unnecessary meetings.
Here's an example of how in-context collaboration looks in monday.com: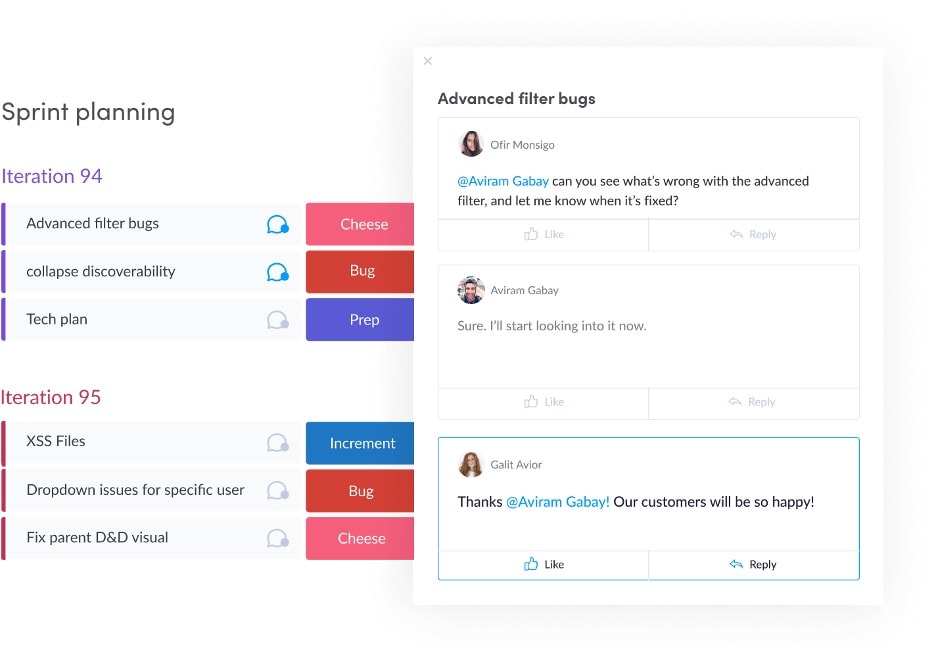 5. Resource management
Resource management involves planning and managing resources you need to successfully deliver a project. Examples include employees, equipment, funds, time, and more.
Managing resources efficiently ensures your project is on schedule. Choose team management software that lets you plan and allocate resources based on your team's capacity. This helps you avoid overworking and burning your team out.
The Workload View in monday.com lets you see at a glance who is over or under capacity, so you can distribute work more efficiently, and make sure no one is overloaded.
6. Project budgeting
Project budgets are the estimated costs to complete a project. It includes things such as operating costs, labor costs, equipment, and more.
Choose team management software that gives you a clear picture of your budget. It should also make it easy for you to update costs in real-time and check if you're under (or over) budget.
The Numbers Column in monday.com offers a simple way to track expenses and calculate the total costs for a project.
Here's an example of how teams use monday.com to track project budgets: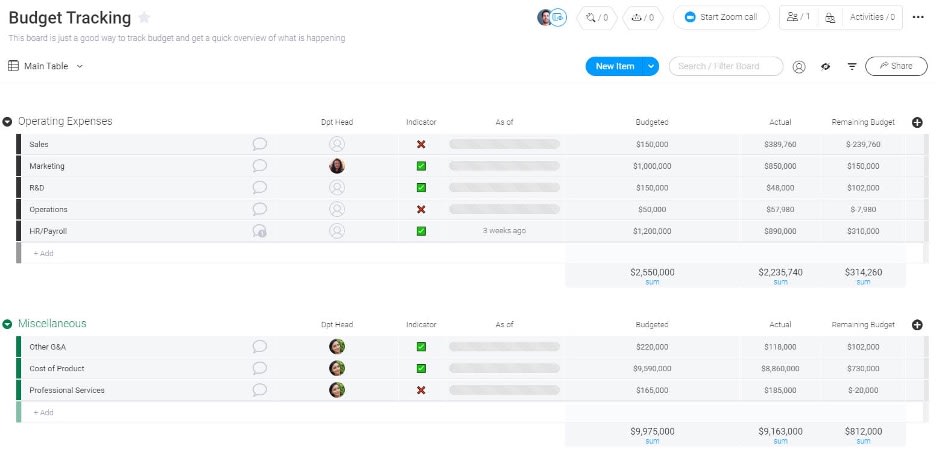 Access the budget tracker template here and customize it to fit your project.
You can also add a chart view to your board and visualize your budget in different chart types, such as pie charts, bar lines, and line graphs.
These views provide an accessible way to visualize your data and see where your budget is going.
7. Project views
Every individual has their own preferred work style. It's important to choose collaboration software that your team can adapt to fit their individual preferences.
Some of the project views to look for include:
Gantt charts: a Gantt chart or timeline view allows you to view start and end dates for individual tasks.
Kanban boards: a Kanboard board uses columns and cards to manage tasks and workflows.
Calendar views: a calendar view offers a simple way to view upcoming tasks for the current day, week, or month.
monday.com lets your team switch between project views and visualize their work in a format that works best for them. Team members can also use split views with their preferred format on the top of the screen and a table view on the bottom.
Here's an example of how split views look in monday.com: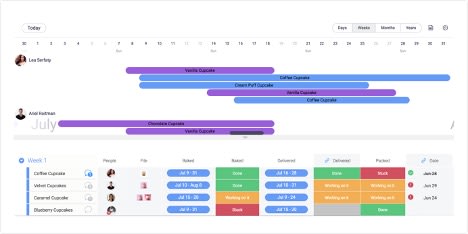 Project boards in monday.com give you a high-level view of everything that you and your team are working on.
8. Time tracking
Time tracking is key to managing and delivering projects on time. It also provides transparency in how your team is spending their time.
Effective time tracking lets you:
Create accurate estimates
Plan and manage resources
Plug productivity leaks
Invoice clients more accurately
Understand team capacity
When you know where your time is going, you can cut down or even eliminate activities that provide little value. Look for team management software that lets you track time by tasks, projects, and team members.
9. Built-in reporting
Project reports aren't exactly glamorous. But they're key to understanding how your team is progressing with their task and communicating updates to stakeholders.
They also help the team leader keep a close on project timelines and determine if they need to adjust schedules or allocate additional resources.
Look for collaboration software that includes advanced board filters, so you can quickly find the information you need.
Visualizing your data helps you gain valuable insights, so you can make informed decisions about your projects.
10. Third-party integrations
Work is increasingly spread out across multiple platforms — you might have Dropbox to share files, Salesforce to track your sales pipeline, and Zendesk to manage customer tickets (P.S. monday.com can do all of these things in one place).
But when things are spread out, teams have to keep switching back and forth between different applications.
The team management software you choose should connect seamlessly with the tools that you and your team already use. This brings everything together into place, so your team can work more productively.
With monday.com Integrations, you can easily integrate with popular platforms on the market right into the board itself.
Here's a look at some of the platforms you can integrate with monday.com: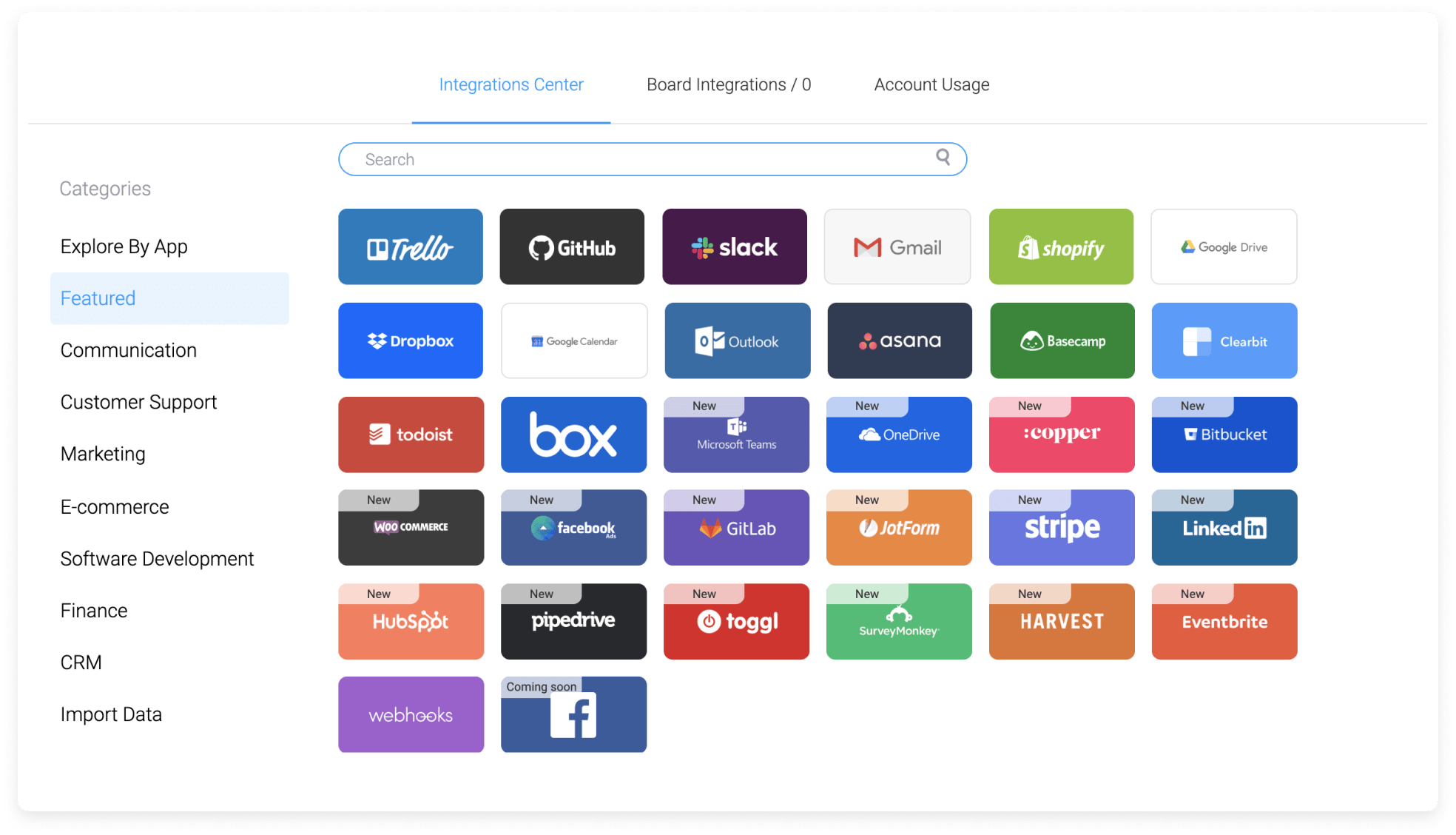 Integrating multiple platforms into one shared workspace enables teams to work more productively.
11. Intuitive mobile app
It wasn't that long ago when all you could do on a phone was make calls and send texts. You couldn't browse the web, watch videos, shop online, or send emails.
Smartphones are now an indispensable tool to getting work done. In fact, 75% of people say they use their mobile devices to be more productive.
It goes without saying that more people are working on the go. Choose collaboration software that comes with an intuitive mobile app. This will enable your team to share updates or view their tasks for the day no matter where they are.
monday.com offers mobile apps for iOS and Android devices. Once you download and install the app, you'll be able to access your boards, communicate with your team, and much more.
12. Automations
Performing the same tasks over and over again isn't the best use of your time. 38% of workers estimate they could save up to 5 hours each week by automating repetitive tasks.
The collaboration software you choose should include built-in automations. Most importantly, it should be easy to set up automations and customize the parameters.
monday.com automations allow you to automate tasks using an event—like changing the status of an item—that triggers an action (sending a notification).
You can create these yourself—no coding necessary—or choose a predefined workflow from our Automations Center.
Automations in monday.com also work with integrations. For example, you can have emails in Gmail automatically convert to an item in a board.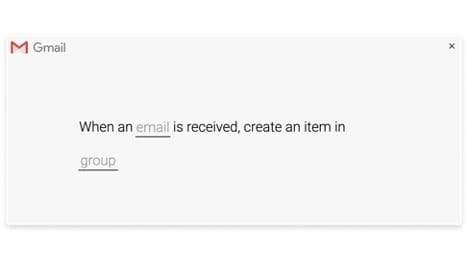 Integrations also work in reverse, so you could have action items on your board send emails to certain users when their status changes.
13. Security
No matter what kind of project your team is working on, you want to be sure that your work is secure. The last thing you want is any confidential information leaking out.
Look for team collaboration software with the following security features:
Admin control: the collaboration software you choose should allow you to set

account permissions

for individual users, including what they can and can't access. This ensures that users don't have free reign.
Network security: look for software solutions that implement security measures to keep your data secure. These include encrypting data to and from the platform as well as conducting regular security tests and complying with international security standards.
Data protection: team management software should also regularly back up your data into secure servers to protect against data loss.
monday.com adheres to strict security standards, including the International Organization for Standardization (ISO) for Information Security Management.