Trello and monday.com will already be on your radar if you're looking for an efficient project management platform. They're both popular solutions in the market for organizing tasks and projects, collaborating with teammates, and integrating with other tools in your tech stack.
But which is the best fit? Our guide compares Trello vs monday.com, by digging into details about each platform's features, pricing, and third-party reviews to determine the right fit for your business.
monday.com vs. Trello: the gist upfront
Trello is suited to simple, small-scale projects. The platform uses a Kanban project management methodology tracking tasks from boards that display lists and cards to visualize project progress.
monday work management on the other hand, built upon the intuitive monday.com Work OS , can manage and organize everything you do at work – from projects to workflows to customer relationships and everything in between.
Here's a quick comparison between Trello and monday.com to give you the key information you need:
Trello
monday.com
Pricing
Free: $0
Standard: From $5 per user/mo
Premium: From $10 per user/mo
Enterprise: From $17.50 per user/mo
Free: $0 for a 14-day trial
Basic: From $8 per seat/mo
Standard: From $10 per seat/mo
Pro: From $16 per seat/mo
Enterprise: Custom pricing available
Features
-Kanban-style boards with lists, and cards
- Integrations with Slack, Google Drive, and more
- Checklists and due date setting
- Customized dashboards with 25 drag-and-drop widgets
- 27+ views, including Kanban, Gantt, Chart, Calendar and more
- 200+ pre-built templates
- Separate work-specific products for monday sales CRM and monday work management built on top of the Work OS
Integrations
Integrations available via Trello Power-Ups
72+ integrations available
Ease of Use
9.0 out of 10 from G2 reviewers
9.0 out of 10 from G2 reviewers
Trello vs. monday.com: features
Trello's simplicity means that it offers fewer features than monday.com. For this reason, Trello may appeal to smaller teams or single users, while monday.com offers limitless functionality suitable for organizations of any size or type. Here's what both platforms have to offer:
Trello's features
Trello offers a range of features that fit into the Kanban-style of project management. These include:
Boards, lists, and cards: These define the core structure of Trello, where boards represent projects, lists denote stages or categories, and cards are individual tasks which you can add color-coded labels for identification and categorization.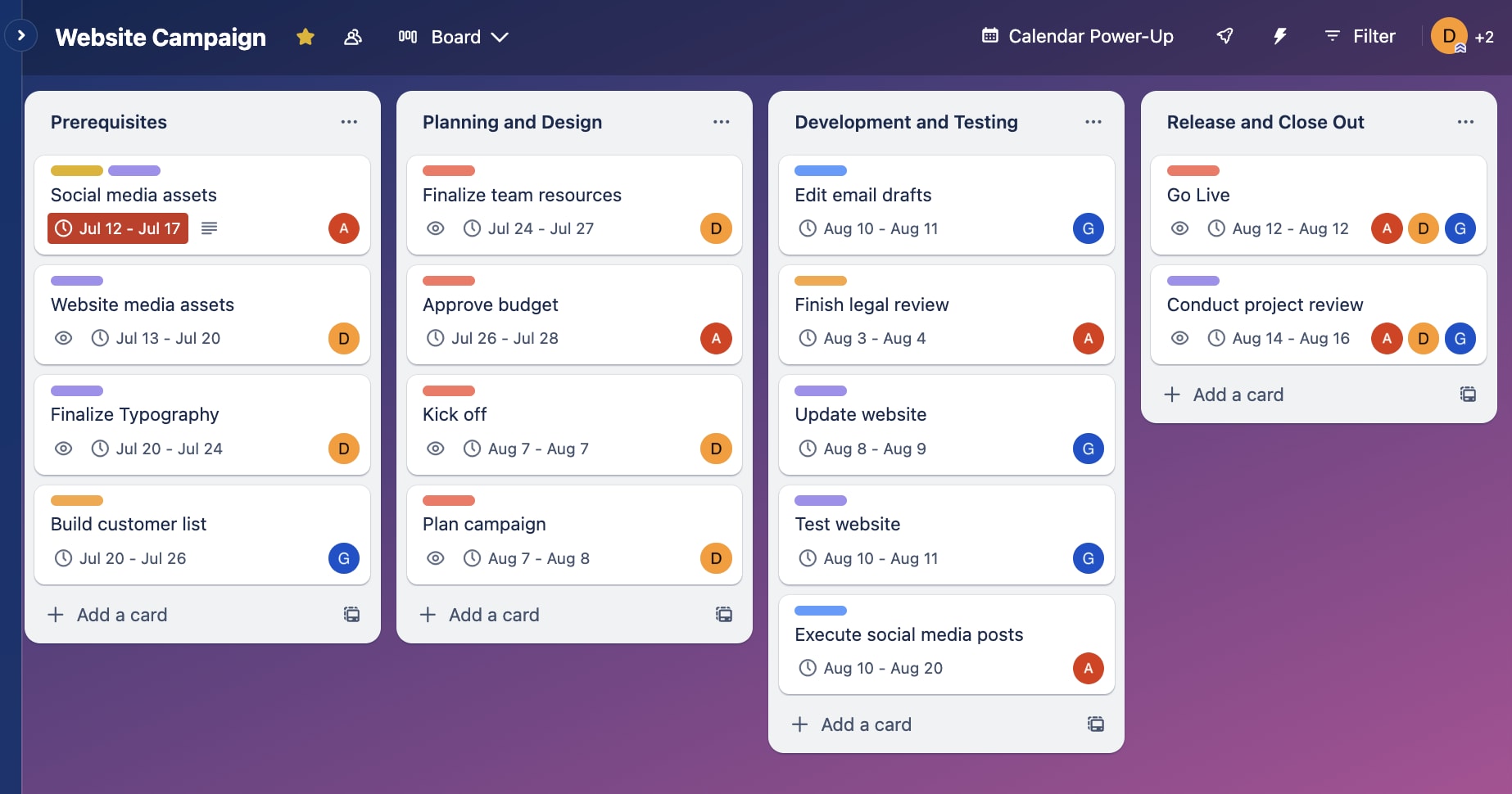 Checklists and due dates: Trello allows you to create checklists within cards and set due dates to keep track of deadlines.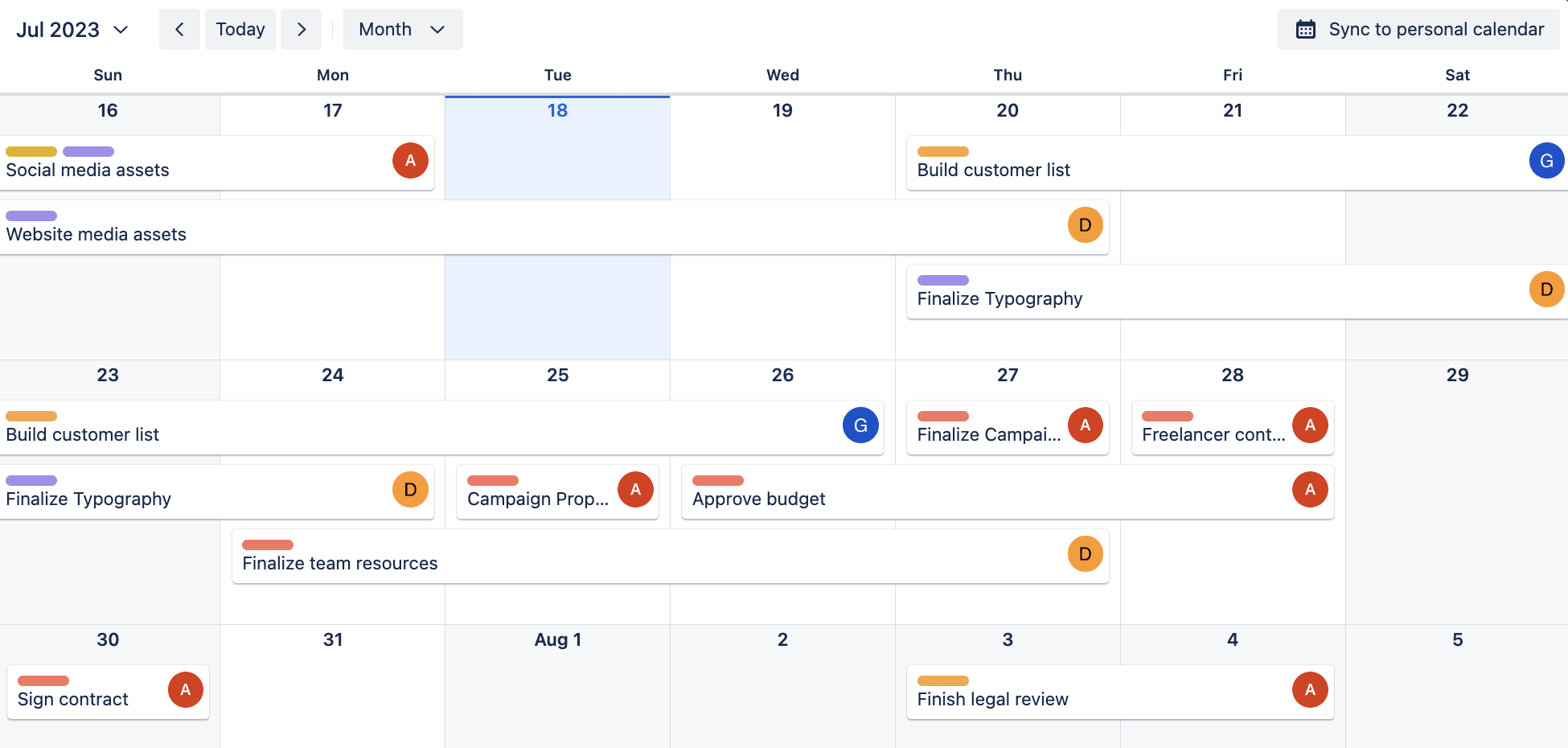 Notifications: Trello sends real-time notifications to keep you updated about the progress of your tasks.
Communication: Users can tag each other, comment on specific Trello cards, to raise queries or provide more information to team members.
monday.com's features
monday.com is the ultimate project management platform, offering separate products like monday work management and monday sales CRM to organize your workflows and customer relationships. In addition to all of Trello's features, monday.com also offers these advanced capabilities:
Customized dashboards: Make data-driven decisions by building dashboards using 25+ drag-and-drop widgets for a high-level view of everything that you and your team are working on.
Views: monday.com offers 27+ views, including Trello's favorite Kanban View. Users can also display data in Gantt, Calendar, Timeline, Map, and Chart Views for a holistic overview of your projects from the angle that makes the most sense to you.
Advanced automations: monday.com's built-in automation tools enable you to automate recurring tasks, and customize workflows according to your team's needs. For example, you might set up notifications to occur when someone completes a task, or to create a new folder for each new board item. Once you've set up your automations, they'll run in the background until you say otherwise.
Streamlined collaboration: monday.com eliminates the need long email threads and unnecessary meetings. All communication and files are centralized in one place and kept within the context of your work, so you never miss any key information.
Trello vs. monday.com: integrations
As powerful as Trello and monday.com both are on their own, you'll probably want to use them alongside other tools you already know and love. Here's how you can integrate each platform with your existing tech stack and put an end to constant tool-switching:
Trello's integrations
Trello's integrations are a main feature of the platform, integrating with 200+ other tools like Jira, Slack, or Gmail to extend its functionality. Once connected to your preferred tech stack, you can use Trello's inbuilt automation tool called Butler to create rules, buttons, and commands to handle workflows like automatically posting Trello conversations in Slack channels, or creating new Jira tickets.
monday.com's integrations
monday.com offers 72+ integrations that you can set up in just a few clicks, with no coding required. Keep all the data you need in one place, and seamlessly connect your boards with tools for every type of work, including:
Communication such as Microsoft Teams or Gmail
Collaboration such as Zoom, Google Calendar, and Google Drive
Marketing such as MailChimp or HubSpot
CRM and Finance such as Docusign or Salesforce
Development such as GitLab or Jira
Trello vs. monday.com: pricing
Both Trello and monday.com offer a free plan which is a great jumping off point to discover the capabilities of each platform. They also offer paid plans for extended functionality. Here's what you can expect at each price point:
Trello's pricing
Trello pricing is based on four different plans:
Free: $0 forever, aimed at individuals and small teams. It includes unlimited cards, up to 10 boards per workspace, unlimited Power-Ups per board, and unlimited storage (10MB per file.)
Standard: From $5 per user/mo, aimed at small teams that need to scale collaboration. It includes unlimited boards, advanced checklists, custom fields, and unlimited storage (250MB per file.)
Premium: From $10 per user/mo, aimed at teams that need better visualization. It includes extra views, unlimited workspace command runs, admin and security features, workspace-level templates, etc.
Enterprise: From $17.50 per user/mo, aimed at larger organizations with cross-functional teams who need advanced security and controls.
monday.com's pricing
monday.com pricing is based on five different plans:
Free: $0 for a 14-day free test drive of monday.com's innovative features and functionality.
Basic: From $8 per seat/mo, aimed at solopreneurs, or small teams. It includes unlimited items, docs, boards, 36+ column types, 200+ templates, and a Kanban board as an alternative to using Trello.
Standard: From $10 per seat/mo, aimed at mid-sized teams who want to create dashboards of up to 5 boards. It includes extended views, such as Timeline, Gantt, and Calendar Views, integrations, automations, and guest access permissions.
Pro: From $16 per seat/mo, aimed at teams with more complex workflows who need visibility of up to 10 boards. Expect private boards, and docs, formula columns, integrations, automations, time tracking, and a Chart View at this level.
Enterprise: Custom pricing is available on request requiring dashboards of up to 50 boards. This price plan includes advanced security and analytics.
Trello vs. monday.com: support
No one likes struggling to find a customer support number, or being put on hold for hours once you dial. But if you have a query or run into technical difficulties, it's always reassuring to know help is at hand. So, what type of customer support do Trello and monday.com offer?
Trello's customer support
Trello's customer support depends on the type of plan you're on. The popular free plan offers community support only, which is something you should factor in if you're considering using this for your small business. Standard plan users can access support during local business hours, while premium plan users may access customer support 24/5. Only enterprise customers can call for support 24/7.
monday.com's customer support
monday.com offers consistent customer support across all premium plans, with everyone on basic, standard, and pro plans having access to the self-serve knowledge base, attend daily live webinars and call customer support 24/7.
Enterprise customers have a higher level of support with a dedicated customer success manager and a service-level agreement (SLA) promising 99.9% uptime, meaning you can expect access to the platform almost all of the time.
Get started
Trello vs. monday.com: customer reviews
When researching any type of software, one of the best ways to evaluate its suitability for your business is to check out how other customers have experienced it. There are various review and comparison sites that can help you with this, including G2 and TrustRadius. Trello and monday.com both score well with customers, with monday.com receiving a higher overall score.
Trello's customer reviews 
On the review site G2, Trello is rated as 4.4 / 5 by more than 13,000 users. Users note that the platform is an "indispensable tool for project management" and has an "intuitive task panel." Some users mention that the platform has more limited features than others other more comprehensive tools offer (for example time tracking, budgeting, etc.).
monday.com reviews 
monday.com has a rating of 4.7 /5 on G2 by more than 7000 users. Users note that monday.com is "the secret to success," and allows them to "automate any task in any environment."
Users also note that the platform is super flexible, has great integrations, a user-friendly interface, and amazing customer service. monday.com also receives high scores in the following categories: 94% in Likelihood to Recommend, 93% in Ease of Doing Business With, and 92% in both Quality of Support and Ease of Use.

monday.com vs Trello: Which is the right tool for you?
No team or manager has identical needs. Your choice of project management tool will boil down to your unique requirements such as your team size, budget, preferred project management methodologies, task types, or integrations with a specific tool in your tech stack. So, which is the best choice for your business?
monday.com is an all-encompassing Work OS that allows you to create and shape the tools and apps you need for perfect project management, or any other aspect of work, all from a user-friendly interface.
Here's a reminder of what the visual platform can offer you and your team:
No-code building blocks to create any software or tool that meets your needs
The ability to create and share forms with your team members and clients
An endless number of automations that take seconds to set up to replicate mundane tasks and emails
Standalone products, including monday work management, monday sales CRM, and monday dev to run specific areas of your business
Overall, Trello is a simple project management tool that is intuitive and works well for non-technical users involved in linear projects where one stage happens directly after another. However, it may lack the advanced features you need to track more complicated workflows, or projects with many moving parts.
For example, time tracking is only available as an integration in Trello, whereas the Time Tracking Column is baked into the monday.com Work OS. And unless you're a Trello Enterprise customer, you won't have access to 24/7 support like monday.com customers do.
When it comes to monday.com vs. Trello, monday.com offers a wider range of features, integrations, automations, and so much more. Take a 14-day trial today to explore its full functionality.
Get started
FAQs
Is Trello or monday.com better?
Trello and monday.com are both project management tools for businesses who want to get organize, but they're aimed at different markets. Trello is ideal for handling small scale projects with clear stages you can visualize on a Kanbard. monday.com offers users access to a wide range of views (including Kanban, Gantt, and many more), dashboards, and integrations, enabling it to handle any type of project or complexity level.
What is the best project management software?
Businesses of all sizes (from freelancers to enterprises) need to take their specific project management needs into consideration when choosing project management software. For businesses looking for a solution that will allow them to scale and handle any aspect of work, monday.com is a great choice.
Does monday.com have a Trello board?
If you're using monday.com, you can display your boards in the Kanban style, just like on Trello. However, Kanban is only one of the 27+ views we offer. Explore monday.com and visualize your workflow in the way that makes most sense to you.
Related articles:  Wrike vs. Trello, Trello vs. Notion, Trello vs. Airtable, Trello vs. Jira, Smartsheet vs. Trello