Project management (PM) software and tools can help even the most experienced project manager stay on top of their work. But, with so many options out there—294 (and counting!) according to our list— it can be hard to know where to begin.
That's why we did the hard part for you, compiling the best PM software for each industry or category, included with pricing info for each tool to help you pick the right PM software for you!
What is project management software?
Project management software essentially includes all the platforms and tools designed to help managers and teams plan, coordinate, and execute all aspects of project planning, including time spent on tasks and projects.
In short, it is made up of tools and apps designed to help you get work done more efficiently.
There's an incredibly wide variety of project management software, from personal to-do list tools to comprehensive, "all-in-one" software (like user-friendly monday.com) that facilitate the production of every type, size, and shape of work for businesses of every kind.
Editor's picks: the most complete project management software for 2021
Given the need for project management tools with a vast range of features, it makes sense to start with what we found to be the most complete project management software and tools options out there.
1. monday.com: your all-encompassing software
monday.com is a flexible platform that allows project managers to use customizable functionalities to build their perfect project management software, no coding required.
From precise project and product planning to simple task management, the platform naturally modifies itself to be exactly what you need to get work done painlessly and efficiently.
With over 120,000 organizations using monday.com, the proof is in the numbers.
Here's a look at just some of what monday.com Work OS can offer you and your team:
100s of ready-made templates to get started instantly
Different views for your work, including Kanban, Gantt, and timeline
40+ integrations so you can bring data from the tools you already use
The ability to create and share forms with your team and clients
Automations that take seconds to set up and automate up repetitive tasks
and much more!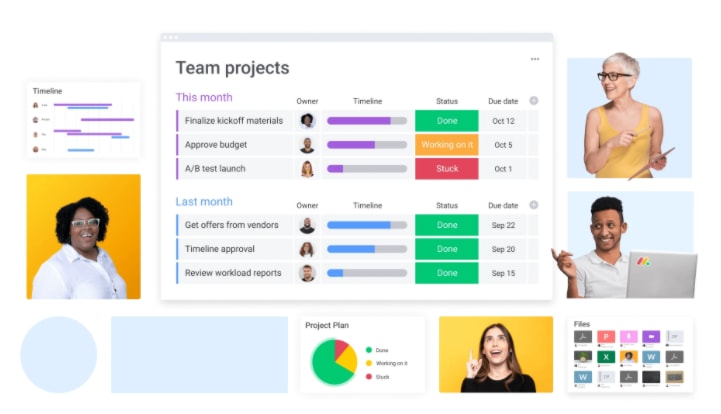 Advantages:
Helps you keep all your work in one place
Promotes easy collaboration
View data with beautiful, exportable visualizations
Make data-driven decisions using customizable dashboards
Pricing: plans from $8/user/month.
We offer a two-week free trial, no credit card required!
2. Google Tables
A new project management software from the Google Suite, Tables is a customizable platform with a focus on building automated workflows.
Features:
Unlimited workspaces and collaborators
Reports, triggers, and automated actions using Bots
Ability to collect customer data with integrated forms
Pricing: free plans available, or paid plans from $10/user/month.
3. Microsoft Lists
Microsoft Lists is part of the Microsoft 365 collection of work management apps, and as you've probably guessed, it's designed around the use of lists. You can create teams for instant synchronization and view lists in your desired format: calendar, gallery, grid, or a custom view.
Features:
Customizable views
Easy to implement list templates
Smart integrations with other Microsoft 365 products
Pricing: from $5/user/month.
4. Notion
Notion is a project management system for engineering, HR, product development, and more.
Features:
Kanban-style task and project management software
Multiple views outside of Kanban board
Focused on team Wiki and documentation sharing, though can still be used as a PM tool
Pricing: free plans available, or paid plans from $4/user/month.
Comparison: explore this Notion alternative!
5. Quickbase
Quickbase is a low-code business app building platform centered around Agile project management workflows.
Features:
Low-code development system allows teams to get up and running with custom-built apps quickly
Real-time data connection and system integration: create apps that work seamlessly together
Reporting suite available for data insights
Pricing: contact sales for pricing details.
Comparison: explore this Quickbase alternative.
Best for startups
Startups aren't just a fancy word for small businesses filled with twenty-somethings. They're fast-growing, revenue-driven organizations that aim to shake up their industry with their new product or business model.
6. Priority Matrix
Priority Matrix leverages the Eisenhower method to prioritize and manage tasks across teams.
Features:
Visual categorization with icons and stars to organize tasks
Tags and filters to find collaborators and task types
Real-time project history updates to track progress
Pricing: free plans available, or paid plans from $8/user/month.