According to the Project Management Institute, portfolio management is "a way to bridge the gap between strategy and implementation." 
In this article, we'll define portfolio management, suggest some best practices, and show you how you can use monday PMO work management to support your organization's success.
What is a project portfolio?
A portfolio describes a grouping of projects, programs, or in some cases, both. Project portfolios are created to house and manage important information across these activities to provide collective oversight.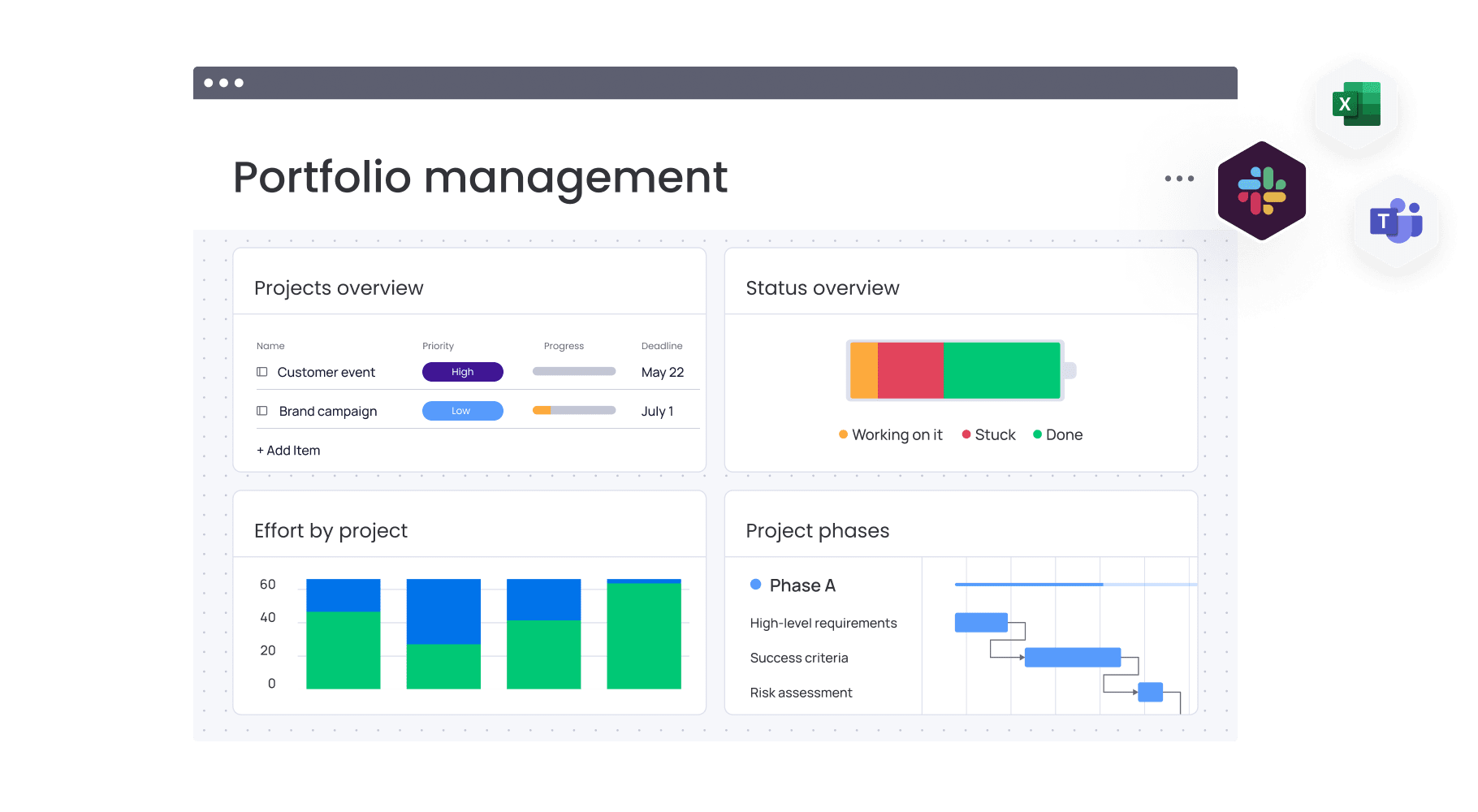 Think of a project portfolio as a single source of truth to make decisions about resource allocation, forecast performance, and risks, and as a north star for progress and alignment — especially as they relate to goals and strategy.
Read also: Portfolio management vs project management
What is the process of portfolio management?
The process of portfolio management is the selection, prioritization, and control of an organization's projects and programs. Such centralized management and oversight help establish a standard of governance across the organization.
Put plainly, project portfolio management assigns responsibility, so the organization always has a individual or a group of people closely monitoring the performance of the company's project investments.
If a project is aligned with the company's strategies, values, and long-term goals and it's performing well, then it's more likely to get funded and prioritized. If it's risky, underperforming, or misaligned to the company's greater strategy, then it's probably going under the microscope to either pivot or get scrapped altogether. 
Building portfolio management into your organization puts you back in the driver's seat, where you can make more educated decisions about how to effectively deliver against your strategy and take charge of your asset allocation.
Some everyday use cases for PPM are:
Identifying potential project returns
Forecasting risks
Facilitating communication
Obtaining stakeholder buy-in
What's the difference between portfolio management, project management, and program management?
The relationship and hierarchy between portfolio, program, and project management can be described as the following:
Project management typically involves managing temporary or unique endeavors focused on a specific product or service
Program management entails a coordinated approach to managing related projects in a manner that aligns their connected objectives
Portfolio management takes a group of projects and/or programs and manages these collectively as a group, ensuring they're consistently aligned with the overall strategy
Simply put, projects are the building blocks that make up a program, while programs and individual projects combined form a portfolio.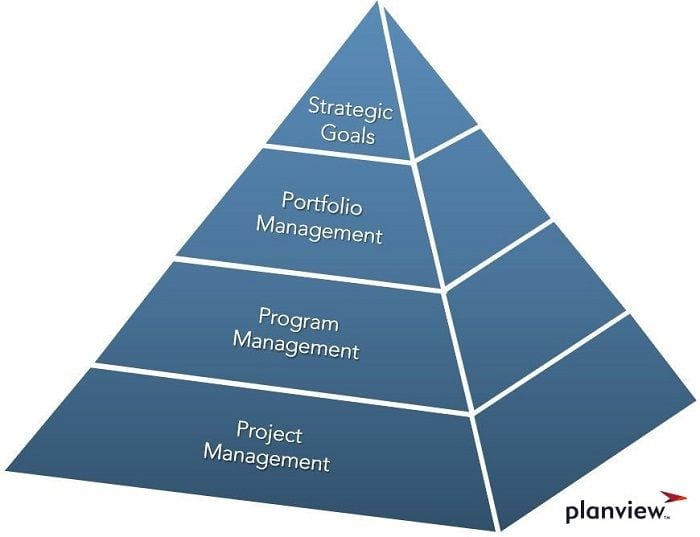 Why is project portfolio management important?
Like most project management processes, thoughtful portfolio management has more than one positive ripple effect on business value. Here are a few of the most important:
Strategic alignment
Portfolio management helps organizational and operations leaders see if other large projects are contributing and in line with high-level organizational goals and KPIs.
Reduced inefficiency
When all projects are mapped out in one place, it's easier to see what is of the highest priority, what can be tabled, and so on. It also creates a track record for seeing how similar projects went in the past, so they can be better implemented in the future.
Risk management
Clarity into a project portfolio aids risk management by consolidating the most important components of projects in one place for evaluation.
Diversification
Having an easily accessible portfolio can also help someone like a PMO assess if the projects being prioritized for the organization have health diversity. Conversely, it can help them see if a project isn't relevant.
Portfolio management best practices
Much like the day-to-day, portfolio management best practices will naturally vary. Nonetheless, there are tried and true methods that are applicable to most industries.
Perform a hands-on, detailed project inventory
Taking stock of all your projects provides a level of understanding that's critical to effective portfolio management. Include the project's title, timeline, estimated costs, business objectives, potential ROI, and how it benefits the business.
This way you can create an instant high-level overview with all the information required to provide investors with updates or make better on-the-spot decisions.
Evaluate projects through a strategic lens
It's important to prioritize the projects that are most aligned with the company's strategic objectives. Other factors to consider are how risky a project is and whether the project will involve massive reengineering.
Ultimately, a good portfolio manager will identify overlapping project proposals early and cut off any projects with poor business cases upfront, to ensure better alignment between management and stakeholders.
Prioritize, categorize, and fund projects
Once you've completed evaluating each project based on strategy alignment, you also will have to prioritize based on available funding and resources. 
A thorough scoring and categorization process can come in handy for this because it also helps you see how much work could be done down the line.
Thoroughly review and manage your portfolio
A first-rate evaluation and prioritization process won't help if your portfolio isn't actively managed after creating the approved project list.
A platform like monday PMO work management streamlines this process by allowing you to oversee the status of each project on a data-driven, yet beautifully designed dashboard.
At a minimum, portfolio managers should be monitoring asset performance at a quarterly level but to truly excel, this should occur more frequently.
During the review process, portfolio managers and stakeholders will often meet to discuss which initiatives require and are worthy of additional funding, which ones to pause, and which to stop altogether.
Portfolio management challenges
Portfolio management is highly effective, but it requires serious commitment. Here are 5 major challenges.
1. Having a cohesive relationship between managers & stakeholders
Both the portfolio management team and stakeholders have unique motivations and priorities that need to work in tangent. Managing the engagement between the two isn't always smooth sailing, as investment decisions are scrutinized.
It takes dedication from the bottom to the top and as much transparency as possible to keep projects on course and relationships intact.
2. Time & resource management
Understanding how much time, capacity, and resources like budget are available across many initiative is tough. On monday PMO work management, you can use a Workload View and Timeline View to provide clear insights.
3. Data visibility
For efficient porfolio management, you need to be able to import and customize the way you or stakeholders see relevant project data.
monday PMO work management lets you use widgets to create custom dashboards — you can set up automations to routinely send reports out. You can also add more than one dashboard view on a board, built exactly how you need it.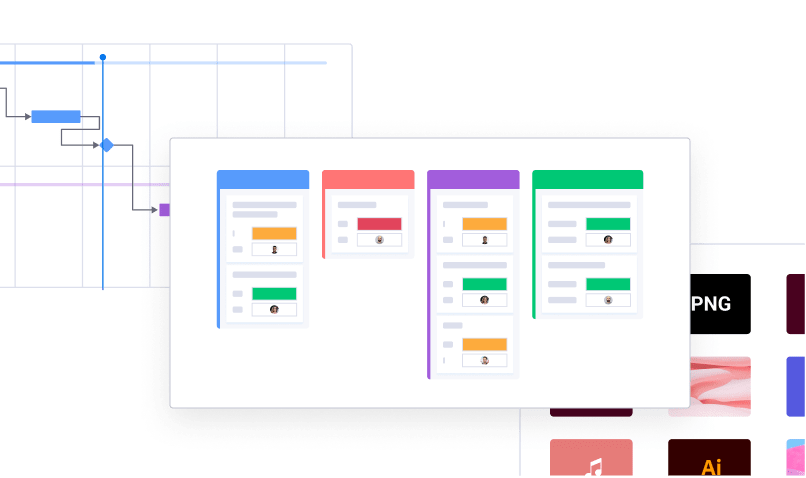 4. Inability to operationalize & scale
As your project portfolio grows, it's safe to say that you need a work management platform that can keep up and cut down on manual work. Excel sheets and email can't offer automation, calculations, communication, and more all in the same place — which can slow down or prevent organizations from expanding their portfolios.
5. Macroeconomic risks
Even the most perfect portfolio management can be negatively impacted by factors out of an organization's control, like an economic downturn. However, having an effective platform and system in place can help you make better financial decisions before, during, and after a crisis or slow time.
Read: What is work management
Why you need a portfolio management platform
Keeping track of project status, funding, investment rounds, ownership, and communication is hard enough when people and resources are stretched or limited. Without a portfolio management platform, you might as well be making educated guesses that occasionally meet their mark.
The best tool is one that also considers your project managers' needs since their data needs to trickle up to higher-level portfolio managers and their corresponding boards and dashboards.
A solution that eliminates manual data transfers or excessive status update meetings should be what you aim for, with the aim of improving your overall processes, impact, and keeping your sanity.
monday PMO work management lets you do that.
How can monday Work Management help with portfolio management?
monday PMO work management is perfectly suited for top-notch portfolio management. Its features and customization options help you and your managers see the big picture so they can easily detect bottlenecks and problems by pulling data from all projects across different programs into one high-level view.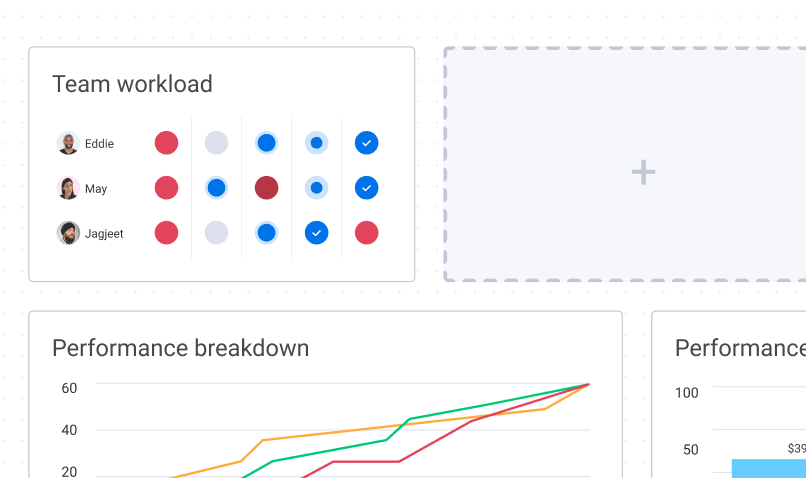 Investing in monday.com checks off all the best practices, as it allows you to:
Perform a hands-on, detailed project inventory with a portfolio management board. This board provides a high-level overview that's easily connected to a more granular project view that your project managers keep up to date.
Evaluate projects through a strategic lens with custom columns that make it easier to track funding rounds, funding status, resources invested, estimated current value, and last evaluation.
Prioritize, categorize, and fund projects based on custom columns that show priority and custom project scoring.
Thoroughly review and manage your portfolio with custom dashboards that provide a snapshot of the overall profitability and health of the portfolio.
The ability to assign ownership to individual tasks, so that you always have a go-to person, provides greater insight into performance and makes it easy to manage any potential risk as they arise.
Check out monday work management pricing here.
FAQ
Does monday work management have a portfolio view?
monday work management offers many different options to help you get a high-level overview of projects across teams and departments. Our dashboard view is a customizable location where you can choose custom widgets to stay on top of things like budget, project phases, and more across project boards.
What is the goal of project portfolio management vs project management?
The goal of project portfolio management is to stay on top of project data across departments, teams, and more in order to optimize things like efficiency, resources, and budgets. Project management's goal is to plan, track, execute, and monitor activities in stages in order to achieve a goal and produce a certain outcome.
What features does a good project portfolio management tool offer?
Dashboards
Budgeting and reporting
Seamless, in-platform communication
Automations
Import & export
Enterprise-level security