Your knowledge of a Gantt chart might be limited— maybe you know they are used to map out project timelines and activities. You may have seen stacked bar charts as well.
If you haven't delved much deeper than that, don't worry. In this blog, we will cover what you need to know about Gantt charts as a project management tool and answer your burning questions like, 'should you be using online Gantt chart software', 'build a Gantt chart in Excel or one in Google sheets' —or stick to pen and paper for project planning?
What is a Gantt chart?
A Gantt chart is a horizontal bar chart that shows a project's planned schedule and its tasks or events over time. Each bar in the Gantt chart represents a task, while the dates are laid out horizontally.
Gantt charts are commonly used as project schedules because they are one of the most useful and classic ways of showing activities displayed against time. It is based on Henry Gantt's original design that evolved from Karol Adamiecki's harmonograph.
Modern Gantt charts can also show task dependencies — how each task connects to others. 
What is the purpose of a Gantt chart?
A simple Gantt chart provides clarity on deadlines, milestones, and project progress. Everyone on your team knows what they have to work on, when, and how it impacts the overall project.
What are the four components of a Gantt chart?
While no two Gantt charts look the same, let's take a closer look at their key components.
Dates/milestones

: The date and duration of each task are often displayed in days/weeks/months, but can also be represented in minutes/hours. The current day/time is usually highlighted. P.S., the length of each rectangle tells you how long a task is expected to take, known as the

duration

of the task.

Tasks/items

: There are individual activities (or tasks) that live at various stages of completion. Each task can stand on its own, and if you use monday.com you can also group tasks together to create sub-items

.

Owner

: This represents the person responsible for the task. Note: this can be more than one person or an entire team.

Bars & columns: Bars are what communicate a task's duration, while columns are the actual dates.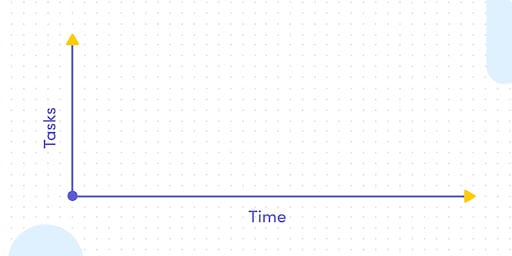 It's easy to create a Gantt chart to your work on monday.com — we have a dedicated view for it. Try it now!
Get started
What is a Gantt chart used for?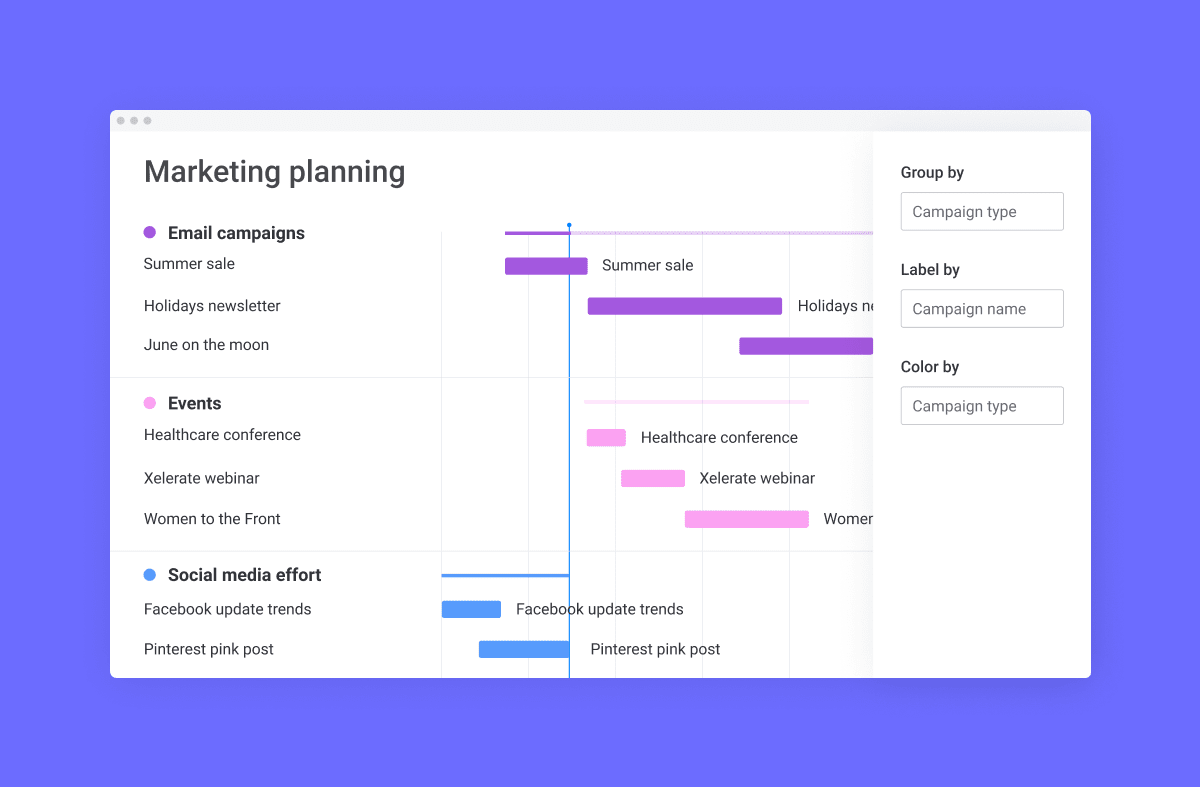 A Gantt chart is primarily used to assist the planning and scheduling of projects of all sizes, but they are particularly useful for simplifying complex projects and their KPIs. Project management with Gantt charts could include anything from resource management plans to planning killer marketing campaigns.
Understanding a project's scope and requirements is made easier with Gantt charts because they provide a visual representation of your project at any stage, including task dependencies, priorities, and ownership. This can also be useful as a high-level guide for managers as they are tracking project progress.
This relates to Work Breakdown Structure of WBS, a specific method of breaking down large or complicated goals into manageable objectives. It is often the foundation for creating a solid Gantt chart. It depicts what tasks (and subtasks) are to be completed, but it does not show when each task will begin and end. By starting with a hierarchical representation of tasks and their dependencies (WBS), you can then layer in Gantt chart components such as time, ownership, status, milestones, etc. to create a clearer picture.