Gantt charts are a project management classic. And thanks to the advent of customizable software and thousands of Gantt chart templates, they've gained a heap of popularity in the project management world.
But which is the best for your needs? As many workflow software platforms now tout their own built-in Gantt chart capabilities, it can be challenging to identify the right solution.
This article runs through 16 different Gantt chart software providers, including their key features and pricing (there are free Gantt charts!) We also dig into a full exploration of the Gantt View on monday.com so you can understand how it works for your next project.
What is a Gantt chart?
Henry Gantt, an engineer, management consultant, and efficiency expert, created the Gantt chart in the early 1900s. He aimed to support project managers in communicating their project progress and identify any potential roadblocks along the way.
Gantt charts are mainly used for project planning and scheduling and to help project managers understand a project's time requirements and scope.
They rely on horizontal progress bars as a visual way to keep track of the stages of a project and the set timespan.
The success of a Gantt chart lies in the ability to identify task dependencies and project duration quickly. This way, project managers can see the progress of each task, how they're related to other tasks, and when to complete them.
What is Gantt chart software?
Gantt chart software is a type of project management software used to create digital Gantt charts. It simplifies complex projects and displays collaborators and task owners in a single timeline-based view, giving you an at-a-glance look at a project's duration and tasks.
Here's a simple example of a Gantt chart on monday.com: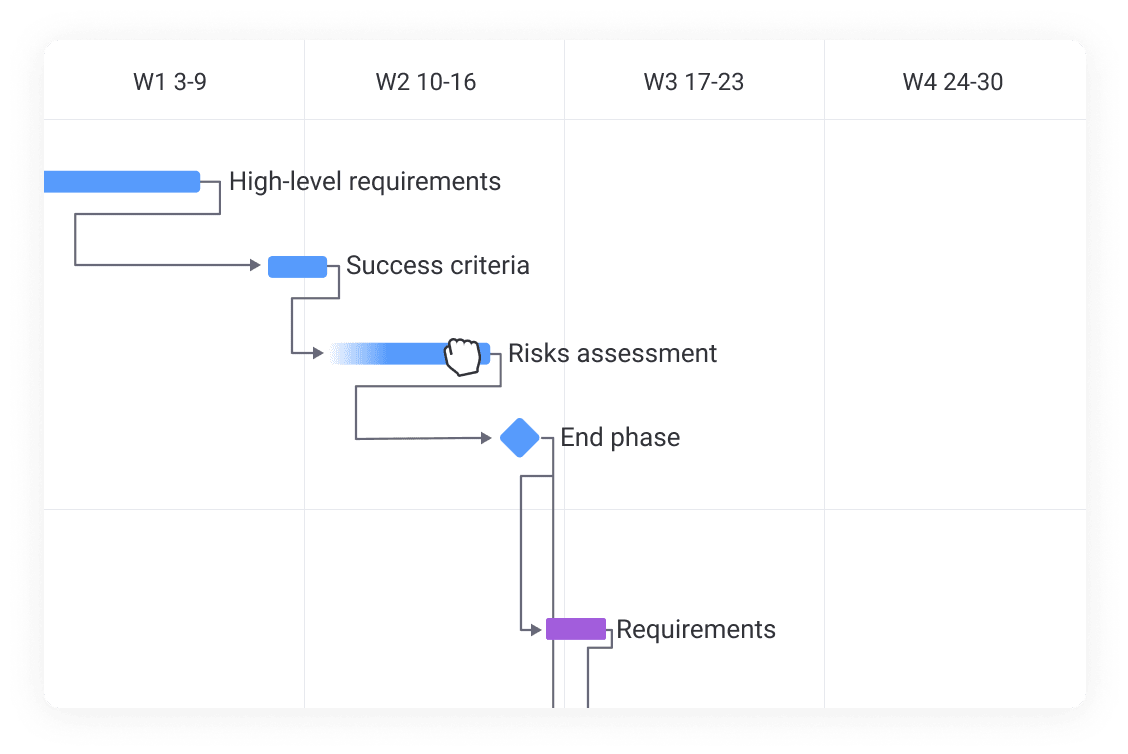 As you can see in the illustration above, Gantt charts often use color coding and icons or images to represent or assign tasks. With a Gantt chart, you can:
Create, manage, and assign tasks
Plan resource allocation
Set due dates
Set up task dependencies
Track progress against expectations
View overall project timelines
For a complete guide to Gantt charts, including a history, their key components, use cases, and alternatives, check out the aptly named blog post, "Everything You Want to Know About Gantt Charts."
Top 16 Gantt chart software for project managers
Although Gantt charts can be paper-based, digital Gantt charts allow for real-time customization and sharing—among other impactful features you'll find in the right tool. Let's run through a list of 16 top Gantt chart software options, so you can choose the best one for your next project.
1. monday.com
We'd be remiss if we didn't mention the platform we developed to help teams get their work done. monday.com Work OS gives project managers and teams everything they need to succeed—including Gantt charts.
Creating Gantt charts with monday.com is simple, and you can personalize them to your team's needs in minutes.
Gantt charts on monday.com start with our dynamic Table view where you can enter all the relevant information. Gantt charts are a convenient way to see project progress, but monday.com Work OS allows teams to visualize project timelines in multiple ways, including Kanban boards, or the Calendar View if you prefer. You can even take your Gantt charts on the go with our mobile app.
Features:
Pricing:
monday.com offers five pricing tiers based on how many seats you need and whether you want to pay annually or monthly.
Individual: free forever
Basic: from $10 per seat per month
Standard: from $14 per seat per month
Pro: from $24 per seat per month
Enterprise: custom quotes available
Check out our pricing page to discover the perfect plan for your team and wallet.
2. Gantter
Gantter is a tool for creating Gantt charts with a range of Google integrations. This platform is a solid choice for teams with deeply embedded workflows using GSuite, though the learning curve for others may be steeper.
Features:
Intuitive user interface similar to other Google products
Cost tracking, resource management, and analytics tools included
Pricing:
Gantter Cloud
Gantter for Google Drive
Gantter for G Suite, all priced at $5/user/month
3. Instagantt
Built for Gantt, Instagantt is an interactive project management and Gantt chart software.
Features:
Visual features like drag-and-drop tasks and click-and-expand task timeframes
Set task dependencies by clicking and dragging an arrow from one task to another
Collaboration features including assignees, task-based chat boards, and tagging team members in comments
Pricing:
$7/month for a single user
$5/user/month for teams
4. WORKetc
A CRM, project management, team collaboration, and online Gantt chart software, WORKetc is designed to help remote teams more easily manage work.
Features:
House customer data and build sales processes
Create Gantt charts with document and contact attachments
Generate invoices directly
Additional functionality for support teams with web forms
Help ticket management for teams
Pricing:
WORKetc is more expensive than many of its competitors.
Starter plan costs $78/month for teams of up to 2
Team plan is $195/month (for three users) plus $49/month per additional user
Foundations plan is $395/month (plus $59/month for each user beyond the three included) and provides higher contact and storage database limits
5. Meisterplan
Meisterplan is a project management tool and online Gantt chart software designed to speed up workflows and project delivery. One of Meisterplan's key features is its ability to help portfolio project managers juggle multiple projects to determine whether they have the capacity to add new projects to their current workload.
Features:
Suite of reporting and analytics tools
Resource management capabilities
Pricing:
Pricing is based on the number of resources (people) you manage but is more expensive than competitor options:
Basic plan from $7,000 per year for up to 50 resources
Pro plan starts from $9,500 per year for up to 50 resources
Premium plan starts from $32,000 per year for up to 150 resources
6. Apptivo
Apptivo offers a suite of CRM and project management apps on top of building online Gantt charts that integrate with other Apptivo apps.
Features:
Access time-tracking tools using the Project apps
Utilize customizable views, including the Gantt View
Pricing:
Lite plan costs $10 per user/month
Premium plan costs $15/user/month
Ultimate plan costs $25/user/month
Custom pricing is available for Enterprise-tier companies
7. Project Drive
Project Drive is a report-heavy, customizable project management software, and online Gantt chart software for executives, managers, and teams.
Features:
Project schedule and status reports
Document sharing capabilities
Gantt chart features like milestones
Extended task history on all projects
Short list of Microsoft integrations
Pricing:
$40/user/month for teams of up to 25
Larger teams pay a discounted rate per user per month, depending on team size
8. Tiemchart
Tiemchart is an online project management software built around Gantt charts, project costing, billing, and team collaboration. It's best for those in engineering, construction, or consulting firms.
Features:
Gantt charts using a click-and-drag method
Create individual task assignments
In-built financial tools, including profit reporting, time tracking, and project billing
Pricing:
Tiemchart offers a 14-day free trial (following a demo with their sales team). Custom pricing available on request.
9. Scopidea
Scopidea is a basic project management tool and free Gantt chart software with issue tracking and agile project management capabilities.
Features:
Employee GPS tracking
Time tracking
Timesheet management
Financial tools like invoice and quote generation
Create dynamic Gantt charts or view projects in a list-based view
Pricing:
Scopidea is free for teams of up to five. Pricing for larger teams is not available on its website.
10. BigGantt
Part of the Atlassian family, BigGantt is Gantt chart software for Jira that enables the synchronization of sprint data. It includes all the features you'd expect from a Gantt chart maker, plus those that allow project managers to determine critical paths.
Features:
Set task dependencies
Project milestones
Drag-and-drop Gantt chart functionality
Adjust the scope using quick filters
Create smart workflow automations
Easy project progress updates, including start and end dates
Pricing:
BigGantt is free for up to 10 users or $1.31/month per user for larger teams. Alternatively, why not sign up for a for a free trial on monday.com which offers even more features and functionality?
Get started
11. Genius Project
Genius Project is an enterprise-grade project management platform and online Gantt chart software that allows for all kinds of project planning.
Features:
Enterprise-grade security
On-site hosting
Integration with platforms like Salesforce.com and Oracle
Portfolio project planning
Resource management
Time and expense tracking
Gantt chart creator
Pricing:
Genius Project doesn't advertise fixed pricing.
12. Onepager Pro
Onepager Pro is a Gantt chart software designed for Microsoft Project (MS Project), Project Server, and Project Online.
Features:
Conditional formatting (such as color coding and Microsoft-based shapes and styles)
Data import functionality
Easy grouping and task/project sorting
Pricing:
Onepager Pro is a one-off buy at $499, including upgrades and support for 12 months.
13. Wrike
Use Wrike Gantt chart software to import files from Microsoft Excel or MS Project. Alternatively, use in-built integration to automate data transfers from 400+ tools.
Features:
Snapshots, baselining, and critical path analysis
Bulk task rescheduling
Drag-and-drop builder to track task dependencies
Notify project members when charts are updated
Pricing:
Free for teams getting started
Team starts from $9.80 per user/month for growing teams
Business starts $24.80 per user/month for all teams
Enterprise is for larger teams. Price available on request.
Pinnacle is for teams with complex work needs. Price available on request.
14. GanttPRO
GanttPRO helps teams plan, organize and track project progress, and assign tasks and responsibilities, to ensure you meet deadlines. The tool offers a variety of features including collaboration, task dependencies, time tracking, and integrations with other tools.
Features:
Customizable charts
Task dependencies
Critical path analysis
Stretchable handles to set and change due dates
Task completion percentages
Pricing:
Basic starts from $7.99 per user/month for small teams
Pro starts from $12.99 per user/month for teams focused on automating project management
Business starts from $19.99 per user/month for running comprehensive project portfolios
Enterprise prices are available on request for organizations requiring tighter security and control
15. Toggl Plan
Toggl Plan offers attractive visuals and project management tools for collaboration, time tracking, and budget management.
Features:
Public shareable links
Works with multiple operating systems
Project costing
Pricing:
Toggl offers two pricing packages—both are available on a 14-day free trial with no credit card required.
Team starts from $8 per user per month
Business starts from $13.35 per user per month
16. Agantty
Agantty is a cloud-based project management tool that offers a simple Gantt chart interface. It's open-source, so a good fit if you're willing to dig in and customize the software to your needs.
Features:
Unlimited teams and guest users
Export tasks as PDFs
Export to calendars like Google Calendar, iCalendar, and Outlook Calendar
Dashboard lookup tool
Pricing:
14-day full-feature free trial of Agantty on a maximum of one project.
Premium version costs € 4.90 per user per month or €50 per user per year.
As we've seen above, there are many Gantt chart software options on the market, but if you're working on multiple projects, need plenty of flexibility, and powerful features, you may want to consider a tool such as monday.com Work OS, which allows you to create a Gantt chart in minutes.
How can I create a Gantt chart on monday.com?
Compared to several options on the market, monday.com makes it easy to get started and requires little to no onboarding. Start with a template and import your data directly from Excel or follow the steps below.
After signing up or logging into your account, create a new board and add all your tasks.
Add a Task Timeline Column to your board, so every task has a given time period.
Once you fill in all the information, go to Views and choose the Timeline or Gantt View—this will help you see your entire project's timeline and task overlap.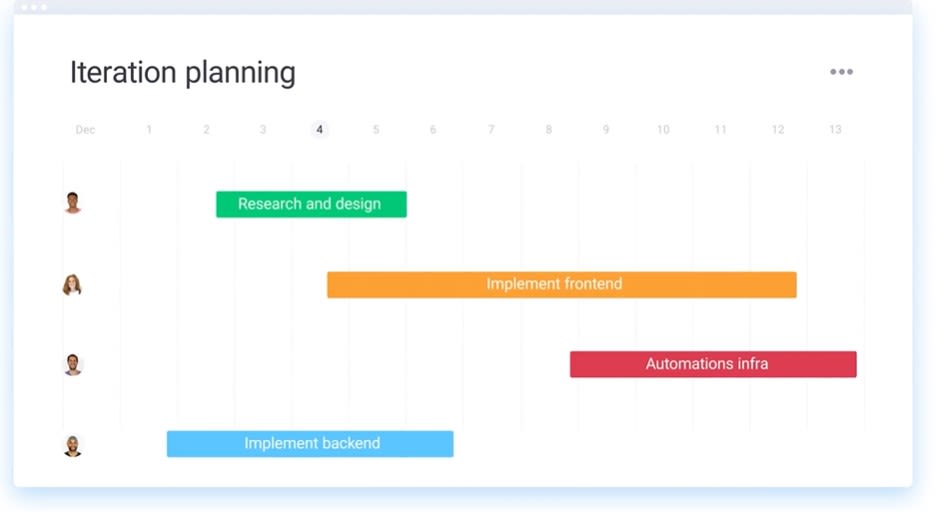 From there, you'll update or make adjustments to suit your needs. For instance, you could:
Customize the time and date
Highlight dependencies
Organize items the way you like it
Show a group summary (the total amount of time each group spans across)
Add custom colors to your timeline bars
Filter and sort items as needed
Set up and track milestones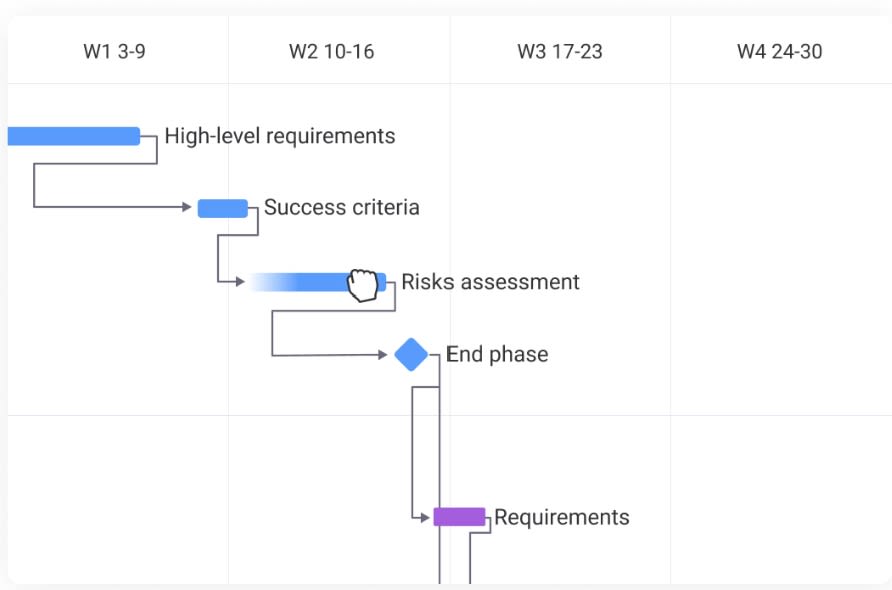 And when you need to share your Gantt chart, all you need to do is click the 'All Views' tab, hover over the Gantt View from the list, and select 'Share' from the drop-down menu. That's it—you now have a customizable, shareable, and agile Gantt chart to help you manage any project.
FAQs
What is the best Gantt chart software?
The best Gantt chart software depends on your specific project requirements, the size of your team, and your budget. We recommend that your pick includes features such as the ability to add project milestones, task dependencies, and customizable templates to streamline your processes. Check out monday.com Work OS if you're looking for these powerful Gantt features and more.
What are some Gantt chart alternatives?
If Gantt charts don't provide the best overview of your project, try some alternatives:
Kanban: view project stages in columns.
Chart: analyze and display data in pie, line, or bar charts.
Map: for a location-based view, click on your pins to reveal the address.
Timeline: add start and finish dates.
All of these are available on monday.com Work OS.
What is a Gantt chart in software project management?
In a software project, tasks and their dependencies can be quickly laid out in a Gantt chart, giving you an immediate overview of the progress. This allows project managers to track, analyze and optimize the timeline of their projects.
Take your project management to the next level with monday.com
Whether you're looking for a simple Gantt chart creator, or an in-depth Work OS with customizable Gantt capabilities, there's something in here for you. Ready to get started? Check out our team task management template and start exploring the Gantt chart software on monday.com.