Price is a vital consideration when investing in project management software. You'll want the reassurance that your platform of choice is excellent value for money and that you've selected a package offering everything your business needs.
Smartsheet is a project management and spreadsheet software designed to help your business stay organized and hit its goals. But does it offer a valuable return on your investment? This guide discusses Smartsheet pricing, including the features you'll receive with each pricing plan. We'll also introduce monday.com as a powerful and cost-effective Smartsheet alternative for your business.
What is Smartsheet?
Smartsheet is an online, spreadsheet-centric work management solution for tracking team projects. It's suitable if you're already familiar with spreadsheet staples like Microsoft Excel or Google Sheets.
Smartsheet claims that the no-code, cloud-based platform can scale from single projects to end-to-end work management and is a place where anyone can create the solution they need—backed by the control and security IT teams require. Smartsheet includes the following features:
Automated business processes
Integrations with everyday apps in your tech stack
Real-time reporting
Data visualization
Easy internal or external collaboration
Smartsheet pricing plans
Is Smartsheet free? Well, like most work software out there, you can try a limited free version of Smartsheet. Other Smartsheet plans include three main choices with an option to upgrade to Smartsheet Advance. In a nutshell, here is how much Smartsheet costs a team of three users:
Pro: $7 user/month
Business: $25 user/month
Enterprise: you must contact the sales team for this Smartsheet license cost
Take a glance at the different Smartsheet plans, and the features included at each price point.
| | | | | |
| --- | --- | --- | --- | --- |
| | Free | Pro | Business | Enterprise |
| Pricing | $0 | From $7 per user | From $25 per user | Contact Smartsheet |
| Users | 1 user, 2 editors | Up to 10 users | Minimum 3 users | Custom user volumes |
| Features | Limited attachment storage, and automations | Unlimited sheets and dashboards and 250 automations per month | Forms with conditional logic, 1TB attachment storage, Unlimited automations | Directory integration and account discovery, work insights, custom email domains |
What's included in Smartsheet's pricing plans?
Smartsheet pricing plans share many features you would expect to find in work management software, including different views, reporting tools, and integrations. However, some of the features only become available with the more expensive tiers. Here are some features offered in each:
Free
Smartsheet's free version is suitable for individuals just getting started with task and project management. It may be useful as a jumping-off point before exploring the premium plans. At this level, you can:
Create and manage two sheets
Share with two editors
Set up 100 automations per month
Pro
Smartsheet's equivalent of an individual plan is available for up to a maximum of 10 users, making it relevant for users who need to up their project planning and management game. With Pro, you can access features like these:
Unlimited sheets, reports, and dashboards
Unlimited free viewers
Cell and column formulas
Business
The Business plan steps things up with more robust versions of Pro features, as well as some integrations:
Unlimited collaborators
Adobe Creative Cloud extension
Smartsheet license management
Activity logs
Enterprise
The Enterprise Plan is designed for large teams with varying functions and also touts exclusive access to the Smartsheet Advance offerings. It includes all of the features of the Business plan, plus:
Single sign-on/SAML
WorkApps, their no-code app builder
User merge function for System Admins to handle business changes resulting for mergers, acquisitions, etc.
Smartsheet Advance
Smartsheet Advance promises premium capabilities for project, program, and process management at scale. This offering is broken into three categories—Silver, Gold, and Platinum— which vary in capabilities and likely price tag as well. This model may feel slightly confusing and potentially frustrating for customers, and you'll need to contact the company for a custom quote.
monday.com: a customizable Smartsheet alternative
When looking at Smartsheet pricing and features, it's important to compare it to other project management software out there to get the full picture. monday.com Work OS is a great choice for comparison, as we offer teams work management solutions and are a no-code/low-code platform.
What is monday.com?
monday.com is a Work Operating System (Work OS) designed to help your team plan, track, and manage projects in their own way—from projects to processes, to workflows, resource management, and everything in between.
monday.com is simple to use but intuitive; it helps teams of all sizes shape workflows, adjust to shifting needs, create transparency, collaborate with ease, and stop doing manual grunt work.
Here's the breakdown of our pricing for 3 seats:
Free trial: $0
Basic: $8 seat/month
Standard: $10 seat/month
Pro: $16 seat/month
Enterprise: contact our consulting team to assess your best fit
Our pricing page lets you play around with the different options to find the perfect price and solution for your team and budget.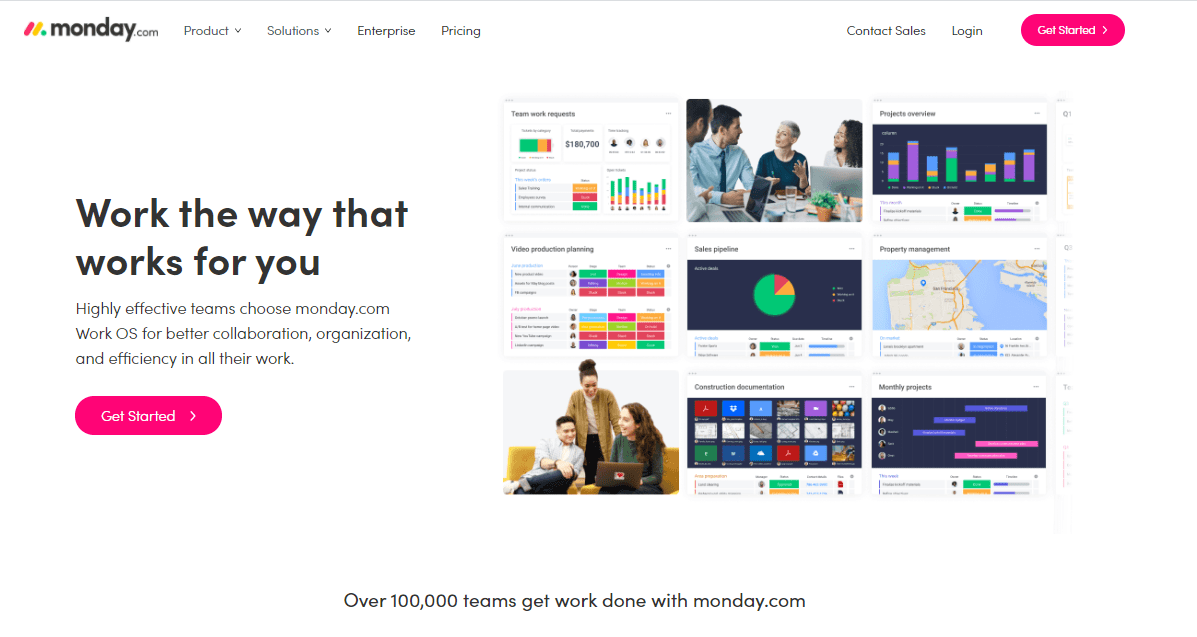 What's included in monday.com pricing plans?
Free
Explore monday.com's features like the following before choosing a premium plan that suits your needs.
monday workdocs



Simple search function
File, Form, and Kanban views
Apps
Basic
The Basic plan provides you with what you need to manage your team's work in one place:
Unlimited boards, free viewers, and docs
20+ column types
Dashboard view
Our handy mobile app updates in real-time
200+ templates
Pro
Need a higher volume of integration and automation actions? The Pro plan is for you and those who desire the features of Standard plus private boards and advanced sharing permissions. Streamline and run complex workflows with:
25,000 actions/month each for integrations and automations
Time-tracking
Dependency and formula columns
Dashboards combining data from up to 10 boards
Enterprise
Built for big teams and scaling organizations, this plan offers enterprise-grade project management, scaled automations and integrations, premium support, and deeper reporting and analytics than any other plan as well as:
Enterprise-grade security and governance
Multi-level permissions
Tailored onboarding
Dashboards combining data from up to 50 boards
monday.com vs. Smartsheet: how do their features compare?
Let's get a bit more granular. Smartsheet offers multiple project management features like Gantt charts, dashboards, reports, and custom forms (as does monday.com), but it achieves a 4.4 out of 5 score by G2 software reviewers. monday.com, in comparison, has a score of 4.7. So, where does monday.com excel?
Visual customizations
monday.com gives you plenty of freedom when it comes to how you visually manage your work. For example, users can sort their boards how they see fit without forcing other team members to do the same. Although Smartsheet offers core views such as Grid, Calendar, Chart, and Card, monday.com includes an impressive 27+ views allowing you to access and display the data that matters. Smartsheet does offer Dynamic view functionality, enabling users to share sections of a sheet without revealing the underlying source sheet. However, this functionality is only available in the Business and Enterprise plans.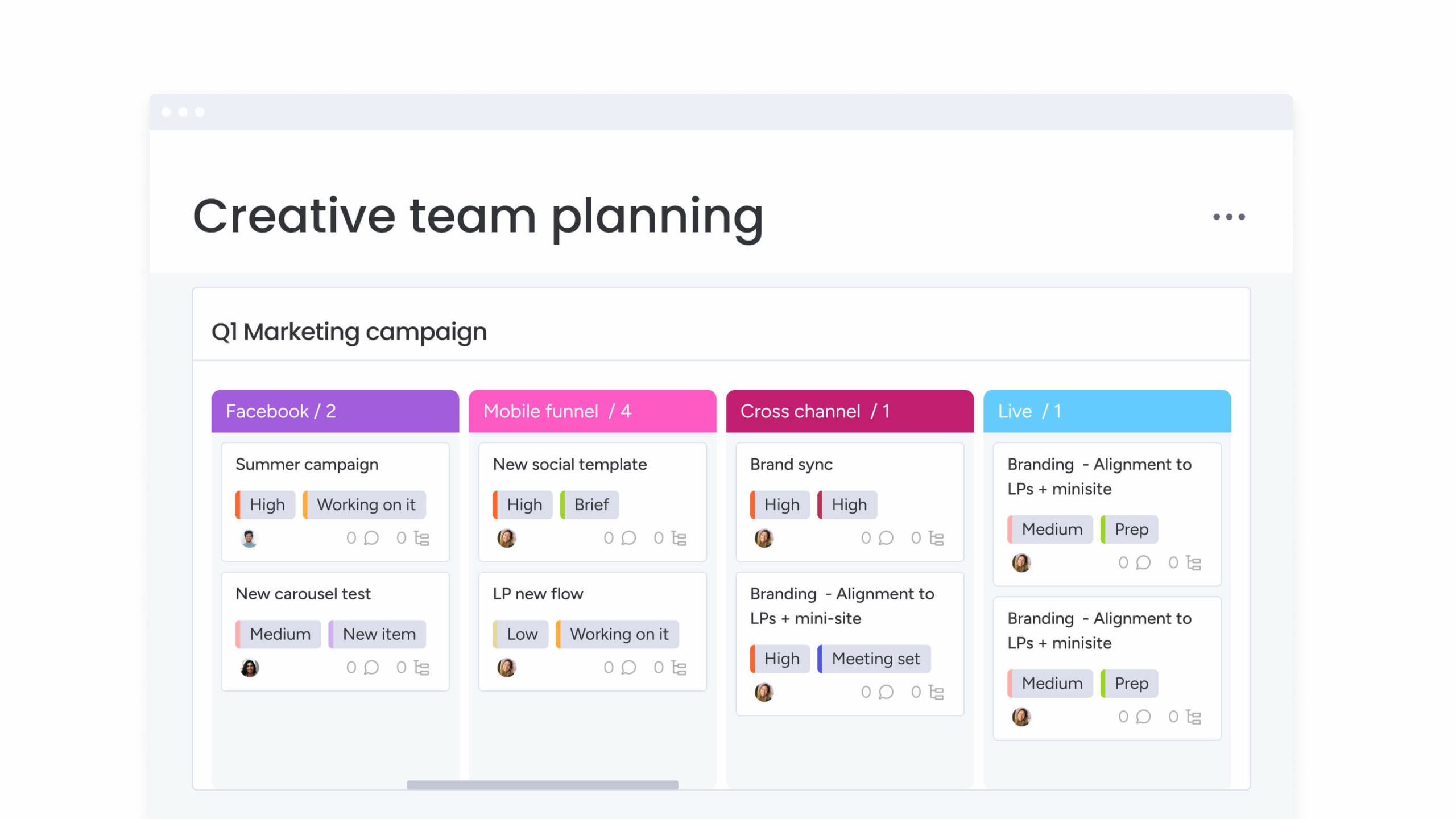 Workflow setup
monday.com offers a vast range of building blocks enabling you to design a fully customized workflow. Choose from a variety of widgets, integrations, columns, apps, workdocs and templates to create exactly what you need. As your organization scales or projects evolve, it's easy to anticipate and swerve bottlenecks, and pivot or build entirely new workflows for superior task management.
Smartsheet also offers its own set of views, reports, dashboards, and workflows. However, it's worth noting that when G2 reviewers compare "Ease of Setup" across both platforms, monday.com scores 8.8, against Smartsheet's 8.4 in this category.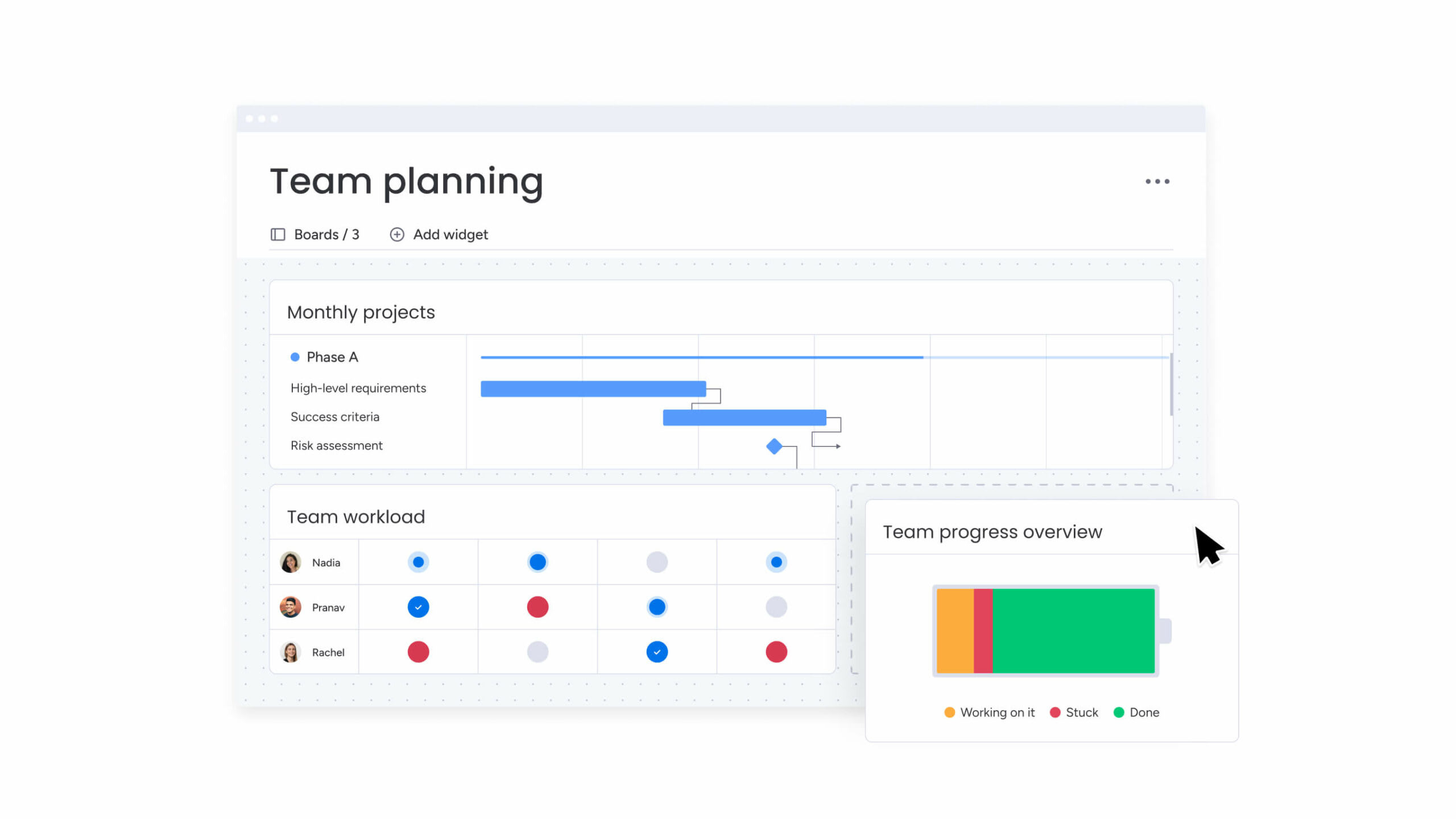 Overall value
monday.com's premium plans are more affordable than Smartsheet beyond the first paid tier. But it's not all about the money, and rather what you receive for your dollars. Before you decide which is the best value platform of your organization, it's worth noting how G2 reviewers compare each out of 10 across the following categories:
Ease of use (monday.com = 9.1, Smartsheet = 8.4)
Ease of admin (monday.com = 9.1, Smartsheet = 8.6)
Quality of support (monday.com = 9.0, Smartsheet = 8.5)
Product direction (monday.com = 9.4, Smartsheet = 8.5)
As you can see, the reviews favor monday.com, and for good reason. The monday.com Work OS offers  72+ integrations, 27+ views, 36+ columns, 217+ apps, 200+ templates, and 25+ widgets for your investment.
What level of support does each platform offer?
Smartsheet's support options—including service levels for those options—will depend on your plan and user type, if you are a licensed user, and the specific service contract your organization has. Standard support provides access to Smartsheet University eLearning, 24/7 global email support, and 24/7 global phone support. Professional support opens up access to Pro Desk, but features like 24/7 critical situation paging, and Smartsheet solutions guidance aren't available until you pay for TAM support.
At monday.com we take our customer support very seriously, which is why we guarantee our customers 24/7 support via email and our Help Desk every day of the year. In addition to our support, we offer a knowledge center and YouTube channel full of useful videos and descriptions. Here's what G2 reviewer Patricia E says about our support:
"It's worth mentioning that they have an amazing support team! All questions are quickly solved, there is good guidance and they even send you videos to understand the step-by-step in case this is needed."
Smartsheet pricing: is it worth it?
Now that you're armed with all the right information about Smartsheet pricing, what's next? Will you opt for a platform that just meets the mark, or a Work OS like monday.com that you can transform, build, and grow as needed—all while automating and syncing your workflow communications?
Check it out yourself: try our platform now!
FAQs
How long is the Smartsheet free trial?
Smartsheet's free trial is 30 days. After this time, you have the option to upgrade to one of Smartsheet's premium pricing plans.
What is the best use for Smartsheet?
Smartsheet is a good fit if you love managing your work with a spreadsheet but you've outgrown the likes of Microsoft Excel and Google Sheets. It offers an advanced way to organize your projects from start to finish.
Where does monday.com excel in comparison to Smartsheet?
Smartsheet works out as being the more expensive platform once you get past the Pro plan, which is the equivalent of monday.com's Basic plan. As a cost-effective alternative, monday.com offers an array of customizations, including the ability to change views on your dashboard without affecting your team members' view of your shared work.
Related articles: Smartsheet vs. monday.com, Smartsheet vs. Asana, Smartsheet vs. Trello,  Smartsheet alternatives, Smartsheet vs. Airtable, monday.com alternatives
Curious as to what customers are saying about us? See reviews.