If you've had enough of the project management limitations or the confusion around plans imposed by traditional spreadsheet software, then you've probably already searched things like Smartsheet pricing. The spreadsheet alternative offers its most basic plan, Pro, at $7 per user per month for up to 25 users.
But what else does Smartsheet pricing get you? To save you from wasted time (kind of our thing at monday.com), we've put together a quick look at Smartsheet, covering:
Pricing tiers
Features
A brief comparison to a Smartsheet alternative
What is Smartsheet?
Smartsheet is an online, spreadsheet-centric work management solution for tracking team projects. The company claims that the no-code, cloud-based platform can scale from single projects to end-to-end work management and is a place where anyone can create the solution they need—backed by the control and security IT teams require.
Smartsheet pricing plans
Is Smartsheet free? Well, like most work software out there, you can try Smartsheet for free for a trial period. Other Smartsheet plans include three main choices with an option to upgrade to Smartsheet Advanced. In a nutshell, here is how much Smartsheet costs a team of three users:
Pro: $7 user/month
Business: $25 user/month
Enterprise: you must contact the sales team for this Smartsheet license cost
In the next section, we'll go more in-depth with a Smartsheet plan comparison, based on features, pros, and cons.
What's included in Smartsheet cost?
Smartsheet pricing plans share many features you would expect to find in work management software, like different views, reporting tools, and integrations. However, many of the baseline features aren't standard across plans—they only become available or truly useful with the more expensive tiers. Here are some features offered in each.
Pro
Smartsheet's equivalent of an individual plan requires a minimum of three users, making it relevant for users who need to up their project planning and management game. With Pro, you have access features like these:
Sheets, reports, and dashboards (1 sheet per report, and max 10 widgets per dashboard)
10 viewers max per object (item)
Cell and column formulas
Business
The Business plan steps things up with more robust versions of Pro features, as well as some integrations:
Unlimited collaborators
Adobe Creative Cloud extension
Smartsheet license management
Activity logs
Enterprise
The Enterprise Plan is designed for large teams with varying functions and also touts exclusive access to the Smartsheet Advanced offerings. It includes all of the features of the Business plan, plus:
Single sign-on/SAML
WorkApps, their no-code app builder
User merge function for System Admins to handle business changes resulting for mergers, acquisitions, etc.
Smartsheet Advanced
Smartsheet Advanced promises premium capabilities for project, program, and process management at scale. This offering is broken into three categories—Silver, Gold, and Premium— which vary in capabilities and likely price tag as well. This model may feel slightly confusing and potentially frustrating for customers.
Smartsheet alternative
When looking at Smartsheet pricing and features, it's important to compare it to other project management software out there to get the full picture. monday.com Work OS is a great choice for comparison, as we offer teams work management solutions and are a no-code/low-code platform.
What is monday.com?
monday.com is a Work Operating System (Work OS) designed to help your team plan, track, and manage projects in their own way—from projects to processes, to workflows, resource management, and everything in between. It's simple but intuitive and helps teams of all sizes shape workflows, adjust to shifting needs, create transparency, collaborate with ease, and stop doing manual grunt work.
Here's the breakdown of our pricing for 3 seats:
Individual plan: FREE
Basic: $8 seat/month
Standard: $10 seat/month
Pro: $16 seat/month
Enterprise: contact our consulting team to assess your best fit
Our pricing page lets you play around with the different options to find the perfect price and solution for your team and budget.

What's included in monday.com pricing plans?
Free
 Our Individual Plan is for individuals looking to keep track of their tasks and work. If you are interested in using only the most essential features of monday.com, this is the plan for you, with:
monday workdocs



Simple search function
File, Form, and Kanban views
Apps
Basic
The Basic plan provides you with what you need to manage your team's work in one place:
Unlimited boards, free viewers, and docs
20+ column types
Dashboard view
Our handy mobile app updates in real-time.
200+ templates
Standard
The Standard plan is our most popular plan, and there's a lot for teams to love! With all of the features of Basic plus advanced search functions, new Timeline and Calendar views, and the ability to share boards with guests, the Standard plans gives teams the ability to track and manage their workloads easily with:
Automations (250 actions per month)
Integrations (250 actions per month)
Dashboards with data from up to 5 boards
Pro
Need a higher volume of integration and automation actions? The Prop plan is for you and those who desire the features of Standard plus private boards and advanced sharing permissions. Streamline and run complex workflows with:
25,000 actions/month each for integrations and automations
Time-tracking
Dependency and formula columns
Dashboards combining data from up to 10 boards
Enterprise
Built for big teams and scaling organizations, this plan offers enterprise-grade project management, scaled automations and integrations, premium support, and deeper reporting and analytics than any other plan as well as:
Enterprise-grade security and governance
Multi-level permissions
Tailored onboarding
Dashboards combining data from up to 50 boards
monday.com vs. Smartsheet: how do their features compare?
Let's get a bit more granular. While Smartsheet arguably offers multiple project management features like Gantt charts, dashboards, reports, and custom forms (as does monday.com!), where do they come up short?
Visual customizations
monday.com gives you much more freedom when it comes to how you visually manage your work. For instance, users can sort their boards how they see fit without forcing other team members to do the same; Smartsheet offers sorting but it will affect everyone's view, which could harm team collaboration. Another limitation is that Smartsheet requires you to create multiple columns to assign multiple owners to tasks, whereas in monday.com you can neatly assign multiple owners in one column.
Workflow setup
Smartsheet is much more limited in its building blocks. Smartsheet doesn't have a time-tracking column with a start and stop timer like monday.com—so more time must be spent manually updating this. You also can't mirror entire columns and functions across boards with Smartsheet; you'll have to settle for just numbers and text.
Another shortcoming is Smartsheet's overall maintenance. Similar to a spreadsheet, it could require constant upkeep to make it functional, especially as projects evolve and your organization scales. monday.com prevents these bottlenecks with building blocks and functions that allow you to easily pivot and duplicate workflows over and over for superior task management.
Overall value
Many of Smartsheets integrations and features come with an additional price tag. For example, Pivot tables, Salesforce, and Jira integrations can cost almost double per user per month with Smartsheet compared to monday.com. monday.com offers 40+ integrations so you can bring data from the tools you already use.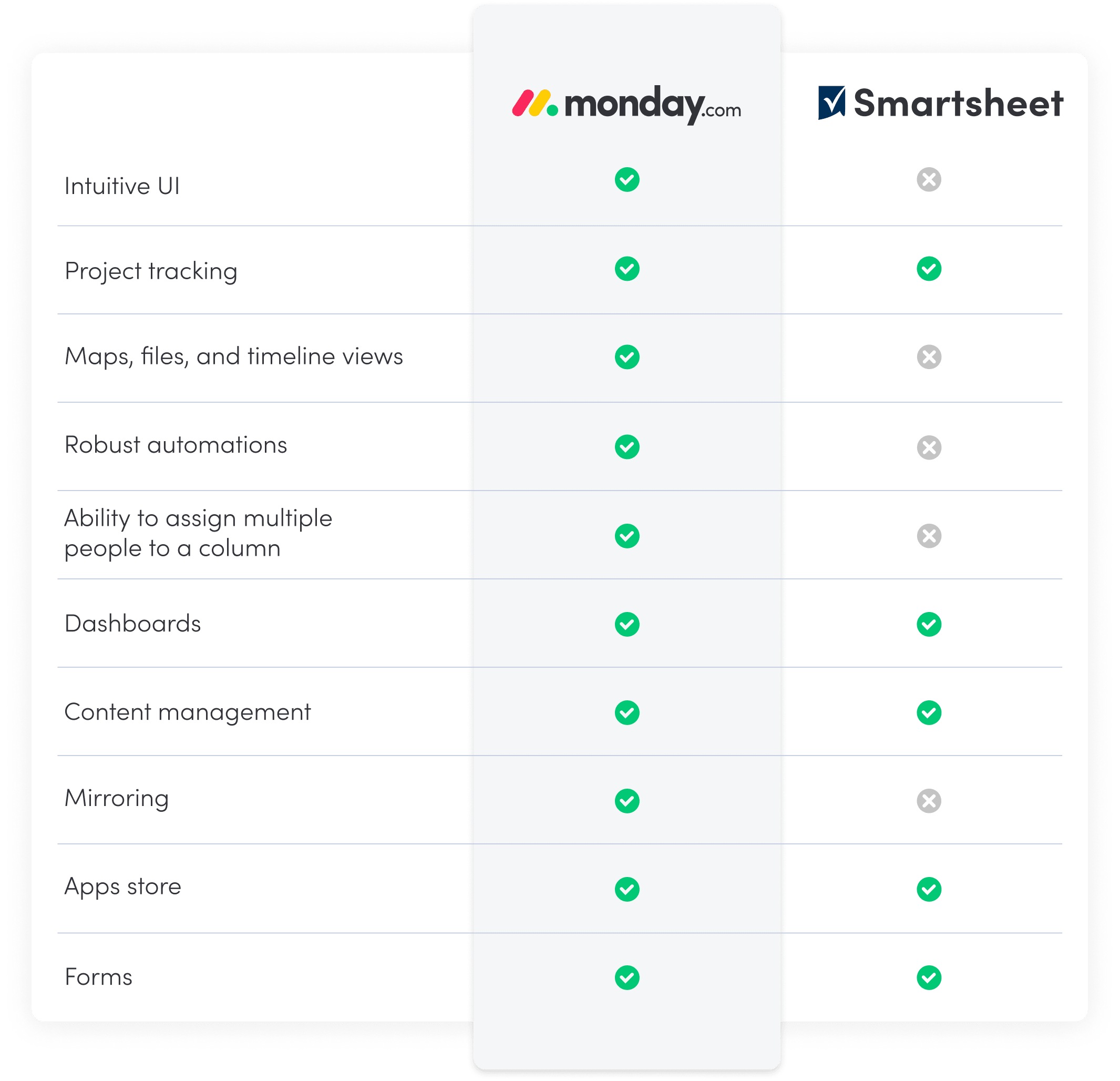 What level of support does each platform offer?
Smartsheet's support options —including service levels for those options—will depend on your plan and user type, if you are a licensed user, and the specific service contract your organization has. Their support website is vague, saying that most customers have access to 24/7 support through a contact form and that only some accounts can have phone access. They also promote something called Pro Desk for coaching sessions, but these are subject to expert availability and your plan.
At monday.com we take our customer support VERY seriously, which is why we guarantee our customers 24/7 support via email and our Help Desk every day of the year. In addition to our support, we offer a knowledge center and YouTube channel full of useful videos and descriptions. Here's what one customer said on Trust Radius about our support:
"It's a shame the counter only goes to 10 as I would go even higher. Customer support has been nothing but amazing. Responses are quick, detailed, and give anything from general instructions to help solving a particular problem. I feel like this kind of service is rare to find in product support these days."
Smartsheet pricing: is it worth it?
Now that you're armed with all the right information about Smartsheet pricing, what's next? Will you opt for a platform that just meets the mark, or a Work OS like monday.com that you can transform, build, and grow as needed—all while automating and syncing your workflow communications?
Check it out yourself: try our platform now, the first two weeks are on us!
Curious as to what customers are saying about us? See reviews.