Just like a maestro conducts a group of musicians, a project manager conducts a team. It's their role to make sure all project team members are in sync and that the final result of every project is akin to a beautiful symphony.
In this blog, we'll share what you need to know and do to separate a good project manager from a great one in 2022. Then, we'll show these tips in action with an interview from a monday.com PM.
Consider this your 'how to be a project manager' 101.
Up first, let's get back to basics.
What does a project manager do?
A project manager is responsible for planning, organizing, and directing projects from A-Z. They're the prime people in charge of ensuring projects are completed on time, on budget, and within scope.
To maximize efficiency and keep everyone aligned and organized, most project managers use project management software — or a Work Operating System (Work OS) like monday.com.
What's the benefit of using a Work OS? With one central platform, project managers can store all the project information, make it easily accessible each team member, and even work right from within the software. Best yet, some of the more functional Work OS softwares (like monday.com of course) have an intuitive and colorful UX so it's easy for team members to check project status, assigned items, conversations, stay on top of resource management, and more at a glance.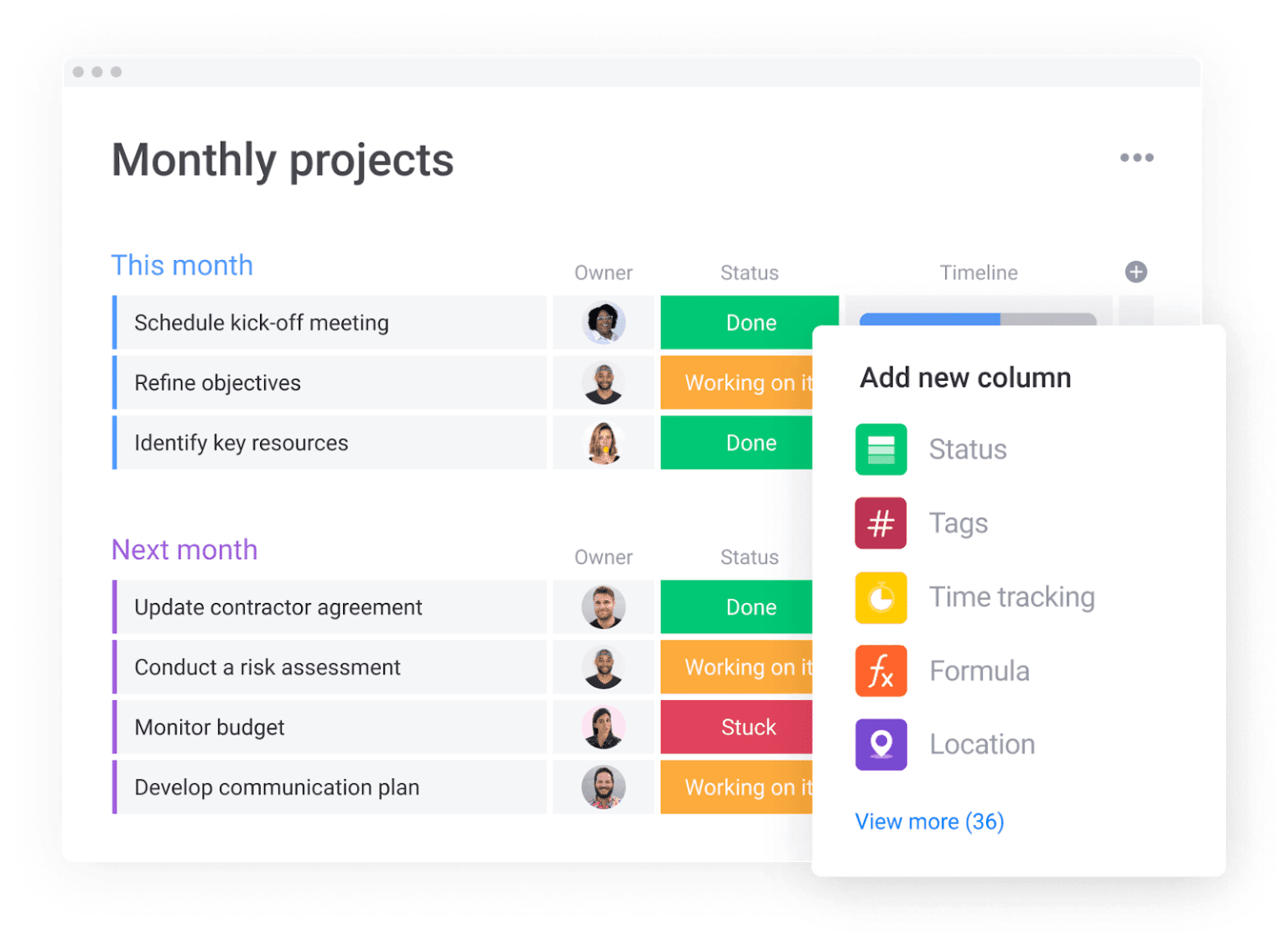 Now that we're all on the same page on the role of a PM, let's go deeper into what they should do in their day-to-day or in regular routine to help the team reach their goals.
5 things every great project manager should do regularly
1. Utilize your team members
Effective and agile project managers often have strong leadership abilities and soft skills and can bring out the best performance from all team members.
Soft skills such as problem-solving, flexibility or adaptability, interpersonal skills, and communication (we'll circle back to this one later) will help you get to know your team members, what they're great at and which areas they can use a little improvement.
Then, you can devise a plan to strengthen those areas and/or play up their natural talents during the project.
In addition to understanding each team member's strengths and weaknesses, a successful project manager needs a good grasp of their capacity in order to plan the project schedule. A Work OS makes it easy to get a bird's eye view of the team's progress, and also zoom in to see each member's work, all on the same platform.
On monday.com, you can even manage your team's workload with live, up-to-date data on capacity so you can make smarter decisions on how to best utilize your team members.
2. Leverage tools for project management
Technology has played a huge role in project manager's success. Softwares like a Work OS can store and display all project information in a visual way, while also giving customers the flexibility to choose how they see their data. On monday.com, you can choose between several views from Gantt charts, timelines, dashboards, and several others.
That's great on it's own, but a Work OS can also result in effective project management by making siloed work a thing of the past. Create documents, attach files, provide real-time feedback, automate repetitive tasks, and endless other customizable actions from one central place. That means you no longer need to open separate tabs for document creation, excel sheets, or file storage. On a Work OS, everything you need for online project management is right at your fingertips.
3. Communication is key for success
We've said it once, and we'll say it again (and again), communication is essential for anyone in a project management position. For smooth a smooth project process from start to finish, project mangers need consistent, healthy communication with relevant stakeholders, clients, and most importantly, your team!
Successful project management requires open communication with your team members. Encourage them to share their ideas, suggestions, concerns, and issues. Give them forums to speak about their experience working on the project in weekly meetings or even face-to-face catchups.
monday.com makes it super easy to make sure all team members have the necessary information to make good decisions and help with project planning and execution. With item updates, anyone can write questions or comments right on the item and even tag team members to open up the conversation. Team members can also easily communicate which tasks they've completed, are working on, or stuck on with status labels. Having a way to clearly communicate specific project stages and who is on what leaves less room for confusion.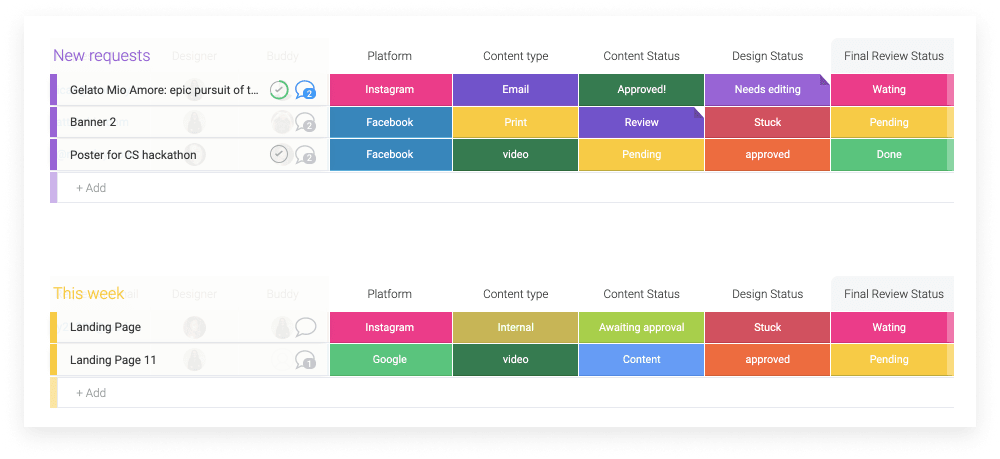 4. Learn from other high-performing project managers
This one's all about using your network, or even reaching out across the aisle to other project managers in various departments. Learn from other's successes and failures by simply asking other PMs about the different approaches and techniques they use, plus offer up any project management ideas.
If multiple teams in your organization uses a Work OS, ask another project management professional to share their board with you and run through their project workflows. On monday.com, you can share boards or invite others to view your board with just a couple clicks. If you're subscribed to one of their boards, you can even see a project process in real-time.
5. Set realistic, yet ambitious deliverables
Once you outline the project goals, decide which metrics you'll use to track your progress. In the project management world, these metrics are known as deliverables, often tangible milestones that work towards your main objective. To be a productive and successful project manager, settle these deliverables in advance, so that you can plan your resources accordingly. As a general rule:
A project manager agree on deliverables ahead of time and when they will be completed so that everyone knows from the beginning what's expected and what they need to do in order to complete the project.
6. Bonus: After completing the project, take some time to evaluate the team's performance
You can break down this stage into two stages: looking back on how the project turned out and reviewing the deliverables. Meet with the entire team and reflect on what they could have done better and their victories. Shout out individual as well as team successes to encourage team members to continue their great work, while striving for improvement.
Look at areas where the team experienced roadblocks and come up with a proactive plan on how they'll avoid those issues next time. These evaluation times are when you'll take stock of your progress, identify bottlenecks and solutions, and show the team how they contributed towards the company's overall goals.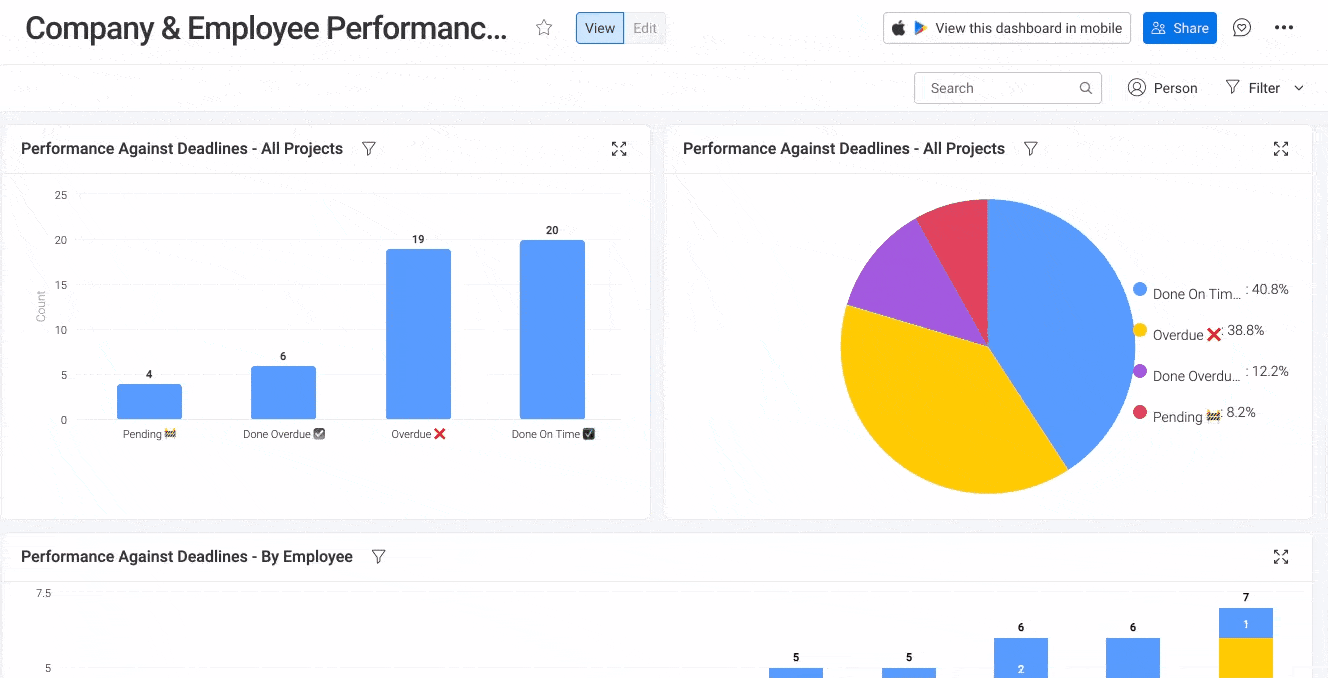 Looking ahead towards project greatness
We shared necessary project management skills and habits to really get the best results. From utilizing your team members to setting realistic and ambitious deliverables, project managers have a wide range of ways to lead their team toward the finish line.
But one thing that will really help project managers step into greatness in 2022 and tackle even the most complex projects: a flexible and robust Work OS.