No matter if you're working on a specific project or just going about your daily business, chances are you have a long list of things you need to do on any given day.
Just randomly completing tasks whenever you think of them, or scattering sticky notes whenever you think of something that needs to get done, is probably not the best way to make sure everything gets done on time, and done well.
Likewise, just going in chronological order and trying to finish absolutely everything can also be a recipe for disaster… or a nervous breakdown.
Task management is your secret weapon to ensure that you're always working on high-priority tasks and being as efficient as possible, without burning yourself (or your team) out.
What is task management? An important part of PM
Task management is the process of managing, prioritizing, and ensuring tasks are completed on time.
It's an integral part of project management, where you deal with the granular, practical division of labor.
Example: weekly tasks for a mobile app development team
For example, an app development team might divide up tasks like this: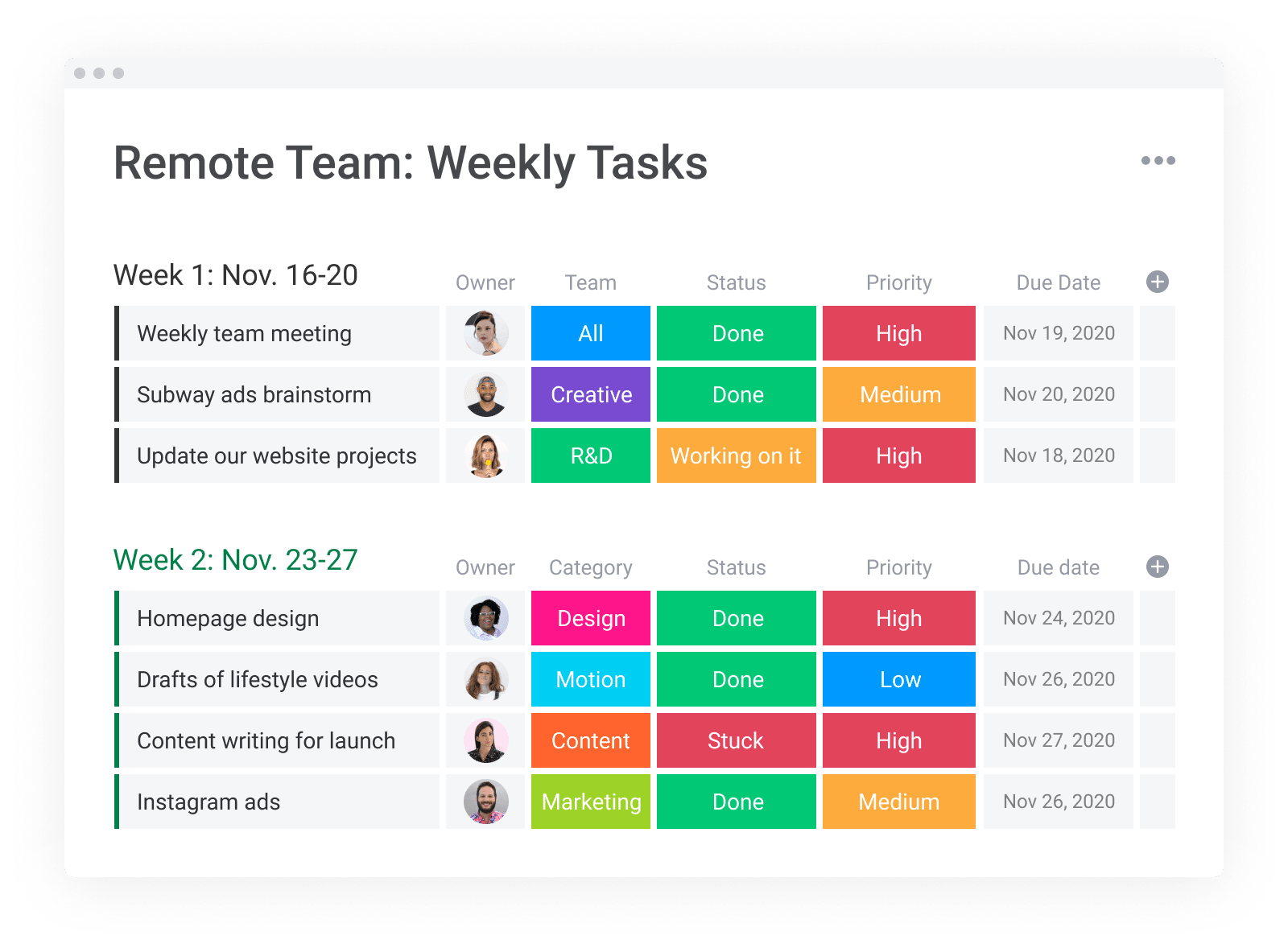 Not all of these tasks are equally important. That's why you need a system where you can prioritize tasks and schedule items based on their value and view the life cycle as a whole.
Why is task management important?
Abandoning people to figure everything out on their own isn't a good idea.
The average office worker spends as little as 2 hours and 53 minutes on productive activities a day. The top 3 unproductive activities alone eat up more than 2 hours every day. Ouch.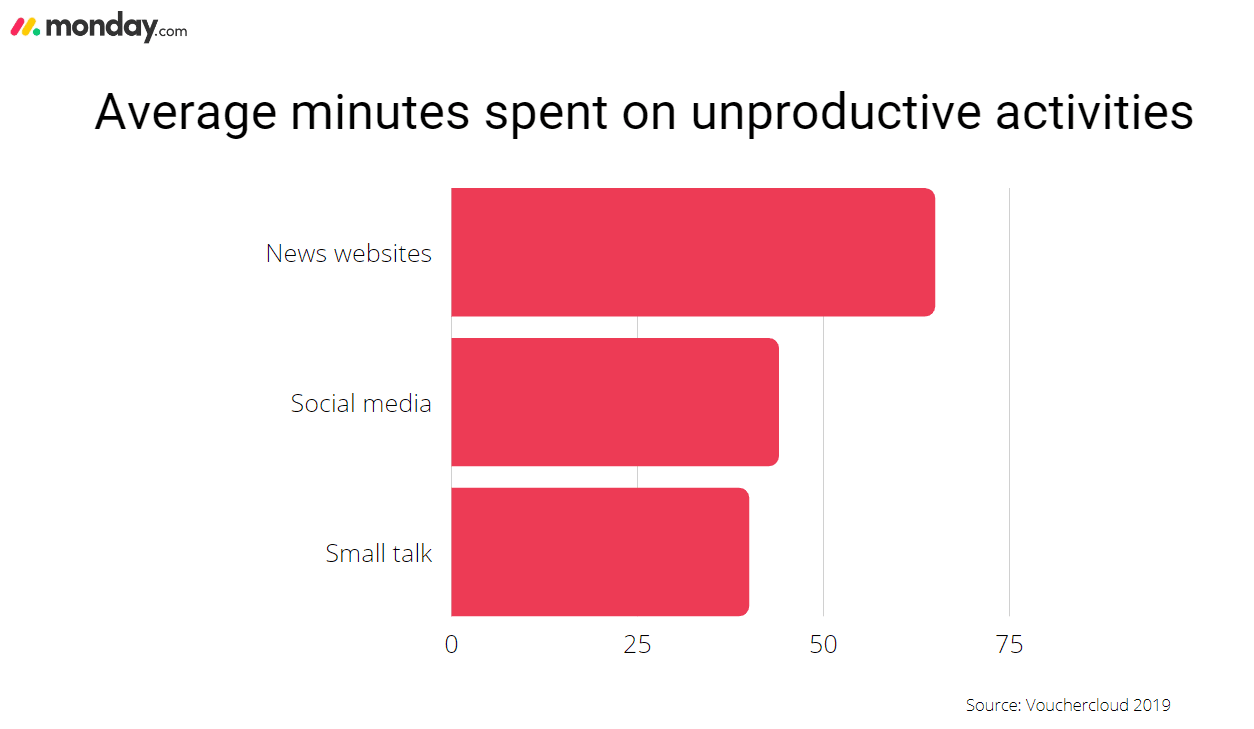 When done right, all team members are included in the task management process. That helps engage your workers, makes sure everyone can use their expertise, and boosts productivity.
Let's take a closer look at the benefits of effective task management.
Boost productivity
An engaged workforce is an effective workforce. Task management, when done correctly, distributes the right tasks to the right employee at the right time.
Managing tasks is kind of like playing matchmaker. You need to consider the relationship between each item and the order in which you should complete them.
By involving the whole team in task management, you can set up a workflow that considers all moving parts. That way, nobody is stuck waiting for someone else to finish.
Everyone always has an engaging task to work on, reducing the chance that they'll distract themselves and coworkers with unproductive antics like on The Office (remember the jello stapler?).
For more on productivity, check out these productivity apps.
Make sure high-priority tasks get done on time
If you don't have any system in place, high-priority tasks will get treated the same as any other. Sure, maybe a manager will send a few email reminders. But that's in no way a guarantee that the team will do it on time.
With a system in place with clear priorities and due dates, high-priority tasks will get the attention they deserve. That's a crucial piece of building an efficient workflow. There are also many great ways to manage your projects, such as Kanban boards and Gantt charts.
Get a better overview of the status of your projects and business
Using a project management software won't just help your teams get more done, including nailing all task details. It will also give your managers and all team members a better overview of what's happening.
With the task status visible, you can forecast any potential bottlenecks or other problems. If someone falls behind schedule, you can easily follow-up and offer them help.
Improve collaboration and speed up tasks
Companies with collaborative working environments are 5x as likely to be high performers in their industry.
If everyone on a team only focuses on their task list, they'll struggle to work together efficiently.
With task management software, you get better transparency, and it's easier for the team to help each other out.
How is task management used?
In a recent study of monday.com's users, we asked them what they used our software for beyond the ambiguous term "project."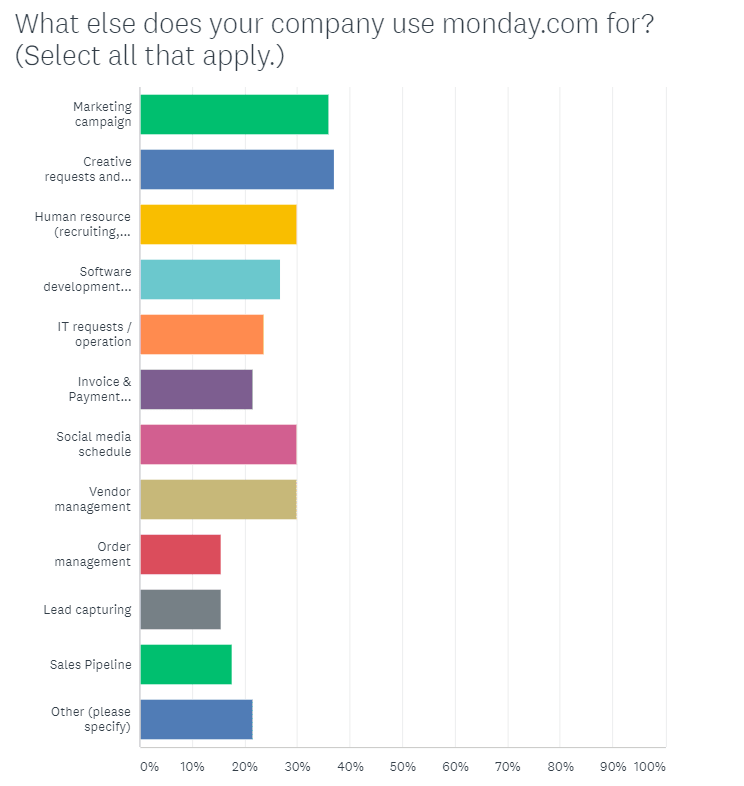 As you can see, many companies use task management for marketing campaigns, managing creative, and even HR.
Let's take a closer look at the most popular use cases.
Marketing campaigns
When setting up a new marketing campaign, companies usually follow a predefined set of steps.
First, they meet with the team (or client) to settle on the budget, target market, and primary objectives. After that, they have to delegate some tasks, from writing ad copy to researching keywords or creating a landing page.
Everyone needs to be on the same page throughout the process. Otherwise, the final campaign won't have a cohesive feel.
The ad copy needs to match the creative and the landing page. Task management software and principles are an absolute necessity. You can find a great free task manager as well to fit your budget.
Creative and social media management
Likewise, an in-house or agency creative team can't function effectively without a task manager.
Even a relatively small team might handle over 100+ requests in any given week. It's essential to know the availability of every designer, videographer, social media manager, and copywriter to assign tasks.
Good luck trying to keep up with spreadsheets.
Software development
Software development is another industry where task management is crucial to business success.
You have to balance bug fixes and incoming requests with the overall development goals. To be effective, you must adjust and prioritize tasks in real-time.
The main focus of the team's tasks could change entirely from one day to the next.
Human resources
HR managers balance a complex schedule to stay productive. With tons of meetings, they have to deal with rescheduling daily.
Without a system that gives them a clear overview of their availability, every HR manager would need at least one assistant.
What is the best way to manage tasks?
The best way to manage tasks is within a project management framework, using digital tools to ensure your entire team can collaborate no matter where they are.
Why a digital platform like monday.com is the best option:
Every team member can access and update task lists from any location, at any time
Task ownership comes with notifications to keep people on track
There's complete transparency: You can all see what everyone is working on at any given time
It's easy to collaborate and share relevant resources within the platform
Tasks don't happen in isolation. Without transparency, it's easy to end up with multiple employees working on duplicate items (oops), bottlenecks, and inefficient workflows.
Digital tools also help employees pool their resources when working on similar tasks. If Sharon found a shortcut that cut down her editing time from 2 hours to 15 minutes, she could easily share it with Bob who's assigned a similar task.
But if Sharon has no idea that Bob is even doing a task similar to hers, then he's left out in the cold, trying to slog through it on his own.
Transparency is the foundation of a healthy, effective, and collaborative workflow.
"The hard sell"- why you should use monday.com to manage your tasks and projects
If you're serious about improving your workflow, the best place to start is with task management software.
Compare the features and use cases of the different options, and settle on the task manager that is best for your unique needs.
monday.com: Work OS where you can manage projects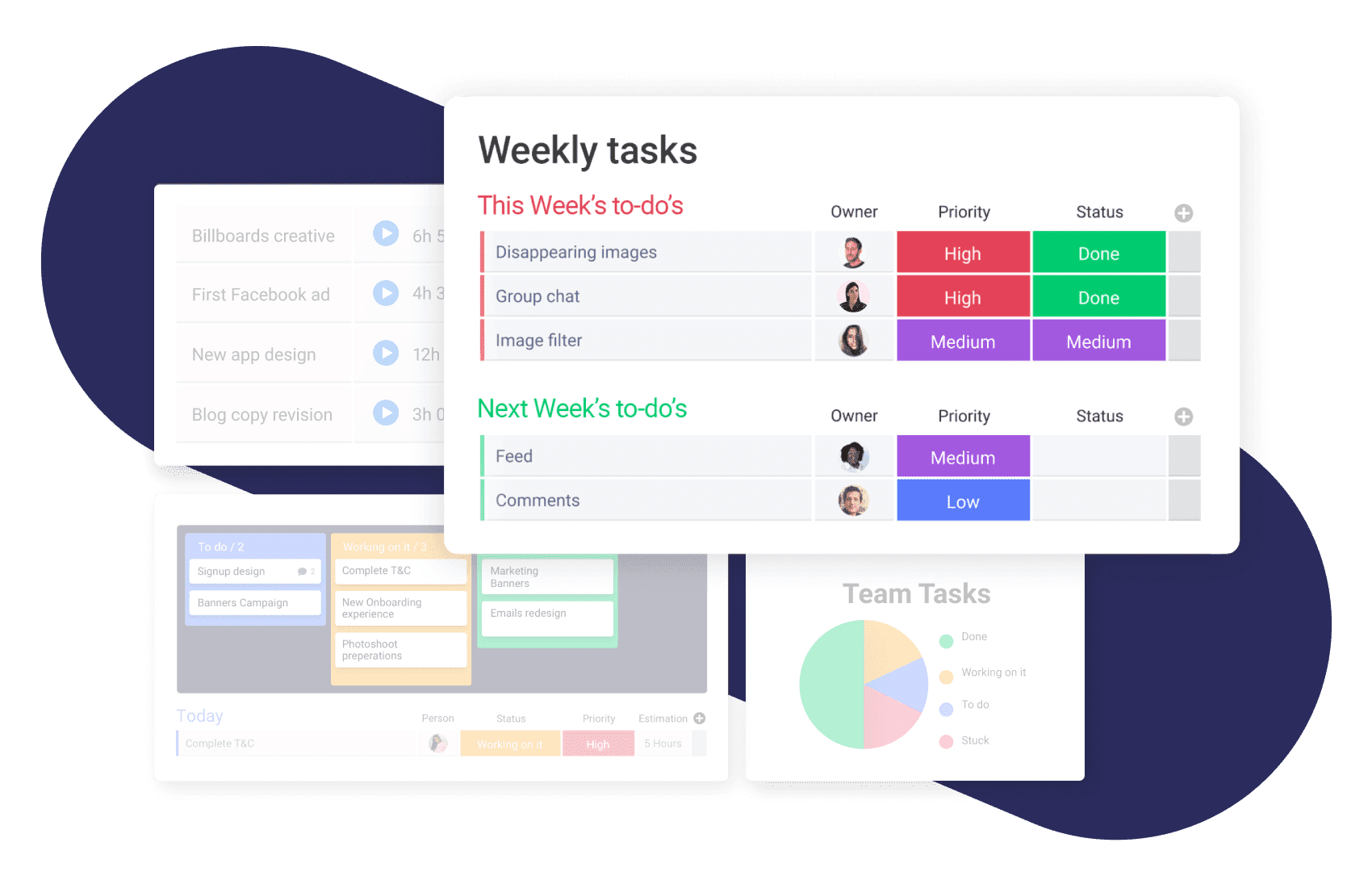 If you're not just looking for a way to assign tasks to people, but want to optimize your entire workflow, monday.com is the answer.
You can easily create task boards and efficiently distribute the entire workflow, but that's only the beginning.
Use our wide range of templates to create high-level project roadmaps in minutes, manage your resources, and handle other aspects of your business.
Customize boards and create custom templates to suit your processes. You can also automate complex workflows with our automation rules and a long list of integrations.
Collaboration is made easy with full transparency for tracking tasks, as well as threaded comments, mentions, and other tools.
With its many collaboration features, monday.com is a digital workspace that will help your company get more work done in less time.
Here are just some of our favorite features:
Create, assign, and set deadlines for tasks
Color-coded columns for visual task status updates
8 different view options to monitor the project status
Get needed data using Kanban boards, workload management, and more
Track billable hours using the time-tracking widget
Speed up workflows with automations
Optimize your workflow with task management software
Nothing will hurt your business more than pipedreams like "I'll get to it later" or "I'll remember it."
You need a reliable system to ensure that your team handles the right tasks at the right time.
monday.com offers easy-to-use task management templates, as well as other essential project management functionality. Try it out for yourself and discover what all the fuss is about.
Take our platform for a test drive and see how much more efficient your teams will work. The first two weeks are on us!