Do you ever pick up your phone, become distracted by something on social media, and then put it down without doing the thing you intended to do? Or maybe constant notifications interrupt your flow. Whatever your productivity killer may be, the good news is that there's an app for it:
Get started
The more productivity, the better.
1. monday.com: for complete customization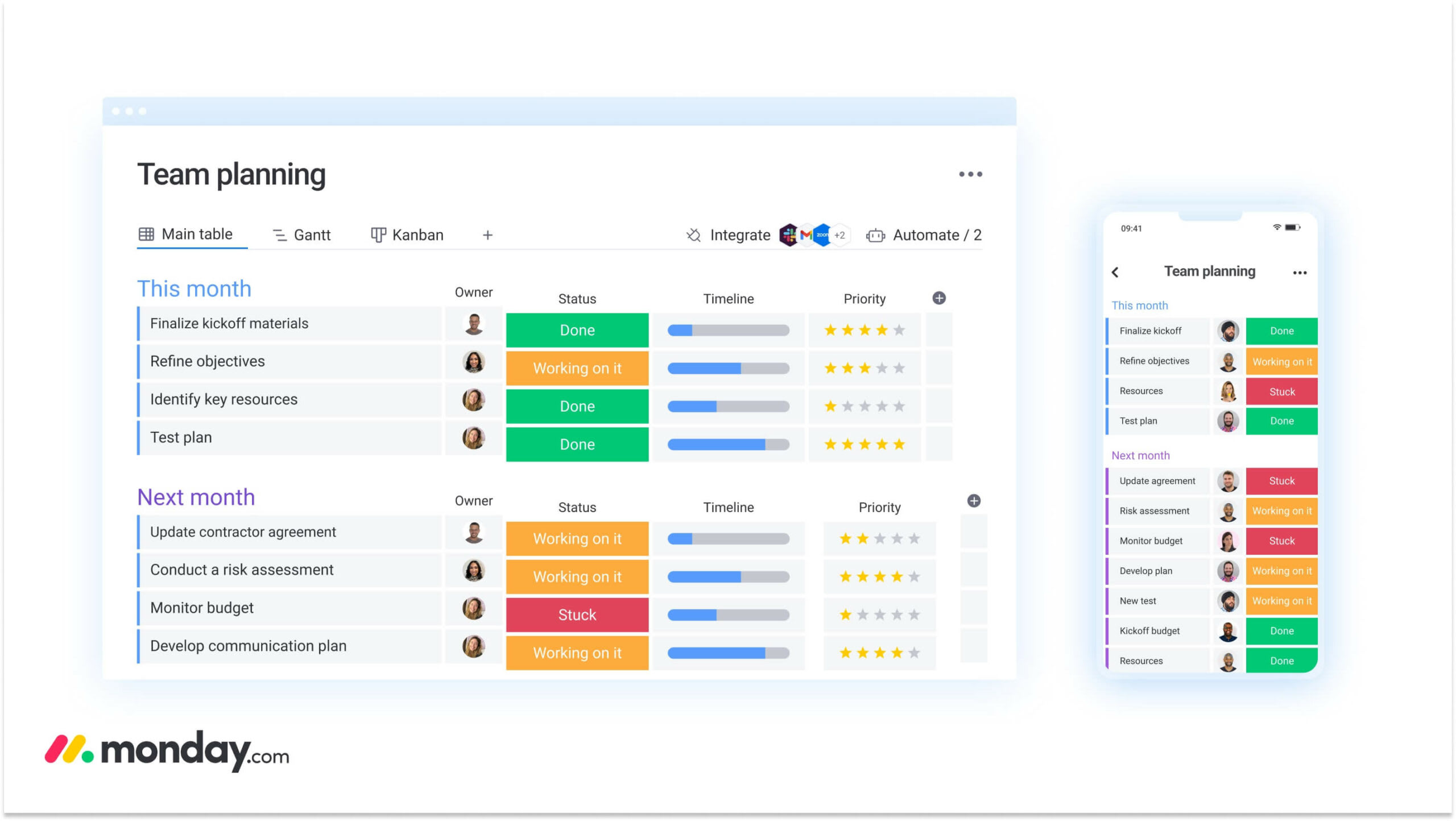 The monday.com Work OS is tailored for work productivity. With features like columns to track time per task or efficiency apps for any industry, this Work OS supports your most productive self.
Some ideas on how to use monday.com to be more productive:
Save precious time, use automations: a key feature that helps with productivity is the ability to create workflows that automate your repetitive tasks.
Track how long statuses are pending: Time in Status is a free app that helps track your tasks in a convenient way.
Don't just type, send audios: Voicer app lets you record easy voice description audios about your tasks and share them with your team.
Avoid procrastination, make tasks fun: Task Magic makes tasks fun and rewarding with avatars and a gamified dashboard.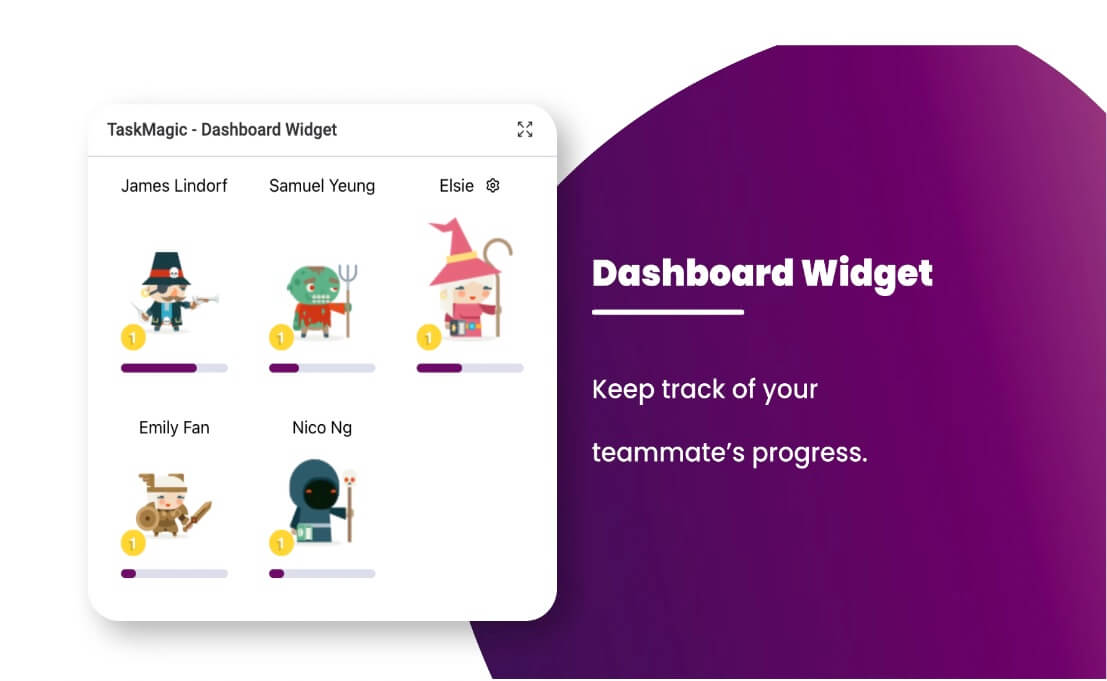 Manage meetings in one place: With a Google calendar integration, you can manage meetings from monday.com.
Read less, get the gist: Use our tl;dr app to quickly summarize long updates.
Better estimate how long tasks take: Esti – Estimate Helper seeks similar items across your workspaces, giving you information for task time estimation.
Cost:
Get started for free. Or upgrade to a range of packages to suit your needs.
This is just the start, monday.com offers many more possibilities for boosting productivity.
Get started
2. Loom: for video messaging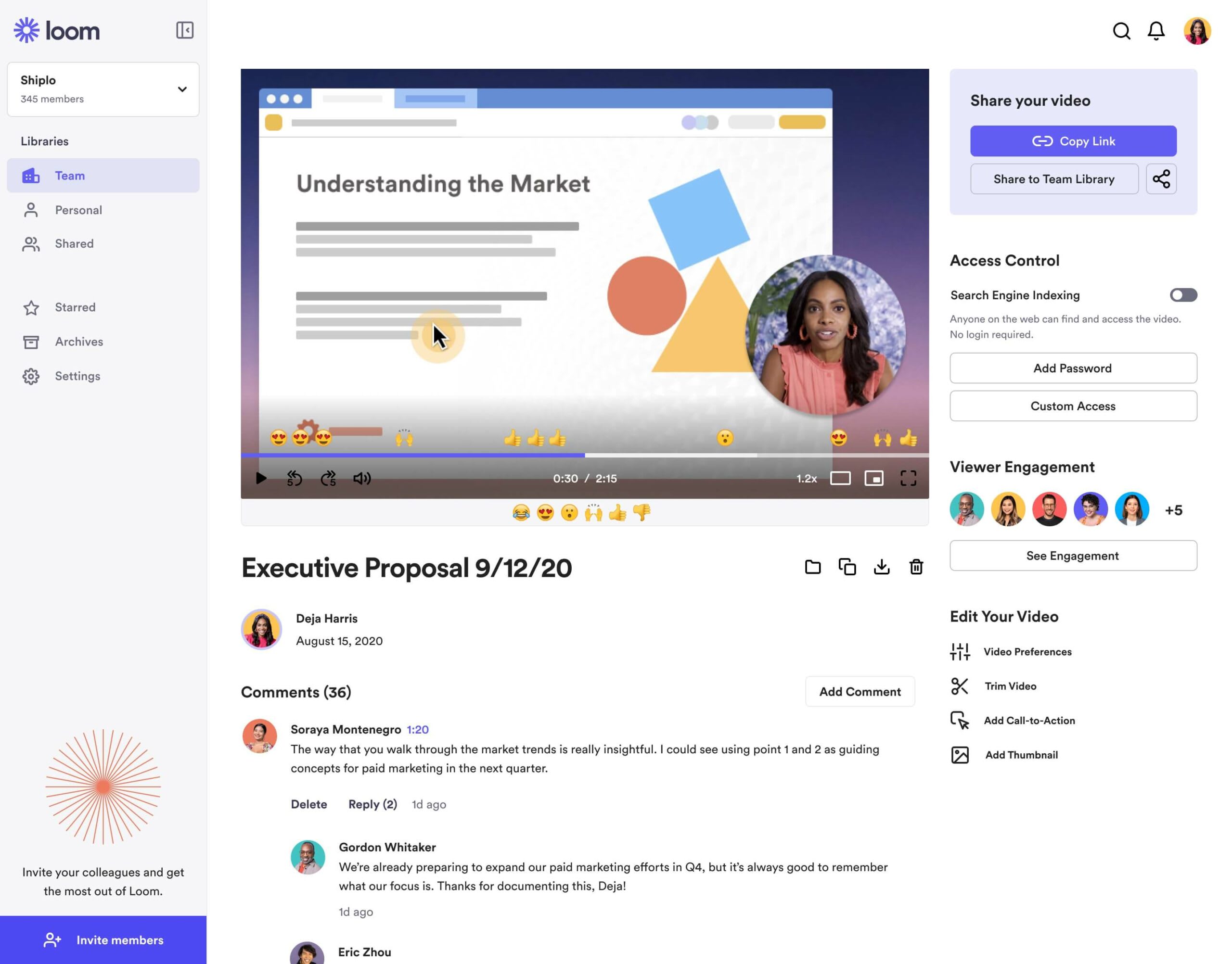 It's often quicker to talk through something over a quick video rather than write an email or document with screenshots. And that's why Loom makes it into our top ten. It can even save you from needing that meeting.
Key features:
Screen recording: Recording both your screen and yourself talking, you can present, demo, or create tutorials.
Video editing: Trimming, cropping, and adding captions is super easy in Loom.
Analytics: Track who has seen your Loom video and view watch times to see how well videos are performing.
Cost:
You can get started for free. Or you can upgrade and unlock additional features like custom branding for $8.00 per month.
3. Focus Booster: for procrastinators with bursts of energy
Focus Booster is a time management tool based on the famous Pomodoro technique. It helps you focus on one task for a burst of time.
The standard length of a Pomodoro timer is 25 minutes of total concentration with a 5-minute break, but Focus Booster allows you to adjust both.
Key benefits and features:
Helping you concentrate: This time-tracker can help you see how much time you spend on each task and identify habits so you can optimize productivity.
Dashboard reports: To turn your session time into insights and visibly see your progress and where you can improve.
Track billable hours: To make sure you aren't doing more hours than you're contractually paid for.
Cost:
It's free. Or, you can upgrade to professional for $4.99 and you'll get a few extra features like built-in revenue tracking.
4. Mixmax: for one-click meeting scheduling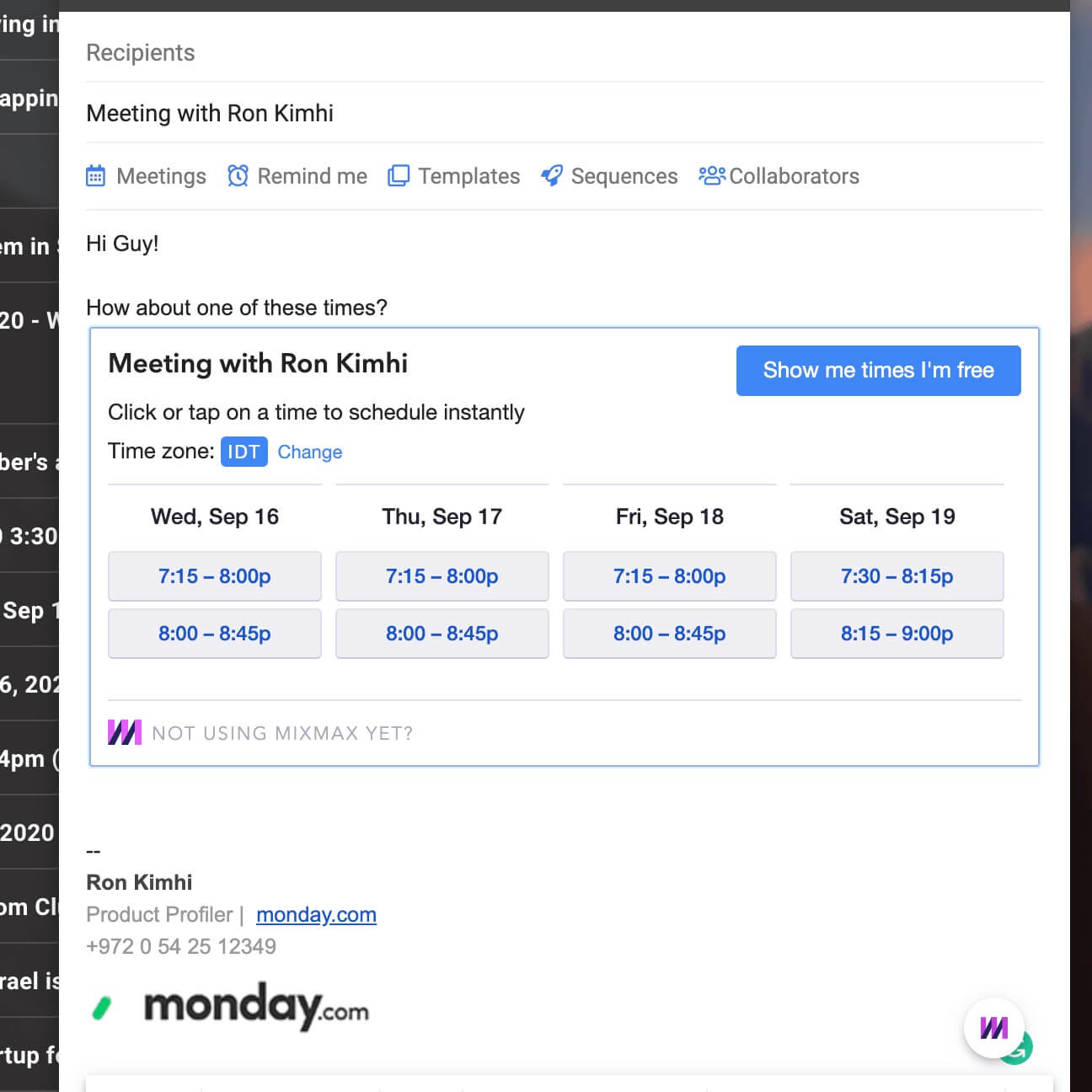 Mixmax is a productivity Google Chrome extension that allows you to share your meetings and have your contacts close meetings with one click. Great for sales teams, but can also be used for any outreach purposes.
Key features:
Email tracking: know who opened your email, how often they opened it and save your best emails as templates.
Share your meetings: Easily share your Google Calendar in any email so recipients can book a time.
Cost: 
Calendaring and email productivity is included in the free plan. For email campaigns and calendaring for teams, plans start at $29 per user per month.
Get started with monday.com
5. Slack: for instant communication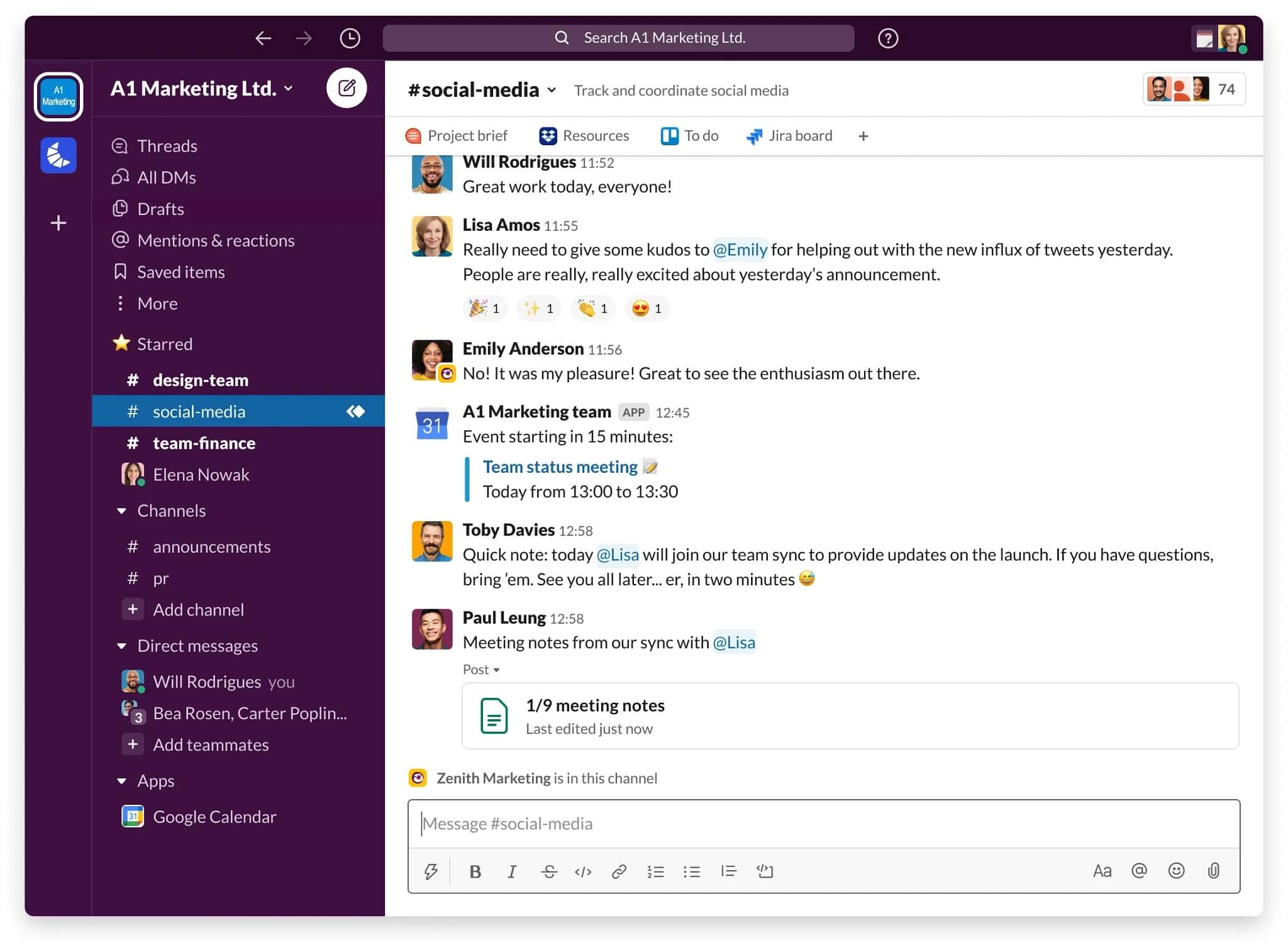 Slack is an instant messaging service ideal for teams to instantly update each other, share documents or jump into a quick meeting (Huddle). It's like texting, but for work conversations.
Key features:
Multiple channels: With the ability to set up different chat channels for different projects, it makes it easy to focus conversation and ensure the right people are involved. This is probably why some people prefer Slack to email chains.
Integrations: Slack can plug in to multiple other productivity apps, like monday.com and Google Drive, for better collaboration.
Video and voice calls: As well as instant messages, you can also do quick video and voice calls which can be useful when typing out that message will take a while.
Search: Trying to find something specific? With Slack, there's a search function to find important messages and files.
Cost: 
It's free to use internally but if you want to collaborate outside of your organization, you'll need to upgrade to a paid package.
6. Lastpass: for those who have trouble remembering passwords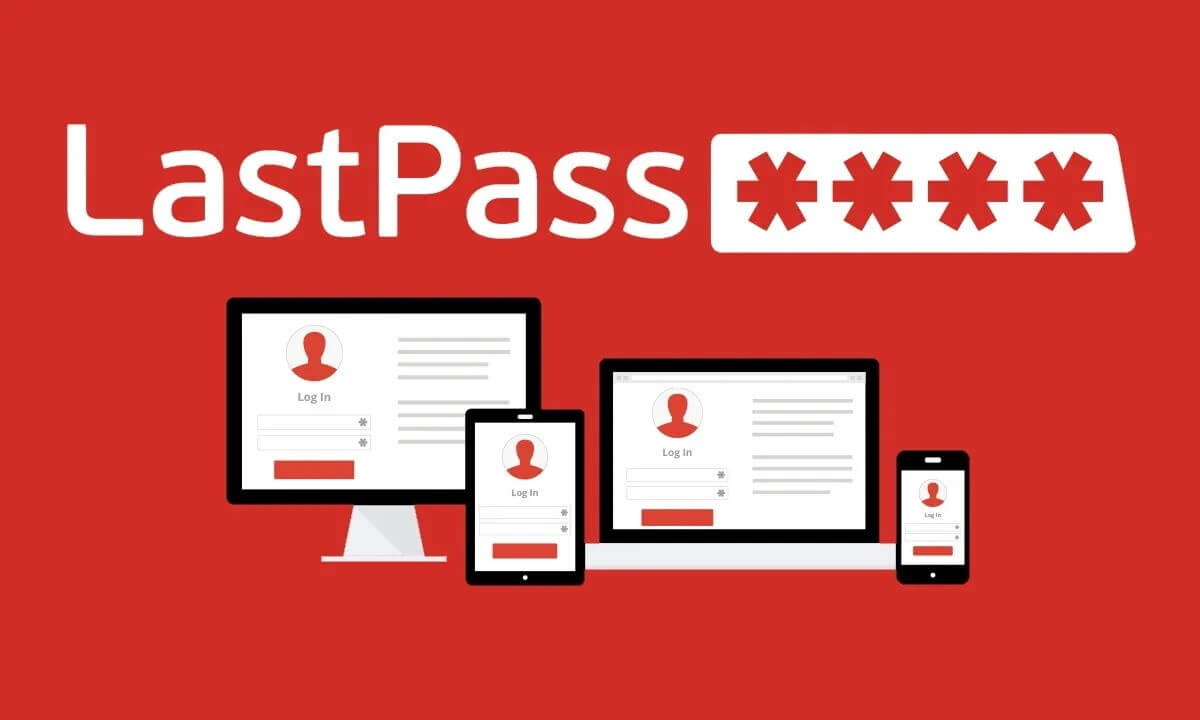 This app is a simple way to save your passwords and log-in to all your sites with a single click. It's essentially a secure online vault that remembers everything for you.
Key features:
It's secure: They encrypt the app to protect your passwords from hackers.
Password generator: One of its best features is how it generates strong, unique passwords for all of your accounts, so you don't have to come up with them yourself.
Autofill: It can also autofill your login credentials on websites and apps, saving you time and hassle.
Cost: 
There is a free 30 day trial or start with the Premium plan at $3 per month.
7. Google Drive apps: save and share from one central place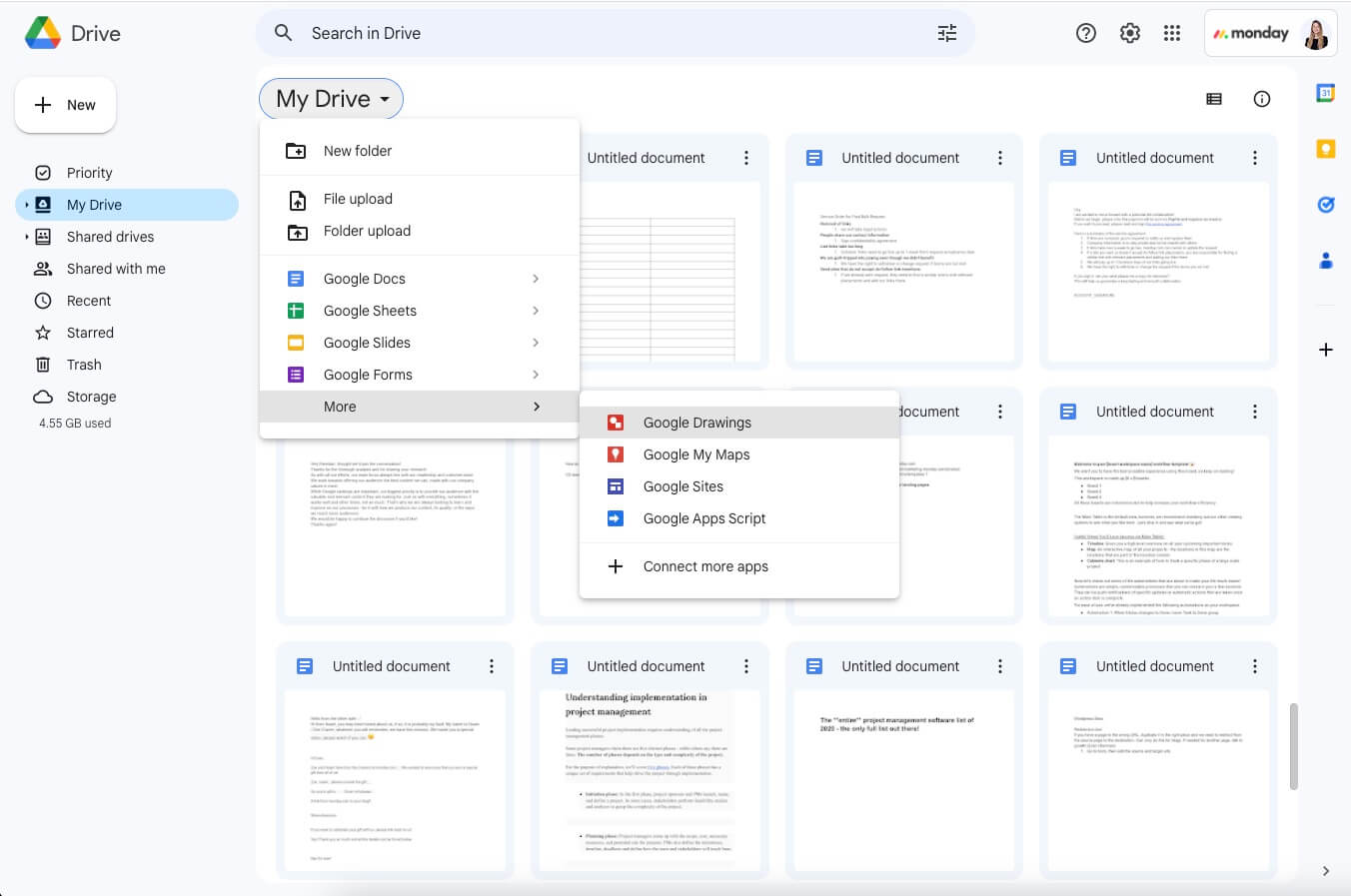 Google Drive is a cloud-based storage platform that makes it easier to collaborate by allowing you to store and share files. There are apps for documents, spreadsheets, and slideshows, too.
Key features:
Real-time updates: It allows those you've shared it with to access and edit or comment in real-time – saving delays to feedback or amends.
Accessibility: You can access this via a desktop, laptop, tablet, or mobile device to review and edit documents on-the-go.
Integrations: Google Drive also integrates with other productivity apps like Slack and monday.com.
Cost: 
It's free up to 15GB of storage. From then, it's $5.60 a month.
8. If This Then That: connect apps and devices in powerful ways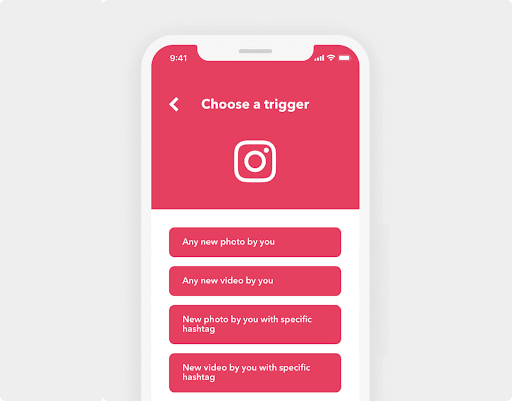 IFTTT automates repetitive tasks across multiple applications and devices to improve productivity. It does this by following a rule-based approach, where you set the rules, such as automating data management tasks, such as backing up files to the cloud, sending data to spreadsheets, and syncing data across different platforms.
Key features:
Connect multiple services together: You can create 'applets' that connect two or more services together, using a trigger and an action. For instance, automatically saving Gmail attachments to Google Drive.
Customizable triggers: You can prompt action in response to a specific event, like receiving a new email or a new post on social media.
Personalization: There's lots of choices here. You can personalize 'applets' to create unique workflows to fit their needs.
Cost: 
Free for the basic package. You can choose to upgrade from $2.70 per month.
9. GoFullPage: for easy full-screen capture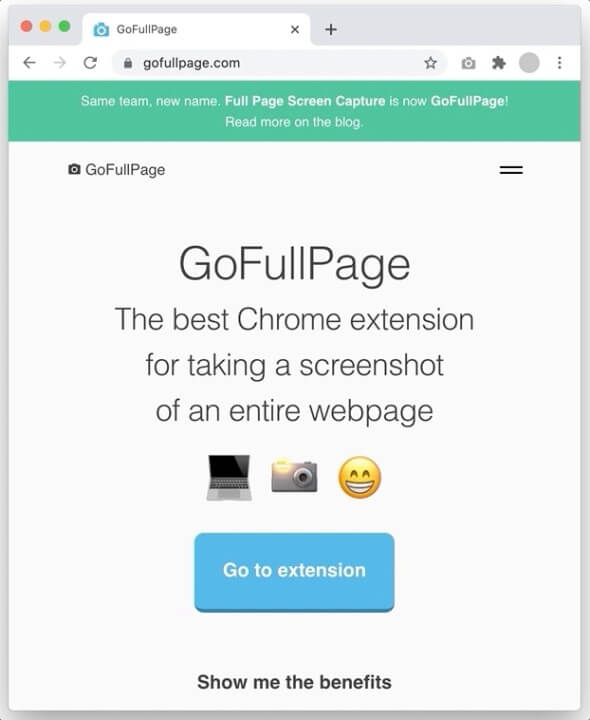 GoFullPage makes it easy to take a screenshot of a full webpage. It does this as a Google Chrome extension and allows you to export the image as a PNG, JPG or PDF. Additional features include image cropping, annotating, and smart PDF page splitting.
Key features:
Fast and simple: One click to capture a full webpage.
Privacy: No extra permissions are required to install.
Accuracy: The most advanced capturing of difficult pages.
Cost:
Free to get started or you can go premium at $1 a month for extra features such as adding shapes and annotations.
10. MarkUp.io: comment on landing pages with ease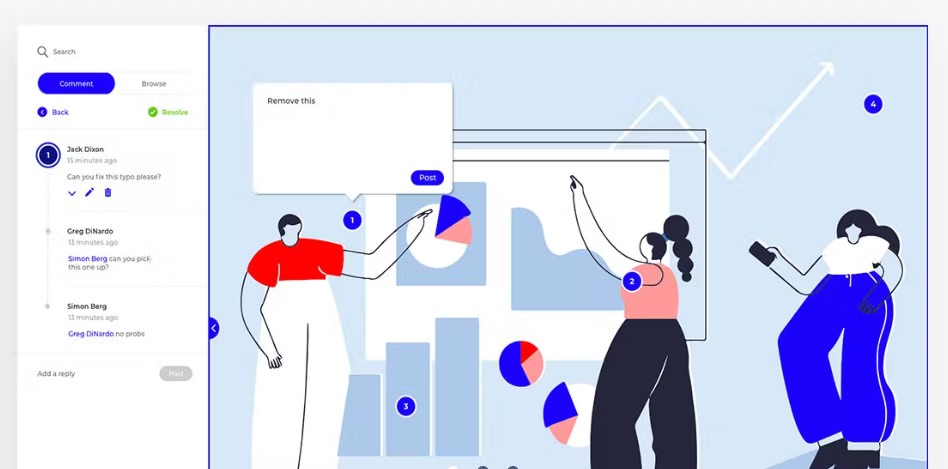 With MarkUp.io, you can upload your content, drop a comment, and share for a review.
Key features:
Comment on anything: MarkUp.io supports over 30 different file types, including websites, images, and videos.
Clear feedback: Get immediate, visual feedback.
Easy collaboration: Cut down review loops by bringing the whole team together.
Cost:
Free to get started or you can go pro at $49/mo to get unlimited markups, folders, and sharing links.
What is a productivity app?
Productivity apps are online tools – accessible via multiple devices (laptops, mobiles, tablets) – that aim to make it easier for you to complete day-to-day tasks. The aim is to streamline otherwise heavily administrative tasks so that you can complete more tasks at the same time.
What should I look for in a paid productivity app?
For a limited budget, the following checklist can help you prioritize your needs.
Jot down your needs: What do you want the productivity app to help you achieve? Is it managing time? Or improving concentration? This helps narrow down your options.
Consider the fit: Think about where you see an app sitting in your daily routine. Do you need it to work across both your desktop and mobile?
Think user-friendly: Most apps are simple and easy to use. Double-check this by watching product demos or even doing a free trial.
Check compatibility and integration: Consider if it will work alongside your other apps.
Peek at reviews: Here, your peers will be brutally honest about usability and whether the productivity app is actually helpful.
Sense check price: Now, this is an obvious one, but just something to consider – how much are the individual productivity apps adding up to? It's likely cheaper to go for an app that does multiple things.
Do productivity apps actually work?
Yes – providing they actually solve your productivity needs and fix bad habits. Plus, they should be easy to use and have multiple functions. This helps you to do more in less time and makes it quick and easy to improve your day-to-day activities like organizing to-do-lists and collaborating with teams online.
What is the best productivity app?
While different apps offer their unique benefits, overall, the best productivity apps are all-in-one solutions that allow you to address multiple blockers to productivity – like, helping you concentrate, achieving inbox zero, and tracking progress.
When choosing the best productivity tool, you might find that you need more than just one option — instead look for an all-in-one task management, calendar, and to-do list app.
In summary, it may just be one particular app you need to address a bad productivity habit. But, if you've grander productivity plans and need multiple apps – because you've set your sites on a promotion, have high targets, or simply want to feel less stressed – then you're better off looking for an all-in-one tool like monday.com and its integrations.
See why 180,000+ customers choose monday.com
Thanks to productivity apps, those chaotic days of missed appointments and busy work can be a thing of the past. See why your peers at Coca-Cola, Wix, and Canva choose monday.com.
Get started