Despite ever-changing technology and work trends, one thing is clear in the business world; team collaboration softwares are essential for keeping remote and remote-in-office-hybrid teams on track.
Though with more platforms on the market than options in a cereal aisle, choosing the right one for your business can feel tricky.
In the next few minutes, we'll dive into collaboration software, outlining its benefits, how you can use it, and the best platforms on the market today. Let's jump in, starting with a handy definition.
What is collaboration software?
Collaboration software is any kind of platform or app that helps teams communicate, work together, meet their goals, and contribute to the company's bottom line. With collaboration softwares, teams can:
brainstorm ideas
contribute to projects
share knowledge and data from one source of truth
communicate in groups, across departments, stakeholders, managers, and clients
access data and reports for stronger decision making
and a whole lot more
Another benefit of using these platforms is that most are cloud-based, meaning team members can use it from any location. Of course, this casts the net pretty wide— as we've mentioned, there are many types of collaboration softwares out there that keep teams aligned and help drive growth. But before we get into what some of these are, we first need to know how it works.
How does collaboration software work? A few common features and benefits to note
Depending on the tool, collaboration softwares might work differently, but most have a few common features that tie them together to maximize team efficiency. Here's our shortlist of features that help demonstrate how the software works.
Tag-based messaging and updates
In today's world, email communications are considered increasingly outdated and often cumbersome, especially when juggling multiple projects, deadlines. Instead of having you read through several never-ending email chains, collaboration tools use tag-based messaging and updates for easier, faster communications.
A few tools mainly use direct, tagged, or group messages to help team collaboration, but robust Work Operating Systems (Work OS), also allow teams to tag and update each other right from the project(s), specific task, announcement, and more.
Here's an example showing how you can update and tag team members right from within the context of your work, saving yourself from those sometimes confusing email threads: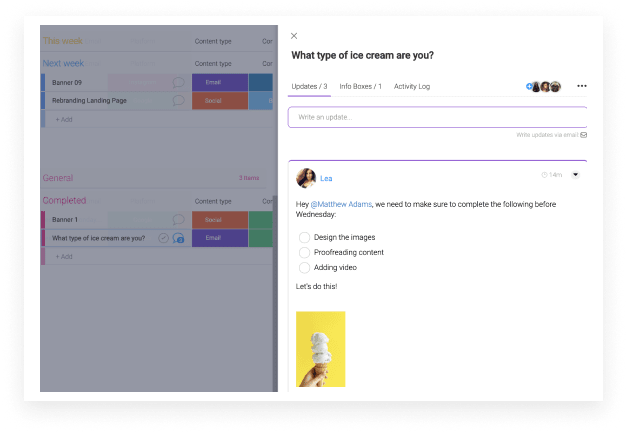 Document sharing capabilities 
Many of the top collaboration tools allow you to share documents, links, and files so don't need to sift through endless folders to find what you need. But to really work without limits, some softwares also allow you to create, collaborate, edit, and share your documents all without leaving the platform.
Instead of creating a doc that's separate from the rest of your work and team conversations, a Work OS allows you to turn anything from notes, checklists, project proposals, and more into action items.
On Work OS, you can create a checklist, edit it with your team, and then assign a team member a to-do item where it will appear on the shared work space that houses the rest of your work. It may look something like this: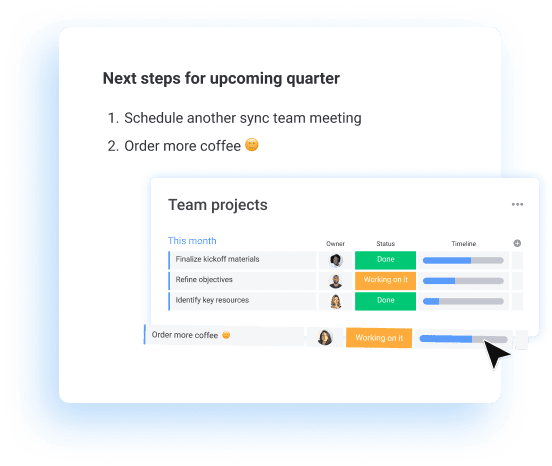 Project planning and tracking tools
To get the most out of collaboration tools, you may want to opt for one that has plenty of project planning and tracking features for all kinds of projects. Look for features such as built-in templates so you can create your perfect project workflow in a matter of minutes.
It's also important for you to view your project in a way that makes sense for you. So if excel sheets send shivers down your spine, maybe a Kanban Board or Calendar View will make more sense. The more options you have in terms of views, the more functionality the collaboration software will have for your team.
Lastly, project planning tools are crucial, but tracking features can really help you understand whether you'll finish your projects or initiatives on time and on budget. Some softwares allow you to assign deadlines, timeframes, and owners to each item or assignment, give a priority for each task, create statuses that inform the team of where each task stands, and track team progress.
Below, we can see that this team tracks their tasks with a progress bar that breaks down the project into steps.

Reporting and dashboards
Part of a manager or team leader's role is checking in on project progress, and creating monthly or quarterly reports for senior management. But these reporting and dashboard systems should be simple for anyone to understand.
Look for team collaboration tools that make gathering, collecting, and analyzing data simple. Bar graphs, stacked charts, pie charts, week capacity views, and more make it easy to see where you stand on projects and pivot if necessary.
A solution like the one below can help you customize data dashboards and pull all of your data across your workspace into one place. You can also easily share this data with your team to help reduce burnout and improve productivity.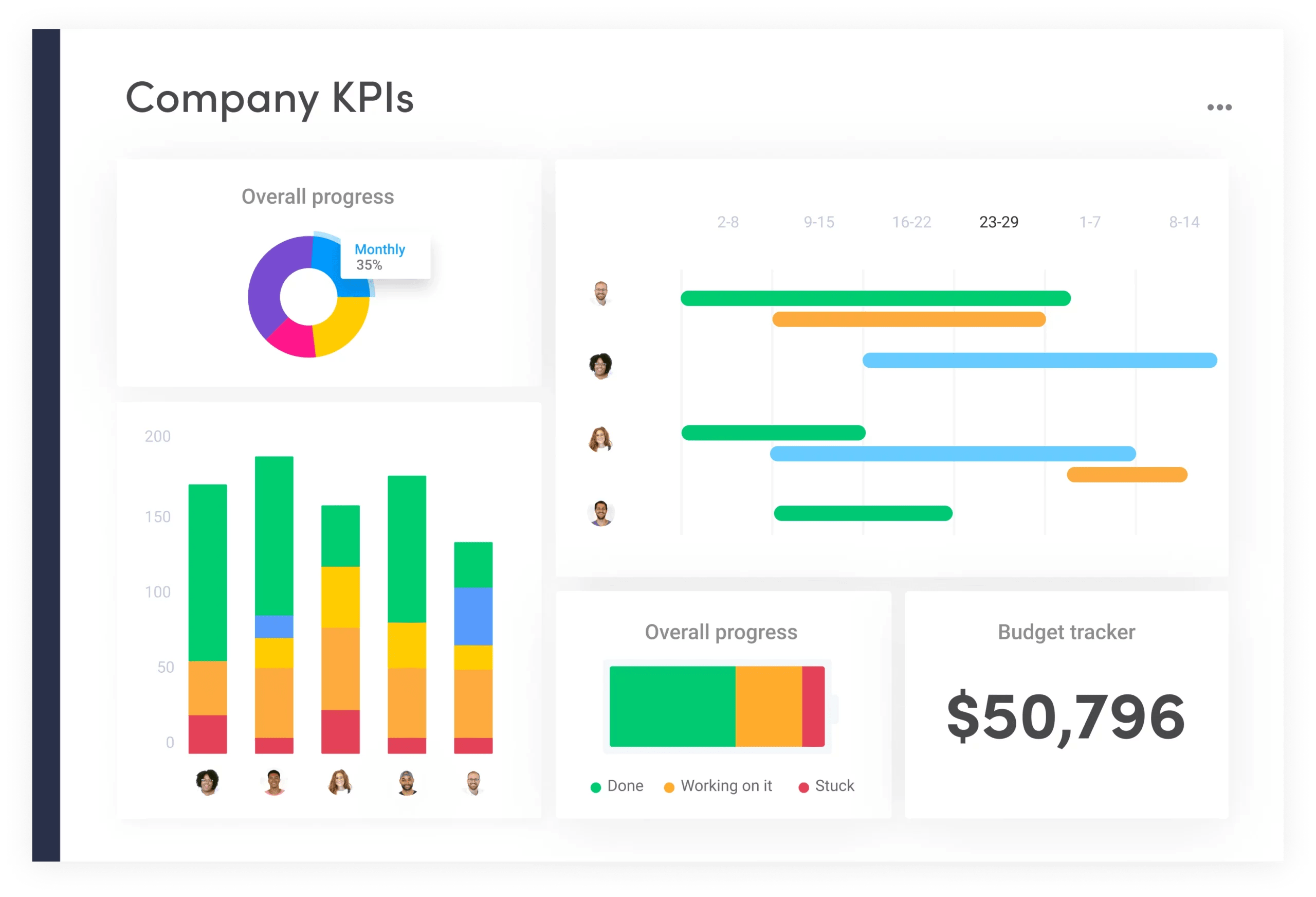 We know what collaboration software is, its benefits, and which features to look for—now we'll put this all together and show you how it works with a few example scenarios for how you might use one.
An online collaboration project example to get the inspiration flowing
From marketing teams to HR, any department can use online collaboration tools to complete their projects. Let's go through an example of how a team could use the software:
You're part of a marketing team and the latest initiative is creating an ad for a massive sporting event. You'll need to plan the ad, make a list of needed resources, break down the initiative into tasks and assign team members, create blogs and social media posts to get the word out, converse with sales to create a unified message—that's already a lot of items!
For this project, you could use a collaboration software to manage all of this work in one central place. For instance, once you assign a blog writer to a blog, they could create the document from within the platform, and then update or tag the team so everyone can make comments and suggestions without needing to enter another program.
On the same workspace, you join forces with the videographer and create a timeline view for shooting the ad, including all the steps to complete before going live with the final version.
And as you'll need to sync with sales to create a unified message, you can use the platform to get a transparent look into sales notes, calls, and materials to help you craft the perfect ad that shows off your product's best-selling features and capabilities.
This is just the beginning of what you can do on collaboration software like a Work OS. To choose the right software, though, you need to know your options. Take a look at some of the capabilities of the best collaboration softwares.
16 best online collaboration tools of 2023
Without further ado, these are our top picks to bolster team collaboration.
1. monday.com
monday.com is a fully-fledged Work OS, that allows teams to work without limits, while centralizing all your work, processes, tools, and files into one one source of truth.
On monday.com, users can build custom work apps using our no-code/low-code framework to build any workflow you need. Create a sales pipeline using a pre-existing template or fully customize agile workflows for your product, design, and R&D teams.
Once you've nailed your workflow, you can bridge silos and help everyone stay aligned by tagging stakeholders or team members to announcements, documents, tasks, and more. On the Work OS, you can even communicate eliminate manual communications with automations that can notify a stakeholder as soon as you finish a task, leave a comment, or change a status.
Our software integrates with all the apps you use on a daily basis, so instead of switching tabs, you can focus on managing, executing, and delivering projects on time. Here's a quick run down on some of our notable features.
Standout features:
Several ways to view projects including Kanban, Gantt charts, calendar, timeline, and more
Automation and notification recipe builder to eliminate manual work
Dashboards to simplify decision making
monday Workdocs for documentation creation and sharing
40+ integrations with the

tools

you already use
Mobile apps for iOS and Android devices
Best for:
monday.com is ideal for teams of any size and industry, from one-man-bands to corporate enterprises.
2. Slack
Slack is a workplace communication tool that allows teams to connect via instant messaging in direct chats or specific threads called channels.
The commonly-used app for workplace chat speeds up all kinds of workplace communications.
Features:
Hashtags
GIFs and memes
Video conferencing
Integrations with Google products like Docs
iOS and Android compatability
Connection with collaboration software
Best for:
Workplaces looking for a niche solution for easily communicating and sharing files.
3. Asana
Asana is a project management app designed primarily around Kanban boards.
There are other views as well, though they don't have as many options as leading collaboration software. On Asana you can create workflows for a variety of projects.
Features:
Multiple board views
iOS and Android apps
Automation
Customer-facing rules
Integration with Slack, Gmail, and Dropbox
Pre-built templates
Best for:
Asana is a works for most teams, though teams that prefer a low-code framework may require other softwares that allow them more flexibility.
4. Flock
What it is:
Flock is a project management tool designed with two features in mind: workplace communication and online collaboration.
With a 30-day free trial, and familiar green and white livery, getting started with Flock is simple.
Features:
Instant messaging
Video conferencing
Strong ability to search and retrieve documents and conversations
Voice notes
To-do lists and reminders
File sharing
Best for:
Flock is a good option for sales and marketing teams looking for a niche tool for simplifying contact management and workplace communication.
5. Airtable
Airtable is a low-code app building platform and enterprise collaboration software.
It offers a familiar spreadsheet-style interface, with customizable column modules that allow you to display your data in whatever way works best for your team.
Features:
ability to build apps with minimal technical coding knowledge
Pre-built templates
Integrates with tools like Slack and Drive
Customizable columns
50+ pre-built Airtable-based apps, such as a Gantt chart creator, SendGrid API, and website page designer
Automations
Mobile and desktop apps
Best for:
Teams who want something more than Microsoft Excel, but don't want a complete collaboration tool or Work OS.
6. Zoom
Without a doubt, Zoom is one of the most popular collaboration platforms. Zoom allows teams to conduct virtual team meetings, remote interviews, run sales demos, and more.
Features:
Enterprise-level conferencing
Up to 1000 video participants per call
Forward-thinking features like polls, hand-raising, filters, and reactions
Integrates with calendar tools like Gmail, Outlook, and iCal
Instant messaging
enterprise-grade VoIP calling solution for sales and support teams with BYO carrier options
Best for:
Zoom is a good option for teams who need to connect and collaborate virtually for regular meetings.
7. Toggl Track
If you're working with remote workers and need a solution to track how much time they're spending on tasks, Toggl Track can help. Toggl actually offers three different products: Track, Plan, and Hire, designed for time-tracking, project management, and HR needs, respectively.
Features:
Calendar-based workspace
Web-platform plus desktop and mobile apps available
Simple browser extensions allow you to track time spent in apps
Ability to set reminders and auto-tracking
More than 100 app integrations available
Scheduled reports to your email inbox
Best for:
Teams with remote workers who need to track time spent on projects, as well as any companies charging by the hour looking for a transparent way to bill their clients. For a way to track time and access features such as automation and doc creation, a Work OS is a great bet.
8. Basecamp
Basecamp is one of the older offerings around the block, offering all of the basic features of project management you'd expect from a tool of its tenure.
Features:
Catch-all notification center
Separate boards for each project you're working on
Document and file sharing
Schedule automatic check-in messages
Create a scheduler that integrates with your calendar tool
Ability to set your work hours
Custom-branded workspaces with your company logo
Best for:
Basecamp is ideal for creative teams who need a simple space to store all of their project information without needing more advanced capabilities.
9. Evernote
Put simply, Evernote is a note-taking app that gives teams the ability to jot down meeting notes and project ideas on the fly, from a desktop, mobile app, or in their browser.
Features:
Document backup
Strong integration set
Web Clipper for saving webpages straight to a note
Rich text editing features
Auto-syncs across all devices
Search function for reading your handwritten notes and pulling up results
A variety of pre-designed templates
Best for:
Anyone who needs to take notes on the go, and needs more than just a simple note-taking app.
10. Wrike
What it is:
Wrike is a project management and enterprise collaboration tool centered on flexibility and customization.
On Wrike, you can create and customize workflows, dashboards, request forms, and more.
Features:
Resource planning tool for

team workload management

Customizable reporting dashboard
Enterprise-grade security with full control over your data encryption
Automated risk projection
AI-powered insights
Kanban boards and Gantt charts
Design custom client-facing request forms
Time-tracking
Best for:
Project managers who need customization options, but don't require a fast onboarding process.
11. Jira
What it is:
Jira is an issue and project tracking tool from SaaS giant Atlassian. It's primarily designed for collaborative software development teams operating on an Agile framework.
Features:
Roadmaps for product development
Agile-specific reports such as Burnup and Velocity charts and Sprint Reports
Integration with your code-flagging tools
Simple drag and drop functionality
Over 3000 Jira apps
Enterprise-grade security
Robust set of APIs for building automation rules
Complete issue tracking capabilities including helpdesk, bug tracking, and ticket workflows
Best for:
Agile and software development teams looking for a more technical solution.
12. Podio
What it is:
Podio is a work management platform from Citrix, that aims to get team members working together efficiently. With integrated chat functions, calendars and meeting schedulers, and personalized dashboards, it's a customizable tool for modern team collaboration.
Features:
Unlimited data storage
Project and

task management

Connected CRM
Granular access for enhanced security
Calendar and meeting scheduler
Stable platform – 99.99% uptime
Personal dashboards and reporting
Best for:
Teams looking for a project management tool.
13. Google Drive
What it is:
Google Drive is one of the biggest cloud storage platforms on the market, allowing users to store virtually any kind of file.
Features:
Easy sharing permissions a
Cloud-based
Mobile app
Best for:
Teams looking for a way to store documents, files, audio, and video.
14. Trello
Trello is a project management tool designed around the popular Kanban board. It's simple to use, has a mobile app for touch-responsive editing, and allows for workflow automation.
Features:
Color-coding
Smart workflow automation – Trello even tells you which rules to create based on actions your team takes regularly
Pre-built Team Playbooks for easy set up
Integrates with apps like Slack and Evernote
Checklists, notes, labels, attachments, and due dates
Best for:
Teams who need a simple project management tool, but wish to work in a Kanban view.
15. Smartsheet
Smartsheet is a work and collaboration tool designed around, you guessed it, spreadsheets. Smartsheet allows you to import spreadsheets or create one from scratch, and then visualize it in whatever manner you'd like to: card, Gantt, calendar, or grid.
Features:
Powerful automation
Content collaboration and commenting, including polls
Dashboards and reporting for upper management
No-code app building platform
Resource and project portfolio management
Four different project views
Forms
Extensive integrations
Best for:
Teams who love spreadsheets.
16. Hypercontext
Hypercontext is a solution that empowers over 100,000 managers and their teams to be high-performing by combining quarterly priorities, weekly meetings, and engagement measures, all in one place.
Features:
Collaborative meeting agendas
Real-time employee feedback
Zapier integration to connect Hypercontext to 2000+ apps, including

monday.com
Best for:
Hypercontext is great for remote, onsite, and distributed teams looking to have real-time or asynchronous meetings.
Achieve more with a Work OS
As we just saw, there are many collaboration software options to choose from. Foolproof your decision by choosing one that allows you to: communicate in multiple ways (such as tag-based messaging and updates), share and create documents, plan and track projects, access reports, and data, and allows for full customization so you can work the way you want.
Ready to get started with our top pick for the best team collaboration software?