The past 18 months have shaken the world in many ways and the way organizations work is no exception. From remote work to shifts in the size of organizations, collaboration was put to the test and it became more apparent how important team collaboration software and communication tools are for success.
The good news?
You've got some seriously capable collaboration software options and collaboration apps to choose from. This article will teach you everything you need to know about team collaboration software and provide an in-depth look at 16 leading software solutions.
What is a team collaboration software?
Collaboration software is any kind of software or app designed to help teams brainstorm, communicate and work together more effectively to get work done more efficiently. Of course, this casts the net pretty wide, and there are a lot of different kinds of team collaboration software for sharing ideas or assigning tasks. Practically every type of team relies on team collaboration software to get their work done.
How does collaboration software work?
The way in which a given collaboration software platform ultimately depends on the tool itself. That said, you'll find that there are typically a few common features including:
1. Instant messaging
In today's working world, email communications are considered increasingly outdated and often cumbersome.
Collaboration tools generally give you group and one-on-one messaging, as well as specific channel or tag-based messaging. Some tools leave it to pros like Slack but offer other real-time ways to communicate, such as direct updates on tasks or announcements.
For example, monday.com offers the ability to notify specific teams or the whole organization via an Inbox in addition to Updates on each item and subitem to cut down on emails and intranet reliance: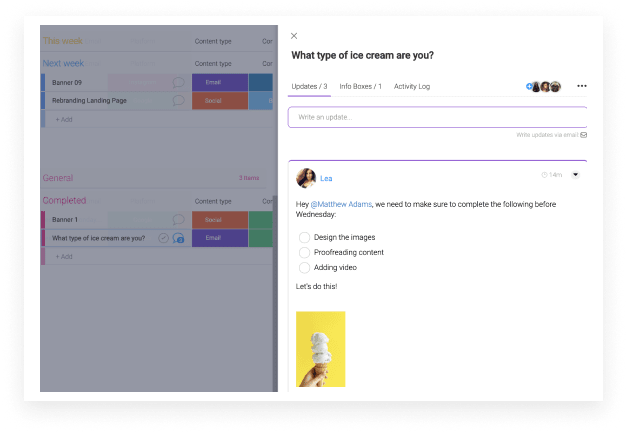 2. Video conferencing
Whether you're scheduling a virtual meeting, or need to quickly chat with a team member on the fly, video conferencing is a must-have especially when it comes to screen sharing.
3. Document sharing
Some platforms allow document uploads, and many give you the ability to add links to cloud-based files such as Google Docs. Better yet, the ability to create Docs is on the rise.
4. Project planning and tracking tools
Some platforms focus entirely on communication, others focus on planning. You'll probably want some form of both, with project planning and tracking tools such as different views including:
Kanban boards
Gantt charts
Timelines
Calendars
Tables
(monday.com has all of these, and also three more).
5. Reporting and dashboards
You'll want to be able to quickly check in on project progress, and create weekly or monthly reports for senior management teams, so look for a collaboration tool that can make these processes simple.
6. Sharing permissions
Great team collaboration tools allow you to individually adjust sharing and access permissions, enabling you to loop in stakeholders and employees without sacrificing sensitive data.
The benefits of collaboration software
Though collaboration comes in all shapes and sizes, the overall benefits that a team collaboration platform aims to achieve tend to be fairly similar.
Typically, collaboration software tools offer project managers these benefits:
Better communication with their team

, clients, stakeholders, and managers
A single source of truth will all documents and relevant notes
The ability to share information with external stakeholders without putting sensitive data at risk
Projects that wrap up on time and on budget
A high-level progress view
Consistent workflows
So, what are examples of collaboration software?
16 best online collaboration tools of 2022
1. monday.com
monday.com is a fully-fledged Work OS, powering teams to plan and implement projects, create smarter workflows, and connect collaboratively.
With monday.com, users can build custom work apps (without needing to be a coding expert) that work for their individual operational requirements all while automating manual work.
Our software integrates with all the apps you use on a daily basis, features multiple project views, and offers an in-depth suite of reporting capabilities.
Features:
40+ integrations with the

tools

you already use
8 project views including Kanban, Gantt charts, calendar, and more
Automation and notification recipe builder
Time-tracking and file-sharing
Resource management functionality
Ability to share boards with guests and stakeholders with user-specific permissions
Mobile apps for iOS and Android devices
Best for:
monday.com is ideal for teams of any size, from one-man-bands to full-sized corporate enterprises.
2. Slack
What it is:
Slack is a workplace communication tool that allows teams to connect via instant messaging in direct chats or specific threads called channels.
It's by no means a full-on project management software package, but it's without a doubt the most commonly-used app for workplace chat, speeding up all kinds of workplace communications.
Features:
Hashtags
GIFs and memes
Video conferencing
Integrations with Google products like Docs
iOS and Android compatability
Connection with collaboration software
Enterprise-grade security
Best for:
Workplaces that need to be able to communicate and share files with each other instantly, with context, and with memes.
3. Asana
What it is:
Asana is a project management app designed primarily around Kanban boards.
There are other views as well (timeline, lists), as well as the ability to create automation rules, integrate with your favorite apps, and build customer-facing forms that link directly to your Asana boards.
Features:
Multiple board views
iOS and Android apps
Automation
Customer-facing rules
Portfolio project management tools
Resourcing planning
Integration with the likes of Slack, Gmail, and Dropbox
Pre-built templates
Custom-designed fields
Best for:
Asana is a decent collaborative tool for teams of all sizes, thanks to enterprise-grade security and privacy, deep admin controls, and scalable pricing. You do have to work within Kanban almost exclusively, though.
4. Flock
What it is:
Flock is a project management tool designed with two features in mind: workplace communication and online collaboration.
With a 30-day free trial, and familiar green and white livery (Evernote, anybody?), getting started with Flock is simple.
Features:
Instant messaging
Video conferencing
Strong ability to search and retrieve documents and conversations
Voice notes
To-do lists and reminders
File sharing
Programmable authorization and authentication
Store contact information to create a company directory
Best for:
Flock is a good option for sales and marketing teams looking for a simple way to manage contacts, project teams in need of easy workplace communication, and HR managers looking to improve their hiring and onboarding processes.
5. Airtable
What it is:
Airtable is a low-code app building platform and enterprise collaboration software.
It offers a familiar spreadsheet-style interface, with customizable column modules that allow you to display your data in whatever way works best for your team.
Features:
Build apps with minimal technical coding knowledge
Pre-built templates for the likes of event planning and content calendars
Integrates with tools like Slack and Drive, and social media platforms like Facebook and Twitter
Customizable columns
50+ pre-built Airtable-based apps, such as a Gantt chart creator, SendGrid API, and website page designer
Automations
Mobile and desktop apps
Best for:
Teams who want something more than Microsoft Excel but not a complete collaboration or project management tool.
6. Zoom
What it is:
Without a doubt, Zoom is the most popular collaboration platform for workplace video conferencing. Whether you're coordinating a weekly virtual team meeting, conducting remote interviews, or running sales demos, Zoom just works.
Features:
Enterprise-level conferencing
Up to 1000 video participants per call
Forward-thinking features like polls, hand-raising, filters, and reactions
Integrates with calendar tools like Gmail, Outlook, and iCal
Instant messaging can be used standalone or within a video conference
Zoom also offers an enterprise-grade VoIP calling solution for sales and support teams with BYO carrier options
Best for:
Zoom is a good option for teams who need to connect and collaborate virtually for regular meetings or quick project update conversations.
7. Toggl Track
What it is:
If you're working with remote workers and need a solution to track how much time they're spending on tasks, Toggl Track is it. Toggl actually offers three different products: Track, Plan, and Hire, designed for time-tracking, project management, and HR needs, respectively.
For distributed teams and remote work, Toggl Track is the tool you want. It allows project managers to ensure they are being invoiced accurately, and to better manage project costs and resource allocation.
Features:
Calendar-based workspace
Web-platform plus desktop and mobile apps available
Simple browser extensions allow you to track time spent in apps
Ability to set reminders and auto-tracking
More than 100 app integrations available
Scheduled reports to your email inbox
Best for:
Teams with remote workers who need to track time spent on projects, as well as any companies charging by the hour looking for a transparent way to bill their clients.
8. Basecamp
What it is:
Basecamp has been around for about as long as team collaboration software has even existed, offering all of the basic features of project management you'd expect from a tool of its tenure.
Features:
Catch-all notification center
Separate boards for each project you're working on
Document and file sharing
Schedule automatic check-in messages
Create a scheduler that integrates with your calendar tool
Ability to set your work hours
Custom-branded workspaces with your company logo
Best for:
Basecamp is ideal for creative teams who need a simple space to store all of their project information without getting too complex with visuals.
9. Evernote
What it is:
Put simply, Evernote is a note-taking app that gives teams the ability to jot down meeting notes and project ideas on the fly, from a desktop or mobile app, or in their browser.
Features:
Document backup
Strong integration set
Web Clipper allows you to save webpages straight to a note
Rich text editing features
Auto-syncs across all devices
Search function can even read your handwritten notes and pull up results
Create and save note templates, or choose from a variety of pre-designed templates
Best for:
Anyone who needs to take notes on the go, and needs more than just simple text editing found in stock note-taking apps.
10. Wrike
What it is:
Wrike is a project management and enterprise collaboration tool centered on flexibility and customization.
This includes workflows, dashboards, request forms, and basically any other feature found in Wrike.
Features:
Resource planning tool for

team workload management

Customizable reporting dashboard
Enterprise-grade security with full control over your data encryption
Automated risk projection
AI-powered insights all you to work smarter, not harder
Kanban boards and Gantt charts
Design custom client-facing request forms
Time-tracking
Best for:
Project managers that need a high level of flexibility from their collaboration tool.
11. Jira
What it is:
Jira is an issue and project tracking tool from SaaS giant Atlassian. It's primarily designed for collaborative software development teams operating on an Agile framework, enabling constant product iterations through top quality collaboration and communication.
Features:
Roadmaps for product development
Agile-specific reports such as Burnup and Velocity charts and Sprint Reports
Integration with your code-flagging tools
Simple drag and drop functionality
Over 3000 Jira apps
Enterprise-grade security
Robust set of APIs for building automation rules
Complete issue tracking capabilities including helpdesk, bug tracking, and ticket workflows
Best for:
Agile teams and software development teams.
12. Podio
What it is:
Podio is a work management platform from Citrix, and it's all about getting team members to work together efficiently. With integrated chat functions, calendars and meeting schedulers, and personalized dashboards, it's a customizable tool for modern team collaboration.
Features:
Unlimited data storage
Project and

task management

Connected CRM
Granular access for enhanced security
Calendar and meeting scheduler
Stable platform – 99.99% uptime
Personal dashboards and reporting
Best for:
Teams who need a project management tool and CRM in one.
13. Google Drive
What it is:
Google Drive is one of the biggest cloud storage platforms on the market, allowing users to store virtually any kind of file, and open many of them using Google's Suite of cloud-based tools such as Sheets, Docs, and Slides.
Features:
Pretty much any other tool you use has a Google Drive integration
Sharing permissions are easy to set when sharing with external stakeholders
Move all of your word editing and spreadsheet tools into the cloud by switching to Google's other tools, and have everything in one place
Mobile apps
Best rated cloud storage tool around
Best for:
Teams working on documents, files, audio, and video that need to be stored and shared.
14. Trello
What it is:
Trello is a project management tool designed around the popular Kanban board. It's simple to use, has a great mobile app for touch-responsive editing, and allows for workflow automation too.
Features:
Color-coding
Smart workflow automation – Trello even tells you which rules to create based on actions your team takes regularly
Pre-built Team Playbooks for easy set up
Integrates with apps like Slack and Evernote
Checklists, notes, labels, attachments, and due dates
Best for:
Teams who need a simple project management tool and are comfortable working only in Kanban view.
15. Smartsheet
What it is:
Smartsheet is a work and collaboration tool designed around, you guessed, spreadsheets. Smartsheet allows you to import spreadsheets or create one from scratch, and then visualize it in whatever manner you'd like to: Card, Gantt, Calendar, or Grid.
Features:
Powerful automation, with the Bridge tool allowing you to link different software platforms together and automate across them
Content collaboration and commenting, including polls
Dashboards and reporting for upper management
No-code app building platform
Resource and project portfolio management
Four different project views
Forms
Extensive integrations
Best for:
Teams who are sick of the confines of working in spreadsheet-land and need a more complex and configurable collaboration solution.
16. Hypercontext
Hypercontext is a solution that empowers over 100,000 managers and their teams to be high-performing by combining quarterly priorities, weekly meetings, and engagement measures, all in one place.
Features:
Collaborative meeting agendas
Real-time employee feedback
Zapier integration to connect Hypercontext to 2000+ apps, including

monday.com
Best for:
Hypercontext is great for remote, onsite, and distributed teams looking to have real-time or asynchronous meetings.
Get started with team collaboration software now
There is no escaping the fact that effective team collaboration software is key ingredient to team productivity, paired of course with team focus and a strong project manager who has the ability to pull a team together and get everyone working together nicely.
Ready to get started with the best team collaboration software out there?
Check out monday.com's team task management template, and get going today.