How efficiently you allocate workload will dictate your team's productivity.
If your team is underworked, you won't get the job done on time. If, on the other hand, your team is working beyond their capacity, they'll feel burned out pretty quick.
And, as we'll cover a bit later, burnout is a real threat for modern organizations.
If you want your team to perform at their best, you need to have a strategy in place to allocate work to the right people at the right time.
We'll cover everything you need to know about workload management, starting with the most basic question.
What is workload management?
Workload management is the process of deliberately allocating tasks and activities across your team to maximize performance — ensuring every team member is working according to their own capacity.
This is crucial.
Many organizations put too much emphasis on money, resources, and costs but neglect one of the most valuable assets of any organization: the people.
Workload management comes down to understanding your people's true capacity and helping them achieve their highest level of contribution based on that information.
By distributing work strategically, you're able to get the most out of each team member without burning them out.
Some of the main activities involved in workload management include:
Scheduling: coordinating tasks, dependencies, and responsibilities across time.
Monitoring: tracking the completion of tasks and making sure deadlines are met.
Time tracking and management: overseeing how you're using time to spot potential bottlenecks.
Resource allocation: distributing your resources in the most efficient way possible.
Financial management: correlating work with the generation of revenue to optimize your practices.
We'll be covering these elements a bit more in-depth later, but first, let's answer a major question.
Why is workload management so crucial for your team's productivity?
The term "productivity" refers to the efficiency in which you produce a particular outcome.
For example, if you sell, say, shoes, your productivity will measure how efficient you are to produce a new pair of shoes in proportion to the costs and resources involved.
The strategic distribution of work will determine your team's ability to stay productive over the long run.
Sadly, many teams are coordinated disproportionately.
Studies suggest that, on average, workers waste roughly 3 out of 10 hours answering emails rather than working.
Other studies confirm that office workers are productive for less than 15 hours per week.
What does this mean for you?
If most of your team members are unproductive, it means a small percentage of your team must be producing most of your results. Otherwise, your organization couldn't survive very long.
That statement could be supported by the Pareto principle, which states that 80% of outcomes are produced by only 20% of the causes.
In other words, 20% of your team members produce 80% of your results.
By increasing the percentage of productive team members, you'll dramatically increase your performance.
Here's where workload management comes into play.
By monitoring your team's performance over a moderate period, you can identify where your bottlenecks are and amend your workload accordingly.
In today's day and age, workload management is not an option but a must for any organization.
The workload management process explained
Now that you understand the importance of workload management, the question becomes: how can you actually manage your workload?
Here's a quick, step-by-step process:
1. Categorize and prioritize activities
The first step to managing your workload is creating a list of all the major tasks and activities involved in the project and then categorizing them in order of importance.
Lack of prioritization is one of the main mistakes in work allocation.
No matter how organized you are, if you don't understand the "weight" of each activity, you'll struggle to identify dependencies and distribute tasks.
To start, we suggest you chunk down each of your processes into individual tasks. Then, use a simple prioritization matrix to identify your most crucial activities.
With our fully customizable Eisenhower matrix template, this process becomes way easier.

This template helps you record all your tasks and activities and organize them by priority. You can also assign tasks to specific team members and oversee progress in a single place.
It's the best way to start your workload management journey on the right foot.
2. Calculate the scope of each activity
Once you have a prioritized list of tasks, the next step is to define how long each task will take.
This is especially important to determine the scope of the overall project and set specific deadlines, milestones, and dependencies.
3. Define your team's capacity
This is one of the most important steps in the process.
If you don't understand what your team members are doing and how much work they can actually take on, you'll struggle to distribute tasks.
To speed up the process, we suggest you host a meeting with your team to define the exact capacity of each team member.
You can also tap into project management software to analyze past performance of individual team members and define capacity based on those numbers.
For example, with monday.com's workload view, you can easily visualize the actual workload of your team members in a pretty intuitive way.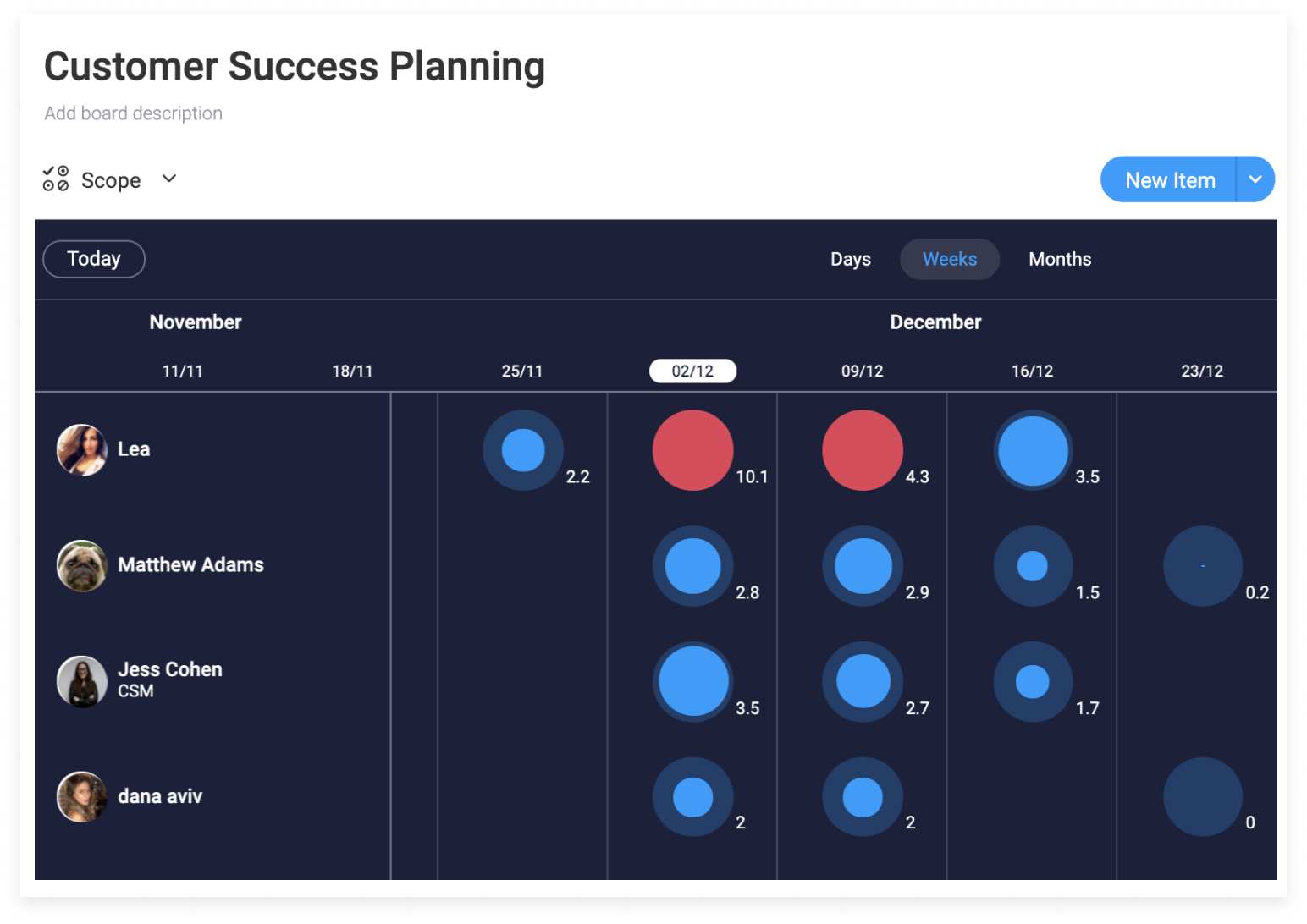 You can visualize your entire team's workload by days, weeks, months, and more.
This will help you better understand your actual team's capacity and allocate work accordingly.
4. Allocate individual workloads
Once you define your team's capacity, it's time to distribute tasks to specific team members and define deadlines for each task.
Make sure to assign the highest-priority activities first.
Also ensure that you're assigning tasks to the right people — those best suited for the work.
Then, schedule each task in a calendar and assign specific start and end dates.
For example, with monday.com, not only can you create a fully functional schedule for your team, but you can also assign tasks to team members and track completion.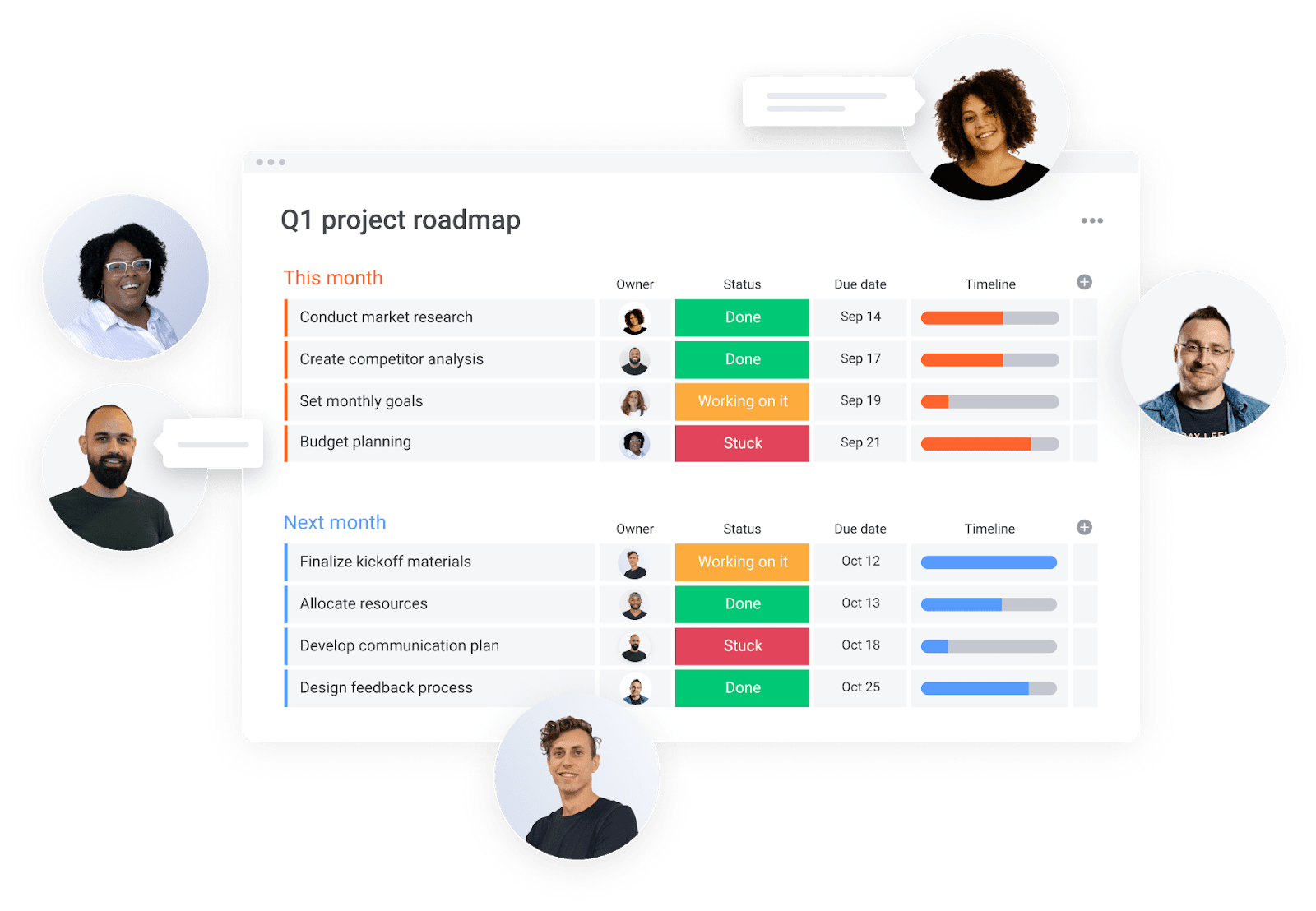 You can even add context to each activity and share important files with your team to make sure everyone is on the same page.
With our team task management template, you can easily coordinate this process with visual and interactive features.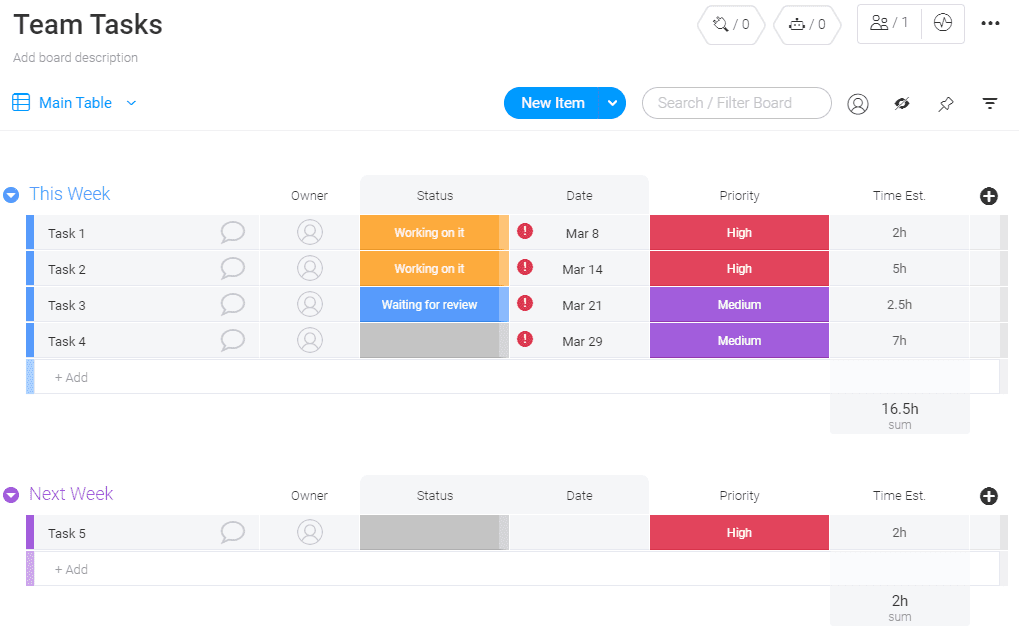 5. Check in with your team members and adjust accordingly
After you allocate individual workload to your team, it's important that you check in with them to understand whether that workload works.
If it doesn't, you will need to make some adjustments.
To ensure maximum efficiency, schedule a regular meeting with your team with the purpose of understanding how teammates feel about their current workload and optimize your management approach accordingly.
6. Gather data on tasks and improve your process continuously
Finally, you should adopt a continuous improvement philosophy in your organization and constantly collect feedback from your team.
Make sure to use a platform that gives you real data and insights about your performance and helps you track all the information that's relevant to you.
For example, at monday.com, you get access to powerful reporting features that help you monitor everything from revenue to time, resources, and even workload with ease.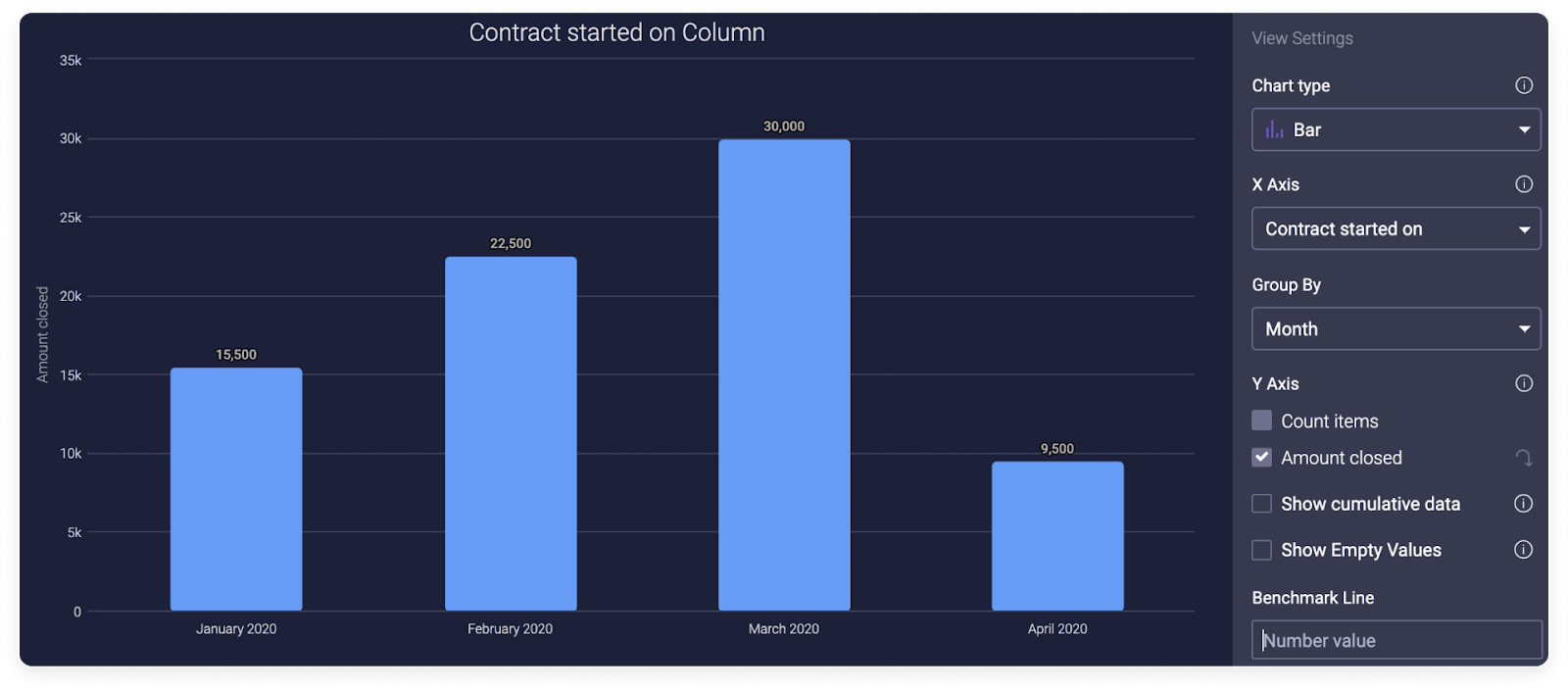 We provide you with over 20 dashboard widgets you can move around at will to design a dashboard that feels just perfect for you and helps you understand the actual performance of your team through real data.
The impact of remote work on your workload
As you may imagine, remote work has come to stay.
Recent surveys reveal that roughly 33% of organizations believe that remote work will still be common even after the COVID-19 crisis ends.
Working remotely has some implications in the way you manage your team. Let's discuss some of them.
Added activities
Remote work comes with additional activities.
The mere fact that your team is working online, for example, may involve learning and using particular platforms your team has never dealt with before.
With this increasing volume of work, you need the right platform to coordinate all these efforts.
With monday.com, for example, working remotely becomes feasible for any type of organization. Everything is so visual and intuitive that your team can start immediately, with no additional training needed.
You can bring in your entire team, streamline your workflows, and centralize all your information in a couple of clicks.
And, of course, you can tap into AI to automate some of your most repetitive tasks and activities — one of the main benefits of working remotely.
To learn more about our remote work functionalities, we suggest you watch this short video overview:
A need for better communication and collaboration
Keeping your team on the same page might be hard when you don't see your teammates face-to-face.
That's why streamlining your collaboration processes is crucial in a remote environment.
You need to establish clear communication channels and develop strategic processes so everyone understands what they should be doing and when.
For example, with monday.com, you get access to amazing collaboration features, including:
File sharing: keep your most important files handy for everyone on your team.
Instant messaging: communicate with teammates in real-time and speed up your collaboration process.
Video conferencing: integrate video conferencing platforms like Zoom and turn every meeting into an item to increase attendance.
Tagging: tag specific team members on items to make sure nothing slips through the cracks.
Notification: notify your peers and employees whenever you assign them an item.
And many others.
For example, you can add comments within each item to add more context to your tasks and brainstorm ideas with your team in real-time.
This gives you the flexibility you need to keep your team efficient while working remotely.
Increased burnout
Recent research suggests that roughly 7 out of 10 people feel burned out at work. More surprisingly, 40% of them have felt so while working from home during the pandemic.
What does this mean for you?
If you aren't careful, remote work can lead to increased burnout and, thus, a less efficient team.
You need to develop a workload management system that helps you spot burnout signals and correct them before they start snowballing.
For instance, with monday.com, you're able to track every metric related to the performance of individual team members, including revenue generated, time worked, resources used, and many more.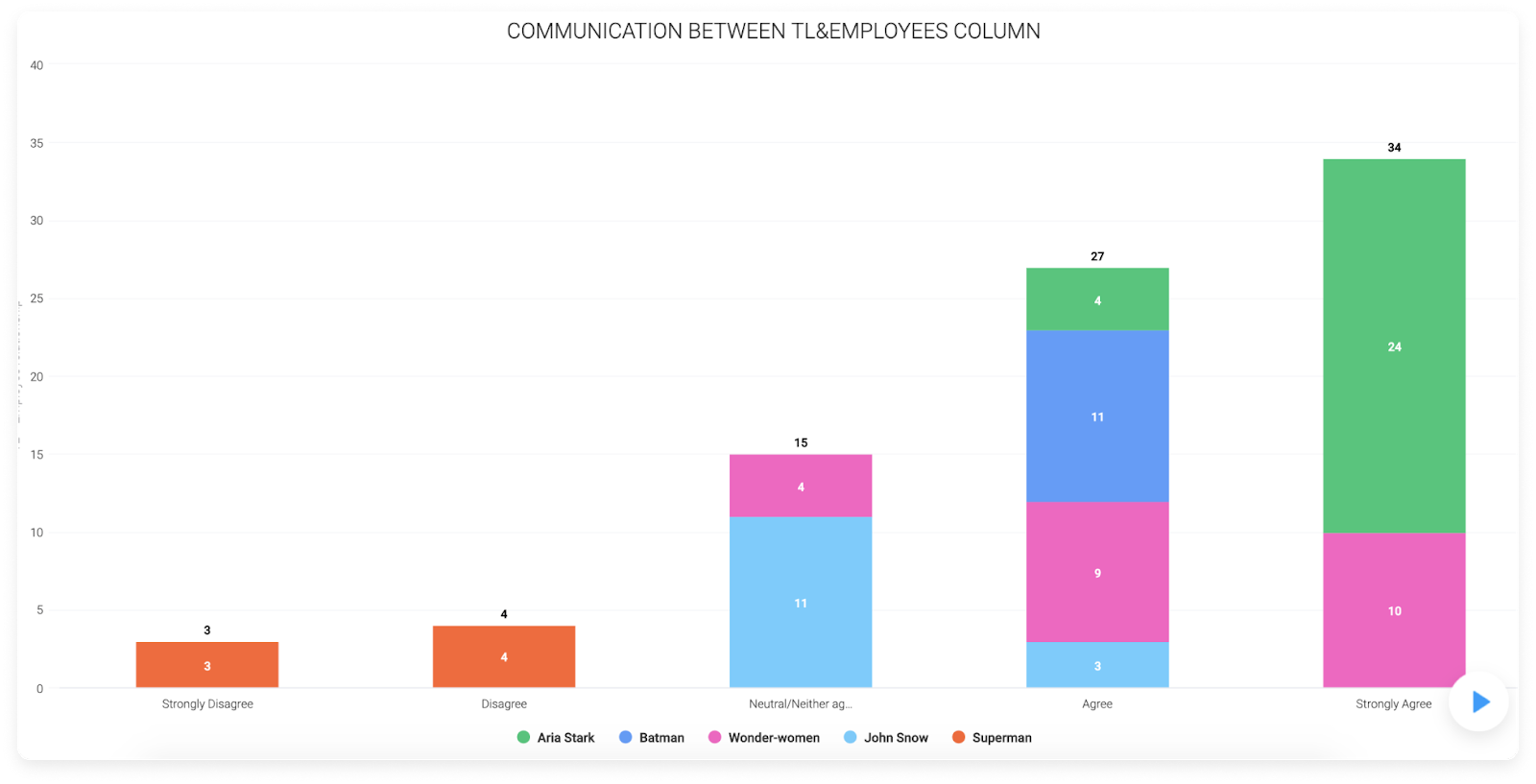 By tracking your team's performance with granular detail, you can identify behavioral patterns that help you prevent burnout issues.
A need for a centralized digital workplace
No remote team operates with a single tool.
On average, teams operate with 137 apps, according to Blissfully.
If you don't have a system that centralizes all those tools and information into a single place, your business can become disorganized.
With monday.com, you can integrate more than 40 of the tools and apps your team currently relies on, including Slack, Dropbox, and Google Calendar.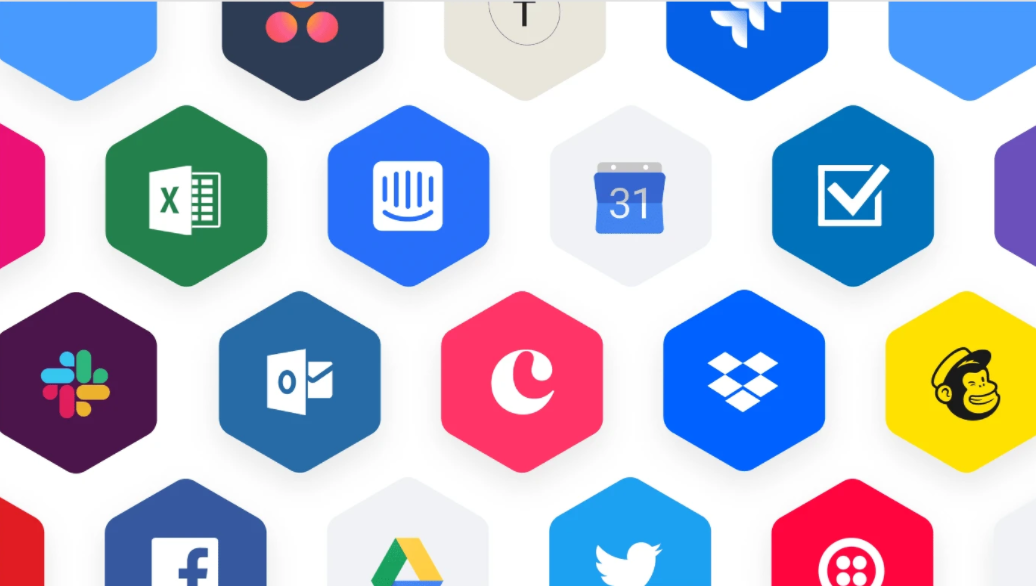 You can also centralize all your communication and data into a single source of truth.
For example, by bringing your entire team to work in the same platform, you can remove silos between departments and increase transparency across your organization.
And that's just a small example of what a centralized workspace can make for you.
To learn more about monday.com's Work OS and how it can help you become more efficient, we suggest you read this guide.
How to track and manage your team's workload more efficiently
In today's hyper-accelerated world, managing a workload with Excel spreadsheets isn't enough. To stay efficient, you need something a bit more sophisticated.
Here's where monday.com comes in.
Let's quickly cover what monday.com is all about and how it can help your team work more productively.
Let's start with the basics.
What is monday.com?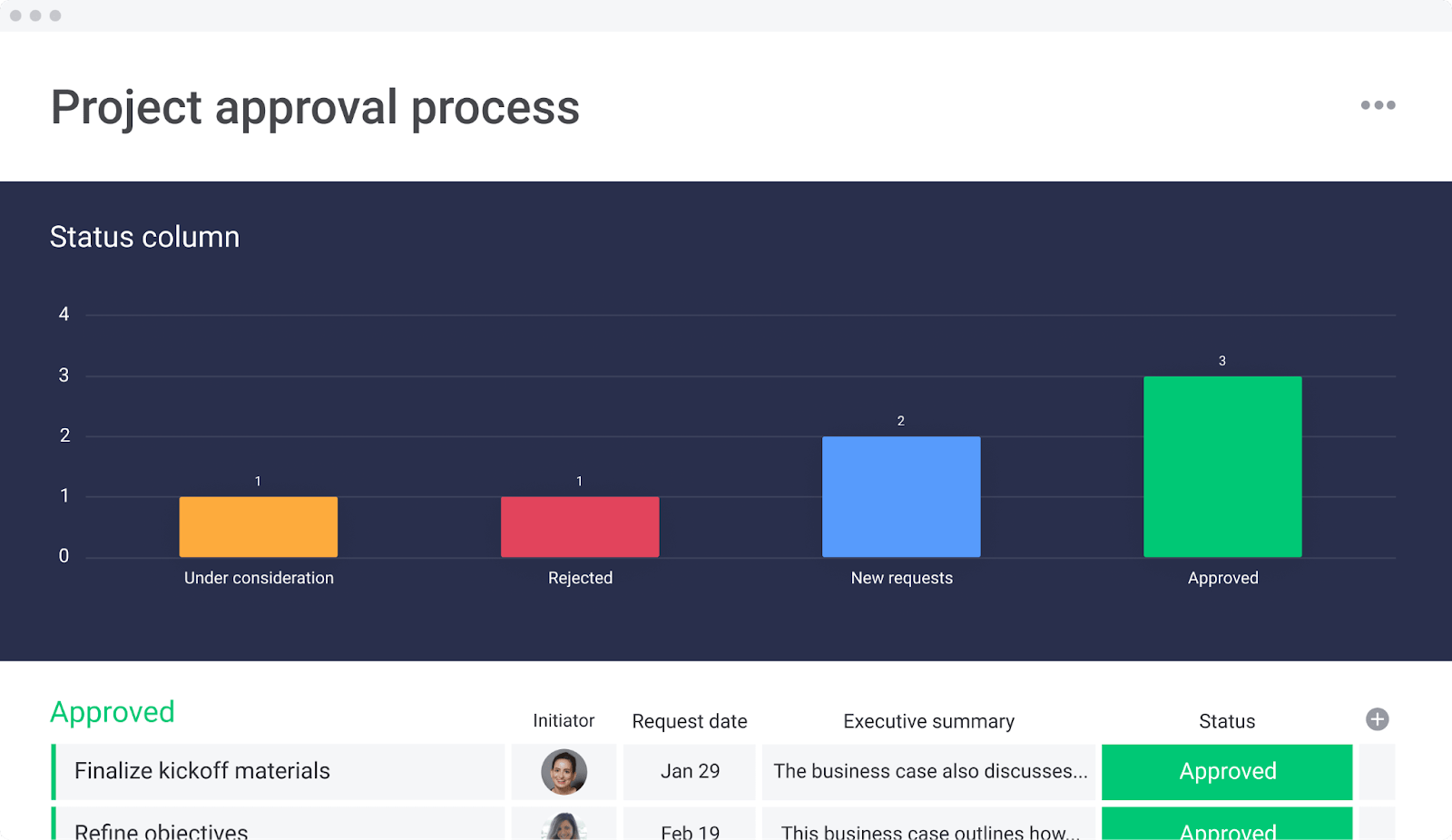 As we stated a bit earlier, monday.com is a work operating system (Work OS) — a platform for the future of work.
You see, a true Work OS is much more than just another project management platform.
Of course, you can use a Work OS to manage projects, but that's just the tip of the iceberg.
A Work OS allows you to build custom digital workspaces to streamline and automate any type of workflow, no matter how complex.
For example, companies like Genpact and Software AG have used monday.com's Work OS to improve their cross-team collaboration, 40%, and 71%, respectively.
Others have increased their profitability after adopting monday.com — like Falkbuilt, which went from $0 to $1.3 million in revenue in under a year.
And some others have used our platform to streamline complex processes — like Parvenu, which used monday.com to build a custom CRM with over 150 automations.
Whether you're a freelancer trying to manage your workload or a large organization looking to increase your productivity, monday.com provides you with all the features you need to revolutionize the way you work.
Why monday.com?
In the context of workload management, some of the core features we offer include:
Time tracking: measure how long tasks take to complete and optimize your workload accordingly.
Resource management: make better use of all your resources and avoid cost overruns.
Collaboration: bring in your entire team and work together under one roof.
Project management: manage the entire project life cycle from start to finish.
Security: get access to enterprise-level security from the start.
Reporting: track all the metrics that matter to you and get valuable insights about your team's performance.  
Permissions: set permission levels to your boards and make sure only the right people see your information.
And many more.
To get a more precise overview of monday.com's capabilities, we suggest you visit our product overview page.
Introducing monday.com's board views
Thanks to our data visualizations, you can oversee your workload from multiple angles and perspectives. This will help you make sure nothing slips through the cracks.
The best part?
You can shift between views in just a couple of clicks.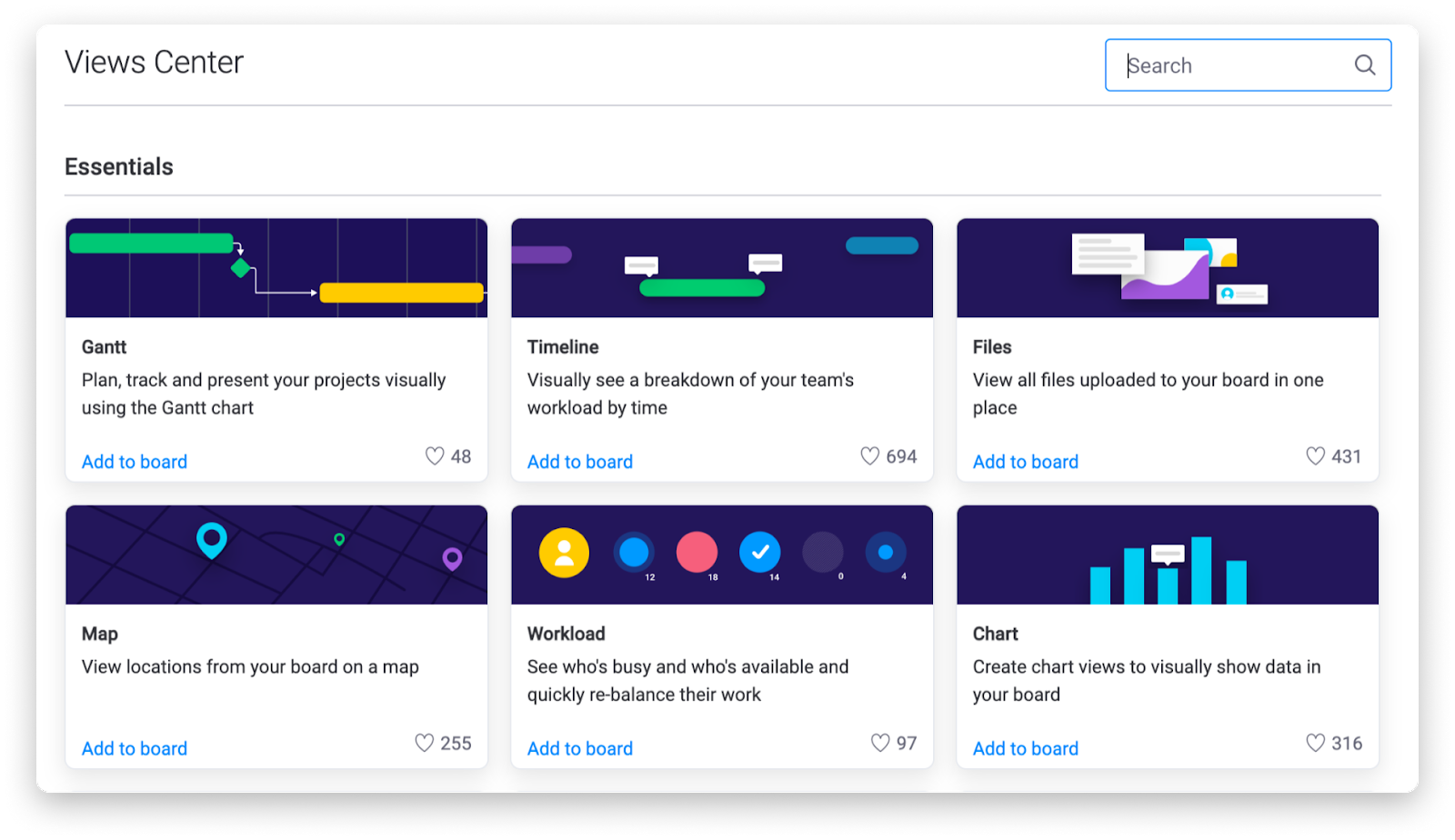 Some of our most popular board views include:
Workload: visualize your team's workload and distribute work more intelligently.
Gantt: oversee all your tasks and activities, including dependencies and team responsibilities.
Timeline: see your project's timeline and make sure you're never behind schedule.
Map: visualize specific locations in an interactive map.
Chart: turn any board into a visually appealing chart and get valuable information about your team.
Calendar: visualize your entire workload in the form of a calendar.
Ready to manage your workload?
Workload management is essential for any organization.
Whether you're managing a small team or handling multiple projects across different verticals, effective work allocation will make your team more productive.
Hopefully, now you have enough information to start managing your workload on the right foot.
And if you're looking for a platform to manage your team, then monday.com might be a good fit.
To make a more informed decision, we suggest you try out our fully customizable work calendar template. It'll help you oversee your workload with ease.