How
Software AG

increased cross-team collaboration by

71%

using monday.com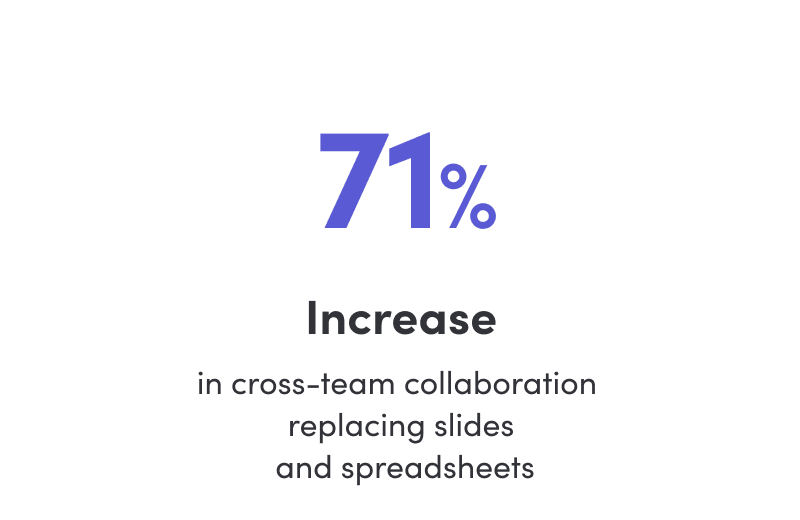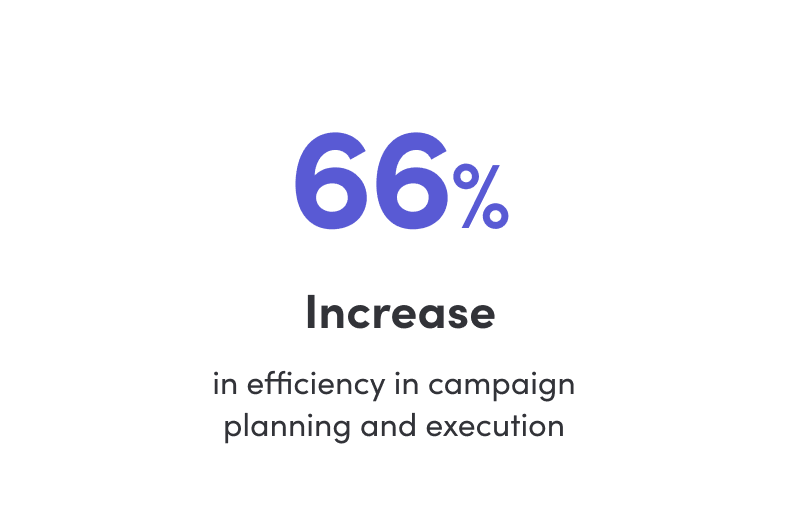 Founded in 1969, Software AG reimagines integration, sparks business transformation, and enables fast innovation on the 'Internet of Things' so their customers can pioneer differentiating business models.

Software AG is the second-largest software company in Germany, active in 70 countries with nearly 5,000 employees.

As Germany's second-largest software vendor, Software AG's matrix organization serves four major business units and four regional divisions. One important role at Software AG's Growth Marketing unit is bringing the regions and business units together to create fantastic demand generation programs.

There's a lot of interlocking that needs to happen between the different regions, business units, and all other supporting functions to make demand generation programs successful.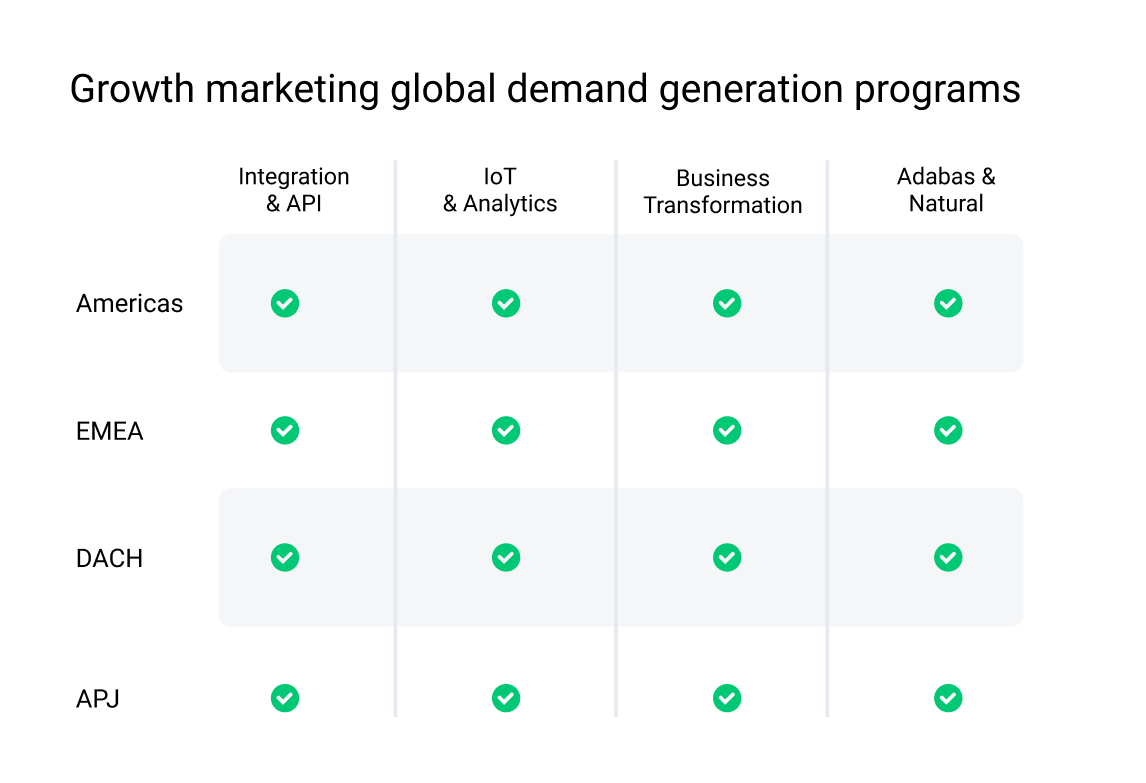 To plan, create, and flawless execute their global marketing campaigns, Software AG had to align all their marketing teams. Yet they lacked a single source of truth across marketing to manage all global and regional demand generation initiatives — and maximize their impact.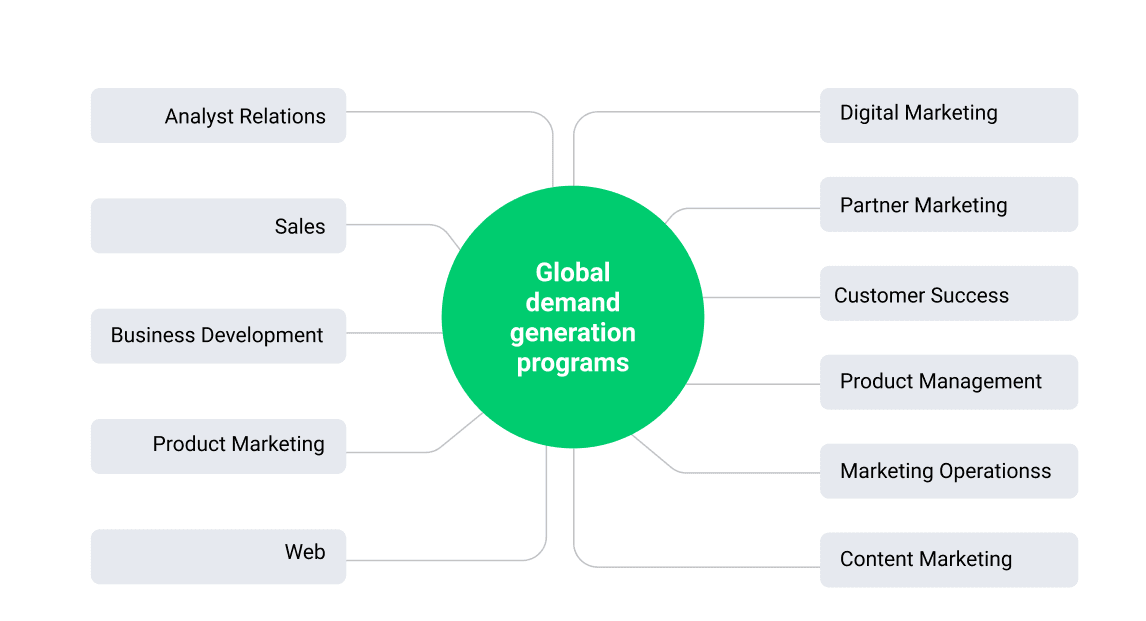 Why monday.com?
Software AG started with free trials offered by various platforms, including Aha! and monday.com Work OS. And it didn't take long before the software company understood they had found the kind of platform they were looking for with monday.com.

They started with the free trial and were immediately engaged by the easy of use and beautiful interface. Not far into their trial, one of monday.com's customer success managers got in touch with them to learn about their challenges and build out exactly what they needed.
Quick and easy onboarding process
In January 2020, Software AG launched monday.com Work OS as a trial with five marketing team members, who together documented and shared demand generation plans. The team created a series of boards for each business unit and region where they listed out their campaign strategy, build and execution schedule, along with the objectives.

The trial proved successful, and monday.com started to expand within the marketing team. To ensure a smooth onboarding process, Software AG created an "Onboarding" board with content on getting started successfully and held short training sessions.

With an intuitive platform onboarding has become seamless, only taking about 10 minutes per new hire.
Exchanging monday.com best practices
With more and more teams onboarding to monday.com across the globe, Software AG decided to schedule a monthly sync they call the 'Dojo.' These syncs bring together Software AG's dedicated Customer Success Manager and a team of 30 power users (called "the monday.com Ninja Squad") to exchange best practices and leverage the platform for any use case.
Creating greater alignment between teams
The Software AG team are heavy Microsoft Teams users, so integrating was essential to the acceptance and rapid adoption, leading to another expansion of monday.com Work OS across Software AG.

With the ability to embed monday.com boards in the context of a Microsoft Teams channel, Software AG teams centralize their project management and keep communication structured.
Utilizing the advanced capabilities of the Work OS
In the beginning, Software AG narrowly focused on solving the main marketing challenge of aligning all functions to enable the most impactful demand generation engine possible. And it didn't take long before they started to discover what else was possible with monday.com Work OS, causing them to think a little bit bigger.

"We started to ask ourselves: what about making monday.com our unified workspace for Software AG's marketing and sales teams to blend all Go-to-market (GTM) functions from awareness creation to subscription renewal?" says Bill Carney, VP Growth Marketing.

The team onboarded both units to monday.com to achieve just that. Today, business unit leaders instantly see all global activities that build demand for their products.

"Sales and marketing teams continuously align to ensure that the right demand is generated and properly followed up on and senior management can make strategic decisions with aggregated dashboards.

The GTM workspace is used throughout the year to measure success and continuously fine-tune plans. All boards are public so there is total GTM transparency for every Software AG employee," says Bill.

What started out as a trial for a small group has grown into an active account of more than 300 hundred Software AG members in different teams and regions on monday.com in a single year. monday.com Work OS continues to expand throughout the organization with more and more teams asking to be onboarded to the platform.
Moving to the EU data region
As a German public company, there are many privacy compliance-related regulations around storing personal data that Software AG needs to strictly follow when it comes to adopting new software. And there's a committee dedicated to verifying what new technologies comply with their local security, privacy, and compliance regulations.

"As the second-largest software company in Germany, data security is extremely important to us. Our experts checked to make sure the Enterprise plan met all of the privacy and compliance regulations. And we can certainly say that monday.com is enterprise-ready in this context," says Bill.
Request a demo
Let us show you why over 180,000 customers worldwide choose monday.com