You want to find out more about project stakeholders and how to manage them, right? Or perhaps you want to know how to identify project stakeholders in the first place?
We hear you. It's a tricky scene to navigate. Especially when there are so many potential project stakeholders, and they all need to be managed differently.
In this article, we're providing a no-nonsense breakdown of what a project stakeholder is, how to manage them, and 4 project stakeholders that you need to be aware of in your next project.
When you've finished reading, you'll have no problem identifying who your project stakeholders are, and how you should manage them.
So, without further adieu, let's get started.
What is a project stakeholder?
Let's break this down. A project stakeholder is any person, group, or company that:
Has an interest in your project
Has something to gain or lose based on the outcome of your project
Has a certain level of influence that can affect the project
In other words, anyone that has an interest in your project — financial or otherwise — and can influence key decisions throughout the project is a project stakeholder.
This ranges from internal project team members to external investors. We'll get into these in more detail later, so stay tuned.
What are internal and external project stakeholders?
Project stakeholders can be split into 2 categories — internal and external.
Internal stakeholders are inside your organization.
For example, a management team, HR, the project team, a resource manager, just to name a few. Each project will have different team members involved, meaning that internal stakeholders will vary from project to project.
External stakeholders are — you guessed it — outside of your organization.
This includes contractors, suppliers, investors, external customers, and even government entities. But again, the external stakeholders you have will depend on the project you're working on.
Now, let's take a look at how you can manage different stakeholders, and why it's important to identify all the project stakeholders in your next project.
4 project stakeholders you need to manage
Before we explore some of the key project stakeholders, it's important to note that not every project will have the same project stakeholders.
If they did, we wouldn't need project stakeholder analysis— otherwise known as the stakeholder identification process.
Every project is different. And although we're going to look at 4 of the most important project stakeholders, this isn't a definitive list.
You'll always need to conduct your own project stakeholder analysis to find the project stakeholders for your project.
Now, let's take a look at the 4 project stakeholders that should be on your radar during your next project plan.
1. Employees
Ah, employees. The cogs that keep our project wheels turning.
As you can imagine, employees qualify as pretty important project stakeholders. After all, these are the people working on the project tasks on a day-to-day basis.
This includes everyone in the project team as well as other departments in the company.
Good communication is key to managing employees. Without efficient communication, it'll be pretty tricky for everyone to keep up to date on how the project is progressing.
And it'll be even trickier for the project leader to find out if things are on track.
Fortunately, monday.com makes this process much easier.
monday.com helps employees communicate easily and work efficiently. All of the work is hosted in one place, and teams can work collaboratively, no matter where they are in the world.
As a result, communication is much smoother, and everyone's kept in the loop.
2. Investors
Any investors or shareholders who have a financial interest in the project's outcome will need to be near the top of your project stakeholder list.
They're known as a 'key stakeholder', which means they have the power to derail the entire project if they're not happy. Yikes.
When it comes to managing investors, setting expectations from the offset is paramount. Failing to do this could raise concerns on their part, which we're sure you'd rather avoid.
So how can you manage stakeholder expectations?
One of the most efficient ways to manage expectations is to create milestones for your project.
By outlining manageable milestones throughout your project, investors can use these to measure progress. And they won't be checking in with you constantly for updates.
Using work management software like monday.com allows you to easily create milestones to share with your investors. With our platform, you can easily create a timeline with milestones that can be shared with external guests.
So with one glance, they can see how the project is progressing and when milestones are hit.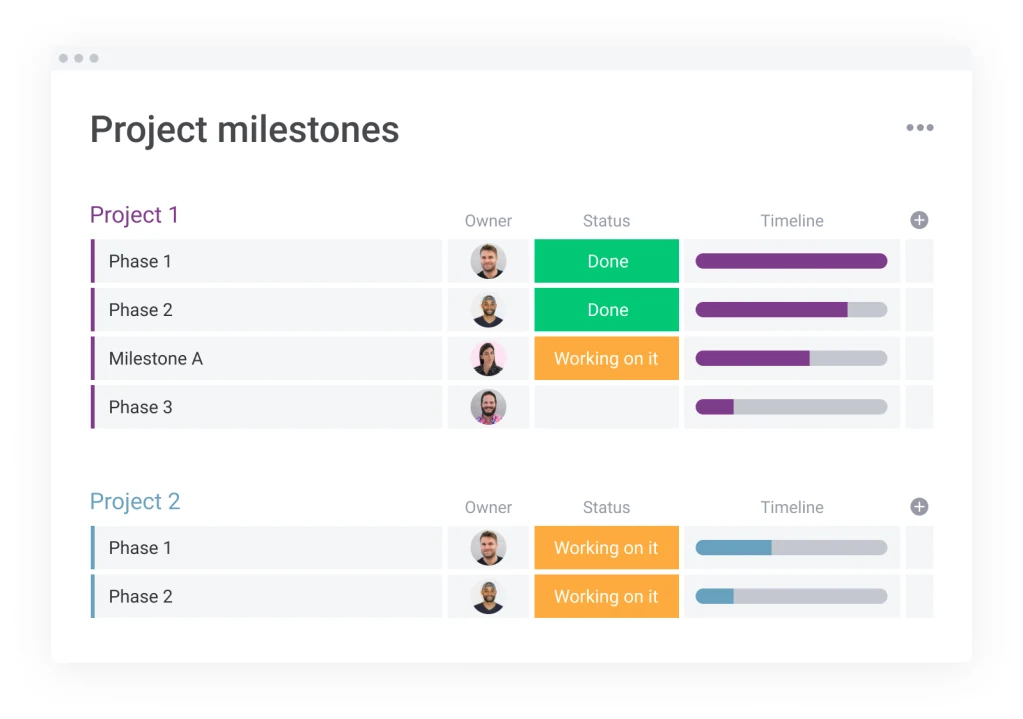 3. Customers
We all know that customers come in many shapes and sizes, and it's no different when they're project stakeholders.
Customers are arguably the most important project stakeholder of all. And why? Because they're the reason your project exists in the first place. Without them, you'd have no reason to provide your product or service.
As you can imagine, the customer's needs and wants must be taken into consideration. And regular updates as to project progression are important — particularly for key milestones.
A great way to make sure none of these updates are missed is to schedule reminders for the project team.
Using a work management platform — like monday.com — allows you to do this quickly and easily, and you even can integrate your calendar, too.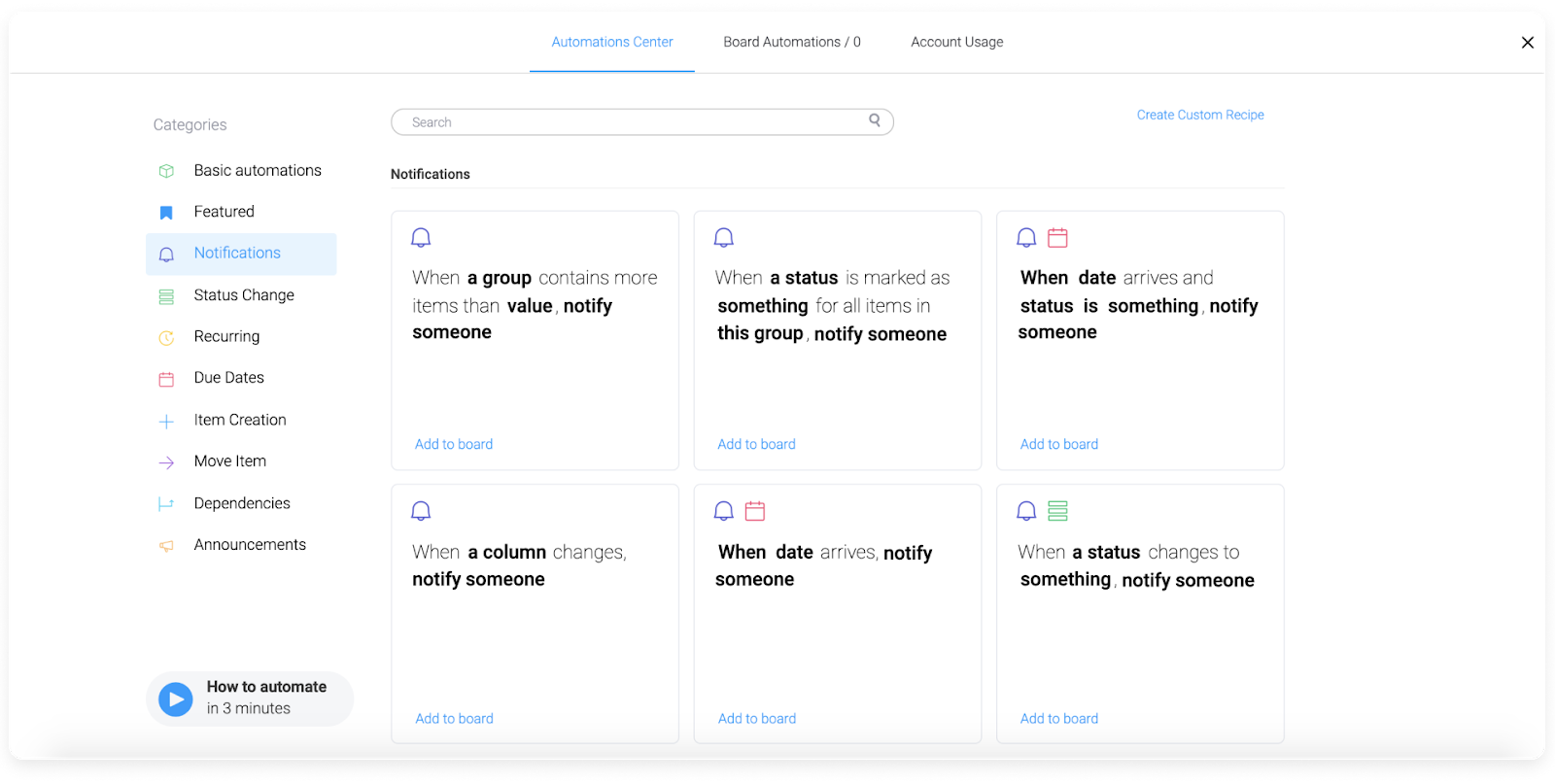 4. Suppliers
Suppliers are the companies or individuals who provide you with any goods or services required to complete the project.
For example, if you're launching a new skincare product, you might reach out to an external supplier to provide you with a key ingredient that you don't currently have.
For this reason, it's always a good idea to keep the supplier communication flowing — especially if the product or service they provide is particularly niche or hard to get hold of.
Having a solid relationship with your supplier is also helpful in other ways. Studies have shown that effective supplier relationship management improves collaboration by 51%, and 42% report financial benefits of more than 4%.
So it's always a good idea to prioritize communication when managing your suppliers if you want to continue working with them.
Using monday.com to manage your project stakeholders
Managing various stakeholders alongside trying to actually get the project done is a skill unto itself. Prepare for conflicting opinions, different timescales and deadlines, and varying levels of communication to keep everyone in the loop.
We know. It sounds exhausting.
Fortunately, there's a way to make this overwhelming process much easier to manage.
The answer? monday.com.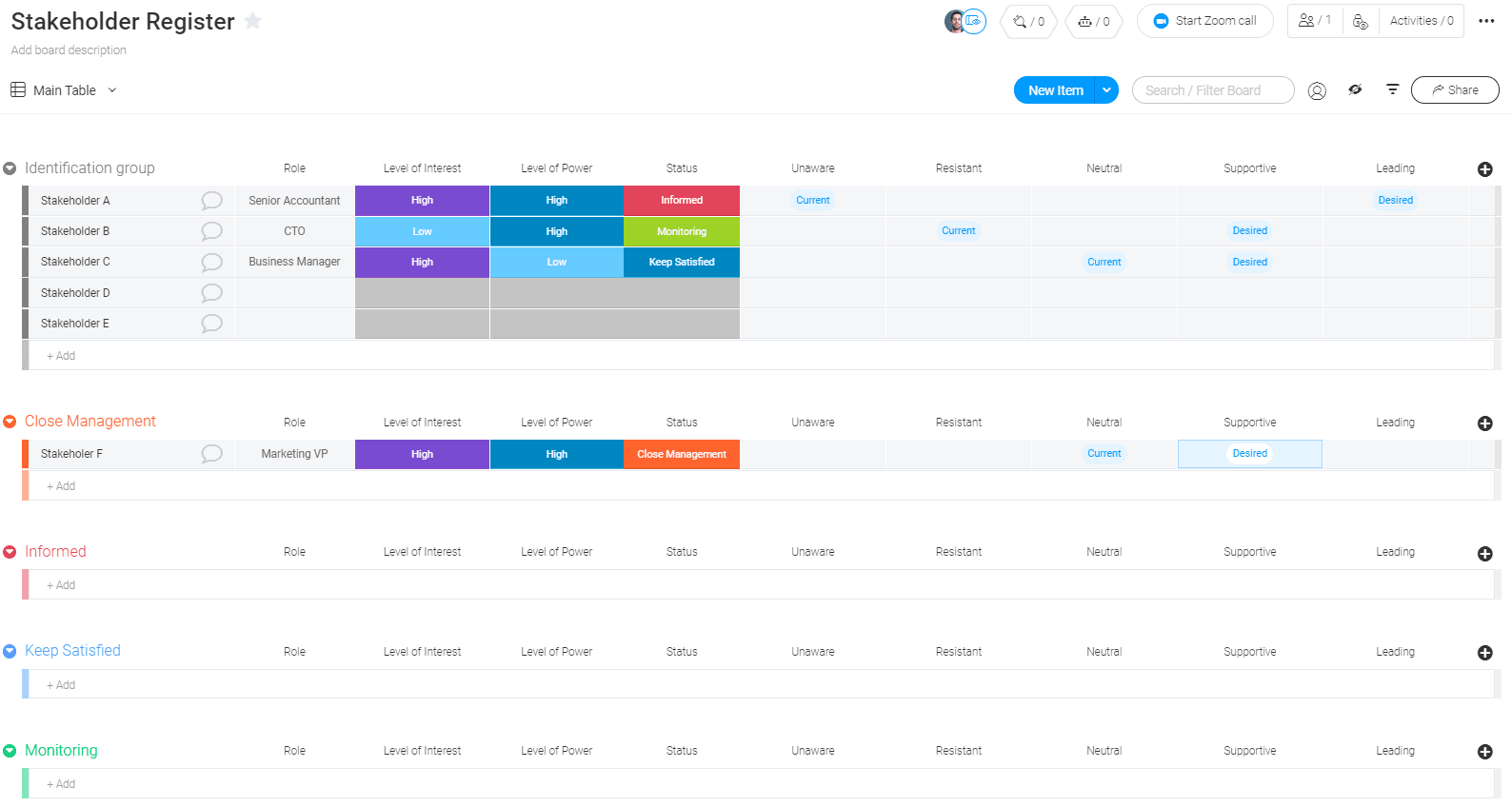 monday.com is a work management software that allows project managers to effectively manage all elements of a project — including stakeholder management.
If you don't believe us, here are a few of the key features we offer that'll help you with stakeholder engagement.  
Efficient communication and collaboration
monday.com makes communication easier — both internally and externally. Whether you need to send a message to a member of the team, or provide an update to an external project stakeholder, monday.com keeps everything running smoothly from one central location.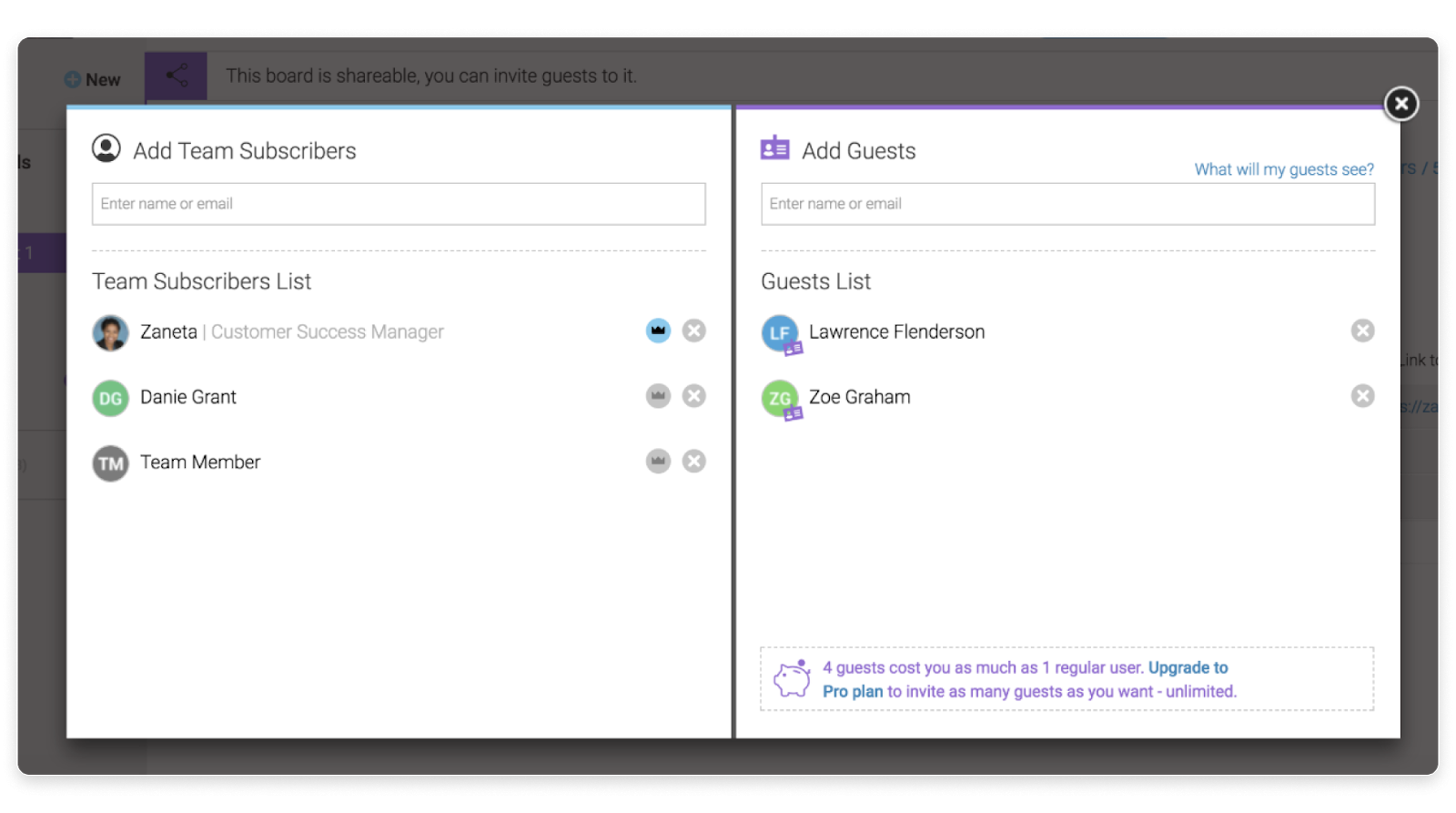 Give as much or as little visibility as you like
Giving project stakeholders visibility over what matters to them is a great way to keep them informed as to how the project is progressing. And it saves you having to update them all the time, so it's a win-win.
With monday.com, you can allocate board views to specific users, and you can even keep columns hidden. This gives you the flexibility to show project stakeholders what you want them to see. Ooh, the power trip.
Not to mention, giving stakeholders visibility of project progress shows them how things are moving in real-time. So they can see how things are going at the exact moment they're checking in, and see if you're on track to deliver a successful project.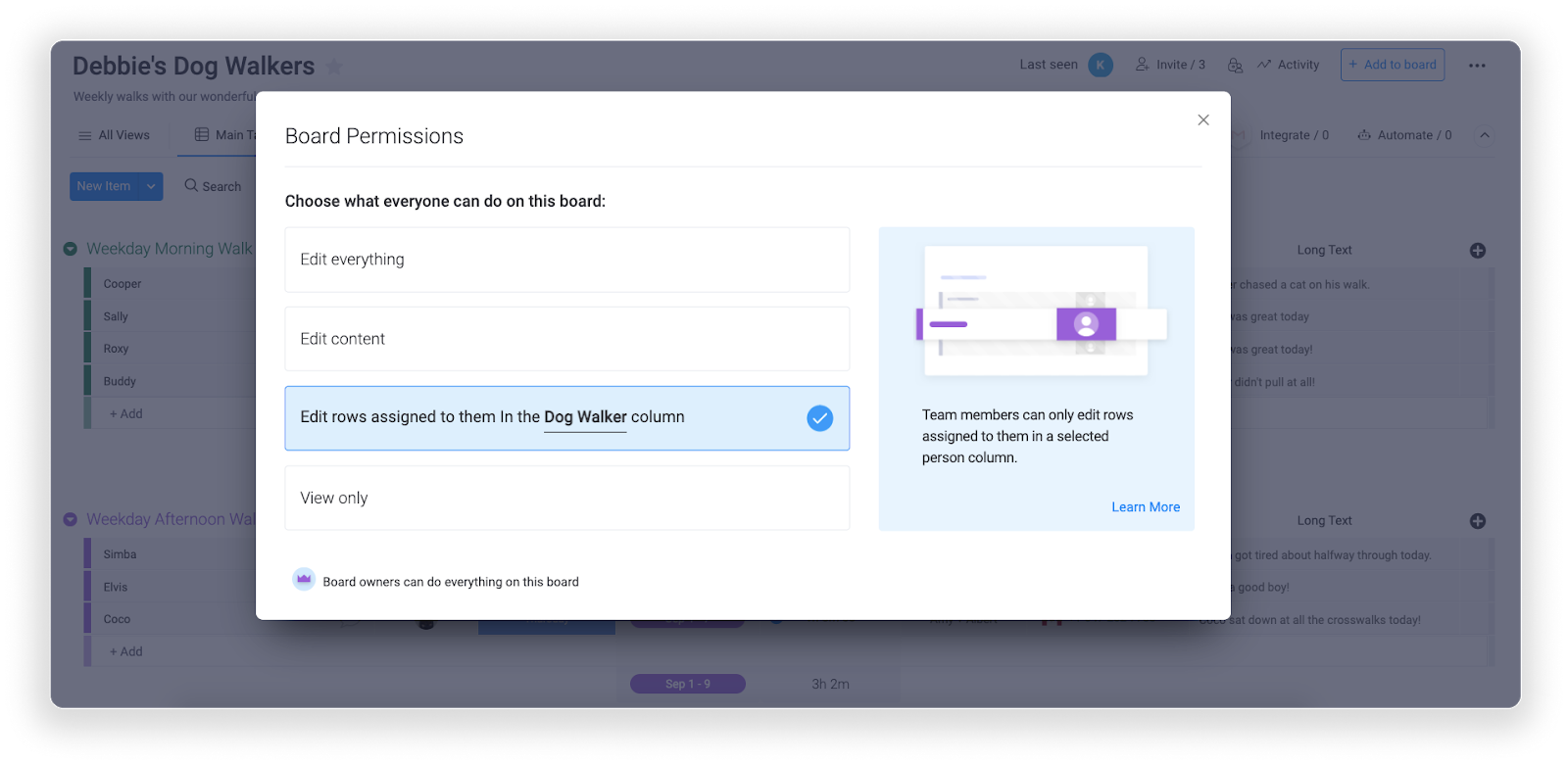 Keep on top of project progression
As we've just mentioned, monday.com allows users to see how their project is progressing in real-time.
Not only is this helpful for providing updates to project stakeholders, but it's also useful for the project manager.
With access to real-time project progress, you can easily keep on top of how the project is progressing.
So if anything starts to fall behind, or if a task isn't following the brief, you can quickly spot it and make amends. Our project tracker template makes doing the work simple.

Time to get the ball rolling
Unfortunately, there's no one-size-fits-all approach to managing stakeholders. And more often than not, stakeholders will vary from project to project.
So if you need a hand creating a stakeholder management plan, or you want to find the most efficient way to conduct your stakeholder analysis, why not give monday.com a go? We'd recommend starting with our stakeholder register template.