Ah, Trello pricing structures, the topic on everyone's mind —or at least for those reading this blog. Though Trello is one of the most well-known Kanban-style platforms on the market, it's worthwhile to see what you get with your investment.
According to a 2021 study by Capterra, most businesses spend anywhere between $5,000-$25,000 annually on project management software. For many companies, that's not an insignificant chunk of change. If you're thinking about turning to Trello, it's important to look at the product from multiple angles beyond just the price.
To save you all the back and forth, we've put together an overview of Trello's pricing plans. For comparison's sake, we'll also take a look at our own pricing and features to see how the monday.com Work OS stacks up.
Get started
What is Trello best used for?
Trello is a project management tool that allows users to organize items such as work tasks or media into boards and cards. It allows for collaboration, enabling users to assign tasks, add comments, create automations, upload files, and build checklists, among other things. As a customizable platform, there are a number of different ways Trello can be used, such as for development projects, marketing campaigns, event planning, tracking work progress, sharing content, and more.
What pricing plans does Trello offer?
When it comes to Trello pricing plans, there's one free plan and three paid plans you can choose from. Here's what they look like at a glance: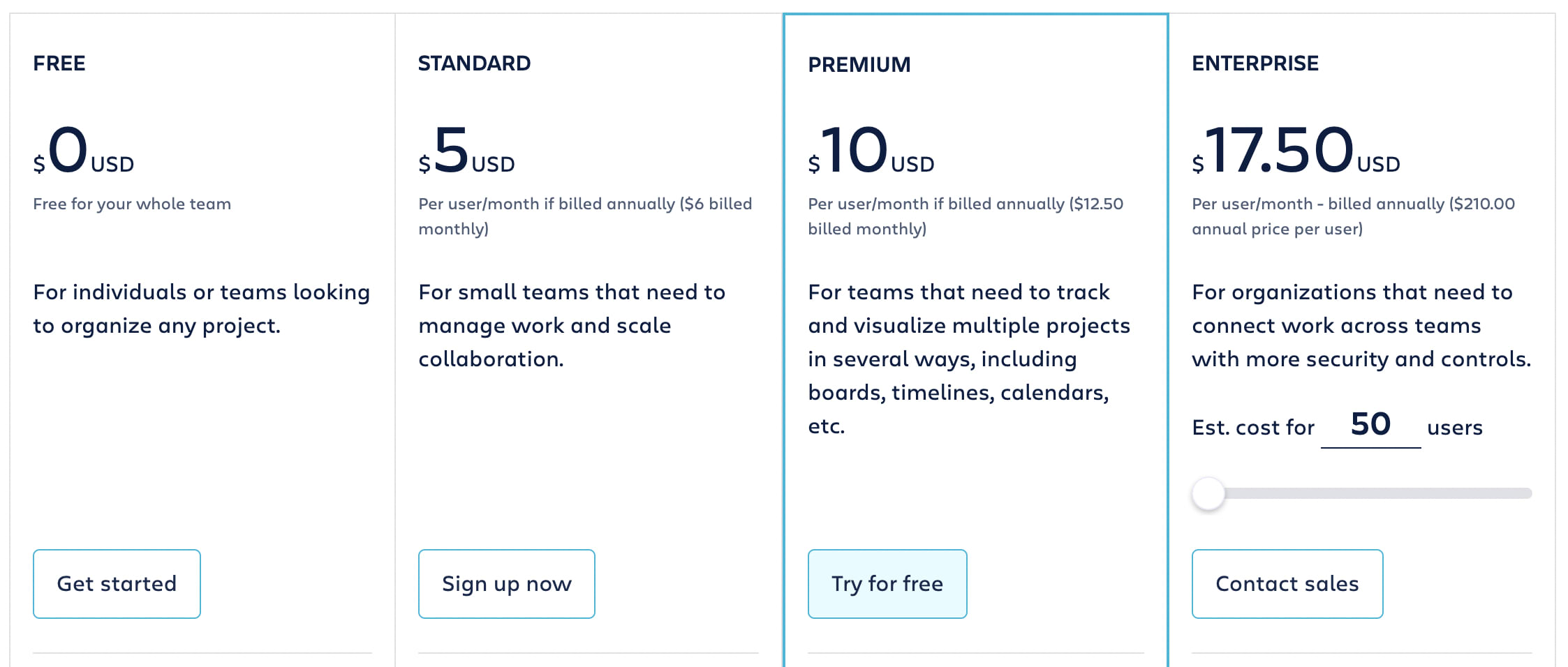 Let's take a look at these in more detail:
1. Free
The Trello Free plan offers the platform's core features. You can create unlimited personal boards, cards, lists, and up to 10 team boards. This isn't a free trial, either. You can use the Trello free plan for as long as you want.
Here's what you can expect in the Free plan:
Unlimited cards: Add as many cards as you want to your boards without limitations.
10 boards per Workspace: Create up to 10 different boards for your Workspaces.
Unlimited storage: Upload as many files as you need as long as the files don't exceed 10MB each.
250 Workspace commands: If you've created workflow automations, they'll be able to run up to 250 times per month.
Integrate your work tools: Trello calls integrations 'Power-ups,' and with a free plan, you can integrate as many as you want, such as Slack, Google Drive, or Salesforce.
While the Trello Free plan is pretty impressive, it's meant for individual use or small teams; it would be limiting for teams who want to scale with their work tools. For example, teams might find it frustrating to work within the set limits for file uploads or command runs. You won't get access to all the features you need to take your work to new heights, meaning your team might quickly outgrow it.
2. Standard
Trello Standard plan clocks in at $5 per month per user when billed annually or $6 per month billed monthly. Compared to the Free plan, the Standard plan comes with additional features that make it ideal for small teams.
In addition to everything in the Free plan, you also get:
Unlimited team boards: There's no limit to how many team boards you have.
Custom fields: Add custom details to each card, giving you much more control and structure over the information you can view.
1,000 Workspace commands: Run your workflow automations up to 1,000 a month.
Upgraded file storage: You still get unlimited file storage, but the file size allowance increases to 250MB/file.
Advanced checklists: Break down projects into different tasks on a checklist, enabling you to assign owners and due dates to individual tasks.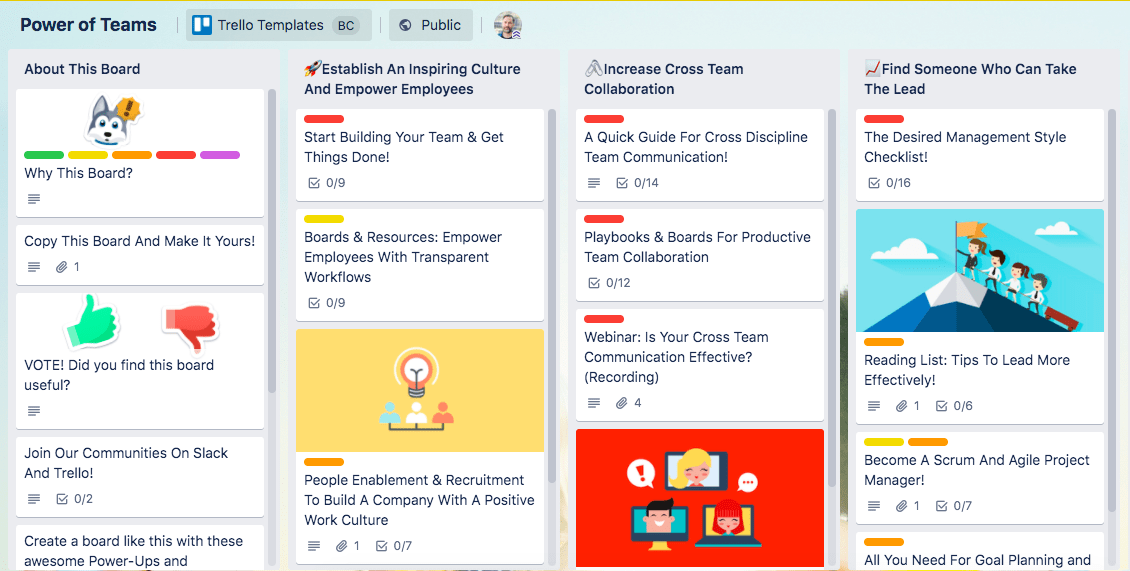 3. Premium
Trello's Premium plan is where the software starts getting more relevant for teams juggling multiple projects. The plan costs $10 a month per user when billed annually, or $12.50 billed monthly. The Premium plan gives you access to more visual project overviews as well as enhanced administrative controls.
Building off the Standard plan, the Premium plan gives you:
Multiple views: Rather than only viewing your projects or tasks on a board, toggle your view by looking at a timeline, table, dashboard, calendar, or map.
Workspace views: Choose between Workspace tables to see tasks in a spreadsheet-style list or in a calendar view to sort them by due dates.
Unlimited comment runs: In the Premium plan, you're no longer limited to a fixed number of Workspace comment runs.
Admin and security features: Get access to administrative and security features such as limiting a user's actions on a board, deactivating members, or creating an observe-only user profile.
Priority support: Premium users get access to priority customer support, ensuring emails are answered within one business day.
4. Enterprise
Finally, Trello's Enterprise plan offers wider control and access to all features. The price of the Enterprise plan varies depending on how many users need access. The plan starts at $21 per user billed annually (or $17.50/month) for 50 users, with the cost per user decreasing based on a higher user count.
The Enterprise plan gives you access to everything in the Premium plan with certain added features:
Unlimited Workspaces: No limit on how many workspaces you can have.
Enhanced security: Set organization-wide permissions or attachment permissions and get Power-up administration controls.
Atlassian Access: Add an extra layer of security by setting up SAML SSO to make single sign-on easier.
Control who sees what: You'll be able to create public and private organization-visible boards and control who sees what.
What are the alternatives to Trello?
Trello specializes in Kanban boards, but your team may need something completely different to organize, plan, create, and run workflows.
And while Trello is a great project management platform to start on, as the scope of your projects and your team grows, the platform can start to feel limiting. You might find that you need more storage space or you need more options for integration and collaboration. If you haven't yet adopted a project management tool, then it might make more sense to start from a platform that you can grow on rather than switch to a new one down the road.
There are many different project management software out there that offer similar and even additional features, but— no surprises here, we're big fans of the monday.com Work OS.
Let's take a look at some Trello alternatives you may want to consider.
monday.com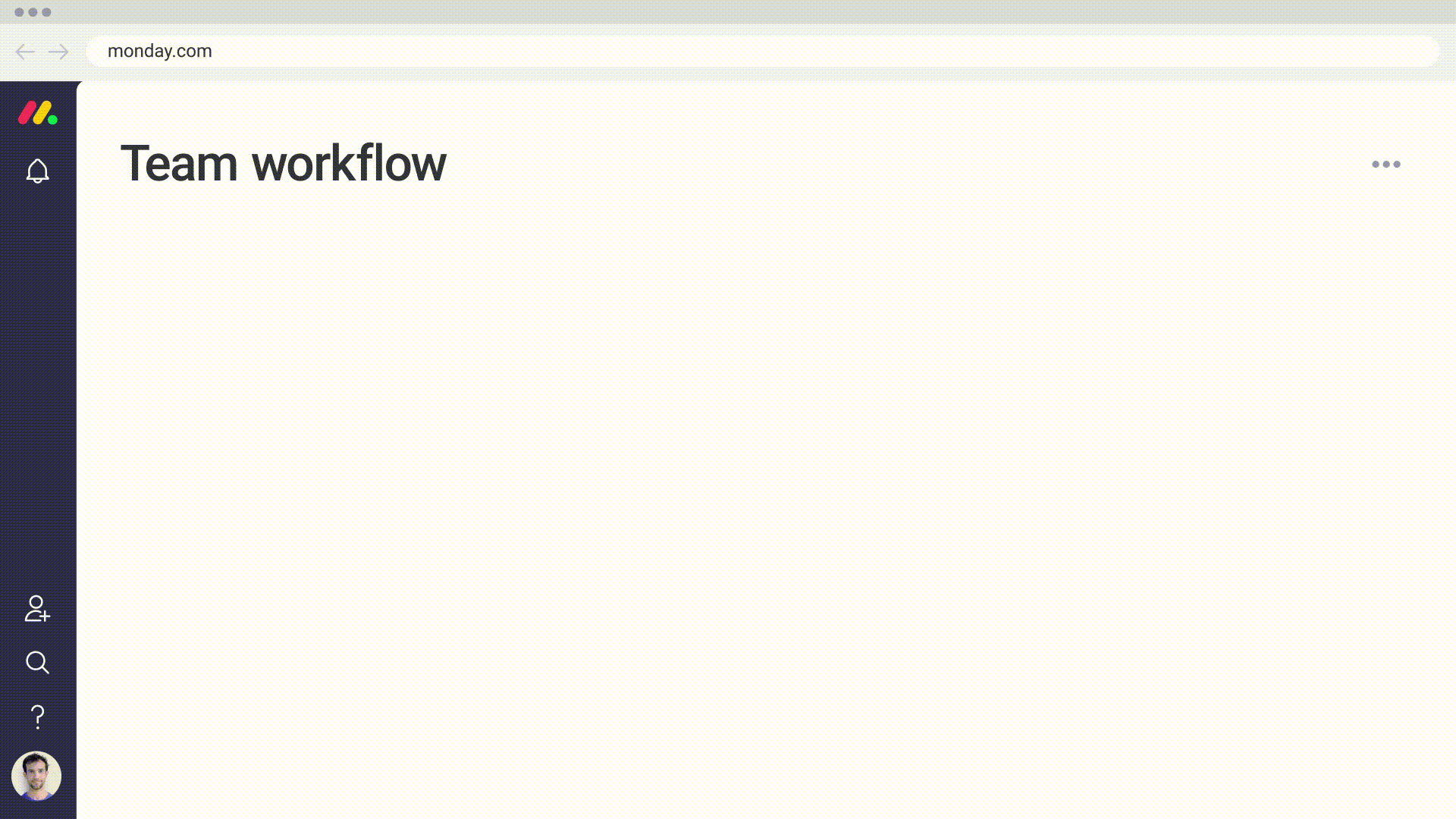 monday.com is a customizable Work OS — a platform where teams can easily create or customize workflows.
With dozens of building blocks like integrations, apps, and automations, you can create exactly what your team needs and get everyone collaborating in no time.
That said, monday.com is more than just a project management tool. While Trello positions itself as a tool to help teams track projects, monday.com can do that and more.
In addition to robust project management features, monday.com can also be used as a CRM, Scrum board for developers, campaign planner, marketing tracker, onboarding tool for HR, and more. This makes monday.com a solid choice for teams looking to streamline operations and integrate multiple workflows into one platform.
Here's what else sets monday.com apart:
In addition to Kanban boards, you also get access to other views such as Timeline, Gantt, Calendar, map, form, workload, and more.
From personal projects to more complex initiatives, customers can choose from over 200+ free templates to manage their work.
Attach files, create documents, add notes, or track important information right from inside the platform with monday workdocs.
Notify and assign team members tasks, get a high-level view of where your team stands on projects and tasks, or get into the details of who's doing what.
At monday.com, businesses can plan, track, and deliver their work in a way that's best for them.
Get started
We'll take a closer look at how monday.com pricing works in a moment, but first, let's look at some other Trello alternatives.
Asana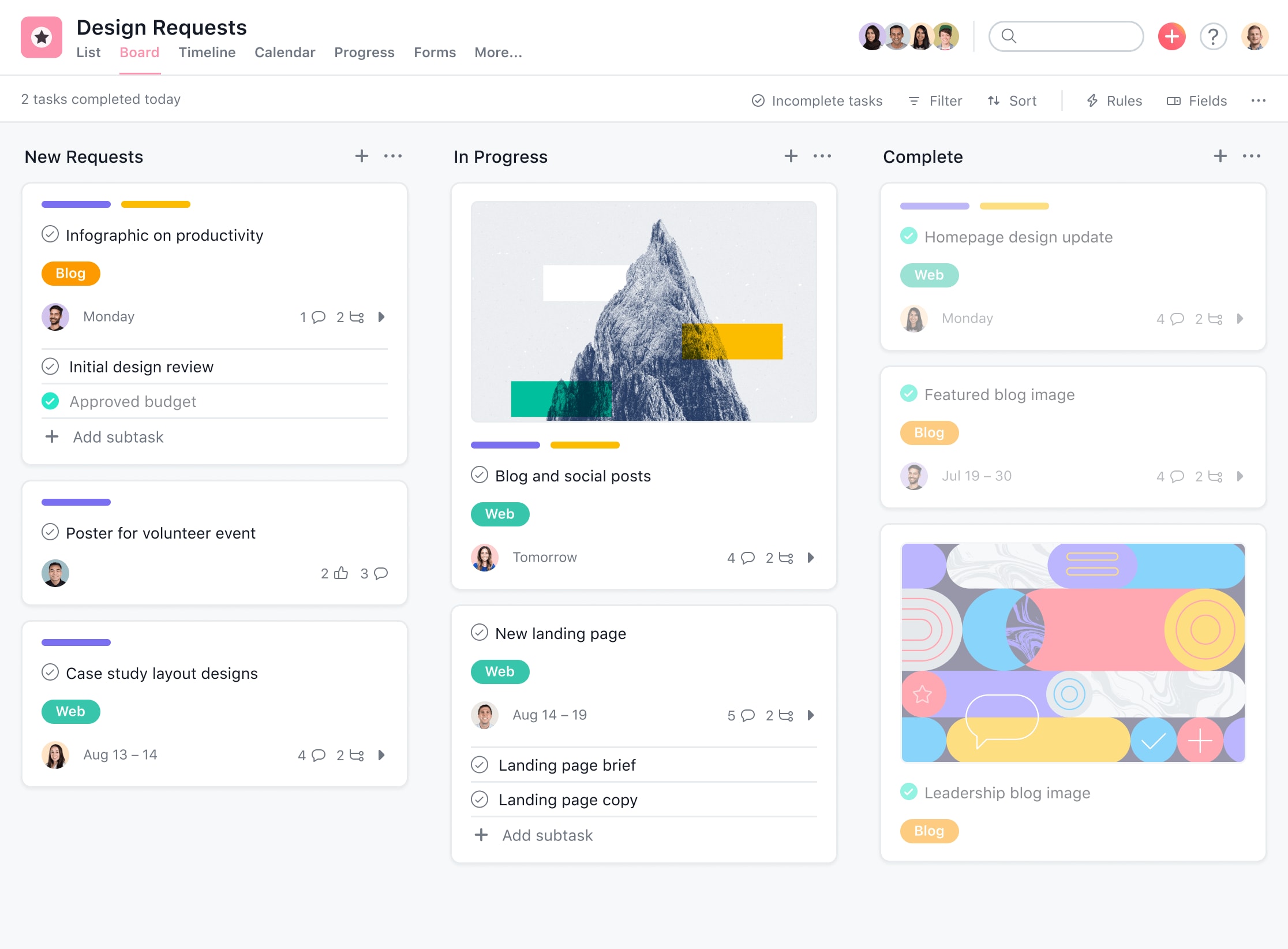 Asana is an alternative to Trello that offers a solution for small and large teams alike. As a platform that focuses on workflow management, Asana also offers its users a Kanban view over projects and tasks, in addition to advanced features and automation tools.
With Asana, you get:
Workflow builder: Create your own workflows using automation to keep projects moving seamlessly.
Boards: With Kanban boards, you can track a task's progress and get notified when it shifts from one stage to the next.
Timeline: Make sure projects are on time with a timeline view.
Reporting and forms: Gather data using forms for work requests and get deeper insights with reports for real-time updates.
While Asana does have a lot of great project management features, having them all at once can be overwhelming for users who aren't familiar with project management tools. The learning curve for Asana is higher than other similar tools, making onboarding a longer ordeal.
Asana pricing
When it comes to Asana pricing, Like Trello, there's also a free Basic plan, in addition to a Premium plan at $10.99/month per user on an annual subscription, or a Business plan at $24.99/month per user on an annual subscription. Asana's Enterprise plan is available for larger teams, with pricing available upon request.
Wrike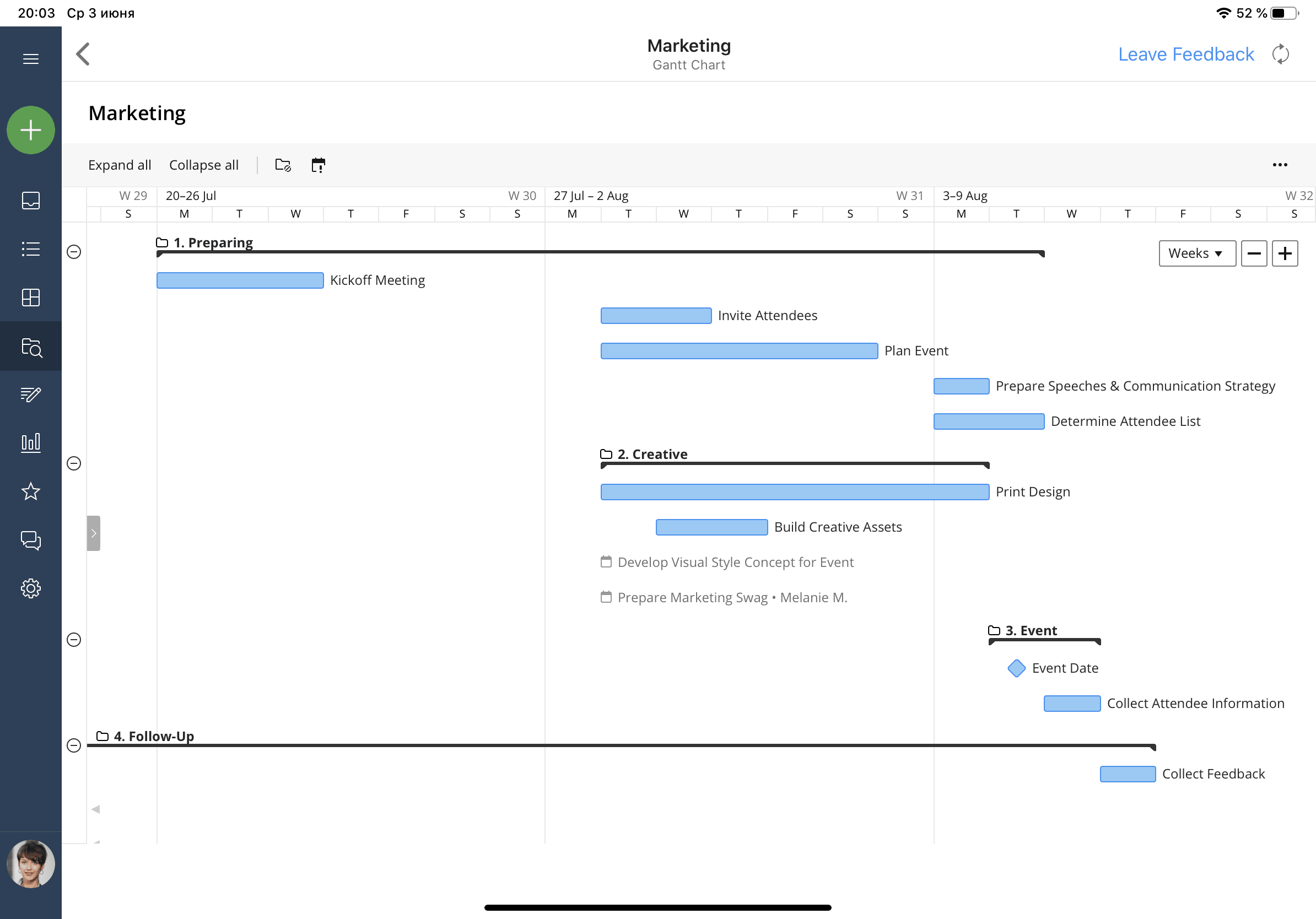 Wrike is a project management and collaboration software helping teams manage, plan, and collaborate on projects. It's designed for real-time collaboration, enabling teams to streamline processes and automate workflows. With Wrike, teams can create, assign, and track tasks, as well as share files and communicate in one place.
Here are some notable Wrike features:
Resource planning: Allocate resources from within your board, allowing you to better plan deliverables.
Multiple project views: Visualize your project data in either a Kanban view or a Gantt chart for different overviews matching your specific project.
Integrations: With over 400 possible integrations, you can integrate all your work apps into your Wrike boards for a seamless workflow.
Advanced proofing capabilities: Users can add comments or directly to images, files, videos, PDFs, and more, compare them side by side, and invite external collaborators, making it a strong tool for creative teams.
Similar to Asana, users have noted a long learning curve when they start using Wrike, making onboarding more difficult. Additionally, users have also noted a lack of advanced filtering options, meaning they can't customize the information displayed on their Dashboard.
Wrike pricing
Looking at Wrike pricing, there's also a free forever plan, in addition to a Team plan starting at $9.80/month per user, a Business plan starting at $24.80/month per user, and an Enterprise and Pinnacle plan made for larger teams with more complex workflows with customized pricing.
Airtable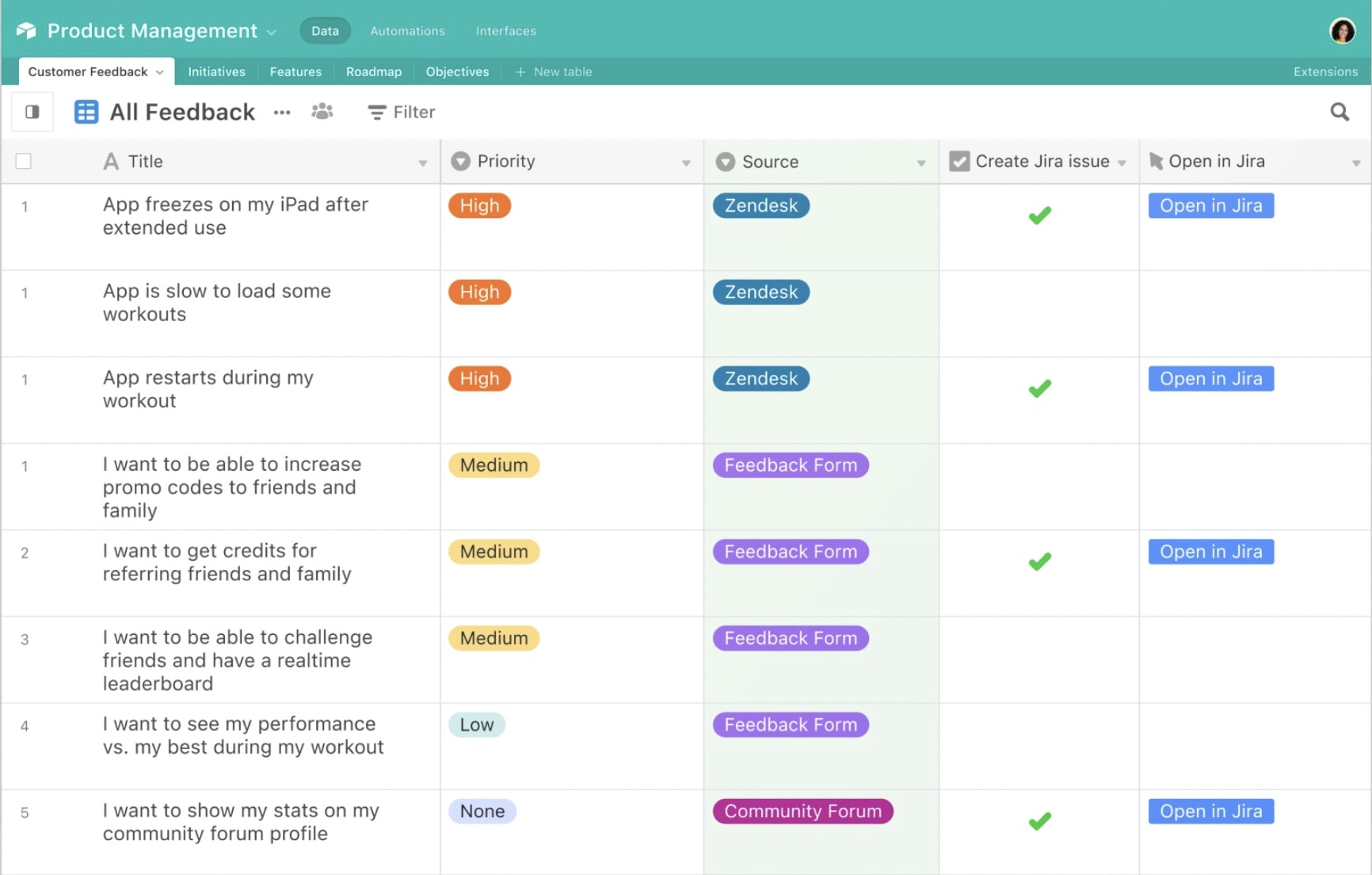 Airtable is a cloud-based, collaborative database platform that combines the features of a spreadsheet with the power of a database. With Airtable, users can store, organize, and manipulate data in an easy-to-use, customizable interface.
Let's look at what makes Airtable stand out:
Multiple views: View a project in list view, timeline view, Kanban, Gantt, calendar, grid, gallery, or form for complete flexibility.
Low learning curve: Since Airtable looks and feels like a more advanced spreadsheet, the learning curve for adopting this software is quite low, making it a very user-friendly software.
Integrations: Airtable integrates with the most popular work tools, like Salesforce, Google Drive, Zendesk, and more, but doesn't have as many possible integrations as some of its competitors.
Interface designer: Anyone on your team can create their own custom interface without any coding knowledge.
While Airtable is often used for project management purposes, it isn't a platform built just for that, which is why it might not be the best option for more complex projects. It's important to be aware of what capabilities you'll need before deciding on Airtable or any other project management tool.
Airtable pricing
As far as Airtable pricing goes, there's a Free plan, a Plus plan starting at $10/user per month, a Pro plan starting at $20/user per month, or an Enterprise plan for more complex organizations with customized pricing.
How does monday.com pricing work?
Like Trello, all of monday.com's pricing plans can be amended based on the number of users (or seats, as we like to call them), making it flexible for project management or other purposes. You can choose from 3 to over 200 seats within our different pricing plans.
Let's take a look at our pricing in more detail:

1. Individual plan
This plan is great for individuals or those wanting to keep track of their work. Here's what you'll get in our free forever(!) option:
Up to two seats: This plan is available for up to two people wanting to manage projects and tasks.
Unlimited boards: Boards are where you organize your work–add as many of these as you'd like.
200+ templates: Plenty of templates for every industry. You can even customize the templates to fit your team's needs.
Unlimited docs: monday workdocs allows anyone to create and collaborate with your team in real-time. The best part? As you collaborate, all new data is updated with the monday.com real-time engine.
20+ column types: Choose between a variety of columns to organize and run your workflows from People, Status, Date, and more!
iOS and Android apps: Access to your boards and work on the go.
2. Basic
This one's perfect for a small team to organize and perform their work smoothly and efficiently. The basic plan has three seats and starts at $8 per seat a month. It includes everything under the Individual plan, plus:
Unlimited free viewers: Invite as many people as you want to see your progress and workflows without worrying that they'll accidentally alter your information.
Unlimited items: On monday.com, we call our rows within the boards 'items.' Any item can be anything you want—a customer, project, task, and so on. Use as many items as you need to create your perfect board.
5 GB file storage: We offer plenty of storage to save all of your important files, documents, and images.
Prioritized customer support: Our customer support is unmatched, we offer help 24/7 for those who need some extra guidance.
One dashboard: Get data-driven insights based on one of your boards and show this data in a variety of ways.
3. Standard
The Standard is our most popular plan. Choose this bundle if you need a way to collaborate and optimize your team's processes. Prices start at $10 per seat per month. This one includes all Basic features plus:
Timeline and Gantt views: Get a visual view of all your upcoming work and use the Gantt chart to make sure you're hitting all your deadlines.
Calendar view: A visual calendar can help you manage all of your upcoming work. This format is great for managing campaigns, events, due dates, and more.
Guest access: Invite outside users to collaborate on certain projects without giving them access to your full account.
Automations: With 250 actions per month, you can create any recipe you need to automate repetitive work. Say goodbye to those email updates.
Integrations: Integrate your favorite tools with monday.com and get all your work onto one platform. This plan comes with 250 actions per month.
One dashboard that combines five boards: Show your information from five different boards on one intuitive and easy-to-read dashboard.
4. Pro
One step up from the Standard plan, the Pro option is made for those who want to streamline and manage complex workflows. For $16 per seat per month, you'll get all of the Standard features as well as:
Private boards and docs: Additional private settings mean you can keep boards and docs visible to only you and those you invite.
Chart and graph view: This is a great way to analyze your information from multiple boards in an easily digestible format.
Time Tracking: Optimize workflows to better manage your resources by knowing how much time you and your team spend on each task.
Formula column: Eliminate the need for spreadsheets—the Formula column lets you perform data calculations right from your monday.com board.
Automations: Find even more ways to save time with and eliminate manual work with 25,000 actions per month.
Integrations: Work with all of your favorite tools on monday.com with 25,000 actions per month.
A more robust dashboard: The Pro Plan allows you to create a dashboard that combines up to 10 boards so you always have the data you need when you need it.
5. Enterprise
We know that an enterprise-level business requires that little bit extra in order to keep up with scaling and growing the business. That's why we offer our tailored Enterprise plan that comes with:
Enterprise-scale automations and integrations: This plan includes 250,000 automations and integration actions per month.
Enterprise-grade security and governance: Top-tier security features and user management controls keep your information secure and protected.
Advanced analytics and reporting: Slice and dice anything you need and get actionable insights from your data.
Multi-level permissions: Take full control over your accounts with robust permissions at every level.
Premium support: Not only do enterprise customers receive our award-winning support, but we also prioritize them in queues.
Tailored onboarding: Get in-depth training for your entire team so everyone knows how to make the most of monday.com features.
A dashboard that combines up to 50 boards: Pull high-level insights from up to 50 boards per dashboard.
Get started
To figure out the perfect solution and price for your team and budget, jump over to our pricing page and play around with the different options available.
FAQs about Trello pricing
Is free Trello good enough?
The Trello free plan is good for very small teams or individuals, but for teams of a few people or more, the free plan can be limiting and it's best to upgrade to a paid plan or seek out a different project management tool.
What are the limits of Trello's free plan?
With Trello's free plan, you're limited on the size of your file uploads (10MB/file), the number of boards you can have in a workspace, the number of monthly automations, as well as security and administrative features.
Is Trello good for small business?
Trello is good for small businesses with small teams. However, for small businesses with big aspirations who want to scale and expand, teams might outgrow Trello and seek a tool with more functionality.