Asana is a popular task and project management software solution for many teams — but you might find that other options on the market have more appealing offerings.
Maybe you want something that offers more customized workflows than Asana but is still easy to use. Or perhaps you require 24/7 customer support for your global team. Whatever your requirements, there are plenty of Asana alternatives to choose from.
In this guide, we'll compare the features and pricing plans of monday.com and other Asana alternatives, so you can decide which software is best for your team.
What is Asana?
Asana's comprehensive project management platform offers a straightforward, structured approach to task and work management. It's great for breaking down projects, visualizing task dependencies, and collaborating with team members.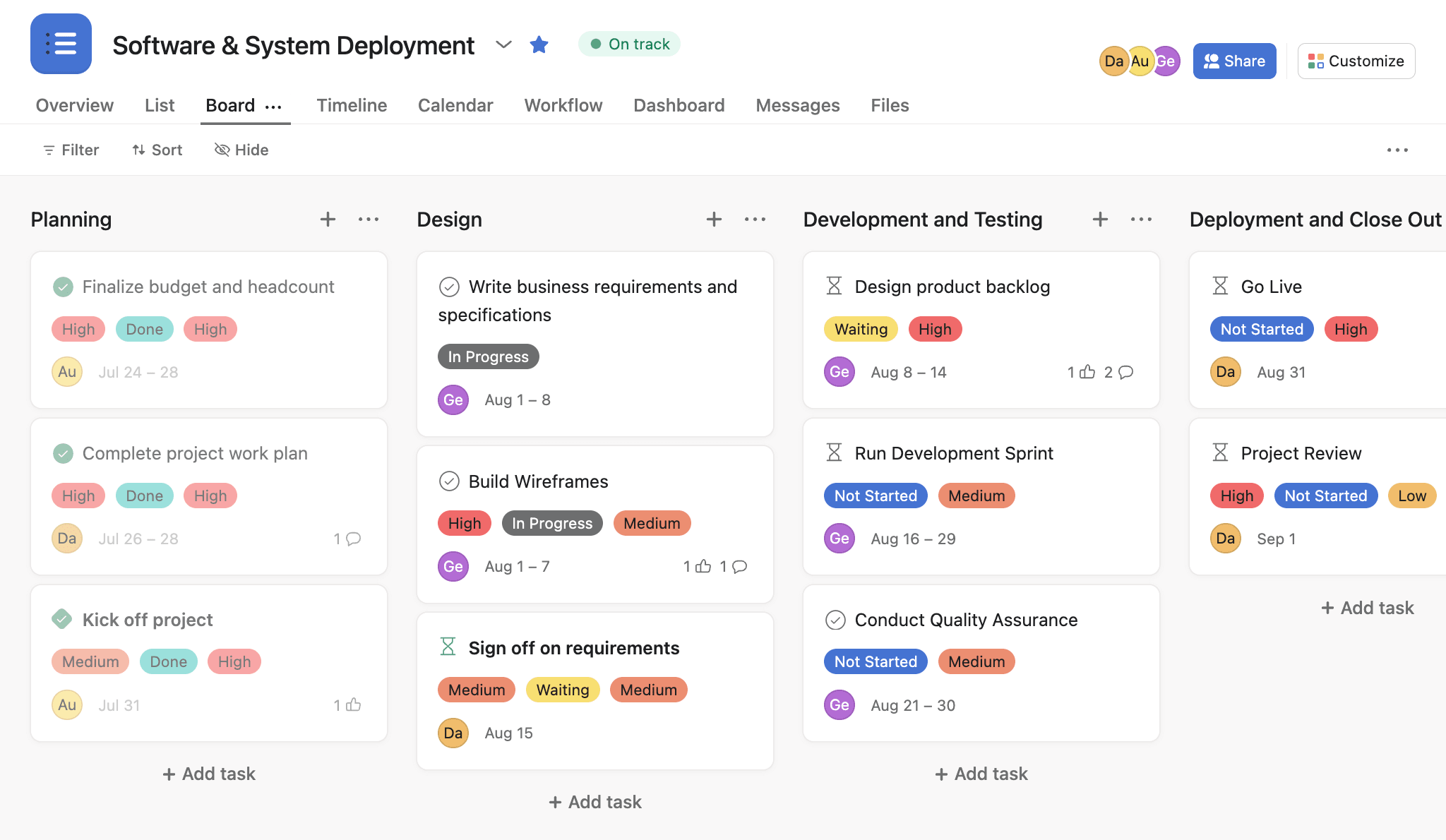 Asana features
Asana's minimalistic interface makes it simple to navigate and keep your projects on track. And the various views, such as List, Timeline, Calendar, Kanban boards, and Gantt charts, help you manage projects efficiently.
Asana lets you create custom rules to automate routine tasks, simplify workflows, and reduce errors. Plus, it integrates with over 100 essential business tools — like Slack, Adobe Creative Cloud, and Vimeo — to streamline team communication and collaboration and manage your projects in one place.
Related: Asana project management, Asana work management
Asana pricing
Asana offers four pricing plans with a 30-day free trial to test the functionality. Let's take a look at what features you get in each package.
Basic — Asana's free plan suits individuals or small teams with fewer than 15 people who want to manage project tasks and personal to-do lists. It comes with list, board, and calendar views and includes unlimited tasks, projects, messages, and storage.
Premium — from $10.99/user/month (billed annually) – enables teams to create and track projects. It includes everything in the Basic package, plus an automated workflow builder, timeline view, task templates, and unlimited dashboards and reporting.
Business — from $24.99/user/month (billed annually) — allows teams and companies to manage multiple projects simultaneously. It includes all Premium features, a custom rules builder, workload planning, portfolio management, and time tracking.
Enterprise — contact sales for a custom quote — provides large organizations with advanced admin and security features to centralize visibility, control, and support.
However, Asana's features and pricing won't suit everyone, so here are the 10 best alternatives.
1. monday.com
Best for: Holistic work management solution
monday.com allows teams to focus on executing tasks, projects, and processes efficiently. Its user-friendly and intuitive interface has various customizable features that accommodate the collaboration and communication needs of different-sized teams.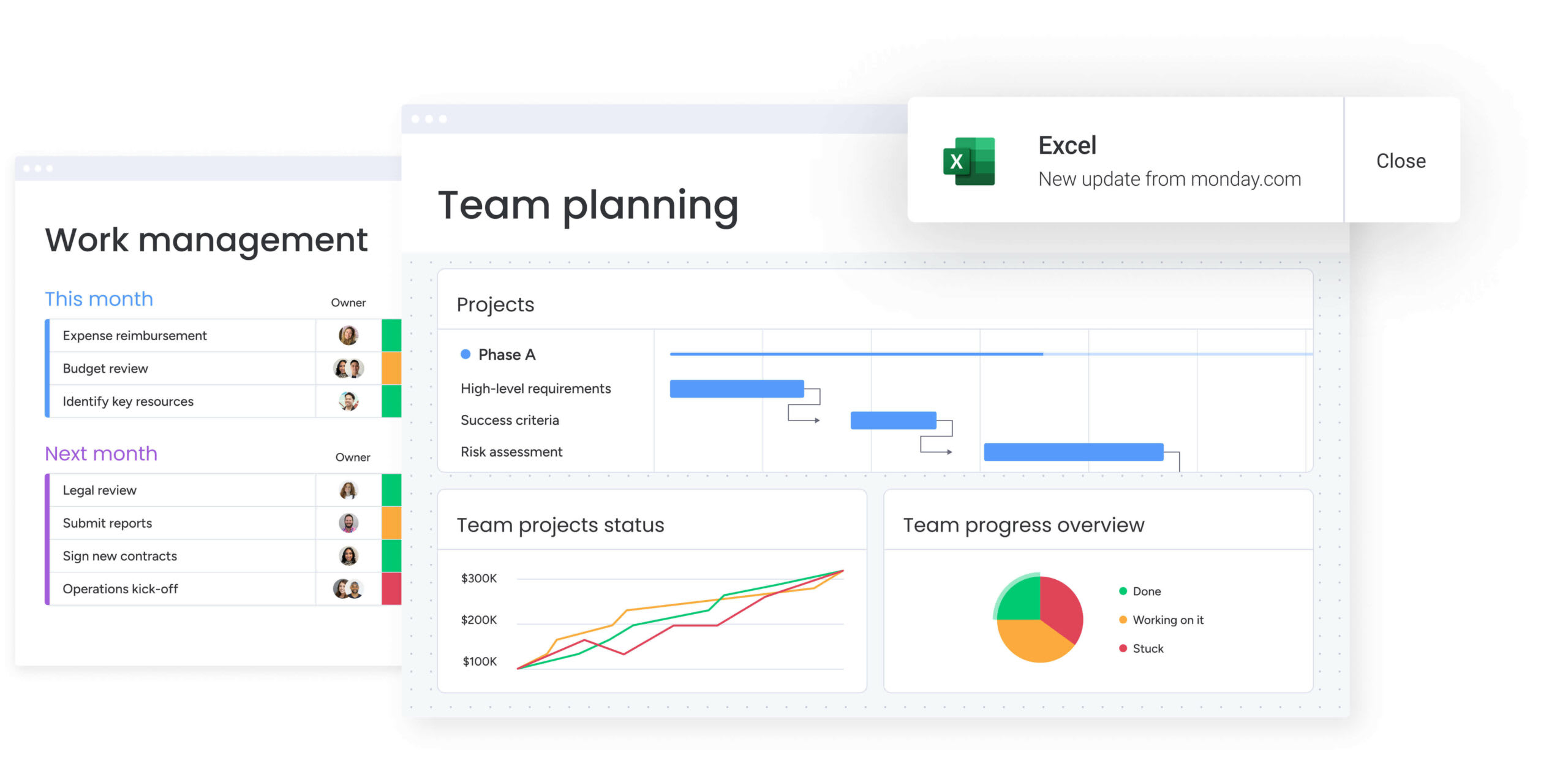 monday.com features
With monday.com, you can visualize tasks and projects based on your workflows with 15+ board views — like Kanban, Gantt charts, and Calendar — and customize dashboards with 10+ drag-and-drop widgets to view data based on your needs and make sharper, faster decisions.
Unlike most project management software, monday.com has a native Time Tracking column that allows users to track the time spent on projects, tasks, and sub-tasks. Plus, you can integrate with the tools you already use — like Microsoft Teams, Gmail, and Slack — to centralize your work in one place.
monday.com pricing
monday.com offers a forever-free plan, four premium options, and a 14-day free trial (no credit card required) with unlimited users and boards to test all its features. While Asana's free plan is excellent for teams of up to 15 members, monday.com offers more value for money on its premium plans.
Free — allows two users to plan and track work tasks and includes a Kanban view, 200+ templates, and 36+ column types to get you started.
Basic — from $8/seat/month (billed annually) — lets you manage all your team's work in one place and create a dashboard based on one board. It includes unlimited items, docs, and boards.
Standard — from $10/seat/month (billed annually) — enables you to collaborate and optimize team processes and create a dashboard that combines up to 5 boards. It includes everything in the Basic package, plus calendar, map, timeline, and Gantt views, advanced search functionality, automations, and integrations.
Pro — from $16/seat/month (billed annually) — allows teams to streamline complex workflows and create a dashboard that combines up to 10 boards. It includes all the Standard features, a chart view, a formula column, time tracking, and private boards and docs.
Enterprise — contact sales for a custom quote — lets you create a dashboard that combines up to 50 boards and supports larger organizations requiring more advanced reporting and analytics, plus enterprise-grade security and governance.
Not sure which one of these pricing plans is right for you? Check the pricing page to find the perfect option for your team and budget.
Related: Asana vs. monday.com
2. Trello
Best for: Kanban project management
Trello is a project management tool owned by Atlassian. It's ideal for individuals and teams seeking an easy-to-use visual tool for less complex, small to medium-sized projects.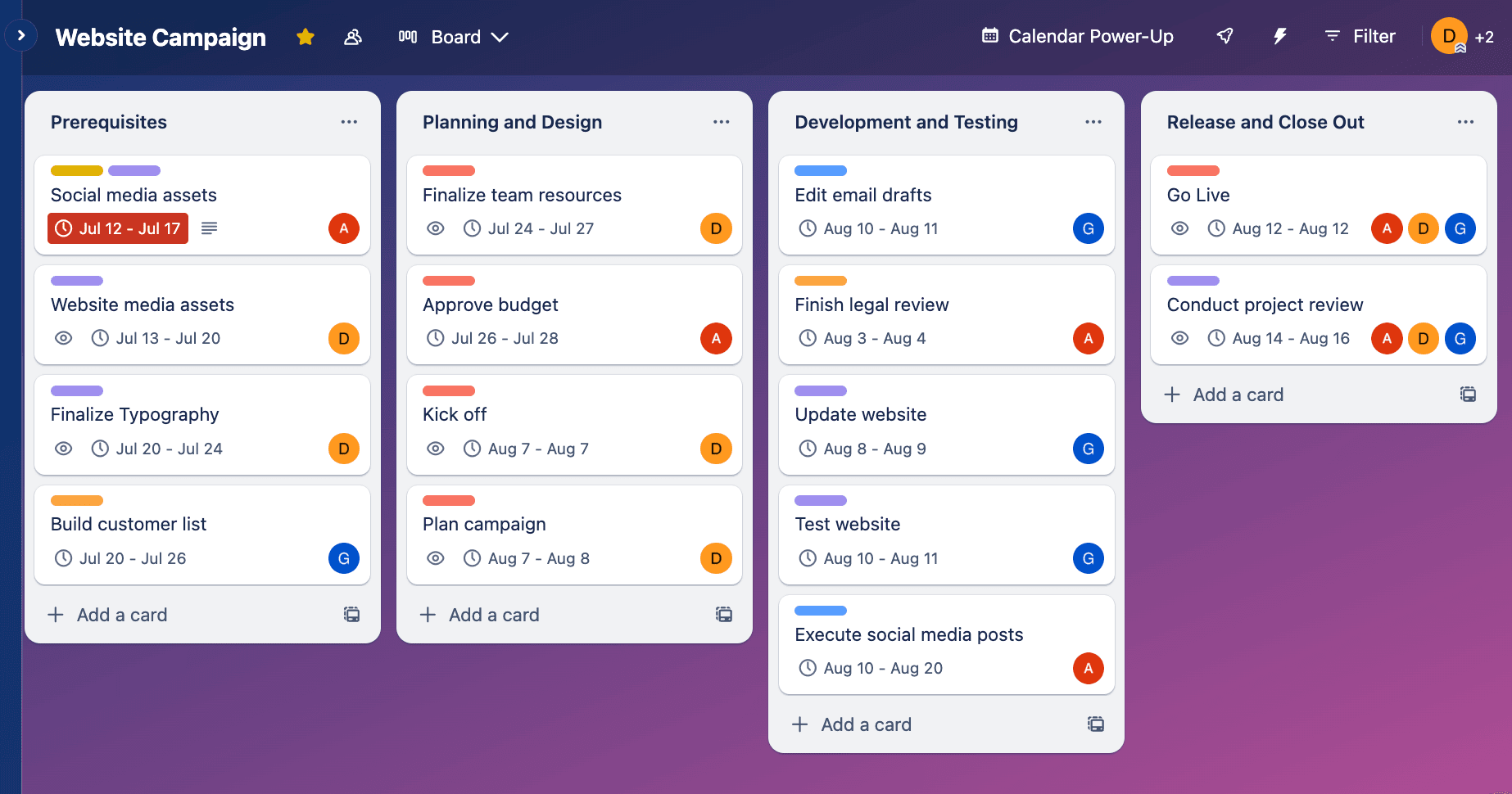 Trello features
Trello takes a simple Kanban approach to project management using boards, lists, and cards to organize and prioritize tasks. The boards consist of lists with the different stages of a task — from basics like To Do, Doing, or Done to custom workflows. The cards represent tasks and ideas containing all the information to complete the job. As you make progress, you move the cards across the status lists.
So, if Kanban boards fulfill your project management needs, then Trello may be a better choice for you than Asana.
Trello pricing
Most of Trello's plans are cheaper than Asana's, although you do get more features with Asana. Trello's payment plans are more suited to individuals, while Asana's suit groups.
Free — Trello's free starter plan works well for individuals and teams looking to organize any project. However, it limits users to 10 boards per team and 10MB per file attachment.
Standard — from $5/user/month (billed annually) — suits small teams that need to manage work and scale collaboration. However, there is still a file attachment limit of 250MB per file.
Premium — from $10/user/month (billed annually) — lets teams track and visualize multiple projects with boards, timelines, calendars, and more. Plus, there's 24/5 email customer support.
Enterprise — from $17.50/user/month (billed annually) — adds unlimited workspaces and organization-wide boards, permissions, and security controls for larger teams.
Related: Asana vs. Trello
3. Wrike
Best for: Project tracking
Wrike is an Asana alternative allowing teams to manage projects, plan resources, organize work, and enhance collaboration.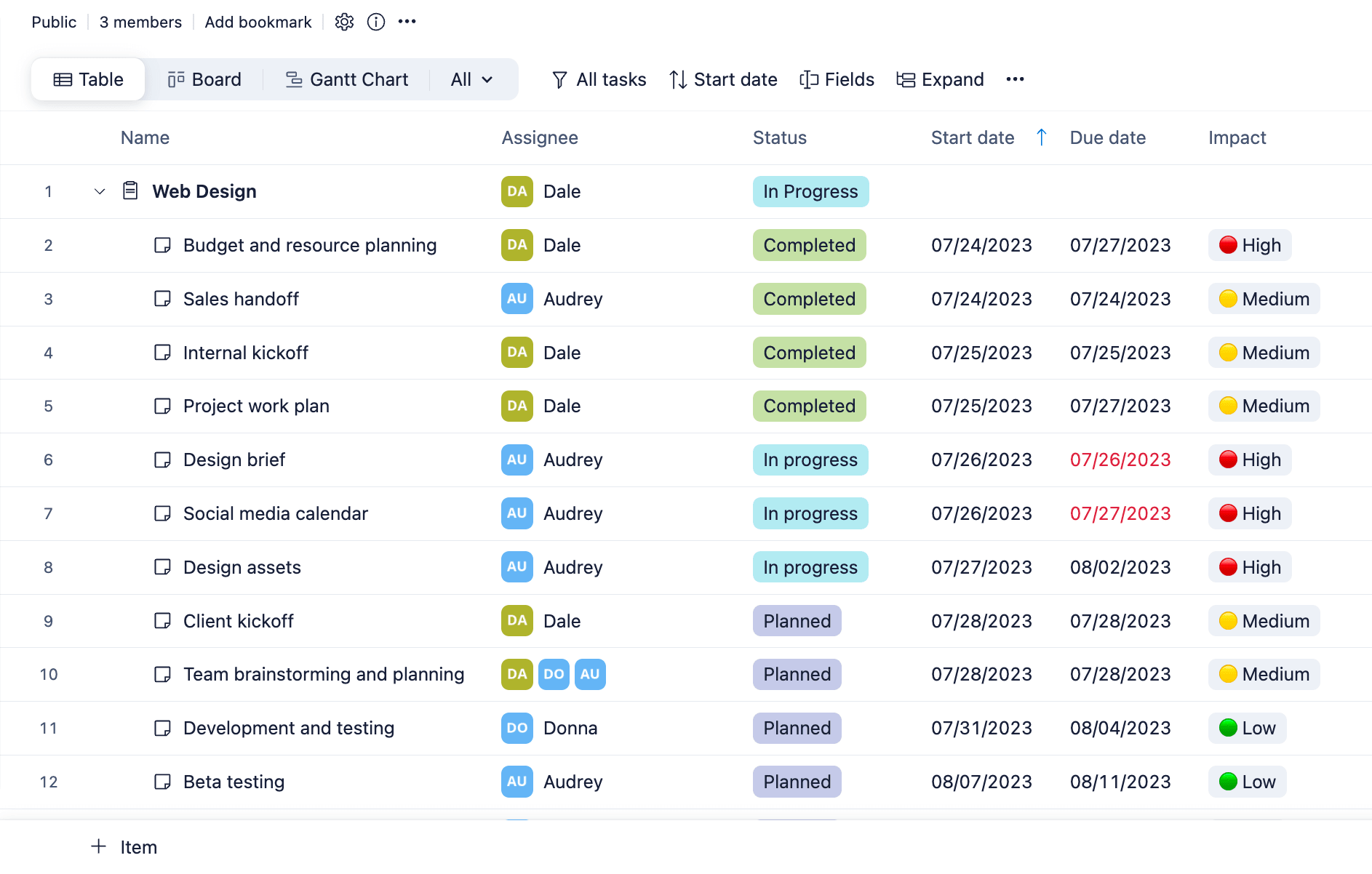 Wrike features
Wrike includes dashboards, proofing, dynamic request forms, customizable automations, and 400+ integrations.
Its unique proofing feature allows teams to share real-time comments on important files to keep feedback organized in one place and facilitate creative brainstorming. With an array of views like Gantt charts, Kanban boards, and calendars, teams can visualize project progress.
Wrike suits organizations with larger teams focusing on advanced project management and task prioritization. That said, getting the most use out of Wrike initially takes more practice.
Wrike pricing
Wrike offers a variety of comparable plans for different-sized teams, including a couple of custom options, but there are storage limits with each one.
Free — Wrike's free plan is for teams getting started. It offers centralized task management but comes with limited views, active tasks, and storage space.
Team — from $9.80/user/month (billed annually) — suits growing teams of 2-25 people and includes interactive

Gantt

charts, the ability to share boards with up to 20 collaborators, and up to 2GB of storage per user.
Business — from $24.80/user/month (billed annually) — works for teams of 5-200 people and includes automations, templates, and customized workflow stages while increasing storage space to 5GB per user.
Enterprise — contact sales for a custom quote — caters to large teams requiring enterprise-grade security, like user audit reports and custom access roles and permissions, plus 10GB of storage space per user.
Pinnacle — contact sales for a custom quote — accommodates teams with complex work needs who require advanced reporting and analytics, budgeting and billable hours tools, and bookings, with up to 15GB of storage per user.
Related: Wrike pricing, Asana vs. Wrike
4. Jira
Best for: Software developers
Jira is a tool for Agile project management owned by Atlassian. It launched in 2002 as an issue-tracking and project management tool. Today, teams like DevOps, software development, and product management use it to plan, track, release, and support software development projects.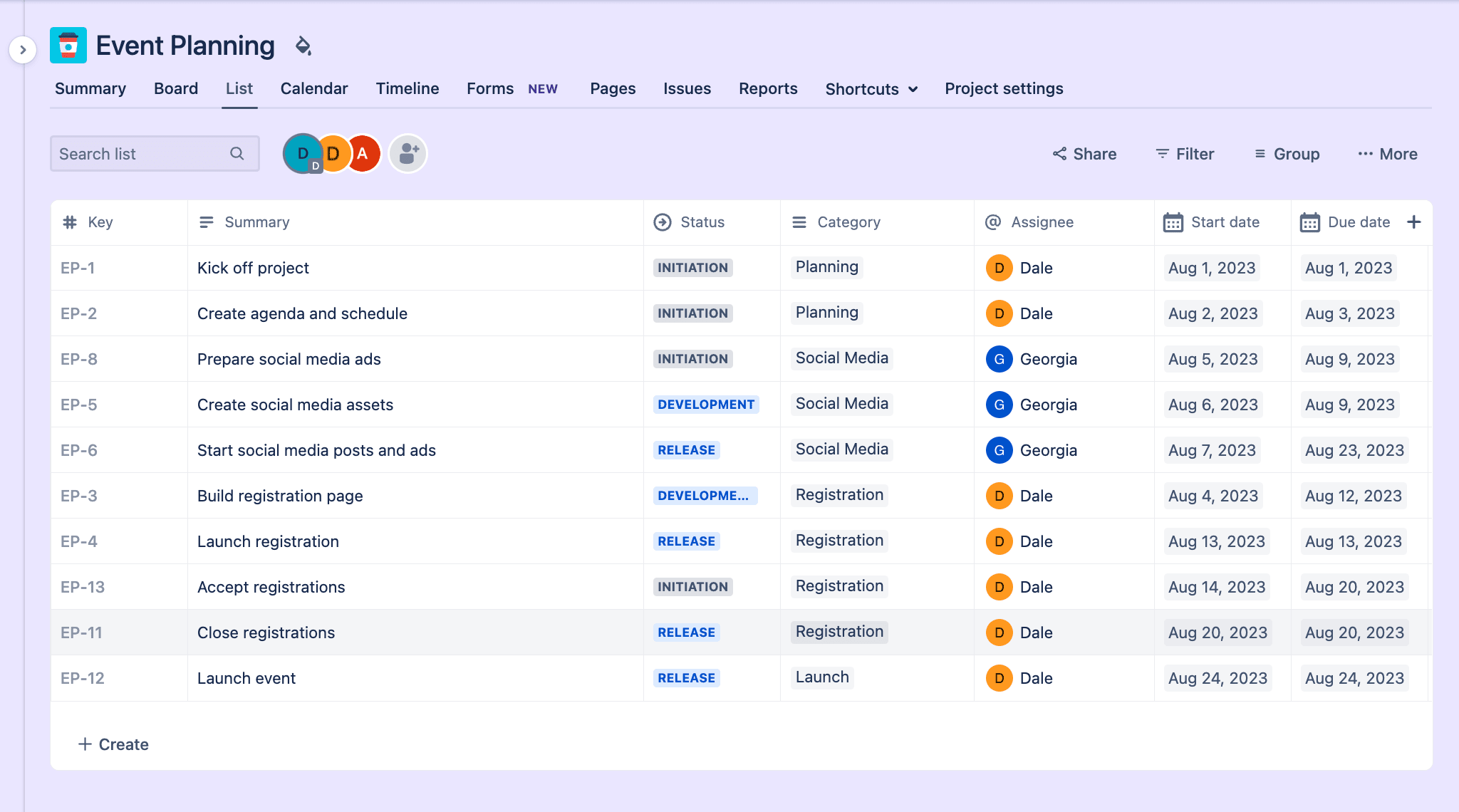 Jira features
Jira features Scrum and Kanban boards so teams can deliver projects quickly when working in sprints and a timeline view to track dependencies. There are also reports and insights for sprints, burndowns, and releases. Moreover, you can extend its functionality with over 3,000 apps and integrations.
Jira pricing
Jira's pricing plans look similar to Asana's when working with fewer users, but Jira pricing works on a sliding scale where organizations pay less per user the more users they have. Let's look at Jira's plans:
Free — Jira's free plan serves up to 10 users and includes unlimited project boards, backlog and timeline views, 2GB of storage, and community support only.
Standard — from $7.75/user/month (billed monthly) — includes audit logs, 250GB of storage, business hours support, and the ability to set user roles and permissions for up to 35,000 users.
Premium — from $15.25/user/month (billed monthly) — offers advanced roadmaps, project archiving, unlimited file storage, and 24/7 premium support.
Enterprise — contact sales for a custom quote (billed annually) — requires a minimum of 801 users. The price includes centralized security controls and user subscriptions, unlimited sites, and 24/7 enterprise support.
Related: Asana vs. Jira
5. Smartsheet
Best for: Spreadsheet fans
Smartsheet's familiar spreadsheet format is ideal for teams transitioning from Google Sheets or Microsoft Excel while focusing on online collaboration.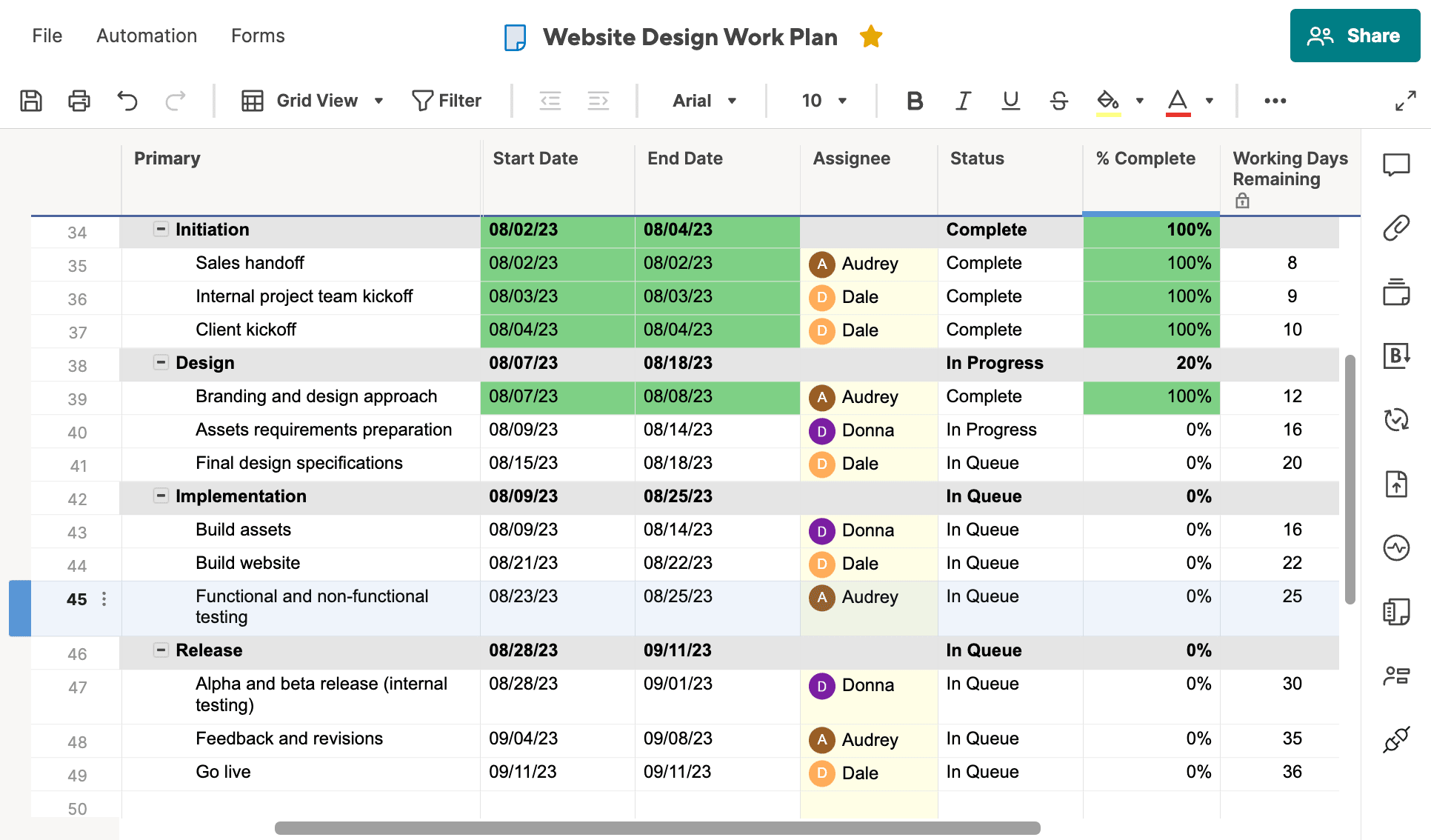 Smartsheet features
The software helps teams plan, capture, track, automate, and report on work at scale and includes various templates for IT, HR, and product development. It contains views, reports, workflows, and dashboards that scale according to business needs, from simple to-do lists to more complex enterprise projects.
So, if you like working with spreadsheets, Smartsheet may be your Asana alternative.
Related: Smartsheet project management
Smartsheet pricing
Smartsheet offers a free version and three premium tiers comparable to Asana. Here's what you can expect from each plan:
Free — Smartsheet's entry plan is ideal for individuals getting started with task and project management. It includes two sheets, 500MB attachment storage, and 100 automations.
Pro — from $7/user/month (billed annually) — includes unlimited sheets, dashboards, reports, and forms, plus 250 automations, for up to 10 users.
Business — from $25/user/month (billed annually) — includes unlimited automations, forms with conditional logic, proofing, and 1TB attachment storage, for a minimum of three users.
Enterprise — contact sales for a custom quote (billed annually) — includes enterprise-grade security and controls, work insights, and unlimited attachment storage for large organizations.
Related: Smartsheet pricing, Asana vs. Smartsheet
6. Basecamp
Basecamp is a project management and team collaboration tool that helps teams stay organized and work together more efficiently.
Basecamp features
Each project starts with a set of built-in tools — including a message board, a visual, Kanban-style card table, and centralized document management — so everyone can track every piece of information.
Basecamp's unique Hill Charts give you a visual overview of project progress and the automated check-ins remind team members to provide regular updates.
Basecamp is a good choice for small to medium-sized businesses that want built-in real-time communication and collaboration.
Basecamp pricing
Basecamp offers two simple plans, each with a 30-day free trial, which makes it hard to compare directly with Asana.
Basecamp — from $15/user/month (billed monthly) — suits freelancers, startups, or smaller teams who want to pay month-to-month. It includes every feature and 500GB of storage.
Basecamp Pro — flat $299/month (billed annually) — is perfect for larger companies who want one flat fee for unlimited users. It includes every feature, 5TB storage, and 24/7 priority support.
7. Airtable
Airtable is a hybrid collaboration platform that combines the features of a spreadsheet and a database to manage projects, contacts, tasks, and documents in a visually appealing way.
Airtable features
Airtable databases consist of bases, tables, fields, records, and views to visualize and filter the data. The cloud-based software allows teams to create, share, and collaborate on relational databases by customizing workflows with automations and integrations or building "no-code" custom apps.
Overall, Airtable is better suited for individuals and small-to-midsize businesses who prefer a spreadsheet view for managing tasks and want to build custom workflows.
Airtable pricing
Airtable has a range of free, paid, and enterprise plans that closely match Asana.
Free — Airtable's starter plan suits individuals and small teams who want basic project management features, including one extension, 1,200 records, and 2GB attachments per base.
Plus — from $10/seat/month (billed annually) — includes everything in the Free plan, plus additional features such as three extensions, 5,000 records, and 5GB attachments per base.
Pro — from $20/seat/month (billed annually) — includes everything in the Plus plan, Gantt & Timeline views, advanced customization options, 10 extensions, 50,000 records, and 20GB attachments per base.
Enterprise — contact sales for a custom quote (billed annually) — includes everything in Pro, enterprise-wide admin, unlimited extensions, 250,000 records, and 1,000GB attachments per base.
Related: Airtable pricing
8. Workfront
Adobe Workfront is a work management platform streamlining work processes, fostering collaboration, and providing real-time project visibility through resource management, digital proofing, and automation.
Workfront features
Workfront provides enterprise-scale workflows where cross-functional teams can connect, collaborate, and execute to build a system of record for work. It provides a detailed view of team capacity and workload and excels in portfolio management, making it ideal for marketing-centric teams.
Overall, Adobe Workfront best fits larger organizations with complex needs, while Asana is better suited to smaller teams looking for a more manageable tool.
Workfront pricing
Workfront has three plans, but prices are not publicly available.
Select contains essential work management capabilities to collaborate, execute, and accelerate work.
Prime includes all Select package features, advanced strategic planning, and security capabilities.
Ultimate comprises all Prime package features, automation, goal alignment, and scenario planning.
9. MS Project
MS Project is a Microsoft 365 project management tool for developing a schedule, assigning resources to tasks, tracking progress, managing the budget, and analyzing workloads — from one-time projects to large initiatives.
MS Project features
You can use various tools and features to manage your projects, including a visual, interactive roadmap, built-in templates, and grid, board, and timeline (Gantt) views. You can also create interactive dashboards to view overall status and drill down into the details of your projects and programs using Power BI visualization.
MS Project is designed for larger organizations with complex needs and offers more advanced features — such as demand management, enterprise resource management, and portfolio analysis and optimization — than Asana.
MS Project pricing
MS Project has three cloud-based plans, each with a 30-day free trial.
Project Plan 1 — from $10/user/month (billed monthly) — includes essential project management features such as task management, project planning, scheduling, collaboration tools, and timesheet submission.
Project Plan 3 — from $30/user/month (billed monthly) — includes everything above, plus a roadmap, resource management, and a desktop client (up to 5 PCs/person).
Project Plan 5 — from $55/user/month (billed monthly) — includes demand management, portfolio selection and optimization, and enterprise resource planning and management.
10. Notion
Notion is an all-in-one collaboration workspace that enables users to capture thoughts and knowledge and manage projects and tasks via wikis, boards, and databases. It's a newer, more customizable alternative to Asana's traditional project management offering.
Notion features
To monitor progress, you can configure Notion projects to fit your workflow and use multiple views — including table, timeline, calendar, and Kanban. You can also break projects into tasks and sub-tasks and highlight dependencies to avoid bottlenecks. Notion also provides a vast selection of customizable templates and integrates with Trello, Slack, Google Drive, and more.
Notion pricing
Notion offers three premium plans. Compared to Asana, they're more robust, but Asana has a better free plan for up to 15 users.
Free — includes unlimited pages and blocks and integrates with Slack, GitHub, Zapier, and more.
Plus — from $8/user/month (billed annually) — is ideal for small groups to plan and organize. It includes everything in the free plan, unlimited blocks for teams, and unlimited file uploads.
Business — from $15/user/month (billed annually) — suits companies wanting to connect several teams and tools. It includes everything in Plus, SAML SSO, advanced page analytics, and private team spaces.
Enterprise — contact sales for a custom quote (billed annually) — adds advanced controls and support to run your entire organization.
monday.com: the flexible Asana alternative
Here's what differentiates monday.com from Asana and its alternatives.
Native time tracking
With monday.com, you get a built-in Time Tracking Column so users can quickly generate manual and automated time tracking reports.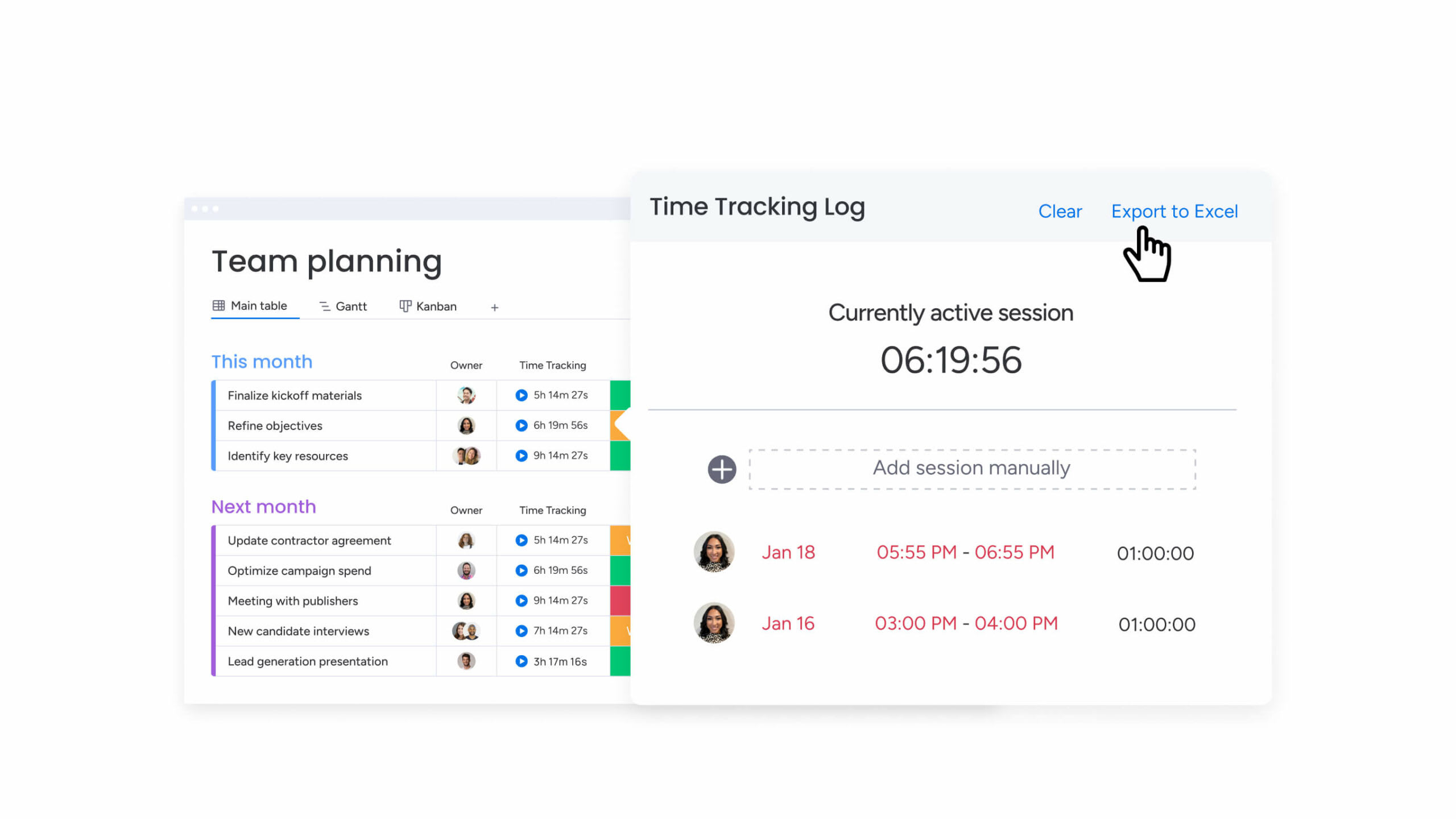 Customizable workflows and dashboards
In monday.com, you can build fully customizable workflows and create dashboards to fit your needs. Empower your team to quickly turn insights into data and make proactive, smart decisions.
Seamless collaboration
With monday.com, every employee can view your plans and information, making it easier than ever for your team to communicate and stay on track. For example, you can collaborate on documents, assign tasks, and instantly notify team members.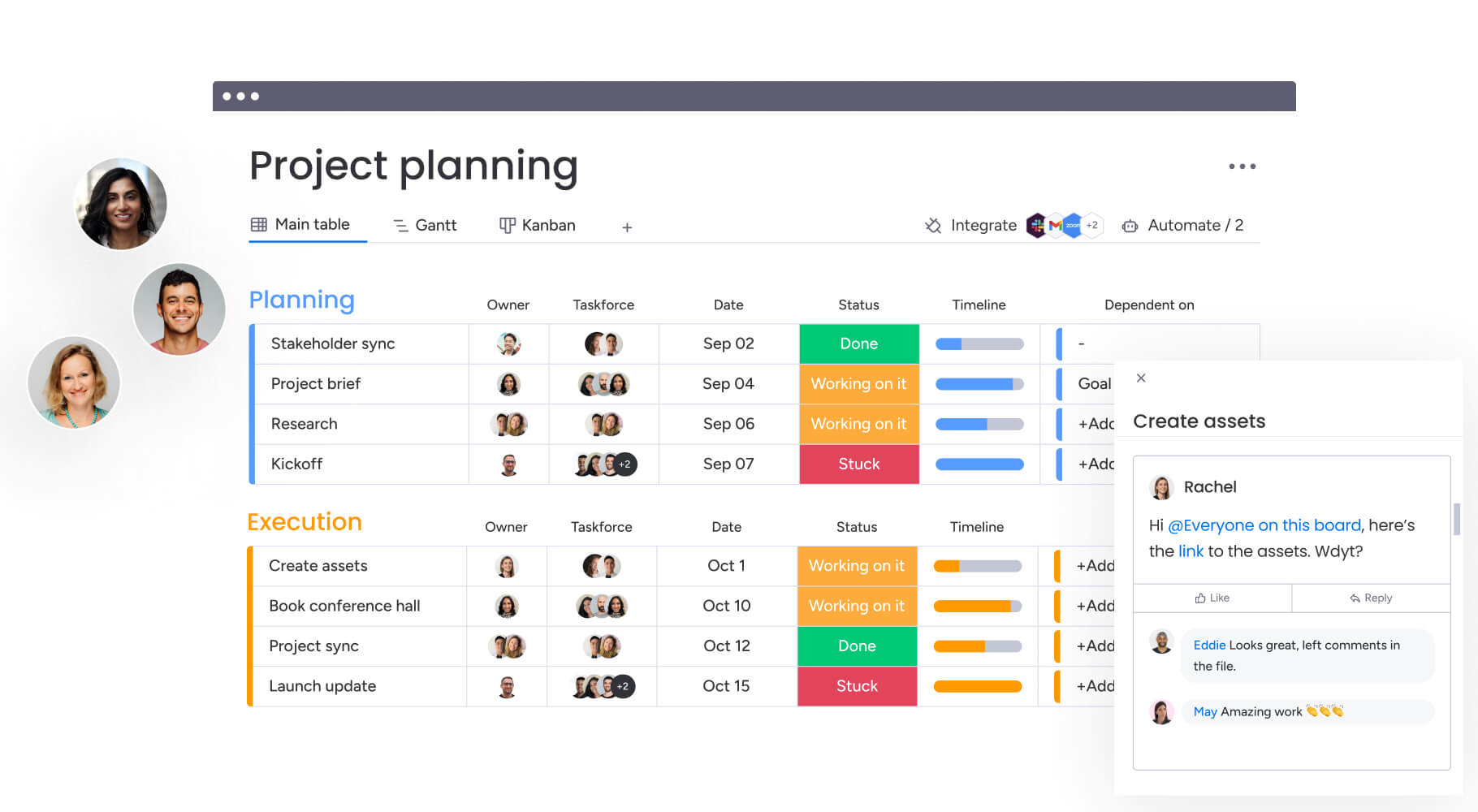 Quick integrations
The monday.com platform integrates with the tools you already use — like Microsoft Teams, Gmail, and Slack — and ensures all your data and information updates in one place. Give your team access to the same data quickly and efficiently, so they can focus on their work and stop switching between tools.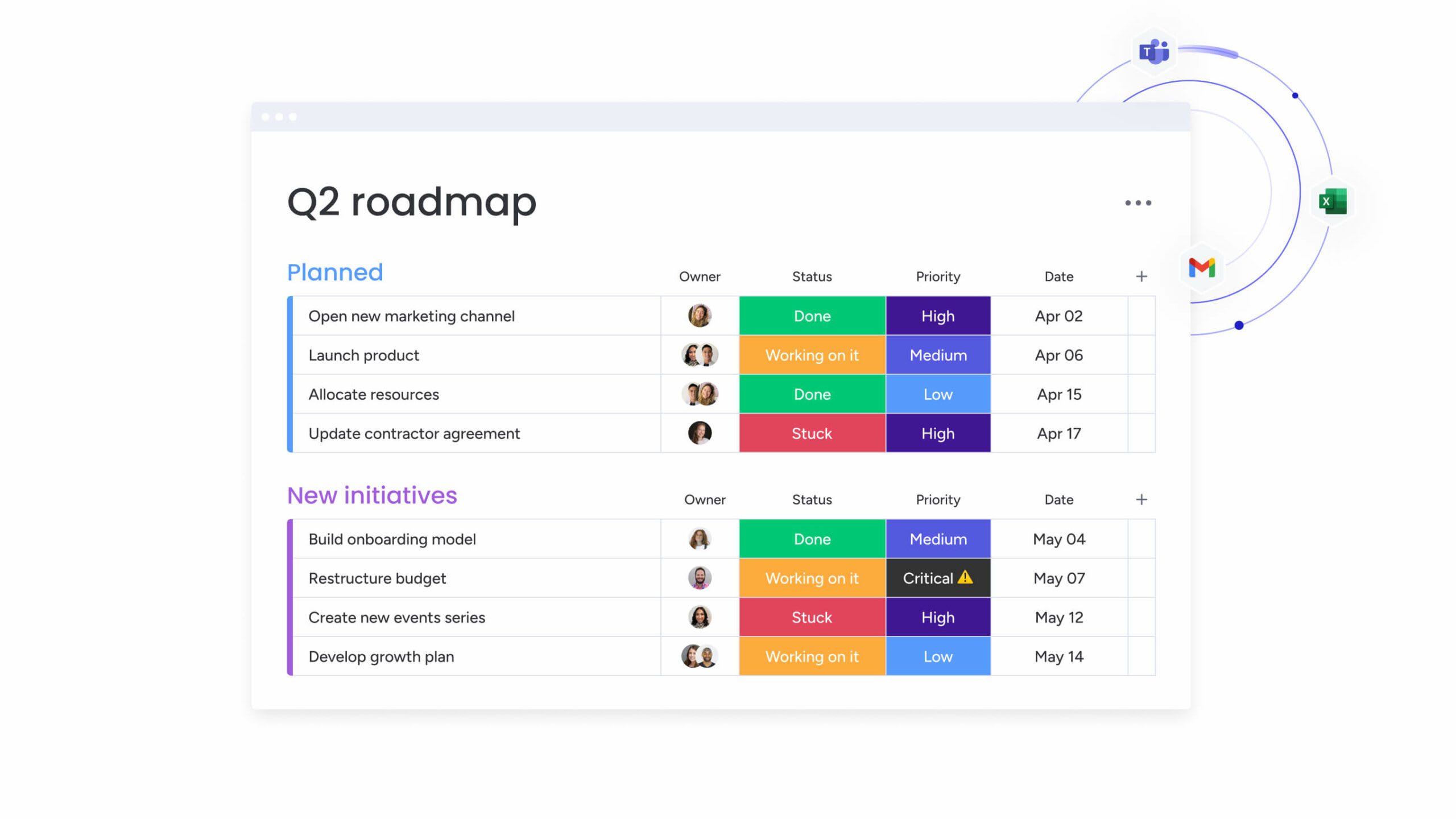 24/7 customer support
Every customer receives 24/7 support every day of the year, regardless of their plan. Asana only offers this kind of support to users on their Enterprise package. Aside from phone support, monday.com customers can receive help through email, a community forum, a knowledge base, and video tutorials.
Customer reviews
G2 reviewers rate monday.com better than Asana for meeting their business needs and having better ongoing product support. They also prefer the direction, feature updates, and product roadmaps offered by monday.com over Asana.
Currently, monday.com rates 4.7/5 stars from 7,469 reviews on G2. Here's what customers had to say about the platform.
"monday.com does the work of at least 3 or 4 individual products and keeps getting better. There are also many integrations and they keep updating and adding regularly. It combines spreadsheet with todo list and project management functionality. I also love that I can use it on desktop, iPad, and phone."
So, what is the best Asana alternative?
There are numerous Asana competitors, but the best Asana alternative depends on your organization's goals, requirements, and structure.
For instance, Jira is great for development teams using Agile frameworks, Smartsheet suits companies used to working with Google Sheets and Excel, and Trello is ideal for organizations wanting Kanban-style project management.
Wrike and MS Project suit larger teams looking to focus on advanced project management and task prioritization. On the other hand, Basecamp and Notion target startups looking to scale.
Overall, monday.com is the best alternative if you want a fully-customizable platform that allows teams to create and visualize workflows and dashboards to plan, run, and track processes, projects, and everyday work.
But don't just take our word for it — experience it yourself with a free trial.