When shopping around for the best project management tool, taking your time to assess the different options is key. Basecamp is a popular choice for project management thanks to its user-friendly interface and easy-to-use features. However, depending on your project's and team's needs, it might not be the best choice.
Here, we'll take a look at what makes Basecamp a good solution, and also look at some Basecamp alternatives to consider.
Get started
What is Basecamp?
Basecamp is a web-based project management and team collaboration tool that helps teams break down projects into manageable tasks. It has a user-friendly interface and plenty of features to assist with collaboration and work management. The platform offers features such as task management, document sharing, and communication tools, among others.
Some of Basecamp's main features include:
Single-page dashboard to see all your projects and assignments at a glance
A Messages feature meant to replace emails where teams can discuss any task
To-do lists to help teams track task deadlines, responsibilities, and progress
Real-time group chat to quickly address issues
File storage feature where you can discuss and share files and images
Project schedule to keep track of due dates and milestones
Basecamp offers all these features in its initial plan. Users get access to all the features they need along with 500GB of storage for $15/user per month. This plan makes Basecamp an ideal solution for smaller teams, startups, and freelancers.
For larger or growing teams, there's a Pro Unlimited plan at $299/month that includes all the same features with 5TB of file storage, priority support, as well as onboarding assistance. Get a more detailed breakdown of plans in our Basecamp pricing guide.
Some users might still find Basecamp lacks the ability to manage more robust projects. Without features such as multiple work views like Gantt charts or detailed reporting and analytics capabilities, Basecamp might have less functionality for teams who are growing into managing more complex projects.
For this reason, it's a good idea to consider Basecamp alternatives to ensure you're opting for the project management solution that best suits your team's specific workflow needs.
1. monday.com
Best for: Teams of any size look for a highly customizable work management platform that's easy to use and adaptable to their unique workflows.
monday.com offers users a versatile and highly customizable work and project management platform that's easy to use but doesn't skimp on features. With monday.com, you get collaboration and communication features that your team will use, like adding comments to tasks, visualizing them in over 27 different work views, and creating automations that make workflows more efficient. Additionally, monday.com offers users the flexibility to scale as needed, meaning it's simple to onboard new team members and expand projects as needed.
Key Features
100+ templates to choose from to make getting started quick and simple
Advanced reporting and analytics features to help track project progress
Custom automations to help teams save time on manual tasks
Pricing
Monday.com offers a free forever plan that can be used by individuals or freelancers, a Basic plan starting at $8/seat, a Standard plan for $10/seat, a Pro plan for $16/seat, and an Enterprise plan with a quote available upon request. Each plan offers users access to more features, storage space, a higher number of automations and integrations, expanded customer support, and more. Learn more about monday.com pricing to find out which plan is best for you.
Get started
2. Smartsheet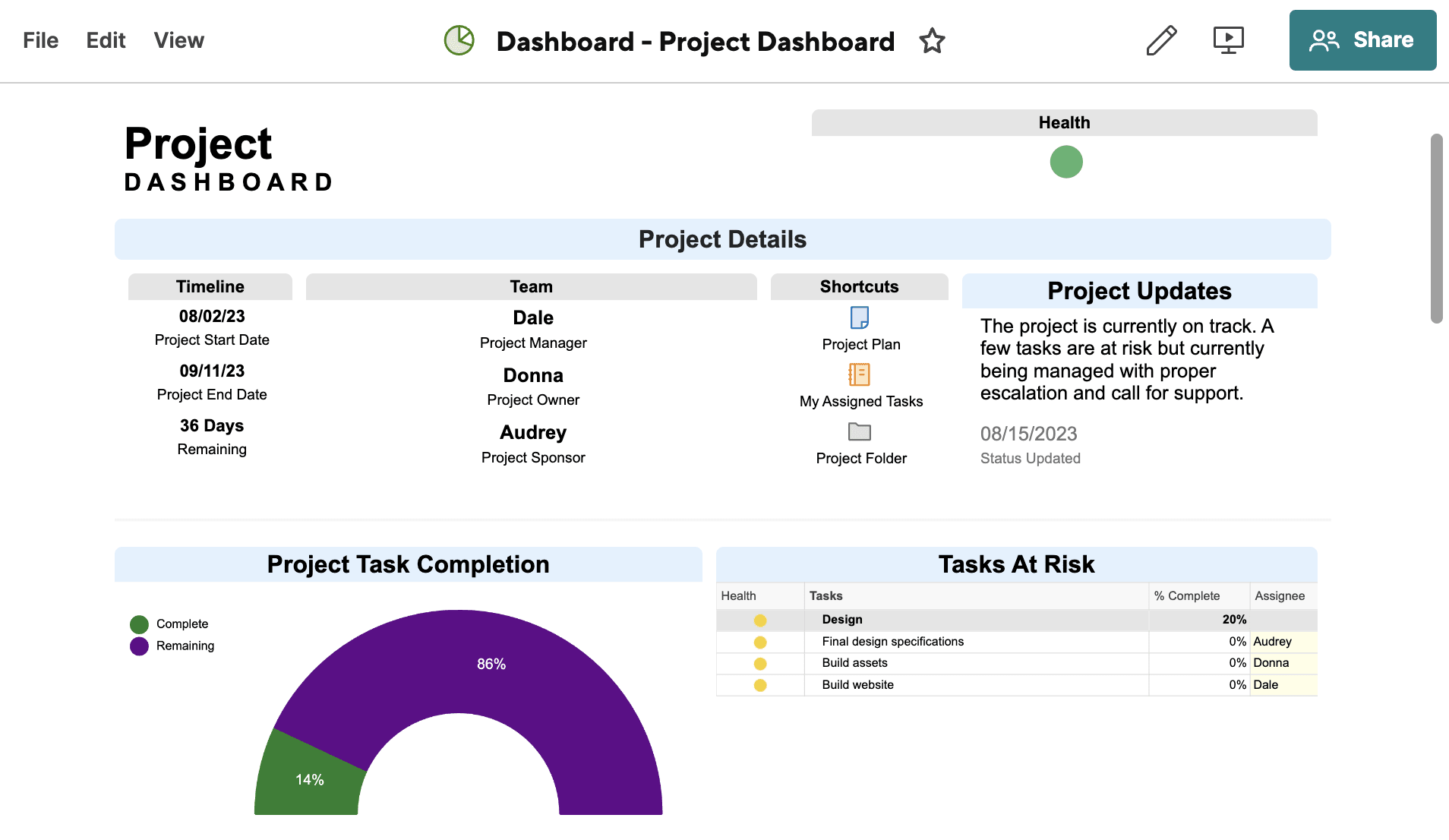 Best for: Teams of any size looking for a project management solution that upgrades the functionality of the spreadsheet format.
Smartsheet marries the ease of spreadsheets with more robust project management features to help teams manage tasks and projects efficiently. With automated workflows, resource allocation, project dashboards, and reporting tools, Smartsheet helps teams collaborate effectively on projects that require more depth than a simple spreadsheet can provide.
Key features
Grid, card, and Gantt views for comprehensive project planning
Automated workflows, approval processes, and calculations across different sheets
Reporting tools that allow you to export to Sheets or Excel
Pricing
Smartsheet offers a free plan that can be used for up to two users. There's also a Pro plan for $7/user, a Business plan for $25/user, as well as an Enterprise plan with customized pricing. With each plan, you'll get access to more features and you can onboard more users. Here's a more detailed breakdown of Smartsheet pricing.
3. Asana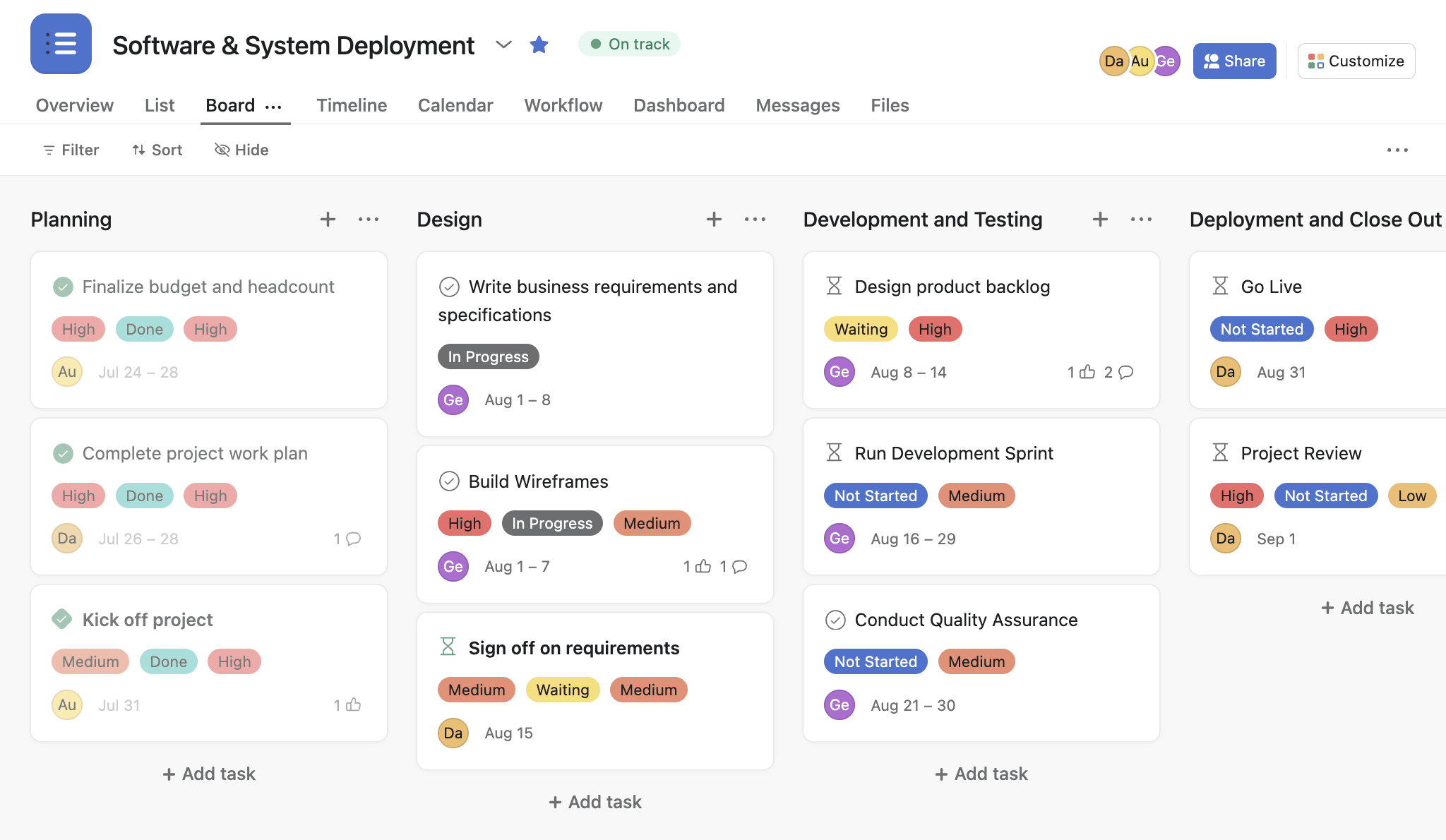 Best for: Teams seeking a user-friendly task management platform.
Asana is a popular task management solution known for its simplicity that can be suitable for a wide range of industries. It focuses on user-friendly ways to make task management straightforward and efficient with features like task assignment and tracking, project timelines and calendars, and collaboration and communication tools.
Key features
See your tasks in different views like calendar, list, workload, and others
Easily build custom task dependencies and automations for manual tasks
Integrate with popular work tools like Microsoft Teams, Slack, and Google apps
Pricing
Asana offers a free plan with a decent amount of features for basic needs. Additionally, there's a Premium plan for $10.99/user, and a Business plan for $24.99/user. With each higher-tiered plan, you'll get access to more features like a greater number of workflows and automations, enhanced security and support, and more. Take a look at a breakdown of Asana's pricing and plans.
4. Trello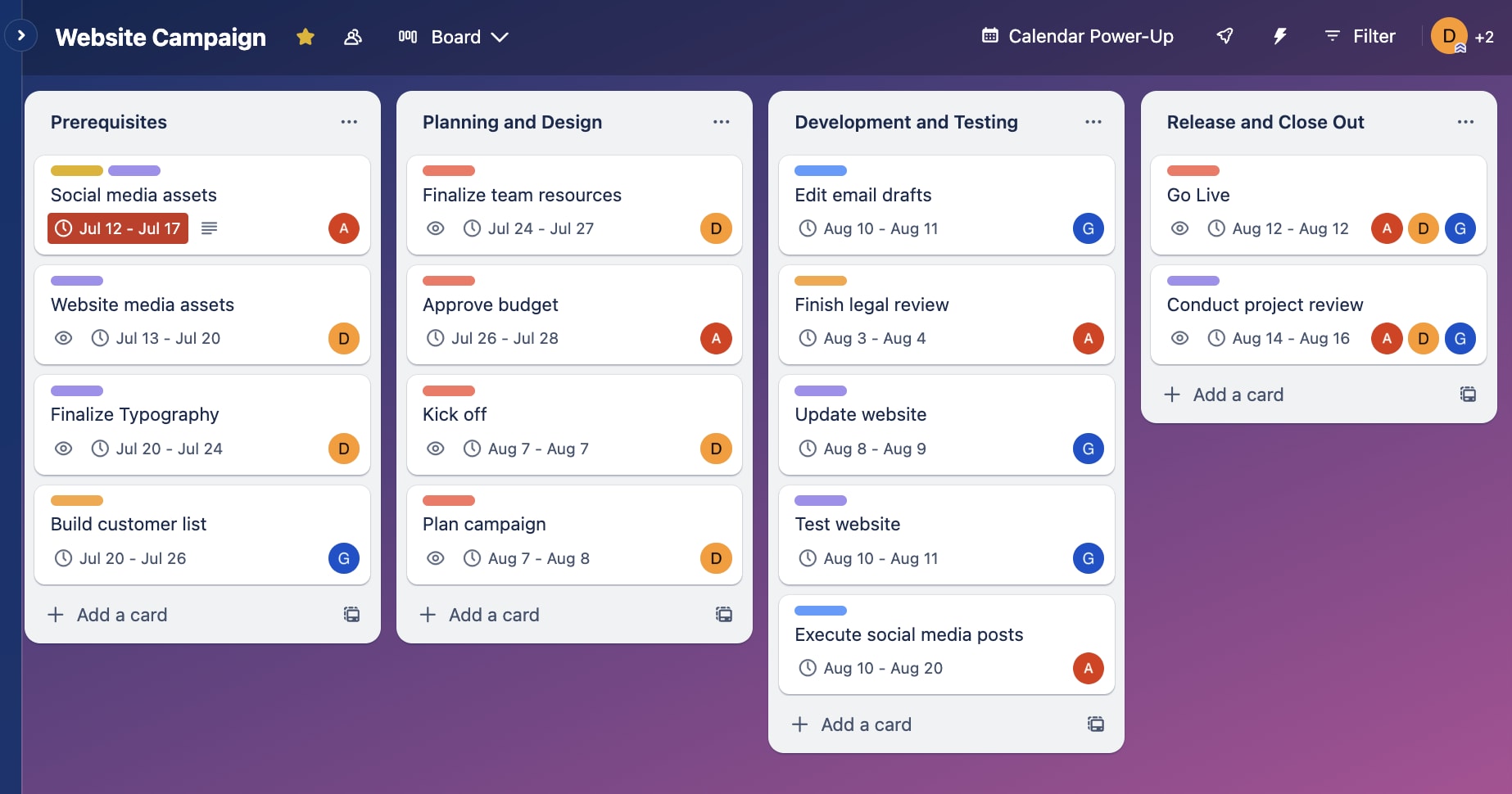 Best for: Small teams looking for a visual project management solution to manage simple projects with a Kanban-style approach.
Trello is a visual project management tool that uses boards, lists, and cards to organize tasks. With its Kanban-style project management boards, users can easily move cards, representing different tasks, between columns as the status of each changes. Cards can be customized with different features like checklists, task assignments, labels, categories, attachments, and more.
Key features
See projects on visual Kanban boards, timelines, calendars, maps, tables, and more
Collaboration via comments and attachments for seamless communication.
100+ integrations with work tools like Jira, Slack, Zapier, and more
Pricing
Trello offers a free plan for teams with basic features as well as a Standard plan for $5/user, a Premium plan for $10/user, and an Enterprise plan pricing depending on the number of users you onboard. Each higher-tiered plan gives you access to added features, a higher number of customizations and work views, and expanded security controls. For more information, have a look at a detailed breakdown of Trello pricing.
5. Wrike
Best for: Medium to large organizations with more complex project management requirements.
Wrike is a comprehensive work management and collaboration platform designed for complex project needs. With Wrike, users have access to a number of customizable features, like automations, request forms, and reports. Additionally, it allows you to easily manage resources and track time spent on different tasks. Wrike has become a top choice for teams looking for a scalable and flexible solution for project management requirements.
Key features
Collaboration tools like document management and version control
Customizable request forms and reports for tailored project insights
400+ integrations with popular apps like Zoom, Slack, Google apps, and more
Pricing
There's a free plan to get started, a Team plan for $9.80/user, a Business plan for $24.80/user, and two plans with custom pricing based on needs, Enterprise and Pinnacle. Paid plans give you access to more features and users as well as heightened security. Find out more about Wrike's pricing and plans here.
6. Notion
Best for: Teams looking for a customizable project management solution with a focus on knowledge-sharing and note-taking.
Notion is an all-in-one workspace with project management capabilities. In the platform, users can manage tasks using customizable pages, boards, wikis, and databases. Notion features strong document collaboration, note-taking, and knowledge-sharing capabilities, making it ideal for teams looking for a solution that acts as a single source of truth for all stakeholders.
Key features
Break down larger to-do lists into smaller tasks using a checklist
Display your project roadmap in different views like Kanban, timeline, table, or status
Meeting Notes feature keeps project outlines and objectives organized
Pricing
There's a free plan to get started that includes basic features along with a Plus plan for $8/user, a Business plan for $15/user, or an Enterprise plan with custom pricing. Paid plans offer more advanced features and offer unlimited uploads, blocks, and other capabilities.