You've finished your free 14-day trial, and now you're ready to find the right monday.com pricing plan for you. With a plan that is flexible, transparent, and customer-centric, anything is possible. We've broken down the top features of each plan so you can learn everything you need to confidently choose a plan that will help you supercharge your organization's efficiency.
monday.com pricing
Regardless of what your organization does, from marketing and sales to recruitment or construction and more, we have a plan with all the features you'll need. This means that even if you are a team of 3 or 3,000, you can always enjoy the benefits of a Work OS.
To accommodate all teams' needs, we offer our most basic plans for 200 users and our more advanced plans for teams of 3.
Plus, if you decide to stop your plan within 30 days of purchasing, you'll get an automatic refund with the click of a button.
To get a pricing estimate, visit our pricing page and select the number of seats you need as well as the plan duration (yearly comes at a further discount). You will get an automatic monthly price per user as well as the total price. We saved you from doing all that math. 
To get an idea, the following is monday.com's pricing for teams of 3:
Free: $0, forever free for up to 2 seats

Basic

: $24 per month for 3 users

Standard

: $30 per month for 3 users

Pro

: $48 per month for 3 users

Enterprise

: Contact us for pricing
The Basic plan is $24/month (if you get an annual plan) or $30/month (if you go with the monthly plan).
The Standard plan is $30/month (if you get the annual plan) or $36/month (if you go with the monthly plan).
The Pro plan is $48/month (if you get the annual plan) or $60/month (if you go with the monthly plan).
Each section highlights the plan's top features and every upgraded plan includes the features of the one before it.
Let's begin!
We know teams are dynamic, so we developed our pricing to be as flexible as possible. Every monday.com plan takes into account each team's unique needs.
Free plan
monday.com's free tier is a free-forever plan that includes all of the Basic plan's features (keep reading to learn more).
What should you know about this plan?
It's limited to 2 seats and up to 1,000 items. But it's completely free and who doesn't love that?
How to access the Free plan?
If you'd like to use the Free plan, sign up for a 14-day free trial first (no credit card required). The trial will introduce you to the advanced features available on the Pro plan. When the trial expires, if you do not choose to purchase a paid plan, your account will then automatically be moved to the Free plan. 
Basic plan
What is in this not-so-basic plan?
1) Boards
A monday.com board is where you can manage anything and everything. You can use this to manage and track your KPIs, projects, tasks, requests, and much more. These main boards are accessible and visible to all your team members. You can create as many boards as you want.
2) Column types
All boards come with columns so any team can customize their board to suit their needs. What can a column show? People, statuses, web links, priorities, etc. Most of the columns are available in this plan except for the formula and time-tracking ones.
3) Whiteboard collaboration
Miss writing on a whiteboard to share your ideas during meetings? This awesome feature helps teams brainstorm together, no matter where they are — and instantly.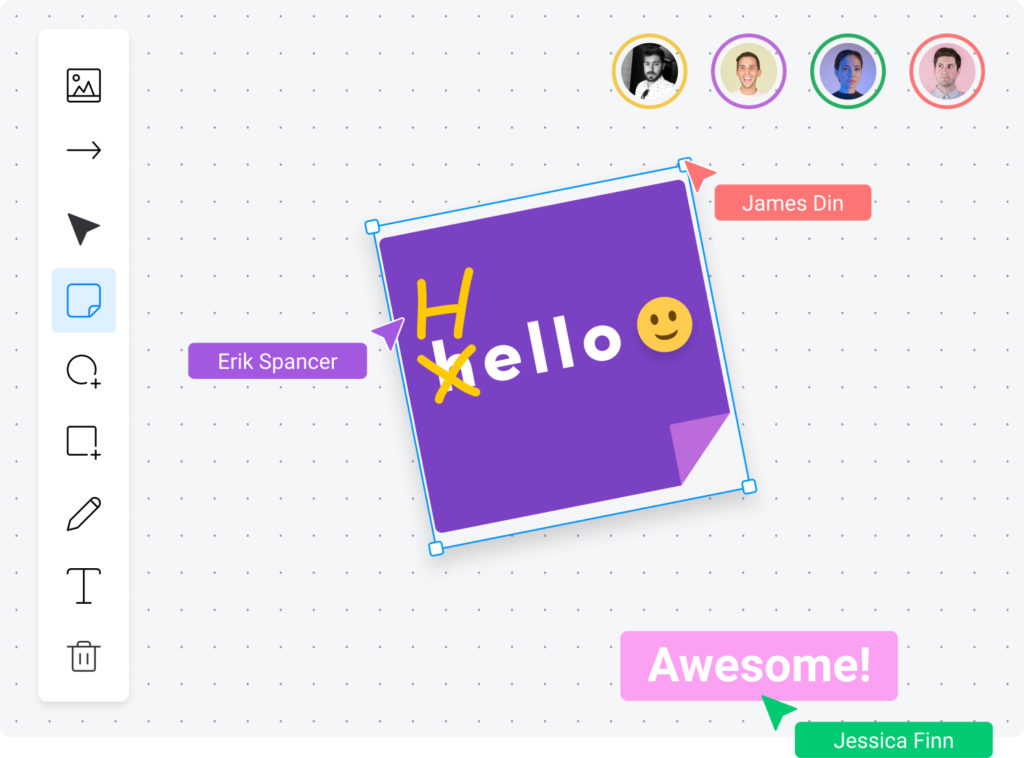 The best part? This whiteboard won't get erased.
Standard plan
There's a reason the Standard plan is a favorite. If you'd love to visualize your work your way, this is the plan for you.
Timeline & calendar views
The Standard plan offers access to the Timeline view, which is our own version of the Gantt chart. With Timeline or Gantt views, you will be able to better divide up work by seeing who has time and who doesn't. 
Now, for the Calendar view – it is pretty intuitive. This view displays your boards based on the time you set (days, weeks, or months).
Share boards with guests
Working with freelancers? Want a client to approve a project? There are many times when inviting people outside of your team to join a specific board will be useful. Shareable boards help you do that. Work with guests on boards – without giving them access to your whole account.
Automations and integrations
Reach next-level productivity with automations and integrations. Set automations for different tasks to get work done faster. For example, when you change a status to "Done", you can set up an automation that will instantly send an update to the relevant person on your team. It will save you loads of time contacting people and remove the need to constantly follow up on work.
You can also continue working with your favorite work tools and apps (i.e. Gmail, Google Drive, Excel, etc.) by integrating them with monday.com.
Pro plan
Here's what you can expect from the Pro plan.
Are you data-oriented and like charts? If so, keep on reading…
(P.S. This plan has all the features you loved in the trial!)
Private boards
Sometimes, you need to keep work private. Private boards are only seen by you and anyone that you invite. If you are in HR or Finance, such boards can be crucial to your work. These are also great for when you would like to create a project, to-do list, or plan before sharing it with your team. 
Time-tracking column
Wondering how much time you spend on each task? You now have the ability to track it with the time-tracking column. This column will help you track the time it takes to complete tasks and help you plan better for similar projects that come your way down the line. Also, you won't need yet another tool to do something that our platform can already do for you.
Chart view
monday.com is the hub where you put all your data. As a central operating system, it helps to have a way to differentiate information. What are your most popular products? Which developer is taking on the most work and feels overwhelmed? Take all that data and turn it into a chart to gain valuable insights and truly understand what's going on.

Enterprise plan
So what can the Enterprise plan offer you? As a business, you need to have extra security and a platform that can scale with flexibility as you grow—this plan offers exactly that.
Advanced security features
Security and permissions can offer the flexibility you need to scale your business. Enterprise offers access to the panic button. This button blocks your account in case login credentials get compromised.
More integrations and automations
With 250,000 automations and integrations per month, you can count on monday.com to automate the manual processes that steal your team's time from doing what's important and keep all your current work tools and apps connected so you never miss a beat.
Tailored onboarding
With VIP support from an expert account manager, you can design the perfect onboarding plan for you and your team, together. This will help everyone not only understand how to use monday.com in the most effective way possible but also ensure that they will actually want to use the platform.
monday.com has three main products that cater to unique use cases.
Below you'll find a short breakdown of each product including their pricing structures so that you can make an informed decision about which one suits your needs best.
monday work management pricing
Best for: All teams in all industries of any sizes
In a nutshell:
monday work management offers organizations an effortless way to create workflows that connect different departments in one place. This means teams can concentrate on streamlining and standardizing their work processes from start to finish, making them more efficient and effective in achieving their goals.
monday work management pricing for teams of 3 people:
Free: $0, forever free for up to 2 seats
Basic: $24 per month for 3 users
Standard: $30 per month for 3 users
Pro: $48 per month for 3 users
Enterprise: Contact us for pricing