If you're thinking about updating your work management software, you've probably already been tasked with often fruitless searches for things like "Basecamp pricing" or "this is the ONLY solution for team projects". Next, you're trying to see which tools have free trials so you can get a sense of worthwhile products before you commit to a price ticket.
While the feature offerings and potential for productivity surely will expand with a paid plan, how can you efficiently assess if a platform meets your needs? To ease this burden, we've created a quick guide to Basecamp pricing—which starts at $99 per month for unlimited users. We'll also cover:
Basecamp cost
Features
How it compares to a Basecamp alternative
What is Basecamp?
Basecamp is a platform designed to help you manage work by breaking it up into separate projects. Projects contain everything related to people, discussions, dates, tasks, and files.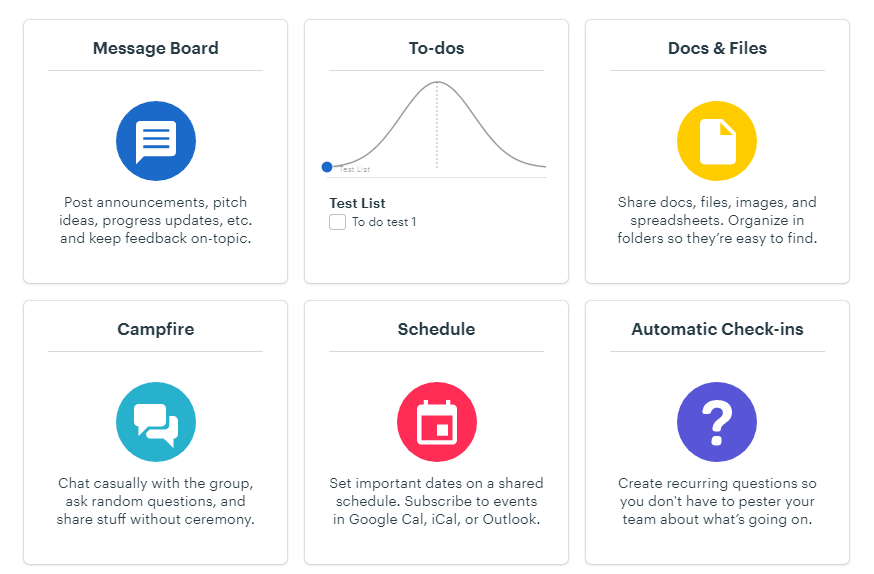 Basecamp pricing plans
How much does Basecamp cost? Basecamp offers two plans: Basecamp Personal and Basecamp Business. You can access Basecamp Business for free with a 30-day trial that has anytime cancellation and doesn't require a credit card. Here's a quick breakdown of the plans pricing:
Basecamp Personal: $0 free plan
Basecamp Business: $99 per month flat rate
Basecamp's pricing site also offers a 15% discount if you pay for a year subscription up front. It's also worth noting that Basecamp's pricing is not charged based on how many users you have—the price is uniform. While the flat Basecamp cost could be beneficial for large teams, it also means smaller teams might spend more than they really should.
Stick with us, we're about to give you all the details about these Basecamp plans based on their features.
What's included in Basecamp pricing plans?
Basecamp pricing plans come with some attractive offerings, like storage space, project templates, and a Company HQ— but it will depend on what you chip in. Before you search, "Is Basecamp free?" check out some of the features for each plan.
Personal
Basecamp's free plan is recommended for personal projects, students, freelancers, families, and "light use". The features seem to live up to that last description:
3 project maximum
20 users
1 GB storage space
You wouldn't want to go for this one if you have multiple teams, or plan to work with heavy media and files—you'd really feel the restrictions. To play the devil's advocate, if your team mostly uploads word documents and other file formats with a small footprint, it could be okay.
Companies that handle video editing for example, however, will hit the wall quickly. For context, 4K video takes up a gigabyte of storage for every minute of footage if you're filming at 30 frames per second.
Business
Basecamp Business offers unlimited projects and users. With it, you also get:
Client access
500 GB storage space
Real-time chat
To-do lists and schedules
Sounds pretty good, right? Well upon deeper review and verified user research, we can see there is a little bit more to the story—but more on that later in our Basecamp alternative section.
Basecamp alternative
To put Basecamp's price and features in context, let's take a look at how it compares to another project management software out there—monday.com Work OS.
What is monday.com?
monday.com is a Work Operating System (Work OS) anyone and any team can track, and manage projects in their own way—from managing reporting and workloads to resource management and beyond, all while automating manual work. More than 127,000 customers trust our scalable and flexible solution to drive impact for their organizations while helping them pivot and scale according to shifting needs, champion transparency, and work the way they want.
For your first course in this comparison menu, here's a look at some functionalities of each tool.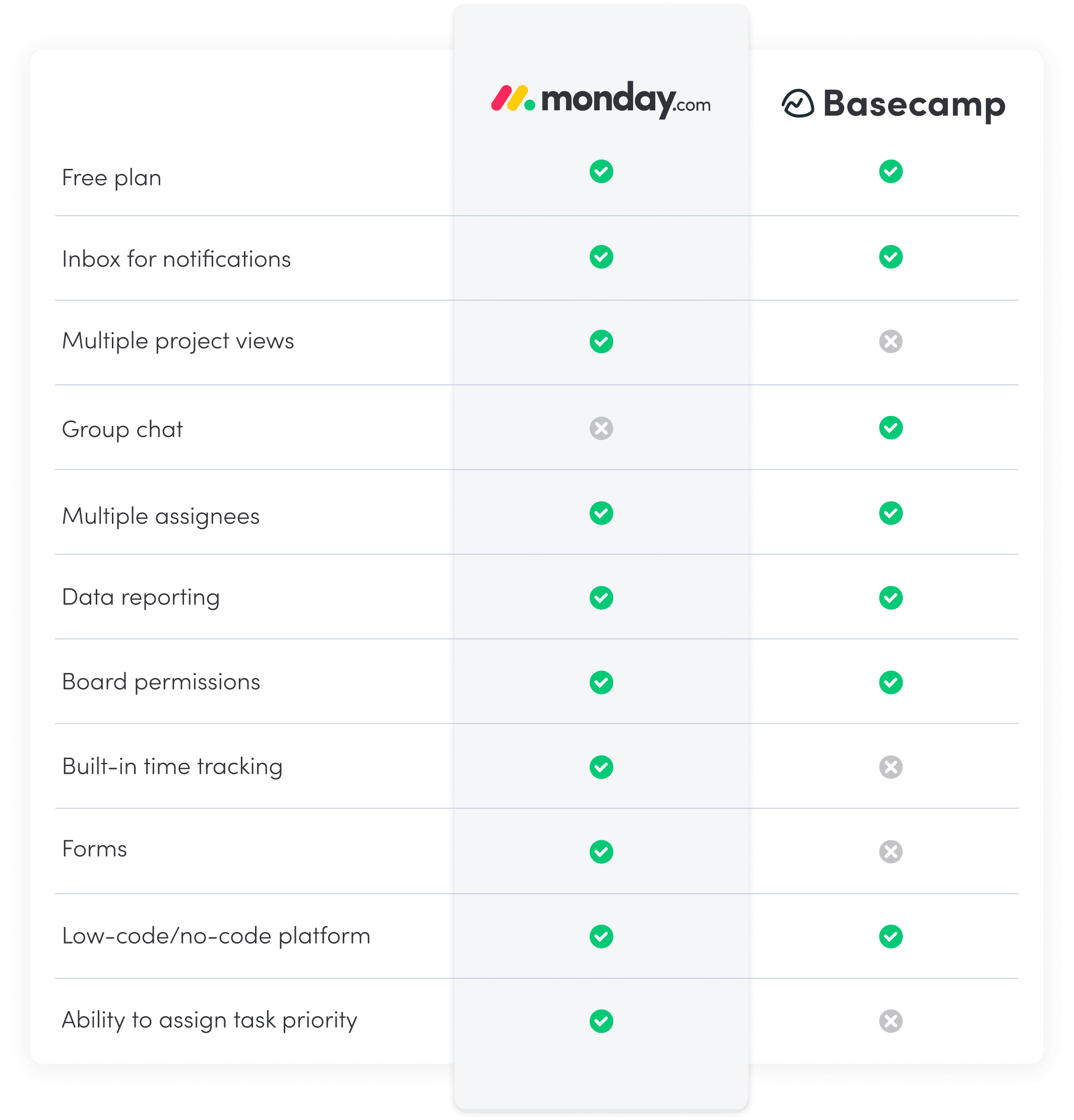 monday.com pricing for 3 seats works like this:
Individual plan: FREE
Basic: $8 seat/month
Standard: $10 seat/month
Pro: $16 seat/month
Enterprise: Our

consulting team

is happy to help you assess your best fit
Visit our pricing page to experiment with the different options to find the right price and solution for your needs.

What's included in monday.com pricing plans?
Free
Our Individual Plan is great for individual project management and small teams looking to tackle simple tasks and improve their personal productivity. Enjoy the most essential features of monday.com to develop strong project management skills with:
monday workdocs

as your new go-to doc creator
A user-friendly search function to navigate your boards with ease
Unique views: Kanban, File, and Forms
Extensive apps marketplace
Basic
The Basic plan provides you with the bones to centralize your team's work in one connected platform:
Unlimited docs, free viewers, and boards
20+ column types to get as creative as you want
A dashboard view
monday mobile app for Apple and Android devices
A Template Center with 200+ unique templates
Standard
Standard is our most popular plan and builds upon the features of the Basic plan so you can benefit from advanced search functions, new Calendar and Timeline views, and board sharing with stakeholders. Building and managing your custom work processes is easier than ever with:
250 automation actions per month
250 integration actions per month
Dashboards with data from up to 5 boards
Multiple assignees
Here's what one customer said about our easy adoption on G2:
"More intuitive and streamlined than Basecamp…monday.com could be a better choice for teams who are not as experienced with using software for project management."
Pro
The more complex operations you have, the more you need to streamline—Our Pro plan is fully-equipped to help you do it. Here's what you get inside Pro (in addition to the features included in Basic and Standard):
25,000 actions/month each for integrations and automations
Time-tracking
Formula and dependency columns
Private boards and settings
Up to 10 boards per dashboard
Enterprise
Like Basecamp, monday.com has an Enterprise plan available for large organizations that require enterprise-grade project management security and effective solutions. Enterprise comes with all features from the other plans, plus:
Enterprise-grade governance & security
Even more automations and integrations
Advanced analytics and reporting
Multi-level permissions
The monday.com tailored onboarding process
Up to 50 boards per dashboard
Priority support
Every plan comes with a 14-day free trial so you can try it out before you buy it.
monday.com vs. Basecamp: how do their features compare?
The need for add-ons
Basecamp brands itself as a complete project management tool kit, for onsite and remote teams. However, this is a little misleading. While you can find classic features including schedules and file storage as well as a unique group chat, many of the features teams want will require purchasing additional add-ons or integrations.
In contrast, most monday.com features are included in our Work OS, such as the ability to create your own connected forms or create and collaborate on documents with monday workdocs.
Project views and tracking
Basecamp's project visualization is centered mostly around to-do lists and something they call the Hill Chart—while unique to their platform, it creates limitations and might lend itself to blindspots. Hill Charts can be pretty subjective, based entirely on how a specific person feels as they progress through a project.
monday.com is an excellent Basecamp alternative because you have more ways to accurately visualize your projects, from the moment your plan starts to when you want to visualize data at the end. Our Work OS has so many different ways to see your work, including Dashboards or Charts and Calendar, Workload, Timeline, Table, Kanban, Form, and Cards views. The best part is that you can easily toggle between these views and the main board, and save custom views without disrupting others' work.
Replication
monday.com is a versatile Basecamp because you can easily create unique workflows and replicate them to be used over and over again in different ways. monday.com has a huge variety of applications — you can use it as:
A sales CRM
A video production planning tool
Document management system
IT tickets repository
Performance analysis tool
We have 200+ templates to get started quickly and enjoy more than 40 integrations. To get started, check out how you can streamline your development workflow with monday.com and our Jira integration.
What level of support does each platform offer?
Basecamp offers bot-free customer support with a claim to get back to customers in "about 2 hours". You can watch tutorials, read their help guides, or send them a message via a request form on their support site.
monday.com has 24/7 support via email and our Help Desk year-round. In addition to our support, we also have a knowledge center and YouTube channel full of useful tutorials and new feature updates.
Is there something better than Basecamp?
It's easy to get distracted by a flashy price offering or ads for Basecamp pricing. But above all, you have to consider your team's needs right now, and which tool will be able to support them as they change along with your team size and functions.
We recommend you try monday.com, the first two weeks are on us.
Curious as to what customers are saying about us? See reviews.