When you've finally decided that it's time to upgrade your "project management platform" search to include paid plans, Asana pricing just might come up. Asana Premium starts at $10.99 per user per month annually, which actually comes out to about $13.49 billed monthly.
In order to give you a better understanding of this near household name platform, we've put together a comprehensive overview of Asana's pricing plans and the features that even smaller teams might want, so you can see what it'll cost you and if it's capable of growing with your team.
By the end of this blog you'll have a snapshot of Asana Basic, Asana Premium, Asana Business, and Asana Enterprise in terms of:
Price
Features
How these plans stack up to monday.com
Get started
What is Asana?
Asana is a workplace management tool built to streamline communication across companies and teams. It is also described as a cloud-based task management solution that empowers businesses to manage, collaborate, communicate, and organize their projects and tasks.
Asana pricing plans
To sum it up, here is Asana's pricing tiers based on per user. The price decreases if you choose to bill manually instead of monthly.
Basic: $0 (free for life)
Premium:$10.99 per user/month. Or $13.49 per month billed monthly
Business: $24.99 per user/month. Or $30.49 per month billed monthly
Enterprise: You'll need to contact Asana sales for more information
Who is a user in Asana? A user is any person you invite to collaborate on a task or a project. This means that each employee you add will be counted as a member of your workspace and will count toward your paid Asana plan.
Let's look at the major features each plan offers.
Does Asana have a free plan?
Yes, Asana offers a free forever pricing plan which allows 15 users to collaborate together. This version is best for individuals and smaller teams who are just starting out with project management.
In the next section, we'll get deeper into this with an Asana plan comparison, based on features, pros, and cons.
What's included in Asana pricing plans?
Asana pricing plans come with a variety of features like different reporting tools, views, and integrations. 
Below are some of the features offered, broken down by plan. 
Basic
Asana's free plan lets up to 15 team members access a limited set of features. This means that both members and guests will be counted. Here's a preview of what you'll get:
Assignee and due dates
Calendar view
Unlimited tasks
iOS and Android mobile apps
100+ integrations
Premium
The Premium plan is actually the second-highest plan before Premium and Enterprise. It includes everything in the free plan and:
Create standard intake forms
Use their Admin Console
Invite unlimited free guests
Unlimited dasboards
Implement custom fields
Reporting across unlimited projects
Chart customizations
Note: Guests in Asana are users you invite that do not share the mail domain of your organization and they have been invited to work on only a specific project.
Business
The Business Plan is pushed toward companies and teams that need to manage work across initiatives. It includes all of the features of the Premium plan, plus:
Integrations with Salesforce, Adobe Creative Cloud, Tableau, Power BI
A Workload view
Custom rules builder for automation
Tableau & Power BI Integrations
Time tracking
Advanced reporting
Workload charts
Asana Enterprise
Asana Enterprise tier focuses on offering a "full suite" on work management features. The pricing is available on request and is recommended for larger teams that need more visibility, control, and support in one place. The feature include:
Advanced security functionalities
Admin features
Custom branding
Data export
Data loss prevention
24/7 support
A value-packed Asana alternative
To best understand the value provided by Asana's price and features, it's worthwhile to compare it to other project management software out there. monday.com Work OS is a great choice for comparison, as we offer teams work management solutions on our no-code/low-code platform.
What is monday.com?
monday.com is a Work Operating System (Work OS) where small teams and large can plan, track, and manage projects in their own way—from managing task dependencies and workloads to resource management and automating manual work and everything in between. Our scalable and flexible solution is trusted by more than 186K+ customers to drive impact for their organizations while helping them adjust to shifting needs, champion transparency, and collaborate like never before.
Here's the breakdown of our pricing for 3 seats, if billed annually:
Individual plan: FREE
Basic: $8 seat/month
Standard: $10 seat/month
Pro: $16 seat/month
Enterprise: Our

consulting team

is happy to help you assess your best fit
On our pricing page, you can experiment with the different options to find the perfect price and solution for your team and budget.

Let's look at the major features available on each monday.com pricing plan.
Basic
The Basic plan provides you with what you need to centralize your team's work in one connected platform:
Unlimited boards, free viewers, and docs
20+ column types to build a custom workflow
Dashboard view to gain unique insights in real-time
Our handy mobile app for Apple and Android devices
200+ templates in our Template Center
Standard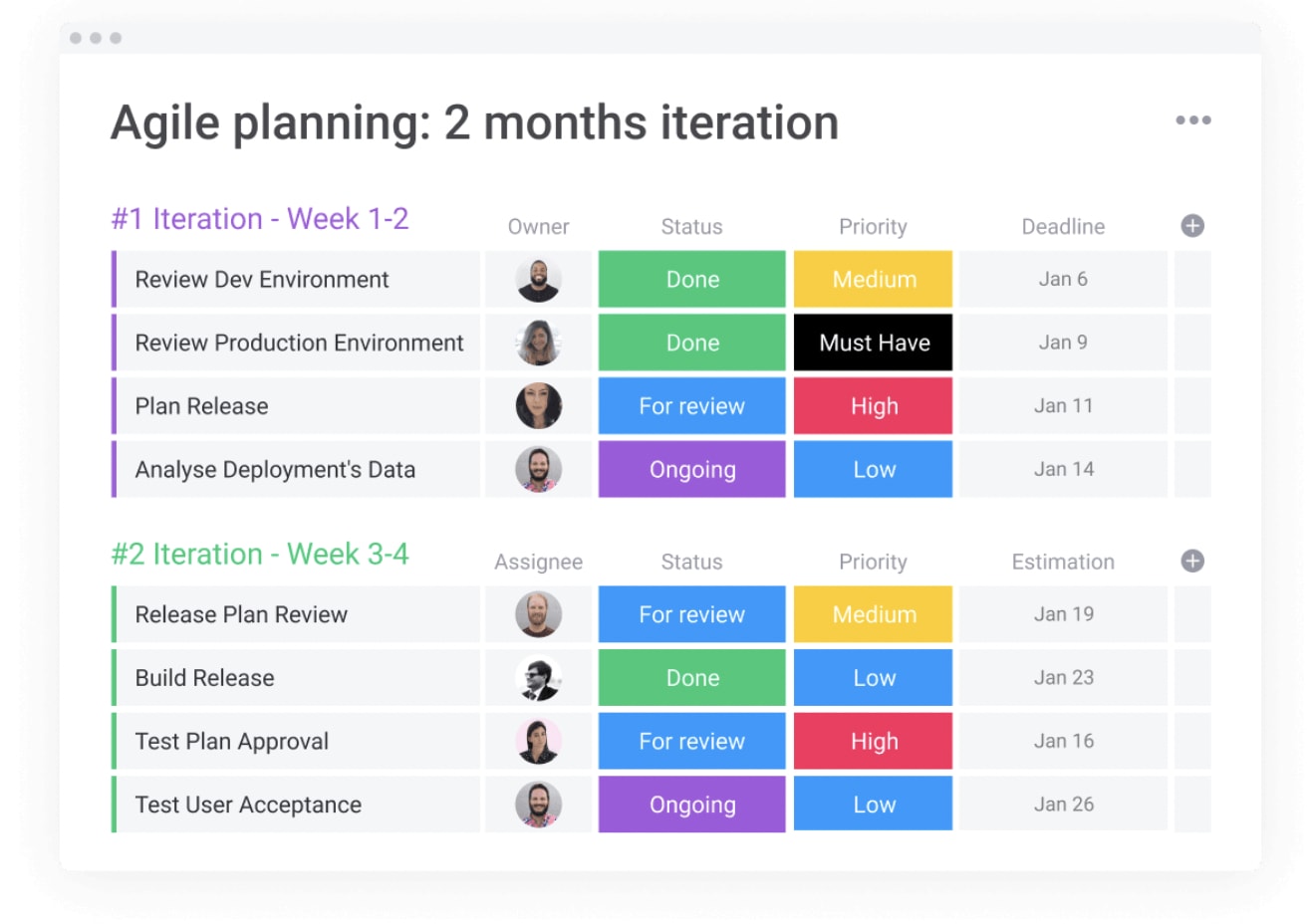 Easily our most popular plan, Standard comes with all of the features of Basic plus advanced search functions, new Timeline and Calendar views, and the ability to share boards with stakeholders. Build and manage your custom workflows easier than ever with:
Automations (250 actions per month)
Integrations (250 actions per month)
Dashboards with data from up to 5 boards
Multiple assignees
Here's what one customer said about us on G2:
​​"monday.com makes it easy to customize boards to fit the specific needs of your team and clients. Easy functions, integrations and automation that don't require an expert to put in place!"
Pro
If your business has more complex operations you need to streamline, then look at our Pro plan. Here's what you get inside Pro (on top of everything in Basic and Standard):
25,000 actions/month each for integrations and automations
Time-tracking
Dependency and formula columns
Private boards
Up to 10 boards per dashboard
Enterprise
Like Asana, monday.com has an Enterprise plan available for large organizations in need of enterprise-grade project management solutions and security. Enterprise has every feature from the other plans, plus:
Enterprise-grade security & governance
More automations and integrations
Advanced analytics and reporting
Multi-level permissions
Our tailored onboarding process
Up to 50 boards per dashboard
Priority support
Every plan comes with a 14-day free trial so you can test drive it before you buy it. Try out your free trial today.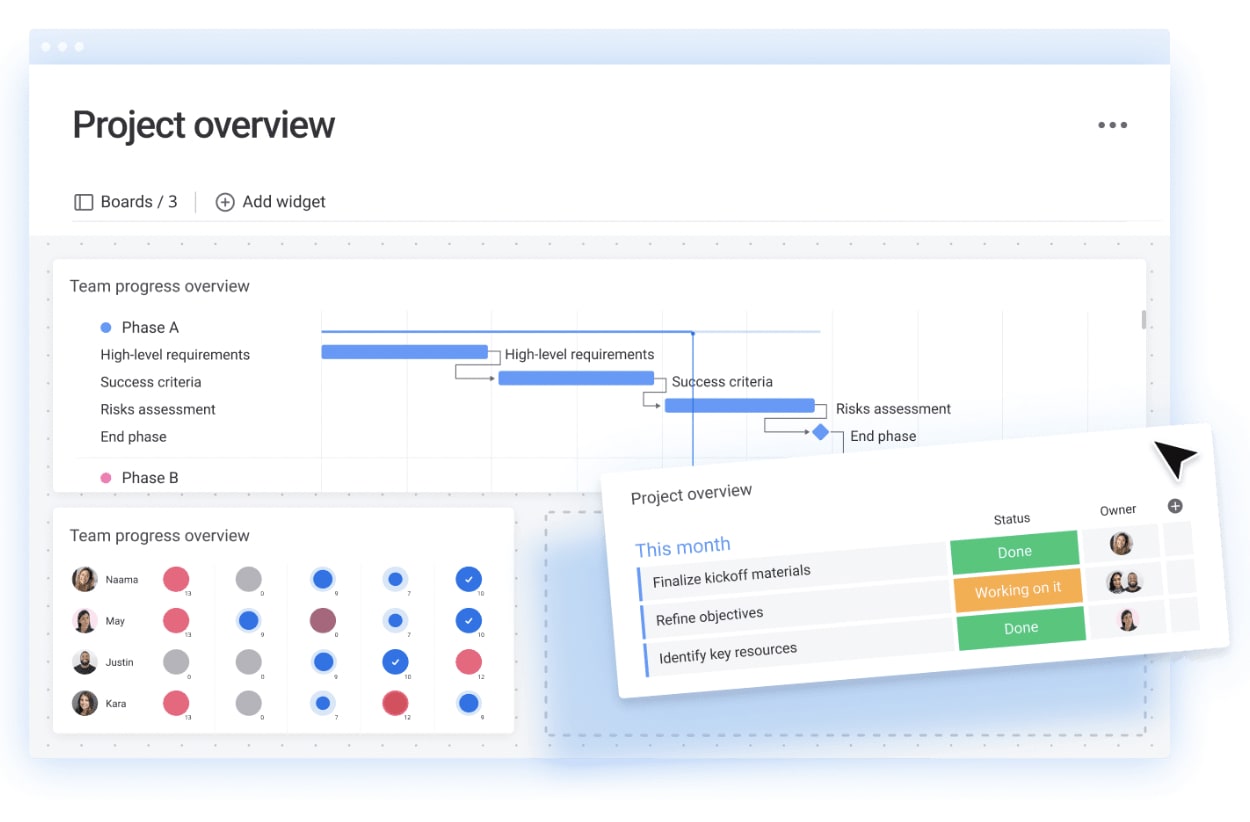 Get started
monday.com vs. Asana: how do their features compare?
Here's a brief comparison of the features available on monday.com and Asana.
Workflow features and customizations 
monday.com Work OS gives you the ability to build out any workflow or process for any team, which can eliminate cross-functional bottlenecks when collaboration is a must. Here are a few instances where Asana comes up short:
Personalized board views: Using filters is a great way for team members to see work only relevant to them, or customized with specific information so they can quickly see what they need. On monday.com, you can save these filters as views on board and easily refer back to them—Asana requires you to reset these filters each time from the start.
Multiple assignees: Asana simply doesn't offer the option to assign multiple owners to the same task—this will make it nearly impossible to create accurate reports on time and responsibility.
Column types: Asana has 4 column types, while monday.com has 20+ customizable column types.
Robust automations
Asana calls their automations "rules." While some customization exists, ultimately they can only be used to change/clear a status, add comments, unassign, set/clear a date, and add an attachment. With monday.com automation recipes, creativity is at its maximum. For example, you can:
Assign a person or team
Send a notification
Create a new board from a template, simultaneously
Reporting
With Asana, their Universal Reporting aka dashboards are limited to charts and number widgets. While this can help with basic, high-level reporting, it has limits when it comes to presenting your data in different ways.
It also means you could be reaching for additional tools to get a job done, because there are no widgets for Gantt, calendar, resource allocation, and more. More so, your permission options in Asana are very limited to public and private that only those assigned or admins can see. monday.com has more specific permissions that can be applied to Items, Boards, Team, Workspace, and Account level.
Sign up and start exploring the various reporting features available on monday.com
What level of support does each platform offer?
Asana offers customer support via a form you fill out with your details and relevant comments or attachments.
At monday.com we have constantly strived to reduce our customer support response time — with 24/7 support via email and our Help Desk every day of the year. In addition to our support, we also have a knowledge center and YouTube channel full of useful tutorials and new feature updates.
FAQs
Which is the best Asana pricing plan?
The best Asana pricing plan will vary based on each organization. Try out the free version and explore the features. For companies of moderate size, the Premium plan should suffice, but bigger teams may need to consider the Business or Enterprise plans.
What app is better than Asana?
monday.com is a better option than Asana in terms of workflow, customizations, and automation. It is also easier to use and has quality customer support, as stated by customers on G2.
Is Asana expensive?
Asana pricing plan start at as low as $10.99 per month per user. However, this may be expensive for some teams and it's not the most economical option in the market. Alternatives such as monday.com provide compelling features (like time tracking) at lower prices.
Is Asana worth paying for?
Now that you're armed with all the right information, use these questions to drive home if Asana's cost is right for you:
How important is it for you to gain insights from reports across multiple individuals, teams, and departments?
Are you looking for a scalable and flexible solution that will serve you in the long run?
What could your team(s) do with the extra time saved by automations with monday.com?
On review sites like G2, monday.com has a rating of 4.7/5 from more than 6,000 users! Many reviewers felt that monday.com meets their needs better than Asana. They found it easier to use, setup, and manage and also preferred doing business with monday.com overall.
Ready to learn more? Get started with monday.com now and increase your productivity!
Curious as to what customers are saying about us? See reviews.
Related articles: Asana alternatives, Asana vs. monday.com, Asana vs. ClickUp, Asana vs. Jira, Asana vs. Wrike, Asana vs. Airtable, Asana vs. Trello, Asana vs. Smartsheet, monday.com alternatives