We'll get right to it —you're here because you've done your research and want to know: Asana vs. monday.com, what's the better fit for your company?
Welcome to monday.com reviews —our blog series where we break down project management tools and see how they stack up against the other. Read on for a straightforward guide on Asana vs. monday.com.
Asana vs. monday.com: a brief description of both
What exactly is Asana? Asana is a project management software designed to improve team collaboration and work management. Founded in 2008 by former Facebook executives,  Asana aims to "help everyone track their work," by providing one place to create projects, assign tasks to team members, set deadlines, and communicate about all things work from inside the software.
What is monday.com?
monday.com is a Work Operating System (Work OS), an open platform where teams can create any solution to become more agile, get more done, and grow with the business. On this cloud-based software, teams can create custom workflows to plan, run, and track processes, projects, and everyday work.
A Work OS is built for organizations of all sizes and teams of all types. For instance, a sales team can build a CRM on a Work OS, marketing can use it to plan campaigns, and developers can use it to track bugs.
But to really understand the difference between a project management software and a Work OS, we need to break each company's features.
Asana features: straightforward and minimalistic
For those of us who aren't as tech-savvy, Asana's minimalistic interface is simple to navigate. That said, because it's more straightforward, it's less visual than competitors. Check out a few of their standout features:
Attaching files and adding comments – To boost collaboration, Asana allows customers to attach a file or add a comment with @ mentions to alert, tag, and notify others
Different viewing options– Asana offers six view options (such as Gantt charts and calendar), which is less than some of its competitors. monday.com for instance offers eight different view options.
Workloads to prevent burnout– The company offers a feature called Workload, which prevents burnout by letting you set restrictions on team members' workloads. Learn more about the workload view here.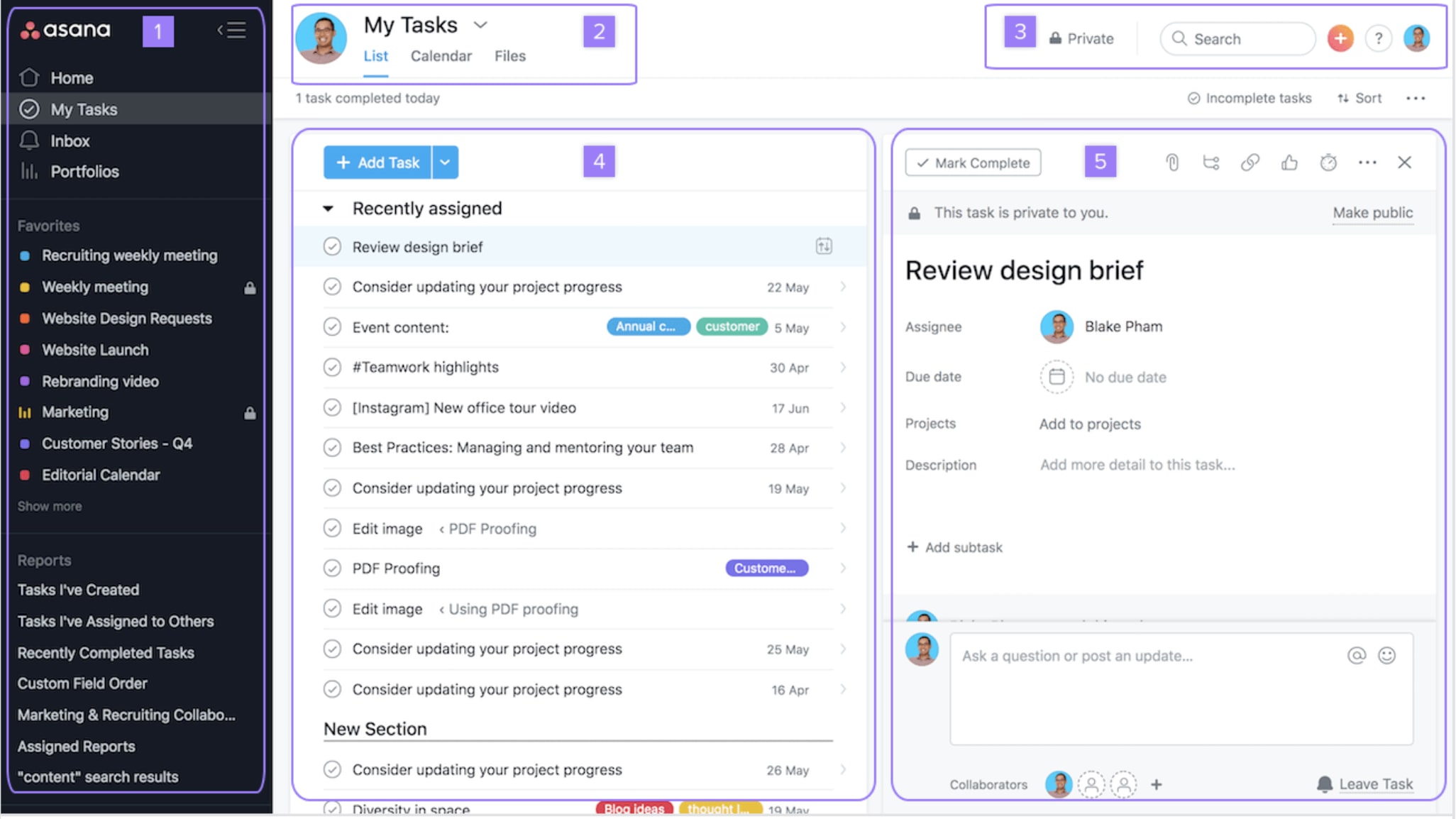 monday.com features: advanced, yet user friendly
Because monday.com allows organizations to build their own products—be it a hiring pipeline for HR or a supply management software for IT— its features are simple to use, set up, and master. We've narrowed down some of our favorites here:
Visual dashboards for data-driven decisions: Easily create summaries, reports, and get a high-level view of your work. For instance, the marketing team can use dashboards to instantly see campaign results.
Save time with Automations: Automate repetitive work and mundane tasks in seconds so your team can focus on the work that really makes an impact. For operations, this may look like the following: someone sends a message that the air conditioning isn't working. That message automatically goes into a board where an ops member can address and track the issue.
Collaboration made easy: 

monday.com

eliminates the need for painfully long email threads and unnecessary meetings. All communication and files are centralized in one place and kept within the context of your work, so you never miss any key information. What could this look like? Sales teams can attach important collateral, notes, and communications about customers or potential clients all on the same board.
Integrate the tools you love: Keep all your data in the same place and continue using the tools you love. We offer

more than 40 integrations

that you can set up in a few clicks. Does your development team have a functioning tech stack? They can continue working with the tools they love, right from inside monday.com.
Create, collaborate, and share documents: With one of our newest features—monday workdocs—any team can create notes, collaborate on brainstorming documents, or pitch ideas on one document, all without needing to leave monday.com. Design can utilize this feature to create mockups of marketing or sales materials, internal designs, and more.
We've gone over features, but what about the other make-or-break consideration when deciding between a robust Work OS or a project management software?
Continue on below for a pricing deep dive.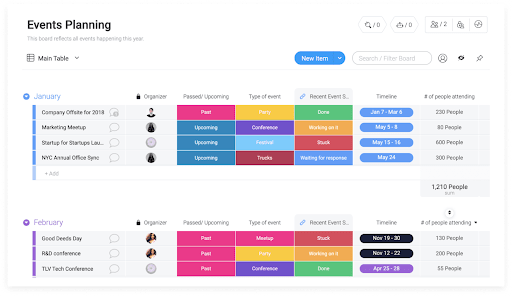 Asana pricing: different plans for different needs (and pockets)
Basic: For individuals or small teams of less than 15 people, Asana offers their most basic plan as a free version "forever," and includes unlimited storage, access to its iOS and Android mobile apps, and unlimited projects.
Premium: Asana's premium plan costs $10.99 per user per month, and grants access to forms, dashboards, and inviting unlimited free guests.
Business: Asana's business plan sets teams back $24.99 per user per month, offering advanced integrations with Salesforce and Adobe, and customizable forms.
Enterprise: There aren't huge differences between the business and enterprise plans, except that the Enterprise plan includes user provisioning & de-provisioning (SCIM) and priority support. The cost of Asana's Enterprise plan is not listed on their website.
monday.com pricing: from free to tailored enterprise plans, there's something for everyone's budget and needs
Our pricing operates on a "price-per-seat" model. How much you pay will depend on how many seats you need, what features you're looking for, and whether you want to pay annually or monthly.
monday.com's Individual tier is a forever-free plan that includes all of the Basic plan's features (keep reading to learn more). This plan is great for individuals who want to keep track of their work. The Individual plan has two seats and the ability to create 200 items.
You can access it upon completing the 14-day trial free trial, no credit card needed.
Get started
Basic plan:
This $8 per user per month plan is designed for solopreneurs and smaller businesses. Basic users get access to the following features:
The ability to create and share customizable forms
Dashboards (1 board per dashboard)
Unlimited free viewers
iOS and Android apps
Standard:
If you have a small-medium-sized team, this one's waiting for you. Along with every feature our Basic plan includes, the Standard plan costs $10 per user per month and also includes:
Timeline and calendar views
Advanced search functionality
Automations (250 actions per month)
Integrations (250 actions per month)
Up to three boards per dashboard
The ability to share boards with guests
Pro plan:
Here's what you get inside Pro for $16 per user per month (on top of everything in Basic and Standard, of course):
Private boards
Chart views
Time tracking
A formula column
Automations (25,000 actions per month)
Integrations (25,000 actions per month)
Up to 10 boards per dashboard
Enterprise plan:
Available for large organizations in need of enterprise-grade project management solutions and security. Enterprise has every feature from the other plans, plus:
Enterprise-

grade security & governance



250,000 automations per month
Advanced analytics and reporting
Multi-level permissions
Our tailored onboarding process
Up to 50 boards per dashboard
Priority support
Not sure which one of our pricing plans is right for you? Check out our pricing page to play around with the different pricing options and find the perfect option to fit your team and budget.
The best software are affordable, feature-rich, and flexible. What else should a top-shelf Work OS or PM software have? Great support.

Asana customer support—contact them via email and chat
Unlike competitors, Asana does not offer support by phone. For those comfortable reaching out virtually, Asana provides ways customers can get in touch through email and chat support. Unfortunately for free users though, it's restricted to Premium, Business, or Enterprise accounts.
Beyond email and chat, Asana has ways customers can help themselves with an FAQ page, a knowledge base, and videos for troubleshooting.
monday.com support—help anytime, anywhere, on any plan
At monday.com, we take our customer support very seriously, which is why we guarantee our customers 24/7 support, every day of the year.
Aside from phone support, monday.com customers can also receive help through email, a contact form on the website, a community forum, knowledge base, and videos.
Here's what one G2 reviewer said
In-app notifications, training, help, and support are the best I've seen in a software product. You can track what is new to monday.com (and easily enable beta features if you'd like), setup training workspaces, react to new developments all in app.
Let's review— Asana vs. monday.com, what are the differences?
With monday.com, you have access to flexible building blocks like integrations, automations, Views, and Dashboards that allow you to build a customized workflow for any team and any function—not all of which are offered by Asana.
monday.com offers the following:
More features and views options than Asana offers
24/7 customer support with an average response time of less than 60 minutes
Hundreds of ready-made templates
The ability to create, customize, and share forms with your team members and clients
40+ high-quality integrations
And much, much more!