We'll get right to it – you're here because you've done your research and want to know the best fit for your company: Asana or monday.com.
Asana's work management platform facilitates team collaboration and project management. On the other hand, monday work management — built upon the intuitive monday.com Work OS — enables teams to build cross-departmental workflows and execute projects faster. Both are great options, but which is the best one for you?
In this guide, we'll compare both platforms' features, pricing plans, and customer support, so you can decide which platform is best for you.
Asana vs. monday.com: at a glance
Here's a quick overview of each platform to give you the key information you need. For a more detailed breakdown of each tool, keep on scrolling down.
Asana
monday.com
Pricing
Free basic plan with paid plans starting at $10.99/user/month
Forever free plan with premium plans starting at $8/seat/month
Features
Views
Reporting
Workload
Automations
Dashboards
Views
Collaboration
Automations
Integrations
100+
72+
Ease of use
8.6/10 from G2 reviewers
9.0/10 from G2 reviewers
Support
Email and chat only
24/7 phone, email, and chat
Customer reviews
4.3/5 on G2
4.7/5 on G2
But to really understand the difference between a project management platform and a Work OS, we need to break down each platform's features.
Asana vs. monday.com: features
Both work management platforms help teams organize, plan, prioritize, and track tasks and projects. While Asana positions itself as a task management tool, monday.com enables organizations to build cross-departmental workflows and efficient processes. Let's take a look at each platform's standout features.
Asana features
Asana enables teams to collaborate on tasks, break down large tasks into subtasks for easier management, and organize their work in one place.
Views
Asana includes various views — such as List, Timeline, Calendar, Kanban boards, and Gantt charts — to help teams manage projects efficiently. Users can see which tasks to prioritize, manage overlapping and unscheduled tasks, and keep work on track as things change.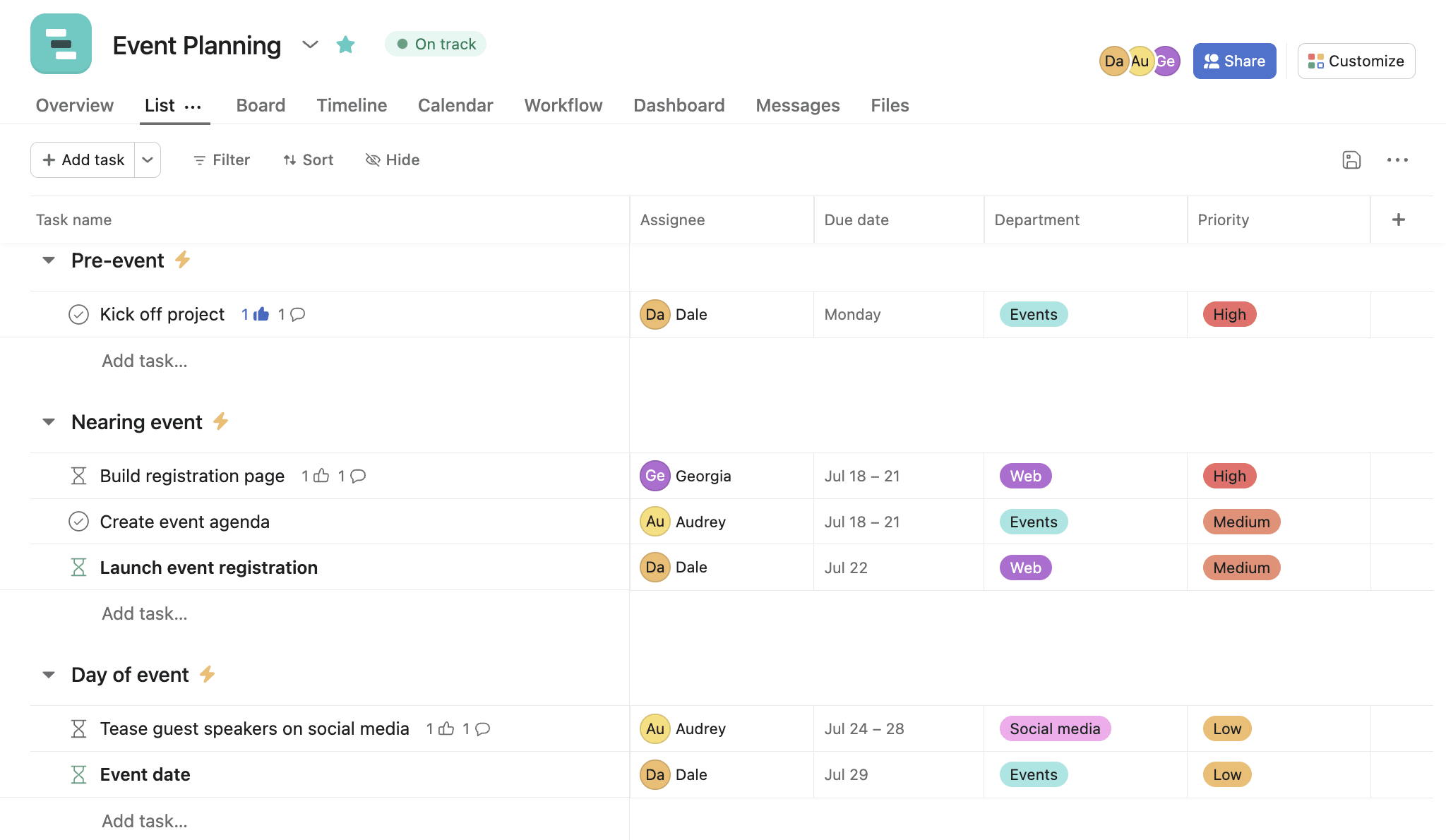 Reporting
Asana's universal reporting lets you track team performance and monitor the status of tasks in real-time. You can gauge project progress, troubleshoot problems, and keep work on track in one place.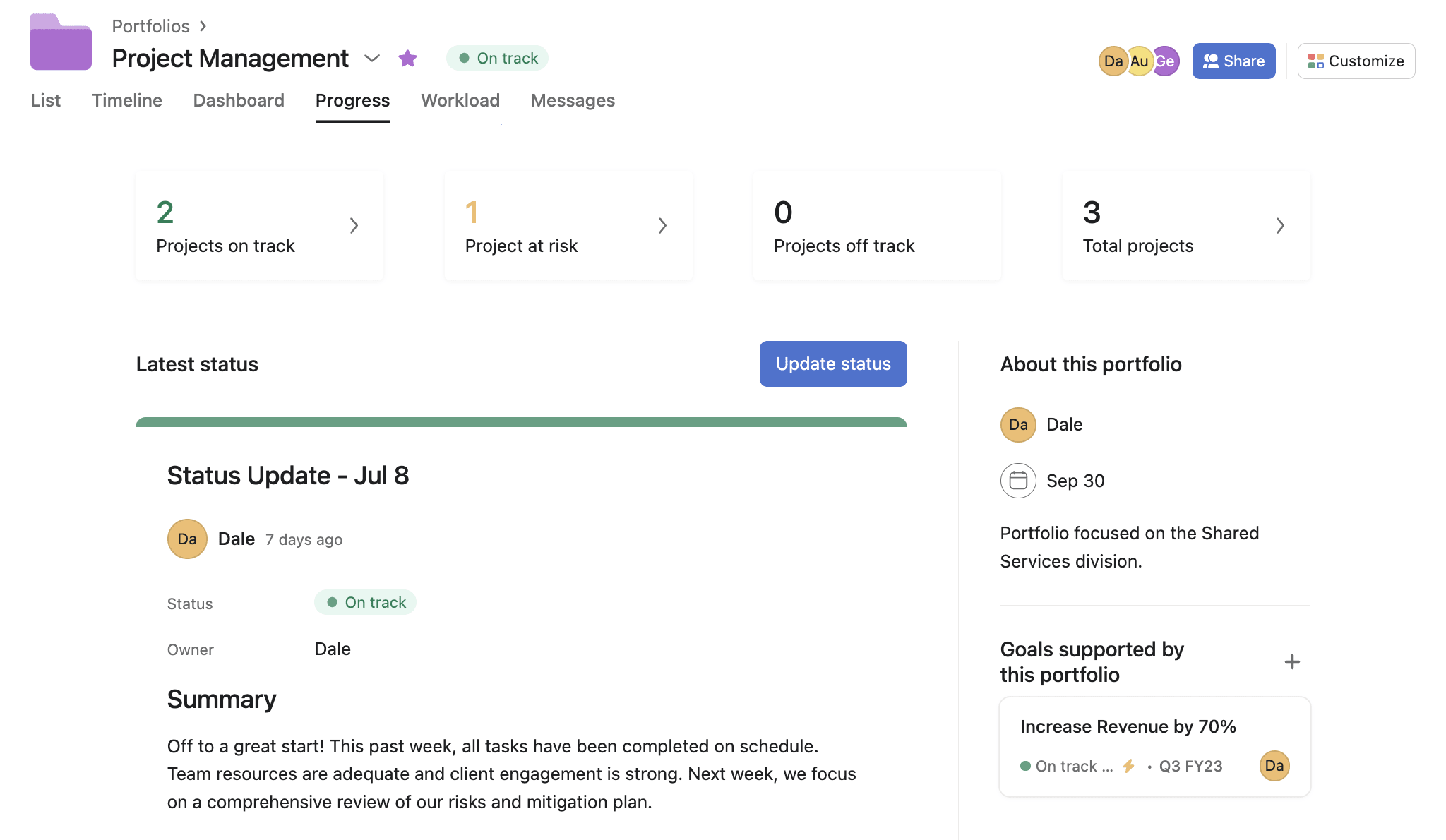 Workload
Asana's Workload feature lets you check how busy team members are across projects in one central view. Users can set restrictions on team members' workloads and ensure no one is underworked to keep projects on track.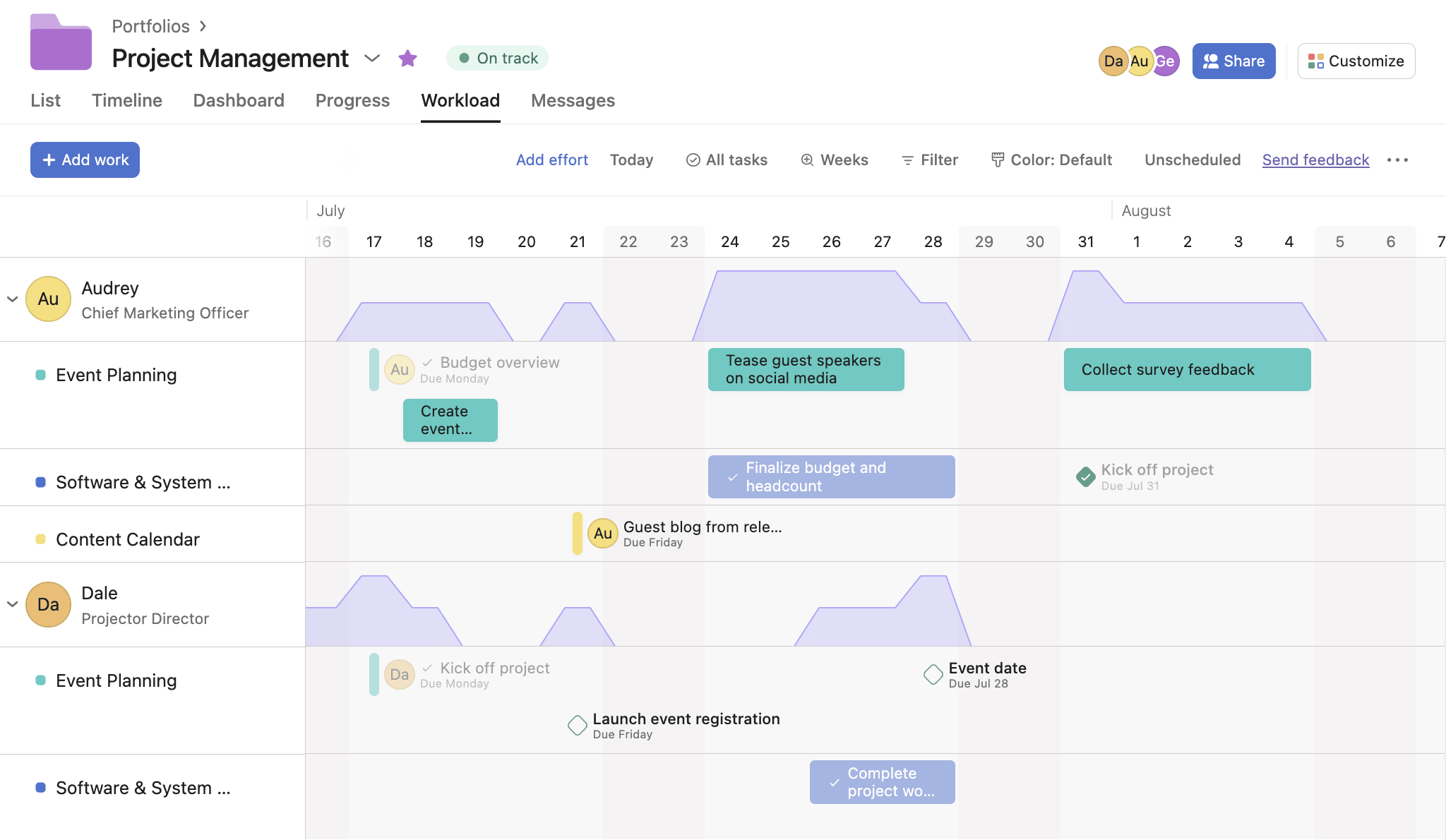 Automation
Asana's suite of Automation features allows you to create custom rules to automate routine tasks, simplify workflows, and reduce errors.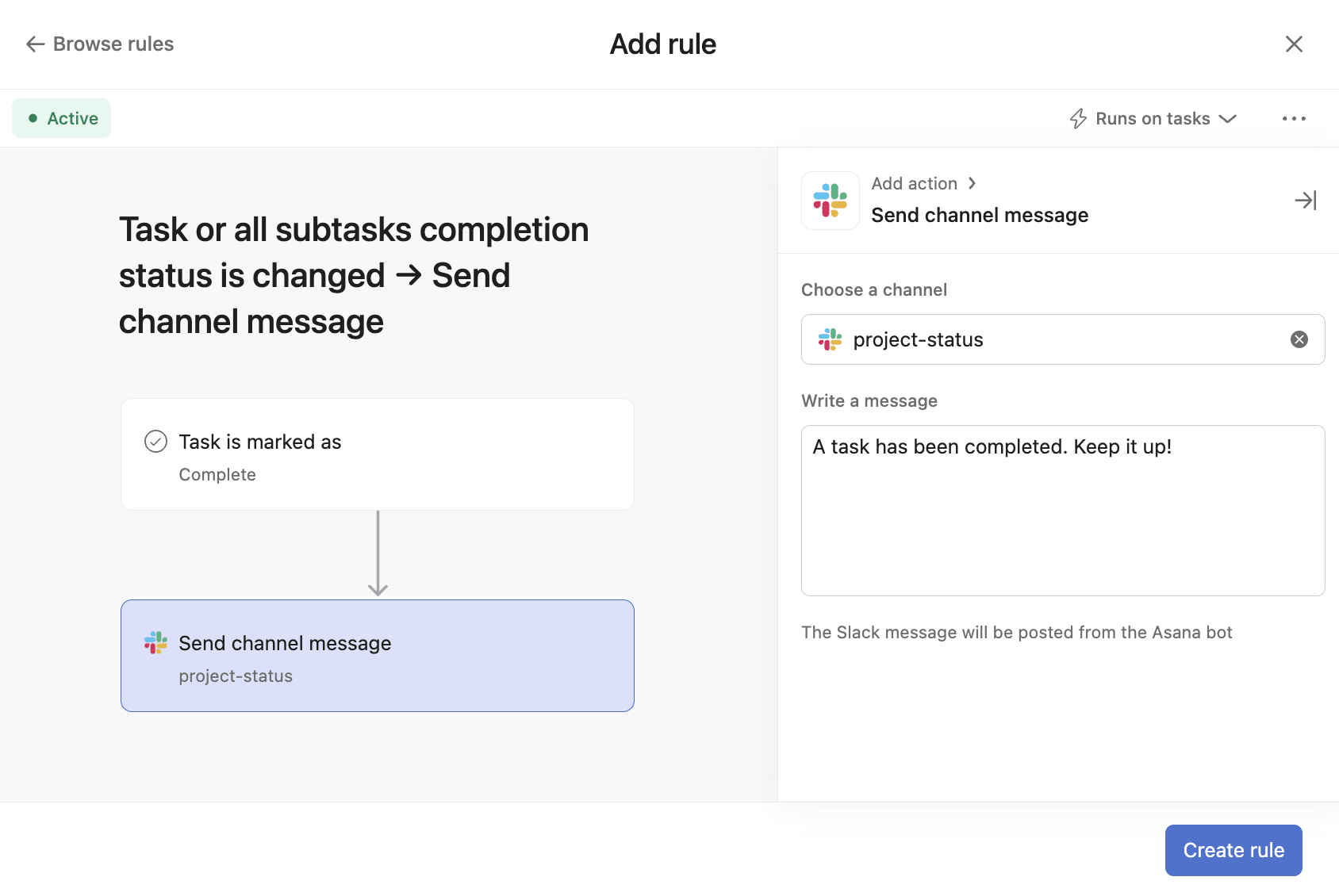 Related: Asana project management, Asana work management
monday.com features
Because monday.com allows organizations to build their own products — be it a hiring pipeline for HR or a supply management solution for IT — its features are simple to use, set up, and master.
Dashboards
See the status of your projects at a glance with clear, visual, and intuitive project dashboards to stay on track and reach your goals. Easily create summaries and reports, and get a high-level view of your work to make data-driven decisions.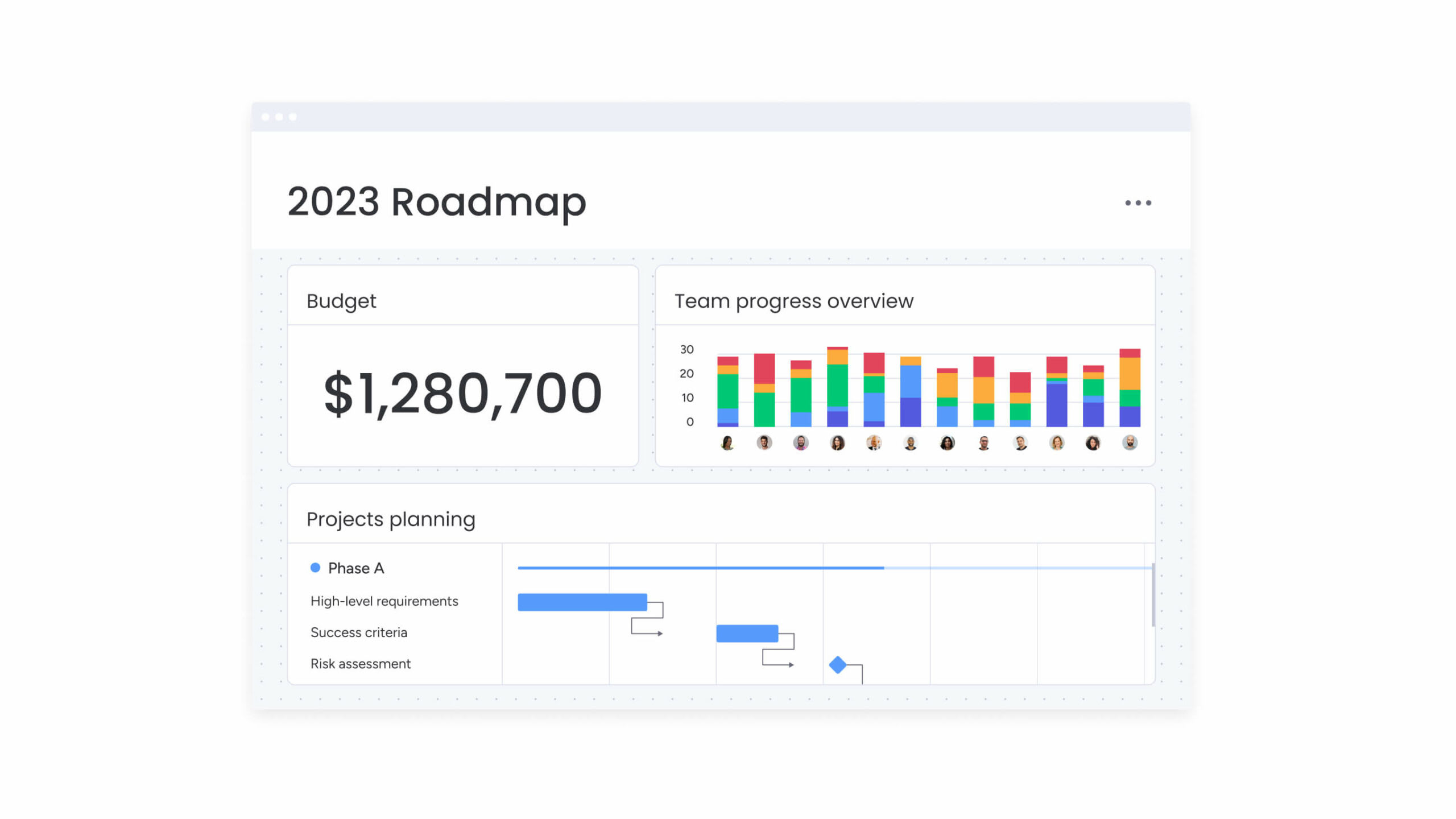 Views
monday.com offers 27+ views, including Kanban, Gantt, Calendar, Timeline, Map, and Chart Views, for a holistic overview of your projects from any angle.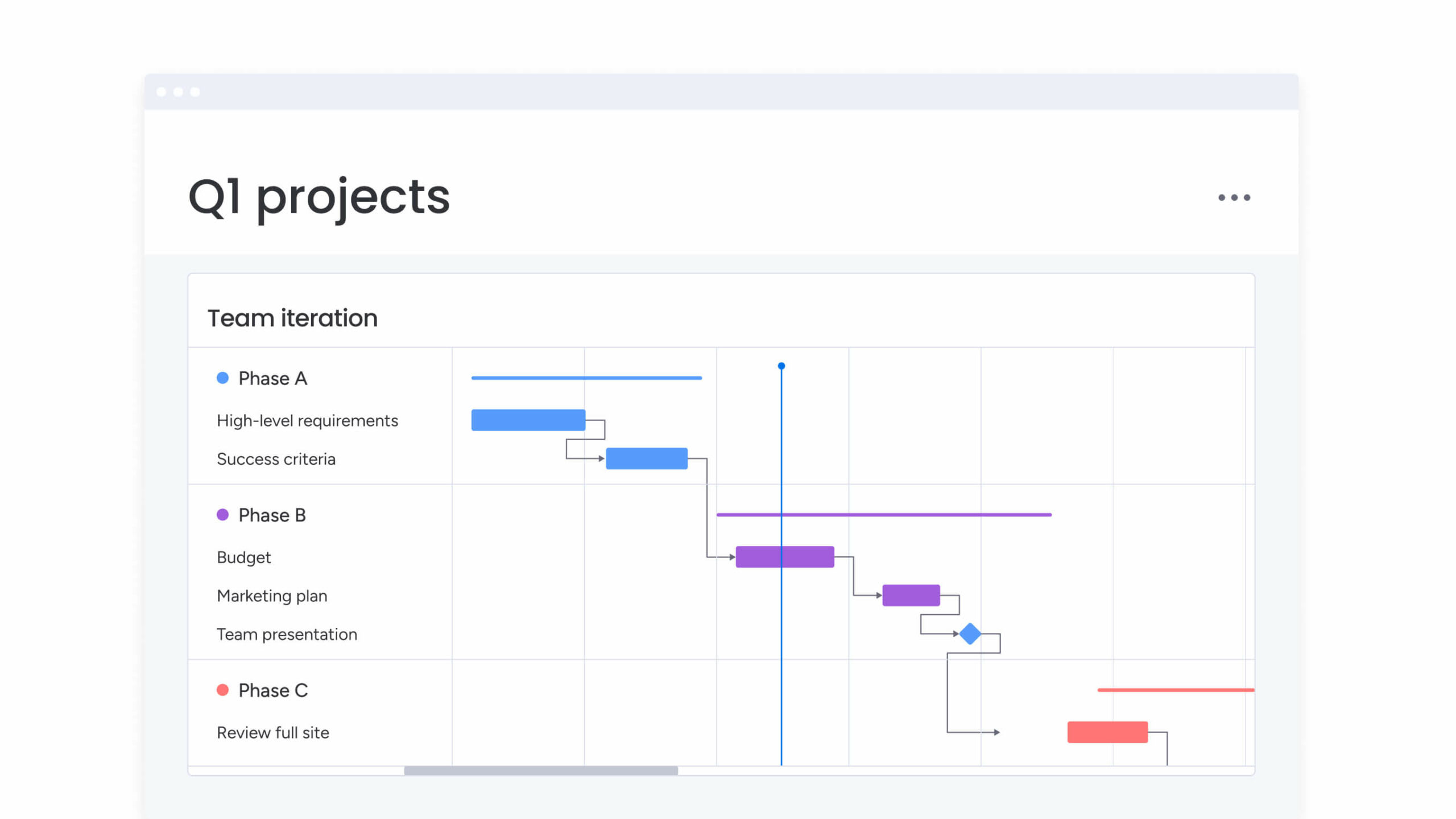 Automations
Save time by automating repetitive and mundane tasks in seconds, so your team can focus on the work that really makes an impact. For example, send automatic reminders or start time tracking when a project status changes.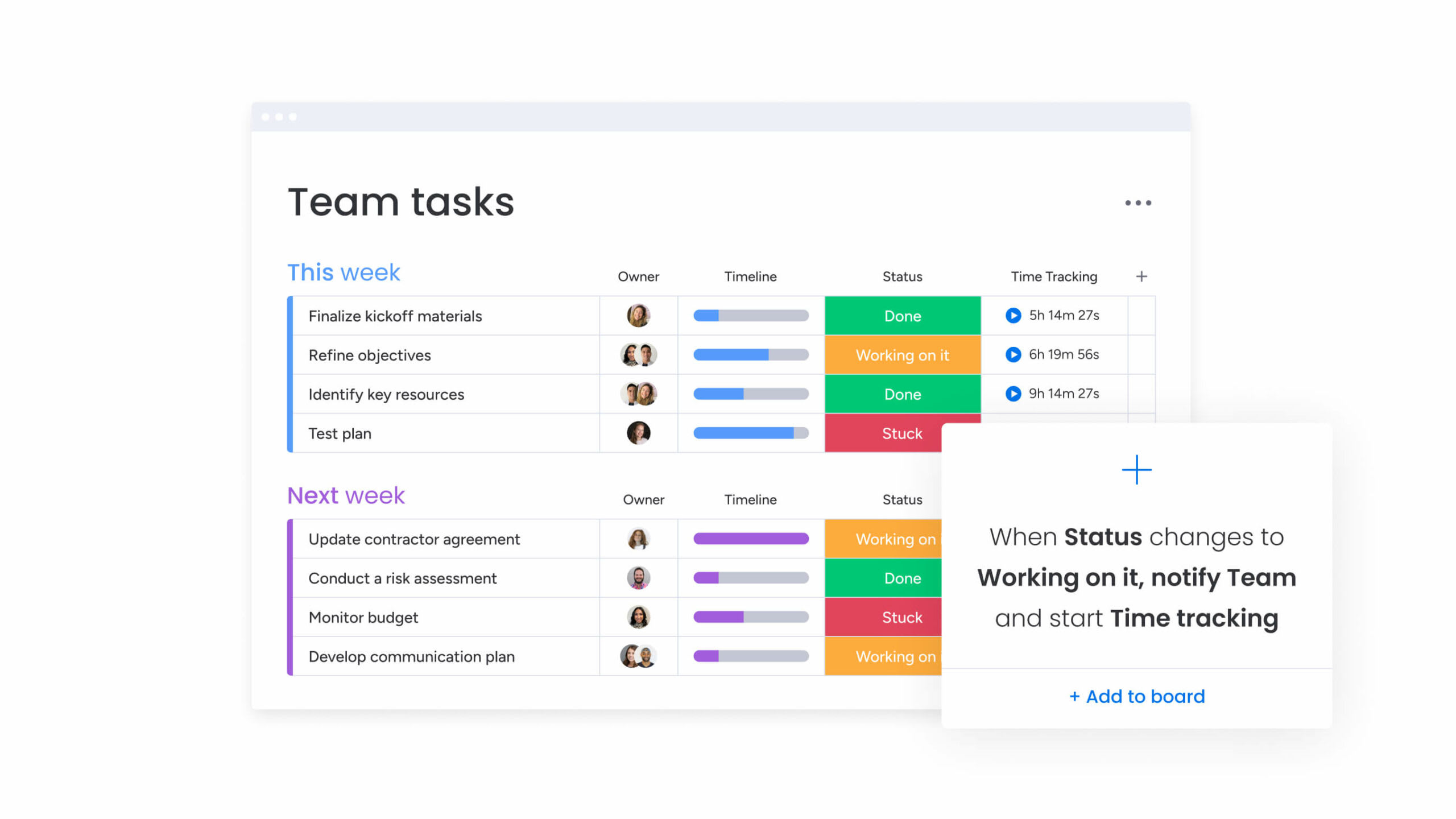 Collaboration
monday.com eliminates the need for painfully long email threads and unnecessary meetings. All communication and files are centralized in one place and kept within the context of your work, so you never miss any critical information.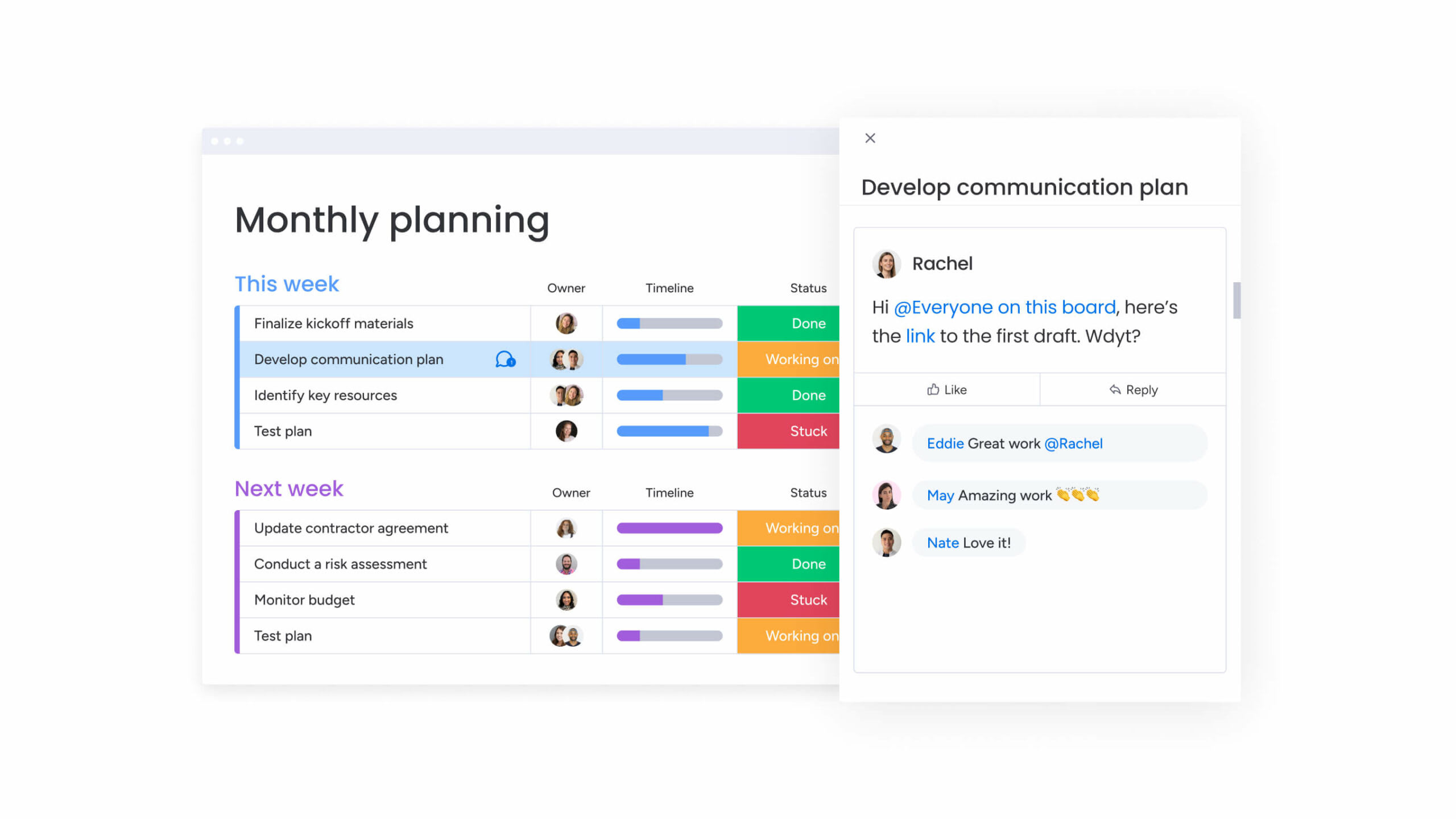 Get started
Asana vs. monday.com: integrations
Asana and monday.com both extend their functionality by integrating with other tools you already use.
Asana integrations
Asana integrates with over 100 products, like Slack, Adobe Creative Cloud, and Vimeo, so you can work on every project in one place.
monday.com integrations
Integrate with the tools you love in a few clicks and keep all your data and information updated in one place. Connect your data with 70+ tools across departments so everyone can access the same data quickly and efficiently, focus on their strategic work, and stop switching between apps.
Asana vs. monday.com: pricing
Check out the following options to see what Asana and monday.com offer in their pricing plans.
Asana pricing
Asana offers four pricing plans, including a free basic plan and two premium plans with a 30-day free trial to test the functionality. Let's take a look at what features you get in each one.
Basic
Asana's free Basic Plan suits individuals or small teams of less than 15 people just starting with project management who want to manage tasks and personal to-do lists. It includes:
Unlimited tasks, projects, and messages
Unlimited storage and activity log
List, board, and calendar views
Project Overview and Brief
100+ free integrations
iOS and Android apps
Premium
Asana's Premium Plan — from $10.99 per user per month (billed annually) — enables teams to create and track projects confidently. It includes everything in the Basic package, plus:
Timeline
Workflow Builder
Milestones
Forms
Unlimited dashboards
Advanced search and reporting
Business
Asana's Business Plan — from $24.99 per user per month (billed annually) — allows teams and companies to manage work across multiple projects. It includes all the Premium features, plus:
Portfolios
Goals
Workload
Custom rules builder
Forms branching and customization
Time tracking
Advanced integrations
Enterprise
Asana's Enterprise Plan — contact sales for a custom quote — caters to larger organizations that need centralized visibility, control, and support. It includes advanced admin and security features, such as:
Security Assertion Markup Language (SAML)
User and group provisioning and de-provisioning (SCIM)
Audit Log API (built to support SIEM)
Data loss prevention (DLP) and export
Cross-regional backups
24/7 support
Related: Asana pricing
monday.com pricing
monday.com offers four premium pricing plans and a 14-day free trial (no credit card required) to test all its features. Pricing operates on a "price-per-seat" model. How much you pay will depend on how many seats you need, what features you're looking for, and whether you want to pay annually or monthly.
Basic
The Basic Plan — from $8 per seat per month (billed annually, min 3 seats at $24/month) — lets solopreneurs and small teams organize their tasks in one place and create a dashboard based on one board. It includes everything in the Individual package, plus:
Unlimited items, docs, boards, and free viewers
200+ templates
35+ column types
Kanban view
Prioritized customer support
iOS and Android apps
Standard
The Standard Plan — from $10 per seat per month (billed annually, min 3 seats at $30/month) — enables medium-sized teams to collaborate and optimize their team processes and create a dashboard that combines up to 5 boards. It includes everything in the Basic package, plus:
Timeline, Gantt, and calendar views
Advanced search functionality
Guest access
Automations (250 actions per month)
Integrations (250 actions per month)
Pro
The Pro Plan — from $16 per seat per month (billed annually, min 3 seats at $48/month) — allows you to streamline and run your teams' complex workflows and create a dashboard that combines up to 10 boards. It includes all the Standard features, plus:
Private boards and docs
Chart view
Time tracking
Formula column
Automations (25,000 actions per month)
Integrations (25,000 actions per month)
Enterprise
The Enterprise Plan — contact monday.com for a custom quote — lets you create a dashboard that combines up to 50 boards and caters to larger organizations requiring more advanced solutions and security, such as:
Enterprise-grade security and governance
Enterprise-scale automations and integrations
Advanced reporting and analytics
Multi-level permissions
Tailored onboarding
Premium support
Not sure which one of these packages is right for you? Check out the monday.com pricing page to find the perfect option for your team and budget.
Asana vs. monday.com: ease of use
While neither Asana nor monday.com is especially difficult to use, they may be challenging for some users. Here's a closer look at the usability of each one.
Asana ease of use
Asana users note that the software is straightforward to use and understand, as the colors, grids, and toggles help you find your way around. It has all the essential project management features, and the mobile app makes information available on the go.
On the other hand, some users said it takes time to get up to speed on the software. According to an Asana user on TrustRadius, the software "was not as intuitive to understand and start using" as expected.
Users unfamiliar with the platform might need help getting started, but once they get the hang of it, Asana is relatively user-friendly. Still, other users felt Asana needed an easier way to "link hierarchical tasks, projects, and their dependencies."
monday.com ease of use
monday.com users note that the software is intuitive and user-friendly, even if you're not particularly tech-savvy. They find it easy to navigate the platform and use the features, plus the library of 200+ templates helps users to get started quickly.
Of course, new users might encounter a few hurdles. But according to one monday.com user on TrustRadius, the Support Team is "extremely quick to respond if you've ever got an enquiry that the support articles don't immediately answer." Elsewhere on TrustRadius, another user said monday.com is the "easiest, most comprehensive, and most customizable" platform.
Get started
Asana vs. monday.com: support
The best software is affordable, feature-rich, and flexible. But a top-notch project management platform also needs great support.
Asana customer support
Unlike competitors, Asana does not offer support by phone. For those comfortable reaching out virtually, Asana allows customers to get in touch through email and chat support. Premium customers can also access the Asana Academy, customer success webinars, knowledge base, and troubleshooting videos.
monday.com support
At monday.com, all customers get 24/7 support every day of the year, anytime, anywhere. Aside from phone support, customers can also receive help through email, a contact form on the website, a community forum, a knowledge base, and videos.
Asana vs. monday.com: customer reviews
A great way to determine whether a piece of software suits your business is to find out what other customers say about it on review and comparison sites like G2 and TrustRadius. Asana and monday.com both score well on these sites, with monday.com garnering the highest rating.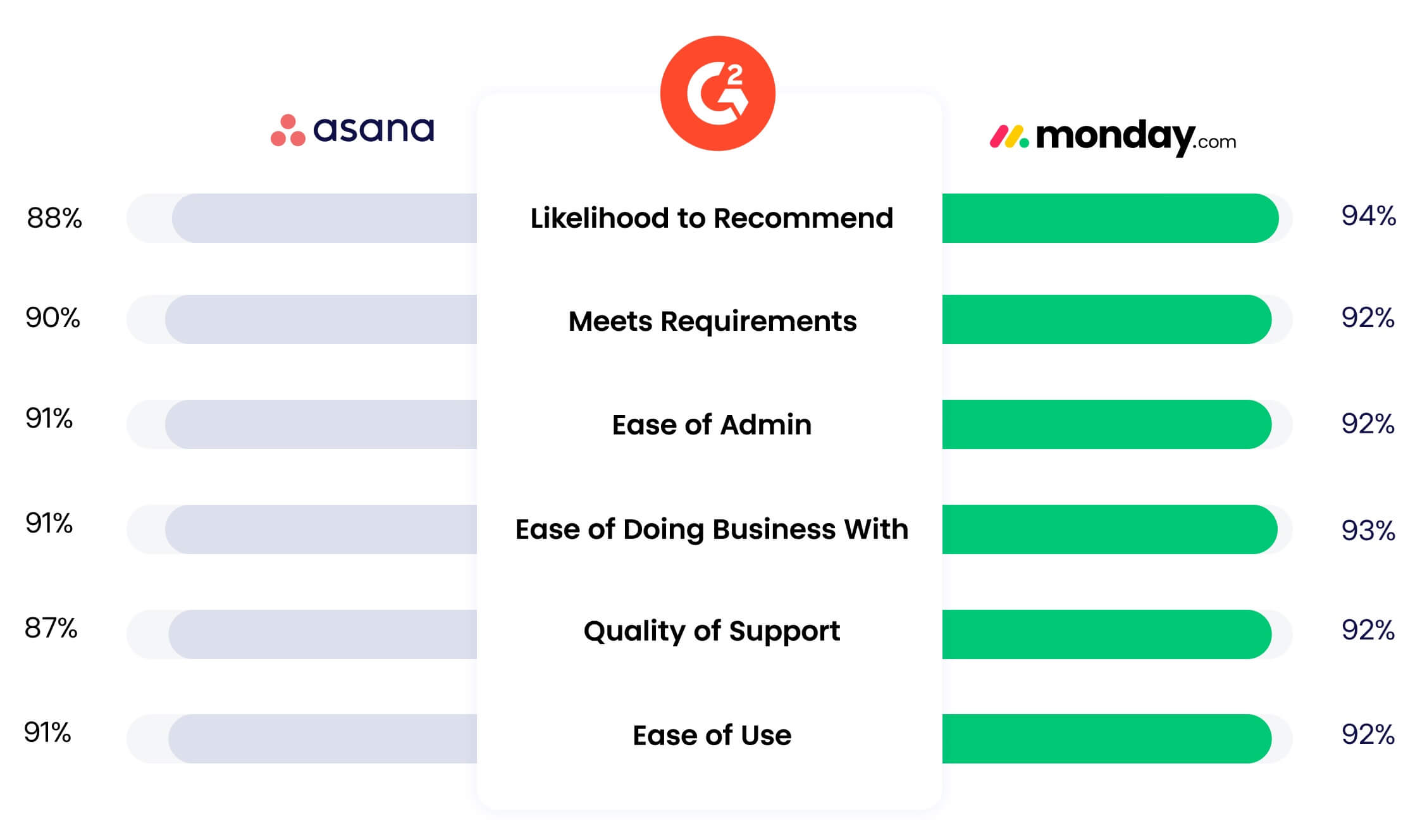 Asana customer reviews
G2 review: 4.3/5 based on over 9,000 reviews
Here's what one G2 reviewer said about Asana support:
"Asana always keeps up to date in terms of tracking tools for all my projects and tasks in one place. The customer support is relatively fast and they answer our questions accurately and directly."
monday.com customer reviews
G2 review: 4.7/5 based on over 7,000 reviews
Here's how one G2 reviewer rated monday.com support:
"In-app notifications, training, help, and support are the best I've seen in a software product. You can track what is new to monday.com (and easily enable beta features if you'd like), set up training workspaces, and react to new developments all in the app."
Get started
Asana vs. monday.com: which is the right tool for you?
Both Asana and monday.com offer impressive features to manage projects, track tasks, collaborate across teams, and generate reports.
Asana's free plan is a great starting point for small teams with unlimited tasks and projects. It also includes 100+ software integrations with unlimited actions, so it's easy to sync with your other essential apps.
But for larger teams, the premium Pro plan from monday.com ($16/seat/month) is superior to Asana's Business plan ($24.99/user/month). The robust work management platform gives you access to flexible building blocks like integrations, automations, and dashboards, allowing you to build a customized workflow for any team and function.
Plus, you get more features, like column types, view options, hundreds of ready-made templates, and 24/7 customer support on all pricing plans.
G2 reviewers rated monday.com better than Asana for meeting their business needs and having better ongoing product support. Reviewers also preferred the direction, feature updates, and product roadmaps offered by monday.com over Asana.
Now that you have all the information on Asana and monday work management, which will you choose? Will you go for a fully customizable platform that scales with you as you grow? Or opt for a tool that covers the basics, but doesn't necessarily have all the flexibility you need?
Get started
Related articles: Asana alternatives, Asana vs. ClickUp, Asana vs. Jira, Asana vs. Wrike, Asana vs. Airtable, Asana vs. Trello, Asana vs. Smartsheet, monday.com alternatives
FAQ
What is Asana?
Asana is a work management platform to improve team collaboration and project management. Founded in 2008 by former Facebook executives, Asana aims to "help everyone track their work" by providing one place to manage projects, focus on what's important, assign tasks to team members, set deadlines, and organize work in one place for seamless collaboration.
What is monday.com?
monday.com is a Work Operating System (Work OS) – an open platform where teams can create solutions to become more agile, get more done, and grow with the business. The cloud-based software allows teams to create custom workflows to plan, run, and track processes, projects, and everyday work.
Organizations and teams of all types and sizes can benefit from the monday.com Work OS. For instance, a sales team could build a CRM, marketing could use it to plan campaigns, and developers could use it to track bugs.