Asana and Trello have almost become household names when it comes to project and task management. While both platforms offer helpful features that allow teams or individuals to track the progress of various tasks and projects, when you look closer, it's easy to see where they differ.
Both of these popular platforms present solid options for teams shopping around for a project management solution. Still, depending on the types of projects you're working on, your team's skill level, and your company's needs, you might be better off with one over the other (or a different solution entirely).
In this post, we've compared Trello and Asana side-by-side to save you time while shopping around. We'll also look at another project management platform, monday.com, and see how it merges the best of both Trello and Asana.
Get started
Asana vs. Trello: At a glance
In a rush? Get a quick look at the key details of each work platform below.
Asana
Trello
Pricing
Free basic plan, paid plans from $10.99/user/month
Free basic plan, paid plans from $5/user/month

Features
Workflow management
Automations
Workload distribution
Timeline & board views
Goal setting
Kanban-style boards
Checklists
Butler tool for automations
Customizable cards
Multimedia attachments
Integrations
200+
200+
Customer support
Several support options and resources, overall good customer service reviews
Levels of support depend on plan with customer support and quicker response times available on higher-tiered plans
Ease of use
Relatively easy to use but some users note that there's a learning curve for some new users
Very easy to use visual interface that can be used by anyone
Customer reviews
4.3/5 on G2
4.4/5 on G2
Trello vs. Asana: Features
Selecting the best project management tool for your needs comes down to the features it offers. While both Trello and Asana offer great project management features, there are some differences between the two. Let's take a look.
Asana features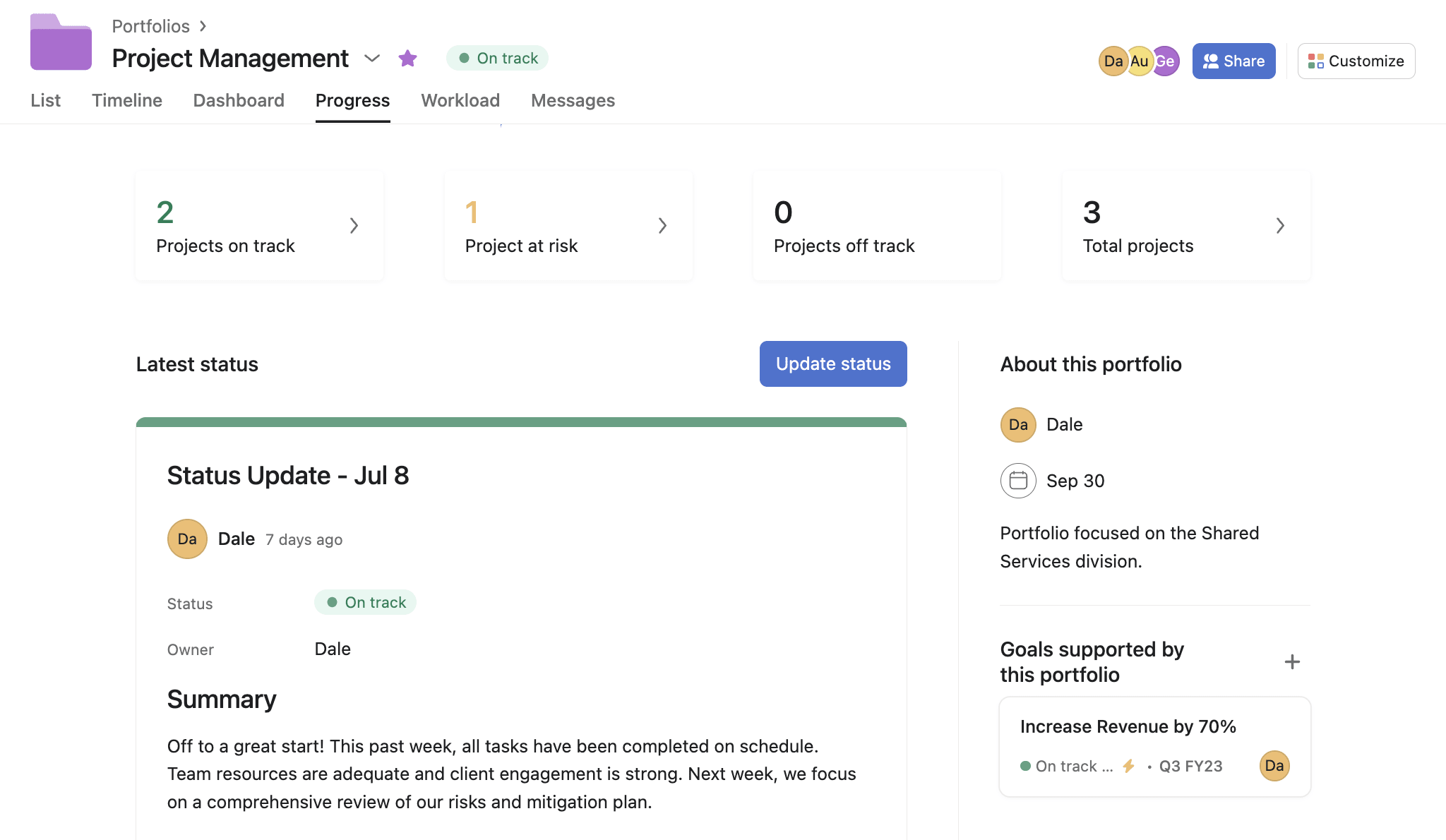 Asana is known for its task management capabilities that enable teams to organize and collaborate on projects efficiently. Teams can break down tasks into sub-tasks to make a project more approachable. Here are some of Asana's standout features:
Automations:

With Asana, teams can create rules that automate certain tasks, like auto-reminders, sorting tasks by due dates, or creating a Google calendar event for new tasks. 

Workflow builder:

With Asana, teams can build their own custom visual workflows using automations to create processes that connect teams and tasks.

Goal tracking:

Help your team align on company and project goals by setting them in advance and tracking their progress throughout a project's lifetime.

Visual workloads:

See exactly how much work each team member has in order to delegate tasks effectively and better estimate project progression.

Multiple project views:

Select different views, like timeline, calendar, Gantt, Kanban, or more, to allow each team member to visualize tasks as they'd like.  
Trello features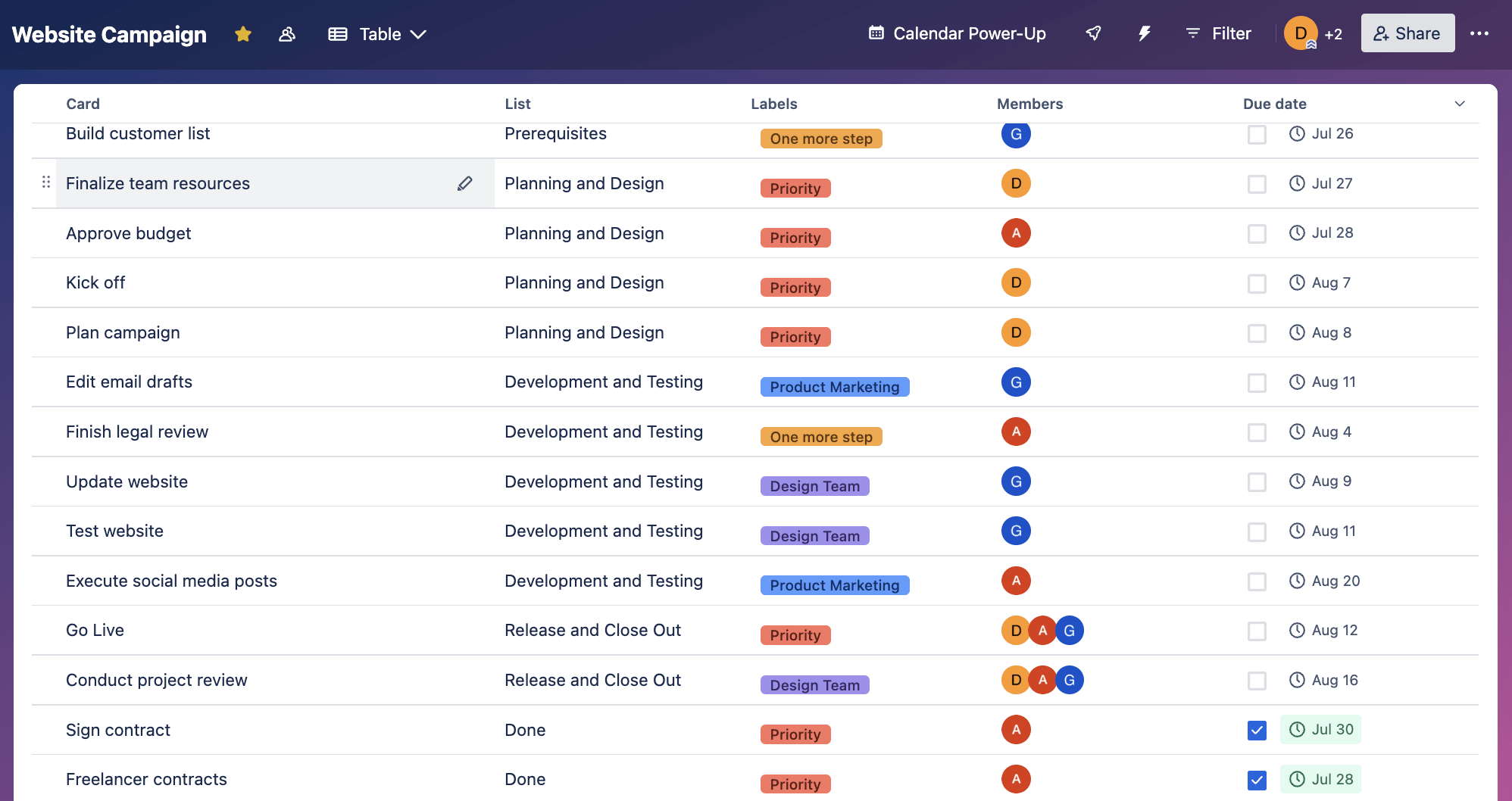 Trello's card-based boards echo a Kanban-style interface, making it great for teams who prefer this visual project management style. Trello's features focus on simplicity and ease as it appeals to a wide variety of users, though some teams may find it lacks the depth they need. Here's a look at some of Trello's best features:
Cards and boards:

Tasks are defined on individual cards represented on a board that can be moved through different columns as tasks progress. 

Card customizations:

Each card can be highly customized according to your needs with labels, prioritization, due dates, categories, tags, and more. 

Checklists:

You can add a checklist to every card in order to break down a task even further to include sub-tasks.

Attachments

: Users can add several attachments such as files, links, images, and videos to each card so that all project resources get stored in your Trello board.

Butler for automation: Using Trello's Butler tool, users can create no-code automations for their boards and integrations to work more efficiently and put tasks on auto-pilot.
Trello vs. Asana: Integrations
Integrations are essential to streamlining your project workflow. The right project management platform will be able to integrate your existing work tools so as not to disrupt your current workflow. Here's a look at the integrations offered by Asana and Trello.
Asana integrations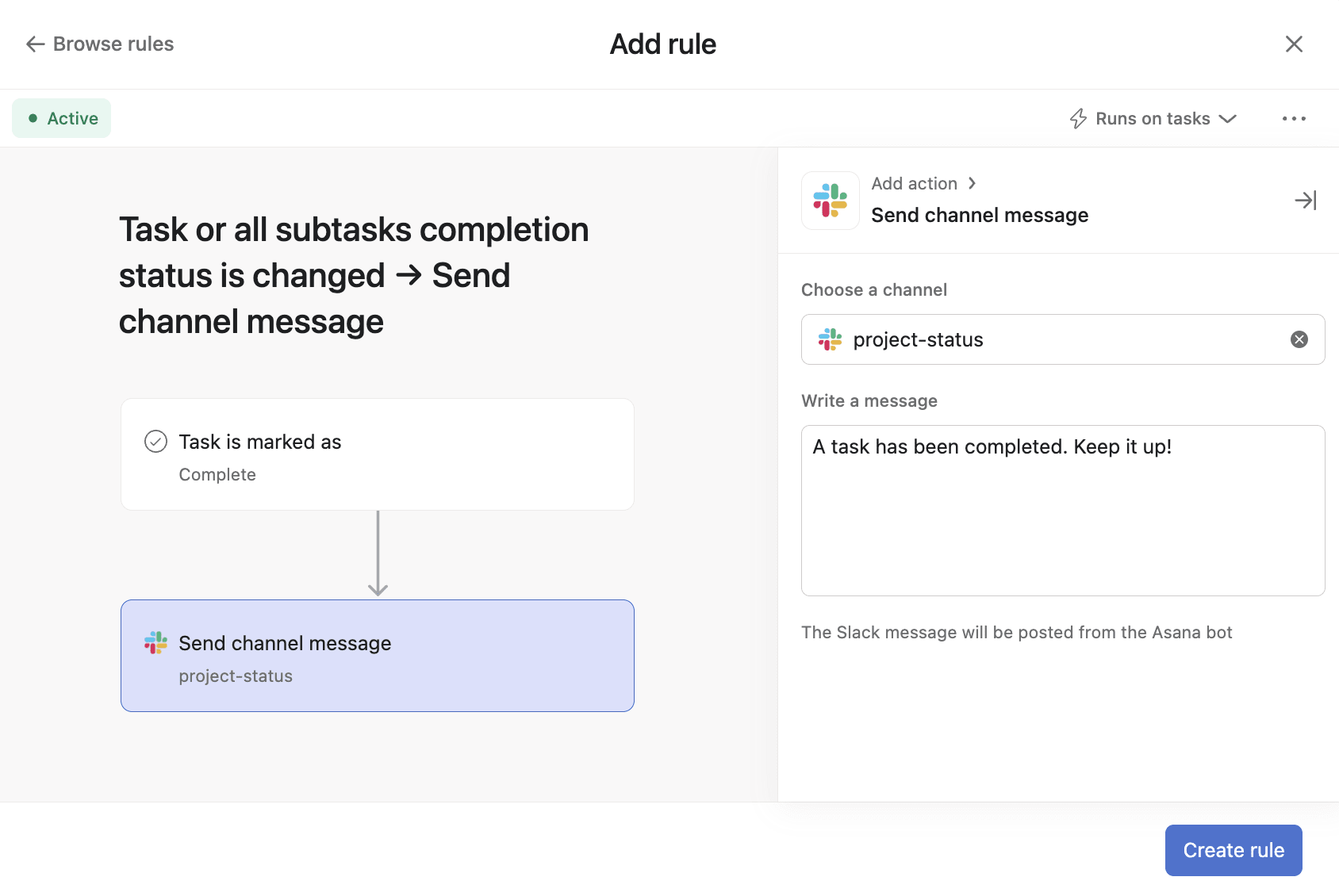 With 200+ app integrations to choose from, Asana offers users plenty of options. Users can integrate their existing work tools like Zapier, Loom, Microsoft Teams, and Slack, and create automations that trigger actions in these third-party apps. Additionally, there's also an integration for Trello, meaning teams can get the best of both platforms if they want to use both for different types of projects.
Trello integrations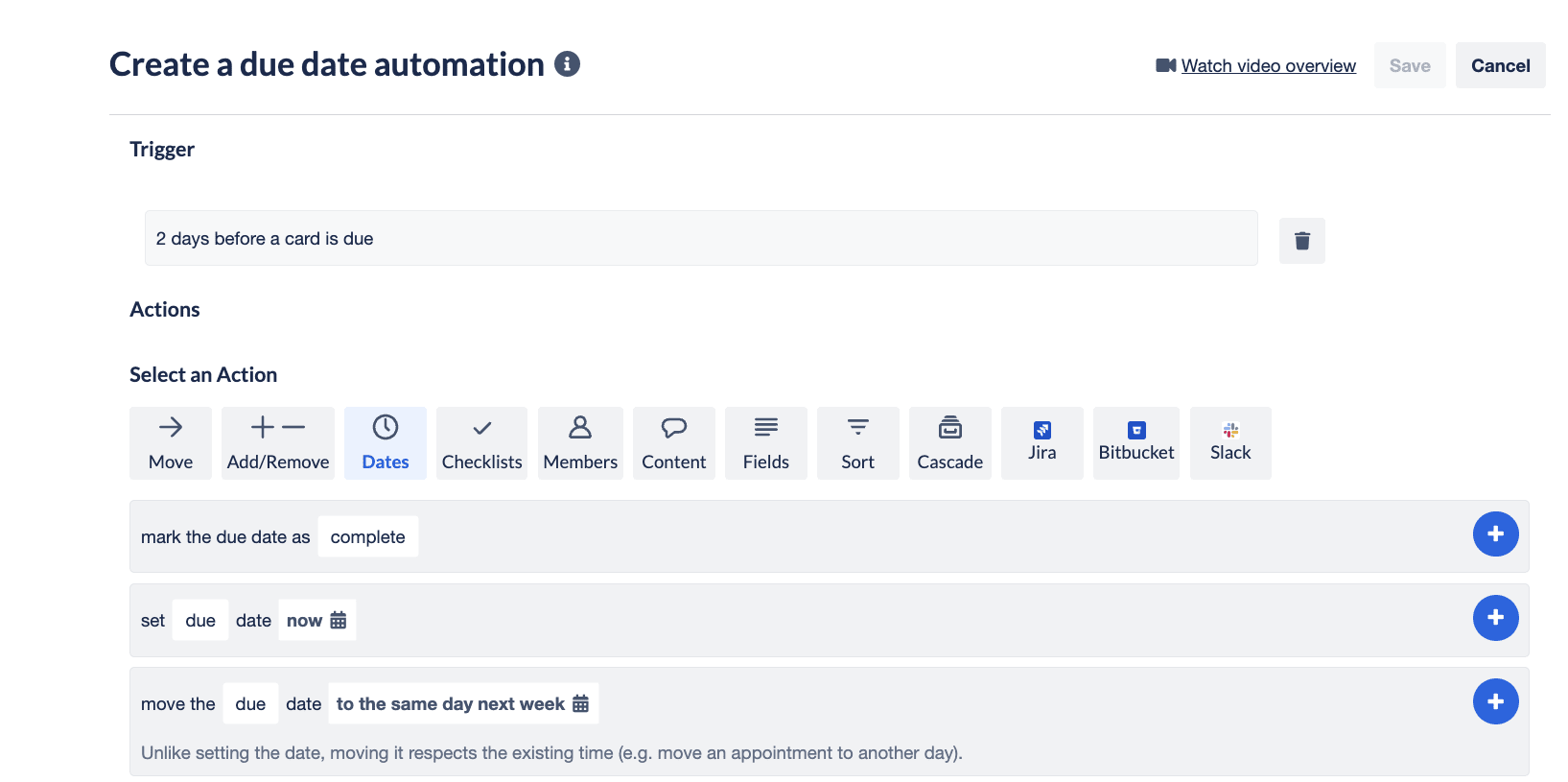 Trello's integrations are called Power-Ups and they allow users to connect with third-party apps to bolster productivity within the platform. There are over 200 available integrations to choose from, such as popular ones like Slack, Jira, Google Calendar, and more. Using Trello's Butler feature, users can create automations such as posting to Slack or creating Jira tickets instantly.
Trello vs. Asana: Pricing
Cost isn't everything when it comes to selecting the right project management tool, but it's definitely an important consideration. You don't necessarily need to look for the cheapest tool, but the one that brings your team the most value. Let's look at Asana and Trello's different pricing plans with a taste of what's included.
Asana pricing
According to Asana's pricing page, there are four different plans available:
Basic:

The Basic plan is free for individuals or teams of 15 or less. The Basic plan includes unlimited storage, three different project views, access to Asana's mobile apps, and an unlimited number of projects.

Premium:

Asana's Premium subscription, priced at $10.99/user/month, offers users access to forms, dashboards, and four project views, as well as the ability to invite an unlimited number of guests at no extra cost.

Business:

The Business plan clocks in at $24.99/user/month and includes more advanced features like integrations with apps like Salesforce and Tableau, advanced reporting, time tracking, and the option to create custom forms.

Enterprise:

Asana's Enterprise plan includes priority customer support along with user provisioning & de-provisioning. The cost isn't listed but is available via a custom quote.
Here's a more detailed overview of Asana's plans and pricing.
Trello pricing
On Trello's pricing page, there are four different plans to choose from as well:
Free:

Individuals and small teams can get a free forever plan that includes up to 10 boards per workspace, unlimited cards, unlimited Power-Ups, unlimited storage for files up to 10MB, and 250 Workspace command runs.

Standard:

Trello's Standard plan costs $5 per user/per month and is ideal for small teams looking for collaboration tools. It includes advanced checklists, custom fields, unlimited storage for files up to 250MB, and 1,000 Workspace command runs.

Premium:

From $10 per user/per month, the Premium plan includes extra work views, unlimited Workspace command runs, additional security and admin tools, data export, and more.

Enterprise:

The Enterprise plan costs $17.50 per user/per month and is ideal for larger organizations. It includes features like organization-wide permissions, public board management, Power-Up administration, advanced security and controls, and more.
Have a look at a more detailed breakdown of Trello's plans and pricing.
Trello vs. Asana: Ease of use
A project management platform's ease of use determines how user-friendly it is and how quick it will be for your team to adapt to a new work tool. While neither Asana nor Trello are difficult to use, the user-friendliness of each platform can be slightly different.
Asana ease of use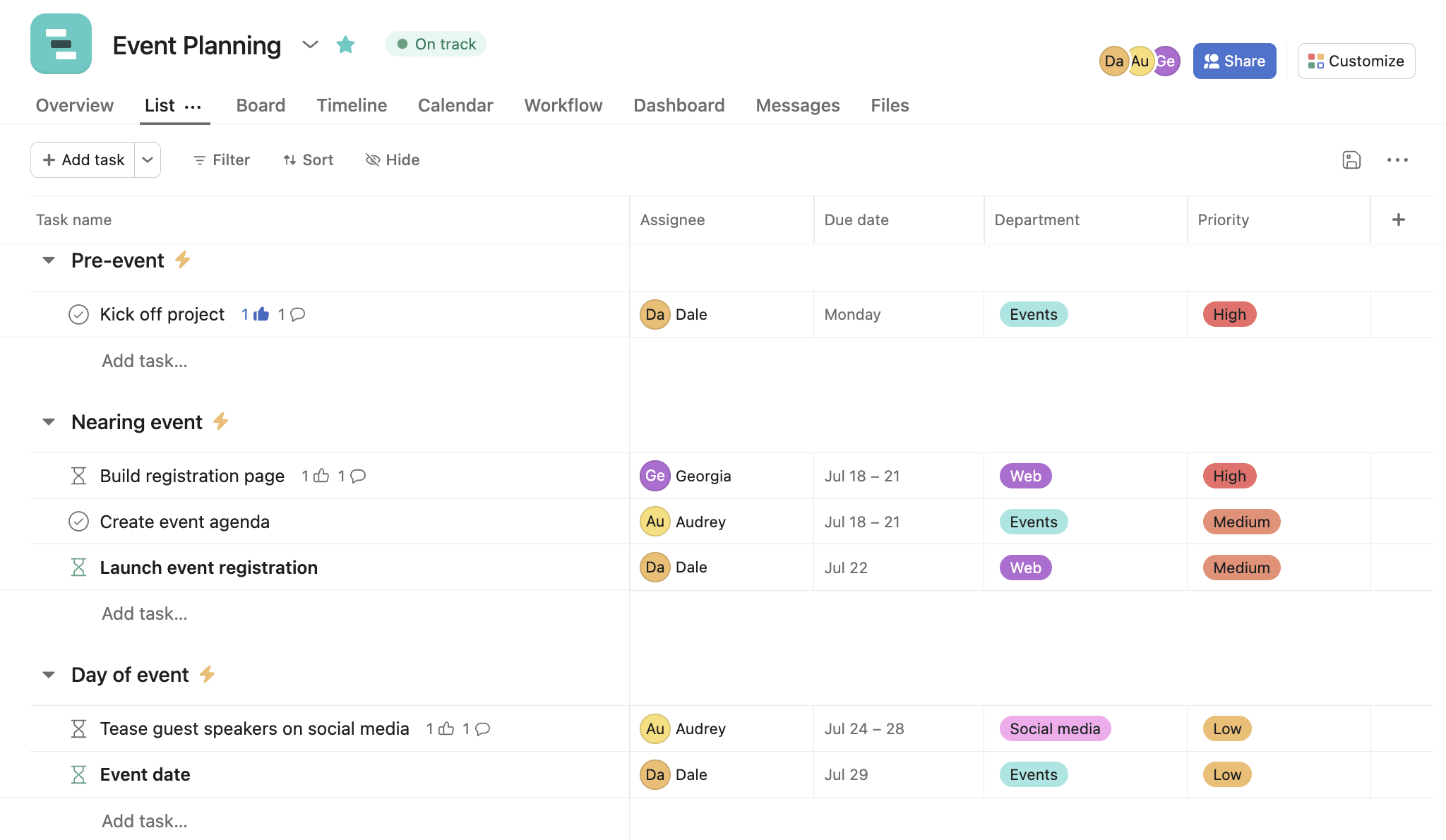 Asana is a functional platform that most users find has good project management features and is overall easy to use. That said, compared to Trello, there's likely to be a steeper learning curve simply because there are more features and capabilities to be learned. Additionally, according to some users, it can be challenging to manage more complex projects on Asana, but for most projects, users on Asana's TrustRadius review page report that the platform is "easy to use" and "packed to the brim with useful features."
Trello ease of use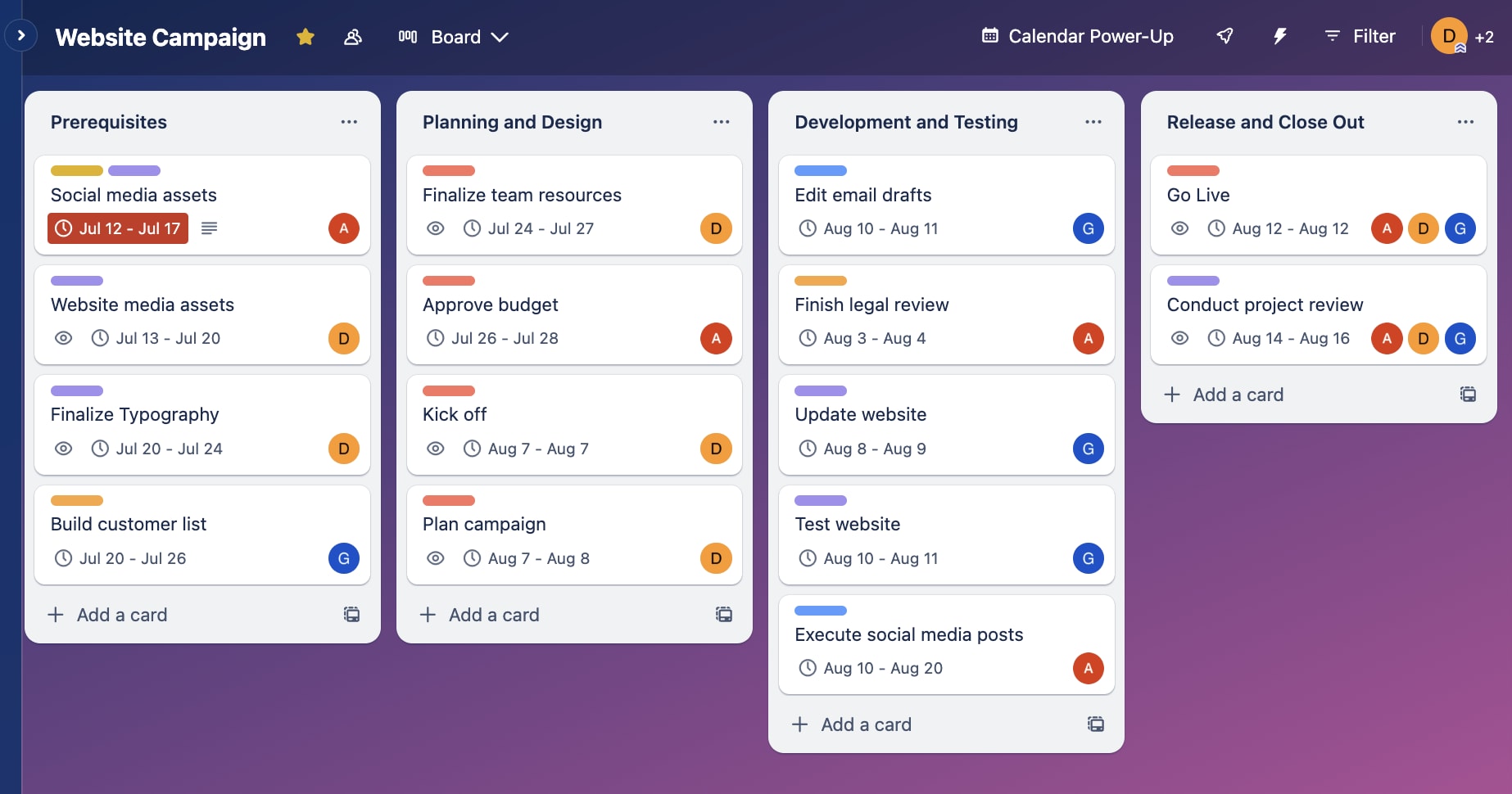 Trello is known for its simple user interface and visual approach, making it easy to use for anyone with little to no technological skills. Its Kanban-style boards make managing tasks and projects a breeze, and the platform isn't overloaded with too many features that can complicate things. On Trello's TrustRadius review page, users note that Trello's flexible interface "makes business goal and milestone planning easy" and also comment on how easy it is to integrate with third-party apps.
Trello vs. Asana: Support
Good customer support ensures your team can make the most of your chosen project management platform by offering assistance to make onboarding and adoption smoother. Here's a look at both Trello and Asana's customer support options.
Asana support
There are a few different options to get assistance from Asana, ranging from self-serving to agent support. With Asana, support is available through different channels:
Help center

Support form

Chatbot

Community forum

Courses, webinars, and training from Asana's Customer Success team

A developer's guide
When you submit an online form, you'll be connected with a support agent. Asana claims that support agents are available around the clock, so inquiries should be answered promptly. Additionally, higher-tired paid plans give you access to more personalized support options.
Trello support
With Trello, the type of support you receive depends on the plan you've selected:
Free: Community support 

Standard: Support during local business hours

Premium: 24/5 customer support

Enterprise: 24/7 customer support
The higher-tiered plans will also get you quicker response times. In addition to customer support, Trello also offers self-service resources, like guides, webinars, FAQs, and help articles.
Trello vs. Asana: Customer reviews
Real-world experience is invaluable when it comes to comparing different project management platforms. A good way to assess whether a product will fit your business's unique needs is to look at reviews from real users. Here's what users have to say about Trello and Asana.
Asana customer reviews
G2 review: 4.3/5 based on over 9,000 reviews
In general, Asana has mostly positive reviews on the popular review site, G2. Users like Asana's automation features, integrations, collaboration features, and customer support. When it comes to things that could be improved, users note how the platform can be overwhelming for new users who aren't familiar with the platform. Additionally, some users comment on how advanced reporting and analytics could be expanded.
Check out the Asana G2 review page for more detailed reviews.
Trello customer reviews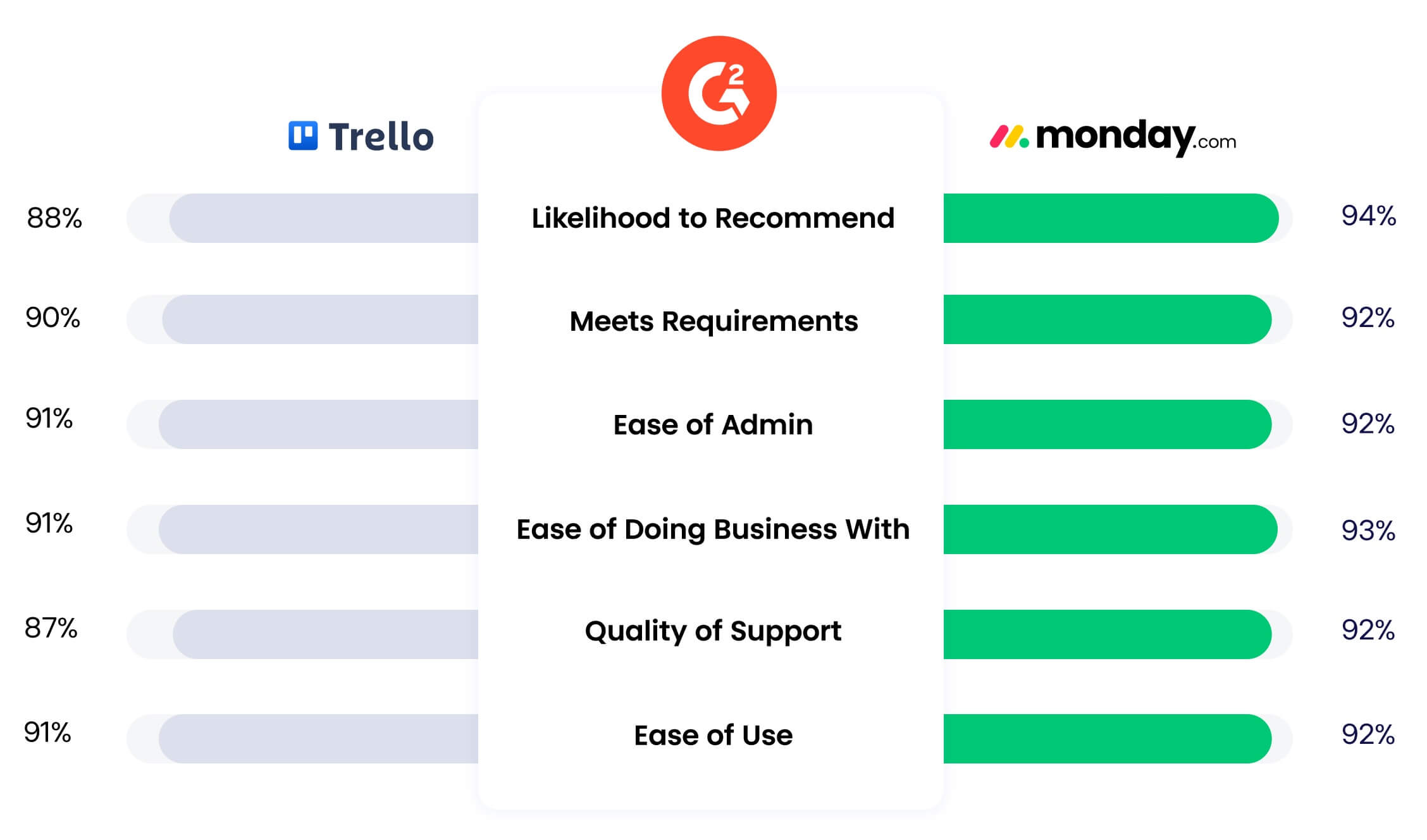 G2 review: 4.4/5 based on over 13,000 reviews
Most of the positive reviews of Trello on G2 note how easy it is to use, one of the platform's major selling points. Trello users call the platform "intuitive" and note that it's simple to get the hang of even for inexperienced users. As for the product's detractors, some users note that there's a lack of analytics and reporting features, meaning they can't get good insights from their project management tool. Not only that, but users also mentioned that Trello might not be ideal to handle larger, more complex projects due to a lack of advanced features.
Have a look at the Trello G2 review page for more detailed reviews.
Get started
Asana vs. Trello: Which is the right project management platform for you?
Choosing between any project management products depends more on your team's specific requirements and preferences than on a platform's offerings. When debating between Trello and Asana, consider the following:
If your team prefers a simple, visual approach to project management and regularly works on smaller tasks or projects,

Trello

might be the right choice. The platform is easy to adopt, making it ideal for smaller teams who don't have time to dedicate to a slightly longer onboarding process.

For teams that want a more feature-rich platform with a focus on task management capabilities,

Asana

is the best choice. Asana can handle more complex workflows and larger-scale projects, making it ideal for larger teams that need more high-level project management features.
Ultimately, both platforms have their strengths and areas where they shine compared to other project management solutions. In order to make the right choice, evaluate your team's project management goals and needs and select the platform that most closely matches up.
monday.com: The best alternative to Trello and Asana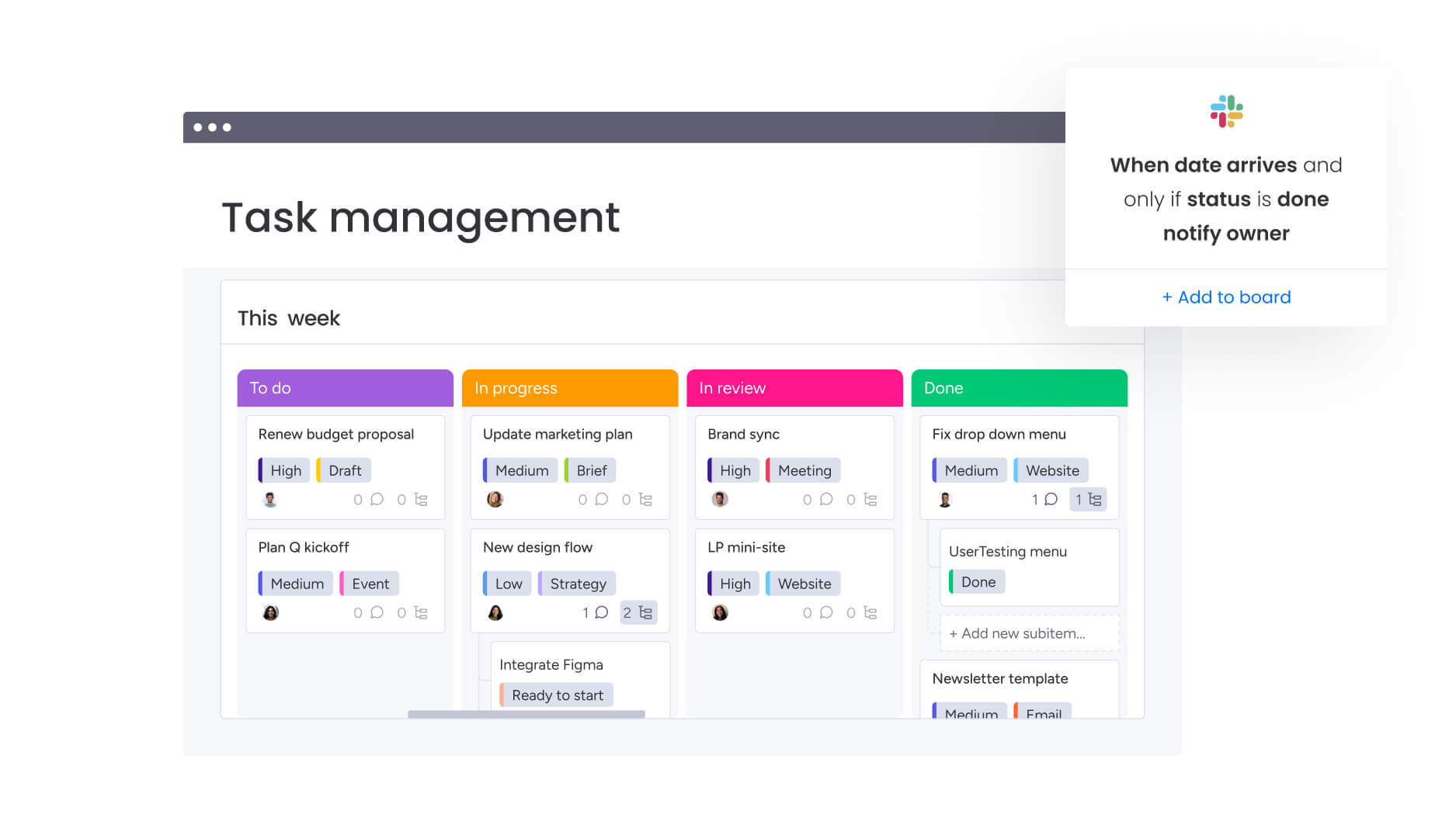 If you want a tool that combines the visual simplicity of Trello with the more robust project management performance capabilities of Asana, then monday.com is a solid option for your team. With over 8,500 reviews and a score of 4.7/5 on G2, monday.com is a reliable and flexible option for any type of project and comes packed with a number of intuitive features that are easy to use and customize. Here are just a few of those great features.
Custom automations to create your own workflows

Hundreds of templates to choose from to get started

27+ work views such as Gantt, Kanban, Timeline, Calendar, Workload, and more

A stellar customer support team with a 60-minute or less response time

An intuitive interface that can be used by anyone with any technological background

200+ integrations with popular apps including Asana and Trello

Advanced time-tracking, analytics, and reporting capabilities

Pricing that reflects the exact number of users you need

Real-time in-app collaboration and communication features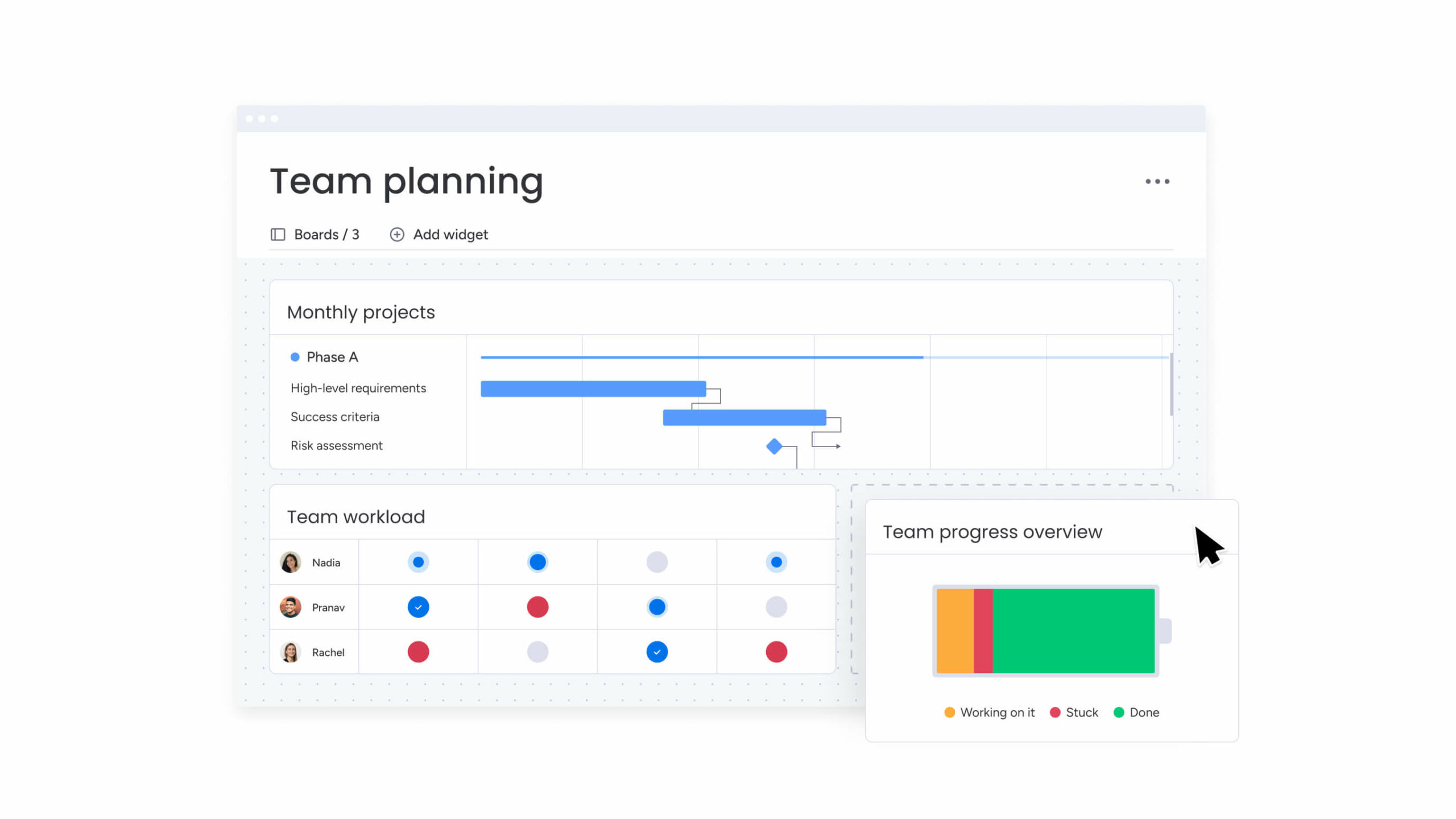 With monday.com, teams don't need to compromise on features to benefit from a platform that's easy to use. Offering the best of both worlds and then some, monday.com is the ideal solution for teams of any size to effectively and collaboratively manage anything from small day-to-day tasks to large, complex projects full of moving parts.
Get started
FAQs
Is Trello or Asana better?
It depends on your team's requirements and preferences. Trello is better for smaller teams who want a simple platform that relies on Kanban boards. Asana is better for larger teams looking for more robust project management features.
How are Trello and Asana similar?
Both Trello and Asana can be used as project management tools. However, the biggest differences between Asana vs. Trello are their respective view offerings. Trello zeroes in on teams using Kanban, while Asana has more views and higher prices, too.
Is Trello the best project management tool?
If you're strictly looking for Kanban-style task/project management, then Trello may be the best tool for you. But If you are looking for a more comprehensive project management platform, monday.com offers more ways for you to visualize tasks and projects so you can easily and efficiently manage your team.