monday reviews is our latest blog series where we provide the facts about different project management tools—no BS and no hyperbole needed. Keep scrolling for our analysis and to learn more about all the project management tools out there. Enjoy! ????
For businesses responsible for complex projects, Microsoft Project has long been one of the leading tools on the market.
But, it is not the only choice out there and considering you clicked on this article, I suspect you might be looking for another option.
If you're considering moving away from MS Project or you just want to kick the tires of some of its alternatives, we've got you covered.
What exactly is MS Project?
Microsoft Project or MS Project is a project management tool that is designed to improve how Project Managers (PMs) organize and run large scale projects. The application is built to let businesses plan projects and assign resources to specific tasks.
MS Project helps team members track project progress and overall workload through powerful reports and dashboards. The software is primarily targeted at waterfall projects that have a longer development cycle.
MS Project is built around some very recognizable features:
Planning and Scheduling (aka Gantt charts): Perhaps one of MS Project's most recognizable features is the Gantt chart. This view of project progress along with linked dependencies is a commonly sought after tool for project planning.
Reporting: Reports are one of the standout features of MS Project and allow project teams to quickly understand how far a project has progressed. Dashboard reports help teams understand overall costs and budget compliance.
Collaboration: MS Project has some solid collaboration tools that simplify the process of sharing information between teams. The team dashboard is useful as a means of ensuring all members of a team are aligned on project progress.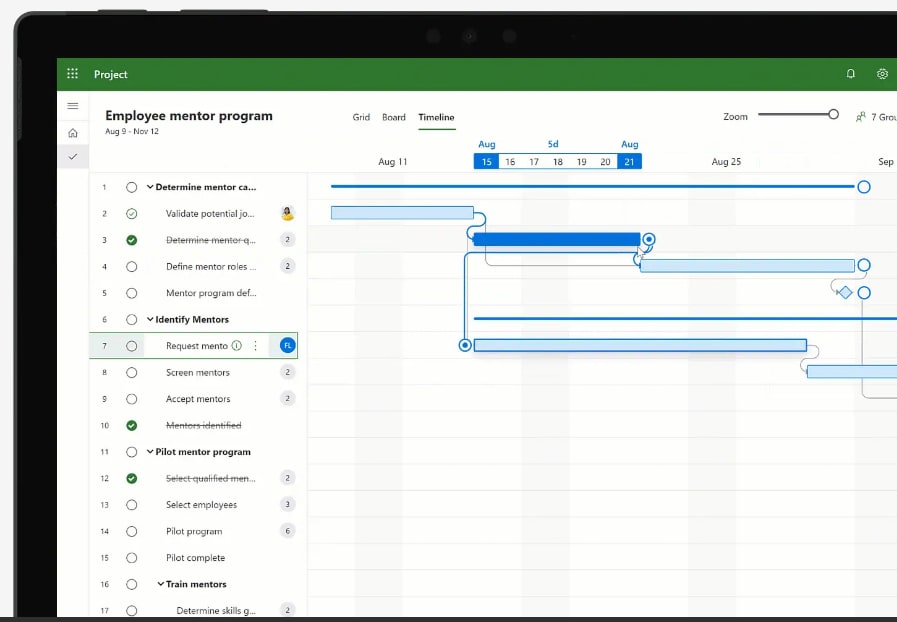 So, what's a good alternative to MS Project?
MS Project is built for waterfall projects that are large and complex.
However, when it comes down to newer project management methodologies like agile, MS Project doesn't really provide the same capabilities as some other modern SaaS tools.
This means that onboarding and training new users on Microsoft Project can be quite time-consuming.
The downside of having such a powerful, complex software is that it's not a tool you can simply experiment on and "figure out".
Microsoft Project requires training to fully take advantage of its capabilities. As such, it's best used within larger teams or enterprises with dedicated project management functions.
There are many other project management tools with similar strengths to MS Project (and some of the same weaknesses also).
But, a leading Microsoft project alternative that is worth considering is monday.com Work OS.
What's monday.com? A Work OS
monday.com offers a different take on project management and project management methodologies.
While it still follows the Project Management Institute (PMI) guidelines for projects, it does so in a user-friendly and intuitive way.
This combination of usability and capability is especially powerful for people new to projects and project management.
With lots of customization available, monday.com fits teams of all sizes and offers full project management capabilities without the massive learning curve.
MS Project was built in a time before SaaS solutions existed. It is very capable but also very complex. Many of the features it offers are not needed for smaller businesses. And while it now offers a web version, it doesn't offer the same online collaboration abilities as monday.com.
As a project management tool, monday.com simplifies work management. It improves team collaboration and provides drag/drop functionality in a colorful interface that is easy to understand and use.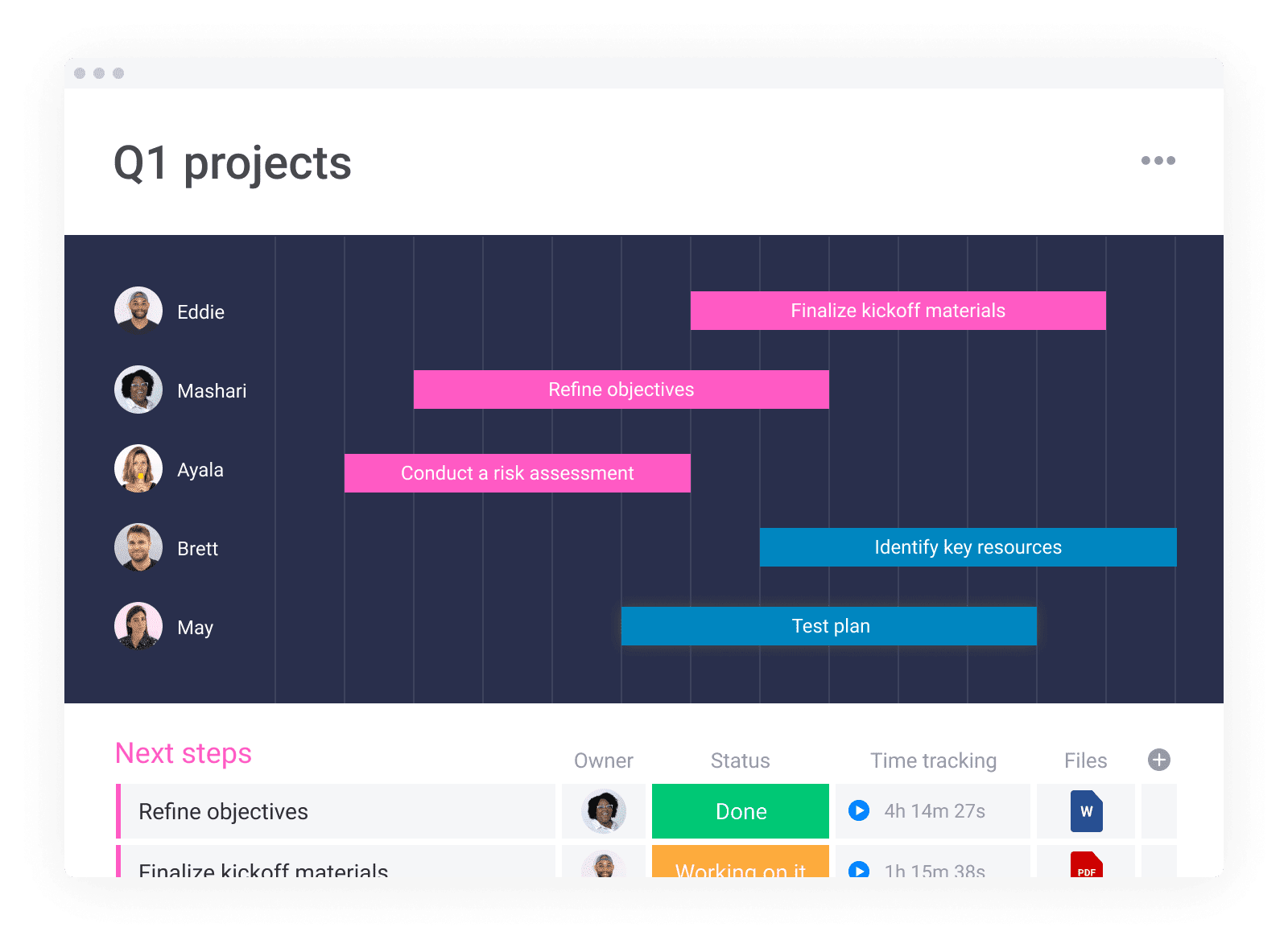 What are the differences between monday.com and MS Project?
The way projects are managed has changed significantly since MS Project was first developed.
Agile project management and its focus on sprints was not even a concept when Microsoft Project was initially released. That being said, monday.com is specifically designed to account for these newer ways of working.
Every business has a different need regarding project management solutions. With monday.com and the built-in templates available, you can customize a solution that meets all of your requirements regardless of industry or business size.
Difference #1: MS Project is focused on waterfall projects targeted towards larger organizations. While extremely detailed, it can be overly complex and often, you won't use all of its capabilities.
monday.com, on the other hand, works with both waterfall and agile project methodologies. It can help keep your project on track regardless of the means used.
Difference #2: MS Project offers a ton of features and is targeted towards larger organizations with dedicated Project Management Offices. It may not be the best solution for freelancers, start-ups, and or companies who want to involve employees without a PM background.
monday.com, alternatively, is extremely intuitive and easy to use and understand. Its colorful interface and drag/drop functionality will even let non-project managers jump straight in.
To sum things up:
monday.com offers lots of different views for projects, helping everyone understand what is being worked on
monday.com is truly collaborative and offers integrations with many other existing products already in the office
MS Project alternatives FAQ
Does MS Project offer a free plan?
No, Microsoft Project isn't free. The cloud-based options start at $10/user per month and the on-site solutions start at $620 for 1 user license.
What are other MS Project alternatives?
Trello
If you're a fan of Kanban boards and agile project management then Trello could be the alternative you're looking for. Trello offers some powerful automation capabilities and is pretty intuitive to use, with a simple drag and drop interface that anyone can quickly pick up.
Trello is an option if you have a small project or task but can become unwieldy for larger projects. If you're looking for something more than basic task management, Trello might not be the best alternative for you.
Wrike
Wrike is a powerful Microsoft Project alternative that offers many of the same capabilities. With drag and drop Kanban boards and Gantt charts built in, Wrike lets users get a view of outstanding work quickly and easily. Wrike lets users create lists, subtasks, workflows, and scheduling with collaboration and communication top of mind.
Wrike and monday.com have some similar capabilities and both are highly customizable. But Wrike has a lot of paid add-ons that can make customizations confusing or expensive, making monday.com more powerful in comparison.
TeamGantt
If your definition of projects is Gantt charts then TeamGantt could be worth considering. This tool lets users see work really easily in a visual way and provides useful project overviews to help save time and effort.
But, as any project manager knows, projects are more than just Gantt charts. And this is where TeamGantt falls down in comparison to monday.com.
Get started with the right alternative to Microsoft Project
There are more projects being launched than ever before. Which means that more people are being exposed to projects than ever before. And businesses that aren't on top of their project management can expect to see 50% or more of their projects fail.
At monday.com we understand that projects are more than just Gantt charts and reports.
We believe that projects are an opportunity to find better ways to work. It's not just about resource management and project scheduling, but also about breaking down silos and bringing people together.
That's why, at monday.com, we're all about making project management easier. If you want a simpler and more intuitive alternative to MS Project, without sacrificing any of the power, look no further.
Try out our high-level project plan template and jump into a new and improved way of managing your work.