Nowadays, every industry relies on project management to plan, coordinate, and execute processes and workflows — and accounting firms are no exception. This leads to one question: Which project management software should accountants use?
In this guide, we'll explore the benefits of project management software for accountants and we'll look at the top 10 project management software products accountants can use.
Get started
What is project management software?
Project management software is a work tool that helps companies, teams, and individuals plan, organize, and track project progress. It keeps different aspects of a project in one place, such as tasks, milestones, responsibilities, deadlines, and files, while also helping teams collaborate and communicate effectively.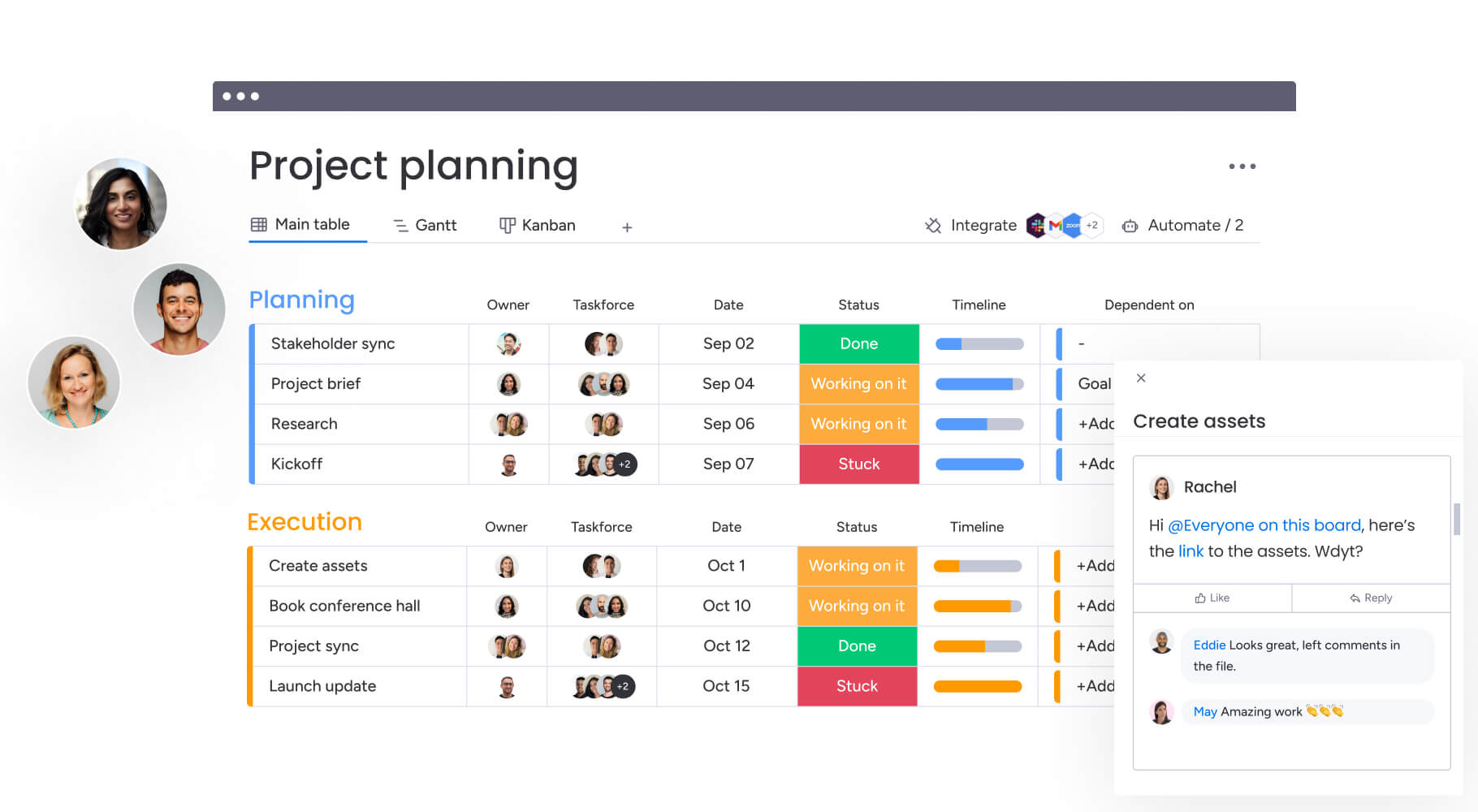 Project management software helps teams streamline and improve project efficiency and ensures that nothing slips through the cracks. For accounting teams with complex projects involving multiple variables, operations, and processes, this type of software can help boost productivity while keeping a project on time and on budget.
The benefits of using accounting project management software
Accounting involves a lot of precision and attention to detail, and project management software can help teams keep track of each individual task to ensure it's done right. Here are some benefits of using accounting project management software:
Automate client and team communication:

Communicate with your team on tasks on one unified platform and keep clients informed during the entire process. For example, send automated financial statements at the end of each month.

Create customized workflows:

Project management helps accountants create streamlined systems and workflows that can be easily repeated as necessary, from bookkeeping to tax management, payroll management, and even client onboarding.

Identify bottlenecks and inefficiencies: Find where your team spends most of their time to help them maximize resources more efficiently. For example, you can monitor how much time your team spends collating a client's financial data.
Best project management software for accountants
There are a lot of different project management tools on the market, but not all of them will be right for every team. The best project management software for your accountants will depend on your team's specific requirements which will dictate the features and functionalities you need. Let's take a look at the ten best accounting project management software tools available today.
1. monday.com
Best for: Accounting teams seeking a platform that's flexible, highly customizable, and can scale to their needs.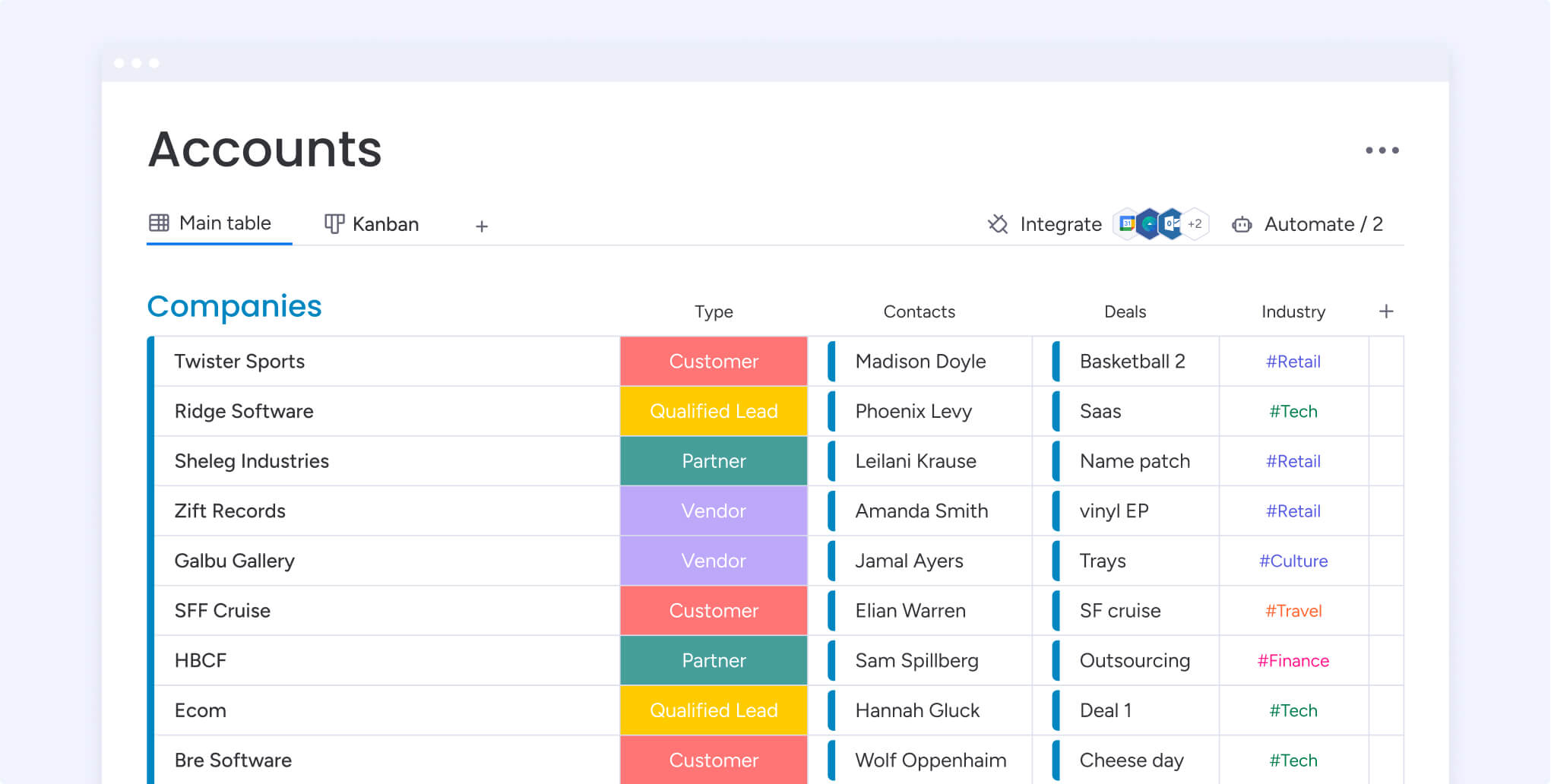 monday.com is a customizable work and project management platform that can be flexibly scaled to meet the needs of any accounting team. With monday.com, you can keep track of your tasks and projects on 27+ different work views, like Board, Kanban, Calendar, Gantt, Timeline, and more, so your team can organize projects according to their preferences.
Features
Integrated time-tracking tools to keep track of hours spent on tasks, clients, and projects
Advanced reporting and analytics tools so management can keep track of resources
Create your own customized automations to save time on manual tasks
Pricing
monday.com has different pricing structures. The Basic plan starts at $8/user, the Standard at $10/user, Pro at $16/user, and the Enterprise plan is customized according to your needs. Each plan gives teams the capacity for more functionality, such as storage space, customer support, work views, number of automations and integrations, and more. Here's a detailed breakdown of monday.com pricing.
2. Asana
Best for: Small teams or accounting firms in the early stages searching for simple task management software.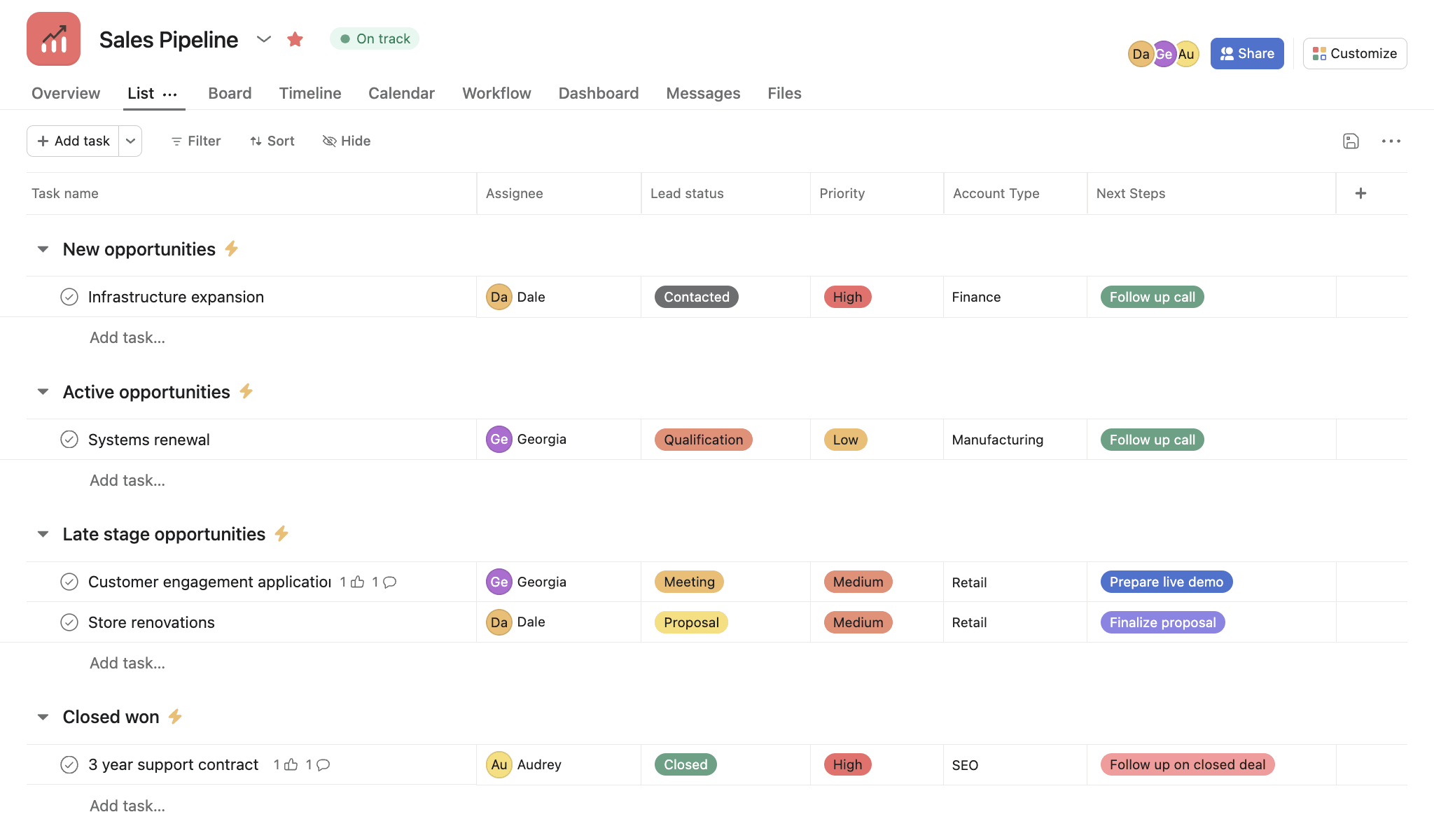 Asana is a simple and user-friendly option for accountants, but it functions more as a task management tool rather than a full-blown project management suite. Still, this software has all the basics your team will need to visualize the stages of your tasks in a project, enabling your team to collaborate easily.
Features
Easily set dependencies on each task to see how they relate to others in a project

Different views for projects, like calendar, list, timeline, and boards

Sync tasks and workflows across different projects automatically
Related: Asana work management, Asana project management
Pricing
Asana has a free Basic plan with main functionalities, as well as a paid Premium plan starting at $10.99 per user and a Business plan at $24.99 per user on monthly plans. The paid plans offer more features such as automated or advanced workflows, higher security tools, better support options, and more.
Related: Asana pricing, Asana alternatives
3. Trello
Best for: Small to mid-size accounting firms that are already using Kanban in their project management strategy.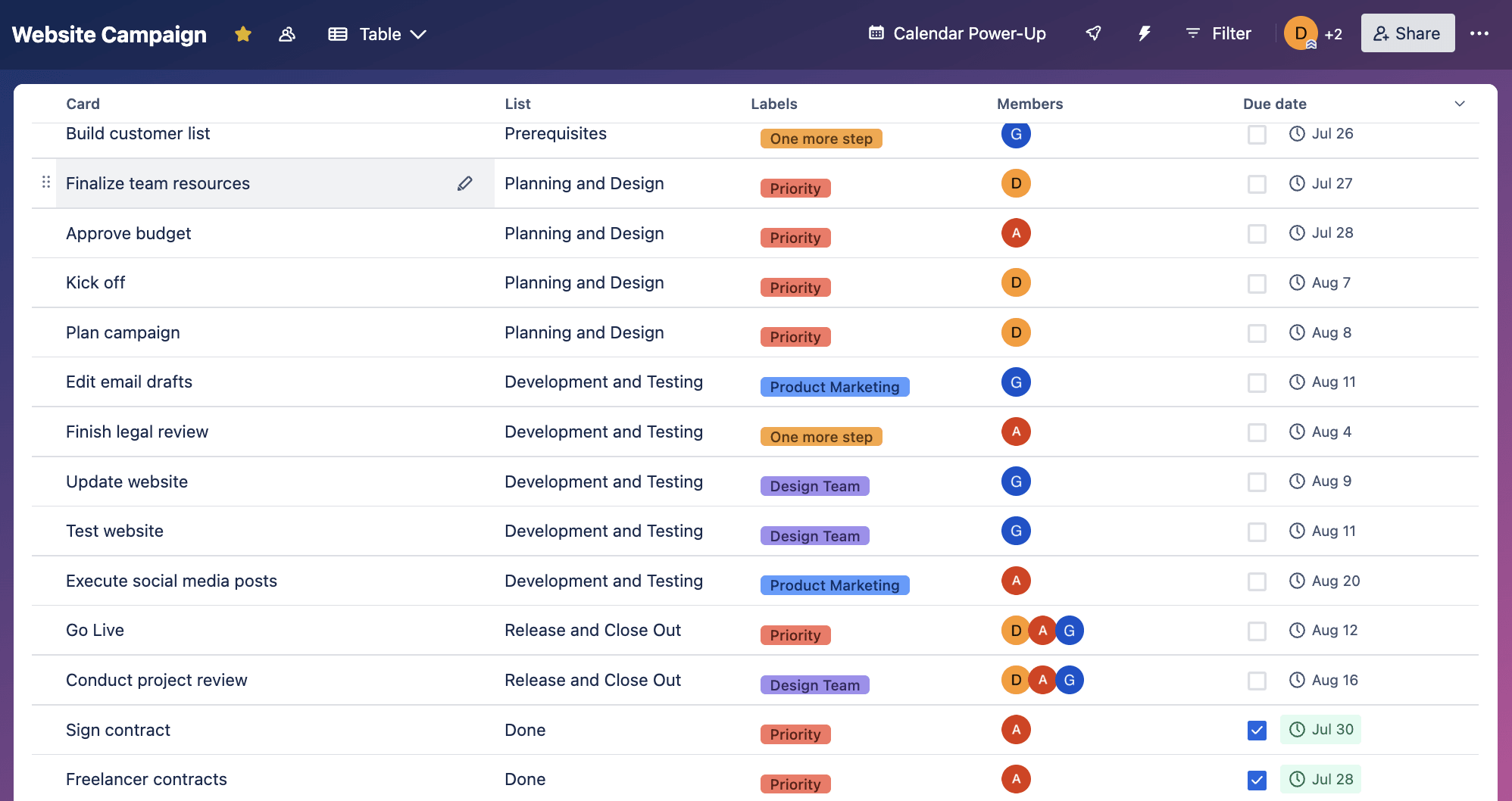 Trello uses Kanban-style cards to organize tasks and projects. Users can customize and move cards between columns as they progress through a project. Accountants can use this software to visualize tasks in a pipeline and stay on top of each one to avoid bottlenecks ahead of time.
Features

100+ different app integrations to connect the work tools you already use
See your projects in multiple views such as a timeline, calendar, map, table, and more
Trello's templates make it easy to get started rather than building a board from scratch
Pricing
There are different tiers of plans available: a free plan, a standard plan for $5/user, Premium for $10/user, or Enterprise with prices depending on the number of users. The different plans offer additional customizations, work views, and security and permission controls, among other features.
Related: Trello pricing
4. Financial cents
Best for: Small and medium firms looking for a project management tool that's solely focused on accounting.

Financial Cents is a task management software made specifically for accountants, CPAs, and bookkeepers. It helps firms track tasks so that deadlines are never missed and all information is stored in one place. With Financial Cents, accounting workflows can be automated so that client requests never fall through the cracks.
Features
Better serve each client with a built-in client portal and database

Automate accounting workflows to always stay on top of client deliverables

Track employee's time on different tasks for easier time management and billing
Pricing
Financial Cent's pricing isn't divided into different plans, but rather into a yearly fee of $39 per user, or a monthly fee of $49. Both options give you access to all the features, you're simply saving by opting for a yearly plan. Check out Financial Cent's pricing page for more details.
5. Jetpack
Best for: Jetpack Workflow is ideal for accounting firms that want to scale with their software.

Jetpack Workflow is another project management built for accountants and bookkeepers. Through customizations and client-centric features, Jetpack's scalable service helps accountants ensure critical deadlines never get missed and that tasks are easily trackable.
Features
Simply import and upload client data via CSV files

Build automations to put repetitive, non-billable tasks on auto-pilot

Get an overview of what team members are working on and your project timeline
Pricing
There are two plan choices with Jetpack Workflow: Organize for $45/user per month of Scale for $49/user per month. The Organize plan gives you access to all the features, and with Scale, you get extra tools like capacity and team schedule management. Have a look at Jetpack's pricing page for more information.
6. Notion
Best for: Solo firms looking to break down larger to-do lists or projects into bite-sized chunks using a checklist format.
Notion is a collaborative platform that helps teams keep tasks, documents, notes, and wikis organized in one spot. Teams can communicate easily on Notion with features like Meeting Notes, making it simple to keep project outlines, plans, and objectives unified. That said, Notion isn't built specifically for accountants, but there are still features they'll find useful like the ones below.
Features
See your project roadmap in a Kanban view, table, timeline, calendar, or by status

Automate team workflows to cut down on manual tasks like assigning to a team member

Sort tasks in any view to allow team members to focus on exactly what they need
Pricing
Notion offers a free plan with basic features, a Plus plan for $8/user, Business plan for $15/user, or an Enterprise plan with customized pricing. The paid plans give you more advanced access to features and make certain functionalities unlimited like uploads and blocks. 
7. Wrike
Best for: Larger firms looking for accounting project management software with plenty of tools and options.

Using a cloud-based platform, Wrike is a go-to project management tool for larger companies. Some smaller accounting firms might find all its features overwhelming, but that doesn't mean it's impossible to use. Wrike's customizable platform comes packed with collaboration features that suit any project management methodology your team uses.
Features
Choose from 400+ app integrations to continue using your existing work tools

Gather reports based on real-time data to help your firm make informed decisions

Customize item types to create processes and workflows for the accounting industry
Pricing
Wrike has a free plan for teams just getting started, along with a team plan starting at $9.80/user, a Business plan from $24.80/user, and Enterprise and Pinnacle plans with custom pricing. Paid plans allow for more users and no limitations on features along with more automations, security controls, and other functionalities. Check out Wrike's pricing page for an in-depth breakdown.
Related: Wrike pricing
8. Basecamp
Best for: Smaller teams that want a place to organize tax and accounting tasks and projects without tons of overwhelming features.
Basecamp's user-friendly interface helps teams collaborate efficiently on projects and tasks while keeping communication, documents, and tasks in one place. Features like messaging, to-do lists, project scheduling, and file storage allow accountant firms to streamline work processes and enhance coordination in a unified workspace.
Features
Messages feature keeps communication organized so information isn't lost in emails

Upload, share, and discuss files like CSV docs, forms, and client data

Track deadlines, responsibilities, progress, and project details on a clear to-do list
Pricing
There are two tiers of pricing with Basecamp: a $15/user per month plan with all the features you need, or a $299/month Pro plan for unlimited users. The Pro plan is geared towards bigger companies and offers upgraded storage, support, and onboarding processes. Find out more on Basecamp's pricing page.
Related: Basecamp pricing
9. Zoho Projects
Best for: Firms that want to connect to other native products like a CRM, customer service tools, a booking system, and others.

Zoho Projects, part of the Zoho suite of products, is a simple project management tool that helps teams track work. You'll find the standard project management tools here, like task automations, integrations, reporting, and more. That said, Zoho Projects doesn't have a robust system for tracking and storing client information, which is necessary for most accountants.
Features
Easily migrate from other project management tools with a migration support team

Timesheets and task timers help you track billable hours and generate reports

Built-in chat, forum, document sharing, and more to improve collaboration
Pricing
Compared to some other accounting project management software prices, Zoho Projects is relatively affordable. There's a basic free plan, a Premium plan for $5/user per month, and an Enterprise plan with more features for $10/user per month. Check out Zoho Project's pricing page for a detailed breakdown of plans.
10. Karbon
Best for: Large accounting firms that want to use one tool for all their workflows and operations.
Karbon is an accounting practice management platform made for larger firms. This software helps bring accounting teams, clients, and tasks together in one place for heightened visibility and control. Karbon positions itself as an all-in-one tool for accounting firms and includes features like email management, document management, business analytics, and more.
Features
Automate tasks to standardize manual processes and streamline data collection

Integrated AI and GPT tools make work like writing and prioritizing emails quicker

Set auto-reminders for client data collection so you're not chasing down documents
Pricing
Plans for Karbon start at $59/user for a Team plan, $79/user for a Business plan, and custom pricing for an Enterprise plan. Higher-tiered plans come with additional features and capabilities, catering to different-sized teams. You can see a breakdown of Karbon's plans on its pricing page.
Why monday.com is the best choice for accountants
monday.com can be used to manage all types of accounting operations, from bookkeeping and income tax returns to payroll management and financial reporting. The monday.com platform offers plenty of flexibility and customization options compared to other basic accounting project management software products, making it ideal for teams of any size.
monday.com includes many features that accounting firms will find helpful. Let's take a look at some of them.
Client project tracking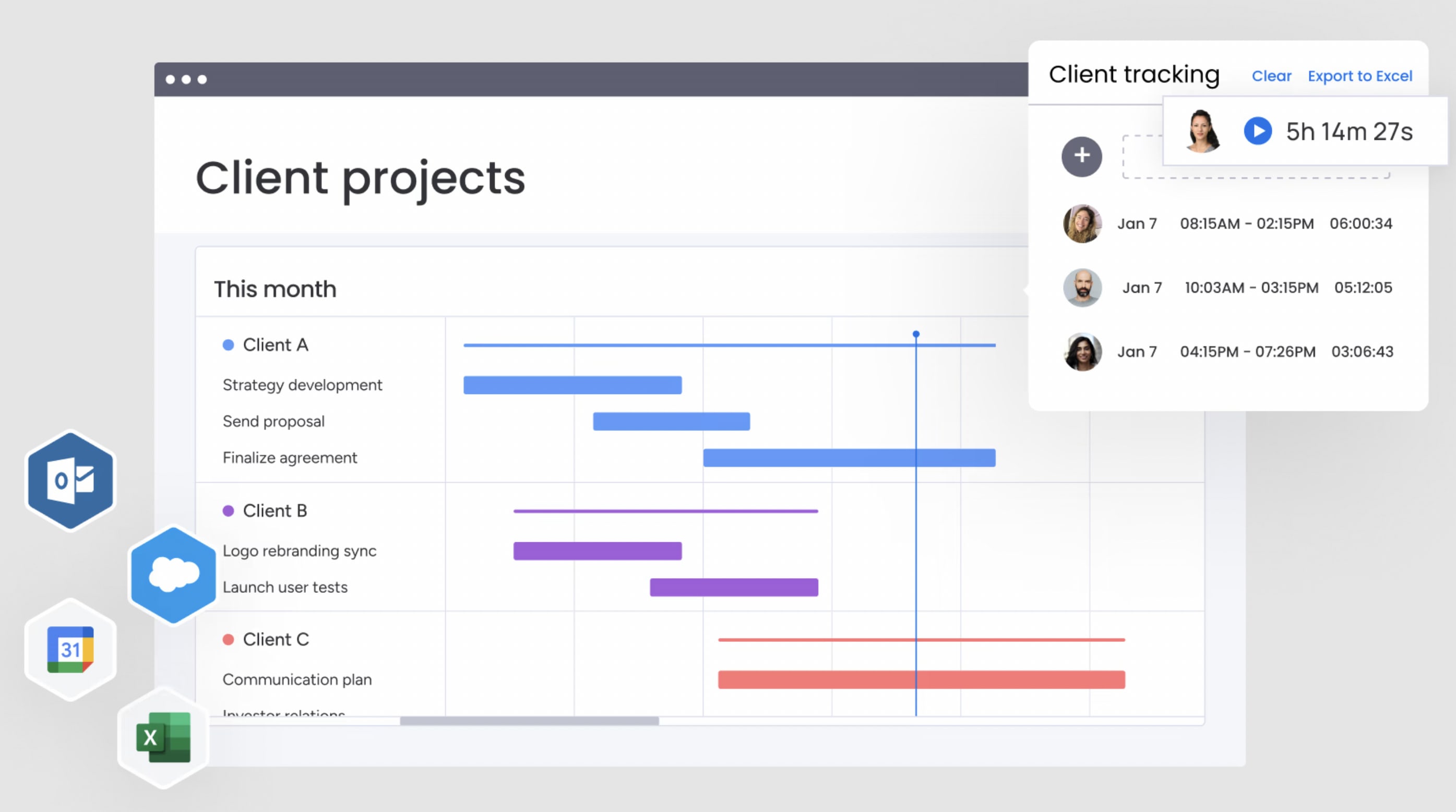 With so many different clients in an accounting firm, you need software to balance it all. With monday.com, you can manage client requests and automate manual processes such as client communications and follow-ups all while balancing each team member's capacity for optimal performance.
Time tracking and management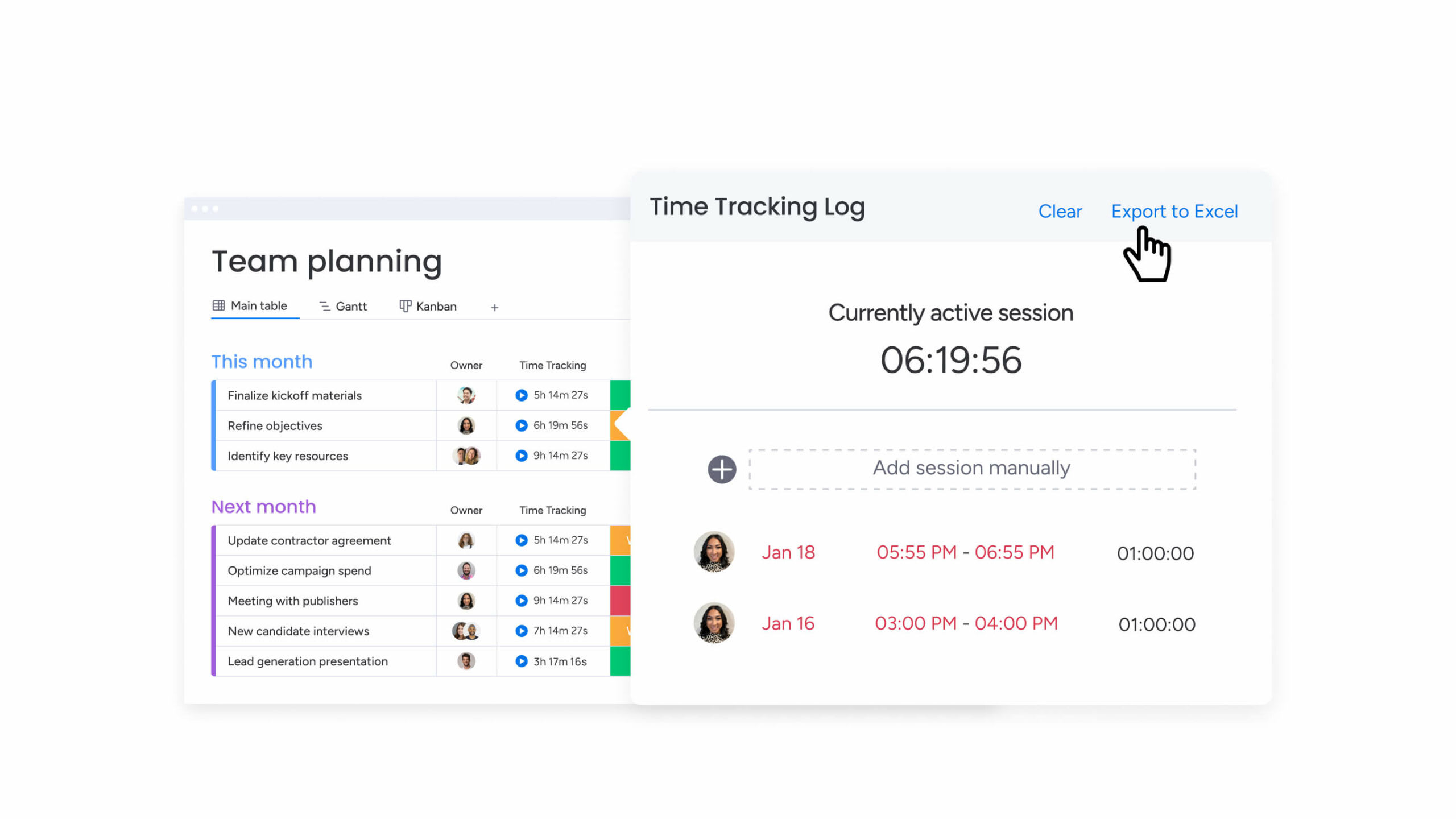 Each employee can track their time within monday.com in just a few clicks, either at their desk or on the go with monday.com's mobile app. Managers can generate reports of time tracked to see how much time is being spent on different projects, tasks, and clients and to track billable hours.
Integrates with different accounting tools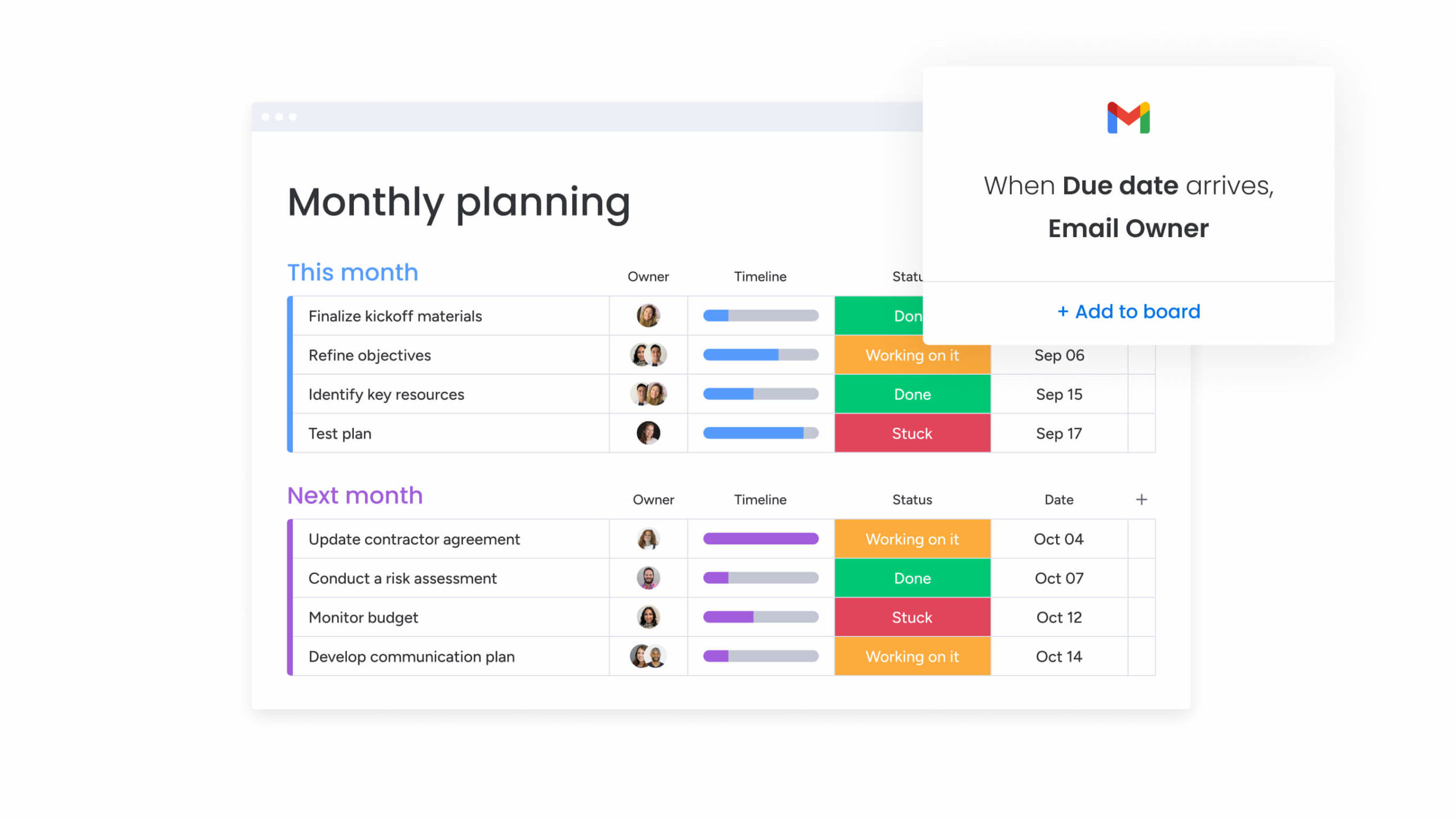 Integrate your favorite tools and apps in a couple of clicks. With monday.com, you get access to 200+ integrations and apps to keep your operations synced with your existing work tools like email platforms, Quickbooks, Cash Flow, Google Calendar, Microsoft 365, and more.
Revolutionize your accounting business with monday.com
Finding the right project management software will depend on what "success" means for you. Of course, not every tool will be a good fit for every accountant or firm, but opting for a tool that's flexible, customizable, and scalable will help ensure that it fits as closely as possible. With its customizable automations, hundreds of templates, a bank of app integrations, and tons of features suitable for accountants, monday.com can be easily adapted to your business needs so you have a project management software that fits you.
If you're looking for a Work OS that adapts to your exact needs and helps you streamline any accounting workflow, then monday.com is probably the right option.
Get started
Related: Project management industries, Project management for sales,
Project management in retail, Project management for freelancers, Project management in retail
FAQs
Why is project management for accountants important?
Project management is key for accountants managing clients and resources, such as staffing and workload, and ensures everything is delivered on time and on budget. It allows accounting firms to establish consistent processes and workflows for tracking, approving, and updating client activities to streamline everything from timesheets to taxes.
How does project management benefit accounting firms?
Project management benefits accounting firms by centralizing all work, processes, tools, and files into one platform. It connects teams and clients, bridges silos, and maintains one source of truth, which keeps firms more productive and profitable.
Is there project management in finance?
Yes, project management in finance involves the planning, implementation, and monitoring of projects from initiation to execution. It ensures project activities are completed on time, within budget, and to satisfaction.