Choosing software is often a pain point for many companies, especially when it comes to mission-critical tools like workflow management software. Trial and error can eat up a lot of your time, and signing up for different demos and free trials can be confusing and cumbersome. 
Before starting your search for a workflow management solution, consider what your business needs. From there, you'll be in a better position to find the tool that's right for your team.
In this blog post, we've put together some tips on finding the right workflow management tool for your business, key features to look out for, and 15 of our top recommendations to help kick off your search.
Get started
What is workflow management?
Workflow management involves creating, designing, and overseeing the steps involved in any workflow that completes a task. The goal of workflow management is to optimize each workflow to ensure that teams are working as efficiently as possible. Workflow management software helps businesses and teams organize their approach to making a workflow efficient by providing a space for collaboration, automation, and communication.
These tools facilitate tasks like allocation, time and progress tracking, file and data storage, and more. With workflow management software, businesses can improve their productivity, cut down on errors, and coordinate efforts among different team members.
Key features of a workflow management tool
Workflow management software tools are full of features that make your projects run smoothly. However, when shopping around for a workflow management tool, pay close attention to these three key features: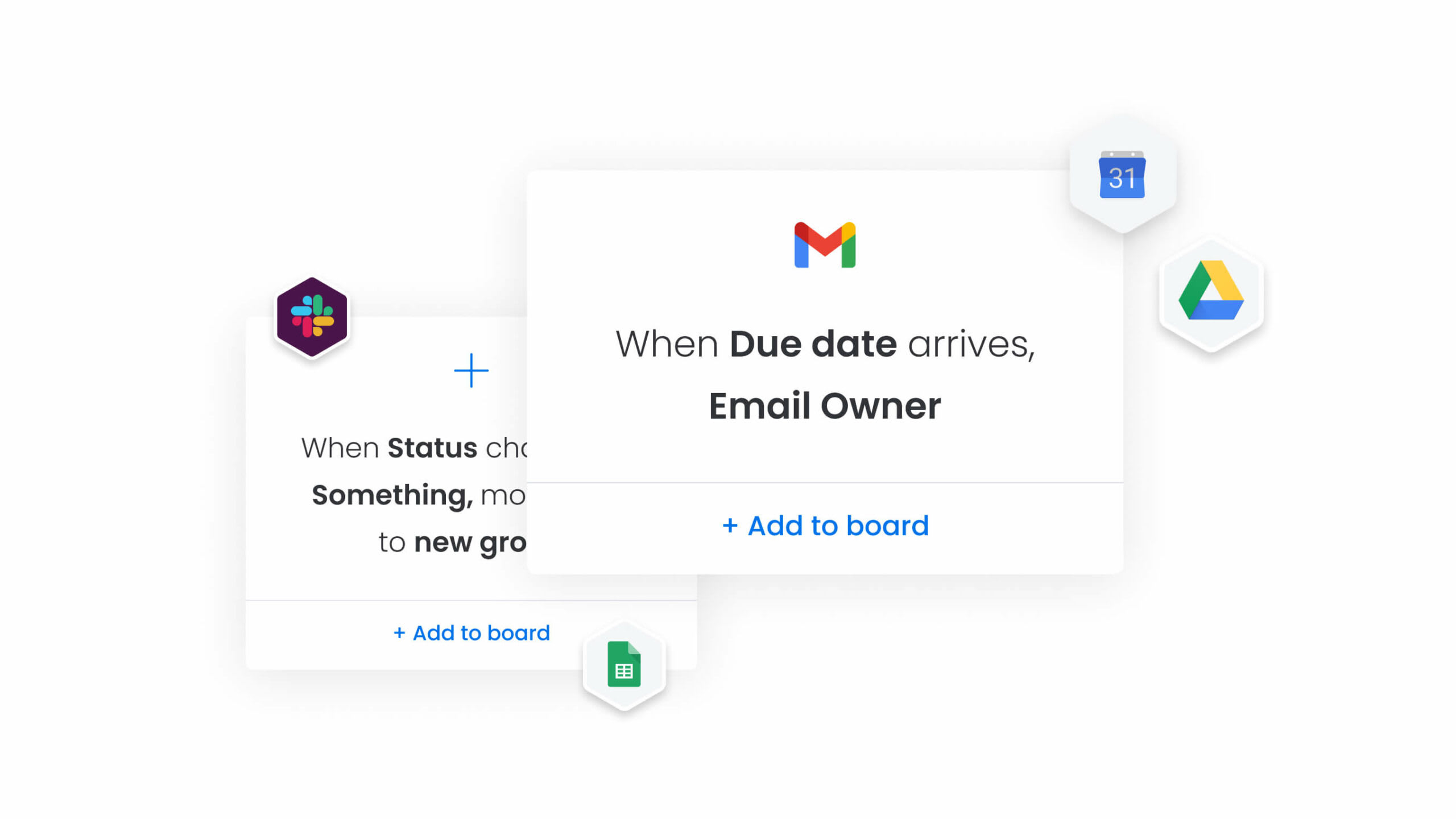 Automations:

You want to be able to put manual, repetitive tasks on autopilot with predefined and customizable automations. This can mean setting up triggers for activities like sending emails or follow-up reminders within your team. Automations help reduce errors, speed up tasks, and remain consistent.

Task tracking and collaboration:

Teams need to be able to assign tasks, set due dates, and track progress in real time. Not only that, but collaboration is key here as team members will need to share updates and communicate on tasks whether they're working together or remotely.

Custom workflows: A workflow management tool should give you the flexibility to create your own workflows according to your team's needs. This helps empower teams by aligning your software with your unique processes, saving you time, and keeping your workflow solution adaptable as your business evolves.
How do you choose a workflow management software?
Selecting the best workflow management software for your team requires careful consideration. You need to look at your company's overall goals, existing processes, and your team's needs and technical skill level. Here are some factors to consider when choosing workflow management software:
Identify what specific workflows need to be managed and your goals for managing them

Understand your existing processes to determine paint points or areas for improvement

Consider how scalable software is to avoid switching to a new one down the road

Look at customization options so the software can be tailored to your needs

Determine integration capabilities so you can continue using your existing work tools

Ensure the software is compliant with your unique security or regulatory requirements

Look at the options for support, onboarding, and training offered by a tool

Read user reviews to determine if this tool is reliable and can meet your needs
Get started
Finding the right workflow management tool for your business can be a chore. With so many options on the market, it can be tricky to know which one is the best option for your team's unique needs. To save you time, we've rounded up 15 of the best workflow management tools that fit different teams, companies, and requirements.
1. monday.com
Best for: Teams of any size seeking a customizable, flexible, and visual workflow management tool.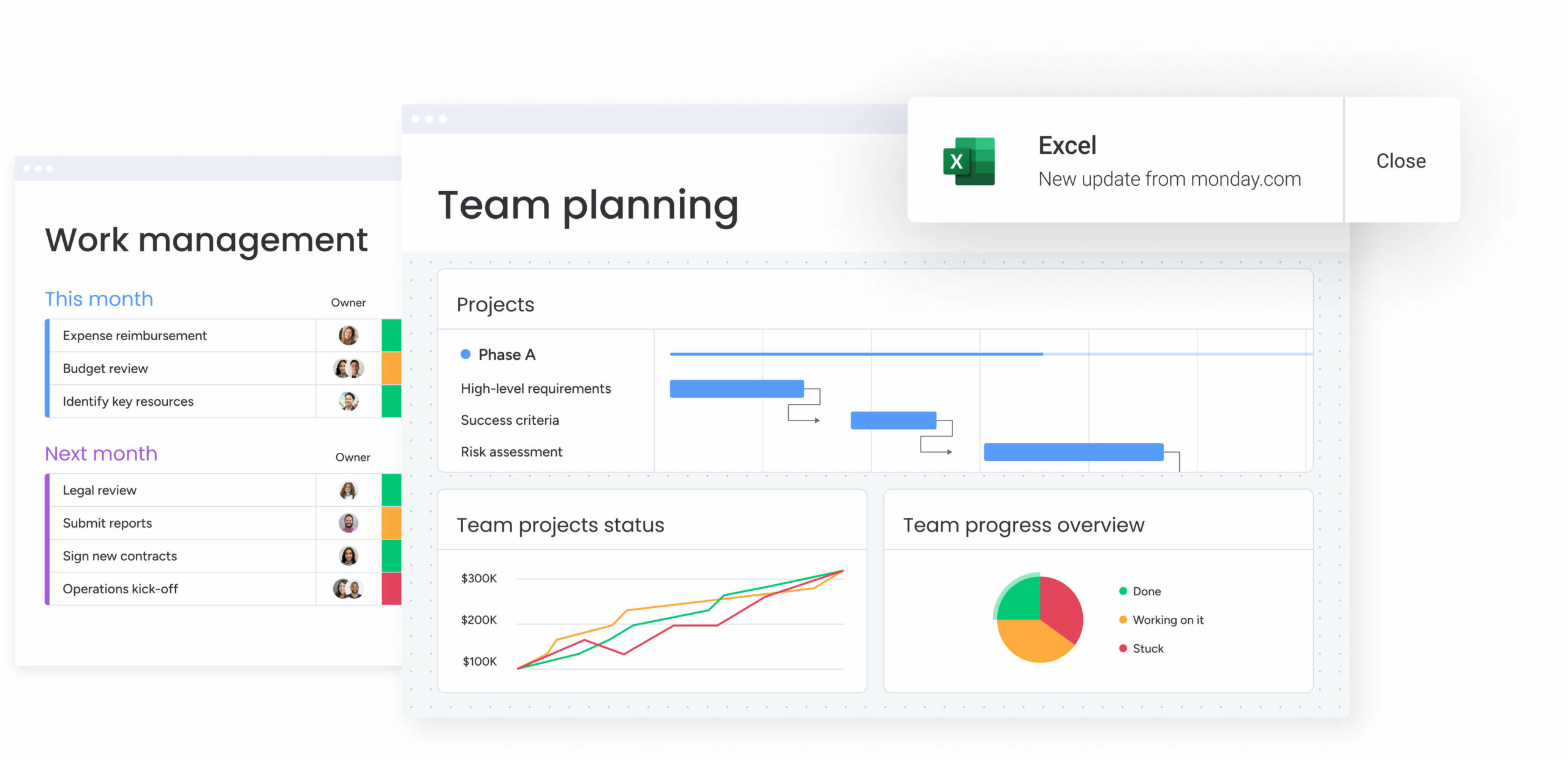 monday.com is a highly customizable platform that enables teams to streamline their workflows and track progress in real time through visual boards. With features like custom automations, time tracking, and integrations with popular tools, teams can create custom workflows that suit their needs while collaborating efficiently.
Key features
Customizable templates for hundreds of use cases

Visual tracking with 27+ different work views like Gantt, Boards, Timeline, and more

Integration with 200+ third-party apps and automation
Pricing
monday.com offers a free forever plan in addition to a Basic plan starting from $8/user, a Standard plan from $10/user, and a Pro plan from $16/user. The higher-tiered plans offer more advanced features, and teams can choose exactly how many users to onboard, giving them a flexible pricing scheme. Learn more about monday.com pricing here.
Get started
2. Smartsheet
Best for: Organizations of any size who want to upgrade their spreadsheet format.
Combining the familiarity of spreadsheets with dynamic collaboration features, Smartsheet enables teams to manage projects, tasks, and processes. With features like automated workflows, reporting, and resource allocation, Smartsheet allows teams to work more effectively on projects of any complexity by employing a simple format. 
Key features
Grid interface as well as work views like Gantt and calendar

Automates calculations across different sheets for easier data collection

Strong reporting features that can be easily exported to Excel or Sheets
Pricing
There's a free plan for up to two users, a Pro plan for $7/user, a Business plan for $25/user, and an Enterprise plan with custom pricing. Each plan gives you more features, users, automations, and storage. Learn more about Smartsheet pricing here.
3. Asana
Best for: Teams looking for a task-focused workflow management tool.
Asana is a popular task management platform with a user-friendly interface. It includes user-friendly features like task assignments, due dates, and customizable workflows. With multiple views such as lists, boards, and timelines, Asana allows teams to visualize their work and stay on top of their priorities, making it ideal for collaboration and workflow management.
Key features
Task tracking with multiple views like list, calendar, workload, and more

Integration with other tools like Slack and Google Workspace

Create task dependencies and automations for repetitive tasks
Pricing
There's a free plan that offers a good variety of features, a Premium plan at $10.99/user, and a Business plan at $24.99/user. Each plan includes more features like more automations or workflows, more security options, better support, and more. Learn more about Asana's pricing and plans here.
4. Wrike
Best for: Companies that require a comprehensive workflow management solution that brings teams together.
Wrike offers an all-in-one solution for project planning, tracking, and real-time collaboration, helping teams manage complex workflows. Its versatile features, including customizable request forms, Gantt charts, and document management, make it a go-to choice for teams that want a workflow management tool that's flexible and scalable.
Key features
400+ app integrations, making it easy to continue using your existing work tools
Plenty of customization options for workflows, reports, and more
Document management and version control to make collaboration simple
Pricing
Wrike offers a free plan, a Team plan starting from $9.80/user, a Business plan from $24.80/user, and Enterprise and Pinnacle plans that are based on custom pricing. With paid plans, you'll be able to add more users, access more features, gain more security controls, and more. Learn more about Wrike's plans here.
5. Pipefy
Best for: Process-driven teams looking for customized workflow automation.
Pipefy helps teams create and automate custom workflows, optimizing their processes and allowing them to manage tasks more efficiently. With a focus on visual process mapping, integration capabilities, and advanced reporting, Pipefy is suited for businesses that rely on tailored automation solutions.
Key features
Kanban-style visual process and workflow mapping
Integration with external apps such as Zendesk, Salesforce, DocuSign, and more
Automate workflows without any need for coding or technical skills
Pricing
There's a Starter plan for free for smaller teams or individuals, a Business plan for $19/user, an Enterprise plan for $32/user, and an Unlimited plan with custom pricing. Each plan is tailored for different organization sizes.
6. Basecamp
Best for: Small teams that want a simple workflow management and communication tool.
Basecamp focuses on workflow organization and streamlined communication through to-do lists, message boards, and scheduling. With its user-friendly interface, central document storage, and chat features, Basecamp promotes transparency and collaboration among team members.
Key features
Centralized workflow management with to-do lists and in-platform messaging
Automated check-ins remind team members to share updates regularly
Easily upload, share, store, and collaborate on documents and forms
Pricing
You have two plan options with Basecamp: a basic version for $15/user that includes all the core features, or a Pro plan for $299/month for unlimited users. The Pro plan can be used by bigger companies and adds more support, storage, and other features. Learn more about Basecamp's plans and pricing here.
7. Hive
Best for: Teams searching for a centralized platform for collaborative workflow management.
Hive combines project management, collaboration, and communication features in one platform, helping teams stay organized and connected. Its integrated analytics, chat, and file-sharing capabilities foster effective collaboration, making it suitable for organizations seeking an all-in-one work management solution.
Key features
Templates and automations to save time on tasks and work organization
Track time within the platform and record weekly timesheets
Integration with popular tools like Google Drive, Zoom, Dropbox, Salesforce, and more
Pricing
Hive offers a free forever plan with some solid basic features, a Teams plan at $12/user, and an Enterprise plan with custom pricing. The paid plans offer unlimited storage and users, additional functionalities, and more customization.
8. Kissflow
Best for: IT and business teams looking for an adaptable workflow automation and management tool.
Kissflow is a project management workflow software ideal for IT and business teams who want to build apps or develop products. It enables users to design, automate, and manage workflows and track project progress with a no-code interface, allowing teams to create efficient processes without needing any technical background.
Key features
Create custom forms and tables with a drag-and-drop builder
Integrations with thousands of apps through Zapier
App Builder feature helps teams get projects off the ground quickly
Pricing
There are two plans to choose from: a Basic plan for simple use cases for $1,500/month, and an Enterprise plan with all of Kissflow's available features with flexible custom pricing.
9. Cotalker
Best for: Maintenance and service management teams that need real-time collaboration and workflow management.
Cotalker focuses on collaboration, offering a low-code platform to automate, digitize, and integrate your processes and workflow in one place. With its emphasis on real-time collaboration and task management for digital processes, Cotalker is designed to help teams effectively manage their work and stay connected.
Key features
Automate workflows with pre-built routines
Low-code interface that allows you to customize the platform to your needs
An API that allows you to integrate with your ERP and IoT work tools
Pricing
Cotalker doesn't have publicly available pricing but you can reach out to its team to get a quote.
10. Scoro
Best for: Professional service teams that require comprehensive work management and resource planning.
Scoro offers an end-to-end solution for project management, time tracking, billing, and team collaboration, tailored to service-based businesses. Its combination of KPI tracking, financial management, and appointment scheduling ensures that service teams can manage their projects and resources effectively.
Key features
KPI Dashboard with real-time tracking and reporting for better decision-making
Financial management with budget and profitability reports
Integrates with your existing work tools like Google Calendar, Hubspot, Zapier, and more
Pricing
Scoro offers an Essential plan for $26/user, a Standard plan for $37/user, a Pro plan for $63/user, and an Ultimate plan with custom pricing. Each plan offers more features and customization options.
11. Spreadsheet.com
Best for: Teams that prefer to work manage data on a spreadsheet-based platform.
Enhance your traditional spreadsheets with Spreadsheet.com with features for collaboration, automation, and data visualization, allowing teams to manage projects in a familiar interface. With the ability to automate tasks, create custom workflows, and visualize data, Spreadsheet.com offers a unique blend of flexibility and control.
Key features
Collaborative and shareable online spreadsheets
Visualize your work in different views such as Sheet, Gantt, Kanban, and more
See your data in 14 different types of charts including pie, donut, bar, column, and more
Pricing
Spreadsheets.com has a free plan for individual users and small teams, a Standard plan for $7/user, a Premium plan for $19/user, and an Enterprise plan with custom pricing. Higher-tiered plans offer more features and are ideal for larger teams.
12. Fibery
Best for: Agile teams looking for a customizable and visual work and knowledge management hub.
Companies can build their own work and knowledge management hub with Fibery, enabling them to create their own customizable solution. With Fibery, teams can also access documents, manage tasks, and collaborate easily all in one place, making it a suitable platform for teams seeking a dynamic and tailored work management experience.
Key features
Map your processes your way to create a custom solution
Easily generate tableau-like reports and charts
No coding knowledge is required to build an entirely customizable platform
Pricing
Fibery offers a free Solo plan for one user, a Standard plan at $10/user, and a Pro plan at $17/user. Paid plans offer additional users, features, and access to version history.
13. Rocketlane
Best for: Professional services and onboarding teams looking for a streamlined customer onboarding and project management solution.

Rocketlane focuses on customer onboarding workflows, offering tools for collaboration, task tracking, and project management to ensure a smooth client experience. Its combination of a customer portal, task tracking, and metrics makes it an excellent choice for teams looking to enhance customer satisfaction.
Key features
Templates tailored to various businesses and needs including forms, timelines, and more
Automation features to help you put manual tasks on auto-pilot
See your projects in different views like Kanban, Gantt, or on a list
Pricing
Rocketlane has an introductory Essentials plan at $19/user, a Standard plan for $49/user, a Premium plan for $69/user, and an Enterprise plan for $99/user. Higher-tiered plans offer more integrations, customizations, features, and enhanced support and security tools.
14. Airtable
Best for: Teams building apps that require a mix of spreadsheet and database functionality.
Airtable combines the simplicity of spreadsheets with the complexity of databases in order to help teams build apps quickly. It offers a versatile platform for organizing projects, tasks, and data. With features like customizable views, collaboration tools, and integrations, Airtable is well-suited for teams that want a highly customizable and adaptable solution.
Key features
Automate repetitive tasks using AI without any coding knowledge required
See your databases in different views like gallery, calendar, Kanban, timeline, and more
Integration with thousands of apps through Zapier
Pricing
Airtable offers a free plan for small teams or individuals, a Team plan for $20/user, a Business plan for $45/user, and an Enterprise plan with custom pricing. Higher-tiered plans offer more automations, storage space, extensions, and more security controls. Learn more about Airtable's plans and pricing here.
15. Teamwork.com
Best for: Creative businesses seeking a simple yet comprehensive workflow and process management tool.
Teamwork.com offers a suite of tools for project planning, collaboration, and task management, helping teams or individuals stay organized. Teamwork.com is easily scalable, meaning the platform can be used for freelancers, independent workers, agencies, or startups with bigger teams. With features such as task lists, Gantt charts, and time tracking, Teamwork.com provides the essential tools needed for efficient execution and coordination.
Key features
Easily plan and execute web development projects of any size
Simple client onboarding helps agencies or freelancers make a great first impression
Create invoices based on tracked billable hours directly within the platform
Pricing
Teamwork.com offers a free forever plan, a Starter plan for $5.99/user, a Deliver plan for $9.99/user, a Grow plan for $19.99/user, and a Scale plan with custom pricing. Higher-tiered plans include more features like automations, reports, dashboards, and more.
Fully customizable workflows and automations with monday.com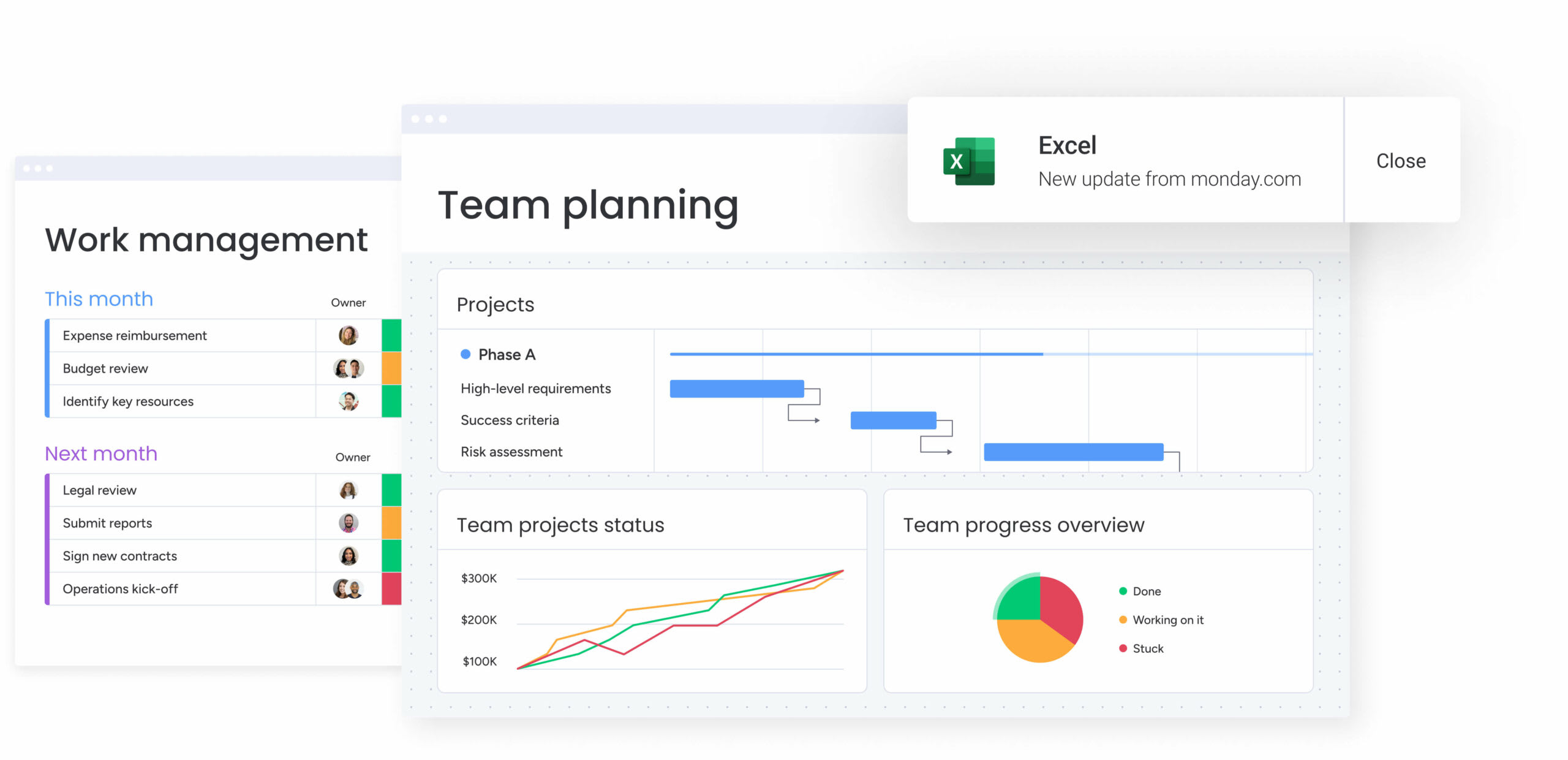 With monday.com, you don't need to compromise on features. The platform is flexible, scalable, and fully customizable to your needs so you don't need to disrupt your existing processes and can instead form workflows that support your needs.
Don't just take our word for it: monday.com has a score of 4.7/5 on popular review site G2 thanks to its intuitive interface and wealth of features for workflow management. Here's a quick look at just some of those features:
Custom automations that can be created in a few clicks

27+ work views to suit any team member or project, such as Gantt, Kanban, Calendar, Timeline, and more

Detailed in-app time-tracking, reporting, and analytics tools to help you optimize workflows

Real-time communication and collaboration tools like task-level discussions and notifications

Hundreds of templates to suit any type of workflow for a seamless start

Integrations with 200+ popular apps like Slack, Google Teams, Mailchimp, and more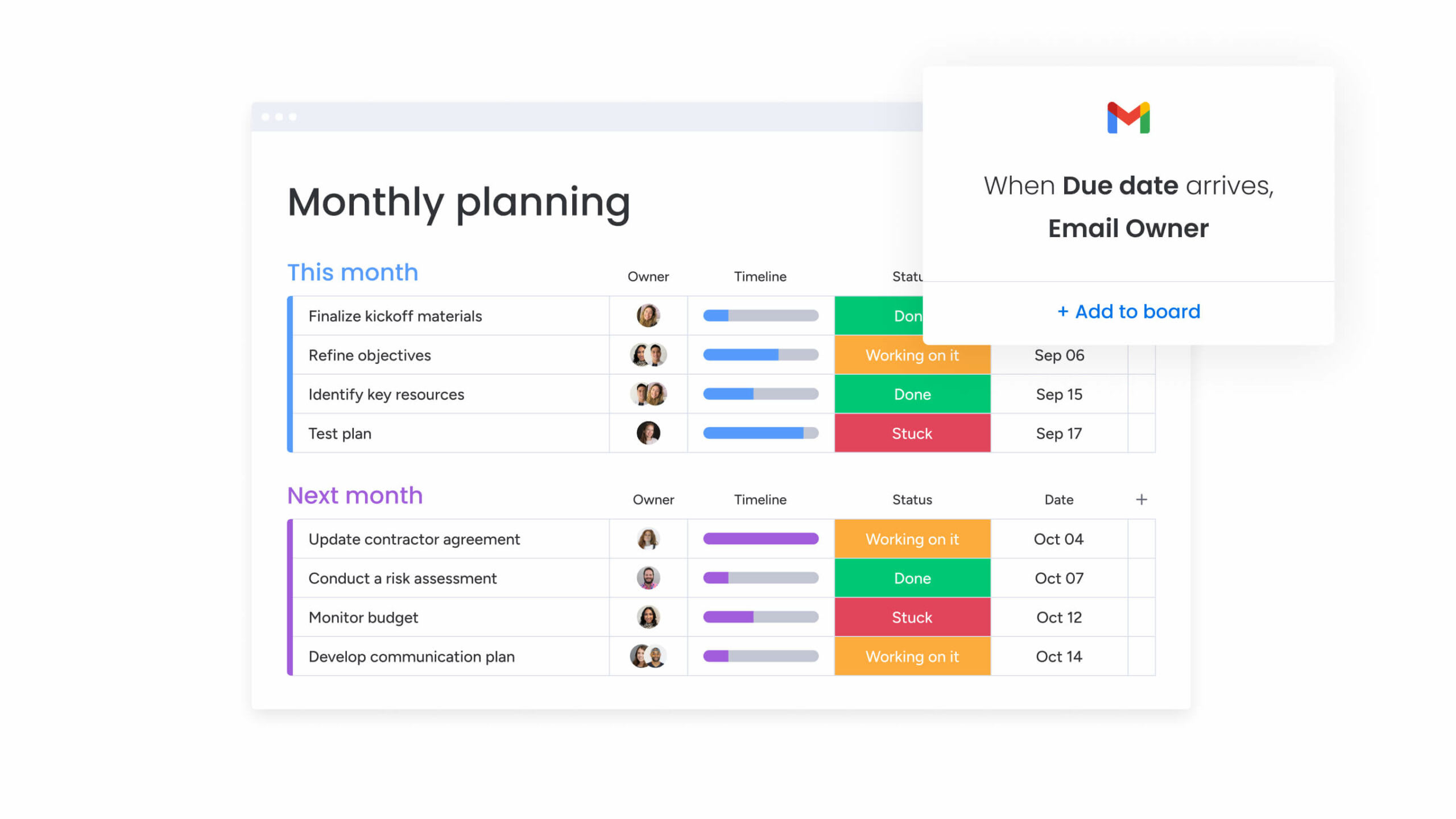 All that is just the tip of the iceberg. When it comes to support, our agents are proud to offer you quick and efficient resolutions. Not only that, but monday.com gives you the flexibility to pay for the exact number of users you need.
FAQs
What does workflow management software do?
Workflow management software helps teams streamline, organize, and automate business processes in one place. Through features like task assignments, communication tools, timeline tracking, and reports, teams can improve workflow efficiency and visibility.
What is the best workflow management software?
The best workflow management software is the one that works for your team. There's no one-size-fits-all solution, but rather multiple tools that would work best in different circumstances. That said, opt for a flexible and customizable workflow management tool like monday.com so you can tailor it to your needs.
What is an example of workflow management?
An example of a workflow could be anything from the process a company goes through when a customer returns a product to onboarding new employees. For the latter, the workflow would include multiple steps and tasks, such as posting a job, screening CVs, interviewing, training, and more.