On paper, a workflow can sound like a really technical concept. In reality, it is comparable to the painted lanes, street lights, and carefully planned highway systems we have come to expect when we drive (can you imagine driving with none of that in place?).
Workflows and all the steps involved exist to guide all moving pieces toward the desired outcome efficiently and reliably—this requires process mapping for repeatable workflows that are essential to business process management.
This article is a deep dive into all things workflow in 2023. We'll explain what workflows are and how you can use workflow automations and software for process improvement and systems that manage themselves practically!
What is a workflow? What is involved in creating one?
A workflow is a standardized series of tasks you complete to achieve a specific goal.
At monday.com, custom workflow apps are what make our work operating system (Work OS) tick — empowering teams to plan, run, and track processes, projects, and everyday work.
What's an example of a workflow?
To better under the process of a workflow, here is what a sequence of steps could look like for customer onboarding:
Send an

automated email

with upcoming training calls

Assigned customer success manager (CSM) holds a training call

CSM initiates an

email onboarding sequence

based on customer needs

Ten days later, CSM reviews customer usage data to ensure they are actively using the product.

CSM follows up with the customer to set up the next meeting
Imagine if every team in your organization executed business process modeling like this. It would certainly make for easier workflow analysis later to understand where there is room for improvement or what's simply working great—but more on this later. Ideally, there should be a workflow for each process, ideally with an associated diagram.
What is a workflow diagram, and who uses it?
A workflow diagram — sometimes called a process flowchart — is a graphic/visual overview of a repeatable linear process intended to see a task through to completion.
Its purpose is to make complex workflows easier to understand by making them visual.

Understanding the shapes of a workflow diagram
As shown in the example above, a workflow diagram consists of various geometric shapes and arrows that help define each step further. Here's a chart to make sense of it of a basic one—you might find other variations. That's why it's important to include legends for your work processes.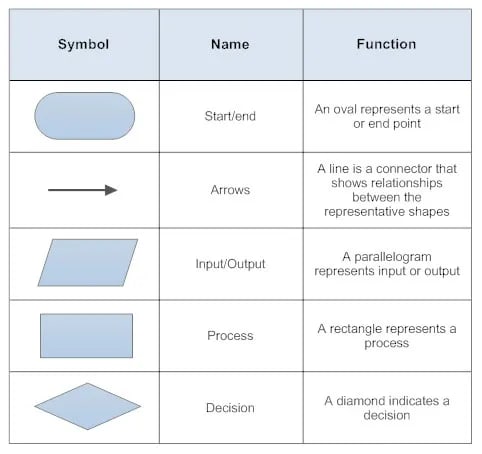 Company workflow diagrams help employees better understand their role within the company or their team. For business workflows for projects, they visually represent what work requires completion and in a specific order.
Just about every successful company or organization across industries relies on them to enhance and organize their workflow productivity: 
E-commerce

: Customer journey from awareness to interest to making decisions and purchasing. More detailed charts can display post-sale actions (shipping, delivery, retention activities, etc.).

Healthcare

: Patient journey from scheduling to arrival to exam to results to follow-up.

Education

: College student process — application, registration, acceptance, enrollment, class schedule … and ultimately degree acceptance and alumni follow-up.

Application development

: Brainstorming to wireframing and design to programming and launch (and post-launch stakeholder feedback).
What are the 3 basic components of a workflow?
Now that we understand a bit more about workflow diagrams let's get back to the basics of a workflow. These three basic components are common:
Input

: The "stuff" (staff, materials, resources, etc.) that goes into completing a step in a process.

Transformation

: The rules or directions/steps of how input is received and what happens to it once received.

Output

: The product or deliverable that is created as a result of the transformation. The output also can serve as the input for the next step in a process.
 Each one of the three components is, in reality, much more detailed and complex.
What is workflow management software? What are some examples?
Workflow management software, sometimes known as a workflow management system is essentially a digital tool for providing the infrastructure for the set-up, performance, and monitoring of a defined sequence of tasks. 
They usually offer a number of project management and workflow methods within them, like Gantt charts, calendars, Kanban boards, and more.
Some examples include: 
monday.com

Hive

Kissflow

Smartsheet
The kicker is, not all workflow software is created equal. In the next section, we'll explore the essential features you need to look out for.
4 things to look for in workflow management platform (and why you need one)
A sophisticated workflow management platform empowers teams to complete any kind of business process with ease, independently.
Here are four things every top platform should include and what features make it possible:
Freedom to centralize your data in one place
A huge drain on time comes from trying to track down and update your data from several tools. It certainly leaves room for error, delays, and of course a lack of accuracy that could cost you even more time or impact. 
Take time to understand the integrations offerings before you choose a workflow management software — connecting third-party software to your current platform gives you to flexibility to work the way you want, seamlessly while reducing redundancy, eliminating small data entry tasks, and centralizing data. 
A bonus is in-platform dashboards that are automatically updated and customizable, ultimately providing managers a clearer overview of performance.
On monday.com for example, sales managers can directly connect their CRM system to allow for a seamless import of sales performance data. Crucial information can then be managed in a dashboard like the one below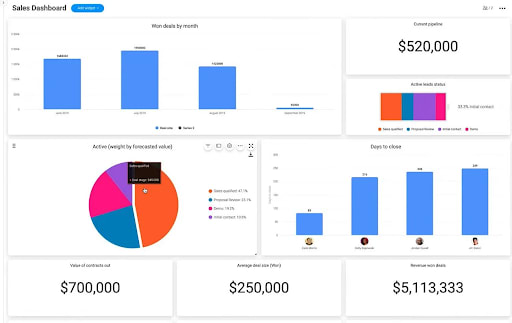 Automations to optimize all parts of your workflow
Most workflow management systems promise built-in tools to support project management functions—what sets the best ones apart from the rest has to do with how intuitive they are and how much time they can save users. 
Experts estimate that the value of automating unnecessary tasks (for US companies alone) could be as high as $15 trillion. Do you need to copy the text from an email and add it to your CRM? Or could a workflow software system handle it?
Prioritize software that allows you to automate the following tasks:
Due dates

Reminders

Status updates

Task owners

Time tracking
At monday.com, our automation recipes — pre-defined combinations of triggers (events that set an automation into motion) and actions (what occurs as a result of that trigger)— make it easy to speed up your workflow while promoting transparency.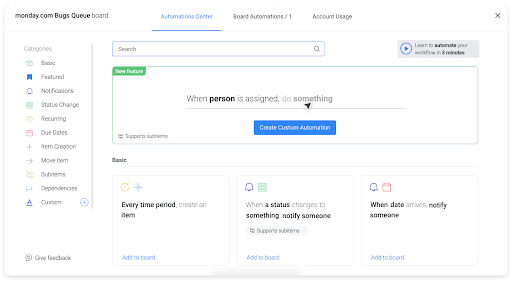 For example, you can:
Use

integrations

to update task card info across platforms

Notify other departments of bug reports

Reach out to coworkers when you finish your step
These are just a few examples of manual tasks that you can leave to the workflow management system.
Native features centered around transparency
In organizations of all sizes, communication is make-or-break. Without clear and upfront communication, especially around workflows, duplicative work and delays take center stage. 
Making regular and organized communication a part of your team's workflow is much easier with the right workflow software. This comes down to four main things:
Task owners: Choose a tool that lets you assign both individuals, multiple people, and even teams to work. This promotes accountability and leaves no one asking, "Who's doing that again?"
Statuses: Go beyond "Working on it" and "Done" and reach for a platform like monday.com Work OS that lets you create tens of statuses with your own labels and an array of colors.
Updates and commentary: Reduce Slack messages and emails over assignments with the ability to comment and tag team members directly on the task in question. 
Document sharing: Communication often comes in the form of larger documents and memos as well. Look for a tool that enables both file sharing and the creation of your own documents within the platform. 
See how all of this works with monday.com Work OS.
Cross-department functionality
As we mentioned earlier, workflow management software is crucial for any size or type of team. The same is true for organizations with departments that work closely together or to ultimately achieve company-wide goals. Therefore, it's crucial that the platform you choose enables seamless collaboration and communication, regardless of team function.
Whether it's numbers, roadmaps, plans, or challenges, you'll want this information to be readily accessible to any relevant stakeholders, internally or externally. Luckily this is something that's in the monday.com DNA. 
Try our Cross-Department Project Tracking template now.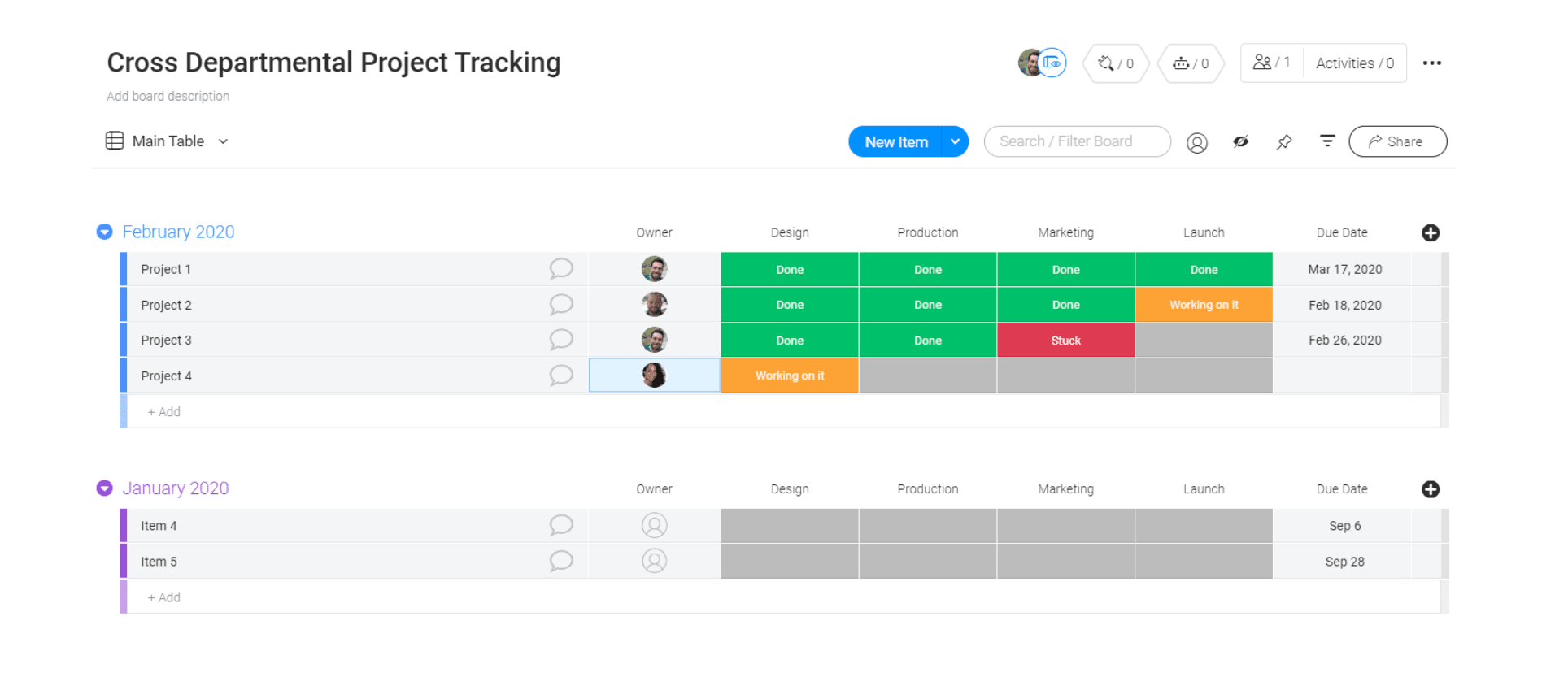 5 reasons to standardize your workflow
We like to think the rationale behind standardizing workflows is as simple as "what goes up must come down"— that which is standardized results in fewer headaches! 
Here are our top 6 reasons to standardize your workflows:
1. Increased productivity
A standardized workflow means every team member knows their assignments. They know what to do and when to do it, eliminating the ambiguity that leads to delays and missing work. 
The reduction of manual work that comes with standardization will also contribute to more efficient workflows, which means your teams can get more work done.
2. Less micromanagement
Standardized workflows combat micromanagement in a way that is two-fold:
Team members are empowered to practice more self-management with ownership over their tasks and less reliance on their managers for direction and guidance because a clear plan is already laid out.

Managers can hand over more autonomy to their reports because they can quickly see where tasks and projects stand against deadlines. On monday.com, they can inquire directly on a task and

automate management cues

like reminders to

complete tasks

, provide status updates, and seek approvals. 
This equates to more time for managers and the C-suite folks to focus on high-level, strategic decisions instead of day-to-day processes.
3. More consistent results
Good news: Standardized workflows produce more consistent outputs. With a standardized workflow, you can deliver an almost identical result each time, including the time it takes to finish. Because you have created a routine process, even new key players can be onboarded and execute their tasks smoothly.
4. Improved onboarding and adoption rates
An integral and essential workflow of every growing organization is onboarding new hires. While critically important, onboarding is also time-, resource-, and cost-intensive.
Two of the top challenges of training new employees revolve around inconsistency and insufficient technology to automate or organize the process.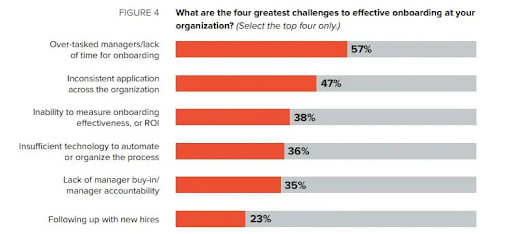 Standardized workflows on work management software like monday.com drastically speed up new employee ramp-up time and empower them to contribute value sooner rather than later.
5. Reduced risk
The uniform structure of standardized workflows lends itself to risk reduction. First, mapping out a workflow from start to finish helps project managers and contributors understand potential points for roadblocks in advance— this way they can build their strategy accurately.
Secondly, it helps reduce risk throughout project execution. For example, when employees have a clear understanding of how to complete specific processes, when to seek approvals, and how to uphold certain standards or requirements, the likelihood of mistakes and delays is significantly reduced.
6 templates for standardizing complex workflows
We love templates here at monday.com. We have hundreds of ready-made templates (all fully customizable) for many different workflows. Here are 6 of them that can be used to help standardize complex workflows:
1. Employee onboarding
This template gives you a solid base to create the ideal—and stress-free— new employee onboarding experience. You have the flexibility to customize it with your own messaging and favorite integrations to get your new joiners started with your favorite tools right away.
2. Creative design
Any design agency or in-house creative team should have a multi-step process for delivering finished designs. Map yours out or draw inspiration from ours so you never miss a beat on where designs stand and who is executing them.

3. Video production
Video production planning is a complex process with a lot of moving parts. Plus, each project lifecycle has unique variables that can change the necessary inputs.
This template outlines a basic pre-production workflow that you could repeat for each shoot.

4. Manufacturing
If you rely on outside suppliers or manufacturers, you can set up a simple manufacturing workflow like this.
Our manufacturing process template — like all monday.com templates — is customizable to better suit internal manufacturing processes.

5. IT requests or bug reporting
Whether you're an internal IT department or you offer manager IT services to enterprises, efficiently managing IT requests is imperative.
This IT request/bug reports template helps teams quickly categorize and prioritize important tasks, as well as protect any SLAs.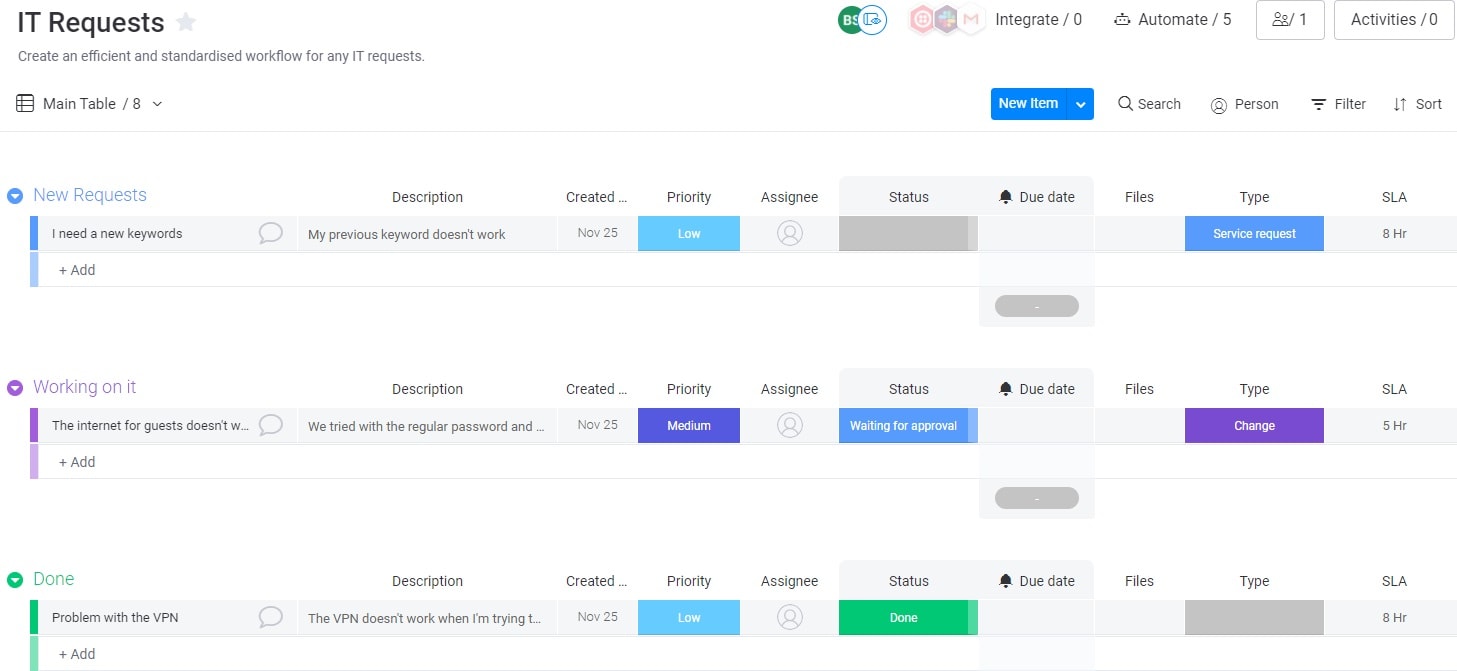 6. Lead management
A future customer has taken the time to proactively fill out of a form on your website to get more information about your offering, to request a demo, or to learn more. 
Use this template to organize these leads, research, and more so you always strike while the iron is hot. Then create a dashboard to see your performance.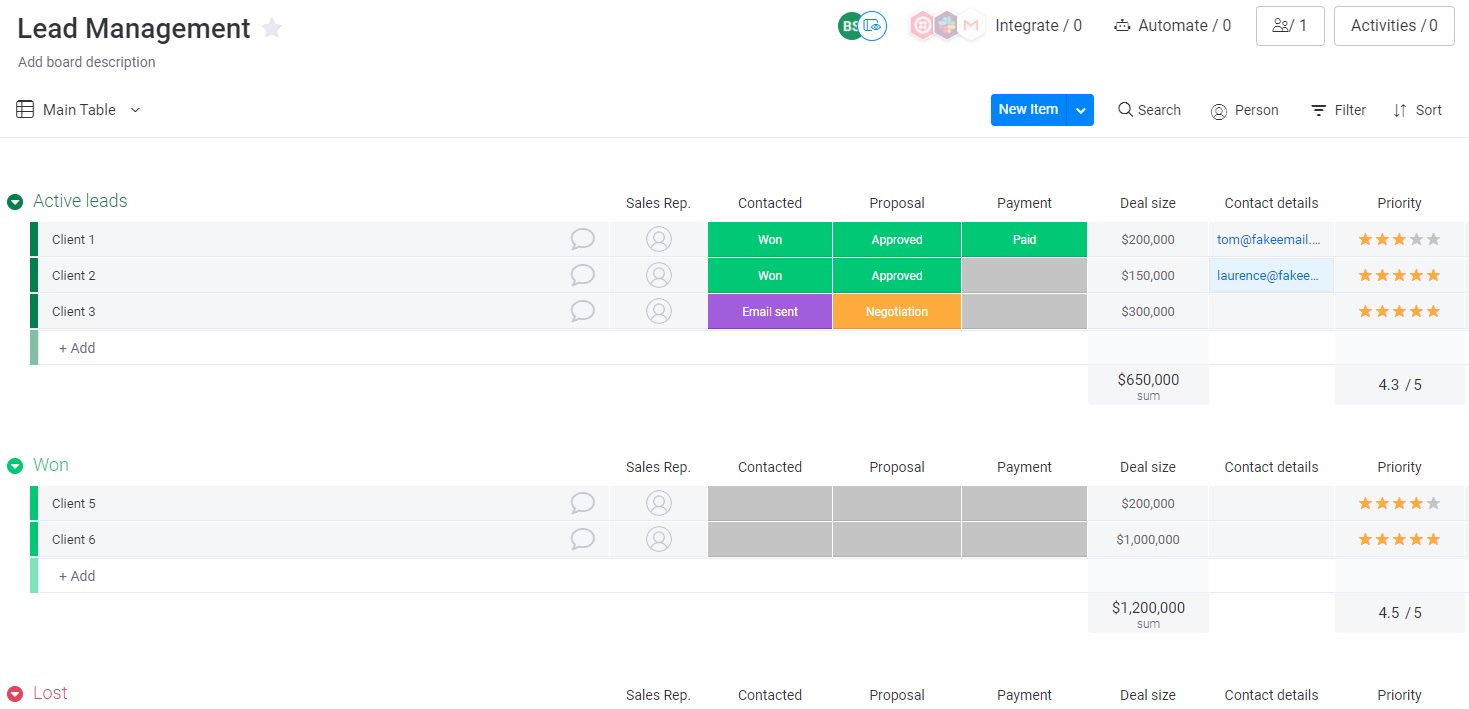 6 tips to optimize your workflows
As we've seen, standardizing your recurring business processes is well worth the effort, due to the payoffs in productivity and efficiency. Here are a few ways you can optimize your workflow:
1. Place an equal value on ownership and tasks
While accomplishing small tasks is an important part of any team members work, it's important to give them autonomy in their areas of expertise. Making this clear to other team members will give them clarity on who to reach out to, and free up time for project managers and leadership from the day-to-day questions. monday.com lets you make it clear who is a task owner, who is a point of contact, and more with People Columns that you can customize.
2. Automate, automate, automate
Introduce some level of automation to the mix, whenever possible. For example, set up your website lead forms and emails to create new task cards based on incoming emails.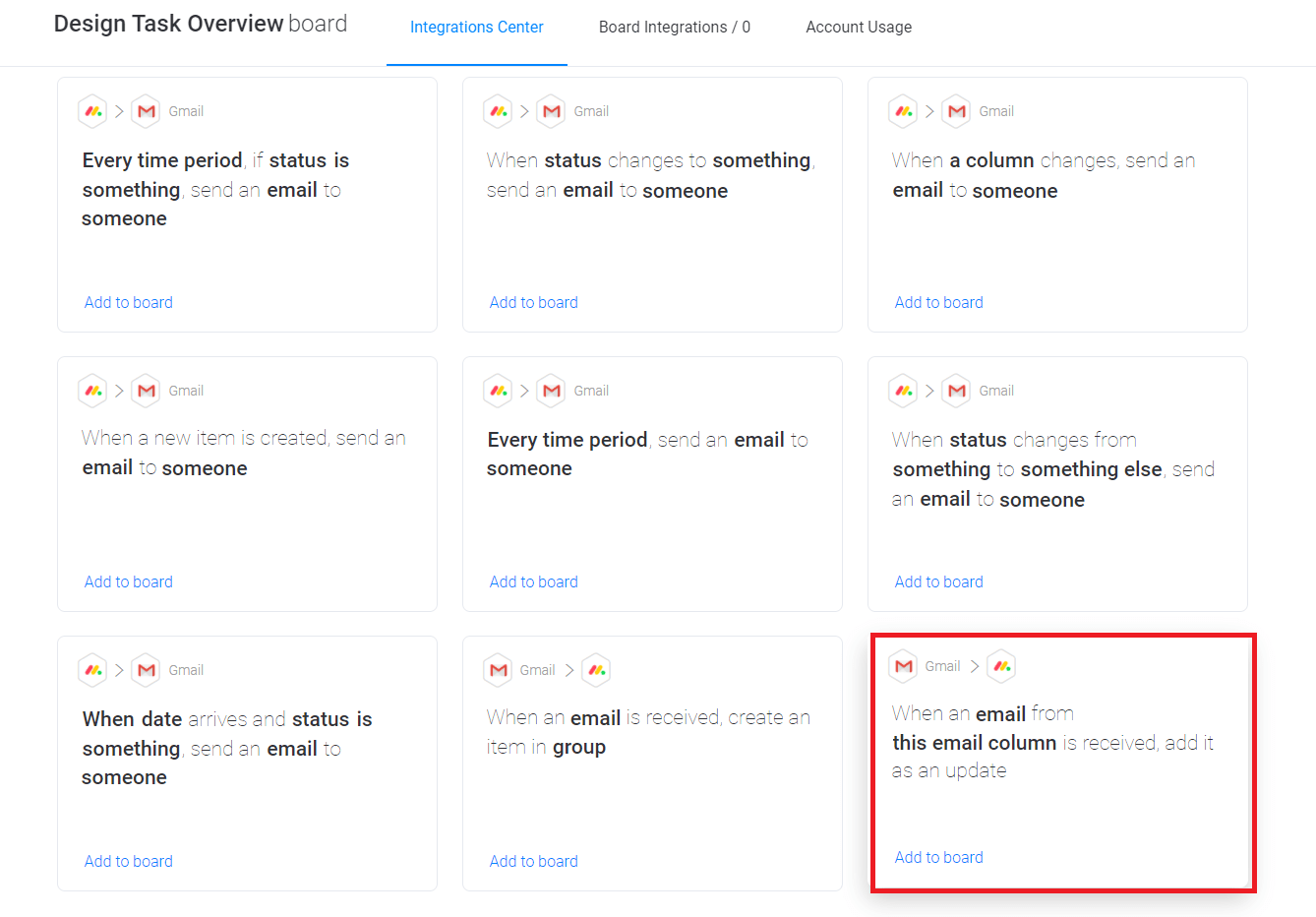 3. Establish consistent communication practices
When it comes to giving feedback or updates, encourage your team to be consistent, whether it's in their format or where they add their input. We like to comment directly on tasks in the Updates section of monday.com— there you can continue real-time and in-context threads instead of chasing down emails or messages.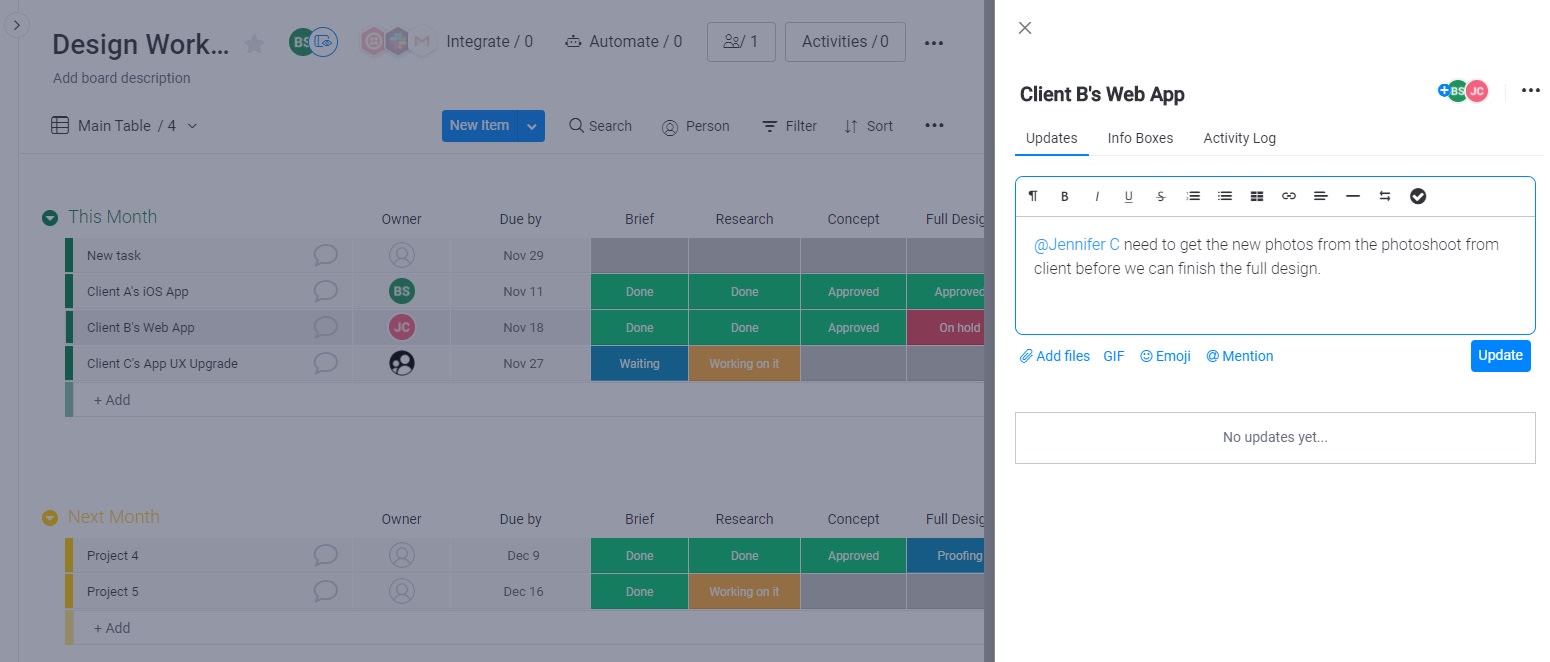 4. Give your KPIs visibility
Clear expectations for performance, both on a team and individual level are always a good idea. Be sure to establish key performance indicators (KPIs) that anyone can access. This will keep everyone focused and make it easier to track progress over time.
5. Assign priorities to tasks
Ensure that the most crucial work is addressed first by not only assigning due dates but including a priority. When teams are faced with tight deadlines or unexpected changes in budget or resources, they need to be able to quickly understand and execute their next move.
6. Create and reuse custom templates to standardize workflows
After you've created a workflow, a major advantage is the ability to save the workflow as a template that you can duplicate and modify for many projects to come. You can also use pre-existing templates for new projects to get started in minutes.
Your first steps to creating a workflow
Now that you've had the opportunity to more deeply understand the value of workflows, it's time to get started with your own mighty or mini-plans! Scroll through our list of fully-customizable templates and find one (or a dozen) that best suits your workflow needs.