Setting work goals is a pillar of long-term success and impact. Without it, your individual contributions and even company-level initiatives might not hold water.
Like any work management process, there are tried-and-true practices for the goal-setting process. In this article, we'll walk you through the value of setting goals and how to improve the way you do it — including a breakdown of the most useful features of monday Work Management. We'll explain the benefits of goal setting, how to identify realistic goals, setting goals for a team, and — most importantly — how you can use monday.com to achieve them.
What are work goals?
As an individual, project, or team manager, you are responsible for creating and managing smaller goals that contribute to a business or long-term goal. Work goals can be as quantitative as decreasing marketing spend or as qualitative as creating a new mediation space for employees. In general, work or professional goals are related to a wider-spanning goal, such as a project's success, a team's expertise, or a company's performance.
As a reminder — a goal and an objective are related but not the same.
A goal is to have 22% more sign-ups to a product website, but an objective is an activity that helps make it possible, such as running copy tests each week to see what performs best.
Setting goals is also a core part of the monday Work Management process — in fact, setting goals and setting okrs based on needs or priorities has to happen before you even define processes, projects, workflows, and tasks to support them.

More monday Work Management use-cases:
What are some examples of work goals?
As we mentioned, the goals individuals and teams set at work can take on many different shapes, but you might be most familiar with performance-type goals. Here are 10 ways you or your team could try setting goals.
10 examples of workplace goals
Creating a brand book for a startup
Increasing the number of seats in an account
Having employees complete a security awareness course
Conducting target audience research for a campaign
Recruiting new employees for the developers team
Defining a one-year product roadmap 
Launching a management training program
Improving budget management across teams
Creating a request and approvals system on a new platform
Preparing a quarterly resource management report
You can create and track all of these types of work goals with monday Work Management.
Why is setting professional goals important?
Let's start with a few statistics about the benefits of setting goals, based on Ph.D research.
Here are a few of the psychological ones:
Employees who set goals are 14.2 times more likely to be inspired at work.
42% of employees with no goals feel their ideas are taken seriously, while 80% of employees with goals feel this way.
And one about productivity:
When supervisors adjust goals according to current priorities, employees are 6.7 times more likely to feel motivated to take action at work.
The bottom line?
Setting goals gives individuals and teams a clear vision and purpose, which encourages them to be productive and take ownership or even pride in completing their tasks on time and to the right standards.
It's also important to put effort into setting goals because it ensures that objectives are aligned with them.
5 tips for the goal setting process
Check out these top tips for how to set goals at work.
1. Get familiar with SMART goals
Sound familiar? Human resource departments and managers love to prattle on about SMART goals — and they do it for a reason. It really does work. But the term is new to you, don't stress. It's just a super simple acronym that outlines criteria to make sure your objectives are attainable and measurable within a certain timeframe.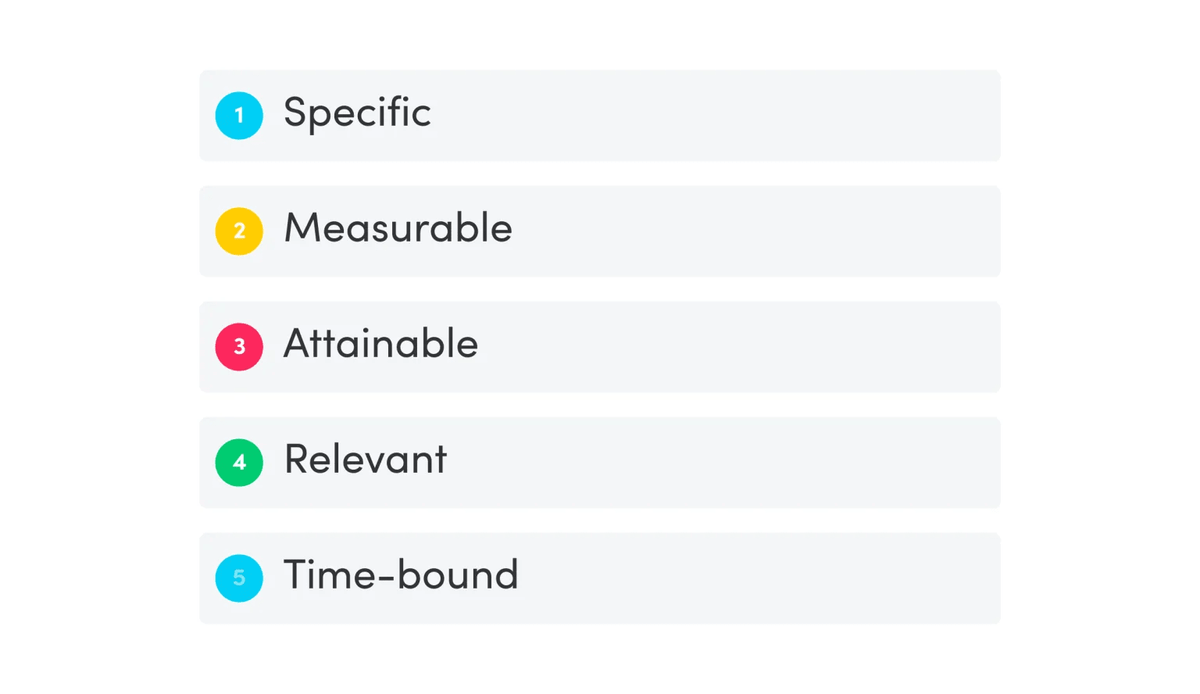 To learn more about SMART goals, visit our blog, A Complete Guide to SMART Goals.
2. Write your goals down
According to a Leadership IQ study of more than 16,000 people, if you write your goals down and vividly describe them, you'll instantly be up to 1.4 times more likely to accomplish your goals than people who don't write them down. That being said, traditional pen and paper isn't nearly as flexible as work management software, where you can create automated workflows and update details in real-time — more on this later. 
3. Share them with others
Reviewing your intended goals is crucial. With monday Work Management, you can easily — and instantly send out workdocs, boards, and more to get feedback and buy-in from your stakeholders.
An added benefit is that if you already have shared your goals, you can then share goal progress and more to motivate the working teams and keep everyone else aware of where things stand.
4. Gain insight by looking at past successes
Looking at similar projects or goals past can help you create realistic goals going forward — and this will trickle down to everything about the goal setting process from resource management across teams and skills, time frames, and impact.
5. Take a page from the goal-setting theory book
Goal-setting theory states that setting goals provides individuals with a clear understanding of what is expected of them and in turn helps them to focus on the most important tasks. It also says that individuals who set specific and challenging goals are more likely to achieve better results than those who set vague or easy goals. 
These guidelines can help you shape your goals more intentionally.
monday Work Management for setting goals
Let's be honest, sometimes setting the goal is the easy part. If you're managing a project team with numerous SMART objectives and multiple workers trying to help achieve those goals, it can be tricky keeping track of it all.
That's where monday Work Management comes in. When working on something as important as the planning of goals and strategy, you don't want to spend time across scattered tools for planning. monday Work Management centralizes everything from collaborative workdocs, timelines, dashboards, and more. 
Trust monday Work Management to be your hub for identifying and strategizing company-wide goals and creating detailed action plans and workflows that sync teams, tools, and data.