Work management involves many different elements, such as planning, coordinating tasks, organizing resources, and focusing team efforts in order to accomplish a goal. It also involves setting timelines, objectives, creating milestones, tracking progress, and communicating with team members and stakeholders to ensure the success of a project. 
Jira Work Management is just one solution on the market that is designed with these functions in mind. In this article, we'll take a closer look at Jira Work Management's features, how you should select a work management tool, and look at monday work management, a strong alternative to Jira.
Get started
The Ins and outs of Jira Work Management
In this section, we'll look at some of the main features that make Jira Work Management a popular choice, as well as its product's pricing so you can get a better idea of what to expect.
Jira Work Management Features
Here's a closer look at some of Jira Work Management's best features.
Multiple boards and views:

Not every team works the same way, so Jira gives you the option to toggle through different board and timeline views. You can also view your project timeline on a classic Gantt chart, Kanban boards, task lists, or on a calendar. 

Detailed task management:

Jira Work Management allows users to set task dependencies, security to lock down tasks that should only be accessible to specific users, task syncing across projects, and breaking down tasks into subtasks.

Integrations:

With over 3,000 available apps and integrations, you'll be able to continue using the work tools you're already familiar with. Jira Work Management integrates with popular tools like GitHub, Slack, Trello, Microsoft apps, Gmail, and more.
Jira Work Management Pricing
Jira Work Management pricing works on a sliding scale depending on how many user accesses you need — the more users you have, the cheaper the price will be per user. There are two plans available for Jira Work Management: Free and Standard. The Free plan is for up to 10 users, and the paid Standard plan is for more than 10 users. Here's an overview of what you get with each plan:
| | | |
| --- | --- | --- |
| | Free | Standard |
| Price | Free forever | From $5/user/month |
| Users | 0-10 | up to 10,000 |
| Automations per month | 100 | 500 |
| Storage | 2GB | 250GB |
| Security and admin controls | Basic | Advanced |
| Support options | Community-based support | Customer support during local business hours |
How should you choose a work management tool?
If you're just at the start of your search for a reliable work management tool, Jira might seem like a good option. While it does help many teams organize their projects and work tasks, it's not the only work management solution that can fit your needs.
There are many Jira alternatives out there that are just as good, if not better. So, how do you choose a work management tool that's right for your projects and your team? There are a few things to take into account.
1. Consider your specific needs
Think of the features and functionality you'd need in a work management tool by looking at the day-to-day tasks your team works on. You might be fine with a general work management tool, or you might decide you need a product that's tailored to your industry.
2. Search for the integrations you need 
Having a lot of integration options is a good place to start when it comes to choosing a work management tool, but rather than looking solely at the number of apps available, do some more digging to see exactly which apps are available.
Hundreds of thousands of available apps aren't going to help if a product doesn't connect with the tools you're already using.
3. Check out software reviews
A good way to understand the user experience of a product without starting dozens of free trials is to read software reviews. Search for reviews that mention key concerns you might have, such as usability, customer service, integration options, or features you need. A good place to start is review sites like G2 or TrustRadius.
4. Look for tools that are made to scale
Look for a work management platform that can scale with your needs as your team grows so that you don't have to switch software down the road. Make sure the software you choose can support adding additional users, scaling to a more robust plan, and increasing storage space. 
Get started
Get a more comprehensive solution with monday work management
While Jira Work Management may be a good option for some, it tends to cater more to the needs of R&D teams. Of course, it can still fit other use cases, but there are options that are a lot more comprehensive and can be customized to more types of teams.
Platforms such as monday work management offer you the best of both worlds: an intuitive interface that's easy to use with tons of customization options
monday work management features
monday work management is complete with all the features you need to work efficiently, like setting goals, managing tasks and collaborating on them, executing projects and processes, managing resources, and more.
Here's a closer look at some of monday work management features.
Visualize tasks your way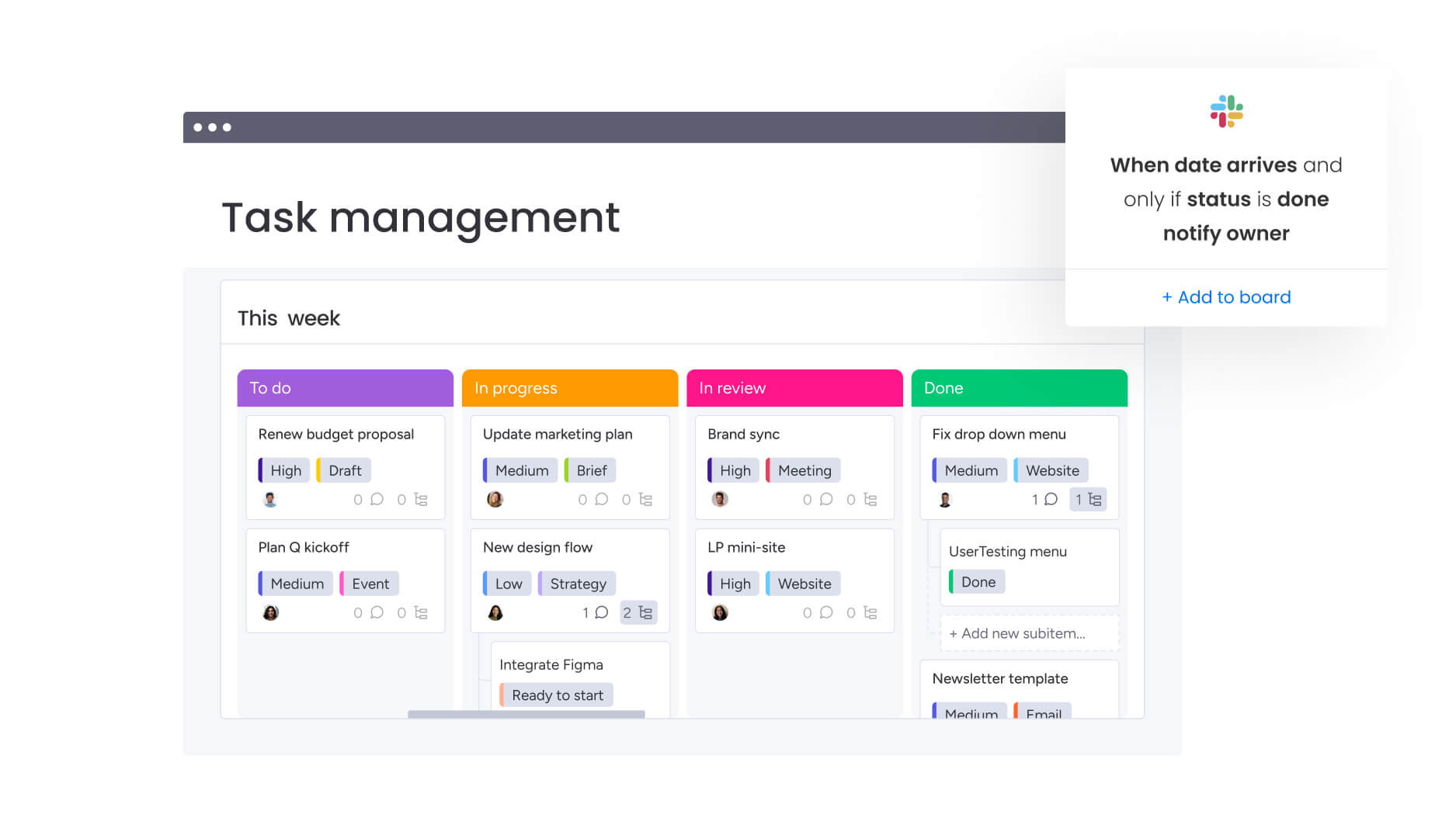 Choose how you oversee your timeline and tasks with more than 10 views such as Gantt, Kanban, tables, calendars, and more.
Create custom workflows and automations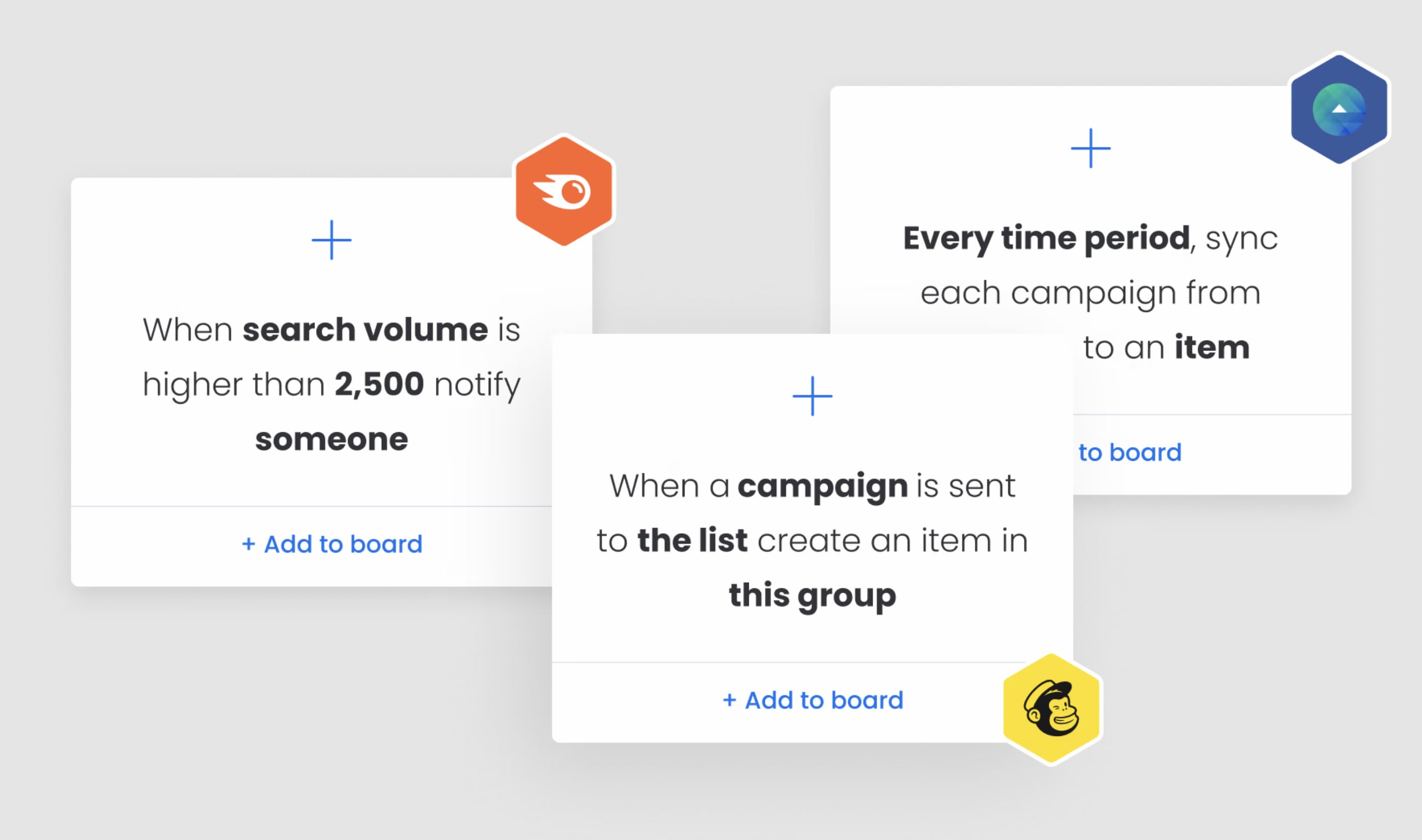 With monday work management, you can build your own custom workflows that support your business's needs with no coding knowledge necessary. You can also choose from over 200 pre-made automations to help make your work more efficient.
Manage resources with ease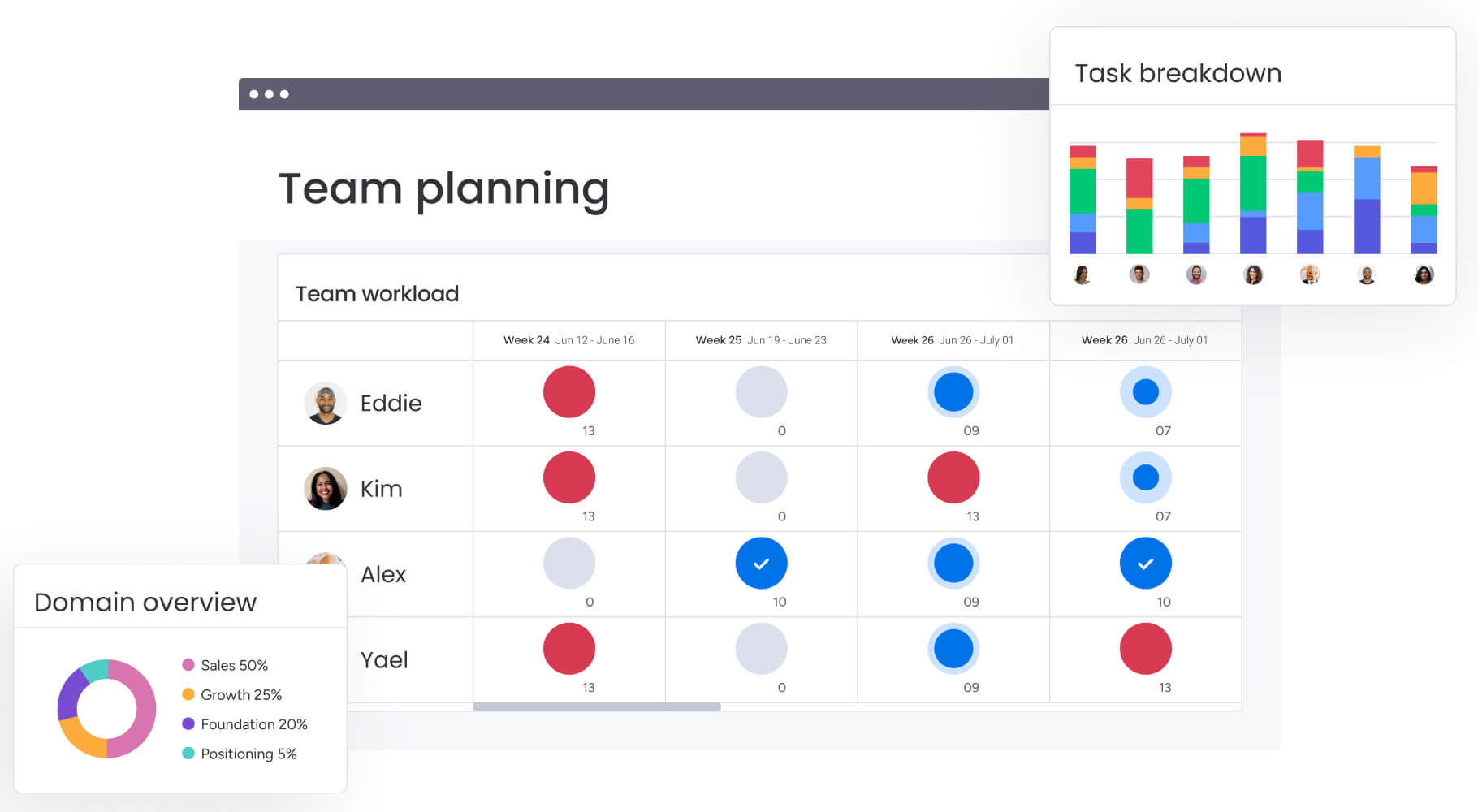 The resource management feature allows you to fully monitor every aspect of a project, from budgeting to each team member's workload. You can also use it to manage goals, materials, vendors, and even track time, making it a versatile feature with countless use cases.
Get started
Read also: Introduction to work management
Jira Work Management vs. monday work management
Both work management solutions might seem like they're neck-and-neck, but when you take a closer look at both of their functionalities and differences, you'll start to realize that one of them comes out on top.
When selecting a work management tool, you want to make sure you're choosing a product that isn't going to limit you. In many aspects, we think that Jira Work Management is more limiting than monday.com. Here's why:
Jira doesn't have cross-board dashboards or automations.

At monday.com, we understand that your projects likely won't be limited to one board, which is why we give our users the ability to work between them with ease. 

Compared to monday.com,

Jira's columns are more limited

. You don't have the option to add a formula column, you can only add one status column per board, which limits your ability to customize tasks, and you can only assign a task to one group or person. We believe that work management tools should promote collaboration, which is why you can customize boards to your liking.

Overall,

monday work management is more agile and flexible

by enabling users to create unique workflows in a greater variety of project and board views like Kanban, Scrum, and Gantt. Does more always mean better? Not necessarily, but it sure doesn't hurt, especially when it comes to customization options. 

Building your own automations on monday.com is quick and easy

, but on Jira Work Management, the process is a little more involved and requires more knowledge of the platform. This can lead to longer onboarding times and hinder efficiency.
Get started
monday work management: the more versatile solution
All in all, both Jira and monday.com are great options for work management, but with monday.com, you simply have the freedom and flexibility to manage your projects as you'd like. Not only that, but with hundreds of pre-built templates to choose from, you can get started in just a few clicks.
FAQs
All in all, both Jira and monday.com are great options for work management, but with monday.com, you simply have the freedom and flexibility to manage your projects as you'd like. Not only that, but with hundreds of pre-built templates to choose from, you can get started in just a few clicks.
Can Jira be used for task management?
Jira can be used to track tasks, projects, and issues, helping teams stay organized and on schedule.
Is Jira Work Management part of Jira Service Management?
Jira Service Management customers will find that Jira Work Management is included with the Service Management license. That said, both of these products can work as standalone software.
Does Jira Work Management have sprints?
Sprints are available in Jira software but not in the Jira Work Management product.
What is Jira best used for?
In general, Jira software is best used for R&D teams working on technical projects and teams looking to track bugs or issues in software.
Is Jira HIPAA-compliant?
Yes, Jira software is HIPAA-compliant.
Related content: Asana work management