Asana is a household name when it comes to task and project management, but with the release of new software, it can be tricky to decide which platform is best for your business.
Airtable is another popular project management platform that's worth considering. While targeted to app development teams, Airtable is used by all types of teams and companies, making it a versatile alternative to Asana.
Still, shopping around for the right project management platform for your company shouldn't be done hastily. Take time to consider your team's needs alongside a software's capabilities, price, ease of use, and what users have to say about it.
Here, we'll look at both Asana and Airtable to see how they stack up side-by-side. You may also be surprised to realize that perhaps neither platform is ideal for your team, and a more customizable and scalable option, like monday.com, may be just what you're looking for.
Get started
Airtable vs. Asana: At a glance
No time to go over our full comparison? Have a look at the table below for all the need-to-know details:
Asana
Airtable
Pricing
Free basic plan, paid plans from $10.99/user/month
Free basic plan, paid plans from $20/seat/month
Features
Task management
Workflow automations
Multiple project views
Build a database
App-centric templates
Built-in generative AI
Integrations
200+
30+ and an Extensions Marketplace
Ease of use
Easy visual platform with some users noting a long learning process
Easy interface to use with a steep learning curve for some users
Customer support
Various support and self-help resources with extra support for high-tiered plans
Several self-service options with support varying for paid plans
User reviews
4.7/5 on G2
4.6/5 on G2
Asana vs. Airtable: Features
Before you look at anything else in a project management tool, consider which features you need for your team and workflows. Asana and Airtable both have all the basic project management features you'd need, but maybe one has capabilities more suited to your unique business than the other.
Asana features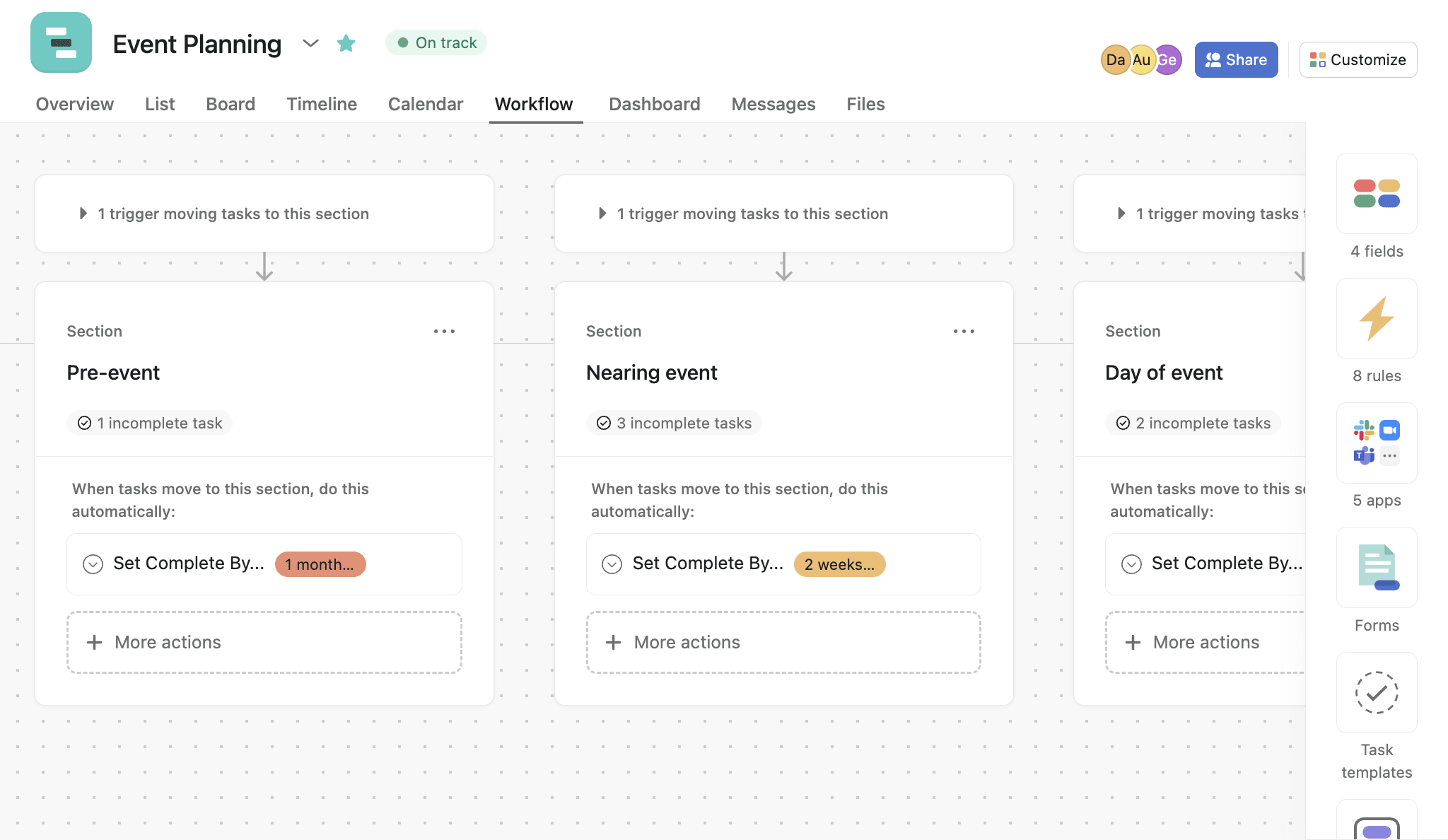 Asana is known for its robust task management features. With capabilities for task tracking, reporting, team communication, collaboration, as well as goal tracking, Asana excels in supporting a variety of project management needs. Here's a look at some of the software's most notable features:
Task management:

Asana allows users to create and organize project tasks down to small details, like due dates, dependencies, and attachments.

Workflow automation:

Create your own custom automations and workflows to reduce error, cut down on manual tasks, and ensure important notifications are sent.

Multiple project views:

Visually manage your project in a timeline, calendar, Kanban board, or Gantt chart according to your team's preferences.
Airtable features
Airtable is a solution that's geared towards teams who build apps, but can still be applicable for various other project management use cases. With Airtable, teams can centralize their important data while optimizing workflows all in one place. When it comes to features, Airtable offers several app-building capabilities as well as AI features to transform workflows. Let's take a closer look.
Build a database:

Create custom tables that act as databases where you can, visualize workflows, add custom fields, connect data across tables, and get powerful insights.

App-centric templates:

Get off the ground quickly when it comes to building apps with templates for product planning, asset production, customer insights, and more.

Built-in generative AI:

Add AI models to your apps and integrate AI into your operations to supercharge product, sales, marketing, and other workflows.
Asana vs. Airtable: Integrations
Chances are your team is already working with a number of work tools. Whether it's a CRM, accounting software, or even a social media management solution, having all your tools integrated into one space allows you to streamline operations. Here's a look at what integration capabilities you can expect from Asana and Airtable:
Asana integrations
Asana boasts a strong integration ecosystem with 200+ different integrations to choose from, such as Salesforce, Google Drive, Slack, Microsoft Teams, and others. Additionally, users can access integrations with thousands of more popular work tools through Zapier. Asana's wide range of integrations ensures that users can seamlessly incorporate the platform into existing workflows with significant disruption.
Airtable integrations
While supporting 30+ app integrations, fewer than Asana, Airtable has many of the most popular work tools covered. Users can connect with tools like Jira, Dropbox, Github, Google apps, Slack, and more. Additionally, Airtable has an Asana integration, meaning companies who want to use both platforms for different teams can get the best of both worlds. Though Airtable offers fewer integrations, there is an Extensions Marketplace where users can find hundreds of additional Airtable open-source extensions and apps like Typeform, Pexels, Loom, and others.
Asana vs. Airtable: Pricing
While a price tag can be a deciding factor in which software you choose, looking at the value of what each plan offers is just as important. We've broken down the basics of Asana's and Airtable's pricing to give you a better idea of what to expect in each plan.
Asana pricing
On Asana's pricing page, you'll find four different plans available:
Personal:

Free, ideal for small teams or individuals, includes tasks and storage, unlimited projects, three project views, and basic workflows.

Starter:

$10.99/user/month, includes upgraded security, reporting, five project views, automated workflows, and more.

Advanced:

$24.99/user/month, includes additional features such as resource management, more advanced reporting, and others.

Enterprise:

Custom pricing, the Enterprise and Enterprise+ plans give users access to even more security and authentication features, priority customer support, and more.
Have a look at Asana's plans and pricing for more details on each plan.
Airtable pricing
Airtable offers four different plans and price points:
Free:

Individuals and small teams can access a free forever account with access to up to 5 editors, 1,000 records per base, 100 automations, and 1GB of attachments per base.

Team:

$20/seat/month, including 50,000 records per base, 25,000 automations, 20GB of attachments per base, extensions, additional work views, and more.

Business:

$45/seat/month, including 125,000 records per base, 100,000 automations, 100GB of attachments per base, an admin panel, additional security features, and more.

Enterprise:

Custom pricing, including 500,000 records per base, 500,000 automations, 1,000GB attachments per base, an Enterprise Hub and API, advanced security tools, and more.
Check out Airtable's plans and pricing breakdown for more information.
Asana vs. Airtable: Ease of use
When adopting new platforms, it's important to take into consideration the technical know-how of your team. Some software may be more complex than others, leading to a longer learning curve or possibly some resistance. Let's take a look at how easy both Asana and Airtable are to use. 
Asana ease of use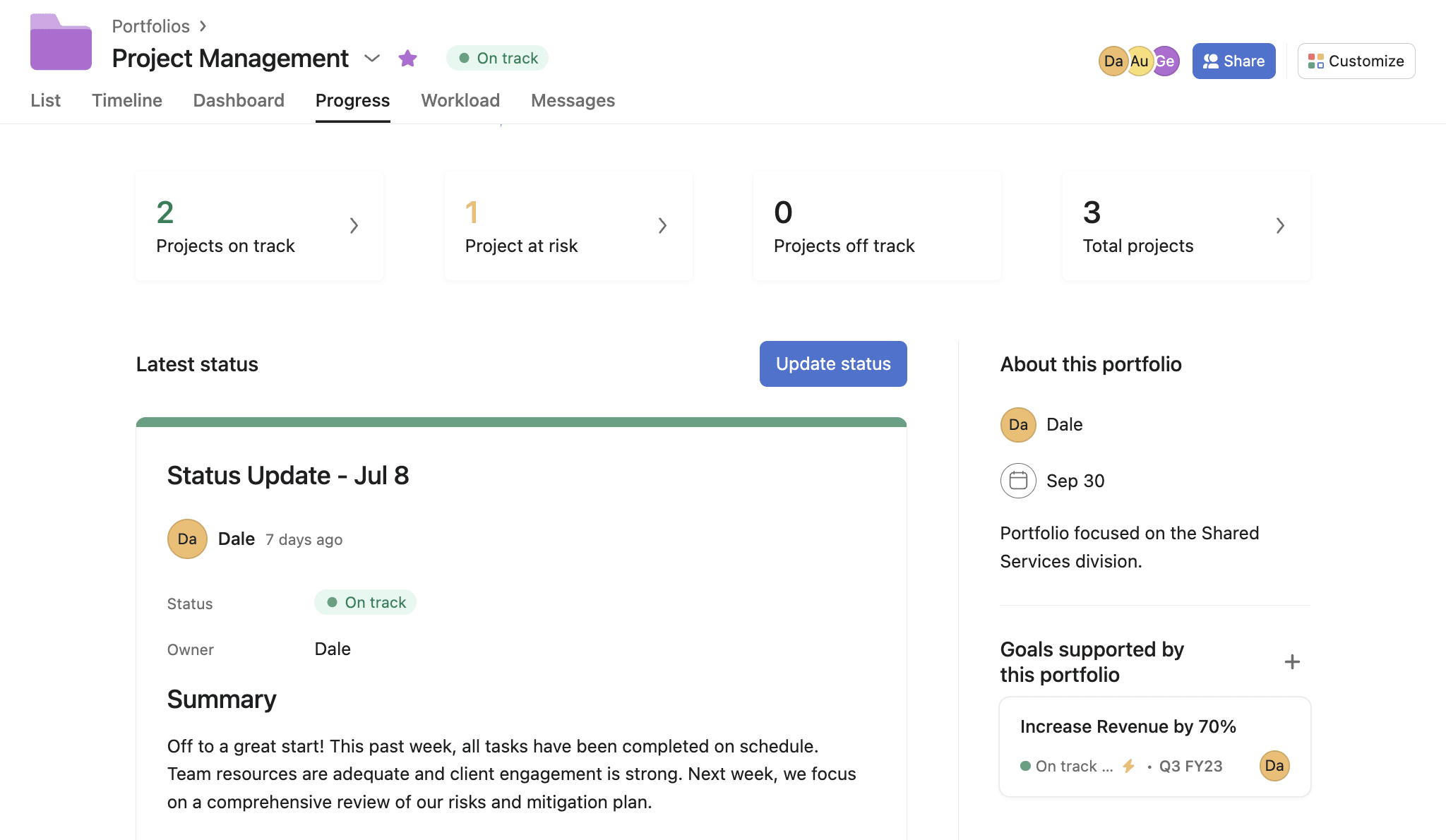 At first glance, Asana may seem complicated, but the platform is known for being quite user-friendly. While Asana is overall pretty easy to use for both new and experienced users, some more advanced features may take more time to navigate. Users on Asana's TrustRadius review page note that the platform has "a good mobile and web interface," and that it's "super simple to set up, edit and use." On the other hand, other users note the "long learning process" in getting the hang of all the features and that the adoption process can be tricky for some.  
Airtable ease of use
Airtable's interface is intuitive and visually appealing. As far as database-style platforms go, Airtable is quite easy to get the hang of. On Airtable's TrustRadius review page, users comment on how easy to use, configure, and customize. One user comments that Airtable "can solve a lot of problems in a simple way," making it ideal for app developers. That said, some other users comment on the "steep learning curve" for beginners, so this is still a platform that might take some time to fully adopt.
Asana vs. Airtable: Customer support
A good customer support experience can be very helpful when adopting a new project management solution. With a customer support team on hand to help guide implementation and adoption, your team will find using a new platform a lot easier. Here's what kinds of customer support are available from Asana and Airtable.
Asana customer support
Asana's customer support is generally well-regarded. There are a few ways Asana users can access customer as well as community support, such as:
Chatbot

Online support ticket form

Webinars

Community forum

Help Center

A guide for developers

Digital training and courses
Asana aims to answer all inquiries sent through forms quickly. Like many platforms, the higher-tiered plan you have, the more customer support options you'll have access to, such as personalized customer support, which helps companies ensure critical issues are addressed promptly.
Airtable customer support
Airtable offers a number of customer support and self-service resources. Users have access to:
Help Center

Airtable community

Educational guides

YouTube channel

In-product support

Email support

Professional services as a paid add-on
Airtable doesn't offer phone support or a chat option, and levels of support vary by plan. For example, email support is only available for the Business plan and above, while additional professional support is also only available as a paid add-on for Business and Enterprise users.
Asana vs. Airtable: User reviews
A good way to gauge whether a tool will be suitable to your team's specific needs is to browse user reviews to see what others with experience say about the platform. Here's what users think about Asans and Airtable.
Asana user reviews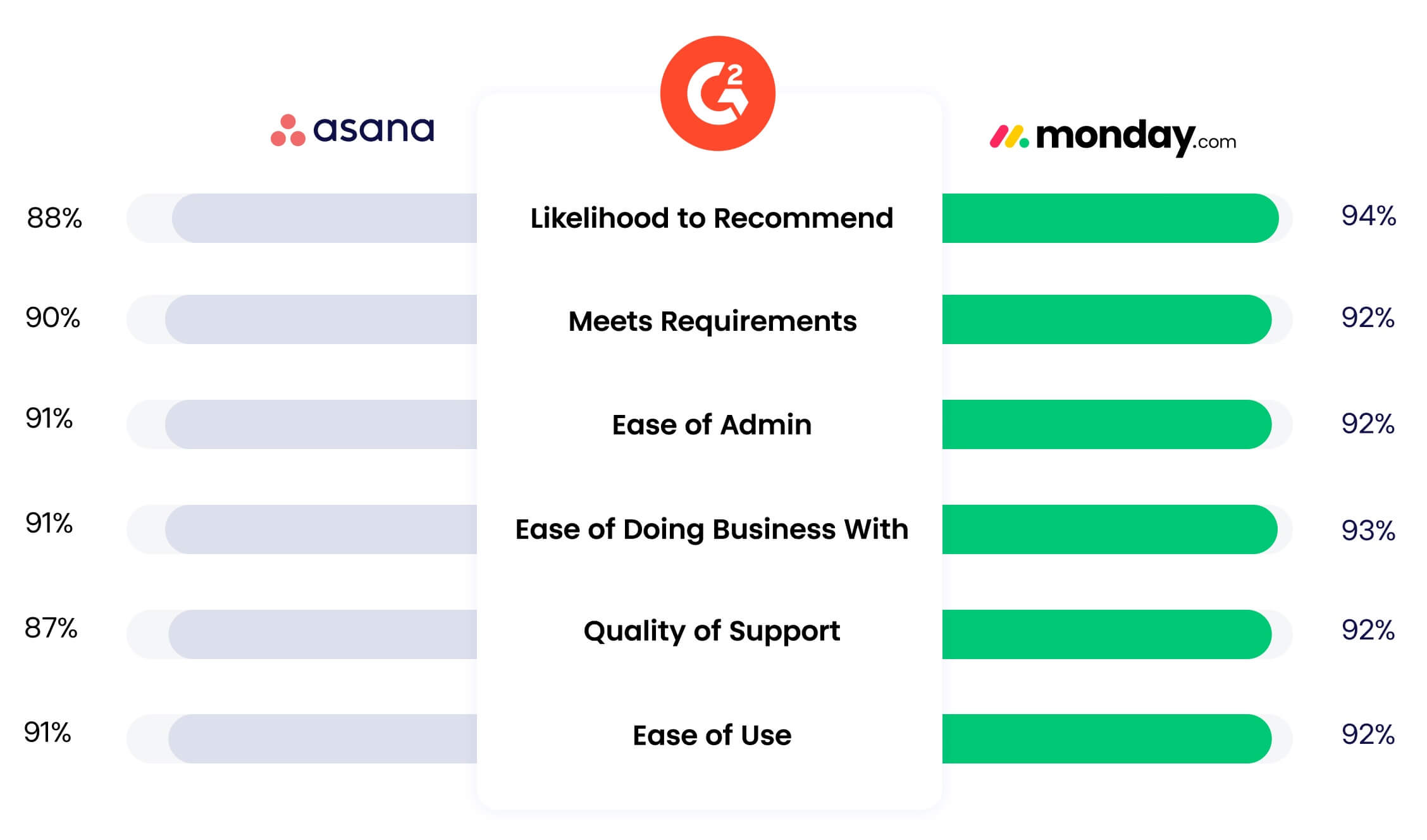 G2 review score: 4.3/5 out of 9,500 reviews
Asana has positive user reviews across the board. Here are a few highlights of what customers are saying after using the platform based on reviews from Asana's G2 page:
"Asana is easy to use for everyone, not just the IT folks."

"It helps us to keep things organized and projects on track."

"I like how simple it is to collaborate on projects and set deadlines."
Still, some users have some dislikes about the platform, which are important to take into consideration when looking at the big picture:
"The system will not operate until the entire team adopts it; a partially integrated team is worse than not utilizing it at all."

"Some of the parameters are complex to manipulate, especially if you share them with the development team."

"Users face some learning curves, particularly those who are somehow resistant to technological devices."
To see the full reviews, have a look at Asana's G2 review page.
Airtable user reviews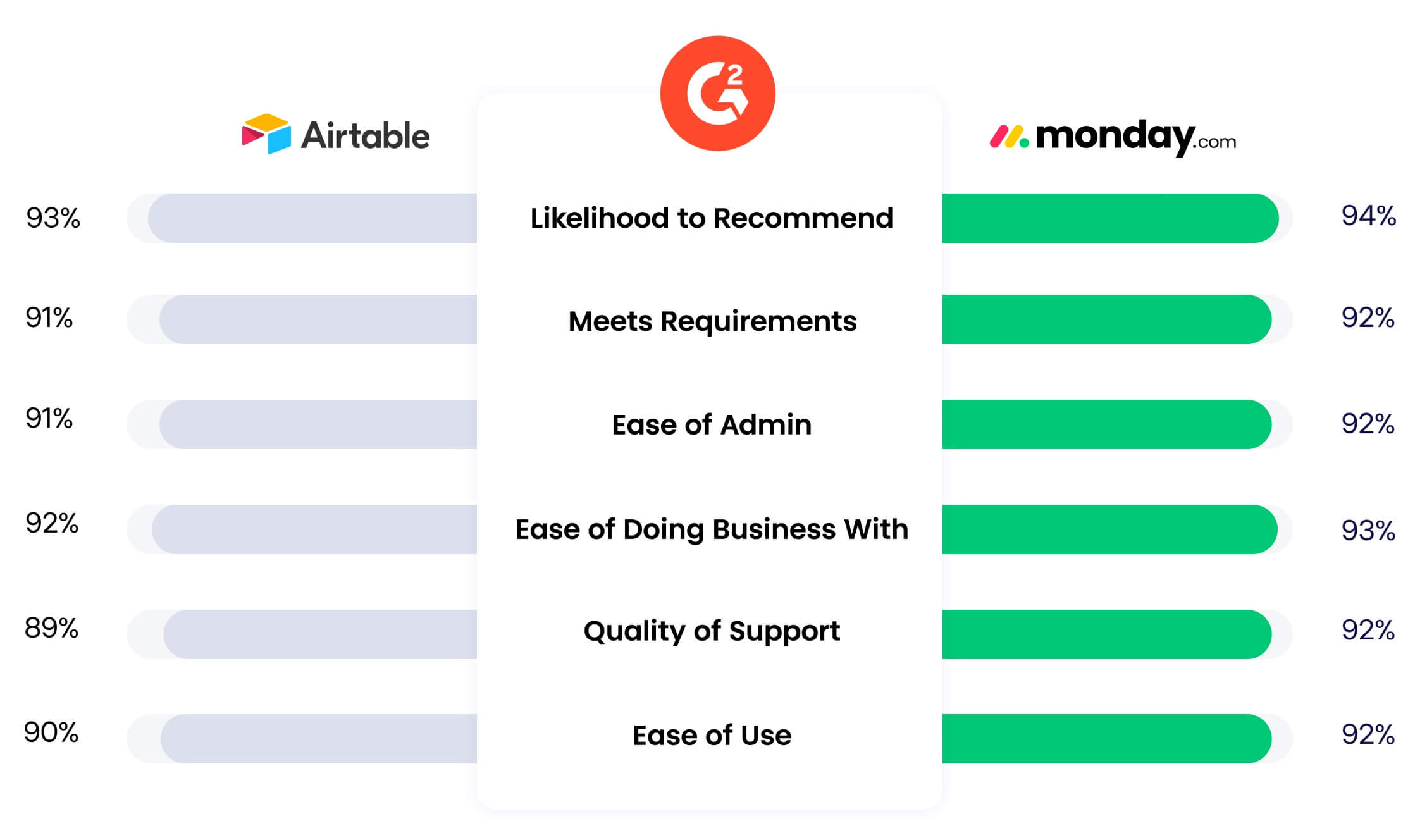 G2 review score: 4.6/5 out of 2,200 reviews
Airtable has generally favorable user reviews, many of which comment on how easy the platform is to use. Here are some highlights of what Airtable users are saying:
"Airtable has really changed my app development projects' management."

"I like how easy it is to set up automation with this software."

"Airtable is extremely easy to use for a wide range of needs."
Some users also comment on Airtable's drawbacks, mainly concerning struggles related to platform adoption, such as:
"It can be a bit complex to learn at first, especially if you are not familiar with relational databases."

"It may be difficult to get everyone on the same page about how to use the systems Airtable provides."

"Because of its complexity, Airtable has a longer learning curve."
Have a look at the full reviews on Airtable's G2 review page.
Airtable vs. Asana: Which should you choose?
Choosing between Asana and Airtable ultimately depends on your specific needs. Both platforms offer strong features, are relatively easy to use, and include important integrations, so your choice will need to come down to what best fits your team's objectives. For example:
If you're looking for a user-friendly solution with a heavy focus on task tracking and collaboration, Asana is your best choice. 

On the other hand, if you want a platform with database-like functionalities or your team is working on developing apps, Airtable may be your ideal platform.
Consider the nature of your projects, the level of customization required, and your team's preferences when making the decision. Both Asana and Airtable are great solutions, so the right choice really depends on assessing your goals and deciding which platform is the best fit.
monday.com: A popular Airtable and Asana contender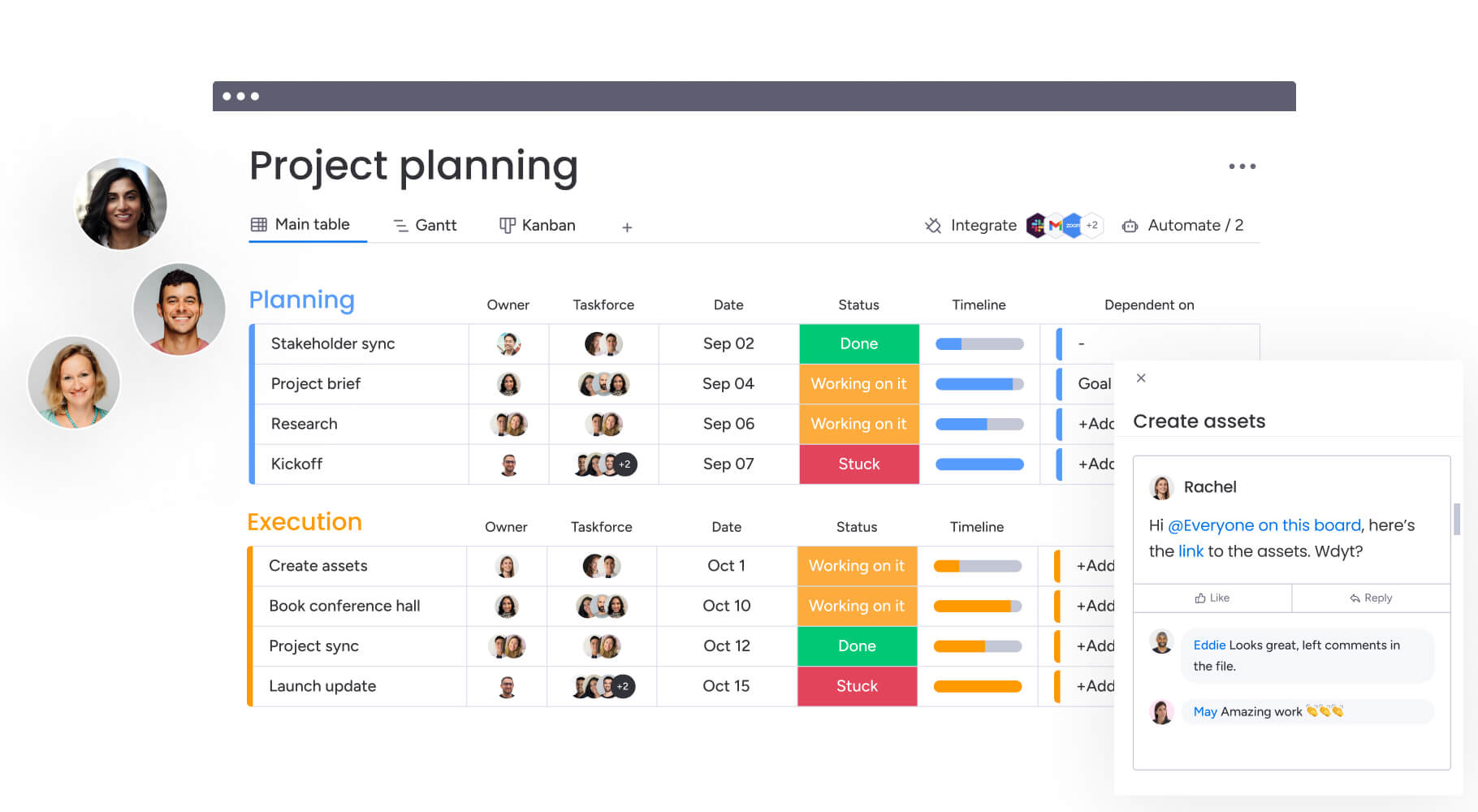 Why choose between a database-style platform and a task management platform when you can have both? monday.com is a work management platform that empowers teams to work their way while keeping projects organized. With monday.com, businesses can customize their project management platform needs to both manage tasks and subtasks and create a single source of truth for their organization. monday work management is chock-full of essential project management features, such as:
Intuitive visual platform where you can choose from over 27 different work views

200+ integrations with work tools you already use

Hundreds of templates to help you get started right away

Assign tasks from start to finish with deadlines, responsibilities, and more

Creating automations to optimize your workflows is quick and simple

Applicable to a variety of teams and use cases, like development, marketing, operations, and more

Excellent customer support with a response time of 60 minutes or less

Pricing that accommodates exactly the number of users and features you need

Advanced analytics and reporting options
monday.com is also one of the top choices on G2, with a customer rating of 4.7/5 based on nearly 10,000 reviews. Users give monday.com high scores for ease of use, quality of support, and ease of setup, meaning new users can get started on the platform with relatively little learning curve.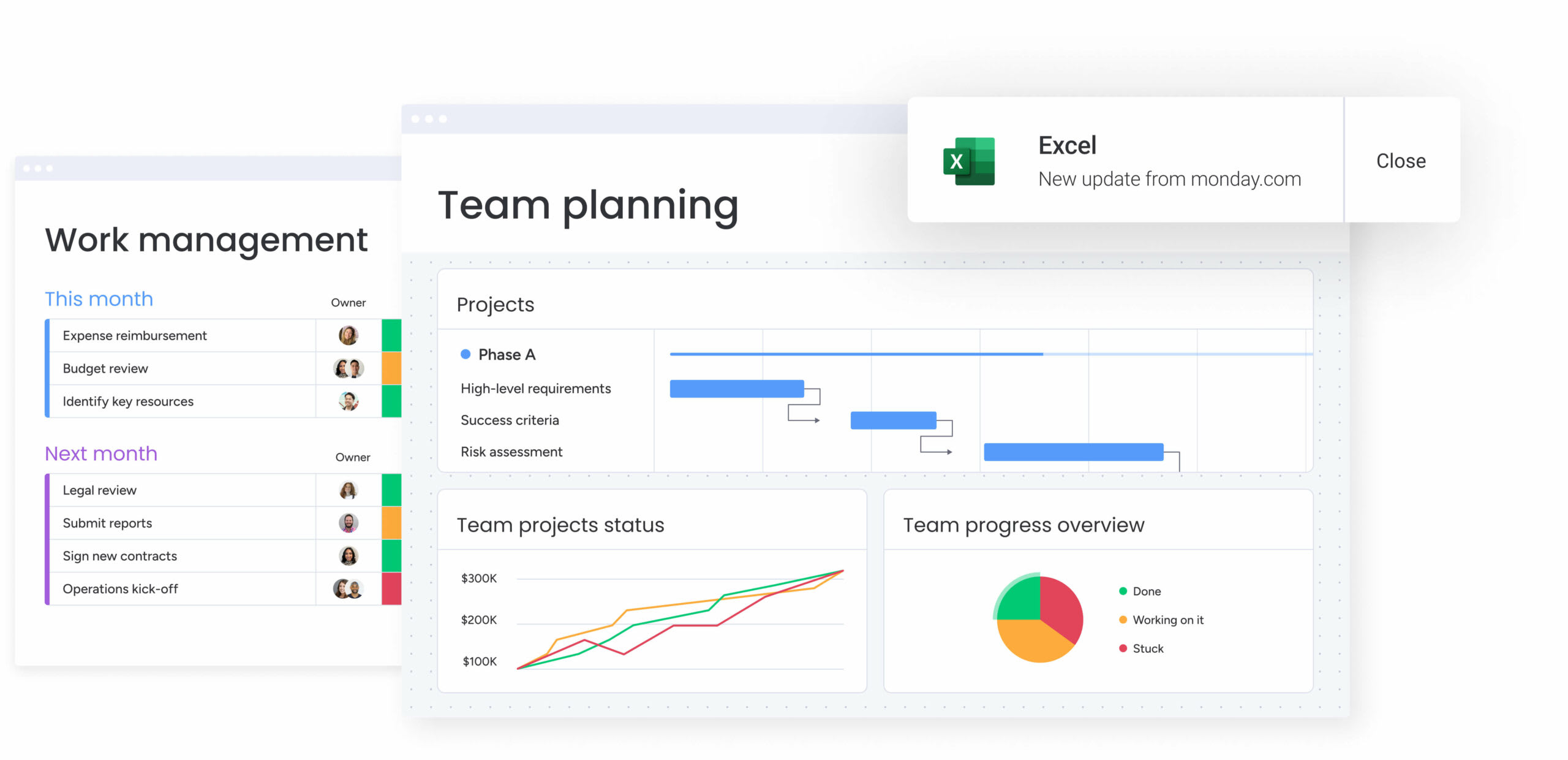 With monday work management, you get the best of Asana and Airtable plus a lot more. The solution is entirely flexible, scalable, and customizable, so instead of settling for a platform that best fits your team, monday.com gives you a platform that can be built according to your team's needs.

Get started
The information provided in this article is accurate and up-to-date at the time of publication. Changes and updates in the business operations, policies, or any other relevant factors may occur after publication and we encourage readers to verify any information directly.
Airtable vs. Asana: FAQs
Is Airtable compatible with Asana?
Airtable is compatible with Asana, Airtable has an integration for Asana, meaning teams can use both platforms to manage tasks and projects.
Is there anything better than Asana?
There are many platforms that can be considered better than Asana depending on what you're looking for. monday.com, for example, has robust features to manage tasks and projects and is a lot more flexible and customizable.