The right project delivery time and task management process plays a crucial role in the success of your business.
You need a project management platform that relieves you from the burden of having to manually manage tasks using a handful of apps or tools.
Of course, change is scary, and it's oh-so-tempting to remain in your comfort zone.
So you're looking around, and you find Paymo. It's a solid-looking tool for small to medium businesses dedicated to improving project delivery times. But is it the only solid option?
In this article, we'll take an in-depth look at the software and break down a few Paymo alternatives.
So, what is Paymo?
Paymo is a project management platform designed to improve your overall workflow and project delivery time. This is especially useful if your company manages many different projects and campaigns.
Paymo comes with the core features that you would expect from a project management software solution. These features include:
Time tracking
Team scheduling
Accounting modules.
As its heart, Paymo makes it easy to create tasks, break them down into more specific tasks, set appropriate due dates, and organize project milestones. Once everything is set up, it offers tracking tools to ensure that all projects are being completed successfully.
Paymo also includes a visual overview of your team's progress with views like this one: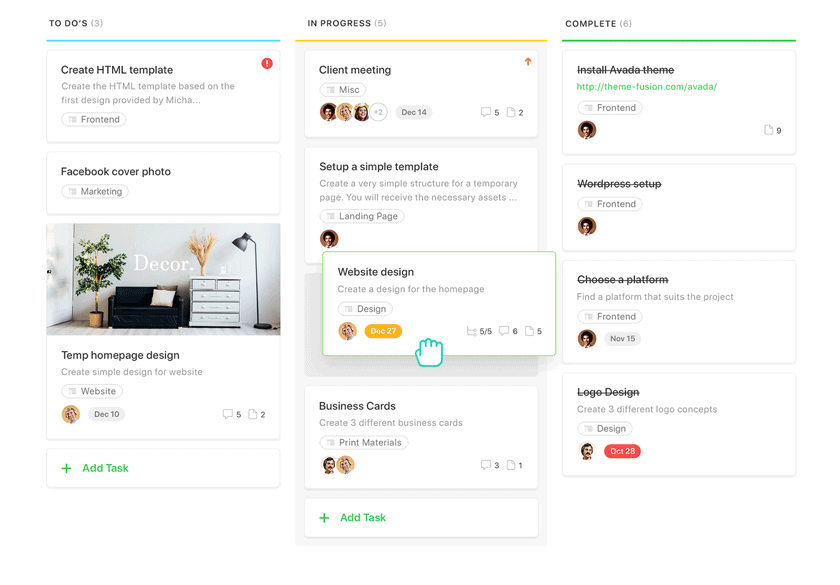 Paymo pricing
Paymo offers two different tiers of pricing, and offers a discount to users who sign up for an annual subscription.
For the monthly subscription, the costs for Paymo are as followed:
Small Office ($11.95/user/month) – this plan is suited for smaller teams and includes features such as time tracking, and invoicing.
Business ($18.95/user/month) – Paymo's Business plan is geared towards larger teams that require resource scheduling as a way to manage their operations.
Paymo alternatives
Paymo markets itself as a project management platform that brings team members who are working on a variety of tasks together. And it does that, but it's not the only option out there.
A majority of other project management platforms offer features that are similar, or even more varied than Paymo's.
For instance, one popular alternative is, (you guessed it!) monday.com.
What is monday.com?
monday.com is more than a project management solution. It's a work OS that goes beyond project planning, time tracking software, and resource management.
Simply put, monday.com is a centralized workspace that accommodates everyone in your organization – no matter how they work.
Like Paymo, monday.com is jam-packed with features for planning, project scheduling, tracking, and overseeing all of your projects. It also has visual elements like the Gantt charts and Kanban boards that will put all of your important project elements in the front and center.
This way, you won't only see the status of multiple projects but also get a handle on everything without spending countless hours going through spreadsheets.
What are the differences between monday.com and Paymo?
The main difference between monday.com and Paymo is the flexibility that monday.com offers. While Paymo is a solid option for small and medium businesses, monday.com can accommodate all businesses from freelancers to enterprises.
We understand that different businesses come with different needs. This is why monday.com is easily customizable and can be tailored to each and every business need.
Paymo also doesn't come with default settings. You'lll have to set your preferences every time you use the app, as you cannot lock-in a certain setup.
Alternatively, monday.com understands the importance of customizability, which is why we make it easy for teams to work on multiple project phases simultaneously, and make our platform super customizable and intuitive. Every project is different, and team members need the autonomy to execute work in a way that works for them.
Unlike Paymo, monday.com is a Work OS, and task management is only a part of its functionality. Made as a centralized workspace where all important information travels through, monday.com integrates with all your favorite tools— apps like Dropbox, Zoom, Google Drive, Slack, and many more.
Monday.com is an all-in-one platform for:
Communication
File sharing
Project planning
Time tracking
And much more!
Paymo alternatives FAQ
Let's take a look at the answers to a few of the most commonly-asked questions around Paymo and Paymo alternatives.
How do you use Paymo?
Planning each and every phase of a project can be challenging. So getting started with a defined plan is crucial.
Paymo offers project managers features like task assignment, time tracking, and the setting and quick-view of deadlines.
To use Paymo, create an account, and invite your team members by clicking on add user. Thereafter, you can embark on your first project using the task list.
Once you create a task, you can assign it to specific users, set a due date, add a comment, and track the time it's taken for the task to be completed.
What is a Work OS?
A work operating system (work OS) is a cloud-based software platform where teams plan, run, and track projects, processes, and everyday work. A work OS is geared for organizations of all sizes and across all functions of the organization. The platform provides the flexibility to build and adapt to any workflow, project or process.
A work OS becomes the hub for all work within an organization: it collects information from external tools, helps teams communicate about work items within the context of the work happening, and places all workflows in one place. This creates a centralized home for all work.
Get started with the right work management software for your needs
As you can see, there are a variety of Paymo alternatives that you can choose from. Although all of the project management platforms in this article can enhance collaboration, it's important to note that every project is different, and every team comes with different needs and requirements.
Instead of running the gamut and looking for a different tool for every project that you embark on, why not go for an all-in-one platform that will scale and evolve with your business?
monday.com is the Paymo alternative that we think you should try out. Incredible features like markup tools, time tracking, customizable templates, and a dedicated support team make monday.com the best platform for your next project and every project after that.
Looking for the best ways to streamline your projects? Check out our monday.com project tracker template to see what we're working with.