HubSpot and Salesforce are both cloud-based customer relationship management (CRM) systems. They connect a variety of data sources in one place, so all of your employees have access to real-time information. Both CRMs enable you to build a better customer experience by improving customer and team communication, centralizing client files, and boosting collaboration. If you're considering either platform, it's helpful to compare and contrast HubSpot vs. Salesforce.
Keep reading to compare the features, benefits, and drawbacks of Hubspot and Salesforce, and to learn more about monday sales CRM, a powerful, cost-effective alternative to these well-known CRM solutions.
What are the differences between HubSpot and Salesforce?
HubSpot helps you align and manage your company's marketing, sales, customer service, and content management activities. You can customize your CRM with more than 1,200 apps to manage both internal and external business functions.
Salesforce is a central hub for sales, marketing, commerce, customer service, and IT departments; it ensures that everyone has the same view of customers. Companies can choose from thousands of add-on apps to create a system that's tailored to the business' unique customer experience.
HubSpot and Salesforce both keep different departments on the same page. HubSpot uses a single code base and an intuitive interface, so the system offers a shorter learning curve for users of all skill levels. The free and entry-level plans offer a wider range of marketing tools, making them a good option for lead generation and promotions. Typically, HubSpot is a better choice for smaller companies or businesses with relatively streamlined customer journeys.
Salesforce is bigger and more complicated. It offers more options for customization, making it an attractive option for companies with long sales cycles and complex operations. It's also more expensive, and setup, onboarding, and training take more time. However, businesses get access to in-depth tools for sales forecasting and reporting for most plans.
What are the pros and cons of HubSpot and Salesforce?
Pros of HubSpot
Free and low-cost plans available
User-friendly design
Most features are included in the price
Robust marketing and lead-generation tools
Unlimited free "seats" allow stakeholders to view reporting and results without participating
All plans include outbound calling software
Cons of HubSpot
Paid plans require a one-year commitment
Outbound calling software is not available in every country
No coding access
Pros of Salesforce
Larger collection of apps and integrations
High-level customization options
Extensive automation capability, including coding access
Advanced reporting and forecasting tools
Cons of Salesforce
No free plan or free seats
Steep learning curve
Users must use connectors to sync data
Many features require an extra fee
HubSpot vs. Salesforce: features, integration, and automation
HubSpot's most important features are on the marketing side. All paid plans include email marketing, landing pages, ad management, and list segmentation tools. HubSpot also offers more than 100 integrations, including Gmail, Google Calendar, WordPress, and a range of sales and communication programs. If you're looking to streamline workflows, you can use email, form, sales, and ticket automations. Higher-level plans also offer omnichannel marketing automation and automatic lead rotation.
Salesforce's most important features are largely focused on sales. Options include contact management, opportunity management, advanced forecasting and insights, and lead management. Many CRM features that come with HubSpot, including email marketing, are available for an extra monthly fee. Salesforce offers more than 2,500 integrations. With four automation builders — Workflow Rules, Process Builders, Flow, and Apex — you can automate almost any process in your business.
HubSpot pricing is more straightforward than Salesforce, which relies heavily on paid add-ons.
How much do HubSpot and Salesforce cost?
HubSpot has a straightforward pricing structure. Every plan comes with an unlimited number of free users; however, they only have access to free features. Paid users have access to the full range of features. You can also process payments or add additional marketing contacts to any plan for an extra fee. The plans below are for the HubSpot CRM Suite, which includes marketing, sales, service, CMS, and operations hubs. You can also opt to purchase any hub individually or create your own bundle.
| | | | | |
| --- | --- | --- | --- | --- |
| HubSpot Plan | Starting Price | Included Users | Additional Users | Marketing Contacts |
| Free | $0 | Unlimited (access to free features only) | n/a | 1 million (non-marketing) |
| CRM Suite Starter | $45/mo. | 2 sales, 2 service | $25/mo. each | 1,000 |
| CRM Suite Professional | $1,600/mo. | 5 sales, 5 service | $100/mo. each | 2,000 |
| CRM Suite Enterprise | $5,000/mo. | 10 paid | $120/mo. each | 10,000 |
Salesforce has a more complicated pricing structure. The base packages offer different features. You can expect to pay a fee for add-ons including CPQ and billing, revenue intelligence, marketing cloud account engagement, sales emails, partner relationship management, sales engagement, and user inboxes. Depending on the customizations you need, this can increase the monthly price significantly.
| | | | |
| --- | --- | --- | --- |
| Salesforce Plan | Starting Price | Max Users | Features |
| Essentials | $25/user per month | 10 | Guided setup, lead and account management, custom reporting |
| Professional | $75/user per month | unlimited | Forecasting, 1 sales console app, quote tracking, custom applications |
| Enterprise | $150/user per month | unlimited | Advanced forecasting and reporting, Lightning platform, workflow and approvals for automation, web services API |
| Unlimited | $300/user per month | unlimited | Predictive forecasting, advanced sales insights, Salesforce meetings |
HubSpot vs. Salesforce: customer service
If you purchase a HubSpot's Starter plan, you have access to one-on-one email and in-app chat support. Professional and Enterprise plans also include phone support. Customers report positive experiences with all the company's products. HubSpot's sales, marketing, and service hubs each have G2 scores of 4.4 out of 5; the CMS and operations hubs score 4.5.
Salesforce offers a standard Success Plan with each package; it includes self-guided customer service via a resource library and user forums. You can contact support with a 2-day response time guarantee. For a fee, you can add on the Signature Success plans to access 24/7 live chat or the Premier Success Plan, which includes a technical account manager and 15-minute response times. Salesforce clouds have lower G2 scores than HubSpot across the board: 4.2 for service, 4.0 for marketing, and 4.3 for sales. The platform as a whole scores 4.4.
Next, we'll compare monday sales CRM to these two top CRMs, or you can get started with a free trial now.
How does monday.com compare to HubSpot and Salesforce?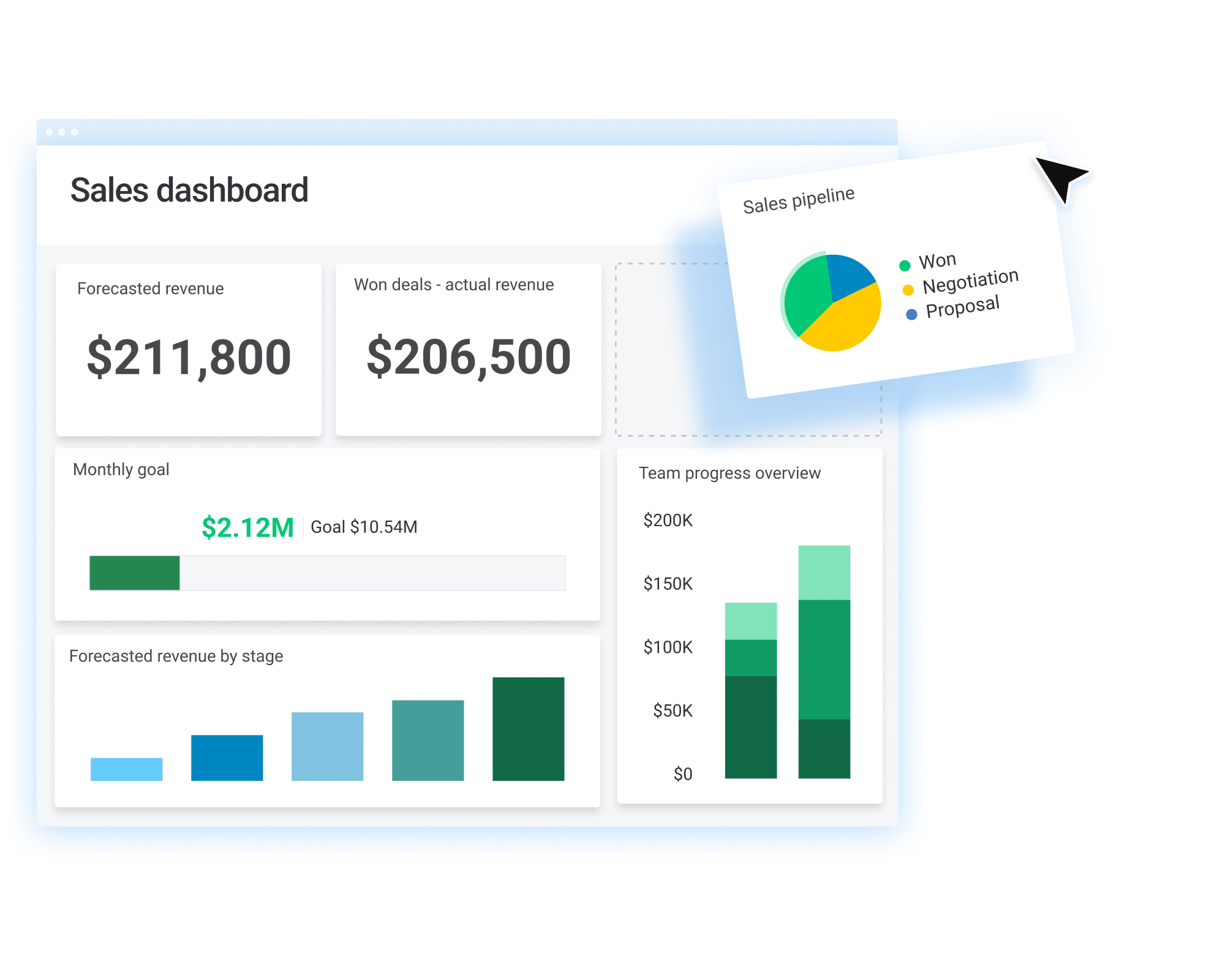 Like HubSpot and Salesforce, monday sales CRM enables you to build custom workflows for your business. You can choose from the marketing, sales CRM, project management, or software development systems and customize them with integrations and automations.
When it comes to pricing, monday.com is more affordable and flexible than both HubSpot and Salesforce; each plan is available with a free trial, and Individual plans are always free. With our user-friendly interface, 24/7 support, and a wide range of customization options, monday.com is the ideal solution for businesses of all sizes.
Related articles: monday sales CRM vs. Salesforce, NetSuite CRM vs. Salesforce, CRM industries, Liondersk pricing, Copper CRM, Salesforce pricing