monday reviews is our latest blog series where we provide the facts about different project management tools—no BS and no hyperbole needed. Keep scrolling for our analysis and to learn more about all the project management tools out there. Enjoy! 
Whether you've a Miro user looking to branch out, or you're just trying to learn more about what's out there, we know that the sheer number of options can be overwhelming.
You have a lot of options on the table, and you're not sure what to pick from the metaphorical buffet.
To save you some time and effort, we'll help you understand Miro's features and which Miro alternative may be a better fit for you.
What is Miro?
Mira is a mindmapping tool designed to help cross-functional teams work together.
Miro offers the following features to users:
Collaboration: whether a team is in-office together or spread across the country, Miro provides digital whiteboards to enable asynchronous and real-time teamwork.
Creativity: Miro's zoomable canvases and web-based whiteboards allow teams to focus more on creativity and less on the capabilities of the tool they're using.
Integrations: Miro integrates with existing tools like Dropbox, Google Suite, Slack, and Slack.
Security: security is a big consideration nowadays. To keep data and team members secure, their whiteboard tools offer a variety of compliance tools and security backstops.
Miro also offers remote communication tools, including remote facilitation, built-in conferencing tools, sticky notes, and more.
What's a good alternative to Miro?
Miro is designed for cross-functional teams who need a functional visual collaboration platform that lets them design, discover, and brainstorm — and it serves that purpose well.
When it comes down to meeting the needs of large and small teams in various industries, Miro may be a little too specialized and limited.
Fortunately, there are other options. For instance, one strong alternative to Miro is monday.com's Work OS platform.
What is monday.com?
monday.com is more than a
project management
tool. It's a Work Operating System (Work OS) that gives teams a place to collaborate in real-time.
For small startups and enterprise-level teams alike, monday.com offers the functionalities needed to manage workflows, keep track of projects, and encourage smart collaboration.
A flexible, fully customizable solution that enables both in-person and remote teams to scale efforts up or down, laser-focus on certain tasks, and work together like they're sitting at the same desk, monday.com helps integrate otherwise disparate tasks and organize them in one centralized location.
While monday.com doesn't stop at project management, it does excel in the project management space. monday.com is well-known for its customization and app integrations, which go a long way toward making teamwork simpler and more straightforward.
Like Miro, monday.com offers brainstorming, calendar management, discussion boards, document management, real-time editing, and task management features for distributed teams.
monday.com, however, goes a step further by also offering a dozen other useful collaborative and management tools.
For instance, how about the ability to integrate chat apps and embed video conferences directly within tasks? You can quickly tag attendees so any meeting notes can turn into action items at the click of a button: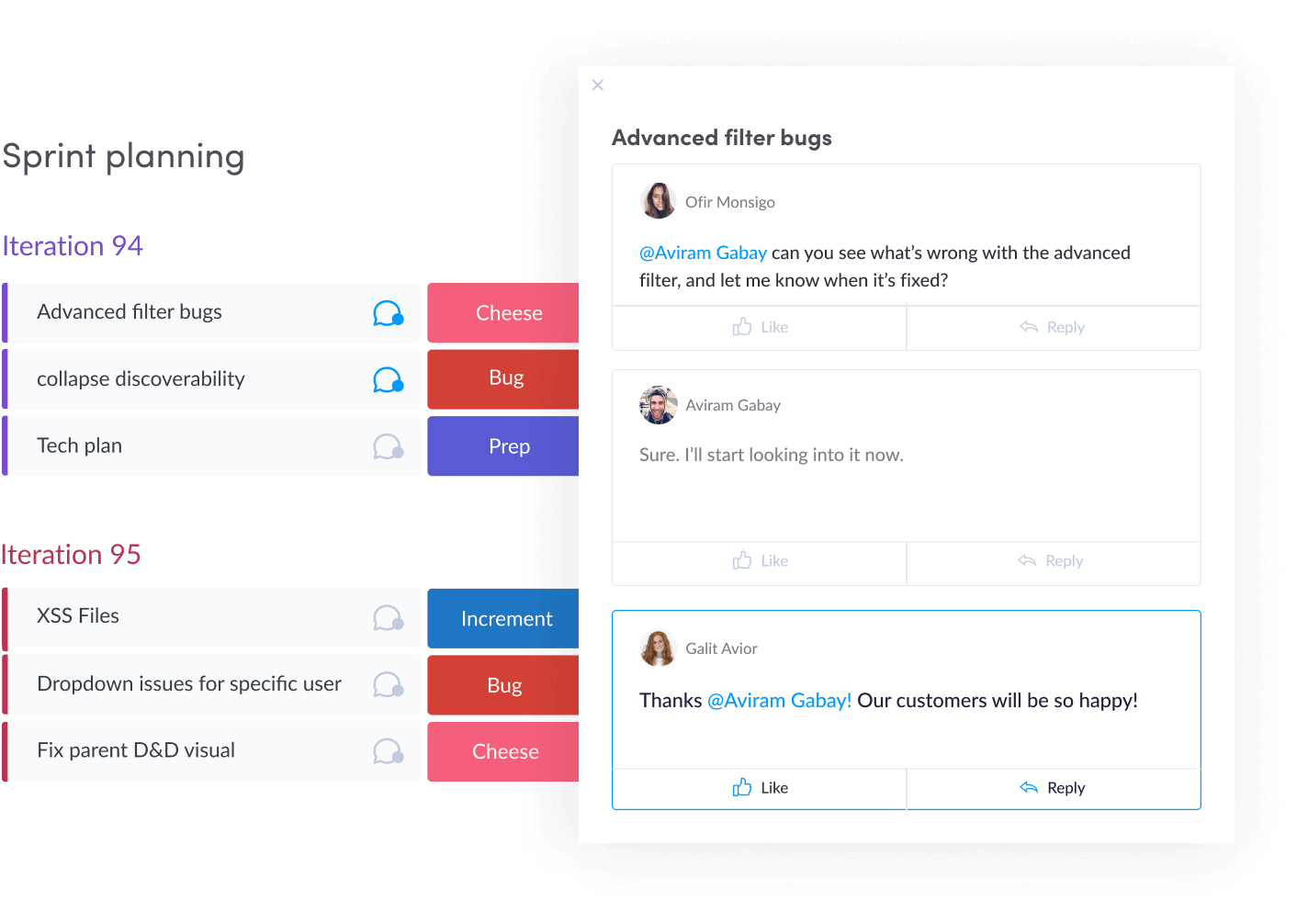 What are the differences between monday.com and Miro?
The main difference between monday.com and Miro is the availability of several robust functions.
Miro is most focused on visual team collaboration. They offer solid digital whiteboard tools but may lack the tools and functions needed to help teams manage projects once they progress past the ideation phase.
For example, if your team is working on a project, you'll be able to use the digital whiteboard to brainstorm, but you may find that it doesn't have all the project management tools to track the status and duties of the project once it drops down into the workflow.
monday.com understands that teams need to be able to manage a project at every phase of its completion. To this end, monday.com offers a variety of Work OS tools, including the ability to turn chats and video conferences into actions, assign tasks, and more.
Additionally, Miro isn't known for its customer service. Customers who have technical or billing questions will struggle to connect with a real person and must reach the company via a request submission form, which can be frustrating and time-consuming.
monday.com, on the other hand, offers 24/7 support teams and a guaranteed response within an hour — a critical time-saver for busy teams.
monday.com is…
100% remote-ready. Lots of teams are working remotely, all of a sudden. monday.com offers a variety of ready-made templates to get dispersed teams onboard quickly — no coding required.
Excellent for project management. Tools like daily team tasks, time-tracking, and remote equipment checks help everyone get to work faster.
Motivational. Teams can use monday.com's Timeline feature to establish clear priorities and keep everyone working on a given project aligned and motivated toward a common goal.
Is Miro free?
Miro offers a free plan for teams that want to visualize, share, and collect ideas together. The plan has some limits, though, so team members who want to upgrade can move up to one of the following plans:
Team. The Team plan is best for small teams who want to enhance collaboration and workflows. It offers unlimited boards, project features, and more.
Business. The Business plan is ideal for teams of 20 or more, with full functionality and SSO. It includes all Team features plus SSO, day passes for occasional collaborators, and external edit capabilities.
Enterprise. The Enterprise plan is best for large companies who need all Business features plus some additional multi-team functionalities.
Get started with the right tool for your 2021 needs
While there are lots of Miro alternatives out there, not all of them have the functionalities and available tools needed to be a truly comprehensive solution. Fortunately, monday.com is a complete Work OS, meaning it offers all the tools you need to manage tasks from the ideation to the completion phase.
Ready to hit the ground running with monday.com? Check out the library of customizable project templates designed to help you get to work immediately.