monday reviews is our latest blog series where we provide the facts about different project management tools—no BS and no hyperbole needed. Keep scrolling for our analysis and to learn more about all the project management tools out there. Enjoy!😊
You know that saying "there are plenty of fish in the sea?"
Well, that saying is as true for dating as it is for project management software and note-taking tools.
Unfortunately, as soon as you Google and start to do your homework, you'll quickly realize that there are about a zillion note-taking apps out there.
Don't worry, we've done the work for you. Read on to learn how to choose the best Evernote alternative for you.
What is Evernote?
Evernote is a tool that allows team members to record and capture text, images, documents and scans. Depending on which version you use, the mobile app makes it easy to organize information in a shared space and across multiple devices (Android, Apple and iOS, to name a few).
Like most other note-taking apps, you can use Evernote to store and organize your notes and a variety of other items including PDFs, images, and clips from the web. Evernote also recently added the ability to embed YouTube videos within notes.
A few other Evernote features:
The ability to upload up to 20 GB of created notes per month (in the Premium and Business versions)
Integration with email
File sharing with other Evernote users
File search
Multiple device sync: Android, iPhone, and iOS, as well as Mac and Windows
The ability to merge related notes
As you can see, there is a lot to like about Evernote.
But, at the risk of sounding like my mother commenting on my Thanksgiving cooking methods, nothing is perfect.
What about a good alternative to Evernote?
As a pioneer in the industry, Evernote was the model for a steady parade of note taking apps that came later.
Originally, Evernote was hailed as a premier education tool, making it easy for students to collaborate and research. And it is still a solid app for this purpose.
Then professional teams and businesses began using Evernote for task management. And, slowly but surely, it evolved and added features to its Premium and Business plans.
But many competitors have jumped on the bandwagon, offering similar tools and capabilities.
Google, Microsoft, and Apple (with Apple Note) have all responded to the growing demand with their own answers to the note taking problem. That means it's tough to find a note taking app that stands above the crowd.
The best note taking apps are intuitive and user-friendly. They play well with other apps, and large groups of people can easily access them.

These services take you beyond the level of a simple notebook into the realm of a powerful task management platform.
One such intuitive, user-friendly Evernote alternative is monday.com.
What is monday.com? A powerful Work OS
monday.com offers a complete Work OS — a platform for sharing and tracking work from a single, convenient shared workspace in real-time.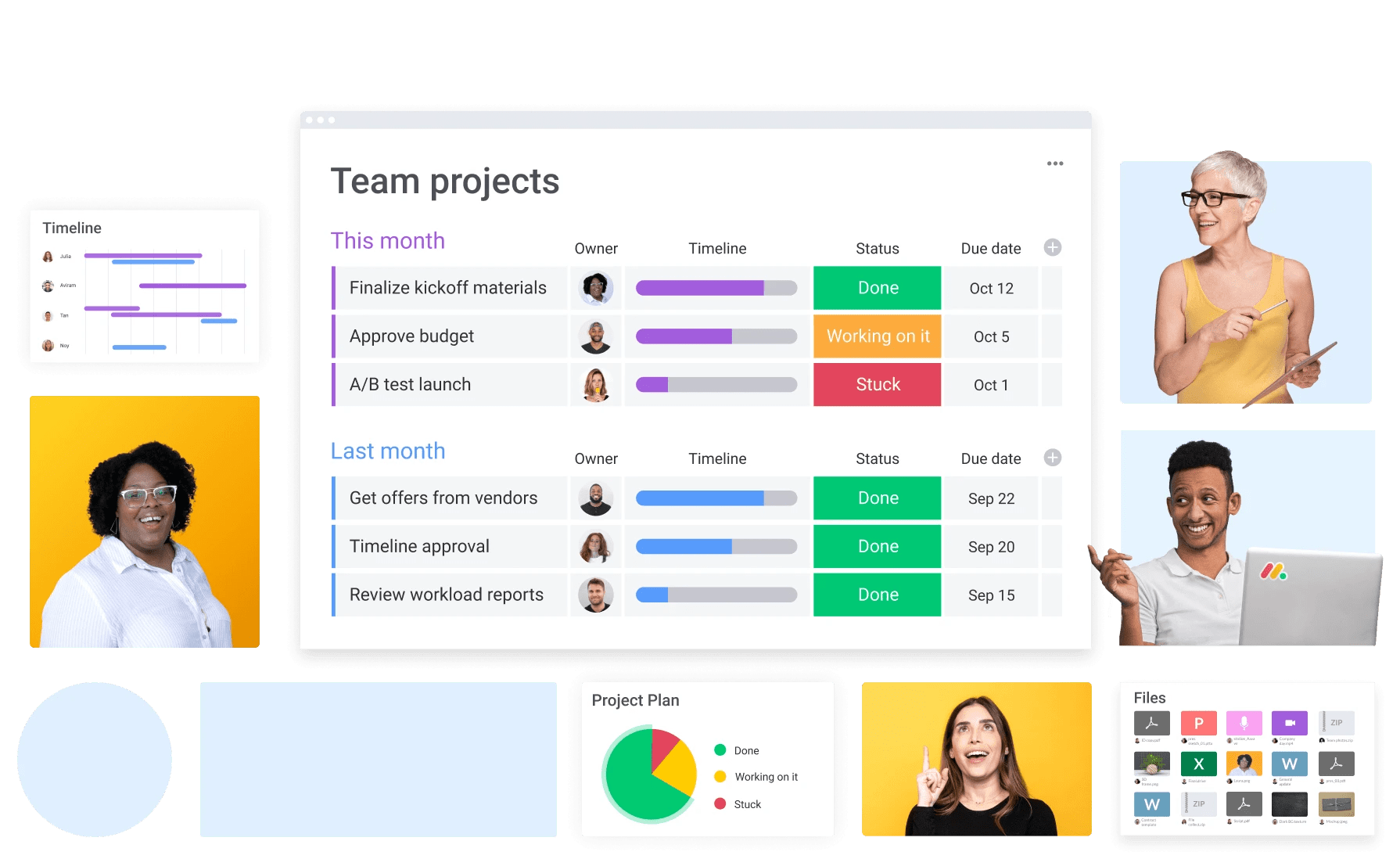 monday.com offers every one of the capabilities that made Evernote such a powerhouse back in 2014, and much more.
Like Evernote, monday.com allows the user to share notes easily while organizing documents and tasks.
It's quick and simple for any user to upload files from the cloud via Google Drive, OneDrive, Box, or Dropbox. Or directly from your computer.
One easy way to do this is through an "update," as shown below.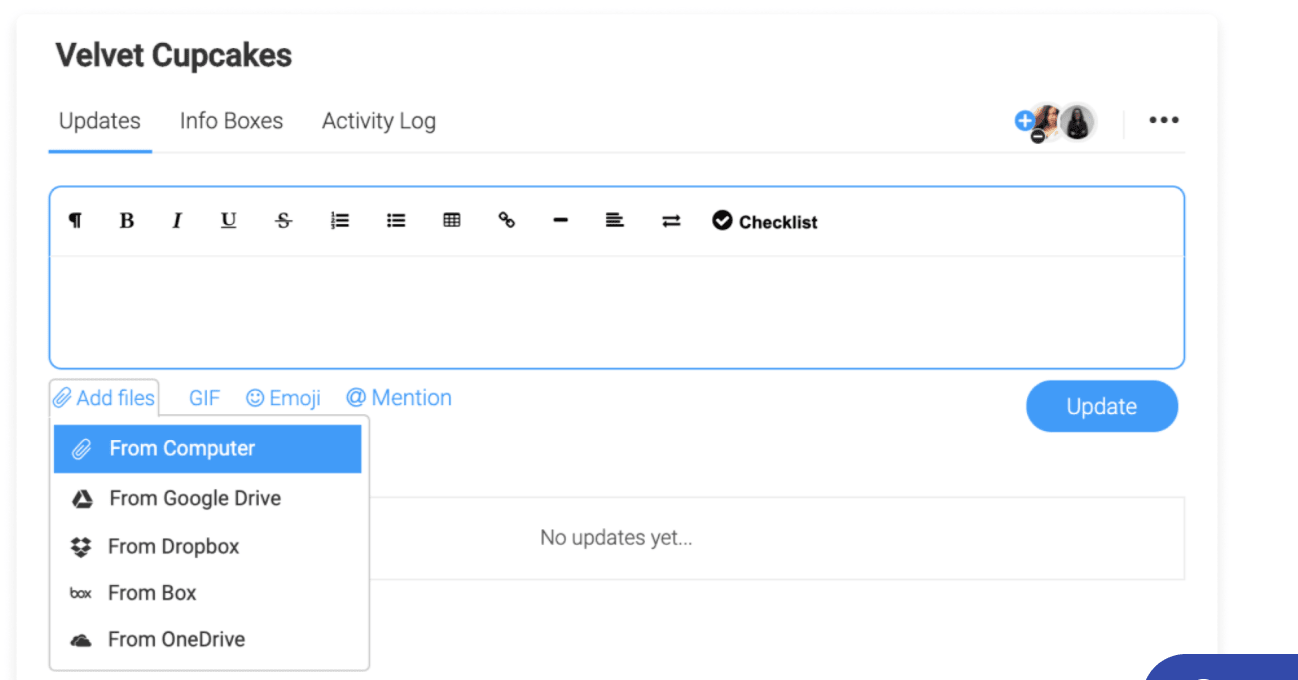 Another similarity (though monday.com offers substantially more): seamless integrations with a variety of other apps and platforms.
Below you can see a small sampling of the apps that integrate with monday.com: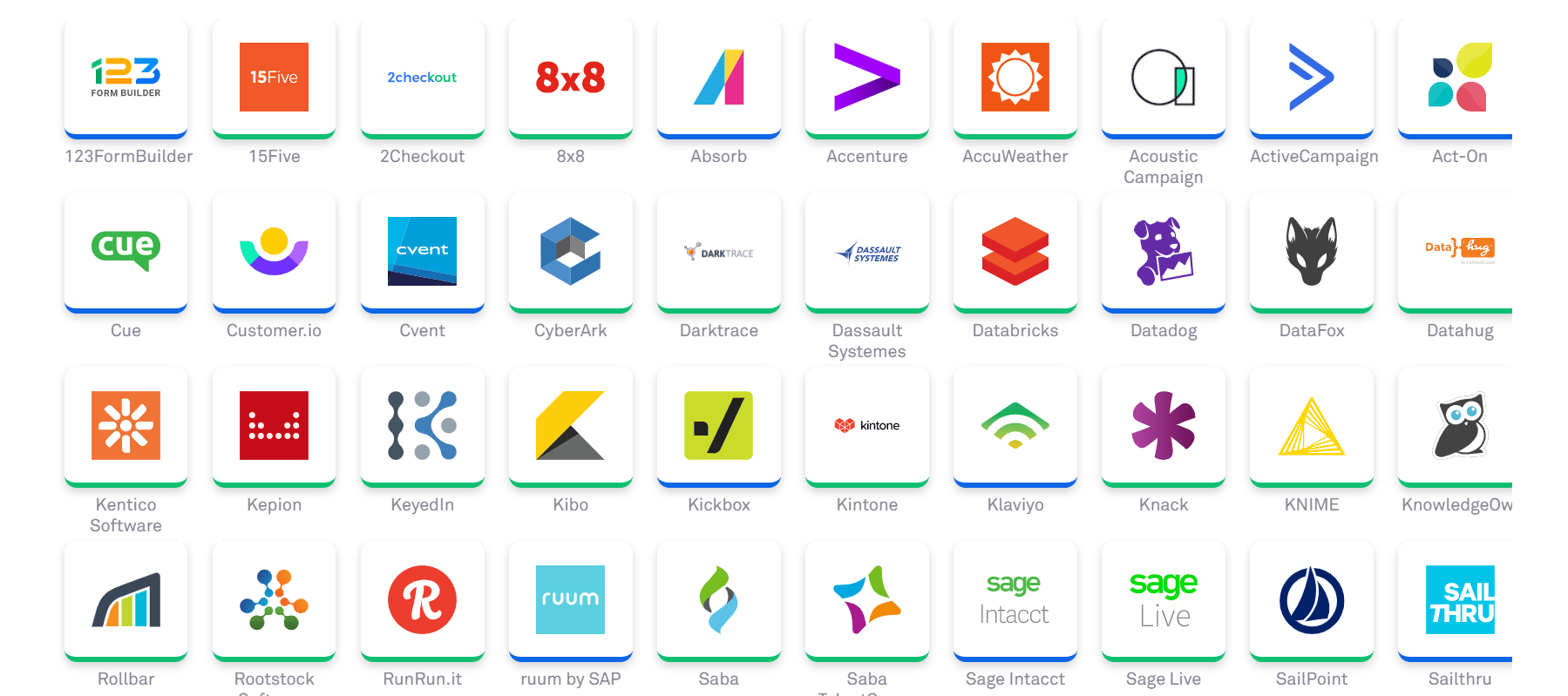 Additionally, monday.com has several great features which are not available in Evernote.
For instance, the automation of routine tasks.
Automation is an incredible way to streamline tasks so that they move effortlessly from one phase to the next. No reminders or humans involved.
All you have to do is create a "recipe" within monday.com in which one event triggers another.
It looks something like this: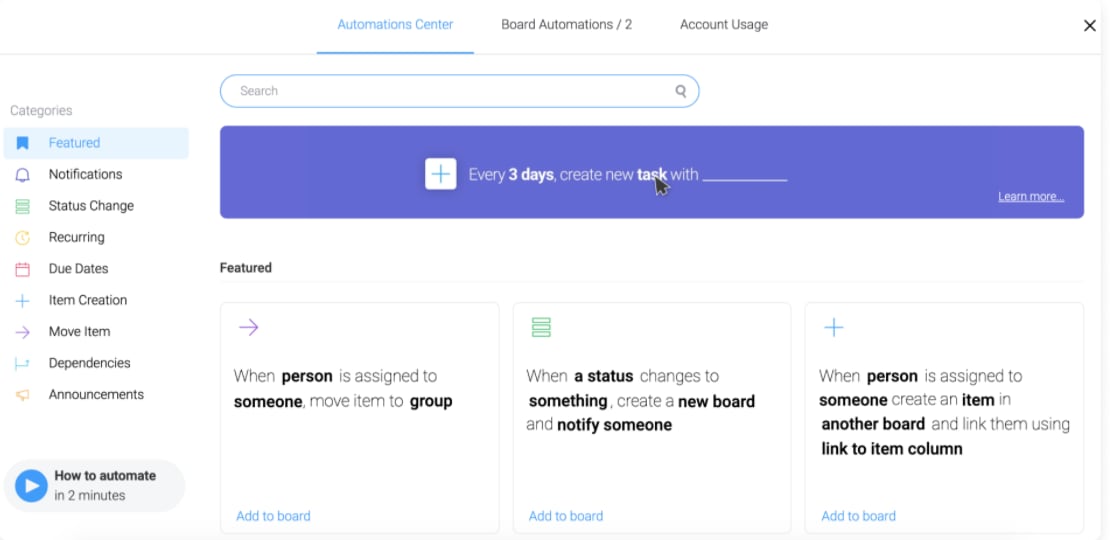 But this is not the only way Evernote and monday.com differ, read on to learn more.
So, what are the key differences between monday.com and Evernote?
Evernote was (and still is) primarily a note taking app. It's useful for individuals who want to organize tasks, create to-do lists, or make academic notes. While options for sharing and collaboration exist, they aren't super intuitive and can be somewhat clunky.
In many ways, Evernote offers a "one-size-fits-all" solution. It's basically a digital notebook.
In contrast, monday.com offers a wide range of templates for sharing tasks and collaborating on projects. It is designed to adapt to the needs of the organizations who use it. This difference plays out in several ways.
Two main differences between monday.com and Evernote lie in collaboration and workflow.
#1: monday.com: a true shared workspace
This workspace is perfectly designed for large or small teams working together on notes, images, and documents. A group can customize it to meet their needs.
Here's a snapshot of monday.com's meeting notes template, for instance, showing how people can be easily assigned to tasks as the meeting is being run:
A "Spaces" option is available through Evernote's Business tier of service. However, it lacks the same level of connectedness and adaptability that you'll find with monday.com.
#2: monday.com: quicker visualization of tasks and notes
monday.com makes it easy to view information in several different ways.
Depending on your needs, you can choose from the following visualizations:
Gantt board (see an example below)
Calendar
Timeline
Kanban
Status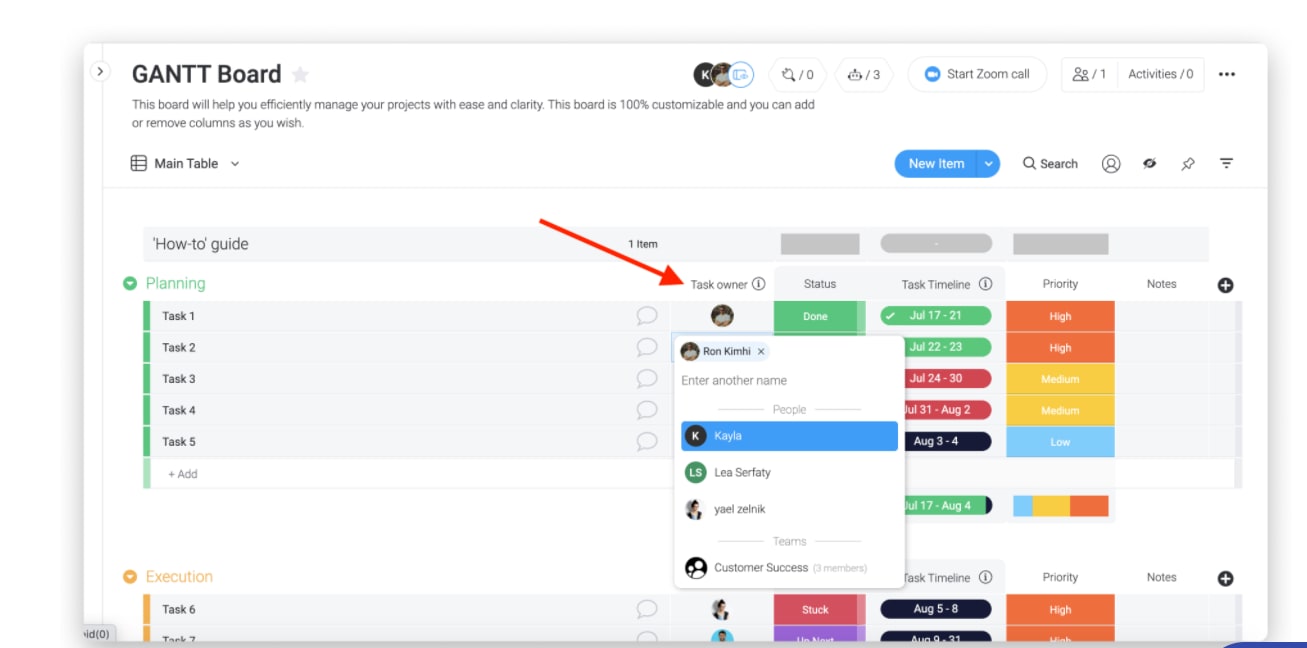 With Evernote, you have to do some extra work in order to properly visualize files, images, and data.
monday.com does this work for you.
Evernote alternatives FAQ
What is the best Evernote alternative?
The answer to this question will be different depending on your needs. For collaboration and streamlining work within a company, we think monday.com is the best option. 
But for other needs (such as simple note-taking and organization), there are other apps which are effective.
What are other Evernote alternatives?
Google Keep
This note taking app works seamlessly with all of G-Suite and integrates text, voice notes, images and to-do lists to other Google apps. A simple interface makes it easy to use. And it lends itself to collaboration and group editing.
Google Keep lacks many of the collaboration tools available through monday.com. Some of these missing tools include text formatting, revision history, and the ability to undo actions. But it's an overall great app if you need a simple note taking and sharing platform.
Microsoft OneNote
Like other note taking apps listed here, OneNote can capture and organize web clippings, documents, and text. It's easy to use, even for technological novices. And it syncs well with Outlook Calendar for reminders.
OneNote's interface is a digital whiteboard which lacks the option to customize your view. And it can't integrate with Google apps (like Google Docs).
Notion
This wiki-based note taking app provides a space for teams to create and design products together effectively. It's easy to use with images, video and voice notes. This system is also compatible with any device.
Unfortunately, Notion can take a lot of time to set up, and it doesn't allow annotation of images or PDF documents.
Dropbox Paper
Dropbox Paper works seamlessly with a Google Doc and (of course) Dropbox. Its capabilities for sharing, syncing, and organizing are top-notch.
Dropbox Paper does lose something when it comes to collaboration, as it doesn't allow you to save different versions of the same document.
Sticky Note
Sticky Note applications are simple and effective ways to set reminders or create to-do lists.
The major disadvantage to using Sticky Note is that it's not easy to share with teammates.
Conclusion
Although Evernote is the pioneer note taking app, there are now more robust options for those who want to move note-taking efforts to the next level of collaboration.
monday.com takes the annotation and organizational abilities of traditional note taking apps and makes them accessible and customizable for your team.
Try out monday.com's pre-built meeting notes template to see what we mean: