Since finding the right CRM for sales, customer support, and marketing teams takes time and resources, you might start by looking into the free CRM options out there.
After all, this is an important decision — a CRM ultimately determines your customers' experience with your company and whether they become brand advocates or churn out of frustration. We'll help you understand whether free CRM systems are right for your business or if investing a little more upfront will lead to more growth, a better bottom line, and happier customers—we're even throwing in a template.
What is the best free CRM?
Type this question in Google and you'll soon find a number of comparison sites with varying degrees of bias, touting the latest and greatest free CRM solutions for 2o22.
Here's a list of some of the most mentioned as the best free CRM software — which one you'll choose will depend on factors like organization, size, budget, and feature requirements:
monday sales CRM
Zoho CRM
Bitrix24
EngageBay
HubSpot CRM
Freshsales
1. monday sales CRM
monday sales CRM is built so teams can improve the way they capture leads, track sales pipelines, and manage contacts for an overall better customer experience and smoother processes.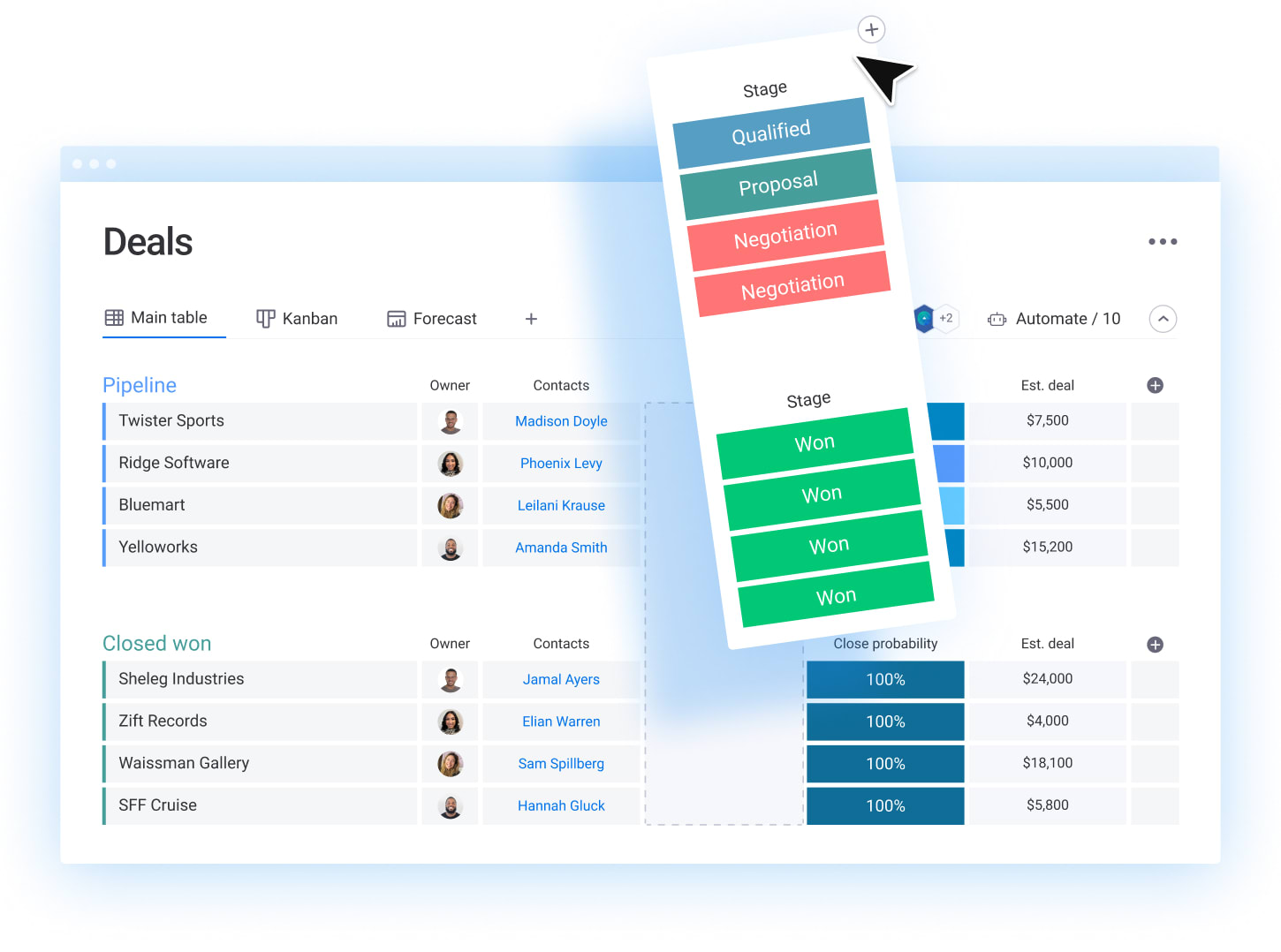 Why users love it
monday sales CRM features dynamic columns that make it easy to optimize your CRM and unique automations for email flows. Track deal progress and sales goals with custom dashboards.
Why they don't
Our free trial doesn't include all the features you'd get with a Standard Plan. You have the opportunity to try monday sales CRM for free, for 14 days with no credit card information required.  Students and non-profit organizations may be eligible to receive free use of monday.com or a discounted rate after filing the necessary documents.
2. Zoho CRM
Zoho CRM is for startups and enterprises across verticals who want to increase their sales, marketing, and/or customer support efforts.
Why users love it
Zoho CRM offers an omnichannel solution including phone, email, social media and live chat in addition to features for managing deals, opportunities, and sales forecasting.
Why they don't
This tool doesn't let you use Workflows on their free version and users gave feedback that it might be too robust for smaller organizations with narrower feature needs.
3. Bitrix24
Bitrix24 is an online marketing software program that offers automation and collaboration features for sales teams.
Why users love it
Their free CRM plan includes unlimited users, contacts, and deals. You can use it to include your product catalog with an unlimited number of products.  Inventory management is also a user favorite.
Why they don't
Bitrix24 limits storage to 5GB and their free plan only permits one pipeline.
4. EngageBay
EngageBay promises an all-in-one marketing, sales, and customer support software that helps companies to acquire, engage, and nurture web visitors and convert them to customers.
Why users love it
Users enjoy a live chat feature, which isn't standard to most CRMs, especially not a free CRM solution. It supports two lists, five pop-ups, five forms, and one landing page.
Why they don't
This is a lesser-known tool, which means users might feel less comfortable with the interface. The free plan also doesn't include predictive lead score.
5. HubSpot CRM
HubSpot's free CRM is packed with features for sales teams, including sales automation, email tracking, contact management, and prospect tracking.
Why users love it
In addition to a meeting scheduler, HubSpot CRM offers things like team email, ad management, and live chat.
Why they don't
HubSpot might not be the best fit budget-wise for every company and it also sets a 100 contact limit for engagement.
6. Freshsales
Freshsales CRM top features include marketing email journeys, chatbots, unlimited users, unlimited support, and calling within the CRM.
Why users love it
Users love Freshsales free CRM visual pipeline because it is easy to use, which makes it scalable for growing teams and organizations. They also have a mobile app.
Why they don't
A main drawback of Freshsales, especially for new teams that are onboarding, is that they don't offer 24/7 support — no service is provided on the weekends.
What are the benefits of a free CRM?
A few decades ago, CRM platforms for small business owner were too expensive. These days, they come in all shapes and sizes from desktop and mobile apps to full-blown platforms that can help your run email campaigns and track the success of your targeted landing pages.
Many of these options can help you with core functions of your sales strategy:
Refining your marketing toolset
Managing and tracking customer interactions
Maintaining a clean sales pipeline
Scoring leads based on engagement
Why CRM software is crucial for sales 
Let's use the below image as a sample sales funnel:
As you can see, each stage of the process serves a different purpose: nurture, inform, and build trust with potential customers throughout their purchase journey. The prospecting phase could involve email marketing, while delivering the actual product could involve continued pushes about new features in a product, like email templates.
It doesn't make sense to send a proposal to someone who's never heard about your business, right? Likewise, scheduling a meeting with stakeholders before coming up with a detailed plan would waste everyone's time. A CRM software can help you keep this strategic sequence in check, and maybe even improve it with workflow automation.
The right CRM system helps you efficiently manage your sales lifecycle and communicate with prospects the right way at the right time while helping you grow faster, reduce wasted resources, and keep your business intact as you scale.
Sales Insights Lab reported that on average, 50% of the people your sales team contacts aren't a good fit. This means that without the right system in place, you could waste your team's energy on unqualified prospects.
And saving your team time isn't the only reason for using CRM software. Epsilon reported that 80% of customers said a generic sales experience is a deal breaker. With a CRM, your sales team can easily personalize at scale by tracking and updating customers' journey.
What do free CRM software options offer?
Now that you have had an appetizer on the impact CRM solutions can have for your business, let's discuss what a free CRM solution offers so you can feel confident making the right decision.
Top features of free CRM software:
1.  Contact management
Contact management, also known as "lead management," is the process of strategically organizing your customers and prospects to improve your communication.
Imagine that you run a B2B e-commerce store that focuses on large manufacturing companies (say, 200+ employees). And you embed a form on your website to capture user's information (e.g., phone, industry, requirements, etc.). A CRM software could help you store and organize that information in the cloud, so you can reach out to those prospects later.
The difference between free and paid contact management software? Most free CRM platforms limit the number of contacts you can store, so if you're scaling, you won't have as much flexibility here.
2. Sales pipeline management
A sales pipeline helps you visualize where your prospects are in their purchase journey, where in the sales process your team should put their focus, and categorize prospects based on different criteria.
Let's go back to the B2B e-commerce store; since you can't control who fills in the form on your website, you'll get leads from manufacturing companies of all sizes: small, medium-sized, and big. Your goal, however, is to target C-level execs at large corporations, so it doesn't make sense to spend your time talking to small-medium-sized companies. Even if a company seems like a good fit, that doesn't mean they're ready to buy, right?
This is why you need a sales pipeline.
A well-structured pipeline helps you manage all those nuances and organize leads, so your sales team can focus on prospects who are really engaged and have a high probability to convert to paying customers.
3. Sales automation
Sales automation is another CRM feature that you would expect to be free but — surprisingly — in many cases, isn't. This is unfortunate for software designed to improve your sales process, considering that around 30% of sales tasks can be automated.
monday.com's customizable CRM template allows you to automate tasks such as qualifying leads — giving your sales team more time to focus on their core work.
4. Integrations
Connecting other applications your teams need to do their work into your CRM platform is essential, so data can flow to, from, or between them. The goal is to host complete, accurate data from your business software to give you a complete picture of your business and customers.
5. Time management & scheduling
The best free CRM tools should have workflow management features, such as time tracking, calendar views, and the ability to set up automated reminders via notifications. This will prevent the need for several separate systems to manage your sales team's workflows.
6. Email marketing automation
So much of sales, marketing, and CRM activities pertain to email communication, whether it's cold call campaigns or account manager follow-up. Look for a free CRM system that allows you to integrate with platforms like Gmail — then you can create automated emails according to how the status of leads changes and more.
The limitations of free CRMs
The features we've covered are the starting points for any CRM tool. But it doesn't mean that's all you need. If you're a "solopreneur" handling a couple of prospects per month, you might be able to meet your basic needs with a free solution. But if you're looking to truly optimize your marketing, sales, and customer service processes at scale, you need something a bit more complete.
Put another way, "free" always comes with the price of sacrificing features and functionality. Here are a few options for free trials of these solutions:
Hubspot CRM
Zoho CRM
monday.com Work OS—more on that soon!
Below, are some of the main pitfalls of free CRM systems:
1. It's harder to scale
Restrictions on the number of leads or even losing the ability to have unlimited users might stunt your growth path. If your software can't handle that growth, whether it's the number of users in your organization or the potential customers you want to reach, then it is not serving its full purpose.
It is important to note that, depending on your team's size and growth trajectory, the "free" in your free CRM may not last long. Companies might offer a free plan, but as soon as you start adding teammates or exceed your contact quota, expect to pay. It's often better to budget for a CRM tool that meets all of your needs off the bat, instead of getting stuck with a surprise bill.
2. You can expect limited integrations
Few teams run their operations using a single tool. Most free CRM systems won't offer integrations with the tools and apps you already use, which can lead to siloed information and a lack of transparency.
To access their full integration options, you'll probably have to upgrade to a paid plan. Paid CRM solutions, on the other hand, give you more flexibility from the beginning. For instance, monday.com gives team members access to native integration with more than 40 other platforms across different functions, including marketing, sales, customer support, accounting, and more.
This helps you centralize your information in a single place and work more efficiently.
To learn more about how our integrations work, watch the short video below:
3. Sales automations aren't as robust
Automations are critical for any team's success because they do the heavy lifting while you focus on strategic work— not to mention they reduce the risk of human error and increase profit margins. Free CRMs offer a few options for sales automation, but no free solution will help you streamline and automate your entire sales process.
For instance, you might be able to automate notifications or status changes, but face limitations beyond that. Compare that with the 250,000 actions you can automate with monday.com and you'll understand why a paid solution can empower teams to make a big impact and really scale their sales efforts without unforeseen barriers and restrictions.
4. You'll have to sacrifice on customization
With businesses rapidly changing, no process stays the same for very long. That's why a flexible CRM platform can help determine your organization's success.
Unfortunately, free CRM software lacks the agility and flexibility of most paid options, which can make it difficult to keep up with today's fast-changing market. Consider the value of a platform that adapts to your needs and is flexible enough that you can constantly optimize your processes.
monday.com gives you access to multiple customization options from the start, including drag-and-drop functionalities. This helps you design workflows with ease and build a completely customized platform.
5. Reporting is incomplete
A downside of free CRM systems is that you likely won't have full access to all your data. Without transparency into the health of your sales pipeline, your hands are tied when it comes to smart decision-making. Sure, you might be able to track leads or overall revenue, but if you want to dig deeper into your numbers, then you'll need something a bit more sophisticated.
Softwares like monday.com grant teams full access to their data as well as the tools to analyze that data. From the start, you get access to more than 20 dashboard widgets you can move around at will to design dashboards that look like this.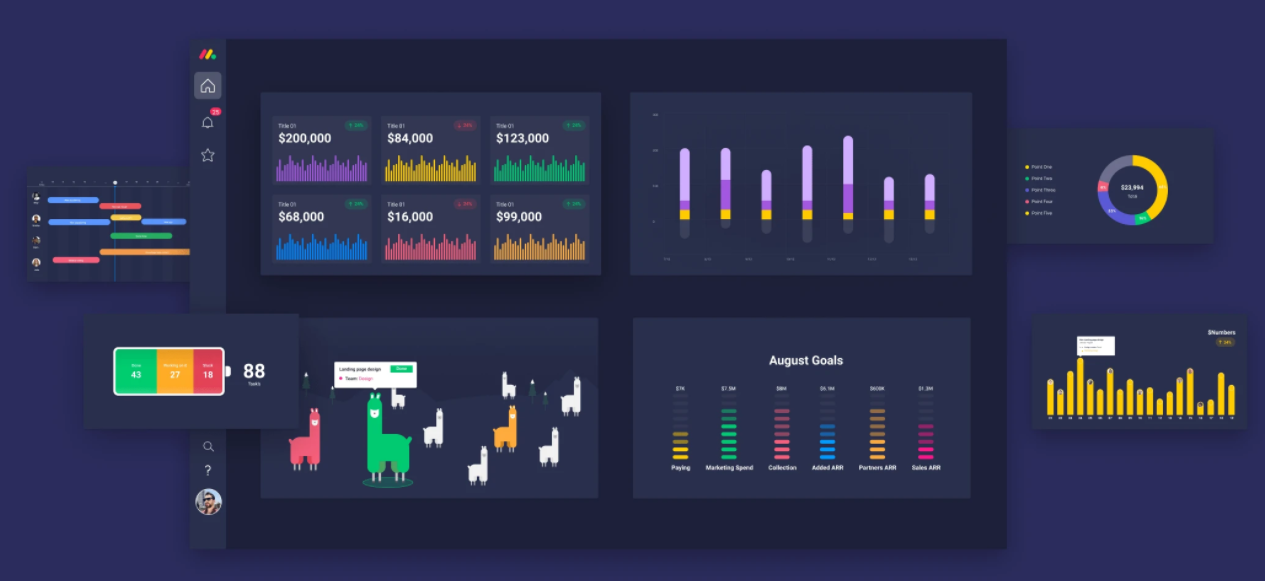 6. You likely won't receive as much training or customer support
Free CRM solutions don't usually offer the type of training and support teams need. Imagine your sales team is about to close a crucial deal and for some reason, you can't find the proposal you uploaded a few weeks ago. You contact support, but they take weeks to respond. And when they finally do, it's too late — you lost the deal.
When you've got a massive deal on the line, you want to know customer support is there to help work through any questions or kinks in your workflow.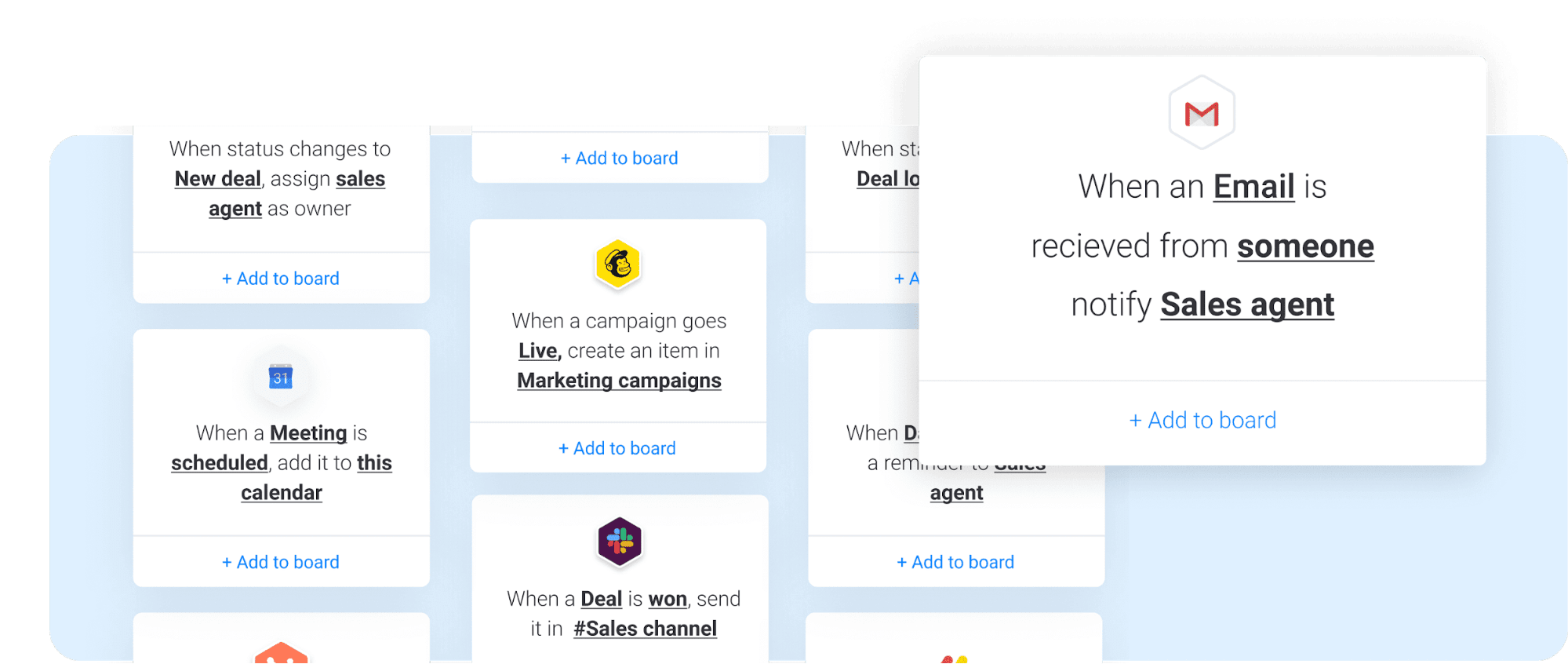 monday.com vs. a free CRM software
monday.com isn't just another "CRM solution," it's a Work Operating System (Work OS) where you can build any workflow that fits your team's needs. monday.com Work OS is flexible enough to build any type of workflow and robust enough to handle your growth.
Regardless of the size of your project or pipeline, monday.com provides you with all the features you need to work more efficiently and deliver better results. You also have the freedom to build a CRM for Mac, your PC, or your mobile devices. But how can such a flexible platform meet your specific CRM needs?
monday.com is more than just a CRM
monday.com Work OS is made up of building blocks, which include functionalities such as dashboard widgets, integrations, data visualizations, and column types. Any team member can arrange these building blocks to build a platform that meets your team's specific CRM needs.
If it's your first time building out a full CRM workflow or you want to learn form industry experts, you can get started in minutes with more than 200+ customizable templates. This gives you all the flexibility you need to build anything you can imagine. From CRM systems to project management platforms to something completely new, monday.com helps you develop the perfect workflow.
For a more complete explanation of monday.com Work OS, here's a quick overview of everything you can do on the platform: 
monday.com CRM features
Below, we've outlined some of our most-loved CRM features available on monday.com.
Task management

: Assign tasks or leads to specific teammates and track progress with ease
Data storage: Consolidate your team's tools, contacts, and information into a single source of truth
Lead management: Build forms with custom fields, store contacts, and prioritize them based on criteria that matters to you
Pipeline management: Efficiently manage the different stages of your sales funnel
Customer tracking: Track every customer interaction, add notes, and measure how specific deals progress
Marketing automation: Streamline your processes and get the most out of your

marketing budget
Choose your CRM template(s)
monday.com has 8 templates specifically geared towards CRM workflows and functions, but you can transform any of our templates to meet your needs. With our CRM template, you can prioritize leads, assign them to specific sales reps, and have more control over your sales processes. You can start in minutes — no coding skills or training required.

Frequently asked questions
How can I create a free CRM?
There are many options for free CRM platforms or free trials. The fastest way to get started is with a CRM that offers templates with pre-populated fields and time-saving automations and formulas — we recommend monday sales CRM.
Does Excel have a CRM?
Excel can be used to create the framework of a CRM, since it has rows and columns for information that can be sorted. However, a CRM spreadsheet is typically more static and doesn't provide the flexibility that fast-moving organizations and their financial and sales teams need.
What is the best free CRM for small businesses?
Small businesses are unique from enterprises in many ways — but we think you should choose a CRM that is built to be simple enough for smaller teams but scalable enough for company growth.
Invest in your organization's growth
When your organization decides it's time to really invest in growing and supporting your sales pipeline, you will have to consider which system can support all of your needs— a free CRM software or something that ups the anty?
If you're looking for a CRM platform that's simple to use, powerful, and flexible— monday sales CRM might be right for you.