If you think pipeline management sounds like a chore, you're not alone.
This practice is a must in order to have a reliable sales pipeline that provides accurate sales forecasts, improves lead generation, and boosts your win rate.
In this article, we'll define pipeline management, give you some best practices for keeping up with it, and show you how to make life easier with the right pipeline management software — like monday sales CRM.
What is pipeline management?
Before we get into the nitty-gritty details, we should probably get on the same page as to what pipeline management is.
A sales pipeline helps you visualize and track all sales opportunities. Pipeline management is the process of keeping up with your pipeline to ensure it's as accurate as possible at all times.
In practice, pipeline management means regularly updating the data in your sales pipeline, so all inputs are entered, and the insights you gather from it are up-to-date and accurate.
True pipeline management segments each opportunity into its corresponding sales cycle category. Properly managing your pipeline involves a sales manager or salesperson tracking activities that pull people through your pipeline stages. Such activities include:
Cold emailing and cold calling
Appointment setting to meet with prospects
Conducting demonstrations
Generating sales proposals
A good sales pipeline will bring method to the madness. It'll map your process out step-by-step so you can analyze, improve, and supercharge your sales process, which will bring in more revenue.
What are the 7 stages of the sales cycle?
Typically there are 7 stages of the sales cycle:
Prospect
Contact
Qualify
Nurture
Make an offer
Handle objections
Close
You can read more about the sales cycle in our blog: 6 key sales pipeline stages.
Who's responsible for pipeline management?
Taking ownership over your pipeline requires discipline and attention to detail which is a great quality to have in:
Sales reps
Sales and account managers
Account executives
Team leads
If each individual sales rep keeps up with their own pipeline management, then their sales manager can focus their efforts elsewhere like objection handling, risk management, and sales enablement.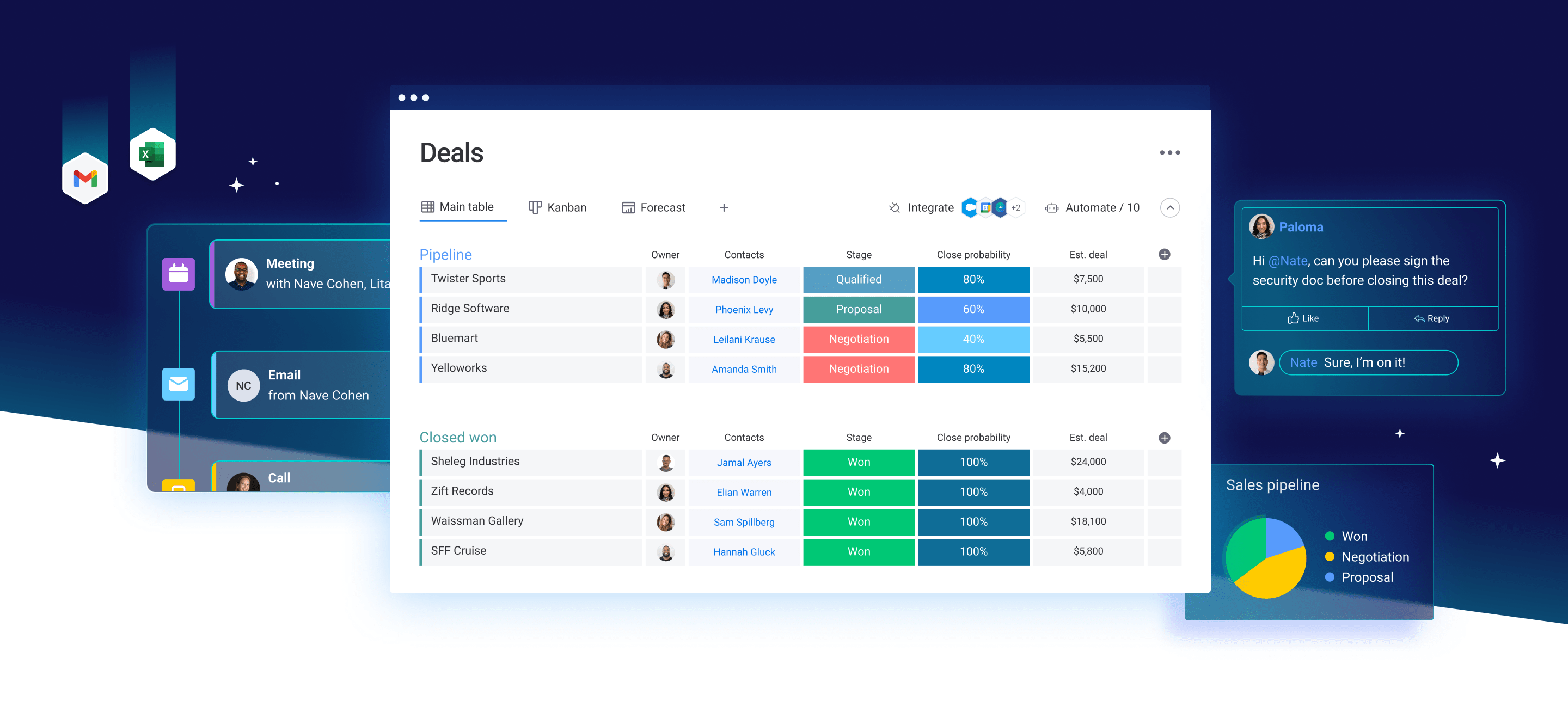 In reality, sales leaders have to get involved with pipeline management quite often.
They do so by updating sales stages where needed, identifying sales blockers or bottlenecks to the process, tracking critical pipeline metrics, and, when necessary, jumping in to help prioritize or facilitate proper pipeline management for individual reps.
These days a lot of pipeline management can be automated — monday sales CRM has built-in automation — but not every organization capitalizes on that fact.
5 pipeline management best practices
Managing a sales pipeline isn't a full-time job, but it does require regular attention. Most of the responsibility for keeping up with it falls on the sales rep. It's their job to log calls, emails, and take notes on each account, so it's got the raw data that makes it a resource.
That being said, it's far from a perfect system which means you'll need to follow a few best practices to get the most out of it:
1. Always be prospecting
Prospecting may seem like a no-brainer, but some sales reps tend to take their foot off the gas when their sales pipeline appears full. Sure, you have plenty of work to do, so focusing on that over bringing in new business makes sense, but that kind of thinking is ultimately misguided.
It's better to strike while the iron is hot and keep prospecting even when your pipeline is full.
Following the process and keeping your activity levels high is the only way to ensure it stays full. It's also the only way your company will blow past sales goals and set new records.
2. Make follow-up a routine practice
The days of one call closes are practically over. According to recent research, 68% of sales reps cite their sales cycle lasting between 2-12 months.
You're competing against a lot of noise out there and prospects who are busier than ever. People have more on their plates than they did 20-30 years ago. They're also bombarded with sales calls, emails, and door-to-door salespeople vying for attention.
Following up regularly and providing value is the only way through the noise.
Here's another area where proper sales pipeline management is worth the effort. A great way to follow up is to invest in software rich in automation. monday.com, for example, can remind you to follow up at certain intervals.
3. Focus on a few critical pipeline metrics
The number of key performance indicators (KPIs) your company could track is staggering. There are literally hundreds if not thousands of possible metric combinations that can potentially improve your bottom line.
What matters most is picking metrics your reps, leaders, and stakeholders understand and that align with your company's overall strategy.
Some common metrics to consider include:
Average sales velocity: measures how quickly leads move through your pipeline.
Average deal size: total revenue over a set period divided by the quantity of closed-won opportunities.
Pipeline total value: the combined value of all opportunities at each stage of the sales cycle.
Win rate: the percentage of prospects that convert to customers divided by all deals in the pipeline for that period.
Lead response time: how long it takes to follow up on a lead.
Your sales pipeline feeds a lot of important metrics like sales velocity, number of leads, and more. That's why it's important to follow the process — so your revenue forecast and all your other KPIs are accurate.
4. Keep things as simple as possible
German economist E.F. Schumacher once said, "Any intelligent fool can make things bigger, more complex, and more violent. It takes a touch of genius — and a lot of courage to move in the opposite direction."
Simple is better.
You hired your sales reps to sell, not to do admin work. In that regard, focus more of your efforts on automation.
If you rely on tech more than training, you'll get better results.
That means providing canned responses for emails that you know are effective. Providing auto-dialers and headsets, so they're not manually typing phone numbers for every call. Using reminders in monday.com to follow-up, so they don't have to remember on their own.
Proper sales pipeline management makes the sales process feel simple for both the client and the salesperson.
monday sales CRM lets your team get an instant overview of each deal.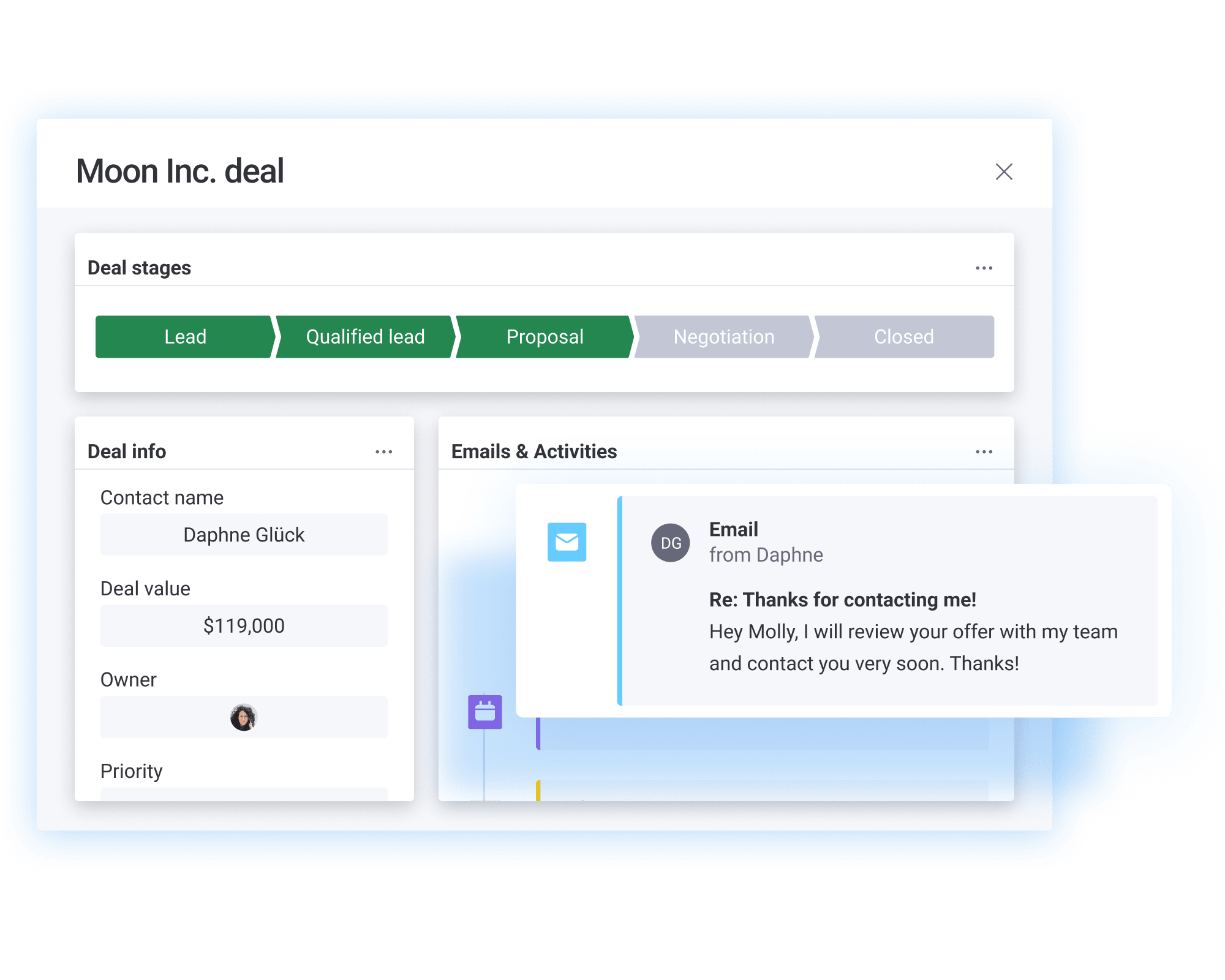 5. Regularly clean up your pipeline
Your sales pipeline can rot over time if you don't actively trim out the tire kickers or non-responsive leads.
For instance, if a sales proposal was generated and presented for $8,000 last month, but they haven't picked up the phone or engaged with any emails since then, you can safely assume that opportunity is fading.
This potential customer has lost interest, shifted priorities, or made a purchase already. If you leave it in your pipeline month over month, you'll have a falsely inflated sales forecast.
Effective pipeline management requires removing them from your sales opportunity list and setting a follow-up for months down the line.
What to look for in pipeline management software
Effectively managing your sales force isn't just about maximizing revenue and squeezing the most out of what you've got. It's about creating a repeatable process that, when properly maintained and fed, will produce consistent results.
That's what pipeline management software provides, and here are a few things to look out for when buying one:
Automation
There's a lot of admin work that goes into running a sales pipeline. You need software that takes away some of that legwork.
On monday's sales CRM software, you can use automations and specific conditions to move opportunities to different groups or assign them to different team members. Or you can notify sales engineers when a prospect enters into a demonstration category.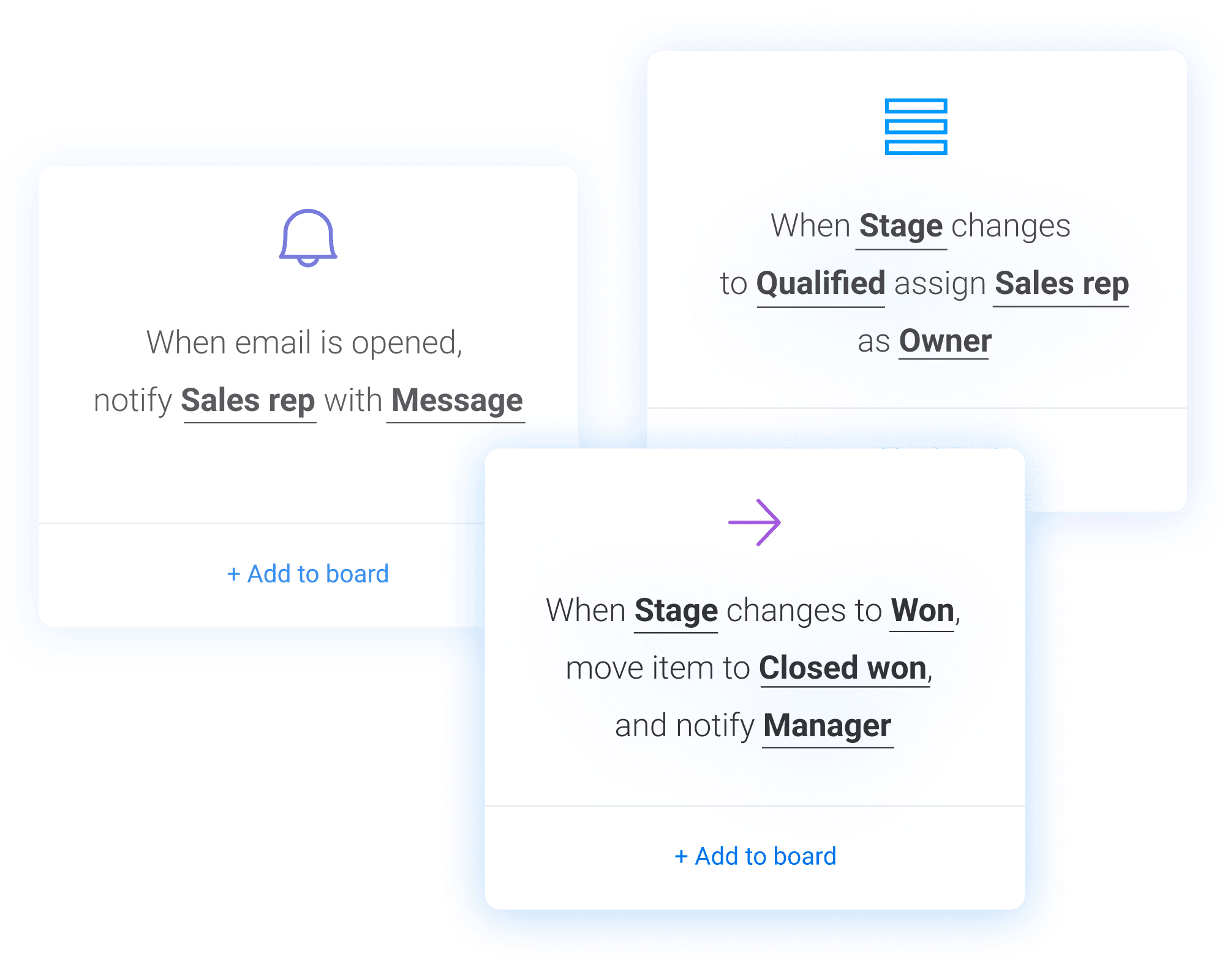 Our built-in sales automation will automatically move each sales opportunity to the proper sales stage or do hundreds of other things you'd like to streamline.
Customization
Customization is crucial if your sales funnel is already built and working in your favor. You want a Work OS that will flex to the way you do things. monday.com has 8 data visualizations, custom columns, and infinite possibilities that'll help your team customize your workflow.
You can pick colored labels for tracking last contacts in a way that suits you. You can see phone numbers alongside local time zones, so you're calling at the opportune time. The list goes on and on.
Visibility
Besides customization, you need a way to visualize all your data and communication.
With monday.com, you can track your daily tasks, but also convert your data into other formats like pie charts that show your entire pipeline's lead status. It will also filter down to see which leads are in nurture or under objection handling status in your sales funnel.
Live dashboards — like the one below — and easy-to-understand reports let you keep track of pipeline progress and changes in real-time, so you're always in tune with your sales forecast.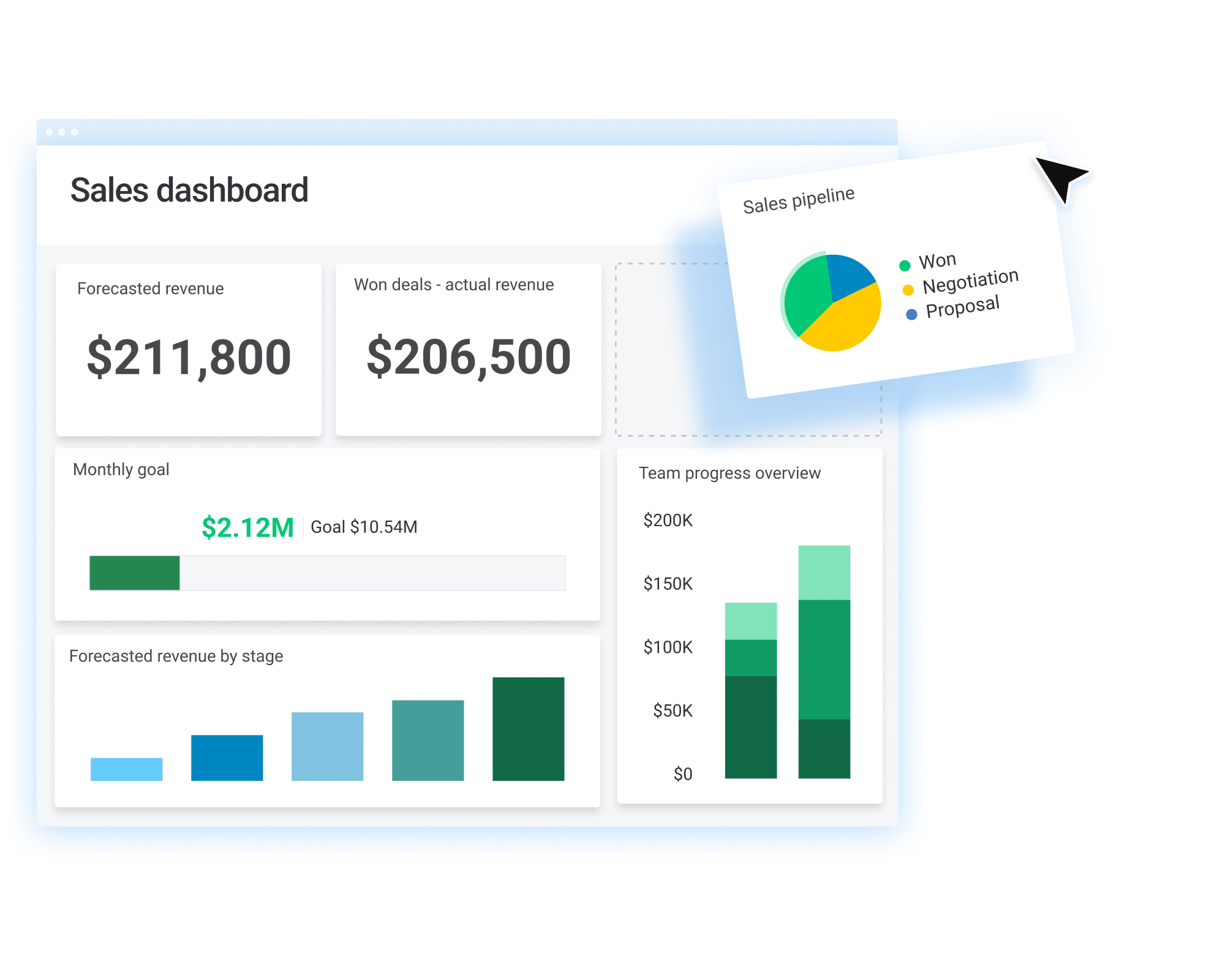 How about the ability to track your own comments and notes about each prospect? Yep, you need that too, and monday.com has you covered.
You can track all sales activity and kill lots of email updates and unnecessary status meetings by giving the whole team visibility. The team can communicate by tagging each other, leaving comments, or assigning tasks.
Frequently asked questions
Why is pipeline management so important?
Pipeline management helps the team monitor a number of sales performance metrics, from team performance to lead qualification. It gives you a reference point from where you can pinpoint who and at which stage in the sales process is successful or holding your business back.
What does pipeline mean in business?
A pipeline describes a series of distinct stages that lead to a long-term goal.
Supercharge your sales management pipeline
A healthy pipeline comes down to proper sales pipeline management. Without that process, you're essentially making educated guesses about the future of your sales performance.
To take control of your pipeline, you need the right software. monday.com helps you create a process, track important pipeline metrics, and take the boring admin work off your plate. What more could you ask for?