Imagine your marketing team is working on a blog post that discusses exactly how your organization is valuable to one of your customers. In order to publish it, the customer has to sign off on the final version.
But, the process got a bit muddled, and somehow the customer was sent the wrong version to approve.
Your team is now forced to go back to the customer a 2nd time for approval, embarrassed by the mix-up.
Scenarios like this are all too common.
In fact, 83% of employees have to recreate pre-existing documents because they can't locate them on their corporate network. 86% of them find it challenging to search for the information they need to do their job.
Improving how your organization manages its files will improve collaboration and productivity across teams.
In this article, we'll walk through exactly how you should think about file management, share some file management tips, and discuss how to execute them effectively.
What is file management?
File management is the process of, well, managing your files. Specifically, it speaks to managing your files so that they're all stored in one place, categorized in a way that makes them easy to find, and organized in a way that makes sense to you.
File management is often executed with the use of a file management system. This is a type of software that manages digital files, most often with cloud storage.
If you're specifically looking to transition your files from paper to digital, you might hear file management referred to as document management. In this case, document management software is used to help upload paper files into a digital file system.
Business teams that are working on any project — a campaign, product launch, or process — will most likely generate plenty of files, resources, and other pertinent information.
People rely on these resources in order to get their jobs done, so it's essential that it's well organized and easy to find.
monday.com provides teams with the ability to manage files effectively and manage their projects overall. The beauty of this platform is that everything stays in one convenient place.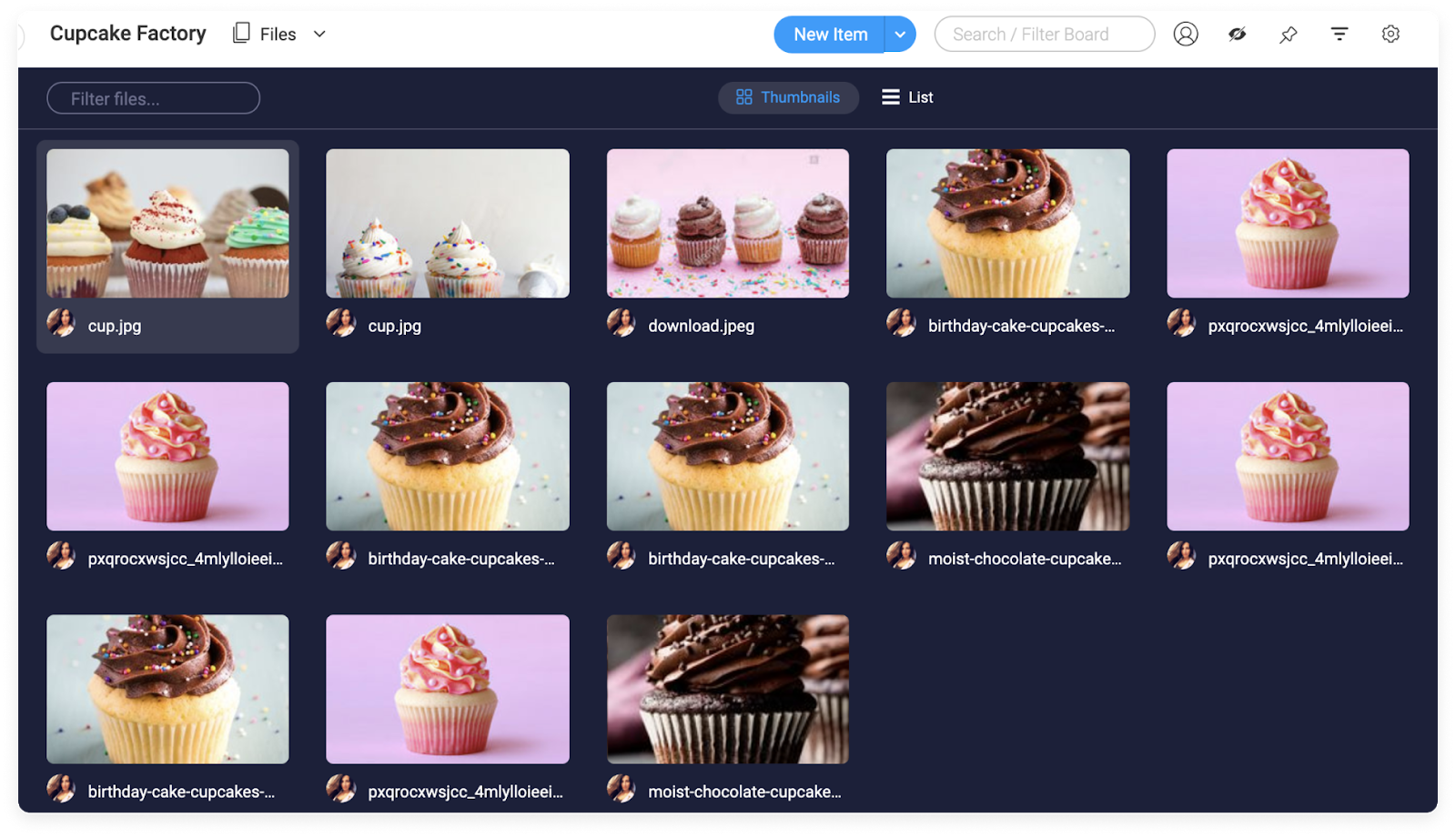 Teams that manage their files in monday.com have an organizational advantage — when files are stored in the same place that project execution takes place, it's easy to upload your files, share them with your team, and collaborate on them.
What are the benefits of file management and the costs of skipping it?
File management leads to fewer miscommunications and less wasted time overall. It can help you seriously cut down on those productivity sapping periods spent looking for up-to-date information that is crucial to the execution of tasks.
Here's what good file management brings to the table:
Most importantly, it should keep all of your most important documents in one place. Important information, like which master file is actually the latest version, allows your teams and project workflow to run seamlessly.
It stops your team from wasting time duplicating files they can't find. Team members can always find the latest files because they're attached right in the project workflow.
It reduces time spent on emails. Access files from all of your team members without having to take time to find, attach and share them again through an email thread.
Reviewing and approving content is easier. The review and approval process often includes sharing files with comments, responses, edits, and more. Make it easier by keeping all of your files in one place.
Control and maintain document versions. Never search for the most current document again because everything lives in one place.
If you're not managing your files correctly, you're falling victim to these drawbacks:
You're building information silos: much like our example at the beginning of this article, information silos result in the wrong files or information being shared — since the right ones are stored out of reach of those who need them.
Lose track of important documents or miss a status update: without an organized system to aggregate your information, this is risky for your bottom line.
Deadline delays: don't miss the deadline because you couldn't find what you needed to get the job done, especially when you need to report to your stakeholders about progress.
But for any file management tool to be useful and effective, it must also be convenient for you to use. If you can collaborate and communicate with your files in place, you'll rid yourself of redundancy and time lags.
What does good file management look like?
In order to properly manage your files, they all have to be in one place.
Once your files all live under the same roof, you can get organized, encourage better collaboration, reduce or eliminate redundant or different file versions, and provide access to the whole team.
When you manage your files with monday.com, everything is not only in one place; it's also in the same place where project management and communication occur, so nothing is ever lost.
Each task in a monday.com board allows team members to write updates, ask other team members questions, and share files related to that project.

You can also add files to the status update itself. For example, perhaps a photographer is working with a client using monday.com.
Within the task, several edited versions of the photo are passed back and forth for review between team members. When the task is marked complete, the final photo could be attached to the status update.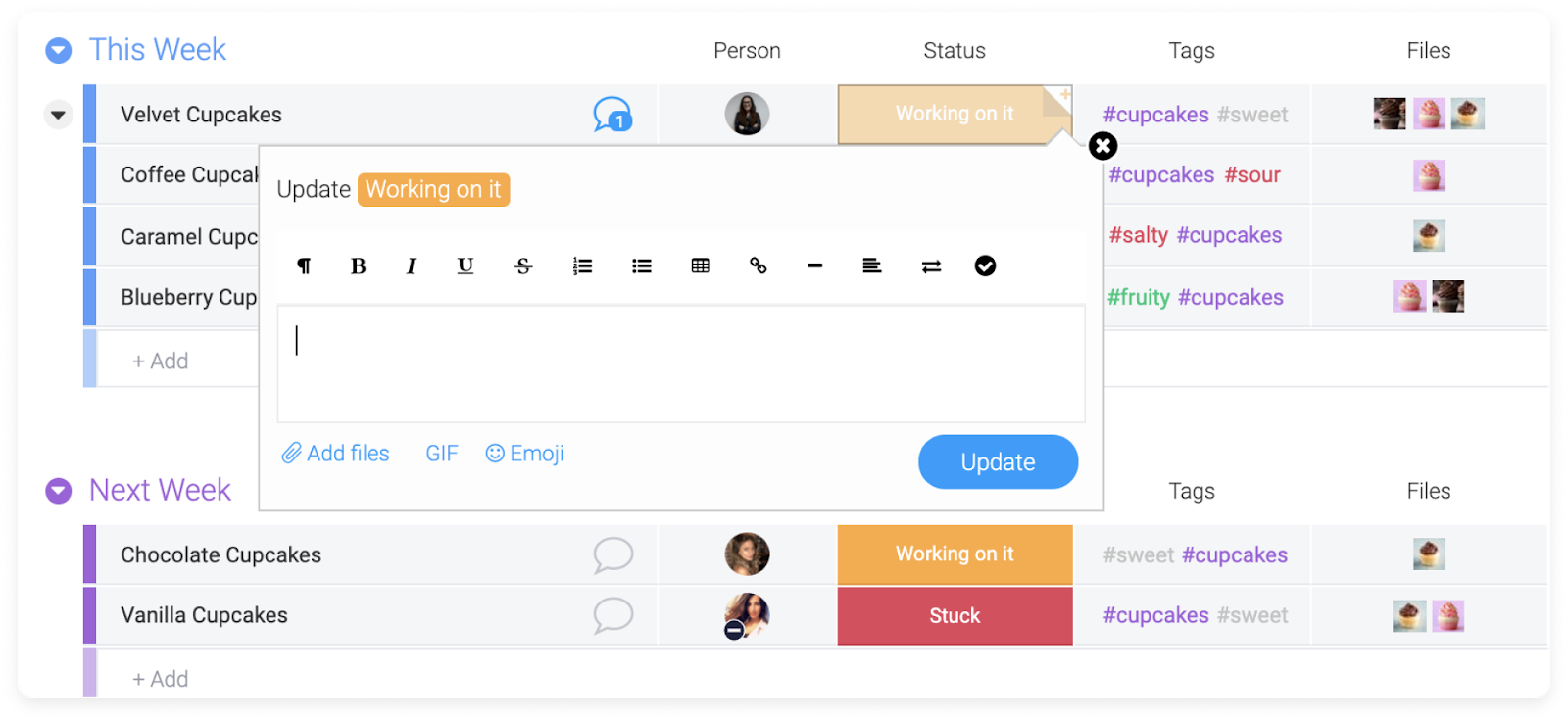 Files can be uploaded from a variety of different places, including directly from your desktop, Google Drive, Dropbox, Box, and OneDrive.
You can also automatically import files to various tasks by integrating with a tool you might already be using.
If it's important for your files to appear within the board itself, you can add a file column to your board.
It will visually display each file as a very small thumbnail image. That makes it clear at a glance which documents are attached to which task.
Once the file has been added to your monday.com board, you can add comments directly on them, ensuring that it's always clear which feedback or status update coincides with each file.
Regardless of whether your files are attached to individual tasks or they've made it into monday.com through a bulk upload or integration of some sort, you can view all of them using the files view.
Through the file view, you can revise and open files, sort them, search for the file you need, plus print, download, or delete them.
Some file management software solutions require you to build a folder structure in order to keep your files organized. With monday.com, your files are housed by task as opposed to by folder. They are then searchable by file name.
When you upload files, whether it's a single file or multiple, you can rename them so that they're easily searchable for other team members.
Finally, you can download files directly to your device if needed with a click.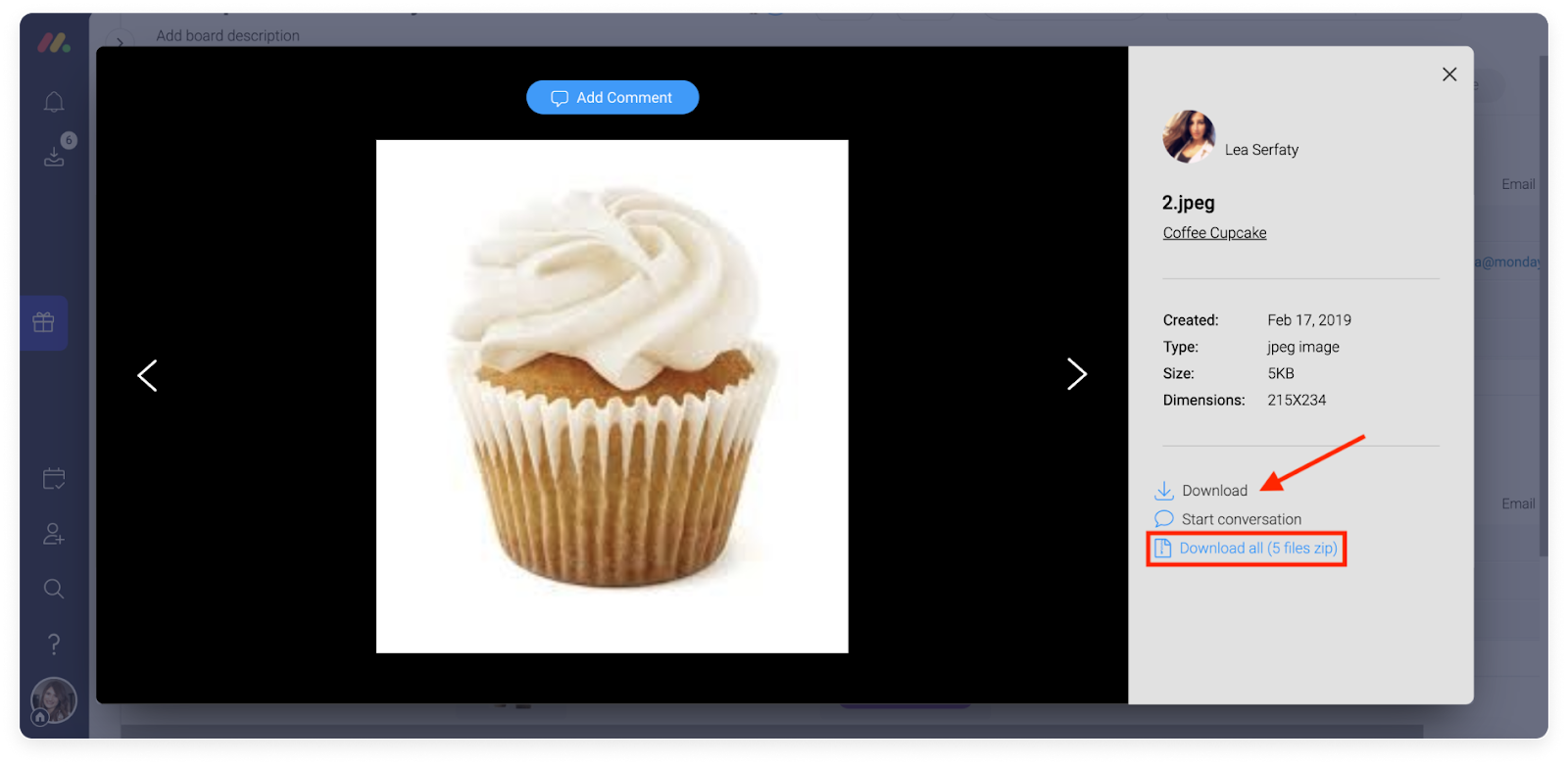 In some cases, you might be working with files that you don't want to share with the whole team.
As a default, anyone that has access to your monday.com board can also download files or edit them. But, you can easily change that as needed.
To set up restrictions so that only you or certain team members have access, add your files using the file column. After files are uploaded in the file column, you can set permissions where only the owners can edit.
All of these file management features work together to build a system that works with your team's set workflow.
Having all files at your fingertips when changing a task status, asking another team member a question, or simply sharing information with others can mean hours of time saved in the long run. This will improve productivity and help you hit deadlines.
Your files should live where you work
Time is valuable for us all, especially when we are looking to meet deadlines on a project, campaign, or strategy.
Managing files and having them located in one central location where collaboration, communication, and progress have a place to thrive is what makes monday.com a good solution for teams of all types and sizes.  
Cut out the time you're spending searching for files on desktops and in private folders. When your files are part of your workflow, everyone will be working with the same data. Updates, revisions, comments, and conversations all take place in the same spot.
If you're interested in integrating your file management with your team's workflow for easier, seamless communication, check out monday.com.