Choosing the right CRM software can be like planning a wedding. It all starts with doubt, stress, and questions — lots of questions.
To save time, we've done the legwork for you. In this guide, you'll find exactly what a CRM is, the different types of CRM solutions, and exactly what you should look for when choosing such a management tool for your team.
As a bonus, we've also included our reviews of 20 platforms you should integrate with your CRM tools to improve your efforts.
What is CRM software?
The term CRM stands for Customer Relationship Management. It's the process of managing customer interactions to increase sales and keep current customers happy.
A few decades ago, companies relied on spreadsheets and lists to manage this process. With the introduction of database marketing in the early 1980s and the spread of the first contact management system, CRM technology started to evolve.
Today, the CRM software experience offers a wide variety of functions for sales teams, including marketing and workflow automation, sales management, advanced analytics, and more.
For instance, let's say you manage a customer service team.
You'd use a CRM to store customer profile information to personalize support.
You'd use a CRM to give your team quick access to all relevant information to speed up service.
You'd use a CRM to record customer conversations to improve their experience in the future, as well as inform your own data-driven campaigns.
If you run a digital marketing agency, a CRM platform helps you keep in touch with potential customers, score them based on conditional data, and move them throughout the sales cycle.
And if you manage a hotel, the right CRM software helps you personalize your guest's experience, automate and optimize communication, and drive repeat business.
In short, CRM software helps you better understand who your customers are and improves how you communicate with them.
4 types of CRM
We can divide CRM software into 4 different categories based on 4 different objectives:
Operational CRM: streamlines and automates specific processes — usually sales and marketing.
Analytical CRM: gathers insights and data about customers to improve decision-making.
Collaborative CRM: gets rid of silos and shares customer insights across all departments in your organization.
Specialty CRM: streamlines and manages customer relations in a specific industry (i.e medical, hospitality, construction, etc.).
Now you may be wondering how to choose the right type.
Well, the answer depends on your specific needs, but here's the good news: many companies out there offer all-in-one solutions. You may also hear the term, cloud based CRM.
We'll cover this a bit later in more depth, but our CRM platform is fully customizable, data-driven, and collaborative by nature.
For instance, with over 30+ drag-and-drop building blocks, you can streamline any sales process regardless of your industry.
Also, you get access to advanced data dashboards to gather insights and drive business growth.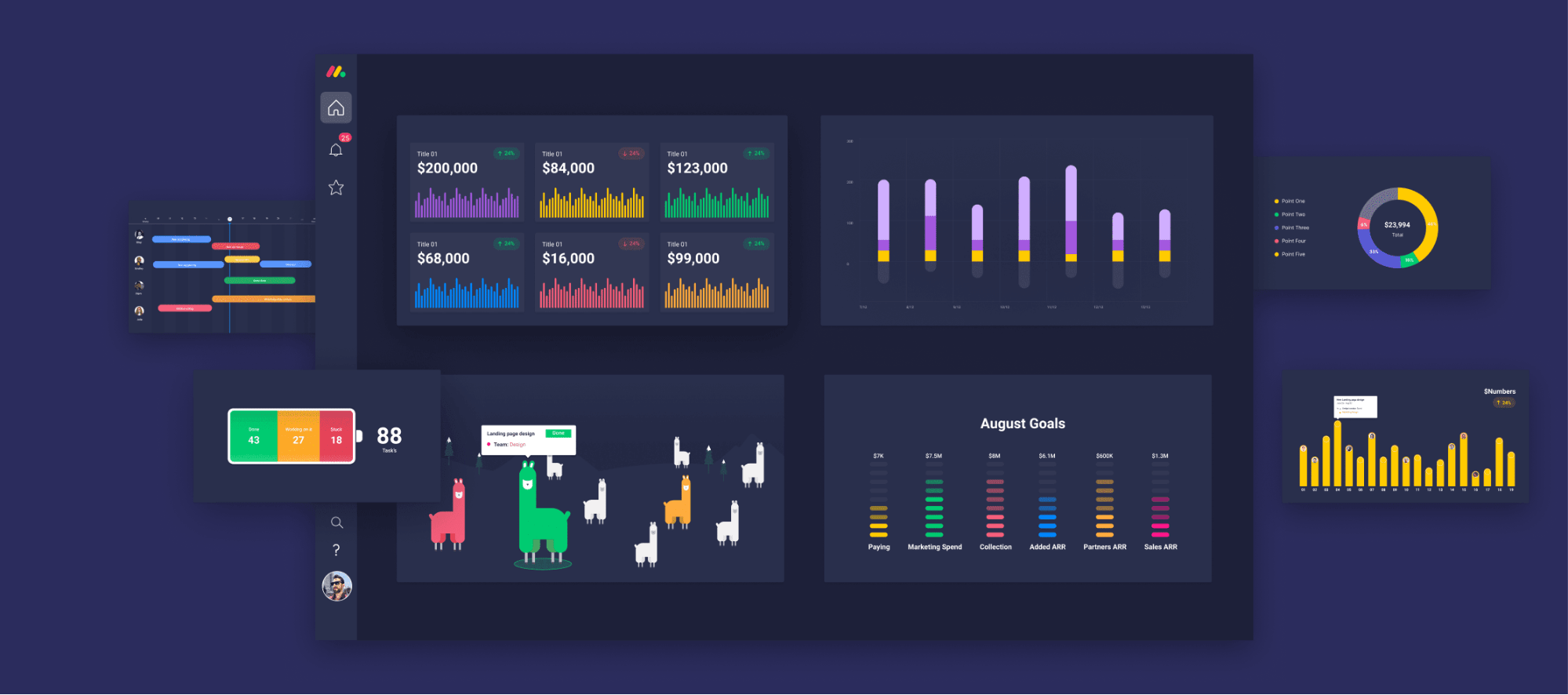 The point is that in today's day and age, you don't have to rely on limited CRM systems that focus on just one aspect of the process. 
What's the difference between a CRM and marketing automation software?
Many people confuse the two, and for good reason. Many CRMs offer marketing automation, but they're entirely different beasts.
CRM software focuses on sales and customer satisfaction, while marketing automation focuses on lead nurturing, email broadcasting, lead generation, etc.
As we see in the image below, both systems are part of the same sales funnel, but they just help you at different stages of the process.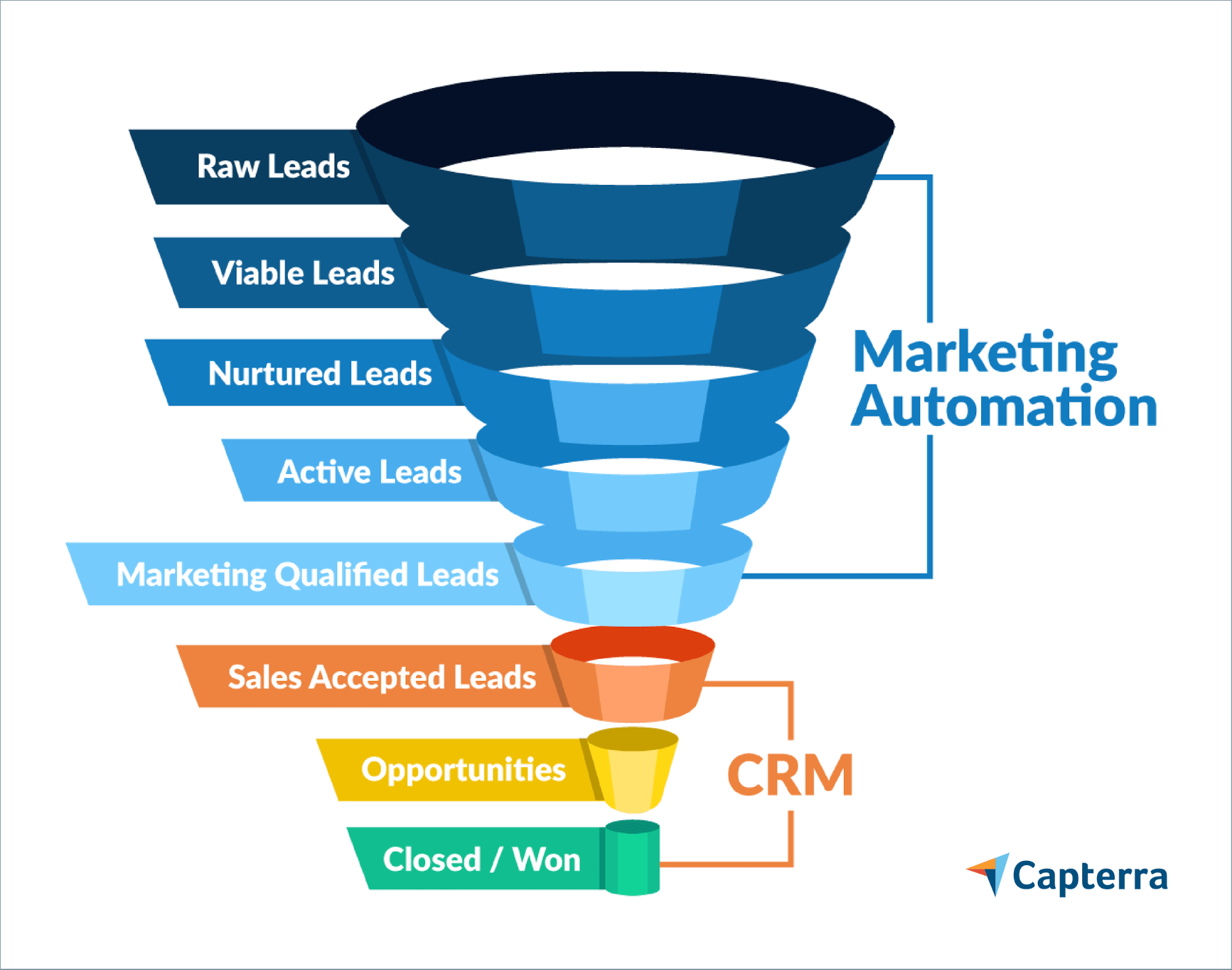 For example, you could use marketing automation to capture leads, nurture them through content, and score them based on their engagement.
And once they're qualified, you could use CRM software to personalize the sales experience, see your business' full history with a specific lead, and improve your relationship with existing customers.
Some platforms merge the two aspects so you can consolidate all your work into one place.
For instance, with monday.com you not only get access to powerful CRM features, but you can also integrate all your favorite marketing automation tools. This way, you can sync your customer data into the same workspace.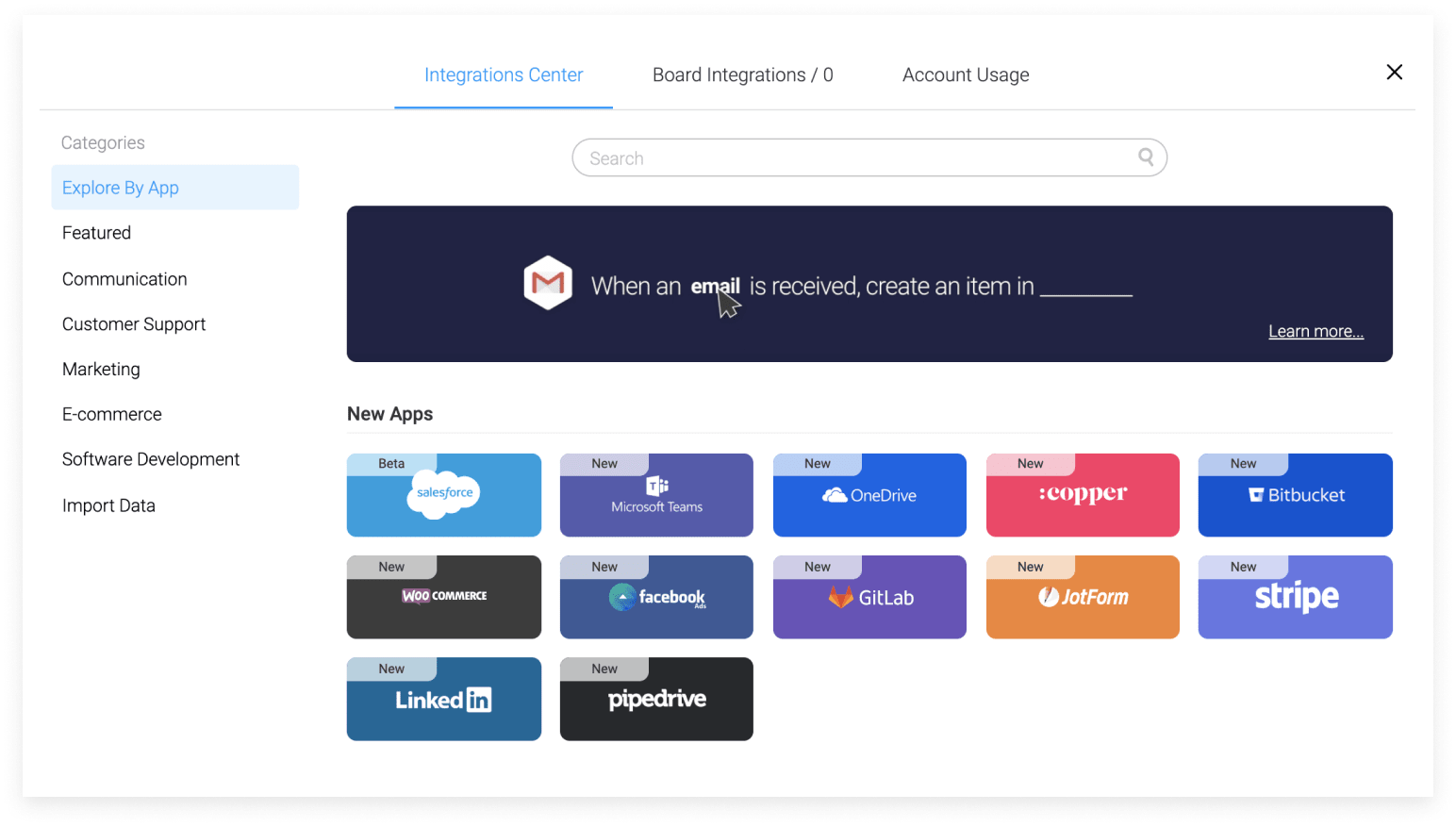 What makes a CRM software great?
Now that you understand what Customer Relationship Management software is, you may be wondering: how can I choose the right one for my organization?
G2 — a software reviewing site — lists over 630 CRMs. And that's just a fraction of all the tools out there.
To choose the best fit, you need the right criteria.
According to FinancesOnline, the top 3 features that most professionals look for in CRM software are:
Ease of use
Schedule management
CRM data snapshot capability

But, of course, those three elements aren't enough to find the right CRM for your team. Nowadays, most CRM platforms are easy to use and many of them offer similar features. We suggest you distinguish them like this:
Let's break it down:
1. It needs to be flexible
Ideally, the CRM system you choose must be adaptable to your own processes and operations and not the other way around.
For instance, monday.com is fully customizable.
As we said a bit earlier, we provide you with over 30 drag-and-drop columns, more than 20 dashboard widgets, and 200+ premade templates for any use case.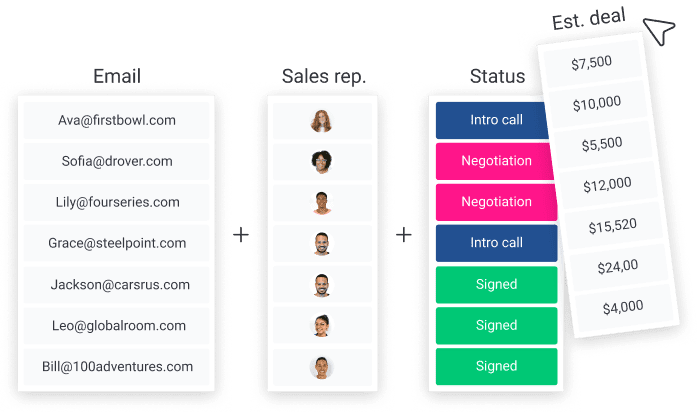 We also enable low-code app creation right within our platform and have an active community of users who share their own creations.
You can play with these elements and design any workflow, sales process, or operation you can imagine.
Whether you're tracking leads, managing sales pipelines, or onboarding customers, monday.com is fully customizable so that your team can get started instantly.
2. It should integrate with your existing tools
Let's face it: in today's digitalized world, no team operates with just one tool.
We've got email marketing, customer support, advertising, sales, analytics, you name it, there's a tool for it.
What does this mean for you?
If your CRM software doesn't integrate with these tools, you'll have a hard time trying to centralize all your information into one place.
monday.com's integrations center has over 40 integrations so you can bring in all the tools and apps you already use and operate in just one work hub.
Not only that, but we also give you integration recipes to automate tasks based on specific parameters and conditions.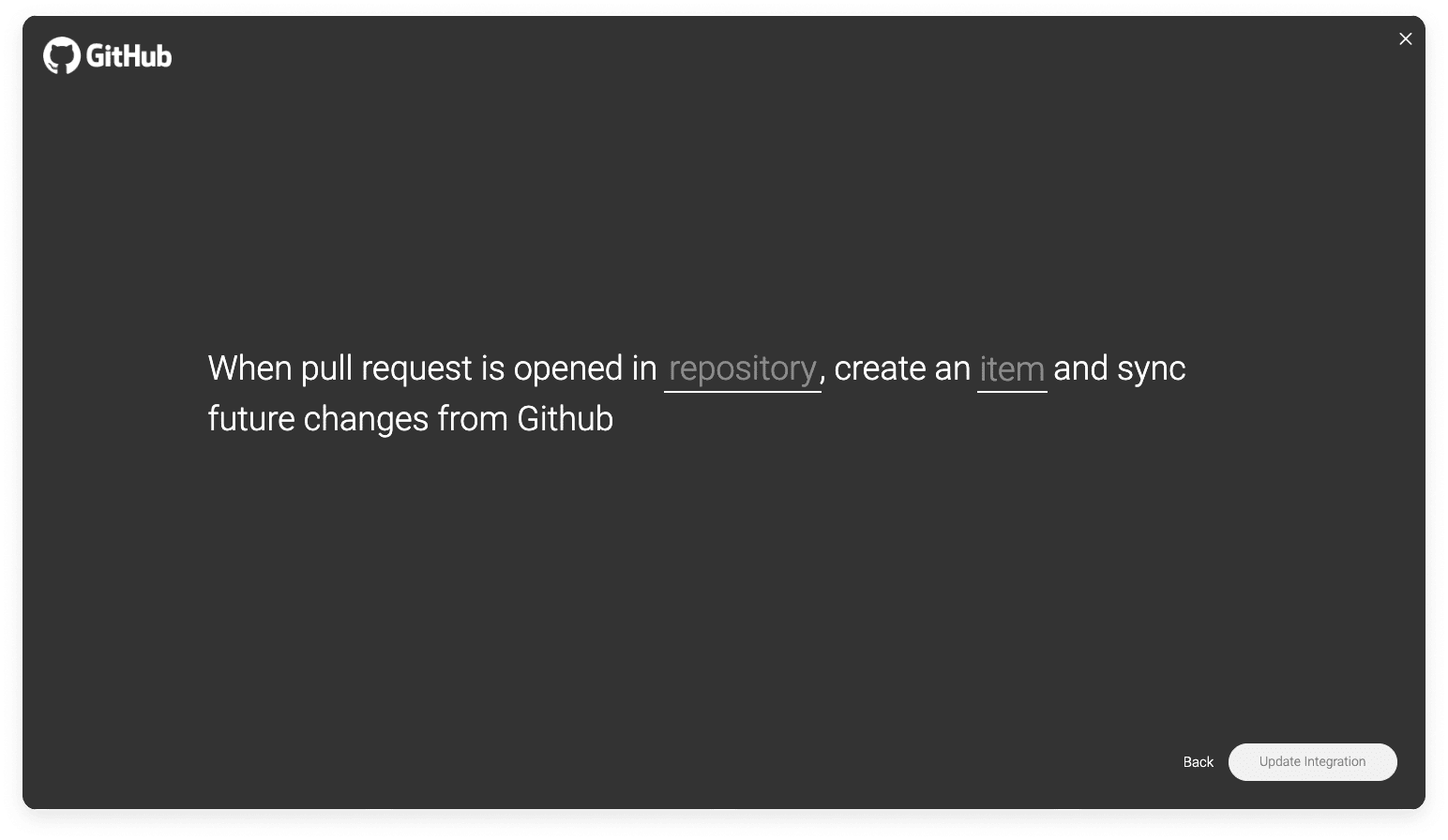 3. It needs to track revenue
Sadly, many platforms lack the capacity to track revenue. They're great for collaboration or customer communication, but they don't show the value of these customers.
If you don't know your numbers, you'll fall into the business-ending mistake of investing in things you shouldn't be.
In short, any great CRM software must provide you with robust analytics and data dashboards so you know exactly how you're doing against KPIs.
For instance, with monday.com you can visualize your entire sales process — including the value of leads and customers — at a glance: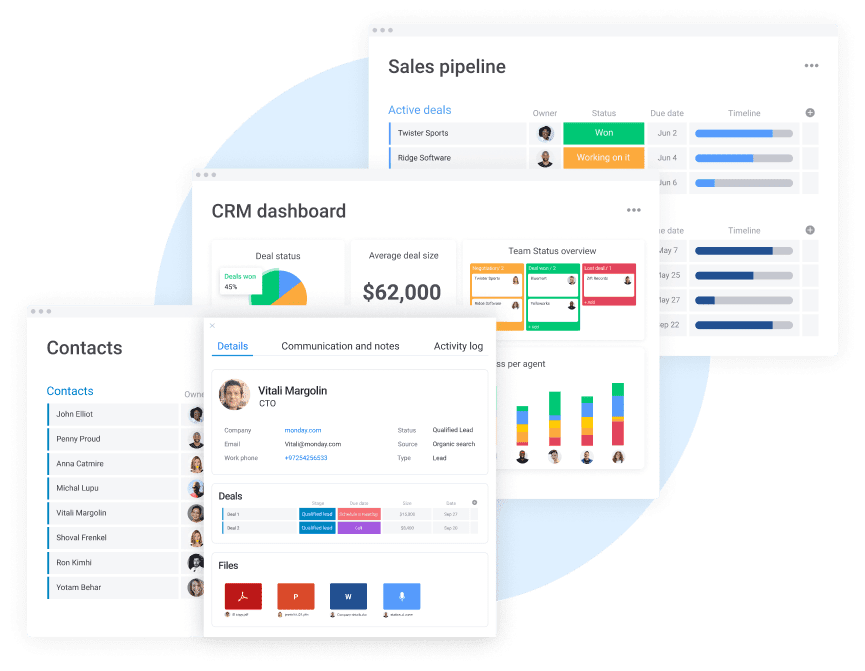 With more than 20 dashboard widgets, you can visualize the information that matters the most in your business and remove needless data.
Our "Numbers" widget provides a quick view and total sum of your revenue across projects, clients, or even departments:

Our "Chart" widget could help you track sales and commissions earned by specific sales reps: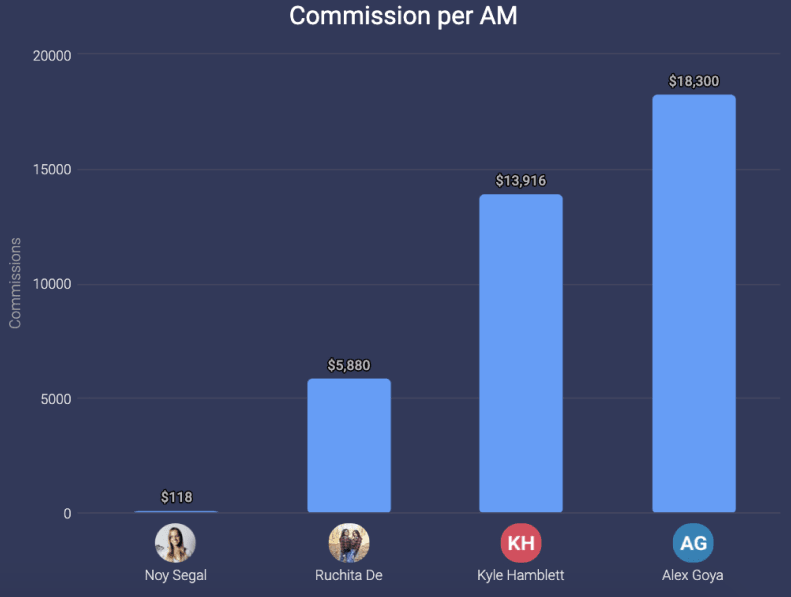 You could even add another Chart widget in the form of a pie chart to display the amount of leads you collected in a specific period: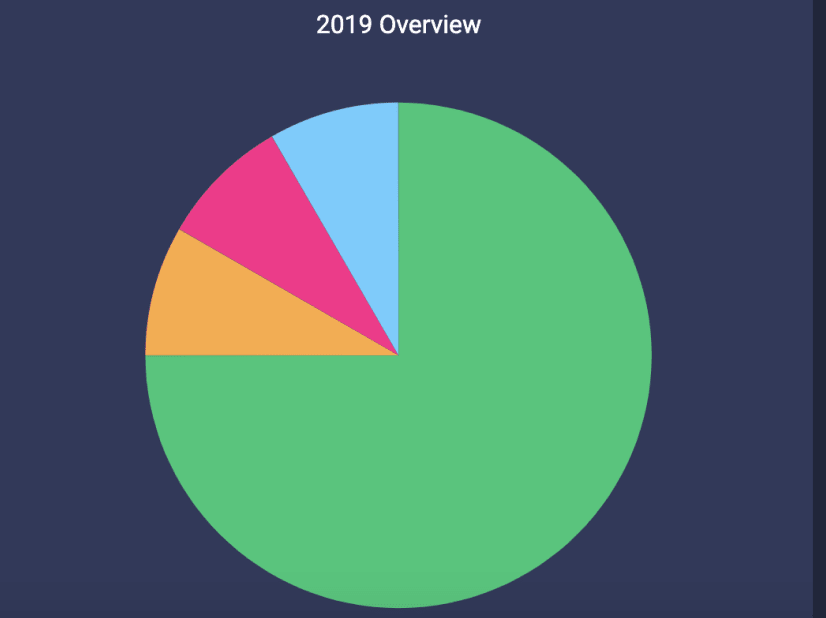 And your final dashboard might look something like this: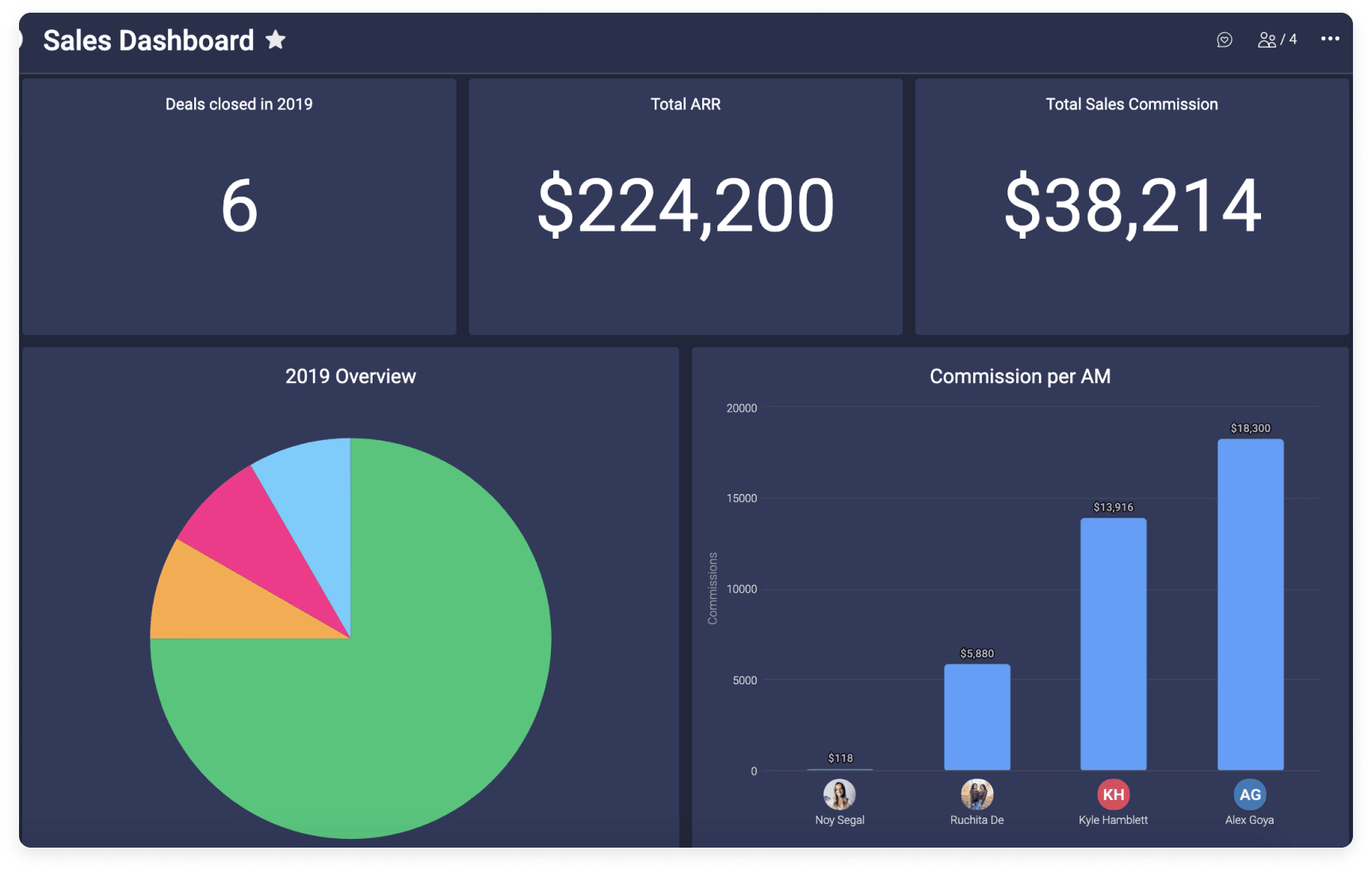 This way, you can get an accurate understanding of your progress and make smarter decisions faster.
4. It needs to be secure
Studies forecast that in 2021 the global cost of cyber crime will be close to $6 trillion per year.
Because your CRM software will manage critical information about your customers, you must ensure it's equipped to prevent the most common security issues and risks.
monday.com complies with the most rigorous global security standard for Information Security Management Systems (ISMS): ISO/IEC 27001:2013.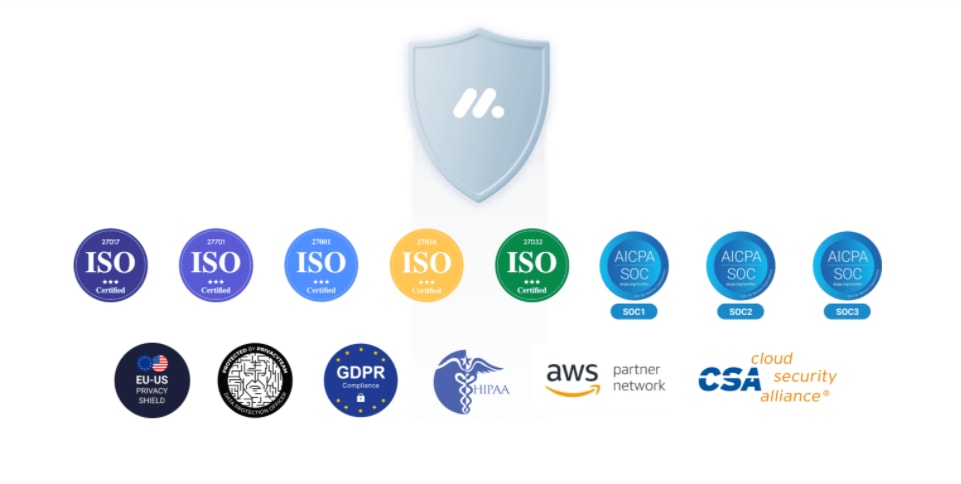 You can set permission levels to make sure just the right people can access your information. So, you can be sure your customer data will always be in good hands.
5. It should automate work
Automations are no longer a luxury — they're a necessity. If you can't automate repetitive tasks, you'll waste time and increase risk of error.
monday.com's automation center has hundreds of automation recipes you can set up in one click.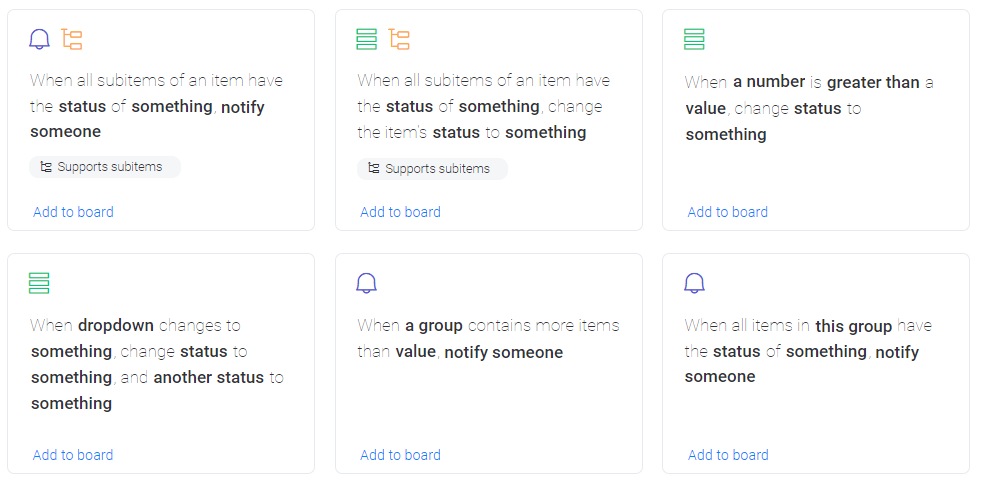 You can automate tasks, notifications, item creation, status changes, and more.
Here's a quick overview of how to use our automation features to improve your business' efficiency. You can try it in our free trial:
20 platforms that support your CRM efforts
As we stated earlier, no team performs with a single software, but many —marketing automation platforms, content management systems, accounting software, customer support solutions, you name it.
And if you want to get the most out of your CRM, you need to make sure it integrates with, at least, some of your current tools and apps so you can centralize your work into one place and remove silos between departments.
Next, we'll share 20 platforms—by category and use case—worth considering as a part of your CRM efforts.
Marketing automation
When CRM and marketing automation work in tandem, you get better outcomes and better reporting.
Some of the best marketing automation platforms include:
1. JungleWorks
JungleWorks is a suite of products that focuses on every step of an on-demand business journey, building online storefronts, and marketplace apps and websites.
Some of the top features include:
Omnichannel automation: launch cross-channel communication campaigns based on conditional data and triggers.
Personalization: create a dynamic experience for each of your customers.
Journey designer: map out the entire customer journey and set actions for each stage.
No pricing information available. 
2. Campaigner
Campaigner is a marketing automation tool that helps you map out your customer journey, automate customer interactions, and attract and nurture leads through customizable forms.
Some of the top features include:
Dynamic content: show targeted content to your prospects with dynamic variables.
Conversion tracking: measure the effectiveness of your campaigns with ease.
Drag-and-drop builder: customize the emails you send to fit your brand.
Plans start from $49.95/month. 
3. Mailchimp
Mailchimp is one of the most popular email marketing and automation platforms available.
Some of the top features include:
Audience management: store contact information and create segments based on different criteria.
Content studio: sync all your content — photos, videos, emails, etc. — and keep your brand consistent.
Analytics: get valuable insights about your audience behavior.
Paid plans start at $11.79/month. 
4. Marketo
Marketo is an account-based marketing automation software suitable for small or large businesses.
Other helpful features include:
Sales partnership: strengthen your pipeline process through recommended content and resources.
Content personalization: show personalized content to your customers and prospects with AI-powered technology.
Experience automation: engage, nurture, and score customers automatically.
Pricing depends on the size of your database. 
5. Customer.io
Customer.io is a marketing platform that automates your lifecycle messages to get in touch with clients and potential customers.
Some of the top features include:
Segmentation: create separate audiences and personalize your messaging for each of them.
Transactional API: adapt and edit transactional messages at will.
Multiple workspaces and collections: organize your work and messages based on elements that are important to you.
Plans start at $150/month. 
Invoicing and accounting
Integrating invoicing and accounting software into your CRM platform is essential because you can correlate your finances with your sales activities and measure how they're performing.
Some of the most popular invoicing and accounting platforms include:
6. Quickbooks
Quickbooks is an all-in-one invoicing tool designed for small business owners.
Some of the top features include:
Inventory management: keep a close eye on your stock, suppliers, and costs.
Payroll management: make sure your employees are always paid on time.
Invoice management: send invoice automatically and collect payments online.
Plans start at $12.50/ month. 
7. PandaDoc
PandaDoc is a platform that helps you streamline and secure the document sign-in process.
Some of the top features include:
API: integrate PandaDoc's features into your own website.
Workflow: streamline your organization's processes and help your team replicate them with ease.
Proposals: design, send, and track fully customizable proposals.
Plans start at $19/month. 
8. Invoicely
Invoicely is a customizable platform to design invoices, accept online payments, track time and expenses, and automate recurring invoices.
Some of the top features include:
Multiple businesses: manage multiple businesses and teams in the same account.
Reporting: get access to valuable insights to improve your decision-making.
Customization: customize your proposals and invoices to fit your specific needs.
Paid plans start at $9.99/ month. 
Customer service
By integrating your ticketing systems, live chat apps, and customer-related software with your CRM, you can get valuable insights about your customers and use that info to personalize the experience.
Some of the top customer service apps and tools include:
9. Zendesk
Zendesk builds provides you with a simple help desk system to manage and organize customer tickets from all your different channels.
Some of the top features include:
Messaging: manage, track, and respond to customer queries from a single, unified place.
AI-powered bots: personalize conversations with customers and increase your response speed.
Help center: create knowledge bases, FAQs pages, and forums to help your customers.
Plans start at $49/month (per agent), billed annually. 
10. LiveChat
As you may imagine, LiveChat is a cloud-based live chat solution that helps organizations keep in touch with visitors and customers with ease.
Some of the top features include:
Chat tools: embed a live chat on your website and communicate with users in real time.
Customer engagement: send targeted messages, save chat history, create URL rules, build eye-catches, and store chat transcripts.
Reports and analytics: get valuable reports on the performance of your agents and the ROI of your conversations.
Plans start at $19/ month (per agent).
11. LiveAgent
LiveAgent is a live chat and customer support system that helps you streamline your customer service channels into a single source of truth.
Some of the top features include:
Ticketing: manage customer tickets and solve product issues much faster.
Live chat: install a live chat on your website and help your customers.
Call center: get access to built-in calling features to handle all your communication.
Plans start at $15 per month (per agent).
CMS (Content Management Systems)
Content Management Systems help you create, organize, manage digital and online assets —content, pages, forms, and more.
Your website will likely be the first touchpoint a customer has with your brand. So, integrating your CRM with your CMS can help you strengthen that relationship from the beginning.
That said, some of the best CMS platforms in the market include:
12. WordPress.org
WordPress is the most popular CMS. You can use it to publish content, design your website, and manage the technical side of it with no coding skills.
Some of the top features include:
Simplicity: get access to a simple, user-friendly interface to manage your content.
Flexibility: modify and adapt the platform to your specific needs and add extra functionalities through easy-to-install plugins.
Publishing: create, publish, and track content with an in-built word processing platform.
WordPress is completely free.
13. Bynder
Bynder is a content management system designed for professionals —marketing managers, freelancers, business consultants, designers, etc.
Some of the top features include:
Digital asset management: organize and manage all your files, images, videos, and articles in the same place.
Brand guidelines: create brand guidelines for contributors and teammates to ensure brand alignment.
Advanced reporting: get insights on the performance of your content and customer information.
Bynder's pricing depends on the size of your team, database size, and the number of modules needed.
14. WooCommerce
Like WordPress, WooCommerce is a free, open-source CMS designed for eCommerce-oriented businesses. You can design your online store, accept payments online, manage shipping and carrier control.
Some of the top features include:
Plugins: install add-ons, widgets, and features in a couple of clicks.
Online payments: integrate your favorite payment gateways and accept online payments.
Customizations: edit your website with no coding skills whatsoever.
WooCommerce is completely free.
Proposal management
A great proposal management system can help your organization streamline your proposal creation processes and increase efficiency.
Some of the best platforms include:
15. Proposify
Proposify helps teams streamline their proposal processes and organize their documents in a more efficient way. You can automate proposal sending, adapt documents to your brand, and get insights on your best-performing proposals.
Some of the top features include:
Content management: protect your digital assets from inconsistencies and keep your brand aligned all the time.
Snapshot: oversee progress of specific reps throughout all the sales process.
Interactive pricing: tailor your pricing for each prospect and increase your conversion rates.
Plans start at $19/month (per user).
16. RFPIO
RFPIO is a RFP (Request for Proposal) response system that automates your proposal process and optimizes your prospect outreaching activities.
Some of the top features include:
Collaboration: keep in touch with your team through built-in messaging, file sharing, and notifications.
Response management: manage customer interactions and streamline your RFP processes.
Answer library: design an AI-powered knowledge base that answers the most common customer questions.
Pricing information isn't available. 
17. Qwilr
Qwilr is a proposal automation software that helps you turn PDF documents into interactive websites. You can create sales pitches, proposals, quotes, and client-related documents —like contracts and agreements.
Some of the top features include:
Page notifications: get notifications every time a document is seen or reviewed.
Interactive quoting: send custom pricing packages to customers and let them decide which of them fits their needs.
Templates: get access to customizable proposal templates to create good-looking documents that showcase your brand.
Pricing starts at $75/month (for up to 3 users).
Collaboration
By integrating your favorite collaboration platforms with your CRM, you can improve your sales initiatives and get more with less.
Some of the best collaboration platforms include:
18. Slack
Slack is an online collaboration platform that brings together apps, people, and data. It consolidates all your communication into a single channel to increase productivity and reduce time wasted.
Some of the top features include:
Channels: organize your work through central workspaces designed for communication.
Slack Connect: collaborate with clients, stakeholders, and external people with ease.
Voice and video calls: host important meetings without leaving the platform.
Pricing starts at $6.67/month  (per user).
19. Zoom Meetings
Zoom is a communication platform that focuses on video calls. With Zoom Meetings, you can automate recurring meetings and connect with other "rooms" and participants at the same time.
Some of the top features include:
Group live chat: chat with your team and clients without leaving Zoom.
Audio conferencing: organize sales calls and meetings on the go.

Auto-recording: record your conferences and store them in the cloud or computer automatically.
Paid plans start at $149.90/year.
20. Fleep
Fleep is a dynamic chat platform that helps organizations communicate with clients, stakeholders, and teammates in a simple way. The platform turns Fleep conversations into email threads, which is helpful to keep on track of all your conversations in one place.
Some of the top features include:
Conversation management: store conversations and make them available for your entire team.
Document management: organize your key documents and share them with your team and clients.

Video conferencing: get access to built-in video conferencing features to host team meetings.
Pricing starts at €5 per user/month (billed annually).
How to improve your CRM activities with monday.com
At this point, you're probably wondering how to choose a CRM system that meets the features we covered earlier but also integrates with your current tools and apps.
So, to help you make a more informed decision, let's quickly cover all the things you can do with monday.com.
Let's start by answering the question:
What is monday.com?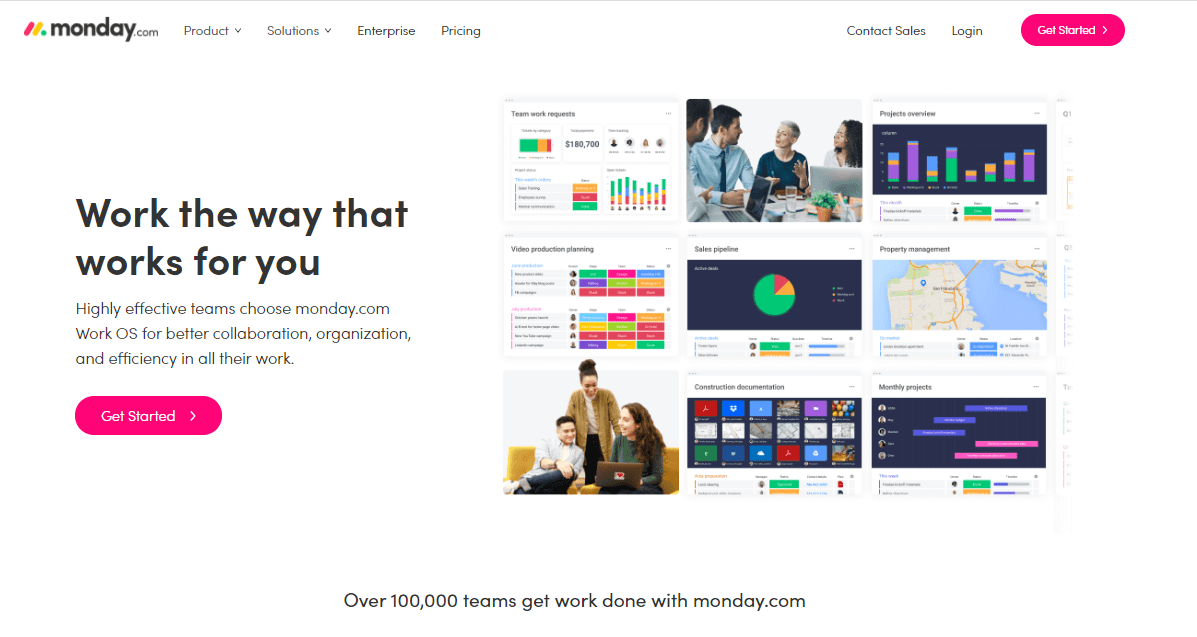 monday.com Work OS has the power to function as a robust CRM platform that's simple to set up and easy to use.
But that's just the beginning.
You can use our platform to manage complex projects — from Scrum prints to event planning — oversee any type of team, and automate hundreds of tasks (literally). You can also design any sales process you can imagine and streamline each one of your business operations.
More than 100,000 happy organizations back that up.
For instance, here's how Parvenu — a tech startup that helps retailers raise more money for charity through personalization — use monday.com as a CRM with more than 150 automations and 52 integrations on a single board:
And thanks to monday.com, companies like McChrystal Group — a management consulting and leadership firm — experienced growth even in the current COVID-19 environment. To be precise, they saw a 60% increase in revenue during the pandemic.
Like them, many other companies use our platform to streamline their processes and improve how they manage customer interactions.
Integrations
We've already made the case for the importance of integrations.
monday.com integrates with 40 of your favorite tools and apps. This way, you can centralize your information into a single source of truth and improve the way you work.
In our integrations center, we also provide you with trigger-based integration recipes to automate some of your tedious tasks.
Here's a quick video that explains more about our integrations system:
Top monday.com features
Templates: get access to customizable templates for any use case and industry.
Intuitive interface: get control over your pipelines and leads with an intuitive interface.
Centralized dashboard: manage leads, clients, documents, and tasks in a single place.
Offline solution: get access to mobile, desktop, and offline solutions and stay connected anytime, anywhere.
Pipeline management: track your deals and visualize how you're doing at a glance with unlimited sales pipelines.
Customer tracking: track contact activities and get valuable insights about your customers.
Marketing operations: visualize milestones and deadlines, integrate with dozens of other tools, and manage all your marketing initiatives in one workspace.
And much more.
To get a full description of our CRM functions, take a look at our product overview page.
Pro tip: Use our CRM template
With our CRM template, you can prioritize leads, integrate existing apps, and bring in all your team with speed, without needing coding skills.
You just need to install the template, insert your information, and voila!
Here's some of the things you can do with this template:
Export and import: easily export this template to Excel or turn any Excel file into a monday.com board.
World clocks: make sure you always contact your customers at their local time with our word clock column.
Customer location: use the map view to plan client visits and organize your CRM by locations.
Automatic calculations: track and calculate deal size, close probability, and more automatically.
In short, this template will save you tons of hours of work.
Pricing:
At monday.com we offer 4 paid plans: basic, standard, pro, and enterprise. To help you decide which of our plans is right for you, we suggest reading our comprehensive guide on monday.com's pricing.
The verdict?
There's no doubt the right CRM platform will make your life easier, but choosing one of the many can be agonizing.
That said, if you're looking for a visual, intuitive, and fully-customizable CRM platform to manage your lead and customer relations, then monday.com is the right fit.
We offer a flexible yet powerful system to revolutionize the way you manage every customer interaction.