Ensuring a seamless and enjoyable customer experience has never been so crucial for banks. With competition rising from cryptocurrencies, borderless bank accounts, and Fintech solutions, it's unsurprising that many banks are feeling the pressure. Plus, consumers are coming to expect a more personal banking experience too.
That's why many banks are investing heavily in CRM for banking platforms, to provide a personalized customer journey that caters to the individual, making each customer feel valued. Read on to take a look at the 10 leading CRMs for banking, and why monday sales CRM comes out on top.
Try monday sales CRM
What is a CRM for banking?
Put simply, a CRM helps banks track interactions with their clients, automates tasks like data entry, and analyzes data so you can segment customers and track performance. Whether you want to focus on improving your marketing, sales, or customer service, a CRM should improve communication both internally and externally.
And just as within any industry, CRM stands for customer relationship management. The term is a little ambiguous, as it can refer to the process and field of CRM management as well as software platforms known as CRMs. In most cases though, when people mention CRM, they're talking about the software.
Why use a CRM for banking?
One of the unique challenges of banking in a digital world is meeting customer expectations. And in the information age, this means having in-depth knowledge of each customer, taking a tailored approach, and doing it faster than ever before.
There are a whole host of benefits that banks can reap from using a CRM, including:
Converting more leads into clients
Personalizing and improving customer experience and communication
Boosting staff productivity with easy-to-access client information
Enabling internal data cohesion and eliminating siloing (by putting all data about a client in one place)
And, with pretty much everything going mobile these days, most CRMs for banking have a mobile app as well, which can be incredibly helpful for field-based workers on the go.
There are quite a few to choose from, though, so let's take a look at the leading CRMs for banking.
The 10 best CRM platforms for the banking industry
Here is our list of the top 10 CRMs for banking platforms, starting with our own:
1. monday sales CRM
Recently voted a G2 top sales product for 2023, monday sales CRM is the CRM software your banking team needs to close deals faster. Gain visibility into the entire sales process from lead to close and easily communicate with your team all in one place. Plus, with a host of different board views, individuals can visualize data and activities in a way that suits them best.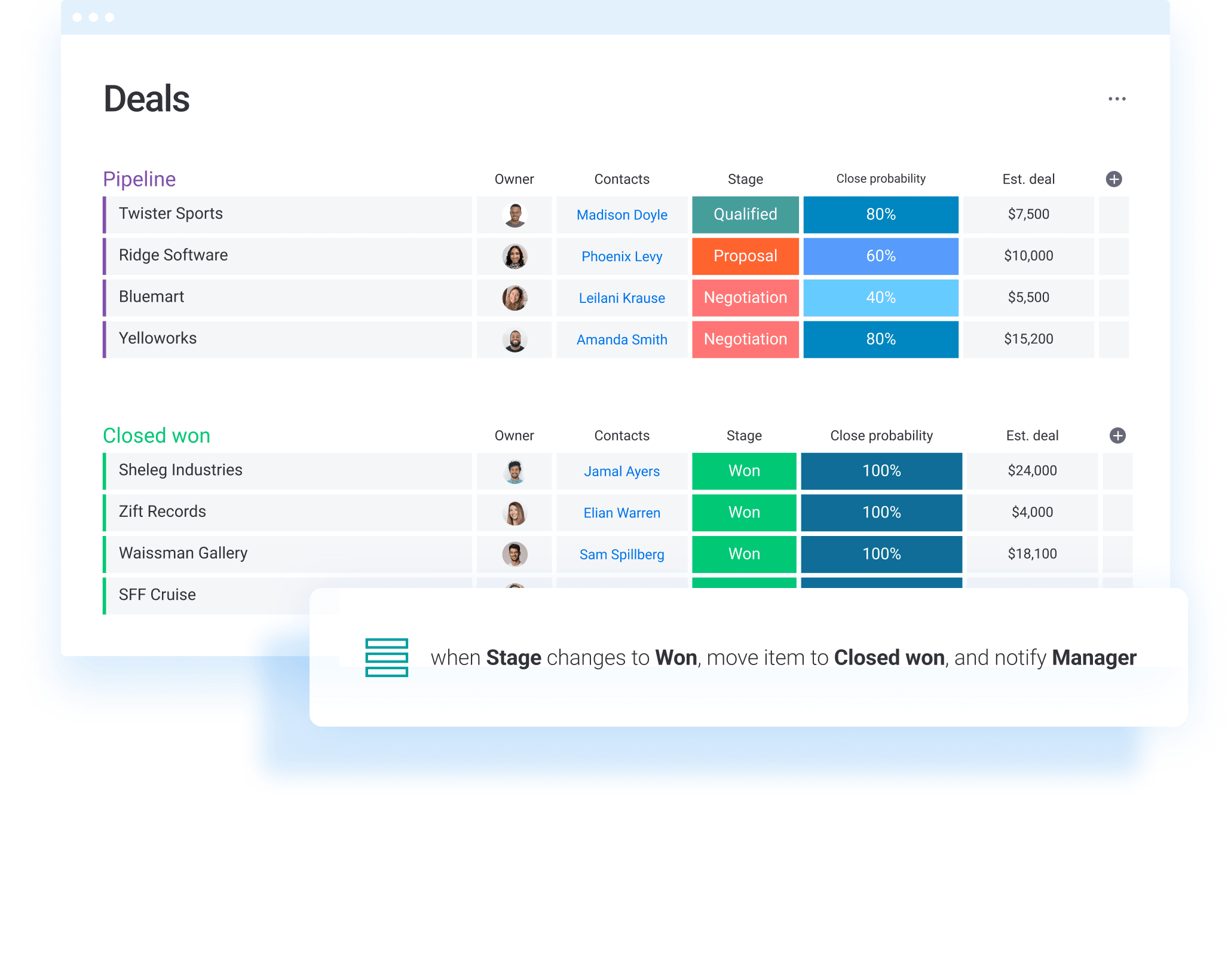 Specific benefits for banks:
With monday sales CRM you can really take your banks' workflows up a notch with CRM features that automate repetitive work. Use our automatic reminders to instantly send follow-up emails and confirm approvals. And customize boards and edit columns to reflect customer affordability, proposed products, costs, risks, and more. Feel free to take a look at the features with a 14-day trial.
2. Salesforce Sales Cloud
Sales Cloud is Salesforce's fully customizable CRM module for sales, marketing, and support, catering for both B2B and B2C markets. In this module, you will find Leads, Accounts, Contacts, Contracts, Opportunities, Products, and Campaigns, to name a few. This module will take you from the start of your sales process to the end of it, to help you grow your bottom line.
Specific benefits for banks:
A key benefit of using Sales Cloud as a CRM for banking is the software's AI-guided insights. Using AI and MLOPS services, Sales Cloud gives your sales and service reps easy access to the tools they need to make smarter customer relationship decisions. In a nutshell, the Sales Cloud AI tells your reps what to do and when to do it, based on what it thinks presents the best opportunity.
3. SugarCRM
SugarCRM is a software platform that holds customer experience as its number one priority. The platform uses artificial intelligence and historical data from each and every customer to provide your reps with actionable insights for managing their customer relationships.
Specific benefits for banks:
Despite being relatively affordable, SugarCRM is a very powerful platform that has helped many financial organizations achieve strong growth and maintain customer retention rates that anyone would be proud of. The platform isn't just about customer retention, though. SugarCRM also offers a powerful marketing automation platform called Sugar Market.
4. Creatio
Previously known as Bpm'online, Creatio is a low-code platform for both CRM and business process management (BPM). BPM is an operations management discipline that involves modeling, analyzing, improving, optimizing, and automating business processes.
Specific benefits for banks:
Creatio's sales automation systems and easy-to-use drag-and-drop functionality result in a combination of automation and customization. This brings BPM, a sometimes arduous task, into the visual realm and makes it accessible for all levels of operations managers. This gives banks give an upper hand in creating processes that are business-friendly and improve the customer experience.
5. Microsoft Dynamics 365
A powerful CRM for financial institutions, Microsoft Dynamics 365 is also one of the most widely used CRMs. That's because Microsoft Dynamics 365 is actually a suite of products, going one step further than traditional CRMs and incorporating a number of ERP (enterprise resource planning) products with powerful analytics.
Specific benefits for banks:
By bringing these two powerful business units together, Microsoft Dynamics 365 gives bank leaders incredibly deep data management and effective business insights for sales, service, marketing, finance, and HR. And by virtue of the fact that this is a Microsoft product, you can expect it to work seamlessly with other software you may already be using (like Office).
6. Vymo
Vymo is a sales engagement platform for financial institutions. It aims to be a mobile-first CRM which helps businesses to close more sales. You can use Vymo in a couple of ways. You can either use it as a standalone lead management solution or integrate it into Salesforce.
Specific benefits for banks:
Vymo is specifically built for financial institutions and so has an array of benefits for banks, such as predicting 'next best actions', learning from the best performers in your organization, and capturing rich contextual data. Its focus on a mobile-first CRM also means it is a good option for remote and field-based teams who might need to access and update information on the go.
7. 360view
Similar to Vymo, 360view is also a CRM platform specifically for banks and credit unions. As the name suggests, its main benefit is to provide a 360-degree view of relationships, products, services, and more. You can track unlimited relationship types, such as vendors, customers, and employees. It also can track loans past due and provides robust reporting.
Specific benefits for banks:
Because 360view is built for banks, it has some specific features such as automated touchpoints to help bankers stay in touch with their customers. Plus, you can access demographic and wealth data to further segment customers. Another key feature is its ability to show customer rankings, trends, and month-to-date profitability, which is useful for credit unions that need to produce monthly reports on customer profitability.
8. HubSpot
At the heart of HubSpot is a CRM platform that allows you to keep track of leads and customers at different stages in their journey. Through the CRM you can manage contacts, sales, pipeline, digital marketing, and lead nurture – and create a single customer view – which is one of HubSpot's greatest strengths.
Specific benefits for banks:
With HubSpot, one of the best benefits for banks is its extra attention to security and building client relationships. Features such as automatic scheduling reminders mean you never forget a call and can schedule follow-ups at specific times – like tax season. Likewise, its centralized tracking means every customer rep should be able to access all previous interactions with a customer, reducing repetition and improving the customer experience.
9. Nextiva
Nextiva's key selling point is how it allows you to measure, analyze, and customize the customer journey in real time. You can take a closer look at how every touchpoint in the customer journey impacts the customer experience score, and gain insights to improve the sales process and customer service.
Specific benefits for banks:
See the reports banks care about by creating custom reports tailored to your business. Plus, compare activity data based on user, data type, or period to measure performance. You can also see how well bank reps, locations, and even marketing campaigns are doing over time. Moreover, you can easily locate employees and chat with them to connect customers with the right bank rep at the right time.
10. Oracle NetSuite
Oracle NetSuite is a cloud-based solution that delivers a real-time, 360-degree view of your customers. NetSuite provides a seamless flow of information across the entire customer lifecycle – from lead all the way through to opportunity, sales order, fulfillment, and support.
Specific benefits for banks:
In addition to offering traditional CRM capabilities such as data management and marketing automation, NetSuite delivers quotes, order management, commissions, and sales forecasting. Its business analytics also enable banks to monitor and respond to change with speed and ease. Plus, it has built-in capabilities to handle global currency, tax, and reporting requirements.
Build a foundation for growth with monday sales CRM
As you can probably tell from these recommendations, CRM for banking tools are far from one-size-fits-all. Sure, there may be overlapping features and functionality, but not every platform will be suitable for your business.
The right CRM makes a big difference when it comes to sales workflows and marketing outreach. The beauty of monday sales CRM is that it lets you customize workflows to fit your sales cycle.
You can create customized sales pipelines, edit deal stages, add as many columns as you like, and even manage multiple pipelines at once. For example, you can edit columns to reflect customer details, costs and risks, disclosure of fees, proposed strategies, and more. Plus, overlay internal data, such as risk scores, and manage and create target lists as you want.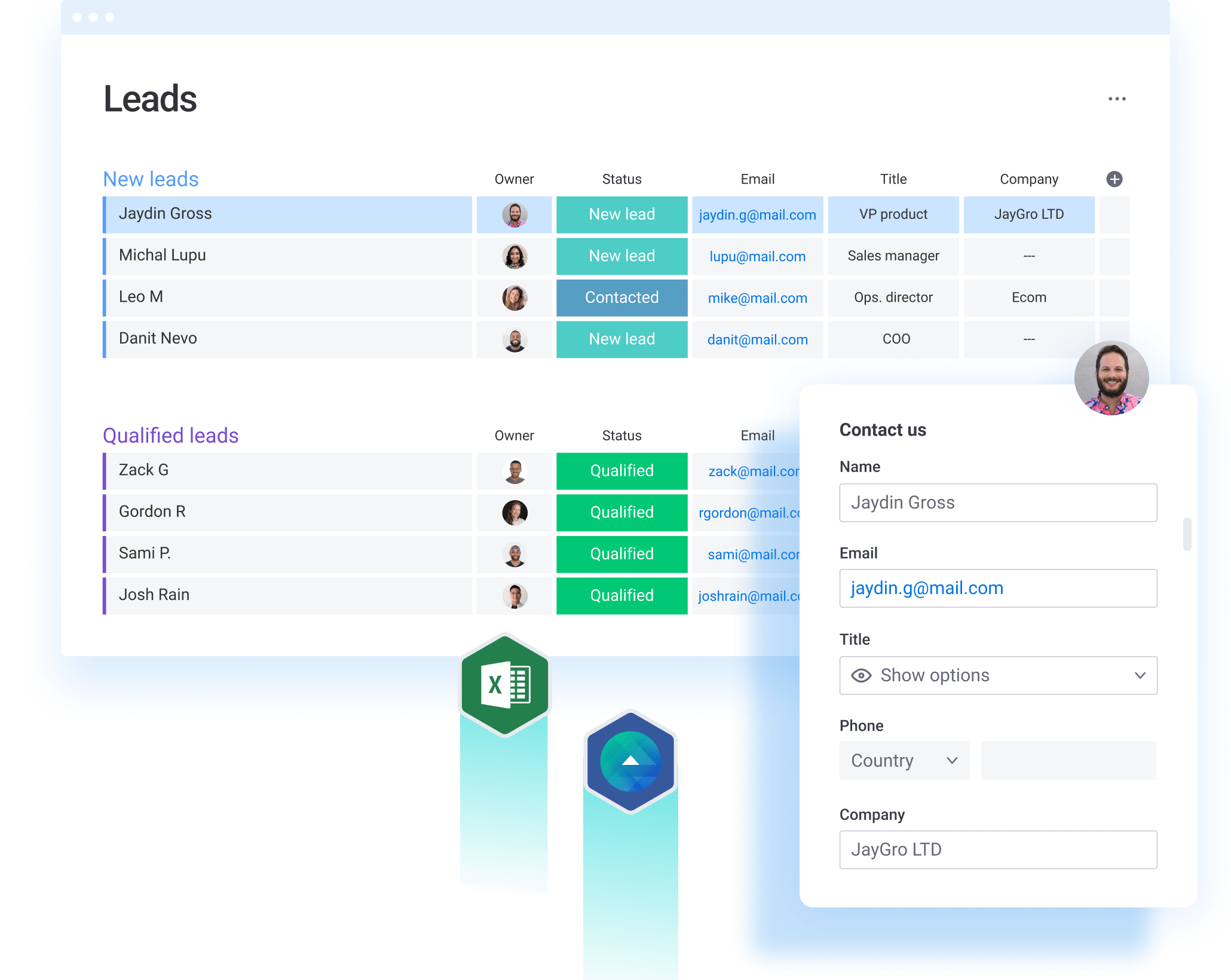 Features you'll love:
Customizations: Our modern cloud-based CRM is highly flexible and accessible across devices, so even smaller banks with a more remote workforce can adopt it.
CRM integrations: Easily integrate with your existing systems, such as Zapier, Zoom, Gmail, and more – instead of forcing a complete overhaul.
Customer tracking: Track customer interactions over multiple platforms and channels, including calls, emails, and even bank app usage.
Lead scoring: Better understand your customers and the products they like, the type of account they have, and the services they qualify for – like a first-time homeowner loan.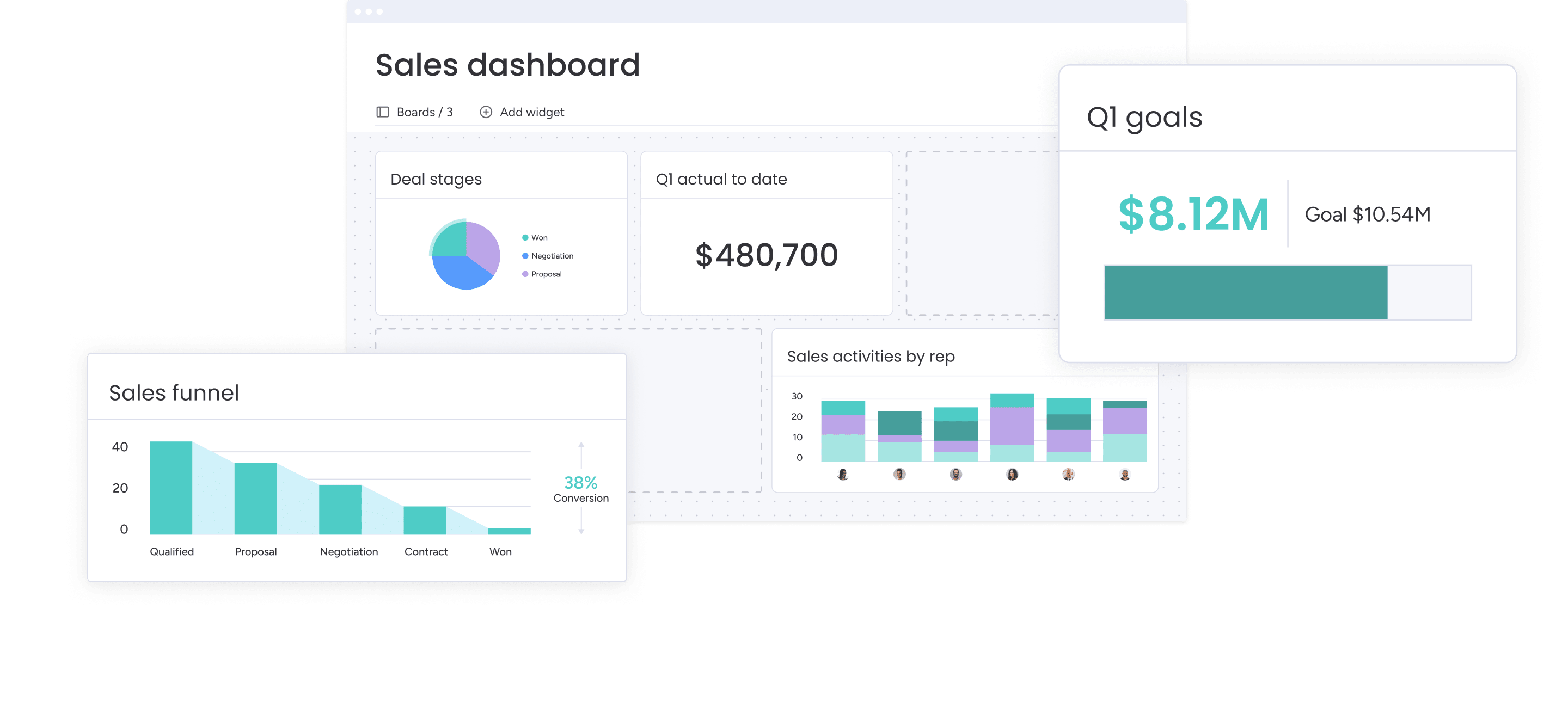 You can try out the features now, or if you have unanswered questions, take a look at the most frequently asked questions below.
Try monday sales CRM
Frequently Asked Questions
What CRM do banks use?
Banks can choose from a variety of CRM for banking platforms, including:
monday sales CRM
Salesforce Sales Cloud
SugarCRM
Creatio
Microsoft Dynamics 365
Vymo
360view CRM
HubSpot
Nextiva
Oracle NetSuite
What are the components of CRM in banking?
The key components of a good CRM in banking strategy include technology, CRM strategy, processes, and people. With all these components in place, you will be in a great position to win more customers and retain existing banking clients.
What are the benefits of CRM for banking?
A good CRM for banking, like monday sales CRM, takes into account all touchpoints across the customer lifecycle, including website visits, phone calls, and email interactions to provide a 360-degree of customers. This data can help you to understand what makes your customers tick, and how you can keep them happy – resulting in more happy customers and greater overall ROI.
Boost customer experience with the right CRM for banking
A good CRM can also help you keep in touch with past customers and incentivize them to bank with you again.
monday sales CRM has a wealth of customization options to give banks the tools they need to understand who their customers are and what they need from their bank. Explore the product, try out the features, and if you have any questions, let us know!
Related: Finance CRM, Mortgage CRM, Venture Capital CRM, Life Insurance CRM