You can't fit a square peg into a round hole. But when finance organizations try to adopt the same customer relationship management (CRM) tools as companies that sell physical products or software, that's what it can feel like. When you consider the many types of finance organizations out there, you'll find completely different needs, workflows, and customer wants across the board.
Don't get us wrong: finance organizations absolutely need a CRM solution. But the key to success is to find the right software for your unique business and market needs. In this article, we'll walk you through the top five finance CRMs, plus the basics behind choosing the right finance CRM software, and why monday sales CRM is ideal for financial services.
Try monday sales CRM
What is a finance CRM?
A finance CRM is a software solution that helps finance organizations manage relationships and customer interactions effortlessly. Equally important, the best finance CRMs can be customized for the needs of the finance industry. That's why finance CRM solutions offer must-have sets of tools that enable specific audiences like financial advisors and businesses to deliver personalized finance products for their customers.
For example, a sales representative at a bank might see that a customer service representative recently helped someone who was frustrated with restrictions on transfers between accounts. That salesperson then decided to reach out to that customer to upsell an account with fewer restrictions.
This is just one type of cross-team collaboration that a finance CRM can fuel — when sales, marketing, customer service, finance, and more all have access to the same customer data, you've created a CRM system. CRM systems for finance improve the customer experience, positively impacting your bottom line.
What makes finance CRMs unique?
When you're selling a product — anything from furniture to an enterprise software solution — the basic workflow looks like this: marketing and sales go and look for leads, marketing nurtures the leads, sales work the leads, and then sales close it. The finance industry doesn't always follow the same workflow, as the typical use case applies to organizations like:
Investment firms
Venture capitalists
Private equity firms
Financial advisors
Each of these firms deals with an influx of requests for funding or potential acquisitions and mergers that they need to sift through in order to find what's best for them. Mortgage companies, banks, and insurance providers are focused on attracting direct high-quality inbound leads. While, financial services, wealth management, and brokerage firms often focus on referrals and word-of-mouth marketing to attract new clients. Each and every one of these workflows requires a personalized customer relationship management solution.
In short, finance CRMs are unique because they're built to help financial organizations manage and organize client or customer contacts in a way that suits their specific needs. You can learn more about how monday sales CRM can be customized for your unique needs by signing up to a free trial below.
Try monday sales CRM
Or keep reading to learn about the top five CRMs for financial services and for more use cases for the different financial CRM industries take a look here: Mortgage CRM, CRM for Banking, Venture Capital CRM, Life Insurance CRM.
The top 5 CRMs for financial services
There are several options when it comes to choosing a finance CRM platform. Each platform has its pros and cons. So, in this next section, we will walk you through the top five CRMs for financial services, starting with our own:
1. monday sales CRM
Put simply, monday sales CRM is a leading CRM platform which enables you to centralize customer communications, automate repetitive work, and organize data all in one place.
Pros: 
Easily manage leads: Collect leads from any source, including web forms, Excel, and social media. Then automatically score leads based on custom criteria.
Track sales performance: Monitor forecast vs. actual sales and check deal progress with a visual pipeline.
Highly customizable: The beauty of monday sales CRM lies in its flexibility—you can use it for any type of workflow, whether it's sales, marketing, project management, customer relationship management (CRM), or human resources.
Cons:
Free plan limitations: Free forever plan is only available for up to two seats.
Free trial limited to 14 days: The free trial for monday sales CRM is limited to 14 days.
Price: The starting price for monday sales CRM is $8 per user per month. If you're looking for a cost-effective and highly customizable finance CRM, give monday sales CRM a try, or keep reading to compare it against other leading finance CRM systems.
Try monday sales CRM
2. SugarCRM
SugarCRM is an open-source CRM system that allows users to track and monitor activities, map each customer's journey, and automate workflows.
Pros: 
Email integrations: The platform integrates well with popular email clients like Outlook or Gmail.
Reporting and analytics: SugarCRM has good reporting options.
Cons:
Difficult to use: There is a steep learning curve to get started with SugarCRM, you often need internal IT/data support to get set up, and you need to spend a bit of time figuring out things like reporting and analytics.
Lack of free version: There is no freemium version available.
Lack of consulting: There are no premium consulting or integration services.
Price: Pricing starts at $52.00 per user per month when billed annually.
3. Creatio
Creatio is a no-code CRM platform, which automates workflows for sales, marketing, and customer services.
Pros:
Flexible segmentation: You can set up flexible customer segmentation by various criteria to help engage your audience with personalized offers.
Campaign management: The platform helps with lead generation with customizable workflows for campaign management.
Lead management: You can track and capture leads from different sources into a unified database.
Cons:
Customization challenges: The system interface could be more adjustable to user needs.
Hard to get started: Creatio offers a lot of features, but it can be hard to know where to start, and there is a lack of documentation to support new users.
Lack of mobile app features: The mobile app requires enhancements to correspond to the desktop version fully.
Price: The price for Creatio starts at $25 per user per month.
4. Microsoft Dynamics 365
Microsoft Dynamics is a complete tool that helps companies measure and track sales, orders, customers, and sales pipelines.
Pros: 
Integration with Microsoft products: One of the most valuable features is how it can work with any Microsoft solution without any problems.
Centralized data: The platform pulls information from multiple sources into one hub.
Advanced Find Tool: You can make complex searches a breeze with its advanced Find Tool.
Cons:
Complicated interface: One of the main issues with Microsoft Dynamics is that it can be complicated to use and the interface isn't very attractive.
Tech support challenges: Sometimes Microsoft's support can be difficult to contact, and it can take a while to get a response ticket.
Cost: The overall price of Microsoft Dynamics could be considered high. It might be out of reach for smaller teams and businesses.
Price: The cost for Microsoft Dynamics starts at $65 per user per month.
5. Oracle Netsuite
Oracle Netsuite CRM helps generate a single view of prospects, customers, partners, and vendors to deliver exceptional customer experiences and drive sales.
Pros: 
Order management and ERP functionality: In addition to traditional CRM capabilities, NetSuite CRM offers order management and ERP functionality.
Dynamic sales rules: You can create dynamic sales rules and territories so that new leads are automatically routed to the appropriate salesperson.
Intelligent marketing automation: It also includes intelligent upsell management by providing recommendations based on previous buying patterns.
Cons:
Limited support: Basic support is limited, and additional support comes at an extra cost.
Reporting challenges: You don't have the option to easily define custom data sources, and you can only join two data sources, which makes reporting challenging.
Cost: Oracle Netsuite's CRM is the most expensive CRM out of all the tools we have covered.
Price: Oracle Netsuite's CRM has a monthly base price of $999 for the platform, and each user seat is $99 per month.
Key features to look for in finance CRM
There are several key features to look for when shopping for a CRM for financial services firms. Here's a quick summary of the top five features:
1. Customizations
Customizations are critical for finance CRMs. This is key because each contact, lead, or deal that comes across your desk requires a different amount of attention once it's qualified. And depending on whether or not you're working on an insurance claim, credit card lead, bank lead, IPO proposal, a merger, an investment, or another type of deal, how you qualify and work each opportunity will be different.
One example of a CRM with excellent customizations is monday sales CRM. For instance, you can customize your workflow on monday sales CRM by creating custom columns that outline each stage of your pipeline. Several column types allow you to organize information and work opportunities in whatever way makes the most sense for your business. For example, you could create a board that functions as an insurance CRM system for one team and a Scrum board for an app development team.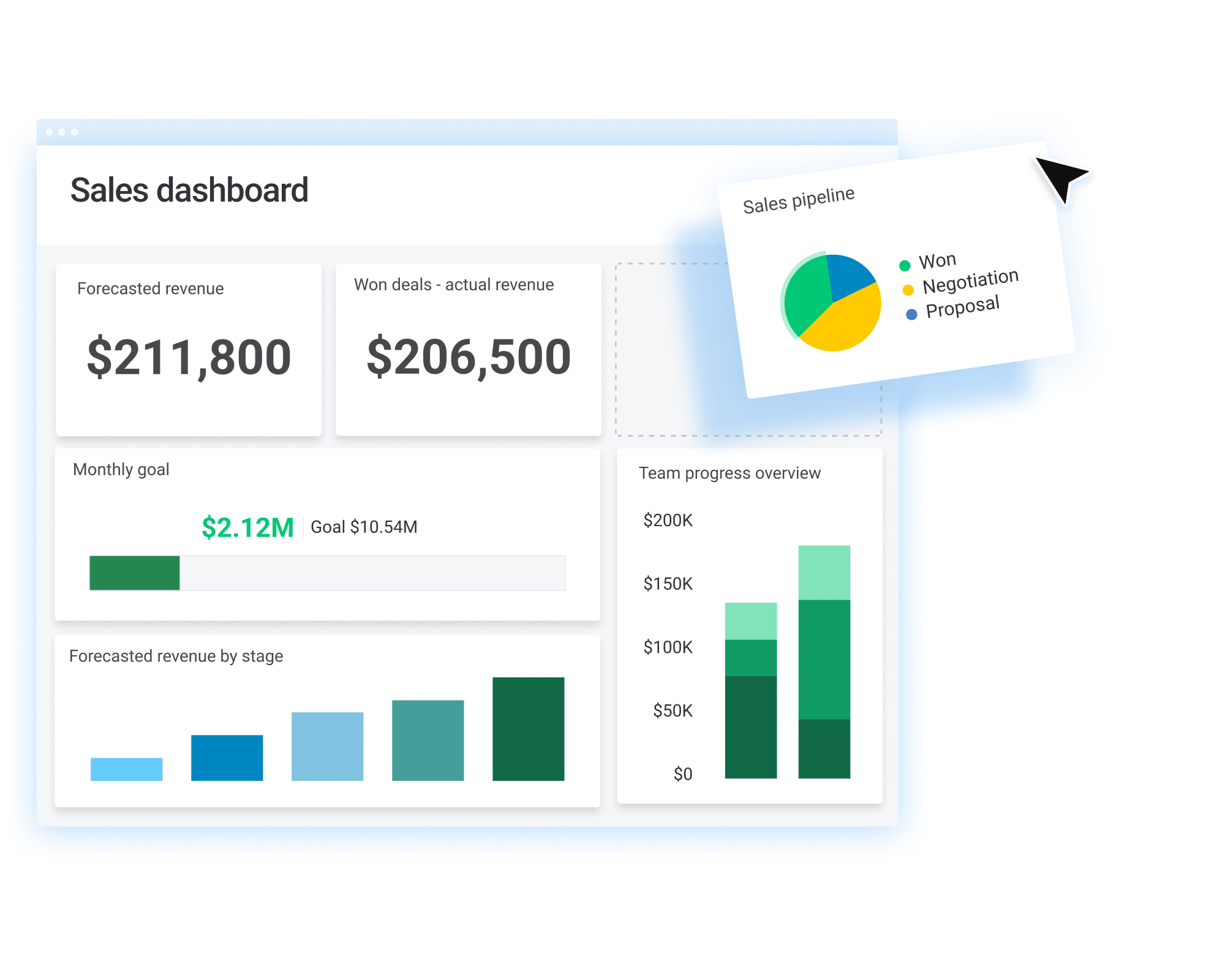 2. Deal tracking 
Your chosen CRM should allow you to peek into sales processes to see where each sale or deal is in the pipeline with status updates and timeline views.
With monday sales CRM you can view each sale in a variety of different ways, including a Gantt chart, Kanban board, table, timeline, and many other options. You can also edit deal stages, add as many columns as you want, and manage multiple pipelines at once.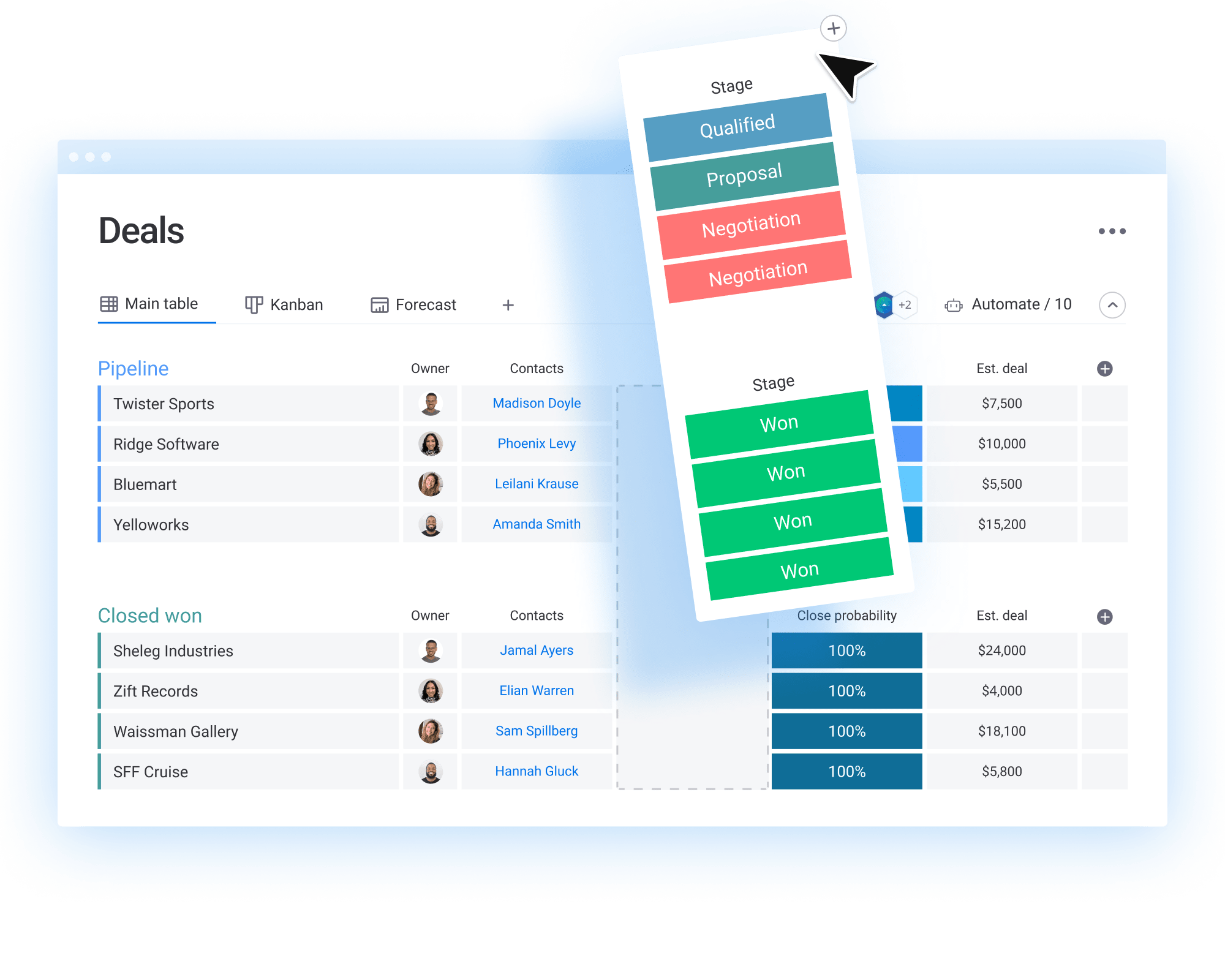 3. Automations
Workflows move faster, and fewer mistakes are made when you automate tedious tasks like status updates, follow-up emails, or notifications.
monday sales CRM is the ideal solution for teams looking to streamline their customer experience, in part because of the variety of custom automations finance organizations can use to build their dream finance CRM. For example, our Gmail and Outlook integration can be used in a lot more ways than just opening a new item — you can automate email sends, change statuses, open new CRM board columns, and much more.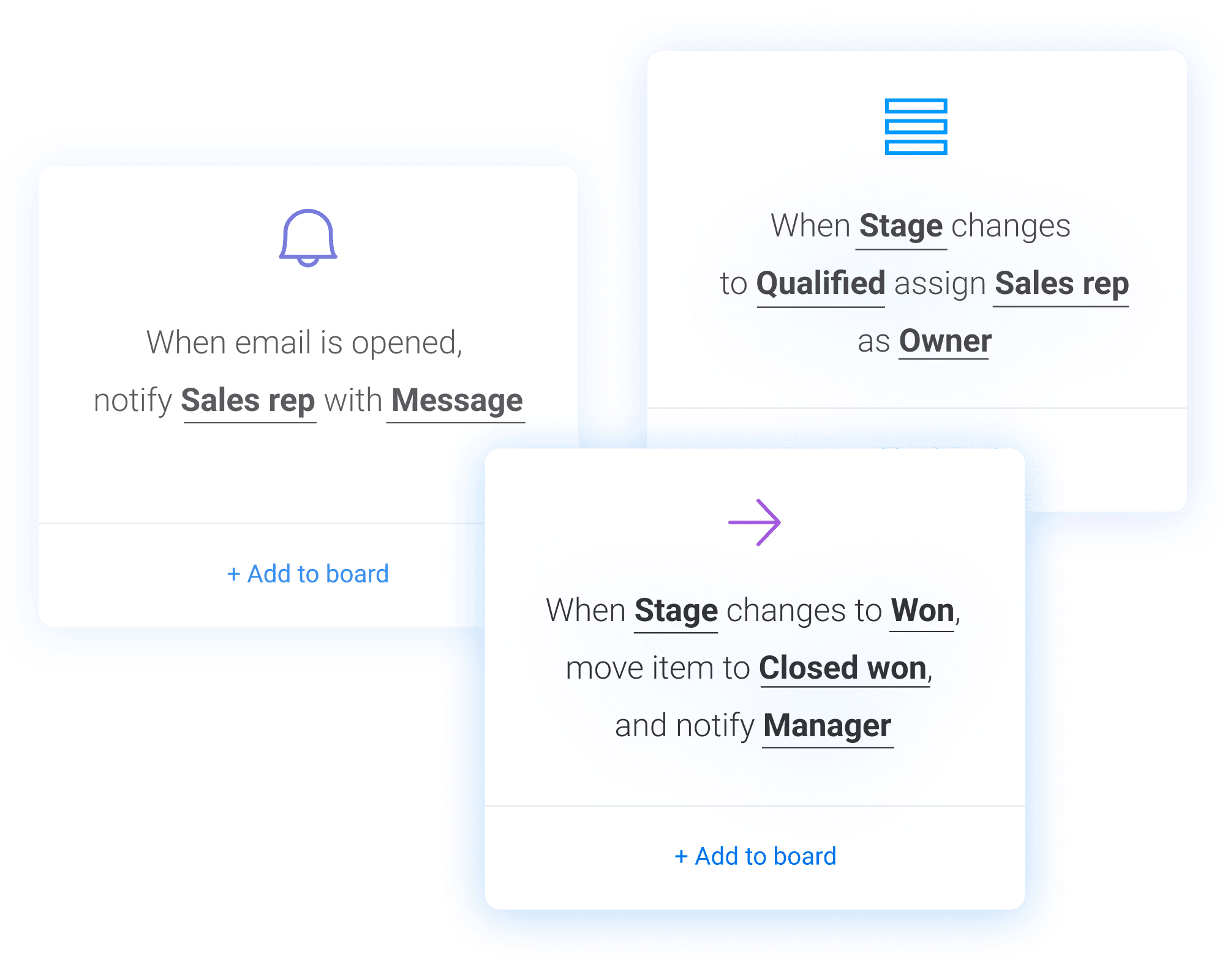 4. Integrations
Finally, integrations are a vital element of a good CRM platform. monday sales CRM integrates with hundreds of apps and many tools that your team is probably already using to run your business operations, like Zendesk, Salesforce, Mailchimp, and more.
How to grow your business with monday sales CRM
A CRM acts as a bridge between you, your team, and your customers to centralize data and grow your business.
But how can a finance CRM help you grow your business? The following features and functionality in monday sales CRM act as the foundation for business processes that allow your company to grow.
1. Centralize leads, deals, and opportunities
If you're working for the type of financial organization that's filling a traditional sales pipeline — like a bank or an insurance company — you want to make sure every good lead and any related key information gets passed over to your sales teams. And if you're working for the type of financial institution that has to sift through piles of potential deals — like financial services firms or investment or private equity firms — you need to ensure that all opportunities end up in one place.
In both cases, you need a central place to store all of your contacts and information related to those contacts. For instance, some financial organizations use monday sales CRM to automatically organize contacts on their behalf. You can easily customize your pipeline, drag and drop deals between stages, and easily track all contact interactions.
2. Use automation to improve processes
If you use a CRM that supports automations, like monday sales CRM, you can set up automations to send leads straight into your CRM system when a prospect fills out a form on your website. Plus, as mentioned previously, with monday sales CRM you can also automatically record new information or contacts using a direct integration with Gmail or Outlook.
This type of integration is popular with investment firms, private equity firms, and venture capitalists that field a lot of incoming deal opportunities through their consultant's inboxes. In this case, we suggest creating a dedicated email alias where everyone forwards new opportunities like newopportunity@financiers.com.
Then every time a deal comes in, have your team forward it to that address, and it creates a new item and new contact in your finance CRM. The integration also supports files, so no information gets lost when a new contact is created. No matter which way you import your contacts, the end result is an organized list of items that visually displays information customized to your needs.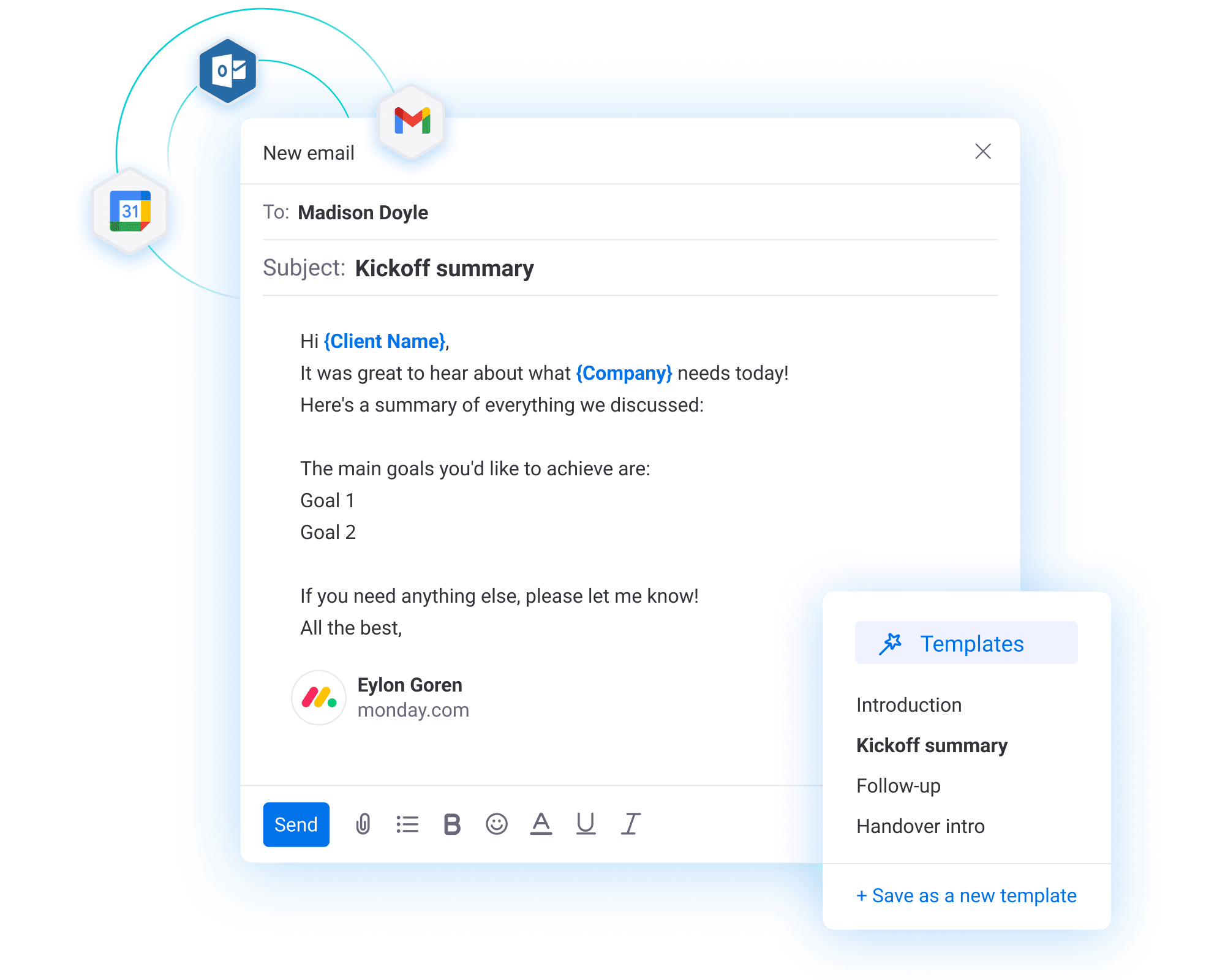 3. Improve team collaboration
The trick to making sure that no lead or deal opportunity slips through the cracks is making sure each individual contact is assigned a designated owner responsible for managing that relationship.
Hunter Walk, a very well-known seed round investor, famously said, "you lose 100% of the deals you don't see." We think the same sentiment also holds true for leads. Once you've collected and organized all of your contact information, your finance CRM should allow you to assign specific team members to each contact, so you see all good deals and follow up with all good leads.
The good news is monday sales CRM clearly organizes items by members of the team assigned to each item. You can even assign multiple people to an item if a contact requires more than one owner. And you can gain insights into where deals stand, expected revenue, your team's performance, and more.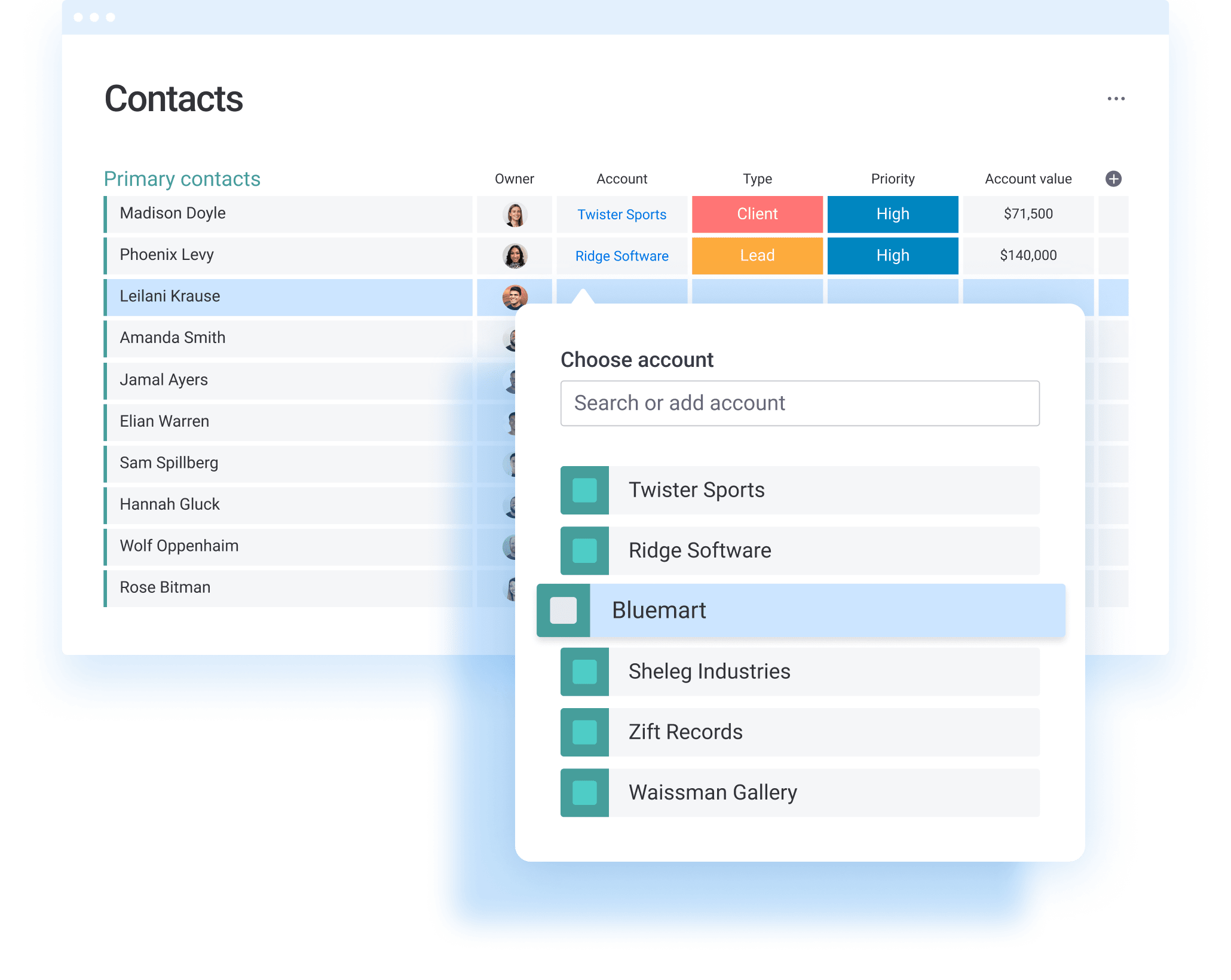 4. Keep contact data up-to-date
As you work with contacts, you'll need to record new information as you go. This might include communication records, internal conversations, or file attachments related to each lead or opportunity. For financial institutions, this might include:
Business plans
Pitch decks
Financial reports
Transfer requests
and a variety of other types of customer interactions.
With monday sales CRM, you can talk with team members directly on the platform, plus upload files, add notes, and much more. This provides a single source of truth for the storage of all customer information, ensuring all contact data is kept up-to-date at all times. Plus, with a 360-degree view of your customers, you can keep a record of your contact and account information all in one place.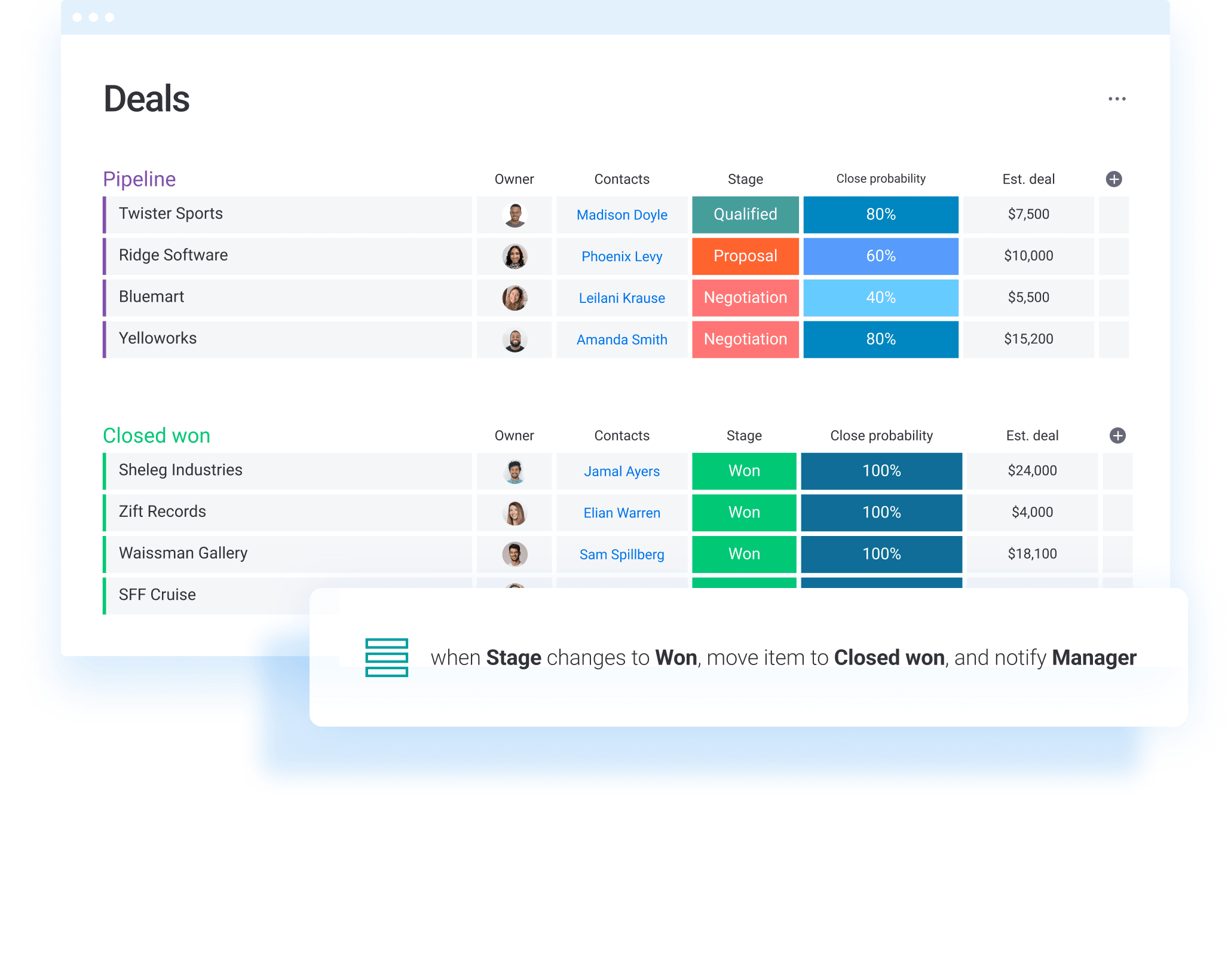 If you like what you see, why not take your workflows up a notch with CRM features perfect for financial services firms? You can start a free trial now, or if you still have unanswered questions, take a look a the most frequently asked questions below.
Try monday sales CRM
Frequently Asked Questions
How does finance use CRM?
To take finance businesses to the next level, you need more than a tool that just tracks customer activities. A finance CRM, like monday sales CRM, helps create tailored communications, generates actionable business insights on your customer base, and increases lead conversions. This means you can spend more time tailoring plans to each customer's specific finance needs.
Why do financial advisors need CRM?
Building trust is a key factor for financial advisors, and one way to achieve this is through improving customer management. The right finance CRM system will help financial advisors to streamline processes, improve customer communications, personalize customer journeys, and create financial plans. For example, you can understand at a glance where all client portfolios stand, and create custom dashboards, timelines, and other important information.
What is the full form of CRM in finance?
Customer Relationship Management (CRM) helps advisors create personalized communications, generate real-time insights on their clients and prospects, automate workflows, increase lead conversions, and gain more business. For instance, using flexible and customizable building blocks, monday sales CRM helps financial services create workflows suited to their exact needs, streamline communication with clients, and make data-driven business decisions.
Stay ahead in financial services with a custom CRM solution
If you're not taking care of your customer pipeline, or the influx of potential deals coming across your desk, you're missing out on revenue. But in order to truly care for each quality lead or deal, you need a foolproof way to manage contacts and information, as well as the workflow between teams across your organization.
That's why the best finance CRM solution is one that can be customized to best fit your needs.
monday sales CRM is a powerfully customizable CRM that allows finance teams to streamline sales and marketing operations and generate more revenue. Get started today with a free trial and start building your own workflows.