CRM and CRM software— two essential tools in any sales team or really any scaling business' toolbelt. Managing customer data and relationships in the most efficient and pleasant way possible can make or break a team's workflows after all. 
CRM software or customer relationship management software describes platforms that are designed to help your organization provide a unique and seamless experience for your customers and leads throughout the entire pipeline. It should help you build better relationships by laying out all customer interactions, tracking sales, and organizing and prioritizing your work.
Before you start haphazardly exploring free trials, consider this guide as a starting point for understanding the basics of CRMs and CRM software and what you should look for when choosing one for your team. Or you can check out monday.com for CRM right away.
What is CRM?
Stripped down to its most fundamental level, customer relationship management (CRM) can be summarized as the practice of managing interactions with customers and potential customers to increase sales and customer satisfaction. It has the effect of improver customer and market reputation of the company as well.
A few decades ago, companies relied on spreadsheets and lists to manage this process. With the introduction of database marketing in the early 1980s and the first contact management system, CRM technology started to evolve.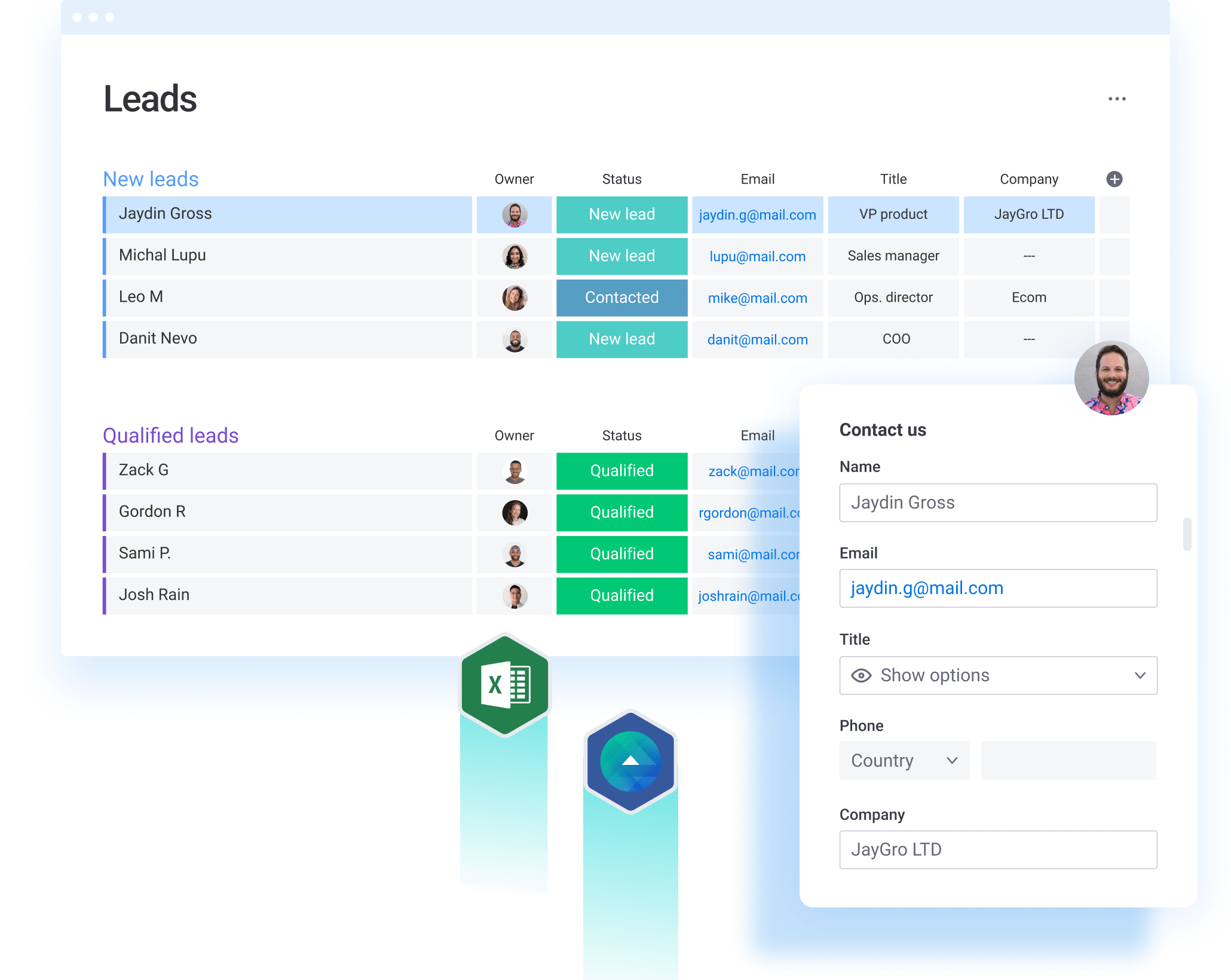 What are the 3 types of CRM?
We can divide CRM software into three main types—operational, analytical, and collaborative. Here are brief descriptions of each:
Operational CRM:

This type streamlines and

automates specific processes

—usually sales and marketing.

Analytical CRM:

As the name suggests, Analytical CRM gathers customer insights and data to improve decision-making.

Collaborative CRM:

This CRM

eliminates silos

and shares customer insights across all departments in your organization.
Depending on your organization's needs, it might feel quite limiting to choose between these types of CRM software. Here's the good news: there are companies out there that offer all-in-one solutions. monday.com, for example, allows you to build the infrastructure you need for CRM and sales while giving you the freedom to create a custom system for cross-departmental collaboration, too— we'll dive more into this later.
Who uses CRM platforms?
Sales teams spend around 18% of their time using CRM. The top seven industries that use CRM include:
Retail

Banking

Hotels/Hospitality

Financial services

Consulting

Agriculture
From this diverse list, we can also understand that a base CRM software can do a lot of teams and functions good. In the next section, we'll explore how.
What is a CRM software good for?
We've already mentioned a few functions of a CRM software experience including marketing and workflow automation, sales management, advanced analytics, and much more. Here are some of the top benefits of using CRM software.
Data consolidation:

Instead of using a unique platform for marketing data, another for the sales team, and then a 3rd tool for customer service, CRM software connects them all. Data updates in real-time, and you can keep an eye on it with a customizable dashboard.
Sales pipeline optimization:

a good CRM solution makes both building and managing your sales process more efficient by helping you define stages for your sales pipeline or customer journey so every team — not just sales — can stay on the same page. 
Workflow automation:

CRM software can

boost efficiency

even further by automating parts of the sales process. Move prospects to new stages, trigger follow-up emails, and more to close more sales and keep customers happy.
Integrations:

It's invaluable to be able to bring together everything your sales process needs by syncing other tools. The most robust solutions

integrate your CRM with everything

from Mailchimp to Shopify to your old CRM like Salesforce or Pipedrive.
Contact management: A CRM system serves as a centralized database for every customer or business contact your company interacts with. Sales, marketing, support, and more can update and access contact information right on the card, eliminating inaccurate information or endless back-and-forth.
And this is just the tip of the iceberg, CRM software offers so much in terms of capabilities! 
5 ways to implement a CRM properly
While we covered some of the benefits of CRM solutions, now let's look at some the features responsible for making the core functions of CRM efficient and impactful— so you can make the right choice when choosing one.
1. Choose a flexible workflow builder
Any functional CRM system you choose must adapt to your own processes and operations, not the other way around. For instance, monday.com is fully customizable. We provide over 30 drag-and-drop columns, more than 20 dashboard widgets, and 200+ pre-made templates for any use case.
We also offer no-code app creation right within our platform and have an active community of users who share their own creations. You can play with these elements and design any workflow, sales process, or operation you can imagine.
Whether you're tracking leads, managing sales pipelines, or onboarding customers, monday.com lets you design your perfect workflow and get started instantly— file sharing included!
2. Use automations
Automations are no longer a luxury—they're a necessity. If you can't automate repetitive tasks, you'll waste time and increase risk of error.
To improve efficiency, any great CRM software must offer automations. On the more robust software, you can access hundreds of automation recipes with a one-click setup. You can automate tasks, notifications, item creation, status changes, and much more.
3. Invest in sales forecasting and tracking
Any great CRM software should provide robust analytics and data dashboards so you can track KPIs. With more than 20 dashboard widgets, you can visualize the information that matters the most in your business and remove needless data on monday.com.
Our "Chart" widget also helps track sales and commissions earned by specific sales reps:
Your final dashboard might look something like this:
This way, you can get an accurate understanding of your progress and make fast, smart decisions. You can then communicate directly with your colleagues and partners about these results, by using our Updates.
4. Don't skim on top-notch security
Cybercrime has increased by 300% since the beginning of the COVID-19 outbreak. Your CRM software holds critical information about your customers— if that information isn't safe, customers won't stay loyal and your business will suffer. Before choosing a specific software, make sure it complies with the most common security standards and certifications.
Below are a few of the most rigorous global security standard for Information Security Management Systems (ISMS): ISO/IEC 27001:2013:
5. Stay connected with integrations
If you want to get the most out of your CRM, you need to make sure it integrates with your current tools and apps. The following are some of the most popular integrations that will strengthen CRM solutions, business processes, and customer experiences: 
1. MailChimp
MailChimp's email marketing and automation platform helps you send emails, invitations, and reminders to all your clients and prospects.
2. Quickbooks
Quickbooks is an all-in-one invoicing tool designed for small business owners. It helps you oversee all your purchase orders, invoices, sales, and expenses.
3. Zendesk
Zendesk builds business software for customer engagement. The help desk system manages and organizes customer tickets from all your different channels.
4. WordPress.org
You can use WordPress to publish content, design your website, and manage the technical side of it with no coding skills.
5. WooCommerce
Like WordPress, WooCommerce is an open-source CMS designed for eCommerce-oriented businesses. You can design your online store, accept payments online, manage shipping and carrier control.
6. Proposify
Proposify helps teams streamline their proposal processes and organize their documents more efficiently. You can automate proposal sending, adapt documents to your brand, and get insights on your best-performing proposals.
7. Slack
Slack is an online collaboration platform that brings together apps, people, and data. It consolidates all your communication into a single channel to increase productivity and reduce time wasted.
8. Zoom
Zoom is a communication platform that focuses on video calls. It provides you with features like chat, voice calls, video meetings, and multi-device webinars.
Why does your business need CRM software?
As we've seen, customer relationship management involves many elaborate processes and using CRM software is essential for teams who want to move fast and see results. Allow us to walk you through monday.com's CRM capabilities to get a better sense of how you can benefit from a CRM software.
You can use our platform to manage complex projects—from Scrum sprints to event planning—oversee any type of team, and automate hundreds of tasks. You can also design any sales process you can imagine and streamline each one of your business operations.
For instance, here's how Parvenu—a tech startup that helps retailers raise more money for charity through personalization—used monday.com with more than 150 automations and 52 integrations on a single board:
Below, we'll cover what you can accomplish with our platform.
Centralized client communication
Integrate your email to efficiently communicate with clients. Automatically log sent emails, track interactions, and create personalized email templates to save time. Easily share this information and feedback other teams like marketing and customer support.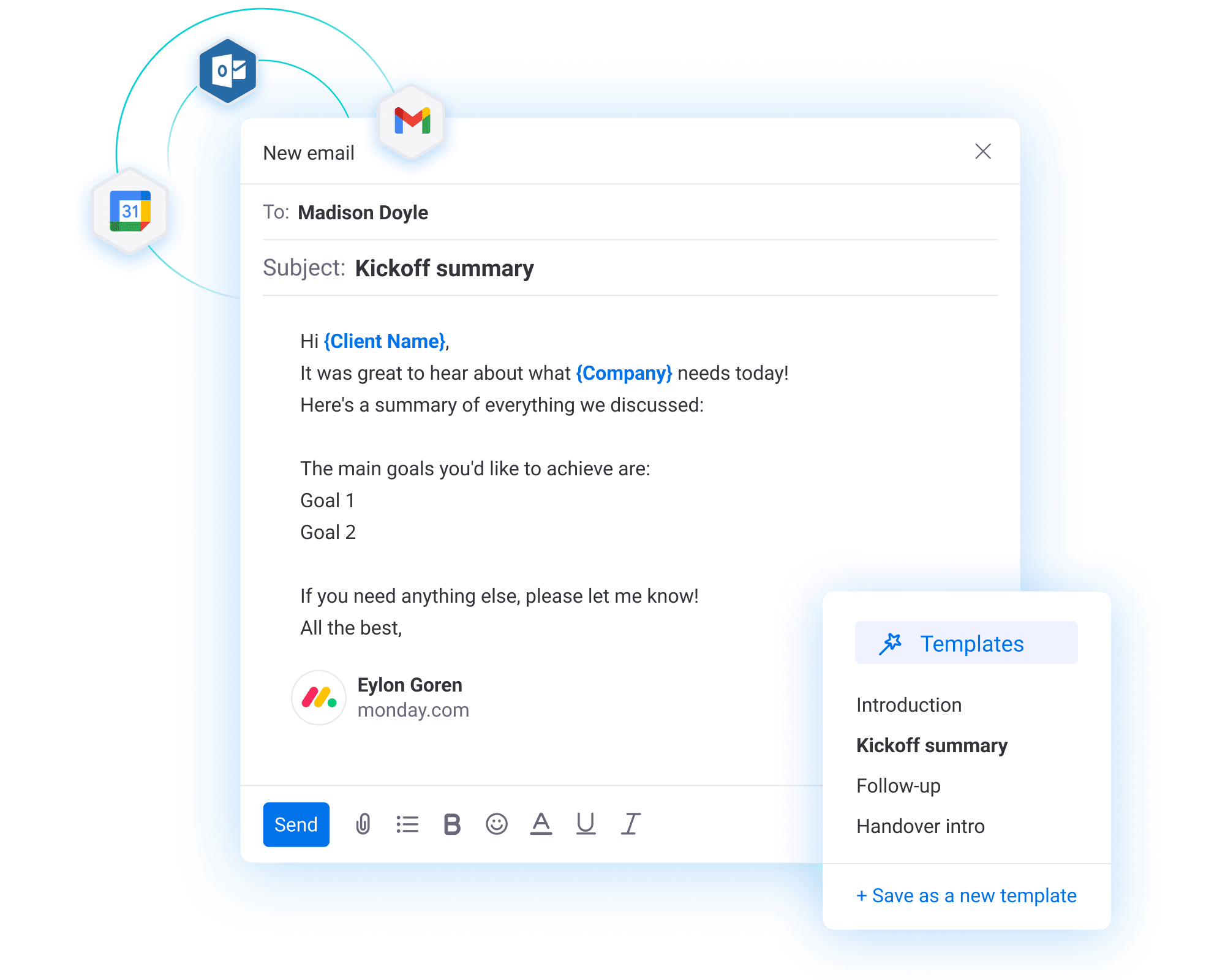 Automated sales process
Automate repetitive work to close more deals with the ability to automatically assign leads to reps, set reminders, and more.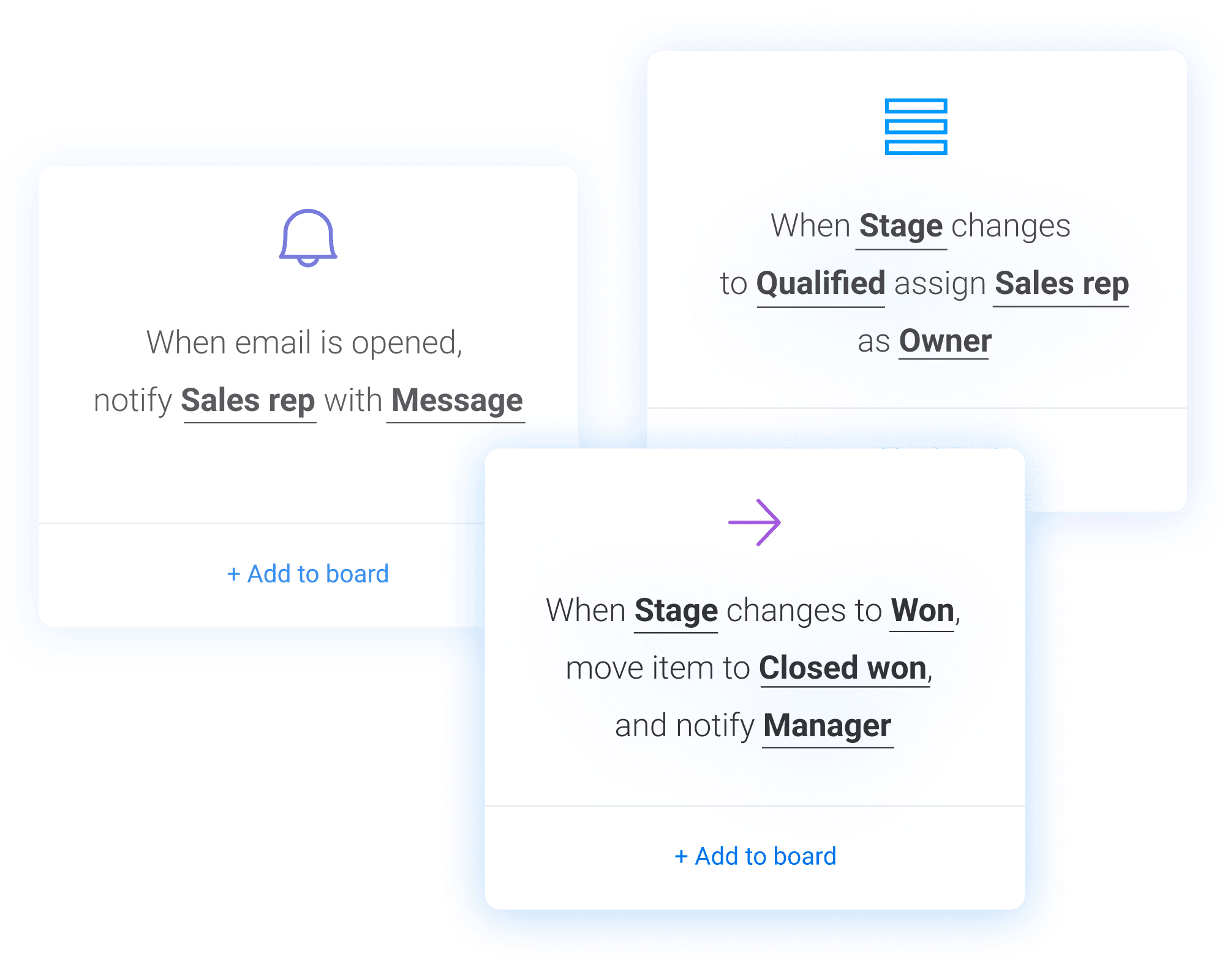 Increased visibility
Build custom dashboards without the need for outside consultants to keep an eye on performance and motivate your teams.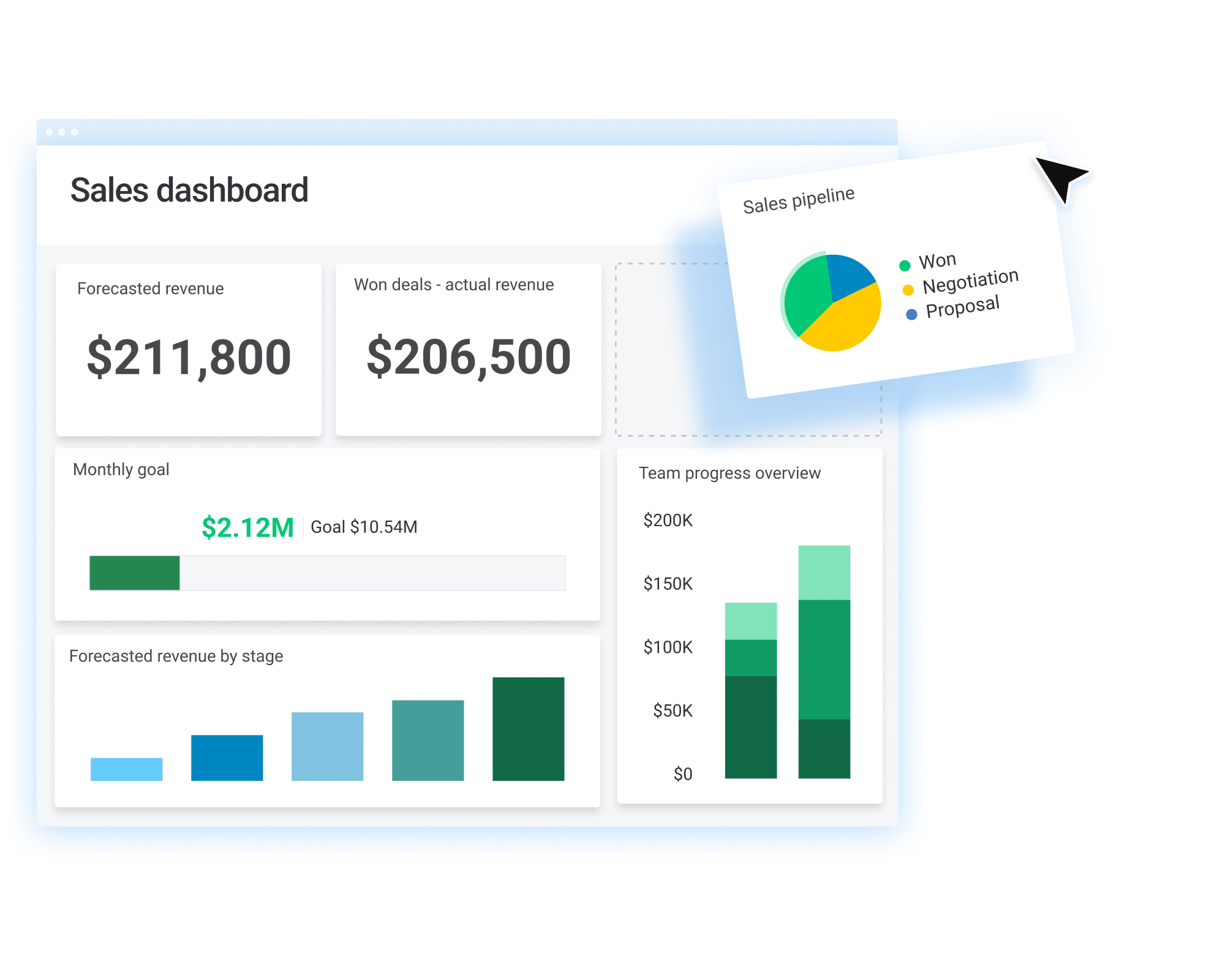 Quickly access all the crucial information you need like contact details, deal stage, and what's next in the pipeline.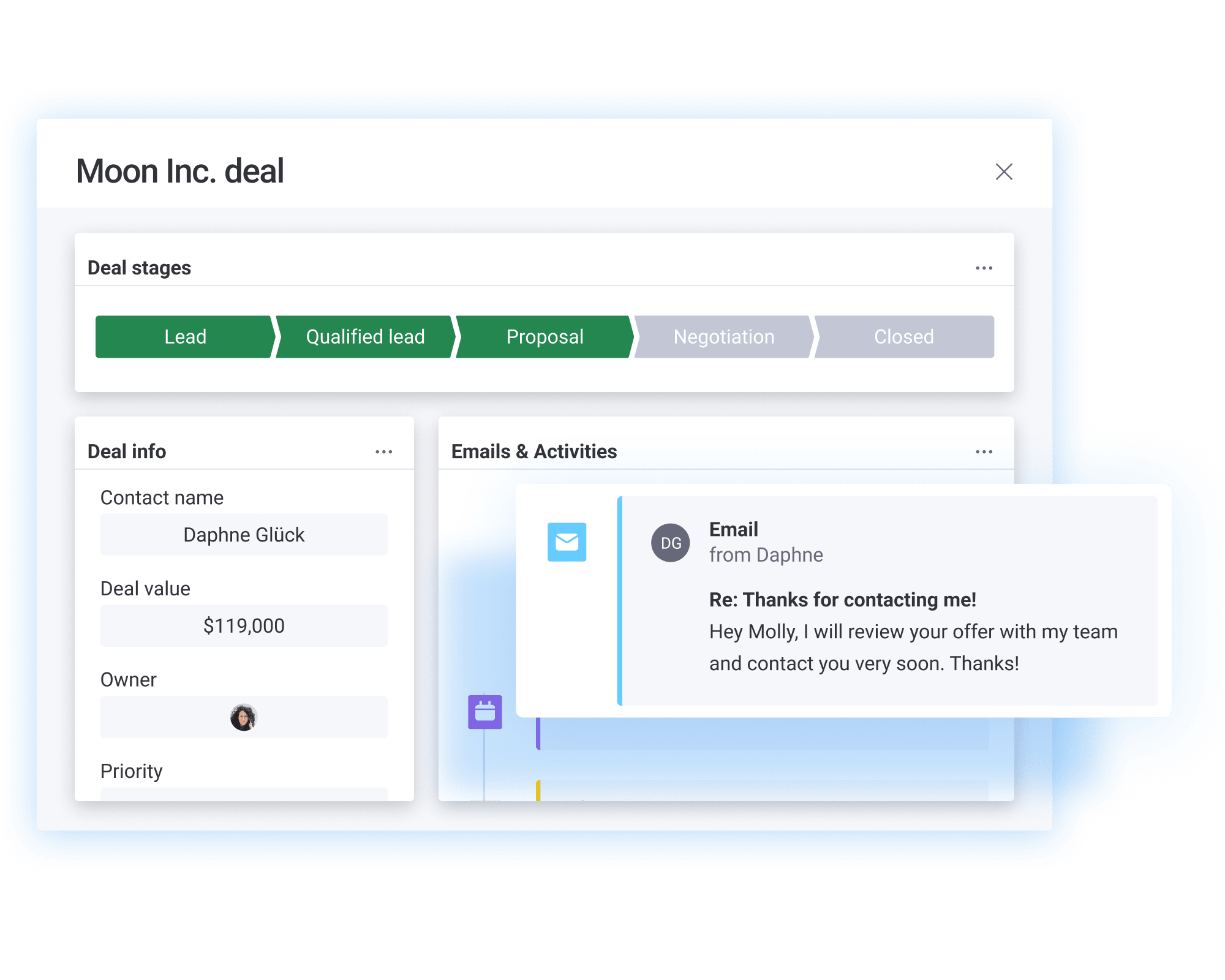 Complete sales operations
Create hiring plans and manage team and individual goals on the same robust Work OS.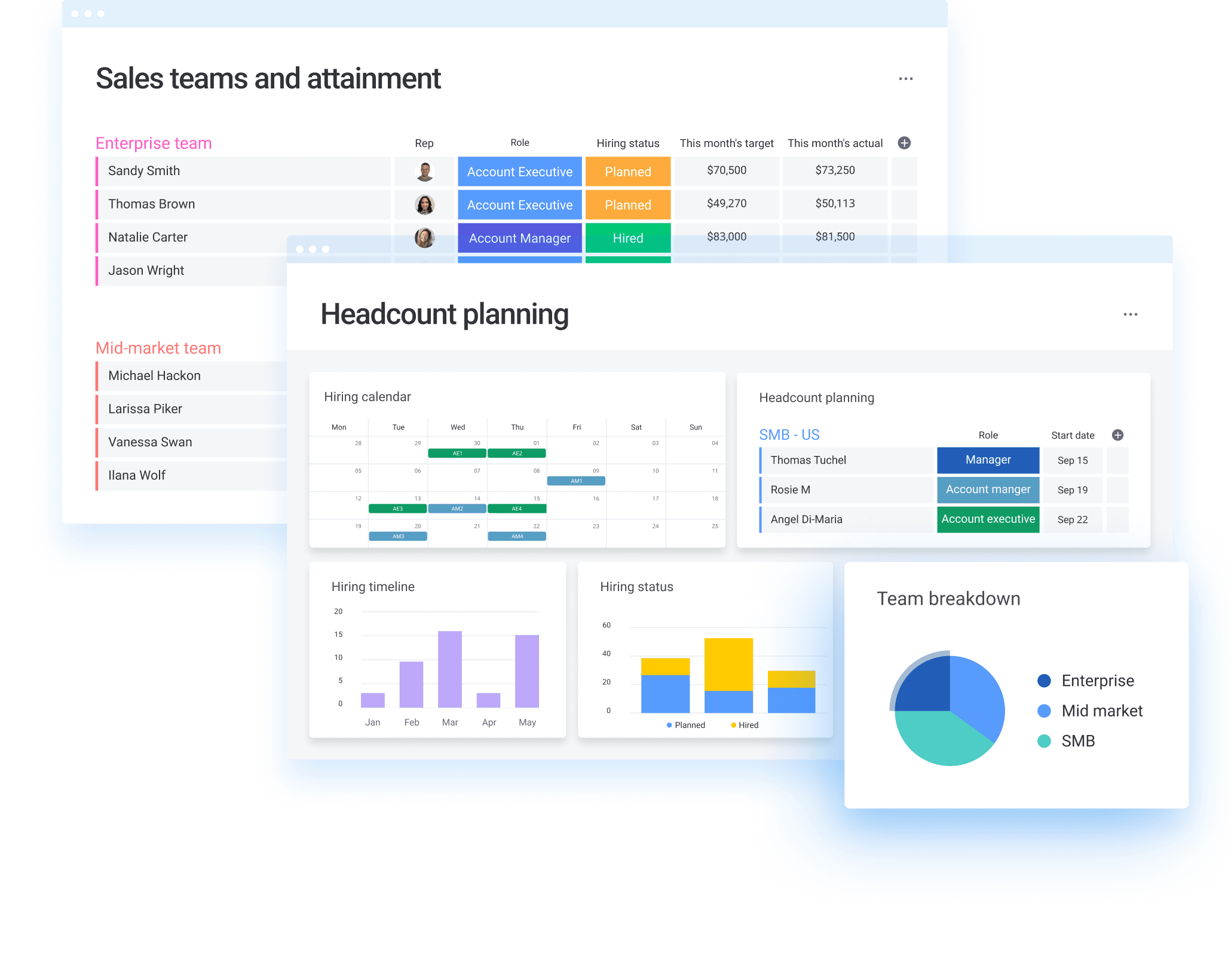 You can tap into all of this by getting started with our CRM template. We've set it up so you can prioritize leads, integrate existing apps, and bring in your sales team, without needing coding skills whatsoever.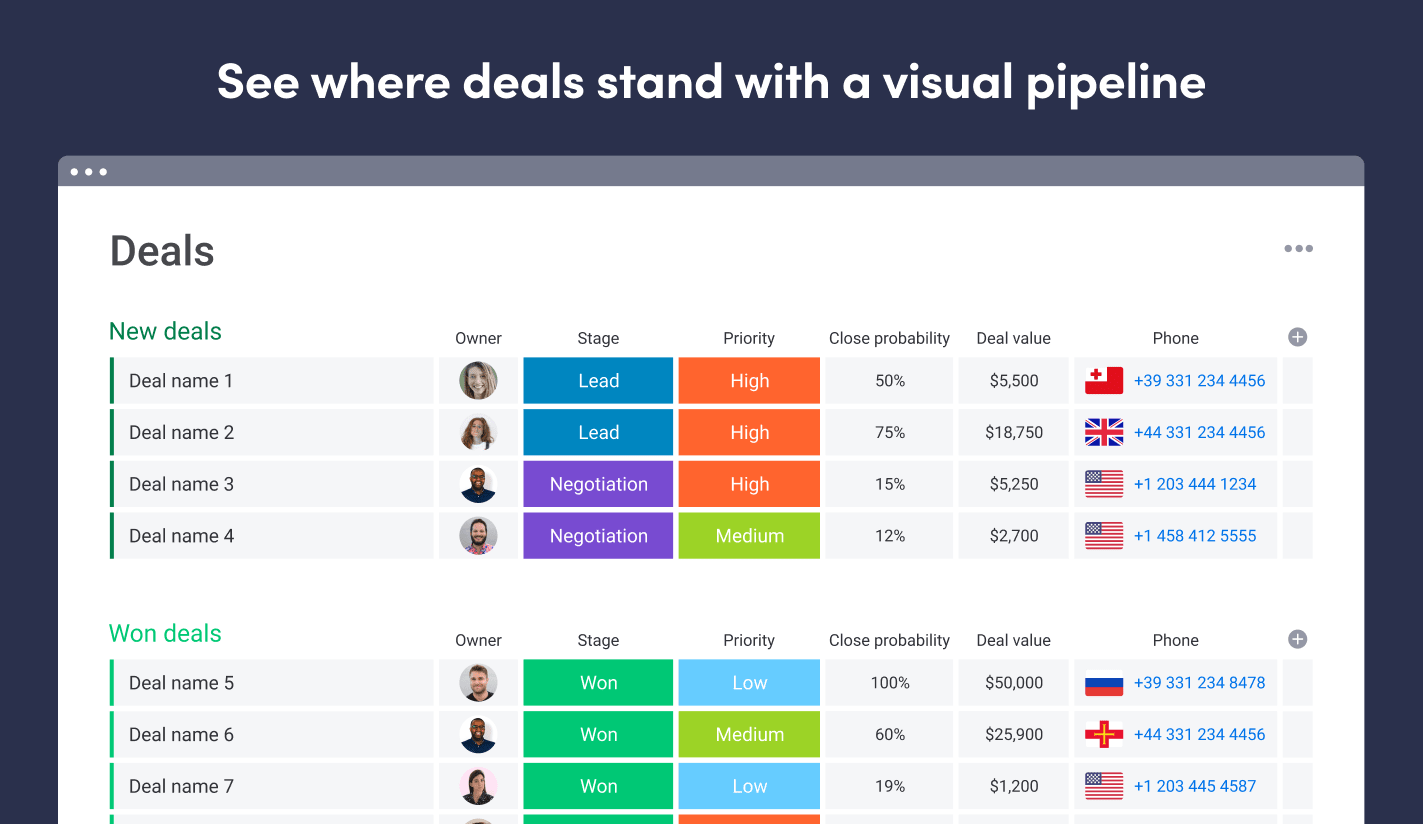 Do it all with monday CRM 
There's no doubt the right CRM platform will make your life easier, but choosing one takes some careful consideration. That said, if you're looking for a visual, intuitive, and fully customizable CRM platform to manage your lead and customer relations, then monday.com can help you grow your business.
Create your custom CRM software today with monday.com.
Curious as to what customers are saying about us? See reviews.