Customer relationship management (CRM) is the process of managing and tracking relationships with your business contacts throughout the entire sales lifecycle. The more your business grows, the more this process becomes exponentially challenging — especially managing a suite of tools and processes forsales calls, service issues, expenses, open inquiries, and more.
These tasks often become highly repetitive and time-consuming. CRM automation provides a time-saving solution that teams will love. In this post, we'll look at CRM automation in detail —  what it is, which tasks you can automate, and how to do it with monday sales CRM.
What is CRM automation?
CRM automation refers to the process of streamlining CRM management by automating repetitive tasks. This is done in your CRM software by producing multiple workflows that are powered by the use of different forms of AI (artificial intelligence). Ultimately, the goal is for CRM automations to provide better and consistent insights into relationships with customers and prospects.
This should lead to better lead management, more closed sales, and a superior customer experience.
The goal is for CRM automations to provide better and consistent insights into relationships with customers and prospects.
What are the benefits of CRM automation?
CRM automation can benefit your business in many ways. Let's take a look at three:
1. Saves time and increases productivity
Research shows that 78% of business leaders believe that automating tasks in an organization increases the productivity of all stakeholders. CRM automation can help you save a lot of time and boost productivity.
By automating manual and repetitive processes, you cut down on countless tasks that you would otherwise spend a disproportionate amount of time on. This includes things like following up with leads, scheduling calls, and sending reminders.
2. Reduces the chance of human error
CRM automation helps you combat the fallibility of human memory. It's easy to stay on top of things when you're just starting out, but as your business grows, you might find employees forget to follow up with leads, update statuses or deal stage, and make other avoidable mistakes.
Having solid CRM automations in place enables your team to remain organized no matter how fast your business is growing.
3. Improves customer satisfaction and engagement
CRM automation helps you build better relationships with your customers. After all, relationships require constant nurturing. Otherwise, they start to wither away. As your business grows, it will eventually become impossible to stay in touch with everyone manually.
However, CRM automation allows you to provide continuous value on autopilot and stay top of mind with your customers. Moreover, you can use it to ensure that you never miss important tickets from your customers and reply to them in a timely manner, which improves customer satisfaction and retention.
For example, on monday.com's ticket tracking board — you can set up automations that:
Notify key people when a ticket is submitted
Track how much time is spent on each ticket
5 Top CRM functions to automate
What customer relationship management tasks can you automate with CRM software? Let's take a look at five:
1. Contact management
CRM automation enables you to create a database for all business contacts that's automatically updated as prospects and customers progress through your sales CRM pipeline. This is handy since team members can pull up all the information available about a particular contact with a single click.
You can also create automations that notify team members once a new contact is created.
2. Lead assignment
You can automate lead assignments based on when stage goals are completed. And once a lead takes a specific action, they can be assigned to a specific team member.
3. Task management
Automating task management helps your teams manage their workload and ensure they're organized and completing their work on time. For example, you can automatically archive or delete tasks when they're complete. Additionally, you can create groups for completed tasks, alert employees when deadlines are approaching, and much more.
4. Document management
Document management can be time-consuming and labor-intensive. With monday.com's CRM automation, you can use automations to:
Notify sales reps when new resources or training materials become available
Notify managers when approvals are needed
Create groups for specific documents like quotes, contracts, invoices, etc.
5. Reporting and analytics
Finally, automating your reporting allows you to automatically generate reports to evaluate the performance of team members. monday.com, for example, lets you create a Dashboard View on your workflow and you can customize which data you want automatically tracked there — and it's shareable.
Likewise, CRM automation allows decision-making that's driven by data—negating the need to manipulate and extrapolate the numbers yourself.
How to build CRM automations on monday.com
Let's take a look at how your team members can build automations on monday sales CRM:
Choose a trigger. A trigger is an event that sets off the automation. It's what needs to happen to start the process.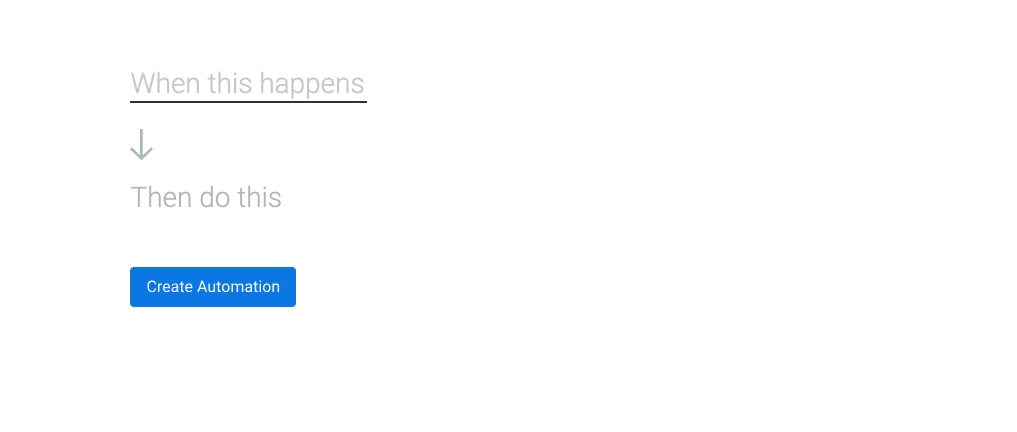 Select a condition. A condition is a specified criteria that needs to be met in order to trigger the workflow.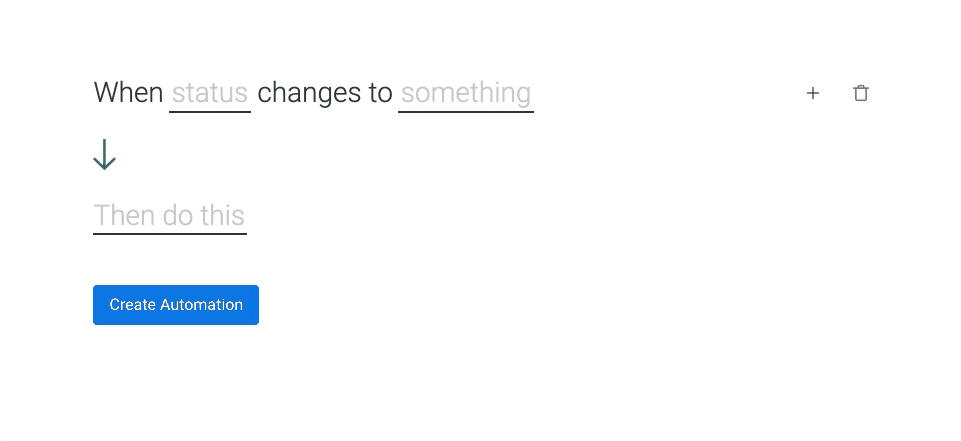 Set an action. An action is what happens when the automation is triggered.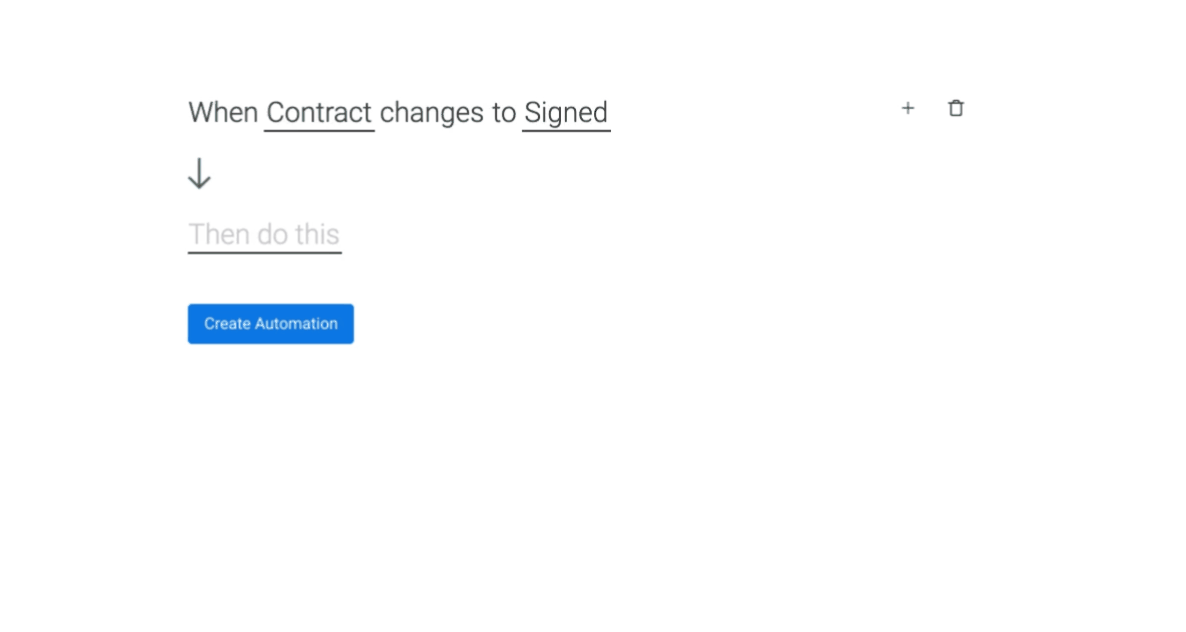 Here's a CRM automation example:
When the status of the contract changes (trigger) to "signed" (condition), then the relevant person on your team is automatically notified (action). Of course, you can also create more complex automations where the same trigger and condition set off multiple actions.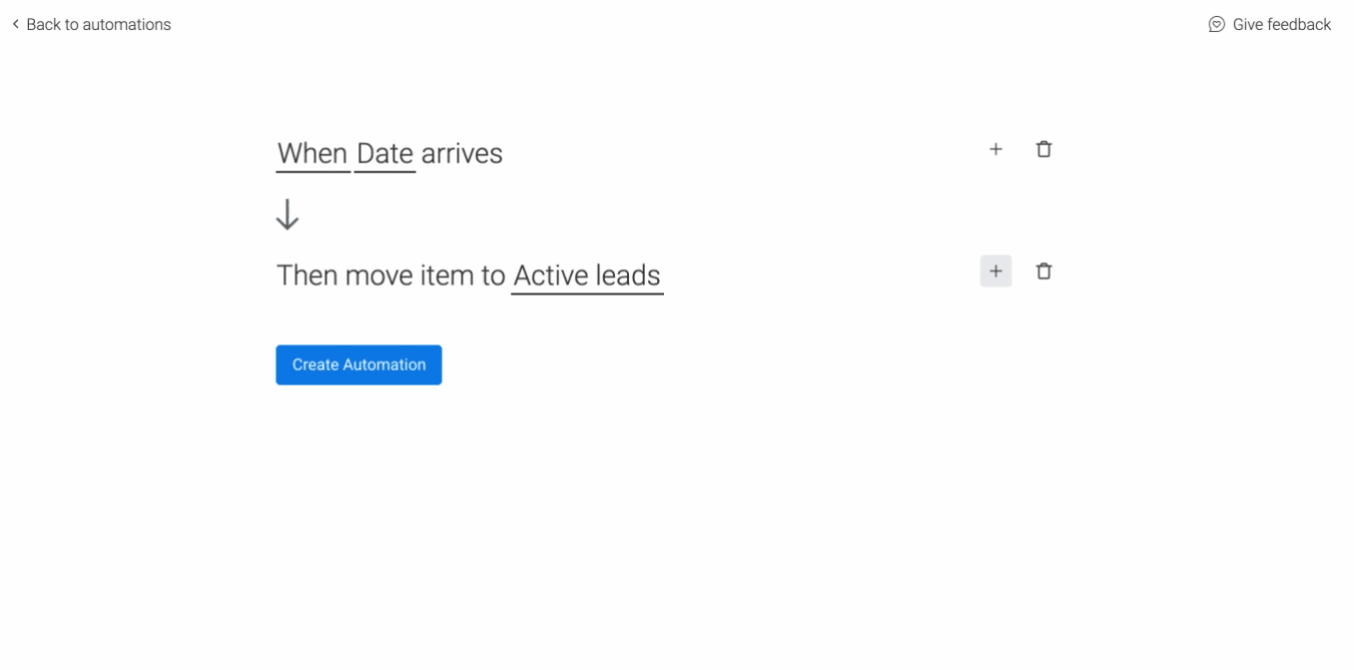 Also, monday.com has a library of automation templates, so if you don't want to create automations from scratch, you can simply use these instead.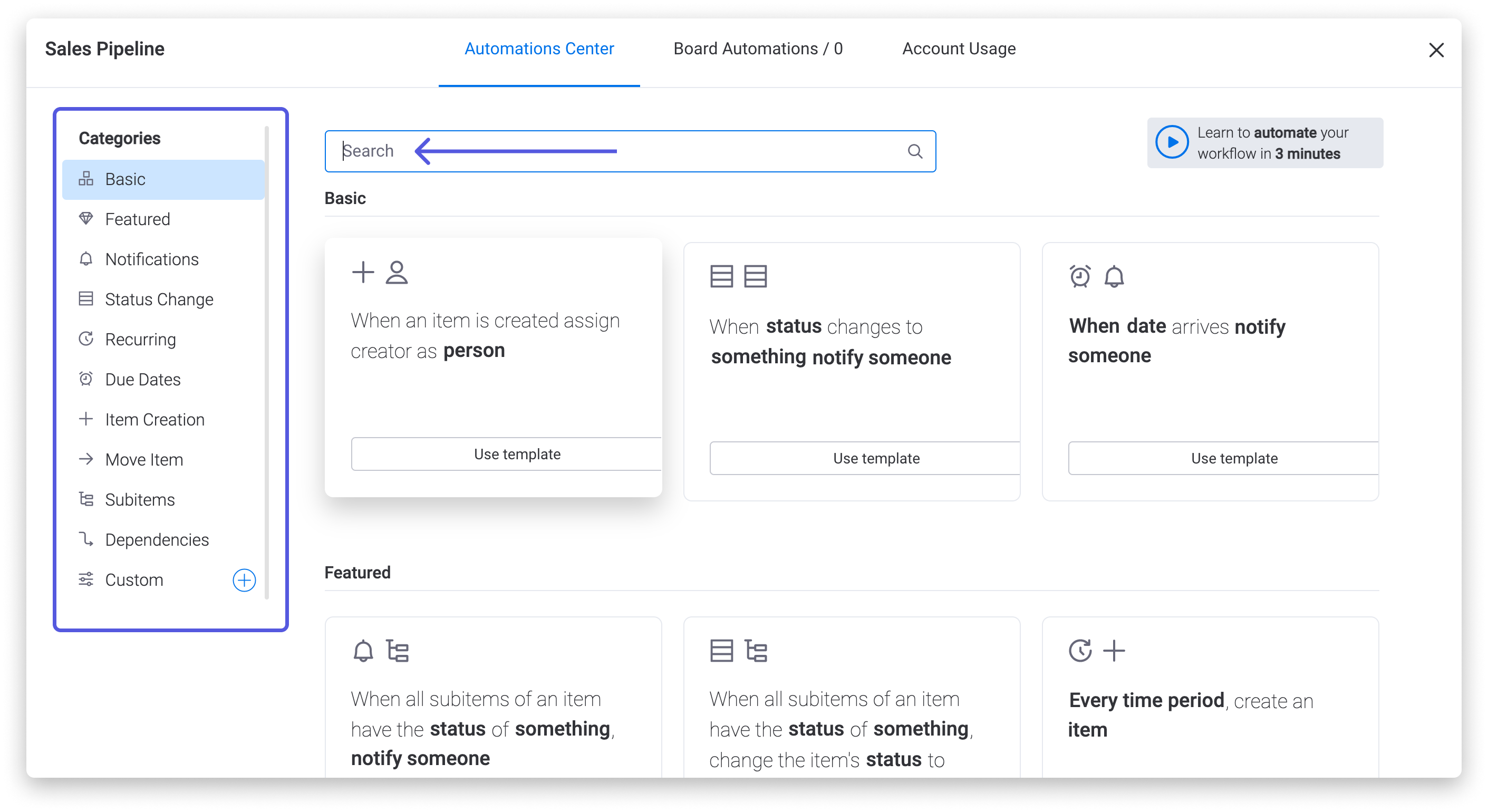 Frequently asked questions
What is the best CRM software with automation?
There are different types of CRM software with automations available. The key is choosing the one that meets your company's needs. Here are some questions to keep in mind:
What are your goals?
What workflows (or processes) do you need to automate?
What integrations does your business need?
How many team members need access to the software?
What are the differences between CRM automation and marketing automation?
There's some overlap between marketing automation and CRM automation, but they serve different purposes.
Marketing automation is primarily concerned with the automation of marketing and lead generation processes at the top and middle of the funnel. Businesses use it to become more effective at attracting potential customers and then converting them into sales-qualified leads (SQL). The term "marketing automation" can refer to automating any marketing processes, like ​​customer segmentation, email marketing, and behavioral tracking.
Meanwhile, CRM automation is concerned with automating workflows at the bottom of the funnel. Businesses use CRM automation to become more effective at focusing on an individual's needs.
Make CRM automation implementation easy with monday.com
CRM automation helps you save time, close more sales, and increase customer satisfaction. It's important to choose CRM software that can support both simple and complex creation of automations.
We recommend investing in user-friendly CRM software like monday sales CRM to get started fast and build custom sales and CRM workflows.