No matter their size, all businesses need a CRM system to streamline processes. Your CRM system should keep customer information all in one place and make it easier to manage sales pipelines, marketing campaigns, and more.
But with plenty of options, finding the right platform for your business can be tricky.
In this blog, we round-up the top 10 CRM in 2023, starting with our own, monday sales CRM.
The top 10 CRM solutions — a quick round up
Here are the top 10 best CRM solutions, with a quick overview of each one:
1. monday sales CRM
To put it simply, monday sales CRM is a Work OS platform for forward thinking businesses to focus, align, and track performance in one centralized location.
You can automate sales pipelines, contact and lead management, marketing activities, and more –  saving you bags of time. In fact, there are a wealth of templates you can customize right from the start.
It's perfect for businesses that want a CRM that is visual, easy to navigate, and a breeze to customize.
"We like seeing our Sales Pipeline as a Kanban board and find the multiple board views very helpful. We also keep track of all of our contacts on Monday and have them categorized by multiple different searchable factors." Business Consultant, Ezer Consulting
It also helps to keep all parties informed, aligned, and on the same page.
"We're a small team that currently manages our sales process without a designated sales person. Our sales boards allow us to keep track of everything that is in process for quick updates. We're able to make weekly updates and present our progress in weekly meetings, since it's very easy to update the boards."
2. Pipedrive 
Pipedrive is heavily focused on pipeline management and offers a spreadsheet-based interface, which allows you to match your sales cycle to your pipeline. Pipedrive's Smart Contact Data can collect data from around the web, providing additional insight.
Pipedrive has a pretty steep learning curve to start with, but once you've got your head around it you can start to customize pipelines, deal stages, and more. While there are a lot of integration options, you have to pay an additional fee for add-ons such as email marketing features.
3. HubSpot 
HubSpot Sales Hub is big on integrations with thousands of integration capabilities. It also tracks sales funnel metrics, activity insights, productivity, and performance.
There is a basic free plan for businesses that have minimal requirements, but this does come with minimum seat requirements. HubSpot can be tricky to use, but there are plenty of agencies out there who specialize in helping businesses to set-up and manage the platform on your behalf.
4. Salesforce 
When it comes to CRM providers, Salesforce is one of the most well-known traditional CRM tools available. Salesforce offers a range of bespoke options for sales, marketing, and customer service teams.
Of course, all of this comes at a pretty high price point and most Salesforce CRM plans require an annual commitment. So, if you're just starting out, you might want to find a cheaper and more flexible option.
5. SugarCRM
SugarCRM has designed its software with automation in mind. You can manage leads and multi-step nurture campaigns, and an intuitive drag-and-drop page builder to reduce repetitive tasks.
The initial setup of SugarCRM often requires IT and data support to ensure you configure it correctly. But once set up, you can customize pipelines, workflows, and more.
6. ZenDesk CRM
ZenDesk is often used for its ability to manage post-sales activities and renewals. It includes core CRM features, basic reports, and customizable sales pipelines. Role-based permissions give admin users control over data access along with unlimited email templates to streamline email marketing activities.
While the home dashboard doesn't have the most user-friendly interface of the CRMs we've reviewed, its Smart Lists feature is great for helping teams segment customers and filter leads.
7. Oracle CRM 
Oracle's CRM module organizes, automates, and synchronizes your customer interactions across key departments including marketing, sales, and customer services.
Its dashboard offers a 360-degree view of customer data and a clear view of progress across customer-facing departments. It features key performance indicators, active campaigns, new leads, and more. However, becoming adept with the platform takes quite a few working hours, which should be considered.
8. Microsoft Dynamics
Microsoft Dynamics is a suite of business tools with 11 core modules. All modules integrate with all other products in the Microsoft ecosystem, furthering collaboration possibilities.
With its abundance of features and bespoke implementation options, Microsoft Dynamics is not a platform you can just sign up for and get rolling with. Like with Salesforce and Oracle, there is a significant learning curve.
9. Zoho CRM
Zoho CRM is appealing for remote workforces with its gamification features which encourage friendly competition. Every lead, call, and deal can be made into a trophy to generate healthy competition no matter where your sales team is located.
Helpful features include SalesSignals, which tracks customer interactions across channels, and Feeds, which notifies team members with potential leads to act quickly on. Although many features, including email notifications are restricted with daily limits.
10. Act! CRM
Act! (previously known as Sage Act) is an easy to use CRM with all the basic CRM functionality you would expect, including contact management, marketing automation, and pipelines. Act! also syncs to a sales reps calendar helping them to keep on top of important customer follow-ups and touch points.
The main drawback users often complain about is that it lacks customizable reports and dashboards and it can be extremely complicated to set-up the reports you need.
So there you have it, the top 10 CRM for 2023.
Every platform on this list has some excellent features. Pricing plans vary, and most tools will offer free trials, so you can try them out before making a long-term commitment.
But how do you know what's a must-have feature for CRM?
How to choose a CRM system: must-have features
CRMs do more than store customer and business data. They analyze those data to provide you with insight, intelligence, and that critical 360 degree customer view.
Choosing the right CRM can mean the difference between better sales conversions and happier customers… or wasting time configuring the system and inputting data.
To save yourself from that fate, be sure the CRM platform provides you with:
Workflow automation: For example, can you set the platform to automatically send a message to a sales rep when a customer fills out a form on your website, or when a lead moves deal stages?
Customer data management: Customer data tools should allow you to organize data on customers clearly, providing a 360 degree customer view.
Integrations: Look for a solution that offers the right integrations for your needs. And offers these without requiring steep add-on fees.
Customization: Chances are, your chosen CRM will need customizing to your exact needs. Make sure your chosen platform allows for easy customization.
Once you've done your due-diligence, it's then time to make your final selection.
Up your customer-facing game with monday sales CRM 
Take your workflow up a notch and win back time with CRM features that help you automate repetitive work, centralize customer communication, and organize all your data in one place.
With monday sales CRM, you can access advanced CRM features that increase visibility, such as dashboards that instantly report your deal progress, sales figures, and team performance.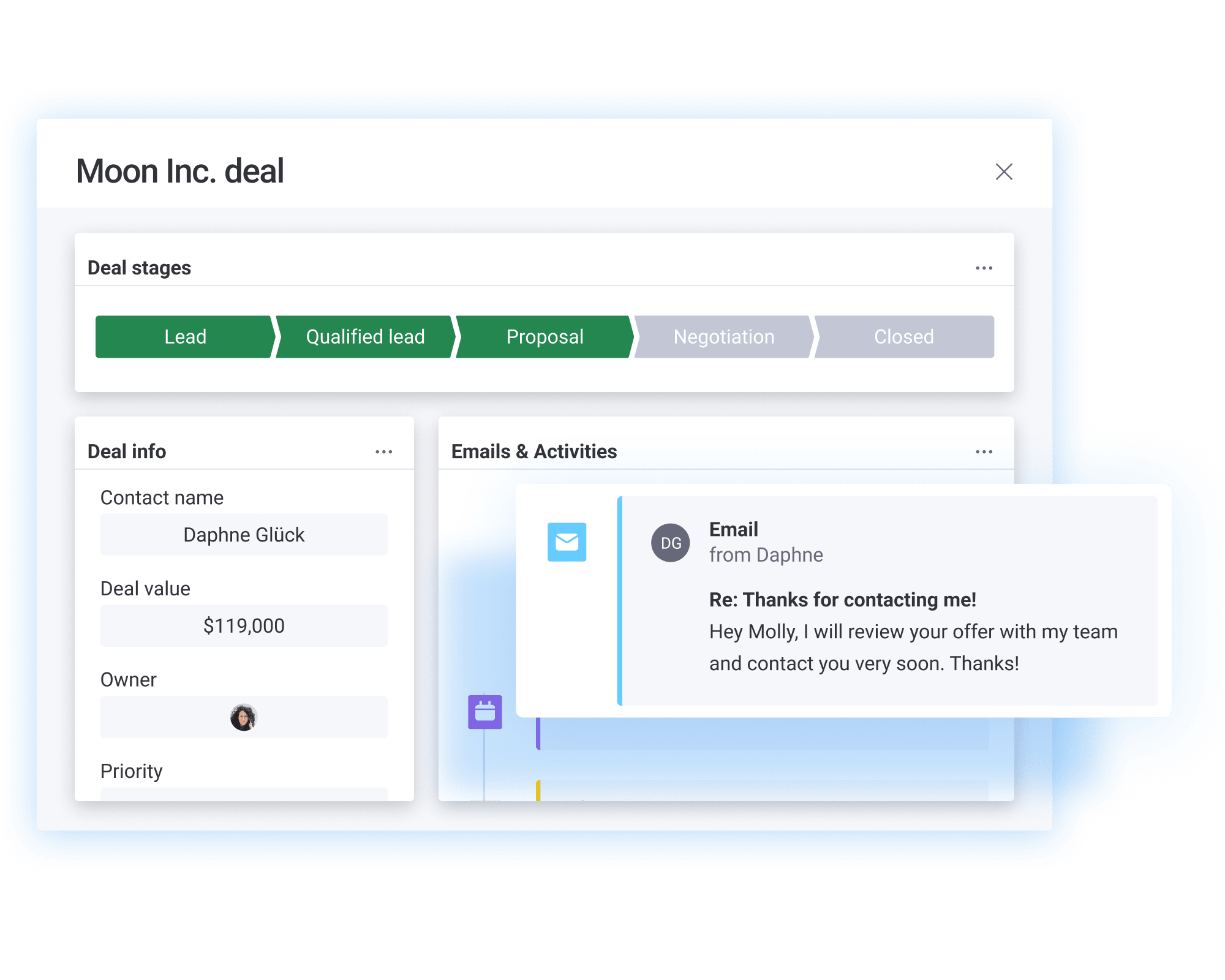 You can also access all your team's activities, like calls and meetings, in one place to track performance, understand capacity, and plan ahead.
If you still have unanswered questions, take a look at the most frequently asked CRM questions below.
Frequently asked questions related top CRMs
What is the most popular CRM?
There are many types of CRM tools available. You can look at the latest software testing sites to see which platforms rank best. Software Testing Help ranks  monday sales CRM as the most popular CRM today.
What is the world's #1 CRM?
According to the same source, the top three most popular CRM platforms on the market are monday.com, Zendesk CRM, and Pipedrive.
What is the best CRM software 2023?
Likewise, monday sales CRM comes out top as the best CRM software for businesses that want to exceed sales targets in 2023.
So what are you waiting for? If you're in the market for a new CRM — why not put us to the test?
Top 10 CRM: Bottom line
Thanks to monday sales CRM's ease of use, excellent features, automation, and scalability, it's one of the most accessible CRMs on the market.
Every team member, no matter where they are, can use monday.com to work collaboratively, efficiently, and effectively.