Any project manager or individual with a goal starts by asking the same question, "How to start a project — this project?".
However, often one of the most time-consuming parts of getting stuff done usually is a result of things you failed to map out from the start. Can we hire that extra vendor — the budget wasn't completed. Do we need that extra vendor — we didn't evaluate our internal team's resources thoroughly.
The solution? A well-thought-out project initiation plan. This article will cover the basics of the first phase of a project and share how monday.com Work OS helps keep your projects organized and on track.
What is project initiation?
Project initiation describes the formal process of recognizing a new project exists and outlining the necessary documents and procedures that will set the stage for execution. This is step one of the classic 4-step project life cycle:
The 4 Project Management Phases
To give you more context , let's look at project initiation through the two different lenses — project initiation activities and project initiation deliverables. Together, they make up something sometimes called a project checklist.
You can read more terms like this in our Project Management Glossary.
What are the main activities and deliverables of project initiation?
All projects start with ideas, but what comes next? Who is involved? And of course, what does each step entail? In this section, we'll walk you through the initiation process.
Here's a basic checklist for project initiation:
1. Create a business case
A business case is a document that makes it clear how project goals align with a company's long-term mission — think of it as a justification station for use of technical, financial, and human resources for the specific project.
It's important to note, however, it should focus on business aspects above technical. This is because it will be used to garner support from upper management, answer any concerns and ultimately warrant approval.
2. Conduct a feasibility study
Once you've got the leadership approval, you'll want to get a sense of how likely your project is to succeed. A feasibility study identifies high-level project constraints and project assumptions in order to do this.
For more information on these terms, read our project constraints blog.
3. Write a project charter 
A project charter, or a team charter, is a preliminary statement of the scope of work, objectives, and participants for a given project.
It includes the delineation of responsibilities, identifies the main stakeholders, outlines the key goals, and – most importantly – defines the authority of the project manager.
For more details on project charters, check out Project charter example: everything you need for success. 
4. Identify stakeholders and create a stakeholder register
A stakeholder is anyone who can be influenced or has an influence on your project — these can be internal or external. What's important to remember here is that communication is key, including how you communicate and the frequency.
You can do this by using a stakeholder map or a stakeholder engagement assessment matrix. 
5. Recruit the right team and establish a project office
It's time to rally the troops, so the speak. But beyond this, you can start loosely assigning roles and responsibilities to create a sense of accountability from the get-go. This is a project manager's area of expertise.
A project office, sometimes called a project management office or PMO, refers to the team or department that creates and maintains project management for the whole organization. They are the source of knowledge for procedures and best practices that ensure quality and timely endeavors.
They also should point teams towards a centralized project management software, like monday.com.
6. Review
At the end of the day, project management is still subject to human error. It's important to dedicate specific time to reviewing your initiation plan, to give the rest of the project phases the highest chance of success.
Why is project initiation important?
As we mentioned, the initiation stage is the source of a lot of important things — the problem is identified, the project scope is determined, and the project foundation is created.
You will need to justify the demand for your project to key decision-makers, gathering evidence for why your project's success would be valuable by supplying other documents, like the statement of work. In other words, project initiation is what gets your project to the starting line.
What is the difference between project initiation and project planning?
We've now given you the basic understanding of project initiation — the stage where you can define your project broadly and get buy-in from stakeholders. So how does project planning, the second phase of the project management lifecycle, differ?
While the terms sound interchangeable, project planning builds off of project initiation.
Many teams often make the mistake of doing this first, and it can cause a pretty icky double work cycle. Project planning is when you create specific goals and your project roadmap. You'll get into finer details, such as sprint planning.
But without the essential activities of the initiation step, you might make inaccurate goals or forget to loop in crucial stakeholders — and miss out on precious feedback. The best way to prevent these kind of errors is working with tried-and-true frameworks and the right tool. Let's explore how monday.com is the perfect fit.
6 steps for stellar project initiation using monday.com 
1. Identifying and Defining High-Level Business-Related Requirements, Outcomes, and Criteria for Success
This phase includes a number of documents for confirmation and details like contact information of sponsors, target completion dates, strategy explanations, and more.
Solution: monday workdocs + templates
monday workdocs are collaboration documents reinvented. Collaborate in real time, embed your monday.com boards, and more.
You can choose from 200+ templates on monday.com. For project initiation, we recommend:
2. Defining business justification and other stakeholder needs for the project
Stakeholders want the bottom line of the project to understand it's worth — budgets, timelines, expected performance, and ROI. Making it visually appealing is your best bet.
Solution: Views 
On monday.com, you can choose from more than 8 views to create meaningful visualizations of your most important work. The Formula column automatically gathers your data, which you can then create a customized and dynamic dashboard for reporting and sharing. Timeline View maps out your board items over fixed dates.
3. Defining the project manager's role and authority
One of a project manager's main charges is assessing core skills in order to assemble a project team. But how can they best manage communication and delegation from there in a way that is centralized and useful?
According to the PMI, inefficient project management practices result in 12% waste of organizational resources.
Solution: Updates and People Column
monday.com brings together the tasks, owners, and communication around projects and project initiation in one place. Updates serve as real-time hubs for notes, announcements, and questions — you can also add files and more.
The People Column enables item assignment to multiple or individual team members. This then can be used by a project manager to assess workloads or incorporate into automated notification recipes.
4. Creating the project scope document
Your project scope document could include the following:
Proposed external relationships
Proposed internal relationships
Comms plan
Change management guidelines
Post-project review plans
Choice of project management methodology
Rather than starting from scratch, start organizing your scope document for project initiation in a straightforward template that is shareable and editable in real time.
5. Getting written approval from stakeholders
Communication, persuasion, and negotiation skills, are crucial to stakeholder interactions. Your initial connections for project kickoff could involve face-to-face meetings, kickoff memos, and other communications like emails or document exchanges. This can slow down your project moving from the initiation phase to planning.
Solution: Automations and integrations 
Integrate your favorite document management and approvals tools on monday.com to simplify how you share materials for sign-off. Use automations to trigger communications and actions from your board. For example, once a scope document's status is changed to approve, notify the project manager so they can start next steps.
6. Set the foundation for a project plan
While these tasks are truly developed in the planning stage, you can start prepping:
A detailed work breakdown structure
Resource management plan
Schedules
Budget
Risk management plan
Quality management plan
Solution: WBS & Gantt View
monday.com has a WBS Template and Workload View to easily manage teammate capacity. Our Gantt View with a special critical path feature helps you outline tasks, owners, and dependencies automatically from your board data.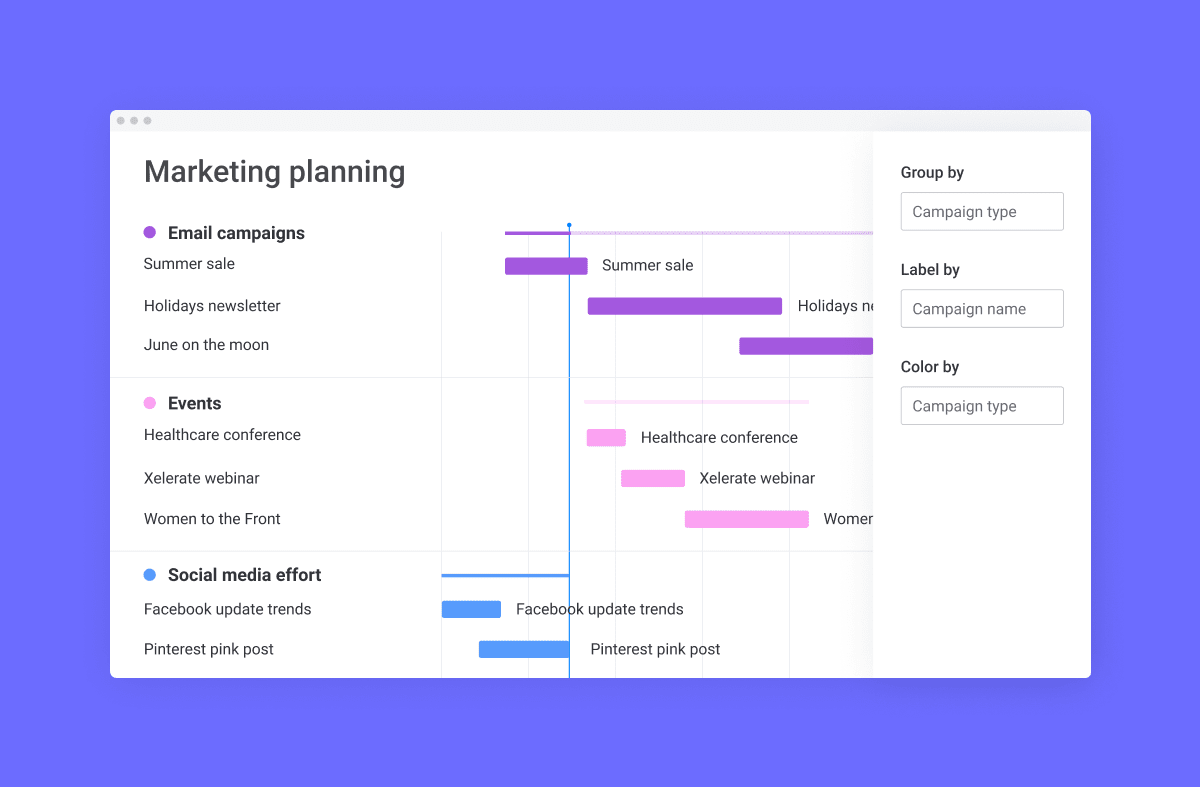 Frequently asked questions
Why should you use a project charter?
Project charters the purpose, goals, and significant deliverables or a project, it helps align the entire team. Here are three reasons why you may want to consider a project charter:
Fosters better time management
Crystalizes budgets: A project charter helps establish your team's budget. Clear budgets mean less overspending and a better chance of a successful project!
Helps with team morale
What are the four main project initiation requirements?
Business problem or opportunity identified
Solution is defined
Project formed
Project team appointed
Optimize the way you kick off your projects
Project initiation lays the groundwork for not just your overall project success, but each step of the project lifecycle.
Managing the core actions, requirements, and documents of project initiation becomes that much smoother with a work management software like monday.com — check it out.