Before every airline flight, a pilot reviews a pre-flight checklist. Before publishing a blog post — like this one — someone reviews a pre-publish checklist.
Checklists are everywhere in our lives because they work, and projects are no exception. In this blog, we're giving you a cheat sheet for a stellar project checklist and process, plus a quick overview of how you can create and manage one with monday.com.
What is a project checklist?
When we think about checklists here at monday.com, we are primarily referring to checklists for projects, also known as project checklists. A project checklist is a "Read-do" type of checklist as it "outlines the steps required for accomplishing a specific outcome."
This isn't exactly the same as a project charter, which you can read more about here in our blog about project charter examples.
The steps in a project checklist usually are activities and tasks. The specific outcome is the end goal of the project. For example, the project of "writing a blog post."
The steps of a project management checklist for this could include:
Creating an outline
Researching various key points
Writing the first draft
Editing
Reviewing with stakeholders
Uploading to blogging software
Publishing
Promoting and sharing via email and social media
The outcome is a live, published blog post with an actual end goal of generating more leads for your company.
You can manage this process and many more on monday.com, but more on this later.
Why use a project checklist?
Generically speaking, a checklist is a way of formatting necessary activities or requirements to accomplish something.
Checklists can be used to:
Create a summary of tasks, activities, stakeholders, and resources
Check that all requirements have been met
Ensure tasks and activities are completed in the proper order
There are any different types of project checklists:
Daily checklists, monthly checklists, annual checklists
Checklists for work, for school, for personal use
Checklist apps, checklist software, checklist (physical) notepads — some with hilarious sayings on them
But according to this Forbes article, there are only two types of checklists: Read-Do and Do-Confirm.
A Read-Do checklist "outlines the steps required for accomplishing a specific outcome".
A Do-Confirm checklist "covers tasks you complete from memory".
When it comes to project checklists — the main topic of this blog post — we are talking about a Read-Do checklist.
How to plan a successful project in 10 steps
Project planning is no small task. And not always straightforward. Using project management software helps.
(more on that later)
Here is your 10-step project checklist. Use this to ensure your project is successful from start to finish.
Step 1. Set the vision
Setting your vision should (almost) always be your starting point. If you don't know where you are going, it can be pretty challenging to get there.
When creating your project vision, ask big picture questions such as:
What do the end results look like?
This project will be successful if …
What are the main project deliverables?
What resources will we need to ensure success?
Your vision is your guidepost to the entire project. This happens during project initiation, the first phase of the project management life cycle. This is when you're first gathering your most important information like scope and other documents needed to get project approval, so naturally creating a project checklist happens in this step.
Step 2. Create SMART goals and objectives
A project without goals is bound to fail. Similar to a vision, goals (and objectives) help to guide everything you do. If a task is not tied to a goal or objective, it's worth questioning whether or not that task is necessary.
But you can't just create any goals. You need SMART goals that take into consideration project constraints.
A SMART goal is a well-defined, trackable, and measurable goal. These goals help pinpoint what you want to achieve, how you plan to do it, and when it needs to be completed.
One of the main advantages of creating SMART goals is clarity. There is little, if any, room for interpretation. SMART goals help to get all stakeholders on the same page, working toward the same purpose.
Read our complete guide to SMART goals for a detailed look into everything SMART goals-related.
Step 3. Build a work breakdown structure (WBS)
Work breakdown structure (WBS) is an organizationational system for project management and project planning.
WBS helps teams break down big, complicated goals into manageable objectives. This, in turn, leads to a more manageable project plan.
A good WBS is often visual — something we pride ourselves on at monday.com. For example, here is the start of a WBS for a project called "Find a new apartment."
Note: A WBS is an optional project checklist item.
For a more detailed take on WBS, check out our quick-start guide to Work Breakdown Structure (WBS).
Step 4. Meet with stakeholders
Getting feedback and securing buy-in from all stakeholders — everyone involved in the project — is critical.
Stakeholder meetings should not be limited to the early stages of a project. Be sure your team is meeting with all parties at various checkpoints during the project.
Step 5. Do research and gather requirements
All projects, small and large, require some level of research some amount or a lot of requirement gathering. Do the work upfront in order to minimize surprises later in the project.
You can even use our Research Power Tools Template to get started.
Step 6. Allocate resources
Very few companies — if any — have an infinite supply of resources.
Determining how to optimize what you have to allocate each resource effectively without running out is essential to ensuring a successful project.
Resource allocation is the process of strategically planning and managing your project resources so that you can complete tasks based on their availability and capability.
High-level questions to consider include:
What kinds of resources do you have?
Who's responsible for resource allocation?
And of course, you can build it all out on monday.com.
Step 7. Create a project schedule
This probably goes without saying, but we'll say it anyway — a well-planned project schedule helps teams stay on track throughout the project lifecycle and avoid potential issues.
In this blog post, we outline three project scheduling methodologies that actually work.
And monday.com can really make creating a project schedule so much easier and more visual:
The monday.com board views help teams to visualize any project from all different perspectives and angles in just a few clicks so you can analyze the data that's most relevant to your specific project.
Step 8. Understand risks and manage dependencies
Whether they are causal, logical, resource-based, or preferential, dependencies can bog down any project's timeline and quality unless they are accounted for and factored into your project management plan.
Projects that fail to be completed on time can result in overworked employees, wasted money, and other priorities and opportunities being squandered.
Identifying and effectively managing dependencies ultimately lowers project risk and accurate estimation of task duration and logical scheduling increases the likelihood of delivering on time.
monday.com provides tons of options to understand risk better and manage dependencies.
A digital Kanban board is one such solution.
This type of board helps to optimize compiling and reordering of tasks. A visual board means your team can easily see project schedule tasks, key milestones, dependencies, and the expected start and finish date of the task.
Step 9. Incorporate a communications plan
As we stated here, effective communication is the cornerstone of any sustainable relationship. communication is built directly into everything we do and offer at monday.com.
With our Work OS, apps, and integrations, you can build out custom process diagrams, flow charts, presentations, mind maps, roadmaps, timelines, Kanban boards, Gantt charts, and calendar views.
You can also use notifications and the Updates section to keep communication timely and organized. For larger projects, you can create monday docs.
When building out your communications plan, consider the following:
Who is in charge of communicating the overall project plan?
How often will updates be provided?
What format will you use?
Step 10. Monitor progress along the way
While this step is technically #10 in the project checklist, it's really a step that should be incorporated throughout any project management process.
Reporting and advanced reporting are integral to ensuring the project moves forward and is on the right track. Ensuring stakeholders are informed about progress as well as hiccups and setbacks will cause a lot less headache than missed deadlines and last-minute surprises.
monday.com has you covered when it comes to reporting and analytics with easy to customize dashboards.
monday.com project checklist templates
In case you were curious, here are some of your favorite templates in one place that you can use throughout your project checklist process!
You'll see this as a recommended project checklist template across our blogs, and for good reason. Bring together deadlines, people, files, and more.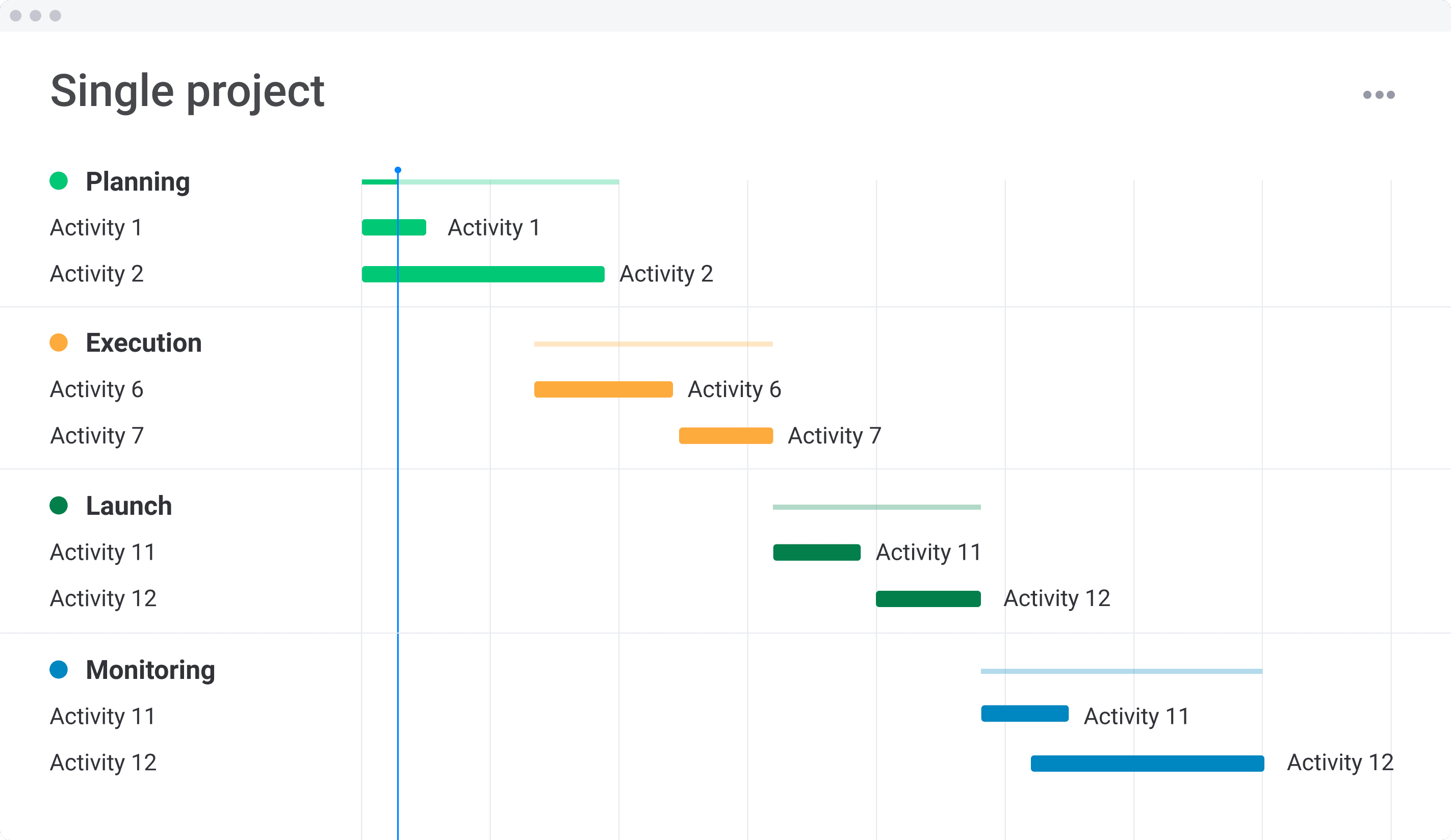 This template was created to help you link important boards and dependencies for sophisticated project management workflows.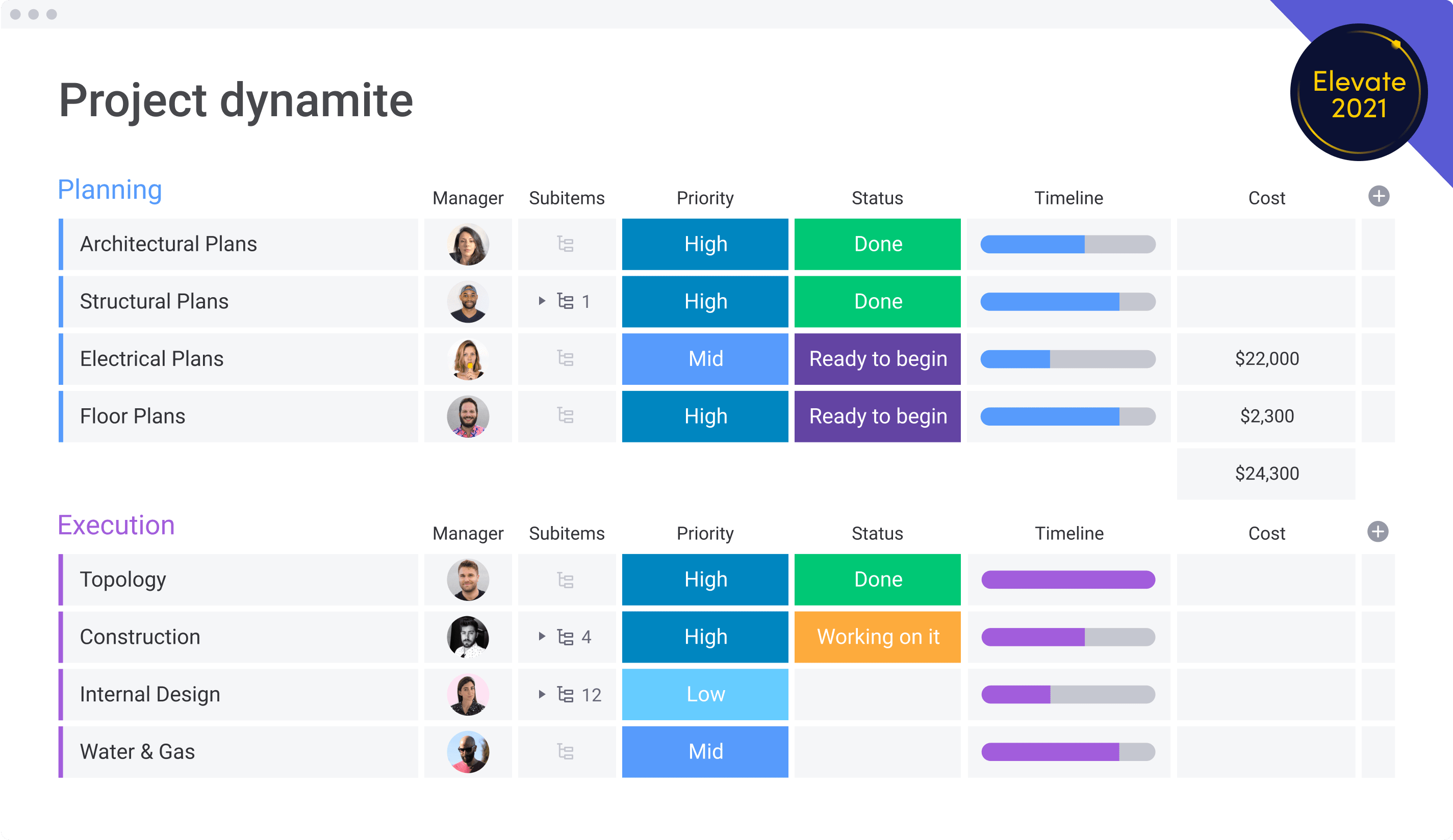 Take advantage of monday WorkForms to create a streamlined intake form for project approvals that automatically populate a board and can be assigned to relevant team members.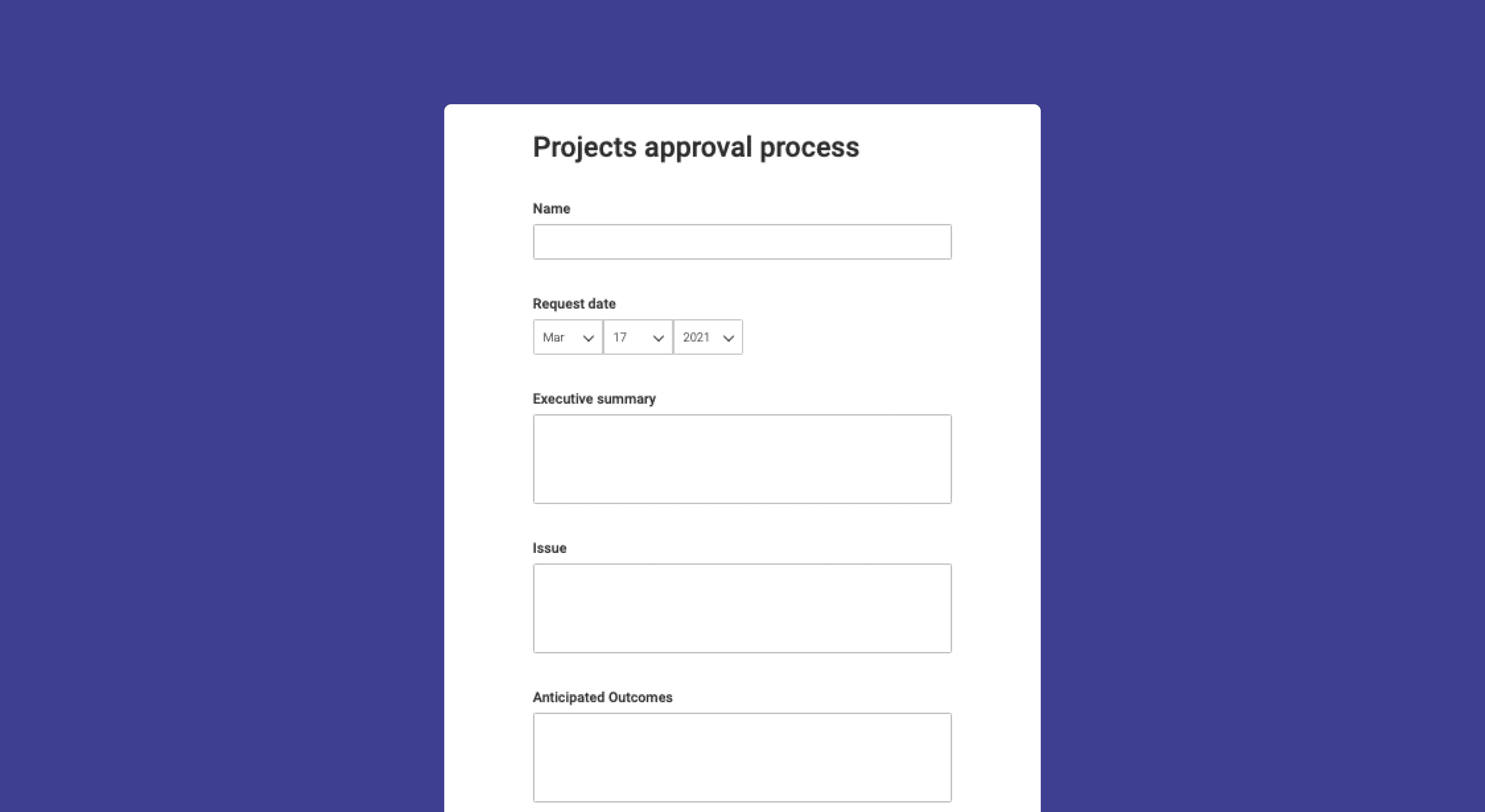 Manage and monitor multiple complex projects, timelines, and activities from one useful and automated template.
Create custom project checklists in less time
The takeaway here? Even though project checklists have been around for ages, there are always ways to improve them, whether it's through time-saving features like automations or curated project checklist templates.
Explore the project checklist possibilities of monday.com.