Project charters get a bad rap in many organizations. It's just another daunting part of a project's bureaucratic approval process, right? Wrong.
Many might think it's merely an overlooked deliverable in the project management cycle, but we're here to tell you that project charters are one of the most underrated tools in a project manager's toolbox — especially when you create one on monday.com.
What is a project charter?
A project charter, or a team charter,  is a preliminary statement of the scope, objectives, and participants for a given project.  It includes the delineation of responsibilities, identifies the main stakeholders, outlines the key goals, and – most importantly –  defines the authority of the project manager.
Why is a project charter so important?
Consider your project charter as a project contract.
This document, in whatever format it may be or what business case it is for, is your project's north star.
It's there to authorize the project and act as a contract around project goals within your organization — it also provides an important reference point as a project changes.
With all the unexpected obstacles and forced pivots that occur when managing a project, it's easy to forget why you're doing what you're doing in the first place. The project charter is the very tool that will bring you back to solid ground and keep you on the right path of shared understanding around project goals and intentions. 
Your project charter is also a barometer for if a project is worth it. While the investment in this project is still low, the charter gives you the perspective to understand if it's not truly aligned with organizational strategy. The project charter will help you ask critical questions, and is your best chance of stopping an inevitable failure before resources are wasted.
How do you write a good project charter?
Consider your project charter a kick-off meeting in a short document format. It should answer any high-level question you, your project team, project sponsor, or key stakeholders would ask in that meeting.
Starting off with the very reason this project is necessary, as you will:
Define the goals and KPIs

Delegate responsibilities to stakeholders

Set a timeline, including phases if necessary

Elect a lead, AKA the project manager
Organizing this information can be tough, but using a template can help.
What to include in your project charter template
What should you include in your project charter to make sure it can be as useful as we described? Let's start by looking at some of the most important metrics and details you will gather during the project initiation phase of the project management life cycle.
Project name:

 Not as obvious as you might think. Try to get as specific and recognizable as possible to avoid confusion. For example, "Mobile Initiative" is a no-go.

Purpose and goals:

What are the pain points that triggered this project? How do you plan on addressing them? And maybe the most critical question is — how will you measure the success of this project?

Budget:

While you'll have a separate detailed budget document, this section should include the overall budget and resources that will be allocated to this project.

Deliverables:

 What product, service, or result will be delivered in order to conclude this project and consider it a success?

Scope:

What is the scope of this project? How far does it extend, and what is the scope of your authority as a project manager?

Risks:

What are the known risks associated with this project? What resources are available to mitigate these risks?

Roles and responsibilities:

Break down the areas of responsibility and list the team members and individuals responsible for each.

Timeline and milestones:

 How is the schedule broken down, and what do you expect to accomplish at each stage of the project?
Depending on the project at hand, there might be other crucial elements you should incorporate into your process in order to provide a complete understanding of the project.
But remember, a project charter is a tool for you to yield  – nothing is set in stone. If there's a metric that is irrelevant or not helpful, it shouldn't be there. 
You can use monday workdocs or our template to get started.
Who is responsible for writing the project charter?
Most automatically assume that the answer is the project manager, and unfortunately, many times, that ends up being the case. But it's not ideal.
The best person to write the project charter is the sponsor because they most likely initiated the project via request or authorization. 
From there, they can create the initial project document and pass it over to the project manager.
While this is too often not the way that things play out, it does not mean that the project managers should stop pushing for it. It's true that execs and VPs often don't have the time or might not see the importance of project charters, and that's precisely why it's up to the project manager to request an adequate charter before starting the process.
What usually happens – and is perfectly fine – is that the project manager will write an outline or even the charter itself, and ask the sponsor to review it. Remember, a project charter is a contract, and you need both sides to sign off on it before you get started. 
monday.com project charter templates 
Luckily,  you're not the first to create a project charter. While every organization is different and every project has its own unique needs, there are still plenty of free project charter templates out there on the web and on project management software you can learn and build from.
It's important to know that not all sample project charter templates will be called project or program charter templates.
For example, you can get started with Project Milestone Template and customize it according to your projects.
You can also use the Project Approvals and Requests Template for information gathering.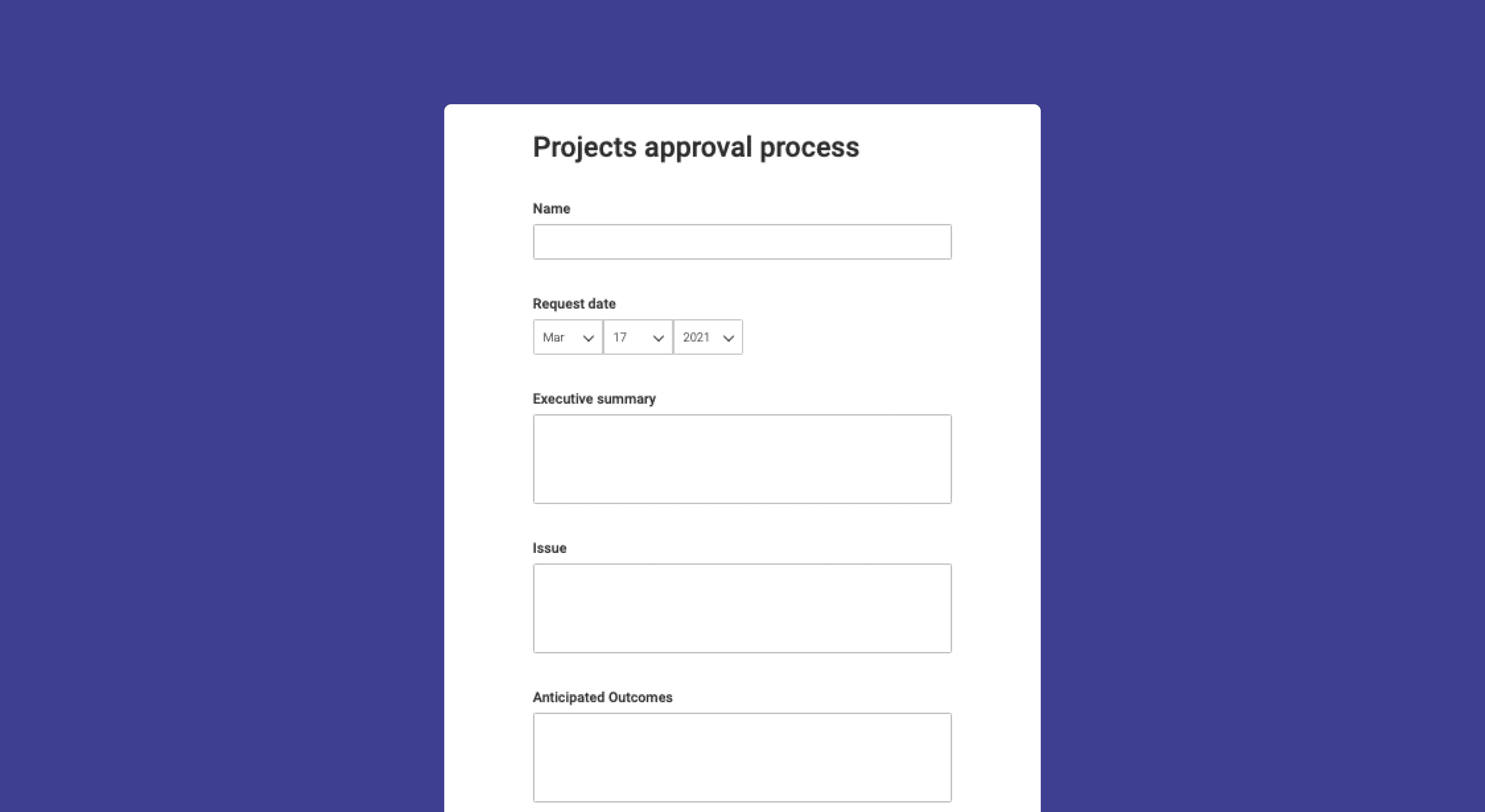 Frequently asked questions about project charters and more
What are the three main parts of a project charter?
As a standard, your project charter should include project objectives, scope, and responsibilities. After approval, you can use this to shape your project plan.
What comes first, the project charter or a WBS?
According to the community on ProjectManagement.com, the project charter comes first. This is because you use it and its details in order to create scope and therefore the work breakdown structure plan.
Does Word have a project charter template?
Word typically offers many different templates that could be used for projects. We prefer and recommend a workdoc — monday workdocs — because it is live, and easier to collaborate in real-time. On monday.com, you can even embed boards into your workdocs and easily share and customize them with many of the features you already love from Word.
Kick-off projects more smoothly with a project charter template
Project management and initiation are often heady endeavors, but using the right tools can help you maximize efficiency and reduce clutter and background noise. Using a project charter template is your first step to proactively changing the way you kick off successful projects.
monday.com work management software has a number of features and templates available for shareable, downloadable, and actional project management functions — you can try them for free today.