Projects have so many moving parts.
There are resources, people, budgets, timelines, deliverables, milestones, reports, and more, all of which need to be taken into account for the project to run smoothly.
In this article, we'll walk you through what a project plan is, why it's important, and the steps you'll need to take to build one that's effective.
What is a project management plan?
A project management plan is a breakdown of the budget, cost baseline, deliverables, schedule, and timeline for the project.
Your plan is typically a formal document that's approved by your project sponsor or client. Depending on your organization, other key stakeholders and C-suite executives might also need to approve it.

The project management plan defines how the project is going to be executed, monitored, and controlled. Having a well-laid-out plan helps ensure that the project will run smoothly.
You'll need to include deliverables and milestones in order to show your stakeholders tangible progress and help sustain team momentum. Speaking of the team, your plan should also have a run-down of who's on the project and what their roles and skills are, so everyone is confident that you have the necessary knowledge and ability to get the work done.
Even with the perfect team in place, you'll inevitably run into some snags. Be sure to include contingency plans for those unexpected issues.
Traditionally, project management plans were huge paper documents. But, thanks to technology, there are now better, more visually appealing ways to create and share your plan.
Take monday.com's high-level project plan template as an example:

With this tool, you can measure progress against your performance measurement baseline, which includes your scope, schedule, and projected costs.
That's why modern project managers use tools like monday.com to document their project management plans.
Why is a project plan important?
A
project plan
is important because it's fundamental in helping guide stakeholders, sponsors, teams, and the project manager through project phases.
When it comes to your next project, your plan of attack determines your success. The better the project plan, the better you're prepared to handle anything that comes your way.
During the planning phase, you create smaller goals within the larger project, making sure each is achievable within the set time frame and within your determined budget.
Did you know that 11.4% of business investments go to waste as a result of poor project planning?
Squash that statistic by making sure your project plan breaks down the larger project into manageable tasks, assembles the right project team, and determines a reasonable schedule.
How to create a project management plan
In order to develop a project management plan, you'll want to rely on project management software that provides you with a project management plan template, so you don't have to start from scratch.
We'll walk through each stage of building a project management plan using monday.com templates to get you organized and ready to launch.
1. Collect project requirements
This is where you define the problem, identify your objectives, and layout your methodology. A lot of this information may already be available in your project charter.
You'll need to collect requirements to meet those goals in an organized manner, in order to help others to understand your vision.
Here, you should include your project goals and objectives. Do you want to reduce employee turnover, increase sales or improve workflow? Or maybe you're building a new office for your company and need to consider location, cost of materials, and labor.
No matter what the project, monday.com's project planning template provides a basis for project managers of all types to collect requirements at the beginning of their project planning phase.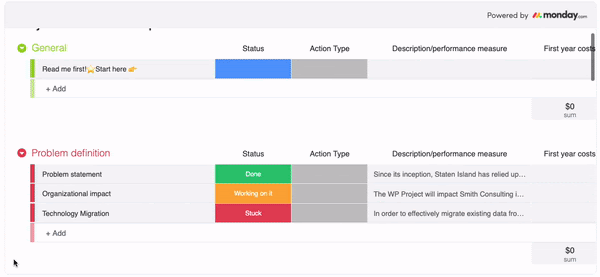 Our template allows you to record your project requirements in one place so you can keep everything in one place. Our customizable interface also allows project manners to easily organize their data the way they prefer.
2. Define scope
How big is your project? You've already defined the issue, possible solutions, and identified goals and objectives. It's time to define your project scope.
Your project's scope is made up of the exact deliverables and milestones you plan to hit along the way. If you were building a house, your milestones might include purchasing the land, finishing the structure frame, adding water and electricity, painting, and design.
Defining the scope of your project is critical to avoiding "scope creep," which is a term used to describe how projects can snowball into bigger projects.
Defining the scope ahead of time empowers project managers to say "no" to additional tasks to stay on schedule. Defining your scope will also help determine team size and reduce work overload.
The monday.com project planning template that we discussed in the previous project plan phase can also be used to define a project's scope.
3. Create a work breakdown structure
The work breakdown structure (WBS) is a tool for project managers to visualize deliverables within a hierarchy based on priority and interdependencies.
Here's one example of how teams use monday.com to create a WBS:
Our WBS template is set up to help project managers determine which tasks or activities need to be accomplished and in what order.
With this template, you can assign tasks, monitor progress, and track expenditures.
It is an overview for project managers to change parameters, view updates, and assess progress throughout all phases of your project.
A WBS is just one type of formal project management documentation, but many find it helpful to place project elements in one place for easy reference.
4. Break your project plan into tasks
Once you've built your WBS, the next step is determining how to divvy up tasks amongst your team members and track their progress.
On monday.com's team task list, you can find a framework for project managers to distribute work.
With this template, you can assign tasks to specific members of your team, monitor accomplishments, and pinpoint shortfalls.
For example, if one team member is stuck on a task, you can easily assign it to another to prevent delays.
5. Develop a timeline
When developing your project plan, you'll want to make sure your timeline is crystal clear.
A project timeline can help you stay on schedule when it comes to accomplishing your goals. So when a project sponsor, stakeholder, or your executive team asks, "When will your project be complete?" you'll have an answer.
Timelines tend to shift during the project life cycle, so include contingencies for unexpected changes.
Your timeline should also include dates for your milestones and deliverables. This also includes dependencies, which are basically your, "first this, then that" tasks, meaning the second task is dependent on the first.
One common way to visualize a project timeline is with a Gantt chart.
However, monday.com also allows teams to track projects by timeline using the customizable project timeline template for a project schedule. This template organizes milestones and deliverables by the due date, so you can easily stick to your project schedule.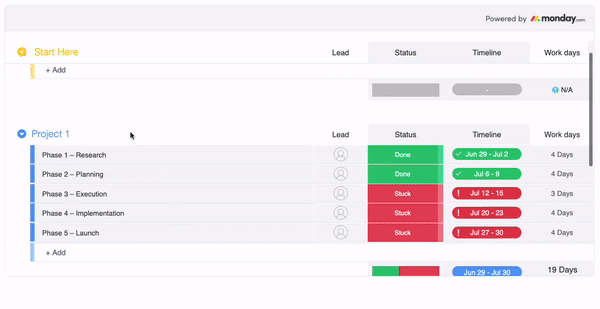 6. Estimate costs and budget
We'll bet that the very next question after, "When will it be done?" is " How much will it cost?"
You'll need to define and document a budget for each project, and you want to make sure it is as accurate as possible.
As with any budget, sometimes there are unforeseen costs. Building contingency funds into your budget allows you to react quickly and with confidence as you move forward.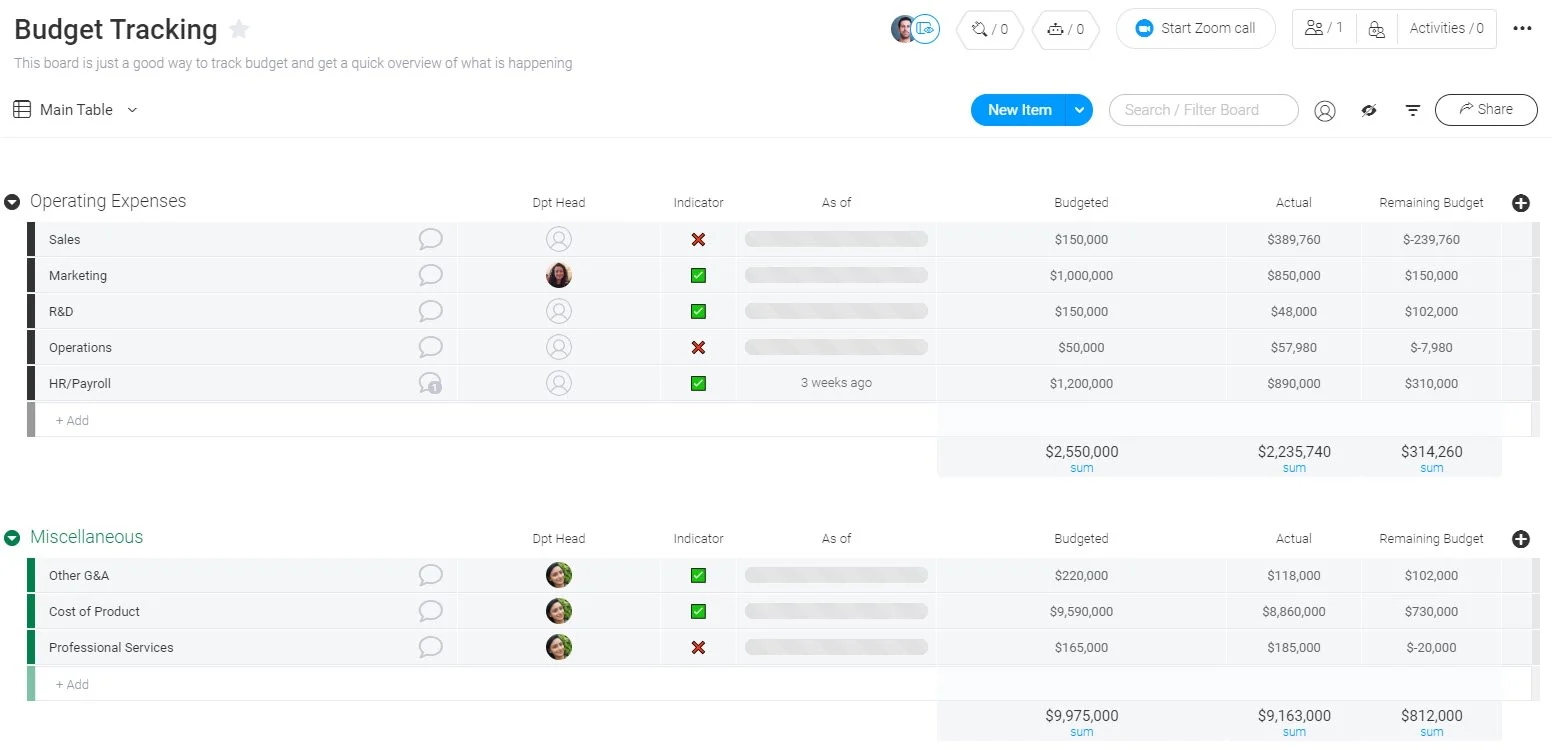 With monday.com's budget tracker, project managers can monitor their expenses as their project progresses. You can use this tracker to budget for every aspect of your project, including marketing, research, materials, hardware, contingencies, and more.
7. Identify risks
During the planning stage, it's important to document any risks. This includes things that might stop a project from meeting it's deadlines, as well as safety risks to employees, or security risks.
Assess ahead of time what potential risks might pop up using monday.com's risk register.
It assists project managers in tracking and managing potential risks and allows you to visually categorize potential risks based on their probability to occur and their impact on the project overall.
Within the risk register, you can assign tasks to assess and react to risks and issues.
All columns and rows within the risk register are customizable, and project managers can easily use this template to dive further into details like the cost of potential risks, the response rate to resolutions, and which projects were completed without any major risks occurring.
8. Allocate resources
Resources include everything needed to complete a project, including people, funds, and technology. However, before you start executing various project tasks in the name of completion, consider how you plan to allocate resources.
With monday.com's customizable project resource allocation template, you can connect team members and tools with specific project-related tasks. Like any other monday.com template, you can reassign, add and re-distribute resources as you go.
Estimate your cost and timeline, while checking task statuses throughout the duration of the project.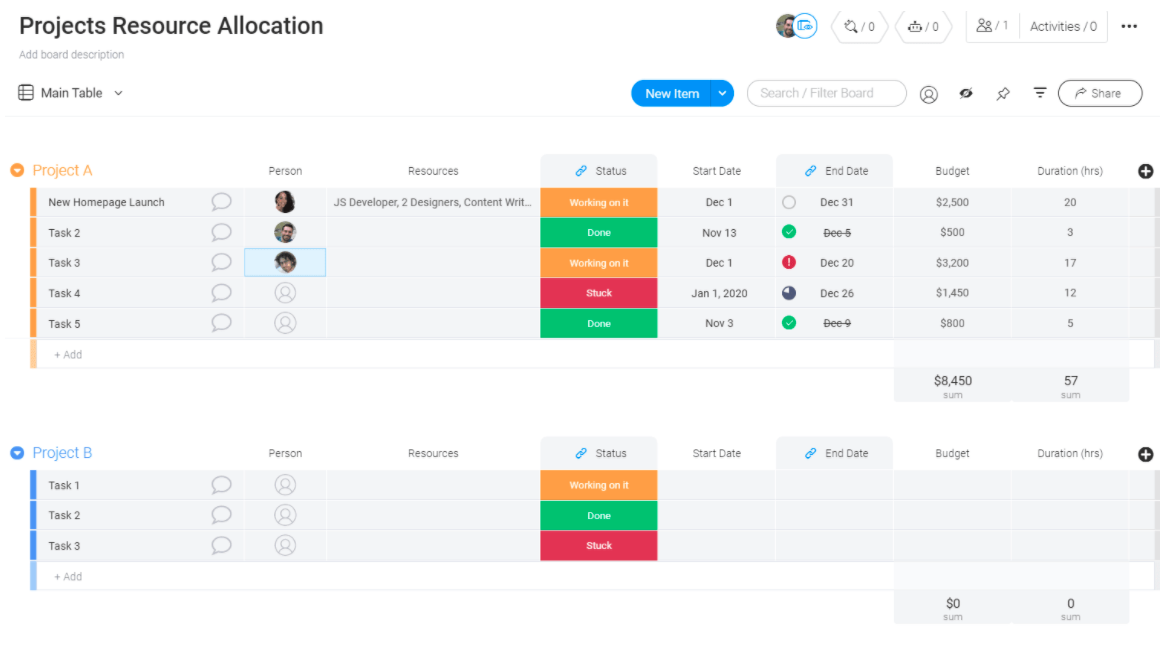 Plan your next project with a customizable platform
Whether you're redesigning your office space, launching a new marketing strategy, or structuring your company's annual goals, you need the right project management solution. It just may be the key to your success — and monday.com could be the answer.
It is a work operating system (Work OS) that allows project managers to customize their project management platforms and project plans for their needs.
Our templates and resources are built with your success in mind. We've got some great features to help you get started and carry you through the execution and completion of your next project.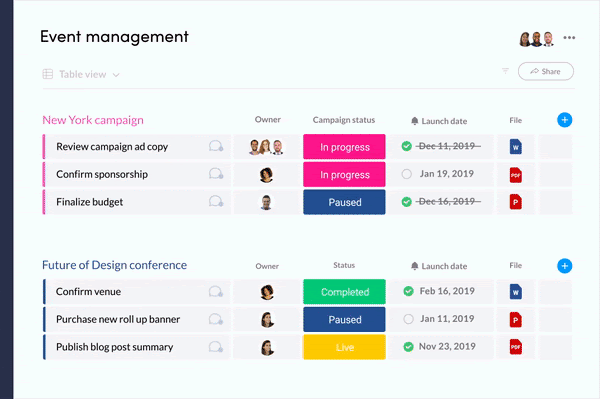 We give you the power to do it your way. You can view projects from multiple views (whichever works for you) with timeline, Gantt, Kanban, calendar, and table view.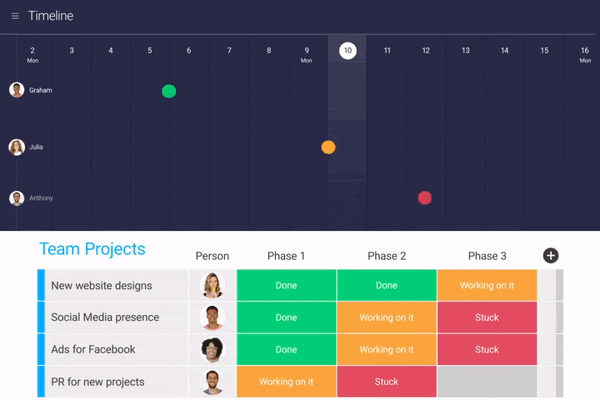 With monday.com, it's easy for you to automate status updates, enable notifications between team members, and assign or adjust workflows.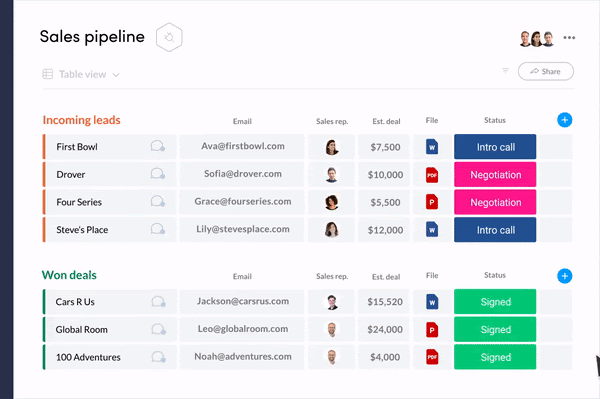 We know you're probably already using a tech stack of tools you love. So, we designed monday.com to integrate with the tools you're already using. This way, project managers can keep data and information in one place, even while teams work separately in their own tools.
Finally, you don't ever have to start from scratch.
Choose from over 200 templates that you can customize to suit your needs. Our templates and resources are intuitive and provide the visual elements that allow you to create, display, adjust, monitor, and react to achieve your project goals.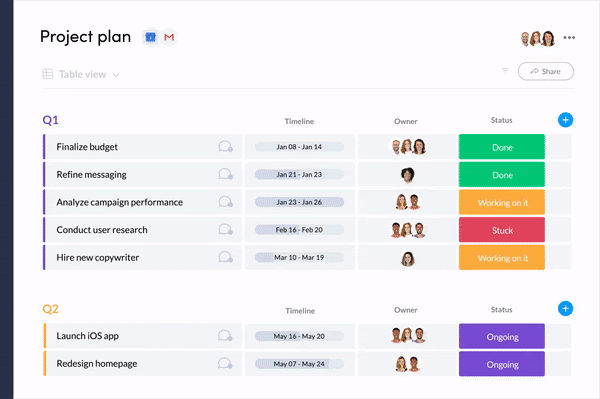 Project planning is the most critical phase of your project
Have you ever heard the saying, "measure twice, cut once"? Double-checking your steps before moving forward helps to avoid mishaps. You need the same care and attention when it comes to project planning.
While plans are important, be flexible, because things will change as you go. Issues of all sizes — large or small — are bound to occur. Build contingency plans into your overall project proposal to address these quickly and efficiently, and share any potential issues with your team and stakeholders so that they're aware.
For a tool that's flexible enough to work with you, check out monday.com. You can get started right now with this project planning template.