The most worthwhile CRMs on the market today are built with work management features that optimize the crucial project management that bridges the gap between sales and marketing departments and other operations.
In this blog, we'll take a look at how marrying project management and CRM can make a huge impact — we'll also give you a snapshot of what monday sales CRM can do.
What is CRM project management?
CRM project management essentially describes the functions and tasks that make customer relationship management run smoothly. CRM in itself involves the actual collecting of customer data and how a team uses it to nurture relationships. CRM project management touches on those in-between initiatives to take CRM to the next level.
This could touch several areas, such as:
Communication
Task assignment
Operations & resource management
Collaboration between sales and marketing teams
Customer feedback management
Planning quarterly targets
File storage
This wide range of needs often leads to teams being either unsatisfied with basic CRMs or requires them to spread data and tasks across multiple platforms — needless to say, it's not the most efficient route to go.
Can a CRM be used for project management?
In short, a CRM is an essential part of the project management that sales, marketing, and customer service teams need to convert data into strategies that make an impact.
By adopting a CRM platform into your project management, you can:
Create strategic alignment between PM teams, sales, and customer service
Allow sales and account managers to see where a project is in the process
Promote quality control by allowing customers to see and approve deliverables (convert relationships into partnerships)
Sharpen your marketing teams with insights about where sales leads and accounts are in the customer journey (develop triggers and personalized content)
See customer activities while working on a project
Bring clients to the software (create tasks, provide notes, etc.)
Execute projects as soon as sales occur
Mine data to improve deliverables
Maintain contact management all in one place
It's important to remember though, not all CRM software is built to be good for project management — if it doesn't allow you to create workflows in the same place you store data, you'll probably have to reach for multiple tools.
With monday sales CRM, any size business can customize the CRM with project management platform to achieve its goals and manage projects while centralizing important customer information.
What are the main features of a good CRM project management software?
There's nothing like having all of your customer and project data on a unified platform, not to mention it can help you avoid the need for potentially complicated integrations to fill in the gaps. Instead, you should shop for CRM with project management software that's flexible, functional, and totally customizable.
So here are the four core features to look for during your search.
1. Real-time data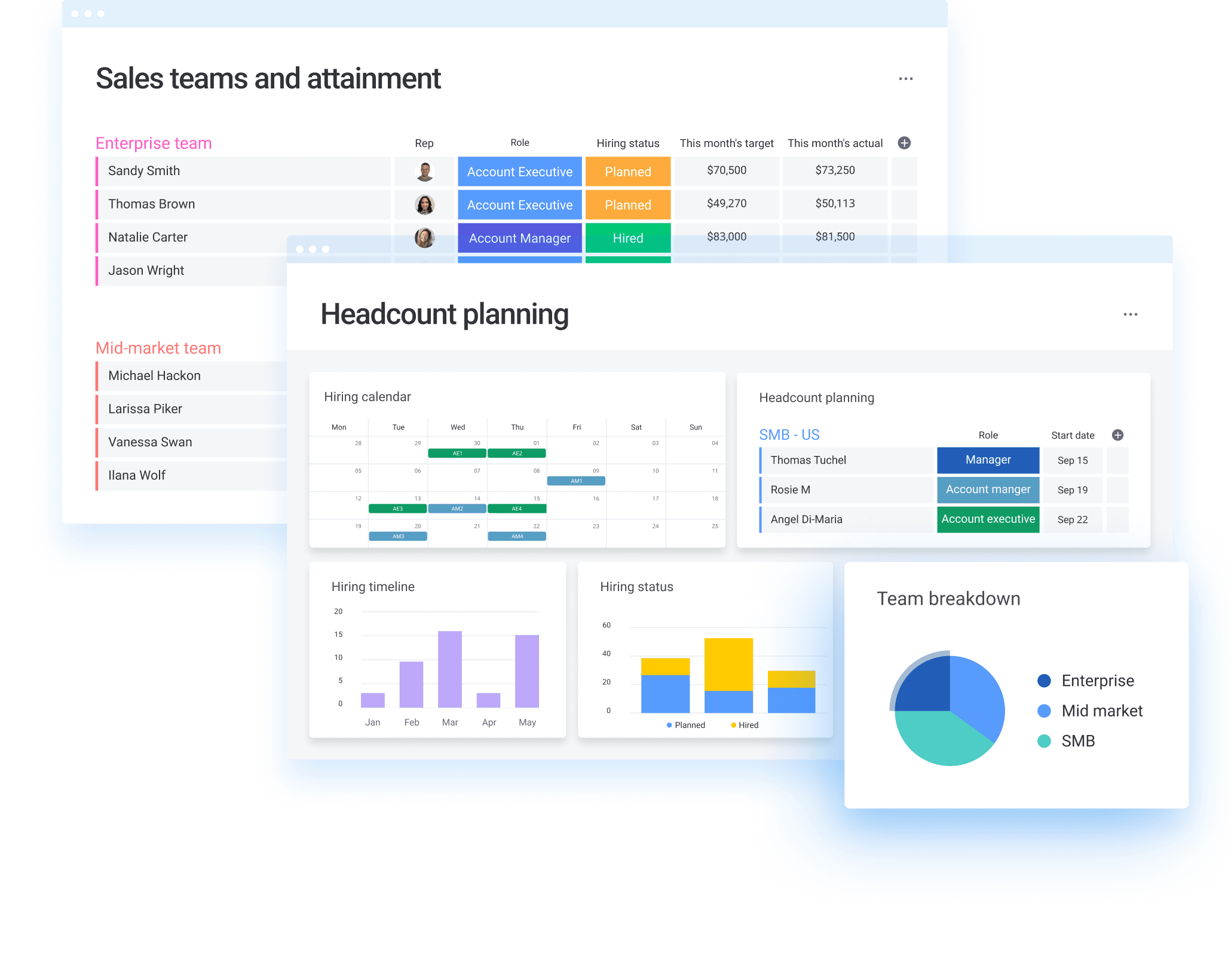 Visual project management is an invaluable feature for a good CRM. On monday sales CRM, you can see everything from deal name, which rep is assigned, deal size, and status in one glance. You can manage leads or sales operations with multiple views like timelines, calendars, dashboards, and Gantt chart.
2. Third-party integrations & apps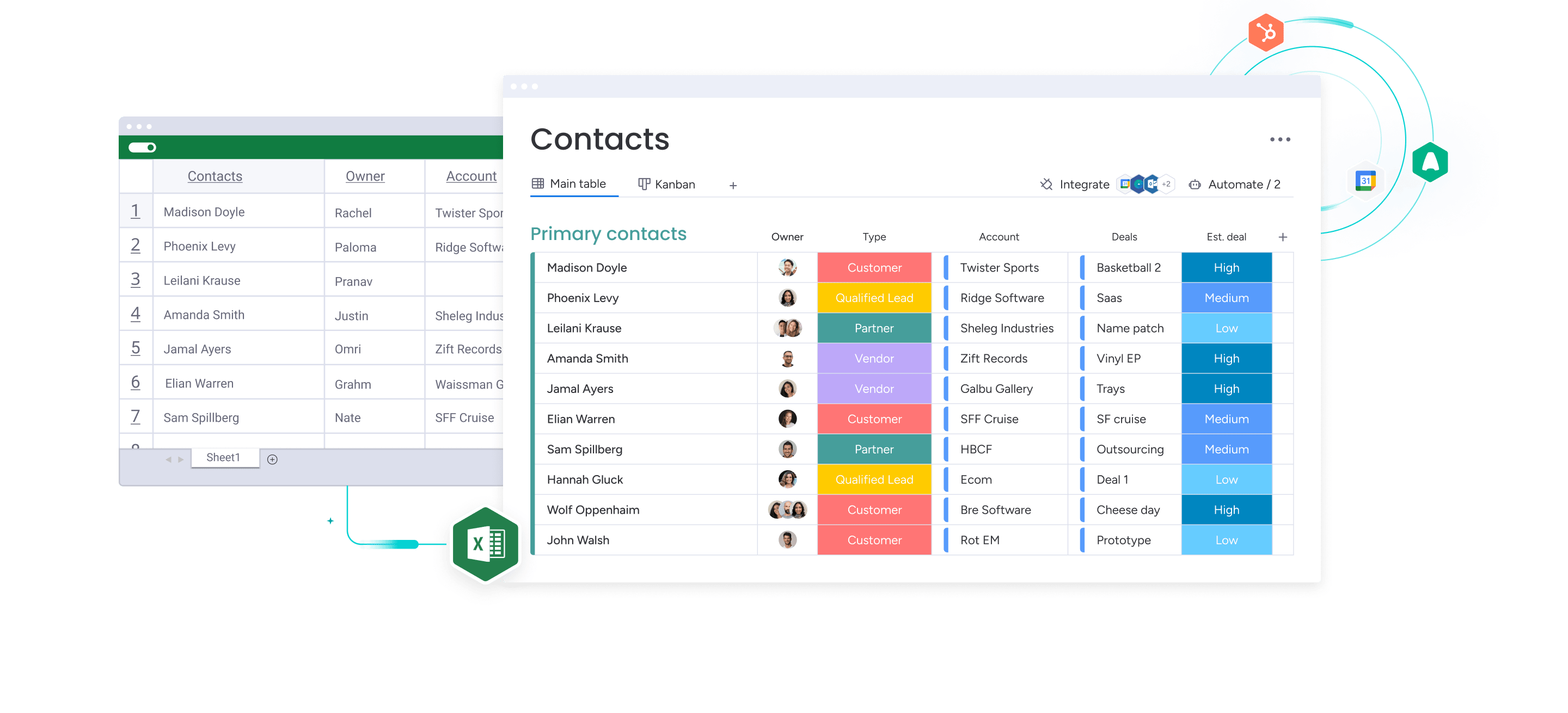 Project management within CRM should make it easy to incorporate the tools and apps you need. monday sales CRM integrates with so many tools without the need for switching tabs, like:
Salesforce
Google suite
Excel
Docusign
PandaDoc
3. Lead management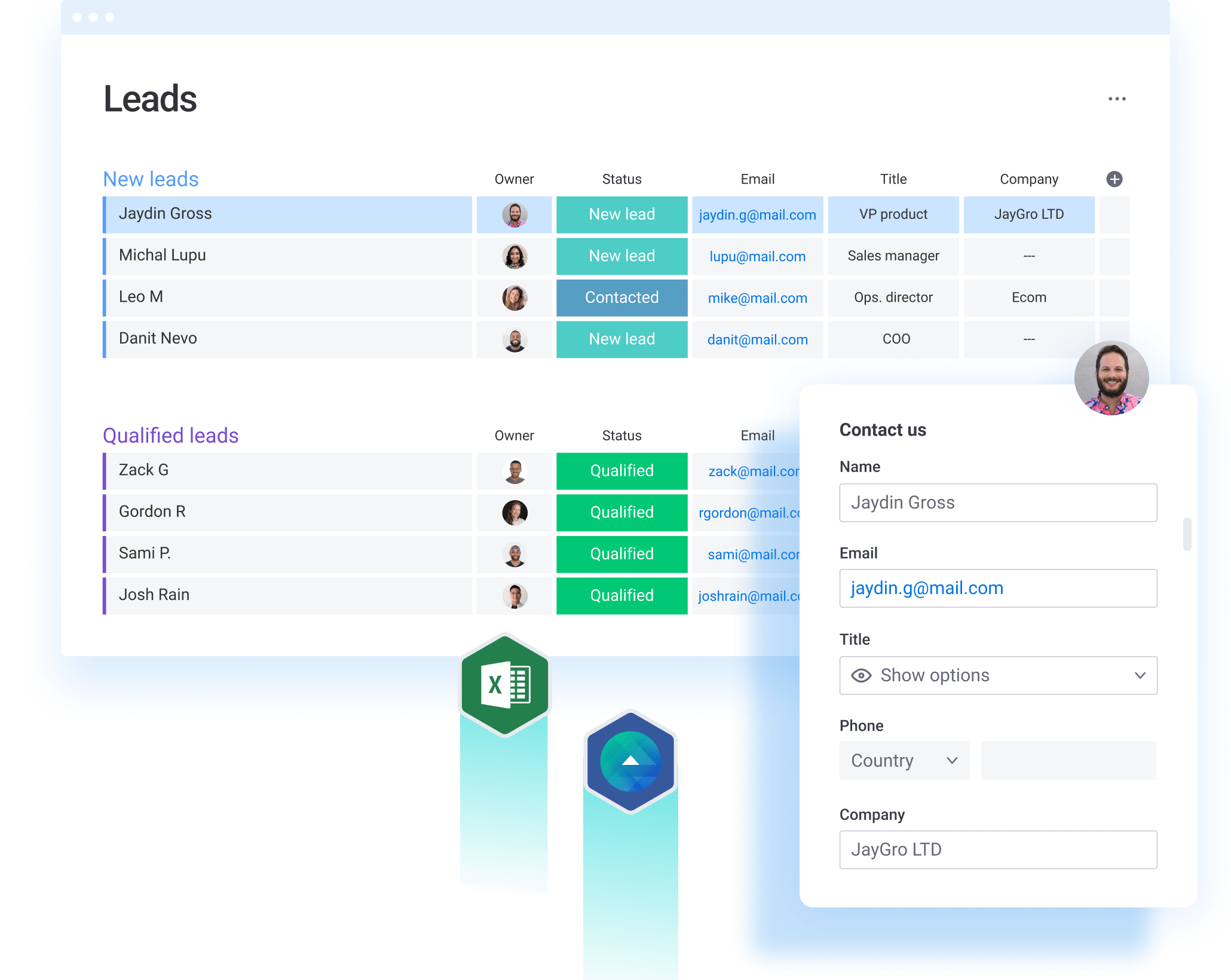 The CRM software you use should as a base allow you to collect leads from any source and then qualify and score leads based on custom criteria. monday sales CRM makes it simple to import data from other sources and update the entries in real time.
4. Workflow automations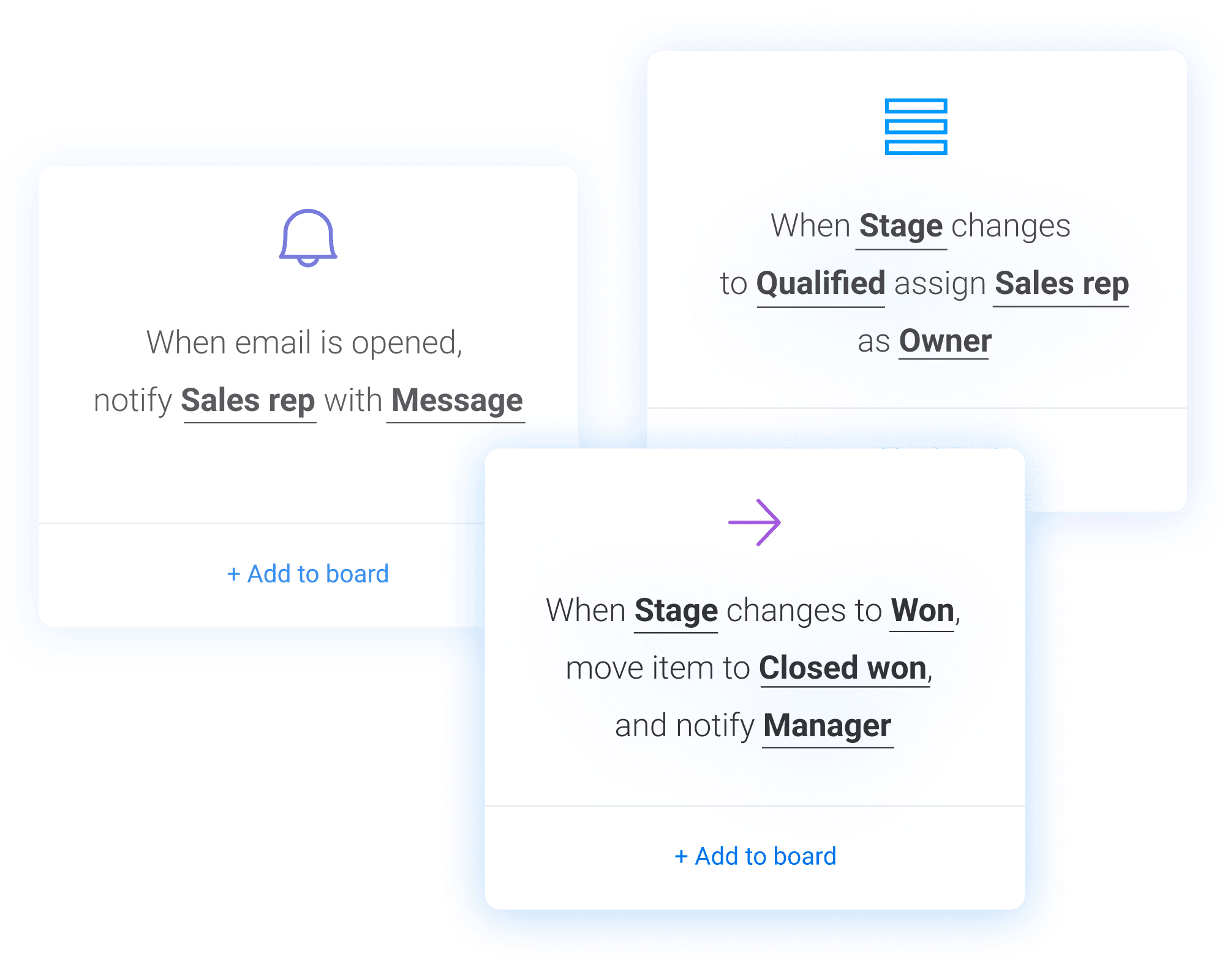 Workflow automations are the difference between a basic CRM and a good CRM with project management. Speeding up communication — and avoiding redundancies — can boost your teams' productivity and efficiency.
What are the differences between a CRM and project management software?
There are tools designed specifically for customer relationship management and those designed for project management. You can use the two together to improve collaboration and customer satisfaction.
But how do they differ? You can also read about the difference between monday work management and monday sales CRM on our blog.
The purpose of CRM platforms is to collect data about customers, such as their contact information, conversation history, and purchase history. Here you can see that monday sales CRM gives anyone a detailed snapshot of customer data and interactions.
Project management software is designed to help team leaders reach company goals. This includes delegating tasks, overseeing progress, and reviewing analytics reports.
Features
CRM software's primary features might include:
Mass emailing and templates
Leaderboards
Lead capture forms
Sales pipeline builders
PM platforms might have the following features to improve project outcomes and support the people executing them:
File storage
Time tracking
Task assignment
Project timelines and charter templates
Use cases
Here's an overview of the use cases for CRM tools:
Here's a look at the use cases for project management tools:
Product planning and strategy
Event management
Inventory management
Business process management
Agile software development
Issue/bug tracking
Product roadmapping
Sprint planning
Cross-team collaboration
Advantages
CRMs have a very specific focus, which can be good for a small team or very straightforward needs. Project management software has the advantage that its functions can be spread across teams and activities.
With monday sales CRM, you don't have to choose one over the other — your sales, marketing, and operations teams can work on the same platform and create customized boards and workspaces to manage their work.
What are the pros and cons of combining CRM and project management
Let's quickly sum up some benefits of a CRM project management approach:
Better data management with everything in one place
Improved deliverables, i.e. the people creating a product or service can also see customer feedback
Time and money saved on using one tool and reducing time spent on inefficient communication
Cross-department alignment with access for everyone
Combining CRM and project management also requires thoughtful research, training, and transition to avoid:
Timeline conflicts
Information gaps
Unorganized onboarding
Loss of important data
Pricey all-in-one solutions
Frequently asked questions
How does a CRM help with project management?
A CRM helps with project management by giving context and data that is useful to nurture customer relationships. It makes it easy to pull contact information and other important historical data like meeting notes, potential deal size, and more to make it easy to understand things like what emails to send and who should work with that lead.
What is the best CRM with project management?
Here are a few of the top CRMs with project management:
monday sales CRM
Asana
Houzz Pro
Canopy
What should you consider when switching to CRM project management software?
You should consider your team size, the ease of onboarding, and most-needed features. For example, you wouldn't want to choose a CRM project management software that doesn't have automations or the ability to quickly filter and pull reports on customers. You would want to reach for a tool with customizations that make the tool a perfect fit for your team, like integrations and custom labels.
Pack a cross-team collaboration punch with CRM project management
By combining a collaborative CRM with project management, you can create a system that's functional for teams across your organization. If you're looking to eliminate silos and make data accessible to those who need it, then you need a holistic system.