3 ridiculously simple steps to skyrocket your team's productivity
Hi! I'm Effie, a Customer Success Manager here at monday.com. I'm here to give you actionable tips and tricks to ease the work challenges you face every day.
I know time management is a huge issue for many people, so I'm going to show you a straightforward solution that will transform the way you and your team work together. You'll be more focused, your productivity will skyrocket, and you'll all be a lot happier working together. It might sound like a tall order, but it's actually pretty simple. I'll share with you the best practices that we've learned from thousands of super successful teams.
A little bit about me: I'm originally from the Bronx, I bake amazing desserts, and I have a very weird glitter phobia (don't ask). Now let's dive in!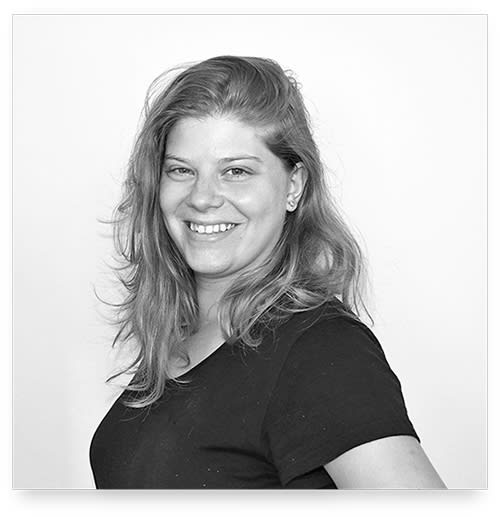 The secret to success: Manage the week
We've written a bit in the past about why you should manage your time by the week, but I'll say it again:
You'll get the best results if you focus on what you want to achieve as a team each week.
Concentrating on what you can achieve in a single week gives everyone achievable goals. It also creates a sense of urgency and forces your team to make smart decisions to reach your goals. And perhaps most importantly, it gives you the incredible feeling of accomplishment when you can mark things as "done" and see the whole week turn green. This boosts your motivation to start the next week fresh and tackle a new set of goals.
It might sound kind of obvious or overly simplistic, but you'd be surprised to know that many teams don't work this way. A lot of people instead focus on projects and all the tasks, subtasks, and sub-subtasks required to execute that project. This can span over several weeks or even months.
After speaking with hundreds of managers and teams, we found that this approach to project management is usually ineffective. You lose sight of the big picture (See: Hey Gantt Charts—My Mama Don't Like You and She Likes Everyone) and people generally work more slowly. Although subtasks are a great way for everyone to focus on details, they'll ultimately kill your productivity. You don't want that.
There's a better way! In this post, I'm going to show you exactly how to create a Weekly Task board for your team. There are a million ways to customize it to serve your exact needs, but if you follow this general structure, you'll be off to an incredible start.
What's a weekly task board?
Let's start with the basics. What's a board? It's a virtual whiteboard that organizes whatever you're working on. Within a board, you can create groups of things you're working on, and within each group, there's the list of individual tasks or action items, which we call pulses.
You can create a board to manage just about anything, but I think that the simplest and most powerful board you can create is a Weekly Task Board.
Just list out everything your team is going to achieve that week. Be realistic, but ambitious, and get it done. When there's a new week? Create a new group and start a new list. That's it!
If you're just signing up to try monday.com for free, you'll see that we've provided a sample board for you called "Team Tasks." We already created two groups for you: "This week" and "Next week." Simple, right?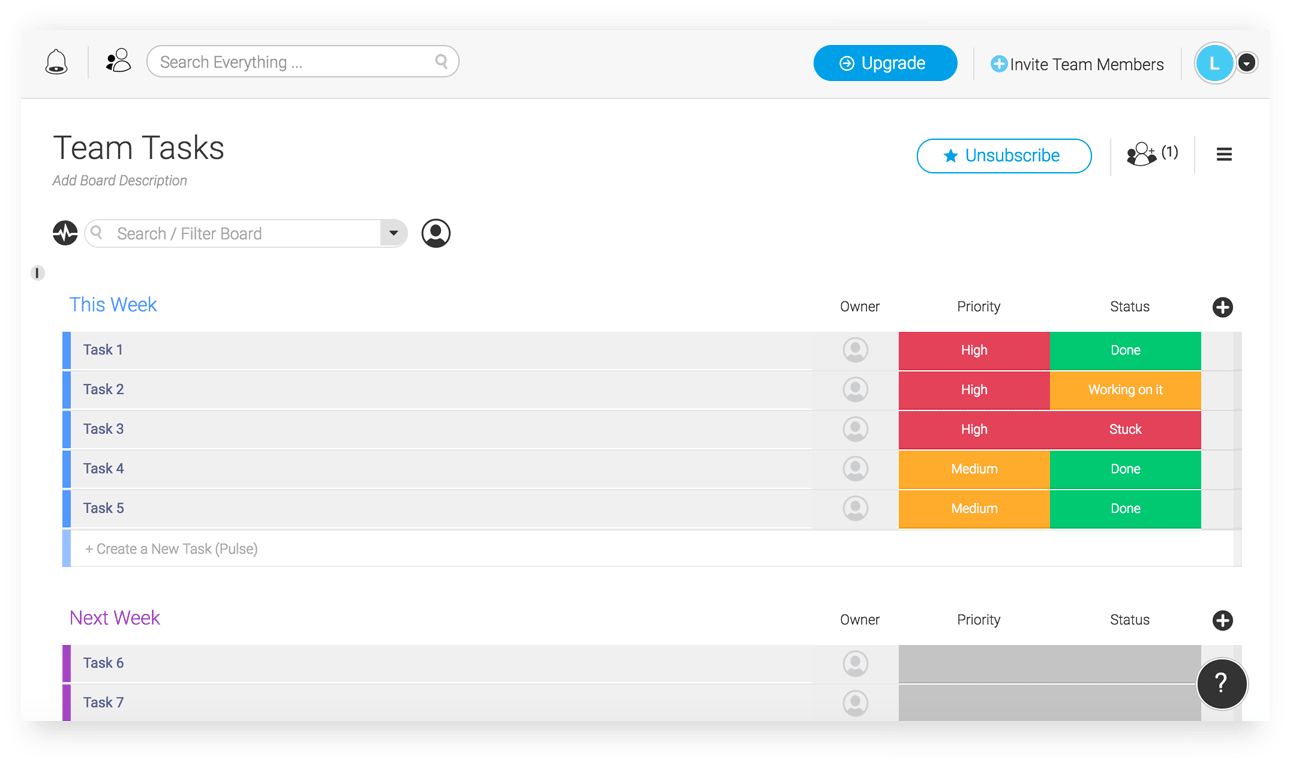 How to customize your board with confidence
The next step is to understand your column choices, which is how you'll customize your board to suit your exact needs. monday.com is simple but infinitely customizable, and I want you to be one with the columns you choose.
There are six different types of columns in monday.com: status, text, person, numbers, date, and timeline.
I work with a lot of customers who who aren't exactly sure which columns to choose, and guess what? The good news is, it's pretty intuitive, and you can't really go wrong. But I'm here to help you choose your columns with confidence and really own that decision.
Understanding columns is one of the most empowering things you can do, because once you get it, you'll really crack the deeper meaning and unlimited potential of monday.com. It'll be like that moment when Neo finally becomes superhuman in The Matrix.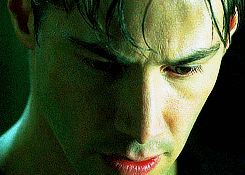 Step 1: Add a person column
Essentials first. You need to know what everyone on your team is working on. In the Team Tasks example we provided, you'll see we already added a person column for you. That's where you can assign tasks to individual people on your team. Then, in a glance, you can see who's responsible for what that week. It's super helpful.
It's also an incredibly simple but powerful way to boost people's motivation and morale. Each person is given total ownership over the task they're responsible for, and they feel a sense of pride when they mark the task as "done."
Step 2: Add a status column (or two)
We've also already added two status columns for you. One we kept as a plain old status column, which by default has the labels "Working on it," "Stuck," and "Done," and the other one we customized to be a "Priority" column so you can easily see the importance of a specific task.
So, why use a status column? My favorite reason: it brings color to the board. Everyone can work more effectively when you can visually see where things stand. It also makes selection super easy; there's no need to manually write in a status or priority. It's as if you're printing labels in advance that you can just quickly stick on to a task and let everyone know what's going on.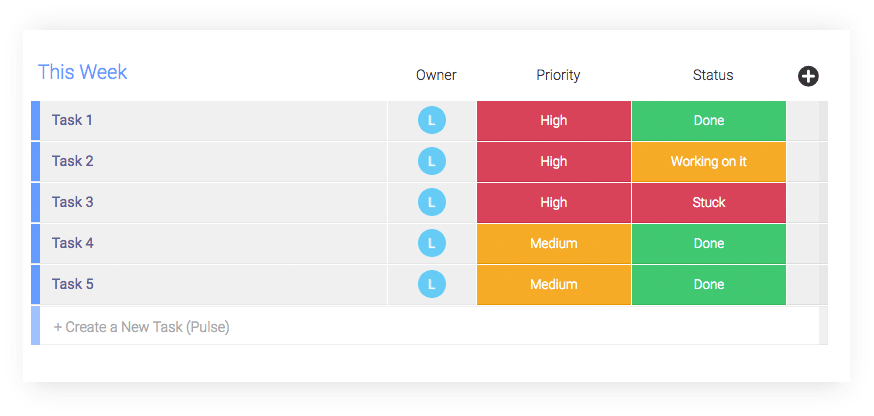 With 11 different color options, you can customize the labels to say whatever you want. We use green to signify "done," because there's no better feeling than seeing your whole week turn green.
However, sometimes the status column just doesn't cut it. Maybe you need more than 11 options. Or maybe you need to convey information that defies easy labeling. You need more "free text," or you want to link other information. This is when the text column comes in. I wouldn't use this column for long text, but it is perfect for a few words or a link. We even offer some cool emojis to add to the text! 🙂 The text column offers a lot of flexibility, making it a better pick sometimes.
Step 3: Add a date and/or timeline column
The next important step is to give yourself a deadline or visualize the timeframe in which you'll achieve your weekly tasks. That's critical to meeting your deadlines. So what's the difference between a date column and the timeline?
Think of the date column as one fixed date, such as your final deadline. The date column is the only column you can currently sync with your calendar, so pick that date wisely. I often recommend using the date column as your final deadline; it's not flexible.
The timeline is an amazing and more flexible way to manage your time visually. We made it possible to visualize how long a particular task is going to take you, and how it fits into the greater context of what everyone else is working on. It helps you plan and gives you a great understanding of when each task will be worked on. It also makes it really easy to see your whole team's bandwidth. Unlike the date column, the timeline gives you a range, from beginning to end. It's fluid and really allows you to plan for the future and meet your deadline. Click here to learn more about the timeline!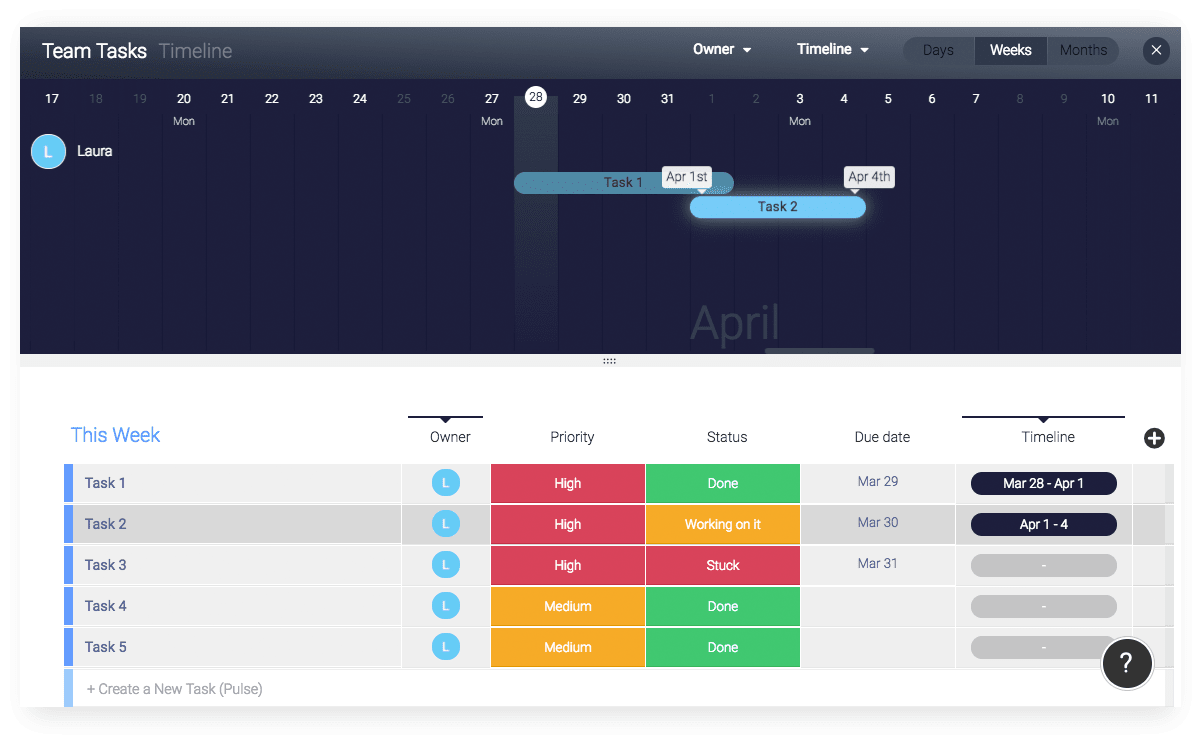 And that's it! That's all you need to be really, ridiculously, insanely productive as a team. Many teams find that marking tasks as "done" turns into a kind of gamification, where it becomes strangely addictive to turn things green.
Let me know how it goes with your column choices, and remember, we're always here for you if you need anything. Take care, and until next time!