monday reviews is our latest blog series where we provide the facts about different project management tools—no BS and no hyperbole needed. Keep scrolling for our analysis and to learn more about all the project management tools out there. Enjoy! 
Whether you're a sole freelancer working on a number of projects, or a full-time project manager with a distributed team responsible for individual tasks, you need a solid work management software solution.
It's can definitely be tough to decide which will be the best for you and your team, given the hundreds of options out there.
In this blog we'll go into details about OmniFocus, and what a strong alternative is so you can rest assured you're making the best decision for you and your team.
What is OmniFocus?
OmniFocus is part of OmniGroup's suite of software solutions. It's a task management software designed to help team members complete everything they have on their to do list.
It's distinct from OmniGroup's other products: OmniPlan, which is for project planning, OmniOutliner, which helps you outline and organize big ideas, and OmniGraffle, which is for, umm, graffles? (It's a visual graph-building tool).
OmniFocus has desktop and mobile apps, features a sleek dark gray theme, and offers a variety of task management features.
What kind of features, you say?
Glad you asked. Here are some of the highlights:
Smart integrations with your MacOS and iOS notifications systems, so you never miss anything
Ability to group and sort tasks that should stick together
Automated weekly reviews
Keyboard shortcuts for adding tasks
User can share tasks from within any app
Forecast function shows you what's coming up for the next few days, giving you a look ahead
It's worth noting that OmniFocus only has apps for macOS/OS X and iOS users. Android or Windows taskers will need to use the web interface.
So, if you are an Android addict, you might be looking for an alternative that offers a mobile app, we get it!
What are some good alternatives to OmniFocus?
There are a number of great alternatives to OmniFocus, many of which offer similar features like task listing.
Some tools are a bit more basic and easier to grasp. Given that OmniFocus is a task management tool (no project planning and management functionality), there are also a number of tools that have a stronger capability set.
The one we use is monday.com, but of course!
What is monday.com?
monday.com is your all-in-one Work OS (Work Operating System), combining work management, project planning, and
team collaboration
in a single, visually engaging platform.
Users have access to all kinds of smart automations that reduce the need for manual grunt work or remembering due dates, as well as over 70 intuitive integrations that keep you using all of your favorite tools without the fuss.
Other monday.com features include:
Multiple project views with split-screen mode
Individual sharing permissions for collaborating with freelancers and external stakeholders
Color-coding
Drag-and-drop functionality
Customizable columns
Apps for Android and iOS
Smart search functions
If you're weighing monday.com and OmniFocus against one another, you're probably going to want to know some of the key differences.
Let's take a look:
What are the differences between monday.com and OmniFocus?
To start, OmniFocus does not come with convenient features like graphic presentations, Gantt charts, or the ability to keep tabs on selected tasks and subtasks from start to finish.
For example, if you want to actually input the time that was spent on every project and view it on a Gantt chart, you would not be able to do so using OmniFocus.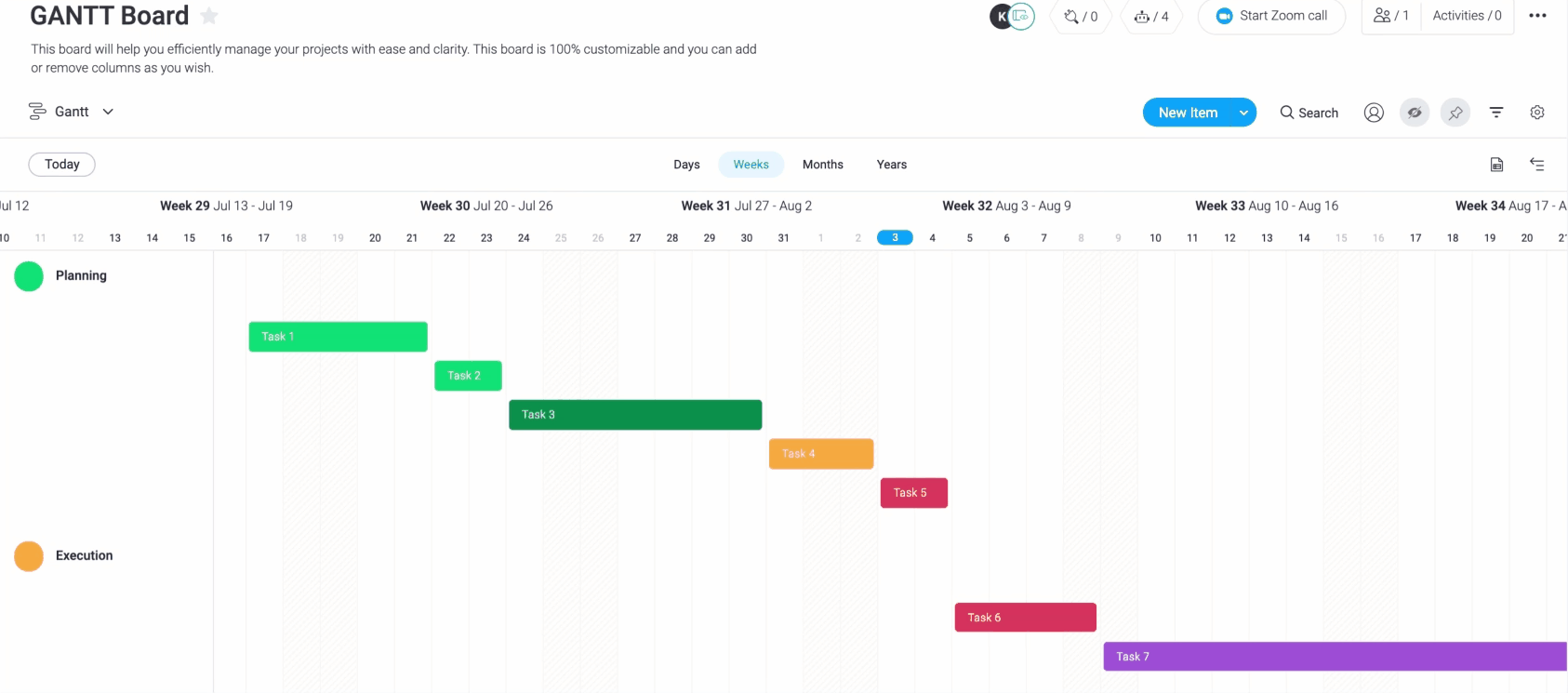 monday.com has a fully-fledged app for both iOS and Android users, whereas OmniFocus is really designed for Apple users.
Where OmniGroup has a number of different apps (OmniFocus being one of them), monday.com is a fully integrated Work OS with everything you need for both project and work management in one central platform.
In terms of design, OmniFocus is a list-based tool, which may suit some users looking for a simple approach to ticking off tasks. monday.com, on the other hand offers multiple ways to visualize your data, including Tables, Calendar, and Kanban boards.
OmniFocus does allow you to add tags to each of your to-dos, but they are text-based only.
With monday.com, users can color-code tags and columns, and even add a People column which will show the assignees' profile pictures, making it easy to see who is responsible for what, and keeping projects people-focused.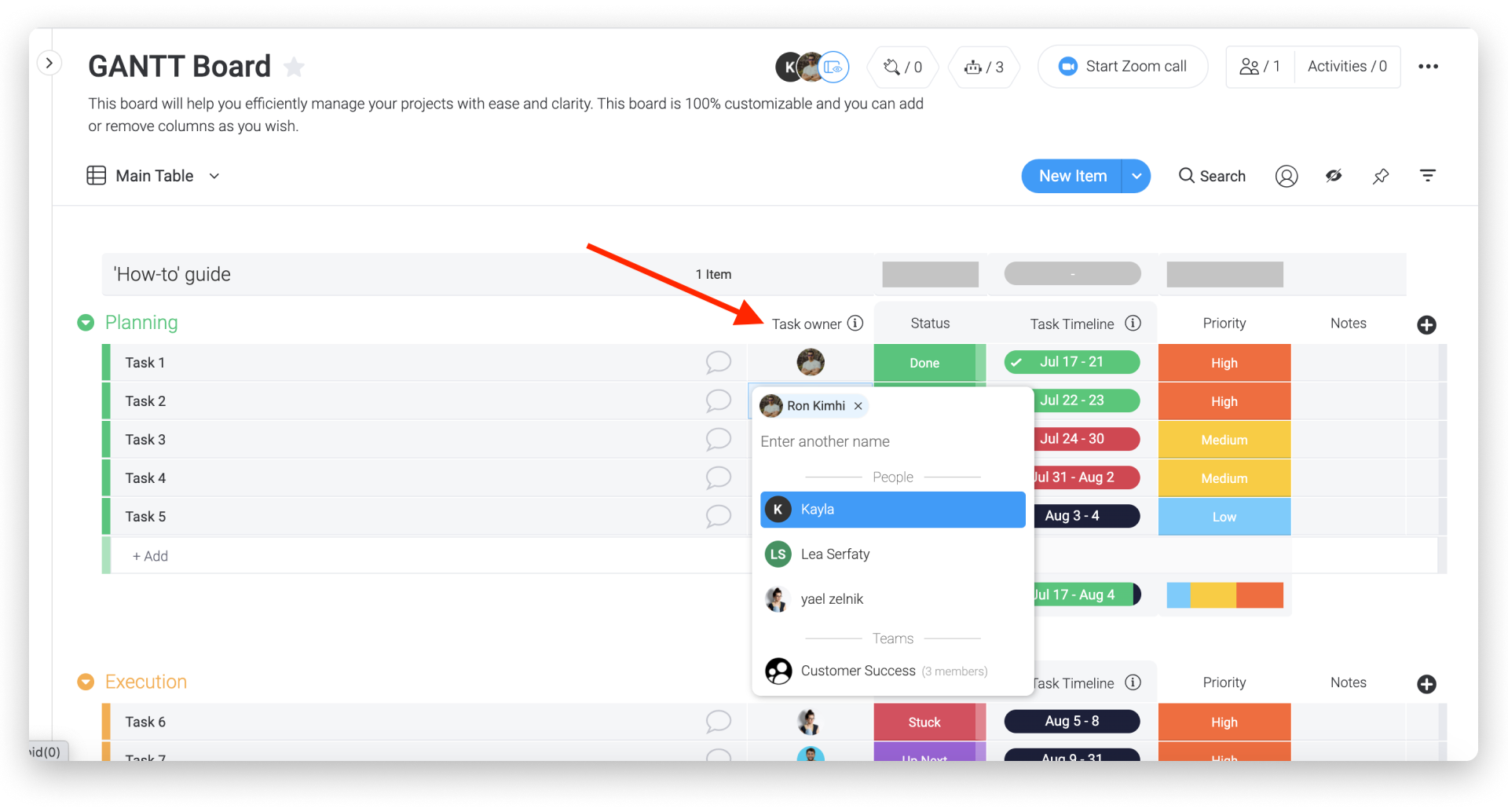 Get started with the right OmniFocus alternative for you
So, it's time to answer the question:
Is a task management app like OmniFocus right for you?
Or do you need a more capable solution, one with multiple views, project planning and reporting capabilities, and more than just a Mac app?
If you're in the latter camp, then check out monday.com.
You can even start simple with our weekly to-do list template.