Gantt charts have become a project management staple.
Their long history means the methodology is well-established.
It also means there is an abundance of software platforms out there with Gantt chart capabilities, which raises the question: which Gantt chart software is the best one for managing your projects?
We're here to make things easy for you.
In this article, you'll find a breakdown of 14 different Gantt chart software providers, including the key features and pricing of each (some are free!), so you'll have all of the information you need to decide which software is best for your team.
A primer: what is a Gantt chart, and what's it used for?
Gantt charts are primarily used for project planning and scheduling, and to help project managers understand a project's time requirements and scope.
They're useful for simplifying complex projects and displaying collaborators and task owners in a single timeline-based view.
Here's a simple example of a Gantt chart: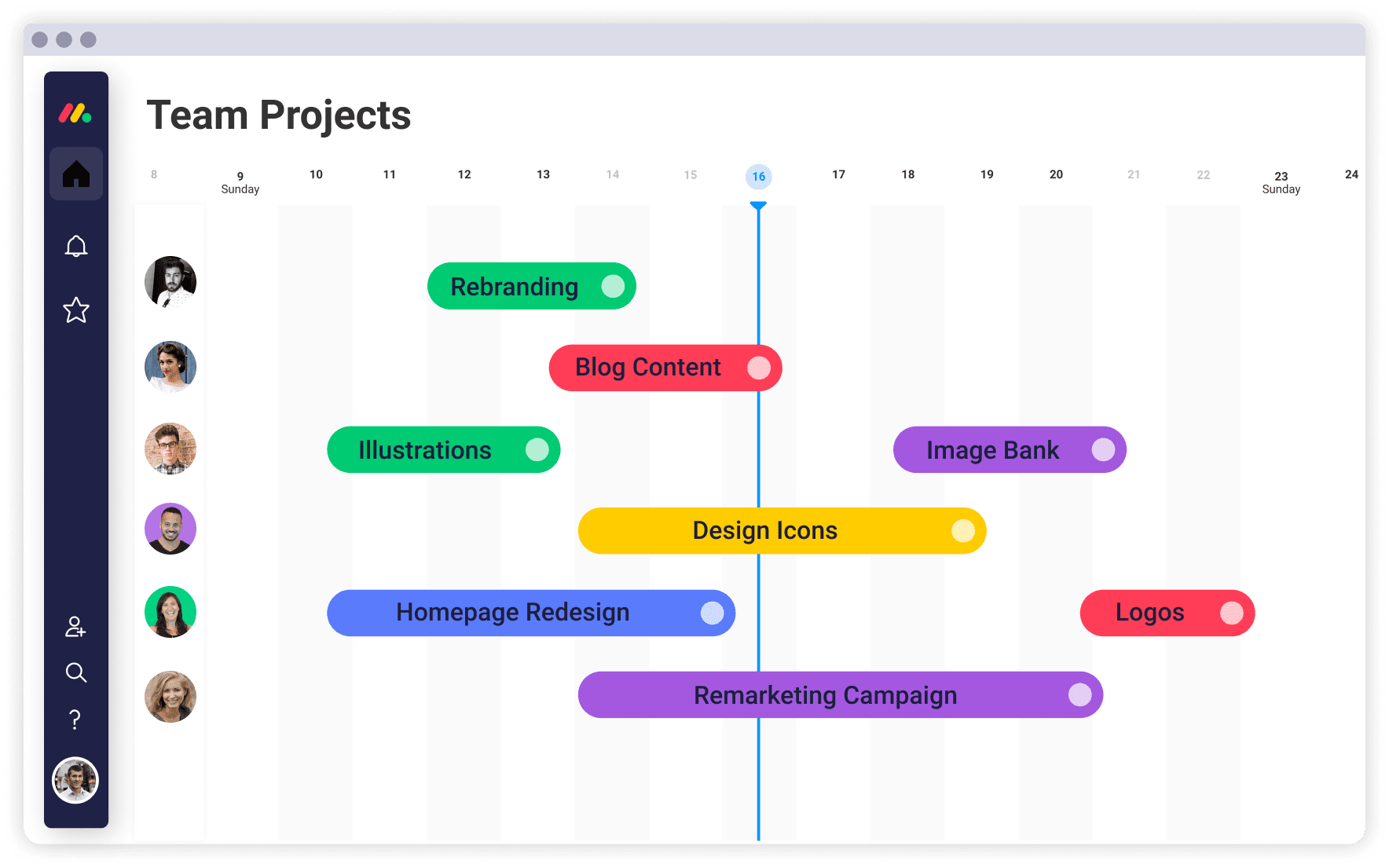 As you can see in the illustration above, Gantt charts often use color coding and icons or images to represent or assign tasks.
A key feature of Gantt charts is that they are timeline-based, meaning you can see at a glance how long a project and all of the tasks it includes is expected to take.
This helps project managers plan resources, set task due dates and task dependencies, and track actual progress against expectations.
For a complete guide to Gantt charts, including a history, their key components, use cases, and alternatives, check out the aptly named blog post, "Everything You Want to Know About Gantt Charts."
Poor
project
performance means business investments are going down the drain. It's clear that finding smarter ways to manage projects (and people) must be at the top of any PM's list.
Speaking of lists, we've got one for you right here: 14 great Gantt chart software platforms, so you can choose the best one for your next project.
Gantt chart software: 14 tools for project managers
1. monday.com
We're not afraid of a little shameless self-promotion if it will help teams get their work done.
monday.com is a Work OS designed to give project managers and teams the tools they need to succeed.

And yes, you can use it to create Gantt charts.
Creating Gantt charts with monday.com is simple and engaging, and easy to put to use within minutes. It's also compatible with Mac, PC, iPhone and Android devices.
To build Gantt charts on monday.com, you'll use our dynamic Table view to create all the necessary fields. This allows you to visualize your project in several different ways, including Gantt, Timeline, Kanban Board, and Calendar.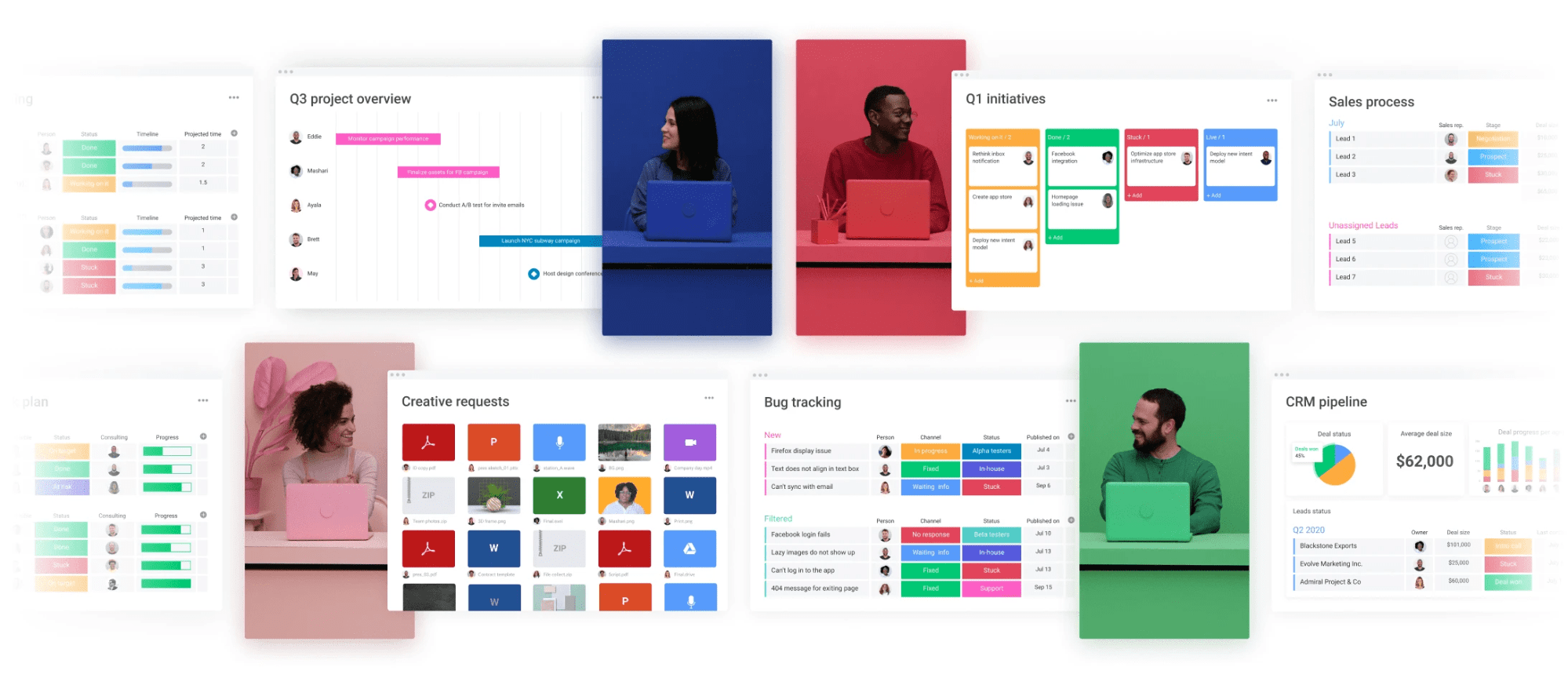 Features:
Project management features in monday.com include a range of integrations with your favorite tools, smart workflow automation, and a whole host of ready-made apps. The platform is completely customizable, which gives your team the freedom and flexibility to cover all of your project's unique needs. We also provide more than 200 ready-made project management templates, so your team can get up and running fast.
Pricing:
monday.com offers 4 tiers of pricing: Basic, Standard, Pro, and Enterprise, with pricing modified based on how many seats you need and whether you want to pay annually or monthly. Check out our pricing page  to discover the perfect plan for your team and wallet.
2. Gantter
Gantter is a tool for creating Gantt charts with a range of Google integrations. This platform is a solid choice for teams that already have deeply embedded workflows using Google Docs and Sheets.
Features:
Gantter has a user interface that is very similar to Google products. This makes it feel familiar. It includes cost tracking, resource management, and analytics tools.
Pricing:
There are 3 versions of Gantter: Gantter Cloud, Gantter for Google Drive, and Gantter for G Suite, all of which clock in at $5/user, per month.
3. Instagantt
Built for Gantt, Instagantt is an interactive project management and Gantt chart software.
Features:
Instagantt incorporates a number of visual features, such as the ability to drag and drop tasks or click and expand task timeframes.
Task dependencies can be set by clicking and dragging an arrow from one task to another. You'll also find a range of collaboration features, such as assignees, task-based chat boards, and the ability to tag team members in comments.
Pricing:
A subscription to Instagantt costs $7 a month for a single user, or $5/user, per month, for teams.
4. WORKetc
A CRM, project management, team collaboration, and online Gantt chart software, WORKetc is designed to help remote teams more easily manage work.
Features:
Teams can house customer data and build sales processes in WORKetc, create Gantt charts with document and contact attachments, and generate invoices directly within the platform.
There's also functionality for support teams with web forms and help ticket management.
Pricing:
This one is more expensive than many of its competitors! For teams of up to 2, WORKetc's Starter plan costs $78 per month.
Small teams can upgrade to the Team plan at $195 per month (for 3 users), plus $49 per month per additional user.
The Foundations plan costs $395 per month (plus $49 per month for each user beyond the 3 included) and provides higher contact and storage database limits.
5. Meisterplan
Meisterplan is a project management tool and online Gantt chart software designed to speed up workflows and project delivery.
Features:
One of Meisterplan's key features is its ability to help portfolio project managers juggling multiple projects to determine whether they have the capacity to add new projects to their current workload. We also have a workload feature, just saying 😉
It also comes with a suite of reporting and analytics tools, as well as resource management capabilities.
Pricing:
Pricing is based on the number of resources (people) you manage, starting at $349 per month for up to 25 resources.
6. Apptivo
On top of building Gantt charts, Apptivo offers a suite of CRM and project management apps.
Apptivo's Projects app supports online Gantt chart creation, which can integrate with other Apptivo apps if you're using them.
Features:
Using the Projects app, project managers can access time tracking tools and utilize customizable views, like the Gantt view.
Pricing:
Apptivo's Starter plan (up to 3 users) is free, with paid plans costing $10/user per month for their Premium plan and $25/user per month for their Ultimate plan. There is also a custom-built option for Enterprise-tier companies.
7. PlanHammer
PlanHammer is somewhat of a hybrid project management/Gantt chart tool, fusing high-level project planning and reporting with downstream work management and communications features.
It's designed to bring together traditional project management and Agile work approaches.
Features:
PlanHammer is great for those who like to braindump information into a platform, and come back later to plan it out more efficiently, thanks to its progressive elaboration architecture.
That platform also has advanced data import and export functionality, as well as standard Gantt chart functions like milestones and dependencies.
Pricing:
PlanHammer costs $20 per month for teams of up to 9, $50 per month for 10-20 users, and $100 per month for unlimited users.
8. Project Drive
Project Drive is a customizable project management software and online Gantt chart software for executives, managers, and teams.
Features:
Project Drive is report-heavy, with project schedule and status reports and customizable dashboards.
It also features document sharing capabilities, Gantt charts with milestones, and extended task history on all projects.
Pricing:
For teams of up to 25, you'll pay $40/user per month. For teams above that mark, you'll pay a discounted rate per month, per user, with the exact rate determined by your team size.
9. Tiemchart
Tiemchart is an online project management software built around Gantt charts, project costing and billing, and team collaboration.
Features:
Project managers can create Gantt charts using a click and drag method, share it with team members, and create individual task assignments.
Tiemchart also offers financial tools, such as profit reporting, time tracking, and project billing.
Pricing:
Pricing for Tiemchart is unavailable on its website, however, Tiemchart does offer a 14-day free trial (following a demo with their sales team).
10. Scopidea
Free for up to 5 users, Scopidea is a basic project management tool and free Gantt chart software with issue tracking capabilities.
Features:
Scopidea incorporates Agile project management capabilities with features such as employee GPS tracking, time tracking and timesheet management, and some financial tools like invoice and quote generation.
Users can create dynamic Gantt charts or view projects in a list-based view.
Pricing:
Scopidea is free for teams of up to 5. Pricing for larger teams is not available on its website.
11. BigGantt
Part of the Atlassian family, BigGantt is an Agile-compatible Gantt chart software for Jira.
Features:
Other than what you'd expect from a Gantt chart maker (task dependencies, milestones, drag and drop Gantt chart functionality), BigGantt allows project managers to determine the critical path, adjust the scope using Quick Filters, and create smart workflow automations.
Like monday.com, BigGantt integrates with Jira, so Agile teams committed to using Jira can synchronize sprint data and provide project progress updates without managing 2 separate tools.
Pricing:
BigGantt costs $2.50 a month for up to 10 users or $1.25 per month per user for larger teams.
12. Genius Project
Genius Project is an enterprise-grade project management platform and online Gantt chart software that allows for all kinds of project planning.
Features:
The platform offers enterprise-grade security, on-site hosting, and integration with platforms like Salesforce.com and Oracle.
Project management capabilities include portfolio project planning, resource management, time and expense tracking, and of course, Gantt chart creation.
Pricing:
Being focused primarily on enterprise customers, Genius Project doesn't advertise fixed pricing.
13. Onepager pro
Onepager pro is a Gantt chart software designed for Microsoft Project, Project Server, and Project Online.
Features:
The software offers conditional formatting (such as color coding and Microsoft-based shapes and styles), data import functionality, and the ability to group and sort tasks and projects.
Pricing:
Onepager pro is a one-off buy at $479, which includes 12-months of upgrades and support.
14. GanttPRO
With an exclusive focus on Gantt charts, GanttPRO is an online project management tool for creating and adjusting the project timeline.
Features:
Users can import and export data to and from PDF, PNG, and Excel or MS projects, and can create custom colors and columns for ease of use.
You can search and filter data and create bulk changes, and even set task priorities.
Collaboration features include attachments and document sharing, comments and mentions, and personal and team notifications.
Pricing:
Individuals will pay $15 per month for GanttPRO, with teams paying per user. Their pricing becomes more affordable (per person) as your team grows.
How can I create a Gantt chart on monday.com?
Gantt charts are the preferred way to go for many projects. It is really simple to create your own. Plus we've gotten great feedback from real-time users.
After signing up or logging into your account, create a new board and add all of your tasks.
Add a 'task timeline' column to your board so every task is given a time period.
Once you fill in all the information, go to 'views' and choose the Timeline or Gantt view.
Voilá! This will help you see your entire project's timeline and see if any tasks overlap. You can then easily switch up the dates until your chart is ready-to-go.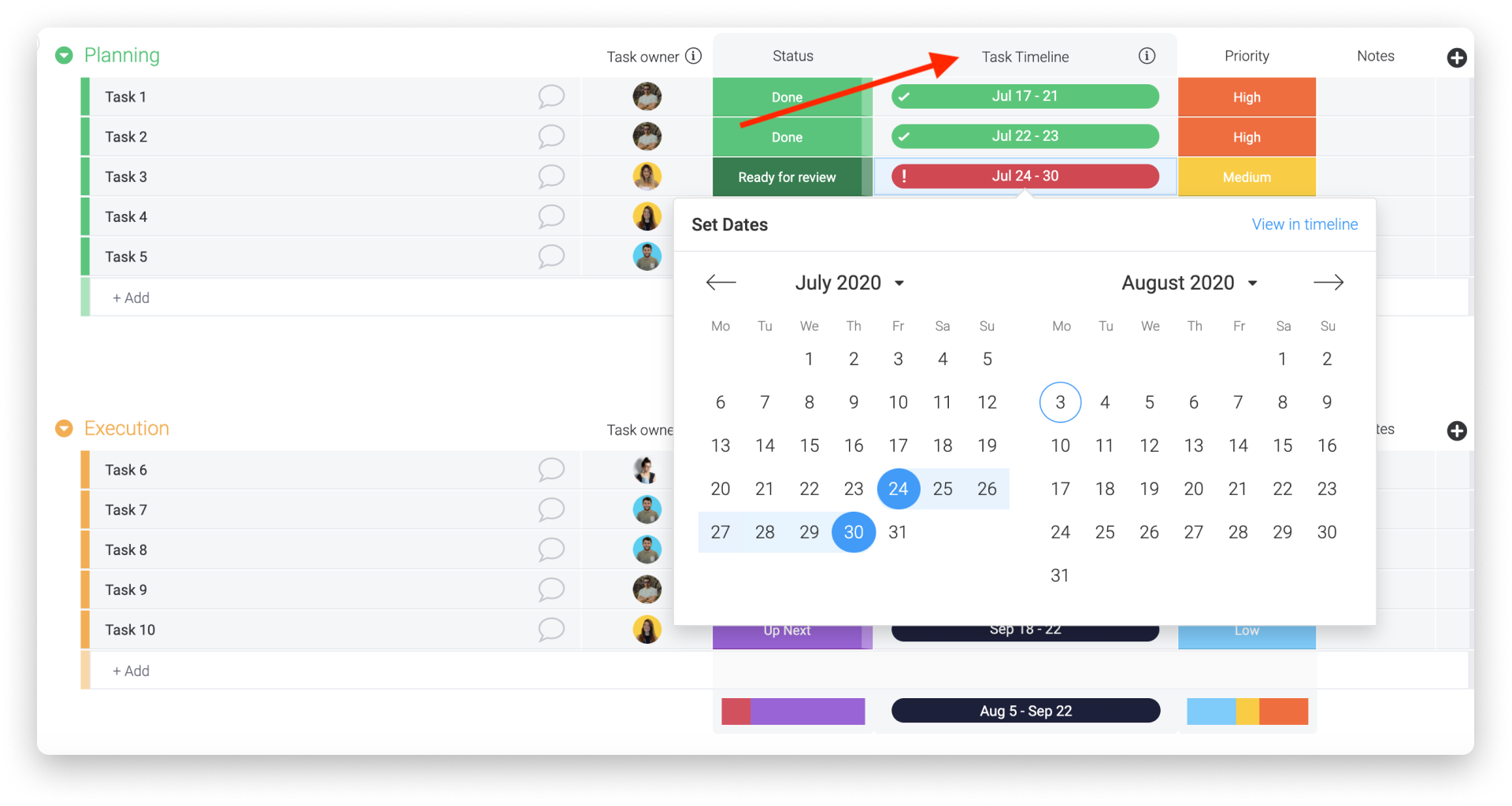 Raise project management to the next level with a flexible Gantt chart software
Whether you're looking for a simple Gantt chart creator, or an in-depth project management tool with Gantt capabilities, there's something in here for you.
And now, you're pretty much a Gantt chart tool wizard, it's time to put all of that information into action.
Ready to get started? Check out our team task management template here.